Whenever I am in La Trinidad, Benguet and my craving to chase waterfalls strikes, the first that would come to mind is Bayokbok Falls. It is a hidden beauty of barangay Tuel in Tublay, Benguet.
However, ongoing development efforts would soon bring Bayokbok falls to ecotourism limelight. After all, it is a God-given gift deserving appreciation and protection as well.
Fortunately, I got the chance to visit and gaze at its beauty twice. Our second visit was most memorable. I was with my two siblings then and we trailed on a path less travelled by just to get there. Definitely, our visit brought us back to our childhood days.
IMPORTANT UPDATE: Bayokbok falls has been closed for rehabilitation purposes. According to local officials, it will be opened anytime this year or next year (as of January 14, 2019).
….
Getting to Know Bayokbok Falls More
Bayokbok falls emanates from the mountains of Tublay and Kapangan, both are municipalities of Benguet. I wasn't able to ask why the falls was named as such. I bet there is a local story behind. Surely, it is one yet to capture anybody's curiosity.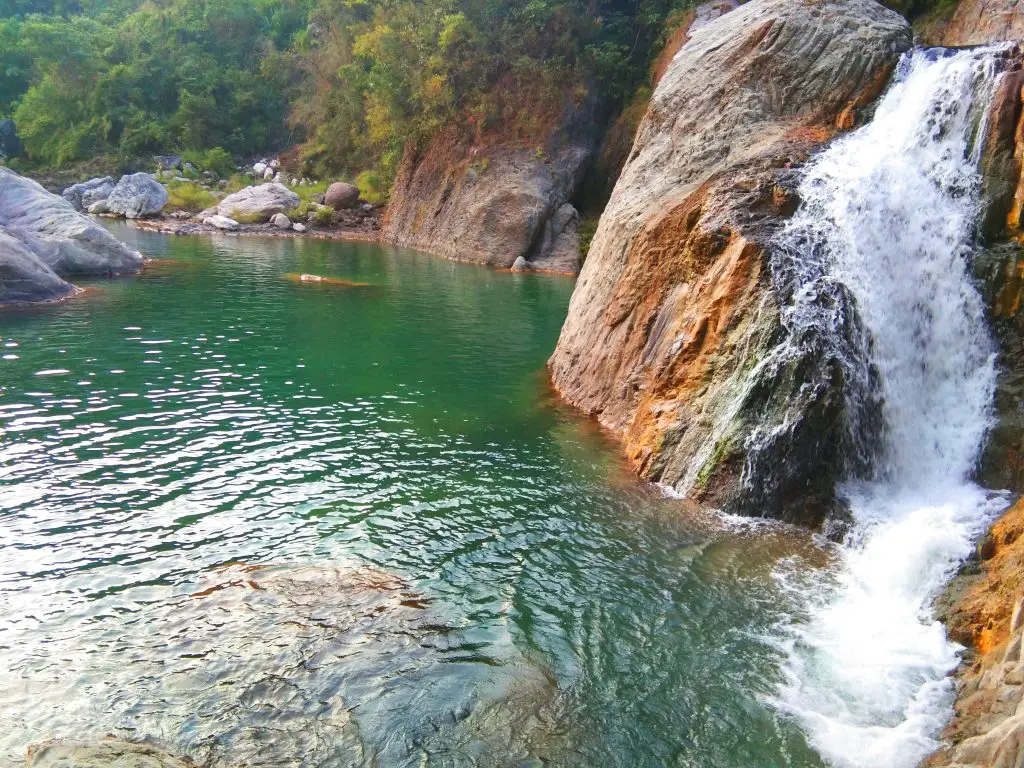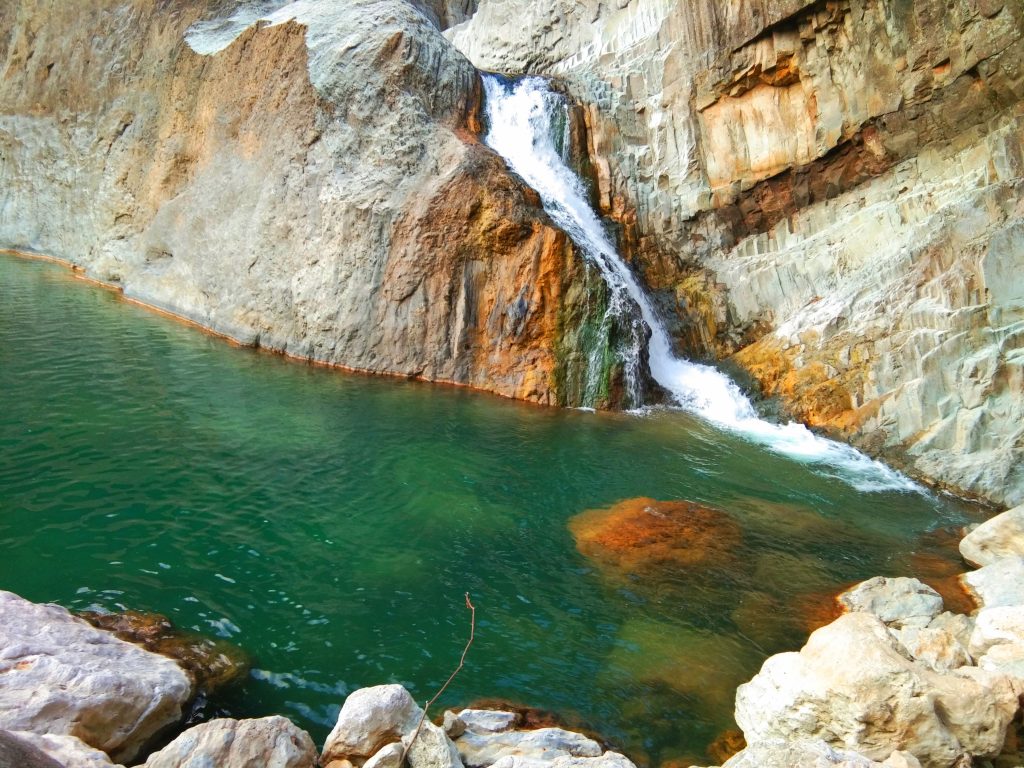 Bayokbok is a three-layered waterfall. Only the first drop, however, is visible once stepping on the site. To see the other two falls, one needs to climb over the first fall. Unfortunately, we were not able to see both second and third falls due to safety reasons. From what I've learned, the local officials are planning to set up ropes and climbing platforms.
By the way, the first fall measures around 20 feet high. It cascades on a sliding platform sideward. It has a very long and deep pool. Upon setting foot on the site, its bluish appearance readily captures one's attention and admiration. It is somehow similar to a blue lagoon. Even without dipping on the pool, one could somehow feel the sensation of what its like to wade on the fall's invigorating waters.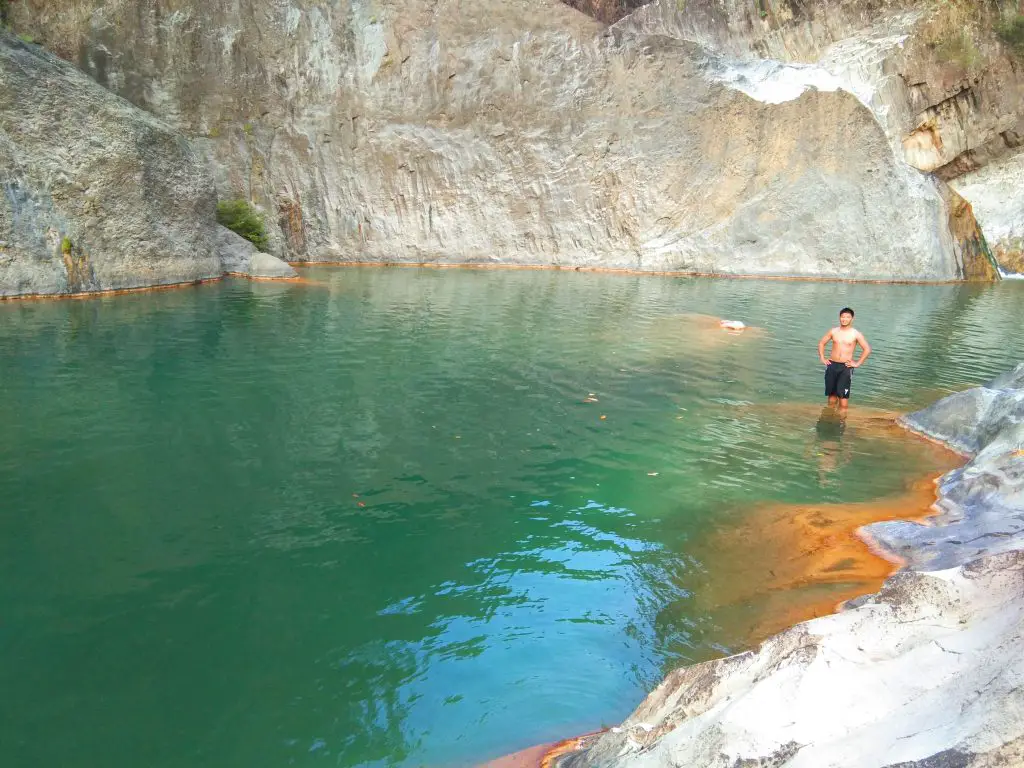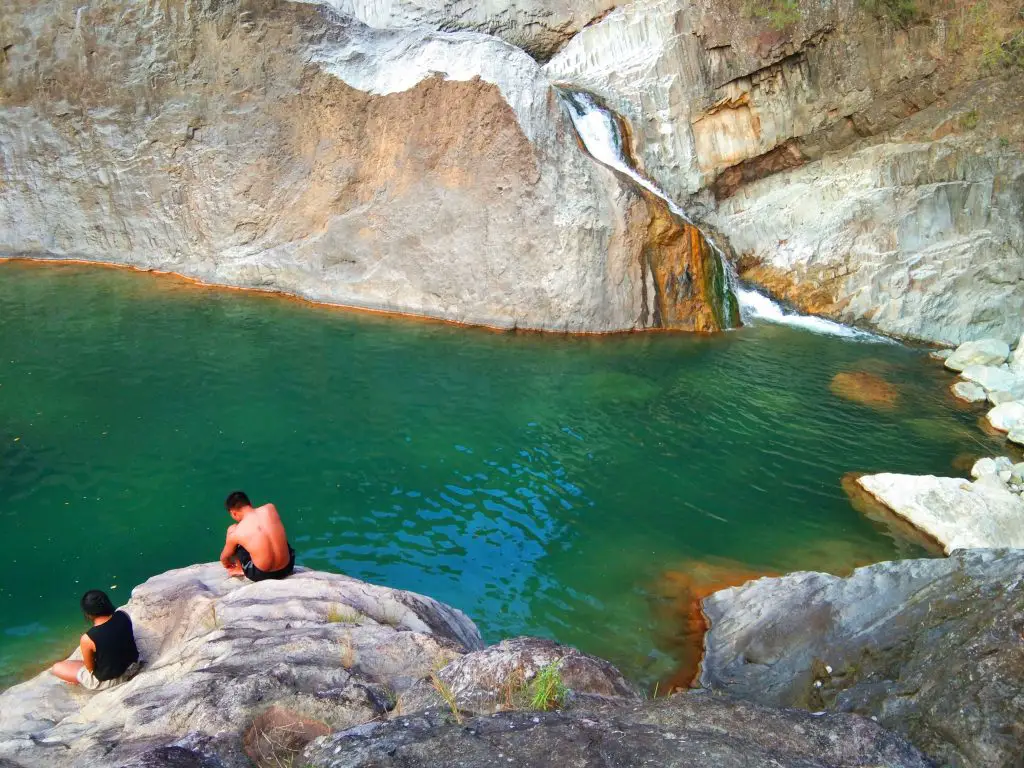 The pool of Bayokbok falls is also suitable for jumping or diving purposes. Its surrounding rocks and cliffs provide platforms for just that.
…
Surprises when Visiting Bayokbok Falls
Visiting Bayokbok falls may often come with extra-surprises.
When trailing on the established path, one gets to walk on grassy and forested landscapes. On these forested landscapes, there are stunted yet massive trees with exposed roots as well as vines, casting a seemingly animated character. From time to time, one may get to witness endemic bird species. Oh, I consider myself superbly lucky to have chanced on colorful birds, hopping from tree to tree.
A thrilling part of the trail is the narrow and quite long hanging bridge. For first timer, this may trigger fascination and excitement. Of, how lovely it is swinging with the bridge while gazing on the bluish pool below.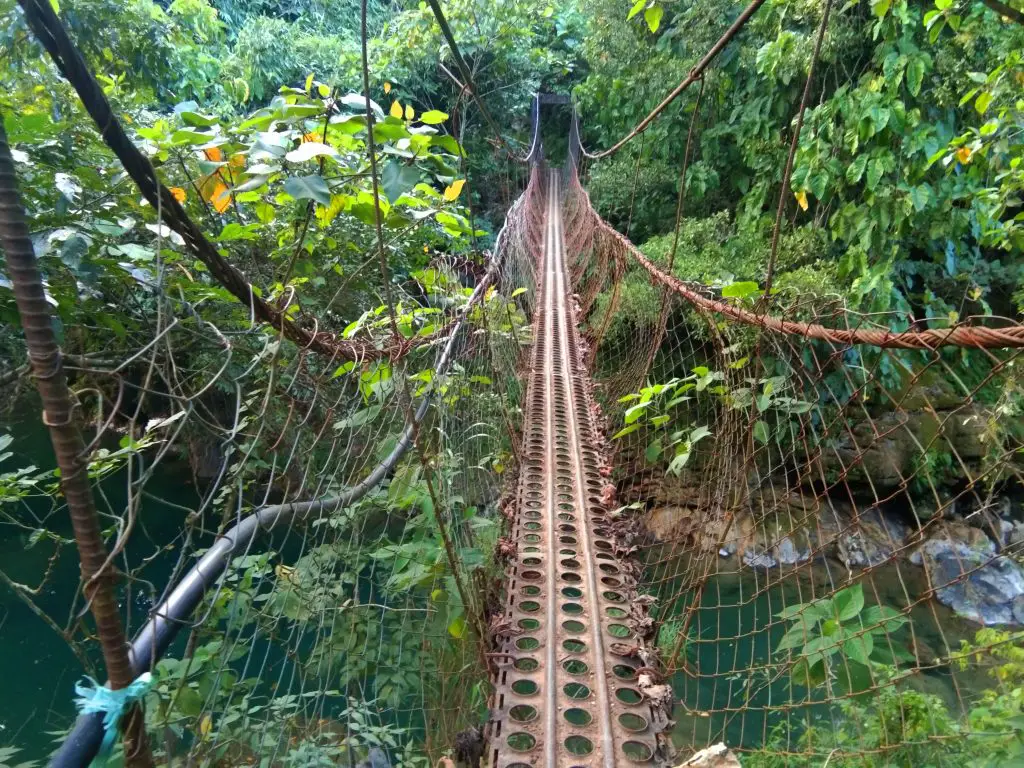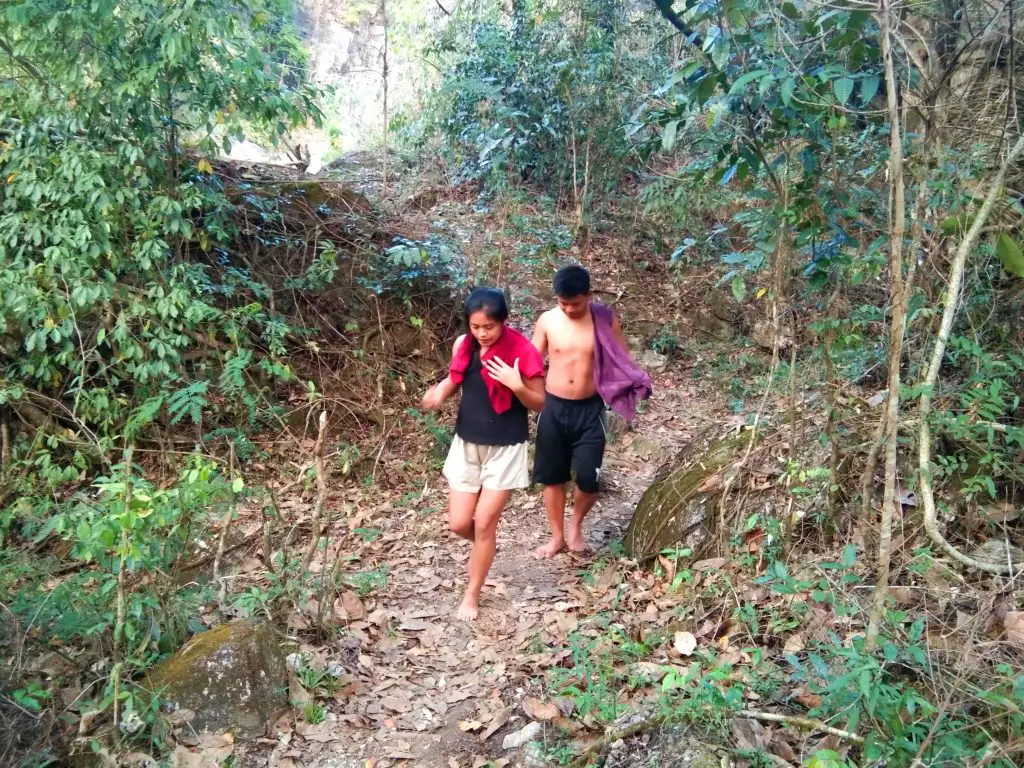 During our visit, I and my siblings took a not-so-popular trail. From Asin Hot Spring, we followed the brook for some 20 minutes to Bayokbok Falls. This brook is definitely worth a thousand pictures. There are numerous pools and some mini-waterfalls. You can bet. We were lucky enough to have trekked along the brook on its grandiose and crystal-clear state.
For me, the brook leading to Bayokbok falls and beyond is a golden beauty. Simply take a look at the photos below and you will notice the gold stains of the rocks and boulders. I am not really sure why they appear that way. Perhaps, it is because one of the brooks sources is the Bengaongao cave, further upstream. From what I know, caves are usually sulfuric.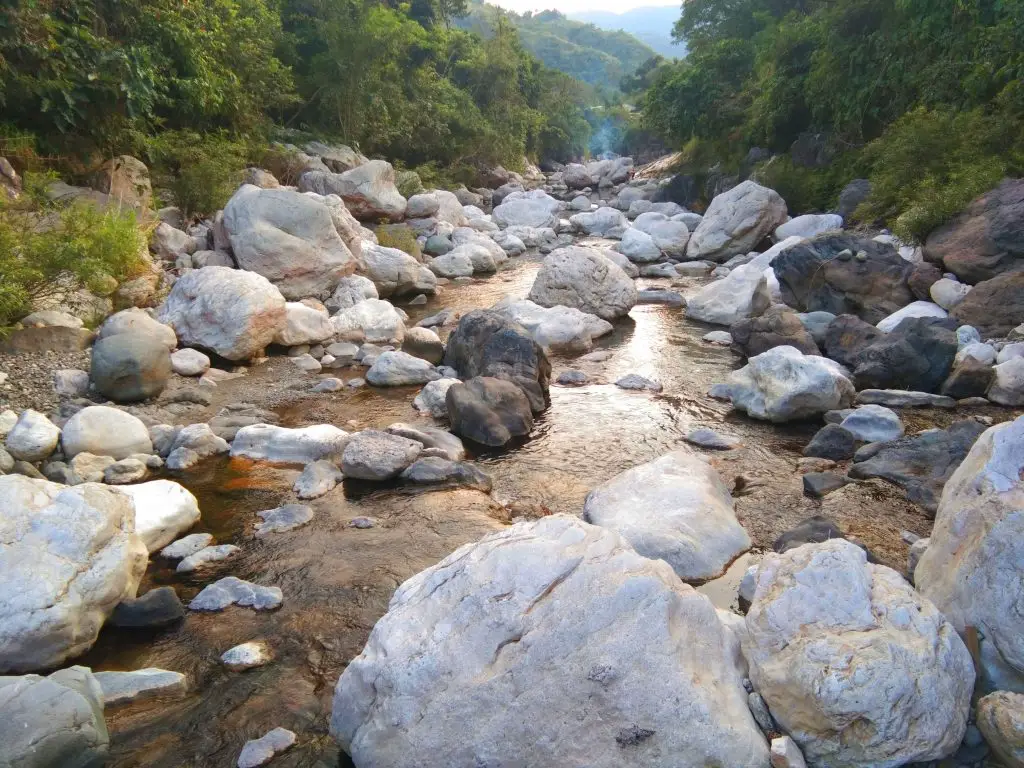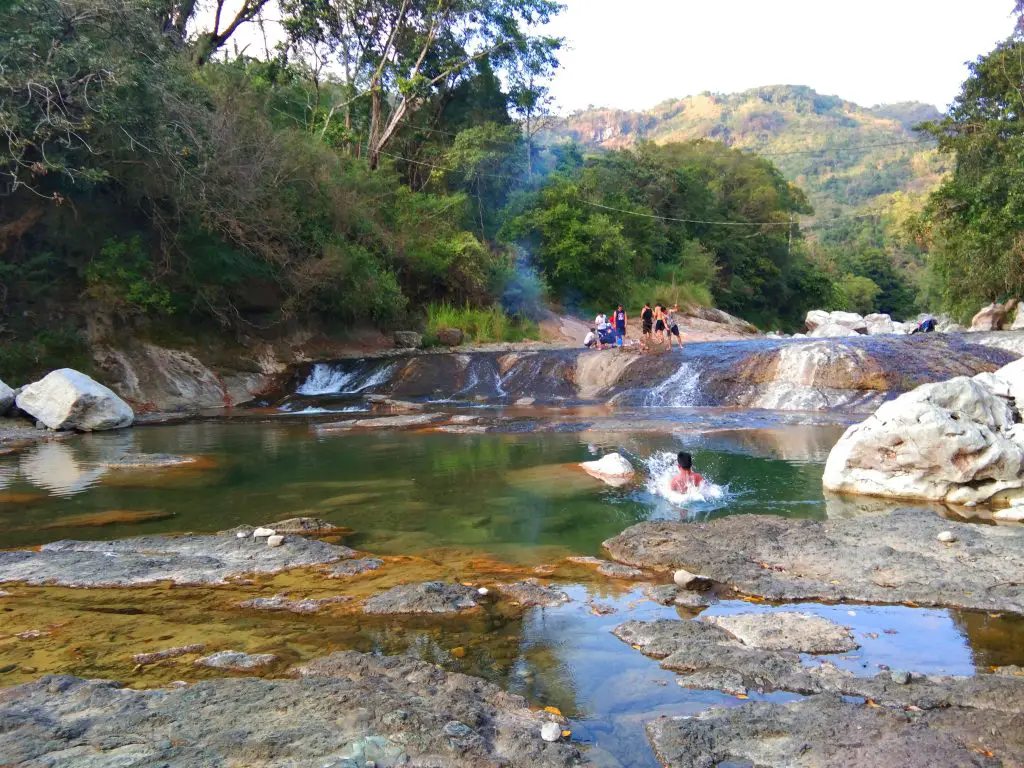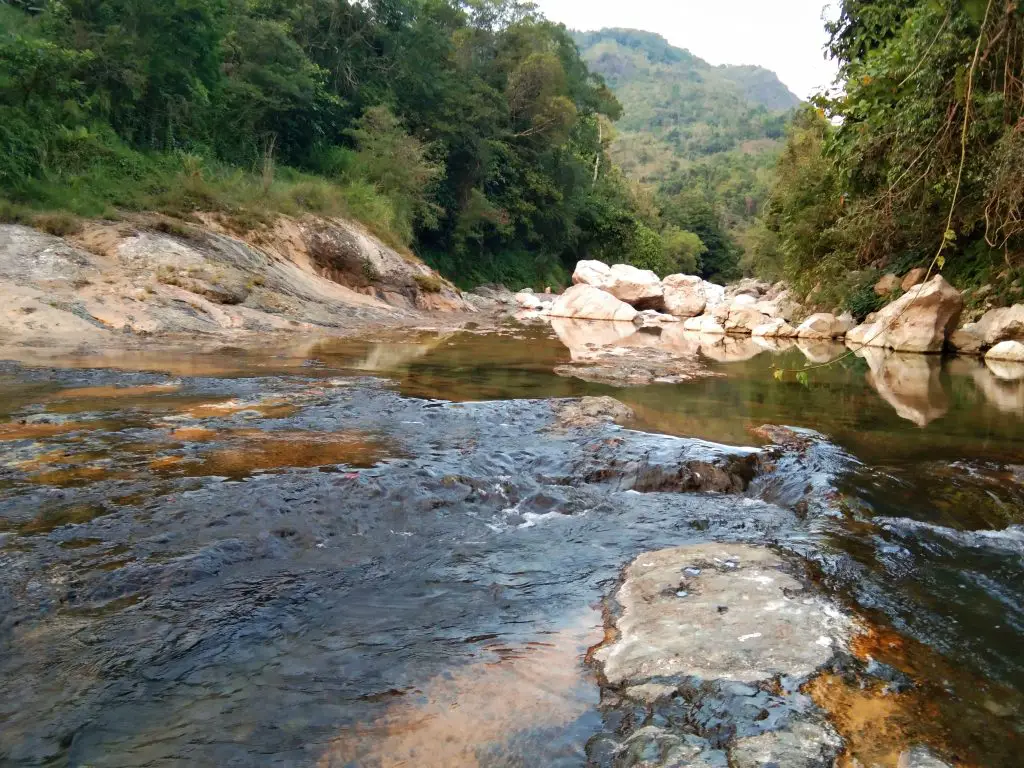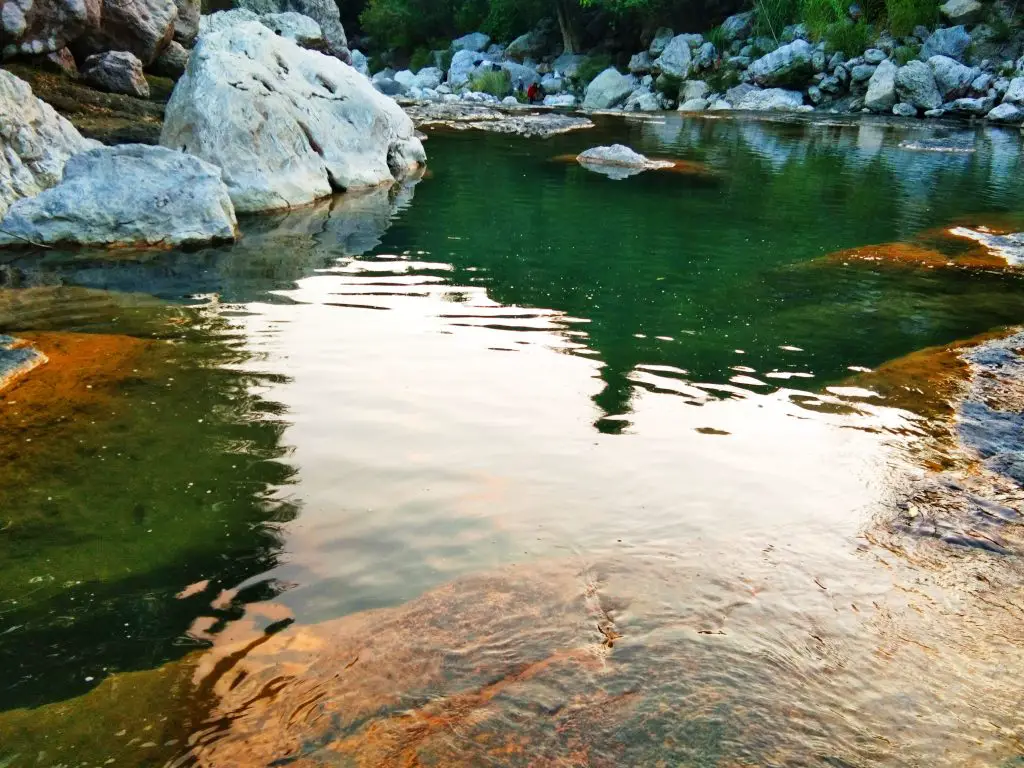 Add to our amazement, we were able to gaze on countless crabs as well as endemic fishes and aquatic insects. With that, I can say that Bayokbok falls is relatively healthy and clean.
…
Just like to any other natural spectacles, unregulated and irresponsible tourism may bring harm to Bayokbok Falls.
Thus, proper guidelines and practices need to be implemented and formalized. Fortunately, the barangay and municipal officials doing exactly that. Thus, they have closed Bayokbok falls for some time.
Recently, Gina Lopez, former DENR Secretary, has been visiting the site to help in the ecotourism development. It is hoped then that the locals will actively participate, realizing that their role would mean the sustainable management of such beautiful resource.
…
How to Get to Bayokbok Falls, Tublay
From my current knowledge, there are no regular jeep heading directly to Tuel, Tublay. However,garage (passenger vehicles) can be hired . They are mostly stationed at Alapang Junction. Fare for a garage is around 350 pesos to 400 pesos. That is only a one-way trip fare.
When going back to La Trinidad, there are also passing garage even until 7:00 pm. If not, you may try hoping in to private vehicles. That is what we did twice and we were lucky enough to have chanced on some Good Samaritan.
By the way, before proceeding to Asin Hot Spring or Bayokbok Falls for that matter, one needs to pay 20 pesos per person at the registration booth.
…
For your information needs:
If you want to know more about Bayokbok falls that may help in setting up your itinerary, kindly leave them on the comment section below. You can also message us on our facebook page namely, Daniel's Eco-Travels.
I would be more than happy and willing to help you:) For more meaningful travel experiences, I remain.
Please follow and like us: