Here is your complete DIY travel guide to Baguio Public Market, the best Pasalubong Center in town!
Growing up in neighboring La Trinidad, I'd always find time visiting Baguio Public Market. It's a one-stop shopping destination for almost every item you need and want.
More importantly, Baguio Public Market showcases local produce, helping boost the livelihood of local farms, craftsmen, and fishermen.
If you want to experience the best of Baguio, you should come here. It's also how you get to know more about the lives of the locals. Plus, you're helping in the advocacy of shopping local and promoting local brands and products.
READ: 41+ BAGUIO TOURIST SPOT (Your Ultimate DIY Guide): Best Places to See
How to Get to Baguio Public Market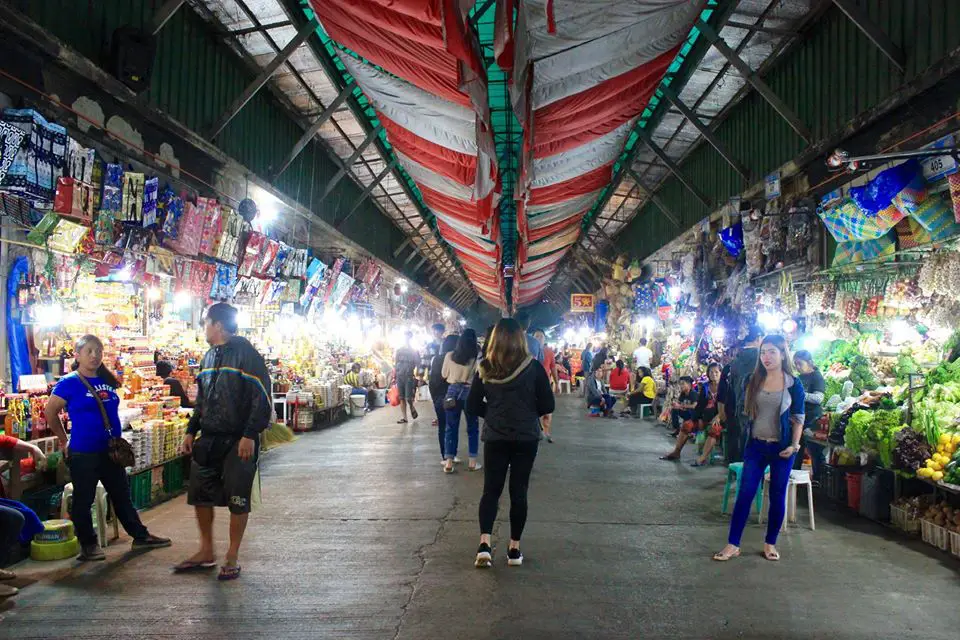 You can reach Baguio Public Market via easy trekking from the bus stations. From Victory Liner, trek for about 20 minutes, passing by SM Baguio, and Session Road before reaching the market.
From the Genesis Bus Station located at Upper Session, trekking to the market takes about 10 minutes or less along Session Road.
If not, you can ride a taxi. From Victory Liner, the fare is around Php 80 while a taxi ride from Genesis Station will cost you Php 60. But wouldn't it be fun if you just walk so you can also catch a view of other interesting sights along the way.
What to Buy/See at Baguio Public Market
Thrift Section
If you're after cheaper items but with almost similar quality with branded ones, the Baguio Public Market is a must-see. Check out what they call "Hanger" and you'll find numerous stalls selling imported secondhand clothes, bags, shoes, accessories, and many more!
They do have branded stuff here too. If you're shopping on a budget, try bargaining with the local sellers. Some would be happy to sell items to you at the lowest price.
Vegetable/Fruit Section
Baguio Public Market is one of the best spots to buy fresh vegetables grown in the mountains of the Cordillera region. The vegetables here are neatly packed. Some sell organic produce, those grown without the use of pesticides and other synthetic fertilizers.
Among the common temperate vegetables sold here are lettuce, cabbage, spring onion, Baguio beans, cauliflower, potato, carrot, and chayote leaves.
Strawberry Section
Just a few meters away from the Vegetable Section are booths selling fresh strawberries. The strawberries come from different parts of Benguet such as La Trinidad, Atok, and Kapangan.
Depending on the package or kilo you buy, price ranges from Php 50 to Php 350. Some strawberry stalls also sell blueberry and strawberry wines and jams.
Souvenir Section
If you're after souvenir items to share with your loved ones, you'll find a lot of options at the Souvenir Section.
Among the items, you can buy here different fruit wines, baked goodies, peanut brittle, and the priced Shepherd Ube Jam. With Php 50 or Php 100, you could buy multiple packs. And you can even have customized options.
Almost all of these are locally-processed, mostly from Shepherd Baguio. You should know that when you buy Shepherd Baguio items, you are helping students go to school.
There are also stalls selling soft brooms, rattan-woven baskets, wooden sculptures, and other products of local craftsmen. Then, there are stalls where you can buy indigenous textiles of local weavers.
Weaving is one of the primary livelihoods of some locals not just in Baguio but in neighboring provinces. This is the most frequented part of Baguio Public Market.
Native Coffee Section
For a coffee fanatic like me, this one is heaven. I'm not talking of 3 in 1 brand you hear on TV but real coffee grounds. They sell here the four major types of coffee namely, Arabica, Robusta, Liberica, and Excelsa.
Choose your type and they'll have it grounded for you. I prefer pure coffee because it exhibits healthy properties, unlike the popular coffee brands which contain mostly sugars.
If you buy coffee here, you're helping improve the lives of the local coffee growers. This is one of my favorite spots in Baguio Public Market.
Ornamental/Flower Section
A few meters away from the coffee section, you'll booths selling fresh and different species of cut flowers. Though Baguio is the showcase area, these flowers actually come from La Trinidad, Atok, and other neighboring municipalities of Benguet.
Knitting Section
The second floor of a building near the Coffee Section is a workshop area for knitters, creating Baguio-branded hoods and scarfs. Buy directly from them for a cheaper price. Plus, you'll get to see how the local knitters do their craft.
Wet Market
You might be surprised to know this. Baguio Market has almost every common kind of fishes and other seafood stuff. It's a highland city but lowland traders bring their products here. Plus, you have different kinds of meat sold here. Looking for locally-made longanisa? Oh, they've got it here.
Tips and Reminders
Bring your own eco-bag when shopping in Baguio Public Market. The local authorities are trying to implement a zero-waste program. Be a part!
The market opens as early as 5 AM and closes by 10 PM.
To learn more about local culture and history, try asking questions from some sellers.
You can bargain but that does not work all the time.
Create a list of items you want to buy before visiting Baguio Public Market. You might be lost with all the options available.
For More Info
If you need more information to help in setting up your itinerary to Baguio Public Market, do contact the City Tourism Office via the following:
More Articles
Photos by my Friend and Mentor: John Michael Lu