Besao, Mountain Province is just some minutes of drive away from the popular tourist town of Sagada. However, it has locked itself from the damaging impacts of mass tourism. That is a good thing though. Limiting the entry of outsiders has allowed the preservation of the historical and cultural tourist spots in Besao. Yes, Besao boasts of such heritage, specifically, stone-walled churches.
There is more to that, however.
This article is simply meant to showcase the eco-wonders of Besao for appreciation. I speak from the heart of a fellow I-Montanyosa. This is not to open the municipality to unregulated tourism. But to promote ecotourism as one way in driving sustainable and community-based growth.
Of course, you are still allowed to visit. But expect that your experience would be more of a Do-It-Yourself (DIY) style. Visiting Besao, therefore, is an opportunity for those seeking nature's solace, away from the hustles and bustles of a crowded destination. It also allows you to have a complete immersion with community life.
How to Get to Besao, Mt Province?
Manila to Baguio. Ride either Victory Liner Bus or North Genesis Bus to Baguio. Both have stations at Cubao and Pasay. They also have hourly departures. Travel time takes around five to six hours while fare is approximately 490 pesos.
Baguio to Besao. Ride GL Trans buses. These are located at Dangwa Station (back of Center Mall). Regular trip departures are 6:30 am, 8:30 am, 10:30 am, and 1:00 pm. Travel times takes around seven to eight hours. Regular fare is 240 pesos.
Bontoc to Besao. There are public utility jeepney operating from Bontoc to Besao. Regular trips are 10:30 am, 11:30 am, 1:00 pm, 2:30 pm, 3:30 pm. Travel times takes around two to three hours. Fare ranges from 40-60 pesos.
What to See in Besao, Mt Province?
As I've hinted earlier, the tourist spots in Besao are laid back. Don't expect well-paved trails or easy access. But this is the thrill and fun of it.
Now, here are some locally-known tourist spots in Besao.
First, we have the entrancing Besao Sunset. This is readily seen along the road bound to Besao once you get across the mountain ridge bordered with Sagada. It mostly comes in combined red and orange color, casting a distinct sight amidst the mountainscapes. The first time I saw it, I just stood in sheer awe and amazement. If you are visiting Sagada, you can actually side trip just to catch a glimpse of this. Believe me, expect to bask in such wonder of God's creation. To date, this is the most popular among the tourist spots in Besao.
Second, let's take you to Banao Lake. Sagada also claims ownership of this, however, the locals of Besao assert that it is within their ancestral domain. Different stories surround the lake. However, I'll let the locals share them to you. Grasses and forests surround it, giving it a verdant and serene view. Swimming is not advisable on the lake due to its murky waters. Occasionally, herds of cows and carabaos roam along its banks.
Third, there's the Gueday Agriculture Stone Calendar. This is one of the most enigmatic artifacts in the Cordillera region and among the endearing cultural tourist spots in Besao. It portrays the accurate scientific outlook of the locals in the cycles of weathers, heavenly bodies, and especially agriculture. Literally, this served as their guide during the early days. When the sun's rays strikes the tip of the stone, for instance, the locals would start planting rice. The phenomenon usually happens on September 30, coinciding with their celebration of the Linapet Day.
Behold Besao's Majestic Falls
Besao hosts numerous majestic waterfalls. These are mostly found in remote locations.
One of which is Tagpeo Falls. This is also claimed by Tubo in Abra. Tagpeo falls measures around 150 meters high and cascades on the face of a massive rock cliff. It is one of the remotest tourist spots in Besao. To get here, one needs to hike for hours from the nearest community, passing along dense forests and crossing creeks and brooks. The exhaustion from the long journey will eventually dissipate as one marvel on the sheer beauty of Tagpeo Falls.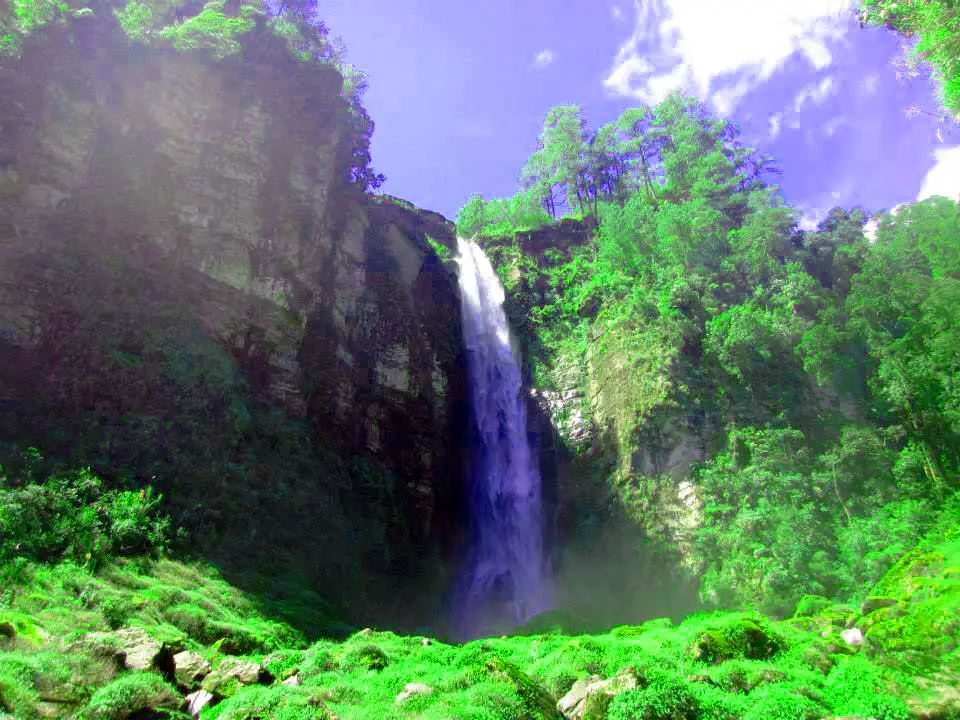 Upstream Tagpeo Falls, several equally-stunning cascades can also be found. Such is Daoyasan Falls. This is probably one of the widest falls in Mountain Province and even in the entire Cordillera region. Its vertical height is around 10 meters. Horizontally, it measures more than 80 meters on its widest point. The best way to enjoy the falls is to lay down on it while the cascading waters give a rejuvenating massage.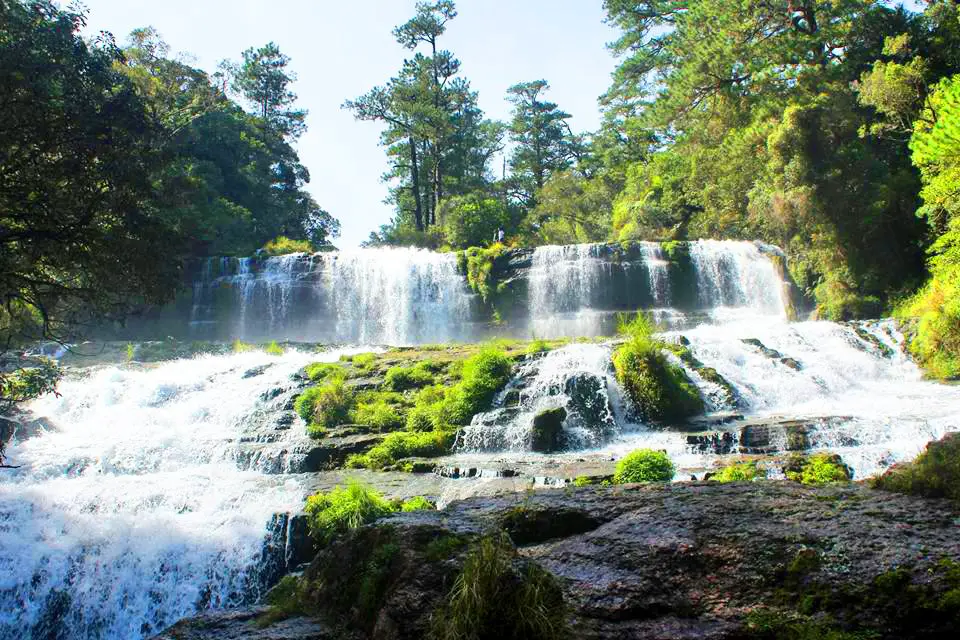 Then, there is Bibbidowen Falls. It measures around 30 meters high. It has a naturally-built pool with icy-cold and crystal-clear waters. Rock cliffs surrounding the pool provide a suitable platform for jumping or even diving. Just make sure you hit the deep waters. The surrounding green vegetation also adds beauty to the sight. From a distance, one can also see the towering Kitkitaw-eng Falls. It measures around a hundred meters with Bacuda Rice Terraces as its foreground.
Tips and Reminders:
Tourism is not yet fully established in Besao, Mountain Province. The locals prefer that. Thus, it's better to first coordinate with the tourism office for them to help in setting up your itinerary, whether you are travelling solo or in a group.
Respect local culture. Refrain from acts or utterances which may be offensive to the community. Among these include Public Display of Affection (PDA) and wearing of revealing clothes such as mini-shorts. Remember, you are in an indigenous municipality.
Always secure a guide when travelling to remote tourist spots of Besao such as mountains and falls. This is both for your safety and convenience. Besides, it's a basic protocol.
Don't ever litter. Let us help in keeping the tourist spots in Besao clean and green.
Let us help keep the place peaceful and sacred.
Refrain from vices such as smoking.
Yes, do mingle with the locals. Make friends with them. You'll learn a lot from their stories and enjoy their company.
Where to Stay in Besao?
Unlike in Sagada where tourism amenities abound, Besao has no DOT-accredited hotels, or inn. But visitors can stay at the Besao Multipurpose Cooperative which is within the town center.
If you are travelling to remote barangays, you will need to consult the local officials for their recommendation. In most instances, some locals readily and warmly offer their homes, making you a part of the community. That signifies the genuine hospitality of the I-Besao and the Cordillerans in general.
Try Speaking Local Utterances
As goes a popular adage, "When in Rome, do as the Romans do." In the same way, you can also try conversing with the locals using their language. This is especially helpful in building rapport with the community. Kankanaey is the main language in Besao. Take note, this is different from the Kankanaey language of some communities in Benguet. I get it. You don't need to be well-versed. But you can at least try common utterances such as the following. Have fun learning and using them:)
| | |
| --- | --- |
| Common Utterances | English Translation |
| Gawis ay wagkat | Good morning |
| Gawis ay kag-aw | Good afternoon |
| Gawis ay labi | Good evening |
| Inmali kami ay mangbisita sin ili u | We come to visit your place |
| Lumaos kami | We are passing by |
| Kamusta kau | How are you |
| Kaat na | How much |
| Gawis nan kaipogaw u | You are a nice people |
| Gawis nan umali sina ili u | It's wonderful to be here |
| Man amay nan ili | You place is beautiful |
For your Information:
If you need more information that can help you in setting your itinerary to the tourist spots in Besao, simply ask them on the comment section below. You can also message us on our facebook page, Daniel's Eco-Travels. I will be more than glad and willing to help you with the answers whenever I can.
Or better yet, coordinate with the Mountain Province Tourism Office through their facebook page.