La Trinidad in Benguet is more than just home to the famous strawberry farms or the artistically-designed Stobosa. Unknown to many, it is also home to cascading waterfalls, hidden on its remote outskirts. Some of these are Binanga Falls and Payogpog Falls, located at barangay Shilan. Once properly managed and marketed, these falls can significantly boost the ecotourism drive of the said municipality.
I recently visited Binanga and Payogpog falls in my ever quest for off-beaten destinations. It was indeed to my utter surprise upon learning that La Trinidad has fascinating natural wonders in store. Now, let me walk you through our journey to these untold marvels.
How to Get to Binanga Falls, Payogpog Falls
Both Binanga falls and Payogpog falls are within barangay Shilan. These falls are located on the same brook, however, are distant from one another. Payogpog falls is farther since it's nestled on the upper course of the brook.
If you are coming from Baguio City or La Trinidad proper, ride a jeep bound to Acop Shilan. However, you need to tell your driver to drop you by an alighting road leading to the falls. There is a waiting shade there to serve as your landmark.
Fare from Baguio city is around 20 pesos. On the other hand, fare from La Trinidad center is 10 pesos.
Along the alighting road, there are a garage (public utility vehicles) awaiting passengers. Hiring one garage towards the trailhead of the falls ranges from 100 pesos and above, depending on the scheduled time of departure.
Trailing our Way to Payogpog falls
I and my hiking buddies decided to first chase Payogpog Falls.
From the alighting road at Shilan, we rode a garage bound to sitio Bito where the road ends. From here, we began pacing our way towards the falls. This was not an easy moment. There were a lot of diversions on the trail. Fortunately, there were locals whom we asked for trail guides. Initially, we passed by vegetable farms. Then, we followed the brook leading to the falls. Literally, we had to climb over big boulders and jump across pools. We were stretching our muscles to the max as our hearts pounded crazily while sweats came streaming out our pores.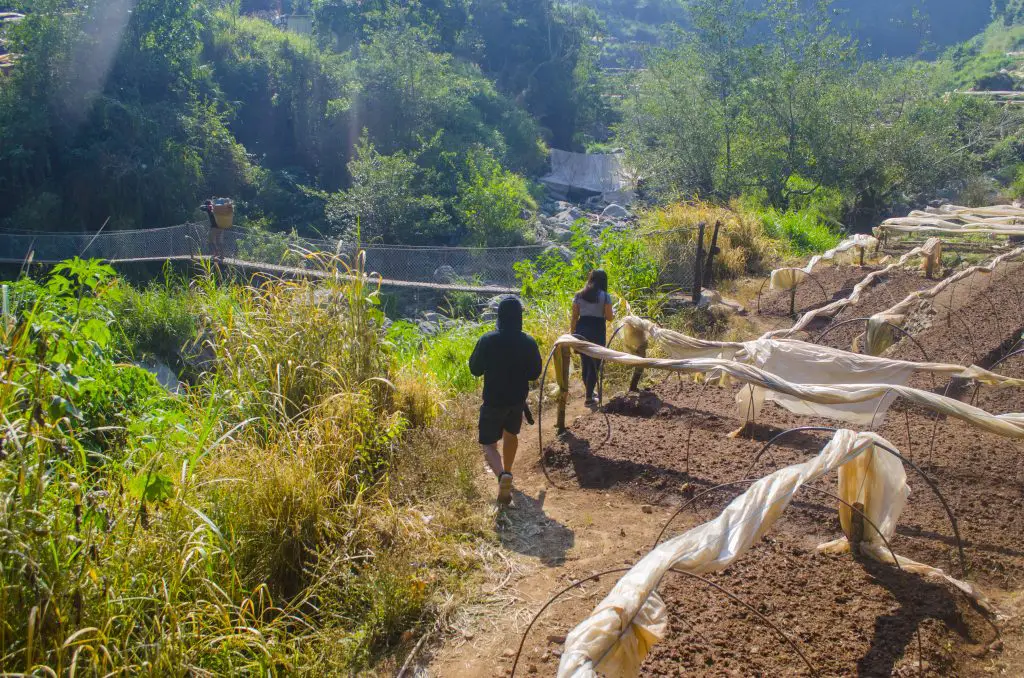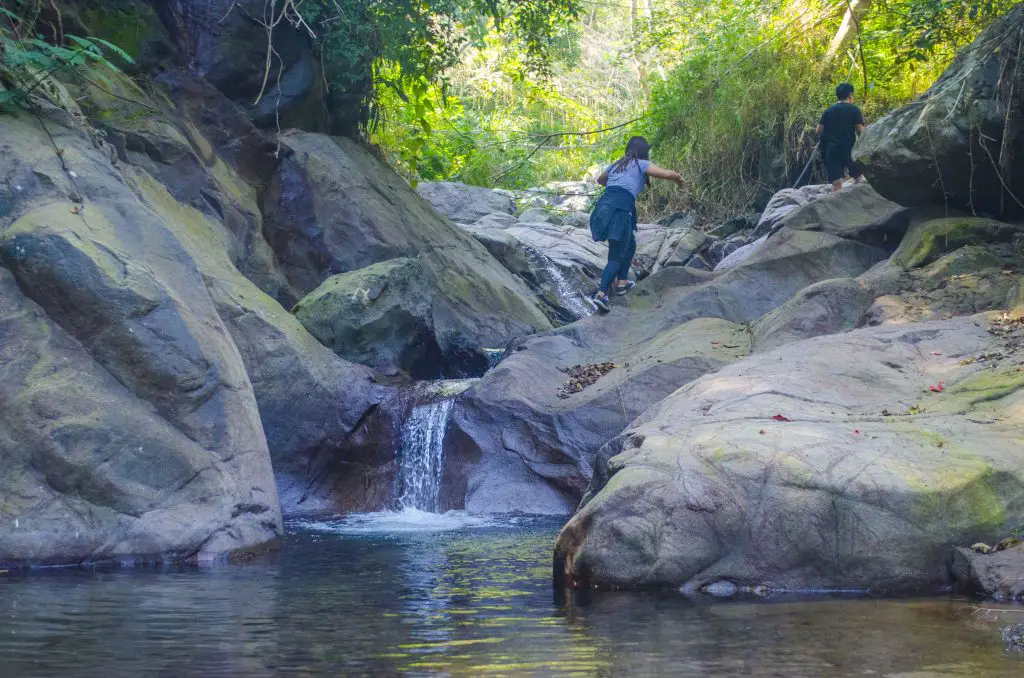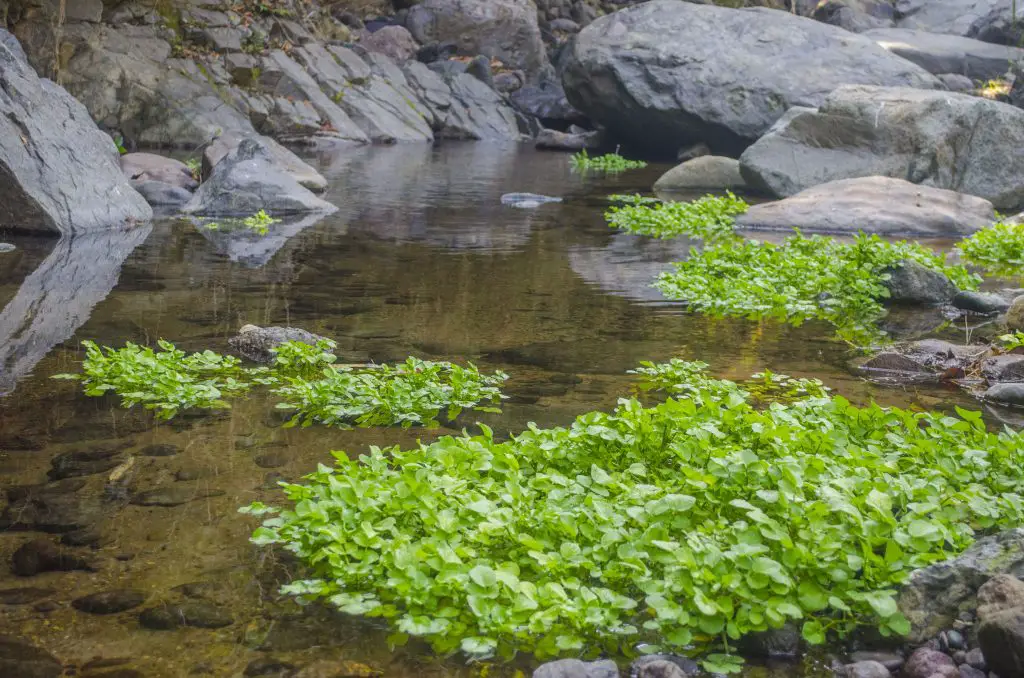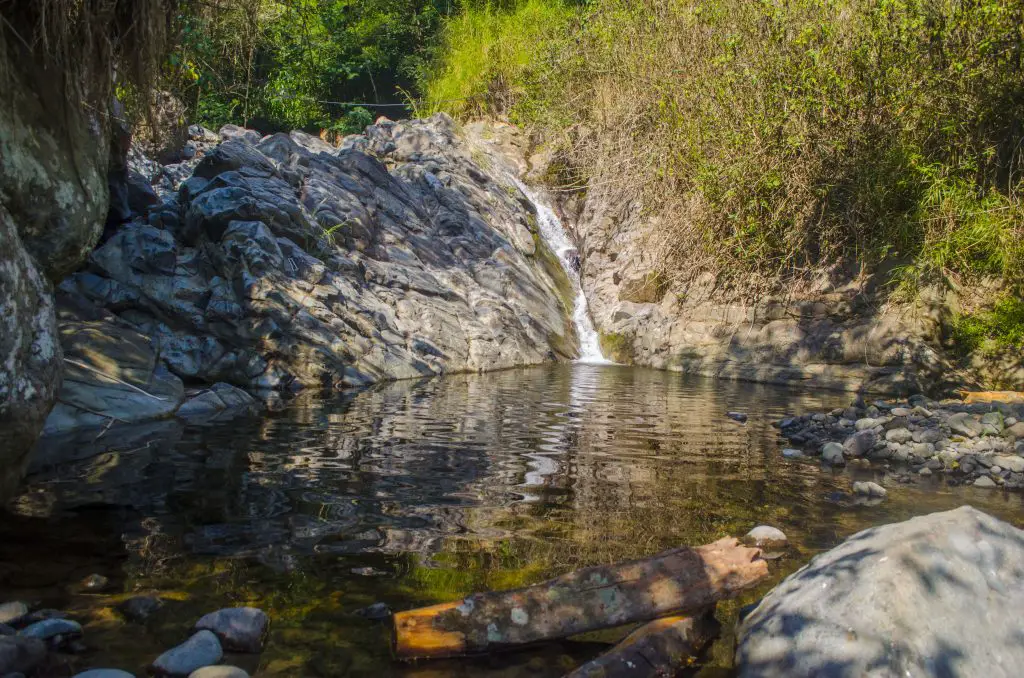 Obviously, the path is not yet fully established. However, nature did afford us with sights of relief and caressing atmosphere. While following the brook, we caught sight of small fishes and tadpoles. These are biological indicators of the brook's pristine condition. I just hope that such will be maintained. That is not only beneficial for the marine species but the locals who venture on it.
Finally, after about an hour, we reached Payogpog Falls!
Payogpog waterfall cascades lazily on a beautiful catch basin. The surrounding vegetation gives the pool its greenish appearance. From my estimation, the falls measures 30 feet high. To my amazement, birds flew across the pool. I bet they are targeting the little tadpoles on the shallow pool.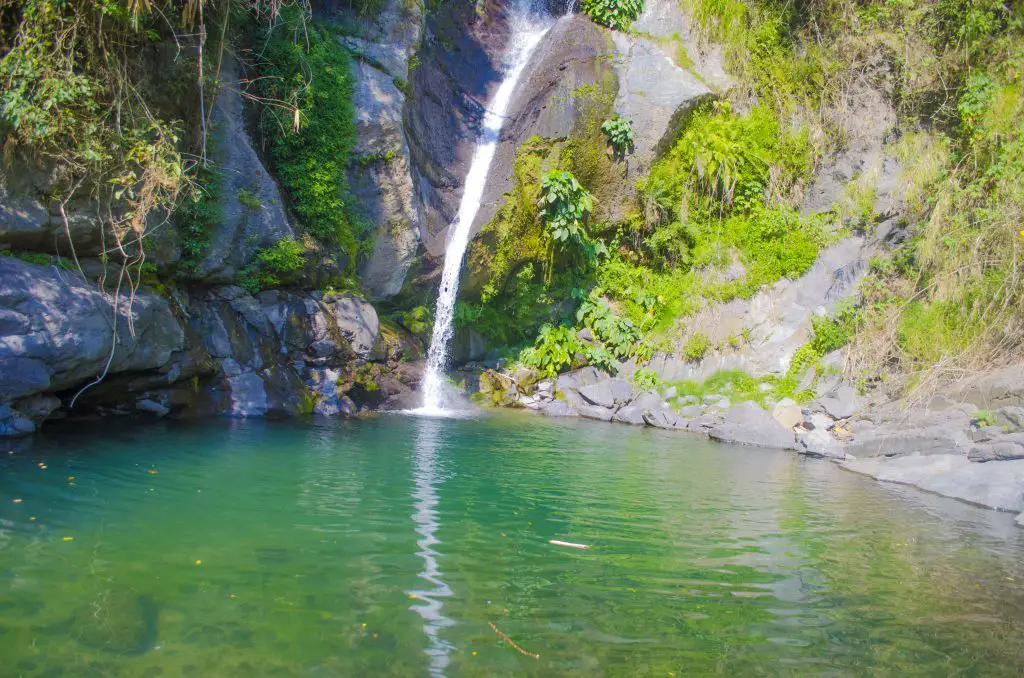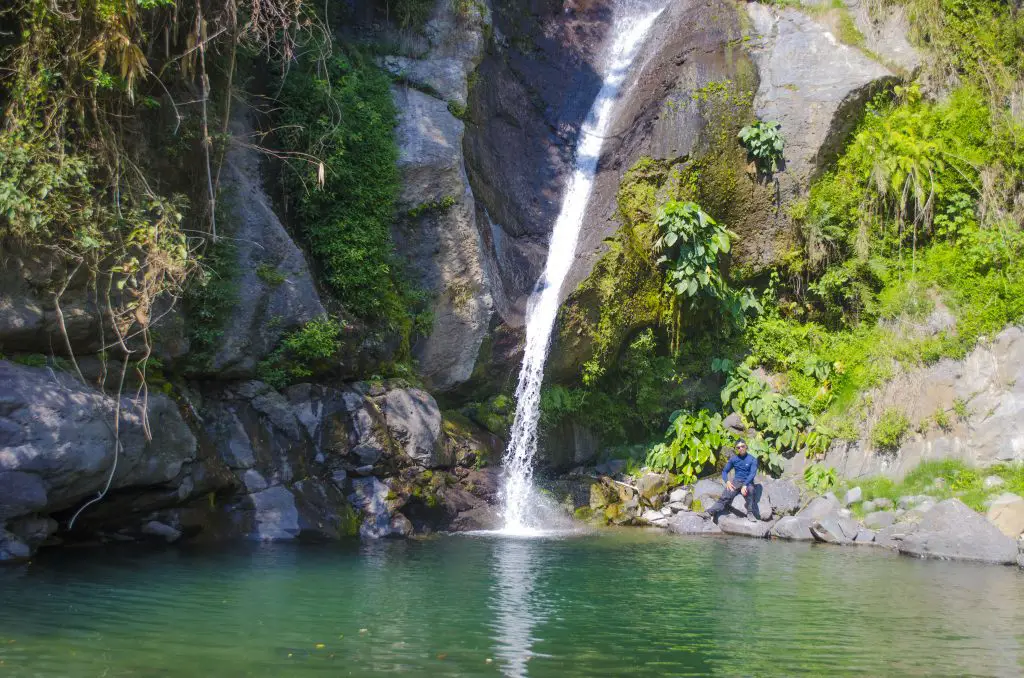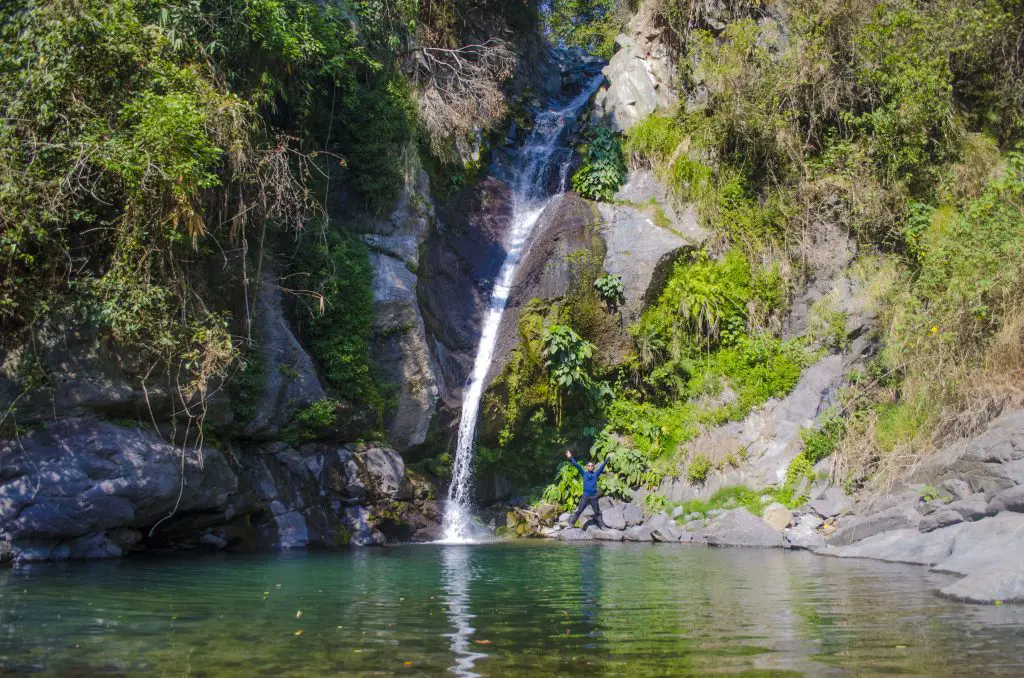 According to one of the locals we encountered, it is best to visit Payogpog falls during the rainy months. These are the times when once can witness the full strength and magnificence of the falls.
Chasing Binanga Falls
After a while of gazing and relishing Payogpog Falls, we then hiked our way back to sitio Bito. From where the garage dropped us, we followed the road leading to the trailhead to Binanga falls. That took us around 10 minutes.
From the trailhead, we then followed a downhill and very steep trail. The soil was loose and dry. Because of that, I slipped twice. We literally had to pace slowly and hang unto plant leaves and branches. After 15 minutes, we finally caught sight of Binanga falls.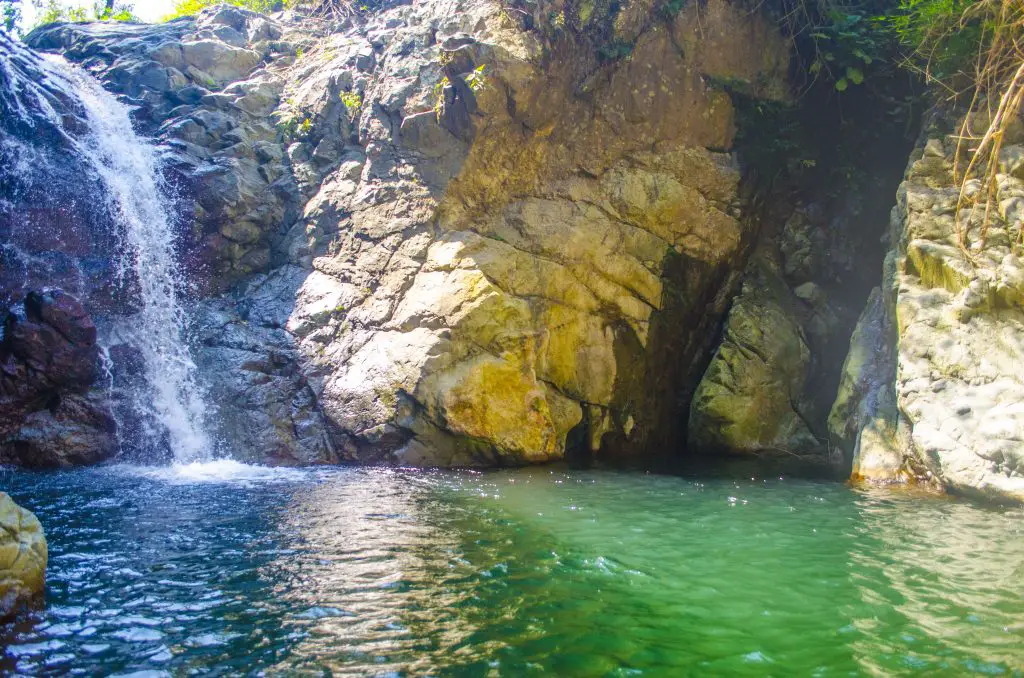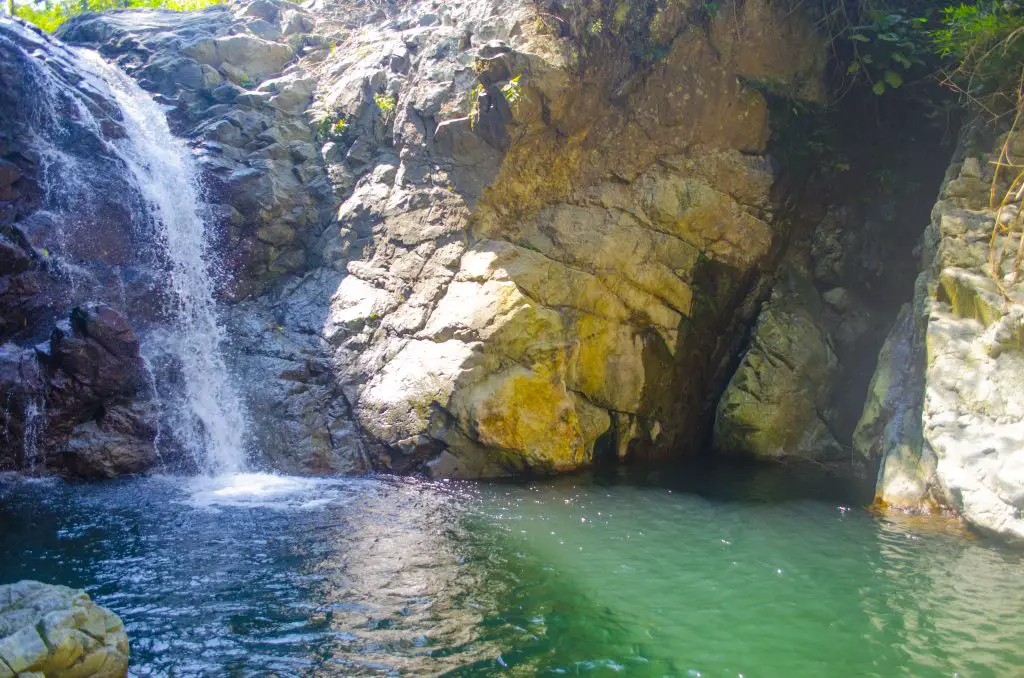 Binanga is derived from an Ibaloi term which literally means, "pot." It is named as such because the falls has a naturally-built pool resembling the shape of a pot. From what I know, there has been no actual measurement as to how deep the pool is. Exposed rock cliffs surround it. These are a good platform for jumping or diving into the pool.
Given my excitement, I could not help but eventually jump into the pool. To my surprise yet fulfillment, the waters were icy-cold. I could almost feel my body freezing at first. However, I was able to slowly adapt with the cold waters and soon, became comfortable with it. How rejuvenating. I simply floated myself across the pool while relishing the invigorating touch and songs of nature.
Binanga falls is less high compared to Payogpog falls. To my estimation, it is around 18 feet high. But its water volume is greater. Dense forests also surround Binanga falls. I was lucky to have witnessed a water bird scouring nearby.
Tips and Reminders:
Tourism is not yet established in barangay Shilan. Thus, the trails to Binanga falls and Payogpog Falls are not yet fully established.
Always coordinate with the barangay officials when planning to visit these falls. The barangay hall is just some minutes away from the garage station.
There are no registrations or environmental fees. These are still being finalized.
As much as possible, have a guide especially when going to Payogpog Falls. Coordinate with the local officials regarding this. If no one is available, ask the officials or the locals for the directory.
Exercise extra caution when going to the falls. Parts of the trails are steep and dangerous.
Don't ever litter. Let us help in maintaining the beauty of Binanga falls and Payogpog falls.
For your Information:
If you need more information that may be helpful in planning your itinerary to Binanga falls and Payogpog falls, you may ask them on the comment section below or message us on our Facebook Page namely, Daniel's Eco-Travels. I will be glad to answer you whenever I can.
For advance coordination, kindly contact Hon. Joel C. Kimpa-oy, chair on the Committee of Tourism in barangay Shilan, through his no: 09202254093. You may also coordinate with Hon. Jayson P. Balagot, barangay Secretary, through his no: 09092169707.
Related Articles:
Please follow and like us: