I have been visiting Sagada for a number of times already. It never ceases to allure me with its wide array of eco-cultural offerings. No wonder, it is the most popular tourism destination in Mountain Province. Admittedly, a lot of adverse changes have been taking place due to mass tourism. Yet it cannot be denied that Sagada remains such a rustic paradise. One of my favorite tourist spots here is Bomod-ok falls.
It was a long weekend when I and some buddies rode our way to Sagada from Bontoc. We were swelling in eagerness for an adventure-filled wander. We have always been doing that since our childhood days. Upon reaching Sagada, we made a quick tour around the town center. I was then familiar with the place since I had my two-month internship here during college. Specifically, we checked out the stone-walled St. Mary the Virgin Church, Hanging Coffins at the Echo Valley, plus a side-trip on some local vistas and resto.
After that, we decided to head our way to Bomod-ok falls, instead of spelunking at Sumaguing cave which most tourists opt to.
How to Get to Bomod-ok Falls?
Bomod-ok falls is located at barangay Fidelisan in northern Sagada. But the road ends along barangay Bangaan. It is more or less an hour of ride from the town center.
To get to the trail head in Bangaan, you need to rent a van from the Sagada Municipal Tourism Office. Every visitor/tourist is also mandated to register here and pay an environmental fee of 50 pesos each. Van rental for a two-way trip via Bangaan is 500 pesos. If you are travelling via barangay Aguid which is another jump-off point, rent for a two-way trip is 650 pesos.
Upon reaching Bangaan, there is a registration booth just along the road. This is also the jump-off point. But before you proceed, remember this. Every visitor/tourist visiting Bomod-ok falls are required to have a guide (one guide for a maximum of ten persons) and pay a barangay fee of 10 pesos each. Rate for each guide is 500 pesos. If I were you, I would add tips to the guide. Somehow, I feel that by doing so, I am helping boost the local economy.
By the way, there will also be a brief orientation on safety procedures and what to expect. Don't hesitate to ask questions.
Assaulting Bomod-ok Falls' downhill trek
After registering and getting a guide, we then took on the downhill trail to Bomod-ok falls. This is actually the challenging part. If you are not used to hiking, expect that you will really have a hard time. That is why, before coming here, make sure that you are physically-conditioned. Good thing though, the trails are paved and well-established.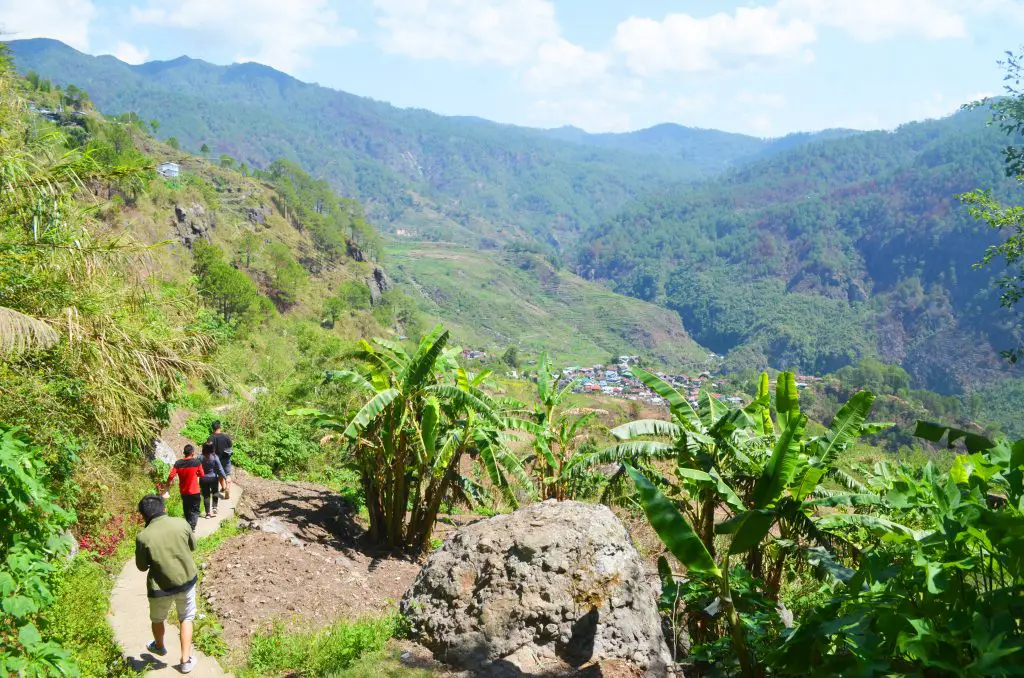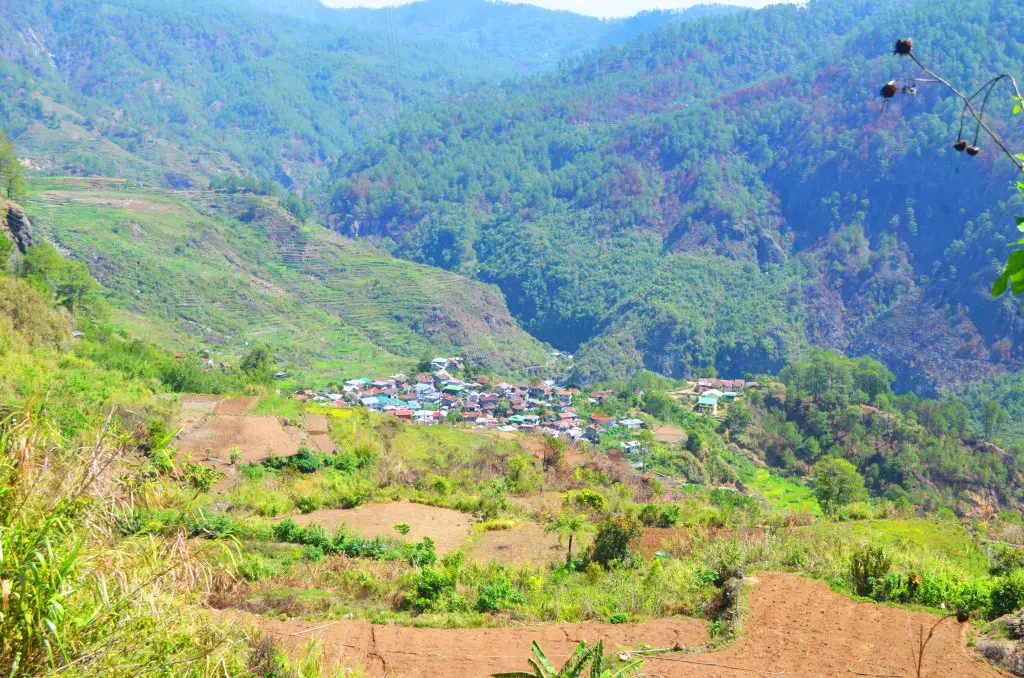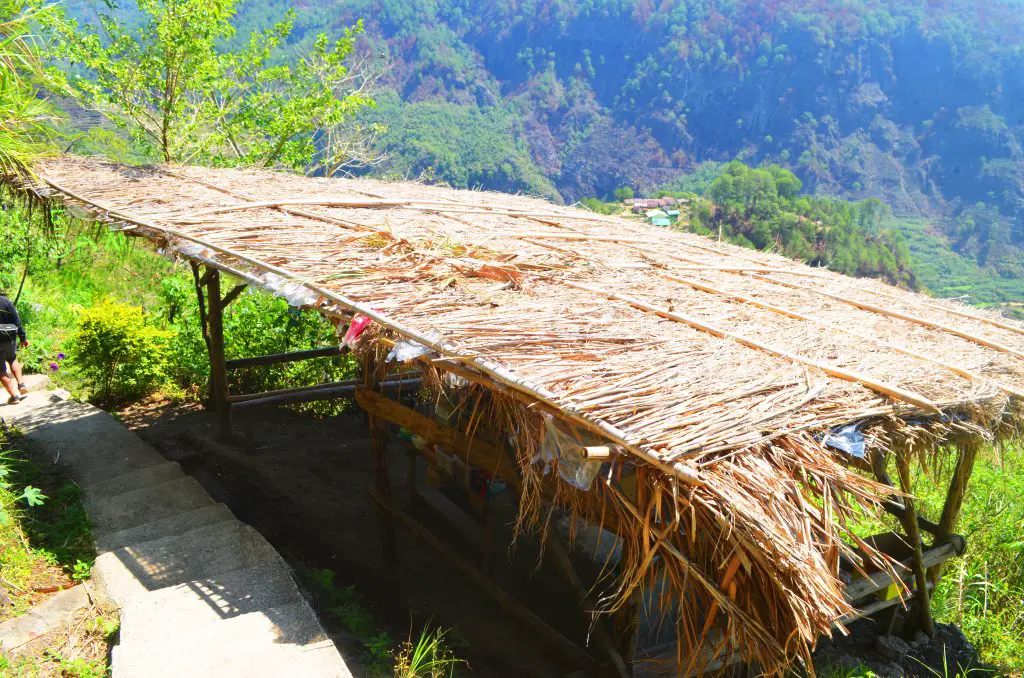 From the initial trail, we could actually see the head of Bomod-ok falls. Eerily enough, we could also see the long, steep, and winding trail to conquer. The trail begins on a series of stairs until one reaches barangay Fidelisan. Fidelisan is a small barangay and is often referred to as, "Pidelisan." Most of the people are subsistence farmers. Rice is the main crop. Sugarcane and coffee are also grown.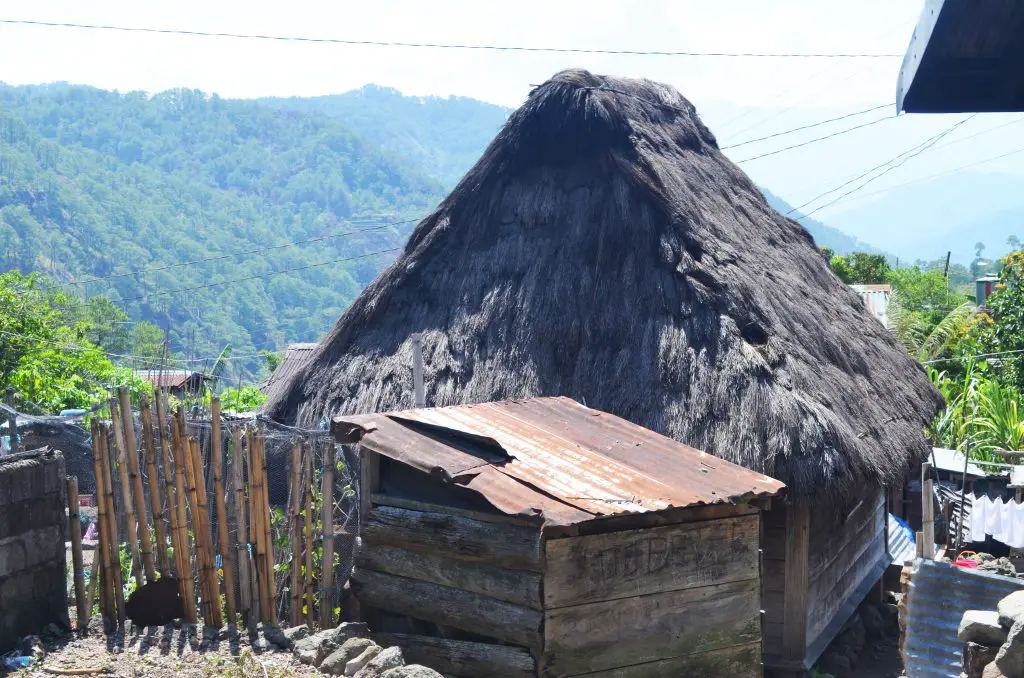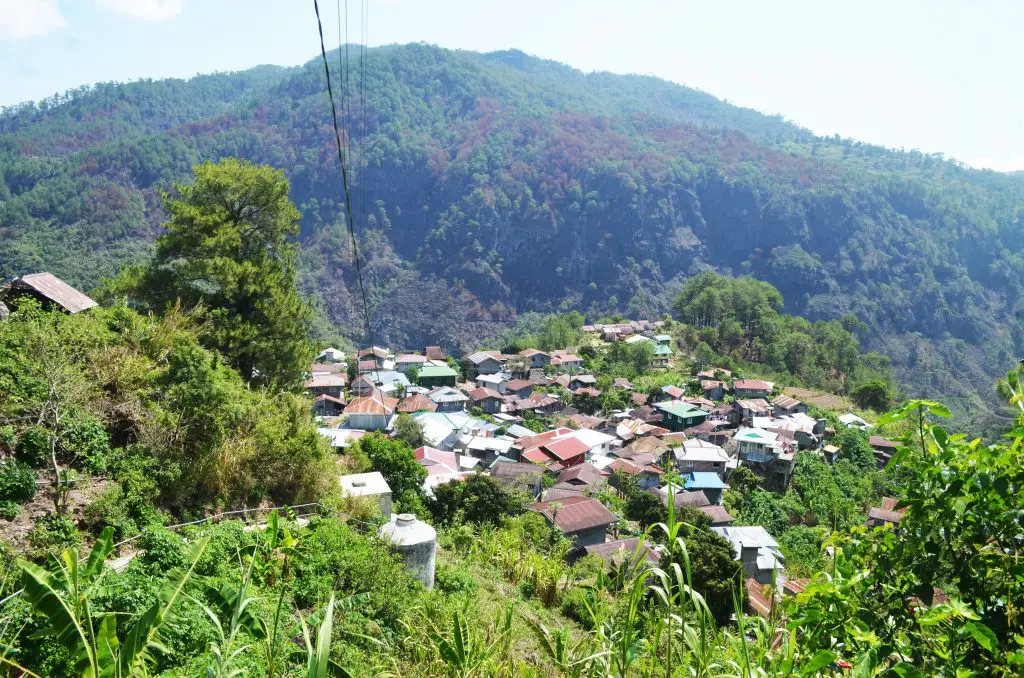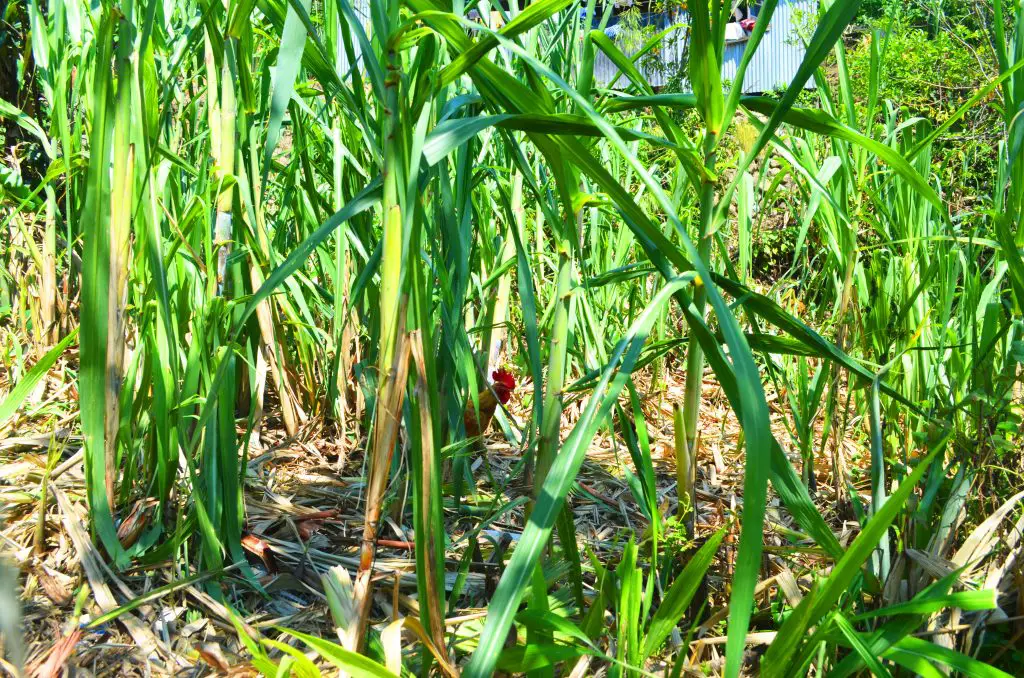 After passing through the Fidelisan village, one then treads along beautiful rice terraces. These are typical sights when traveling to remote parts of the Cordillera region. Aside from the terraces, one can also see beautiful mountain views and lush pine forests. While I noticed that some of the tourists were already sweating and panting, I was enjoying every moment of the way. Even my friends certainly felt the same way. We were having fun at the least.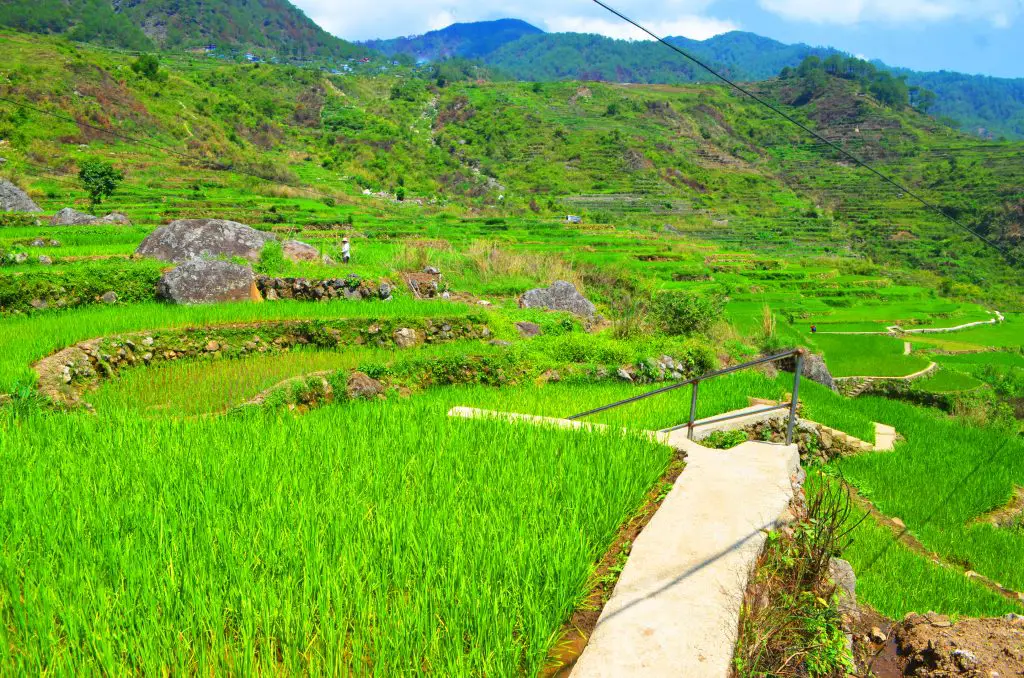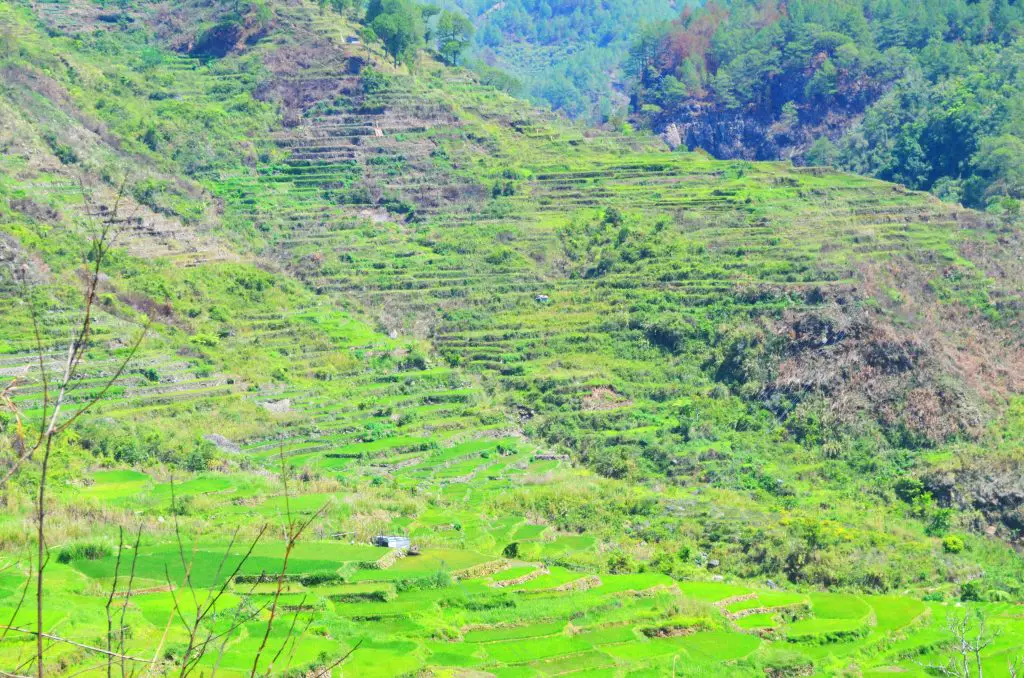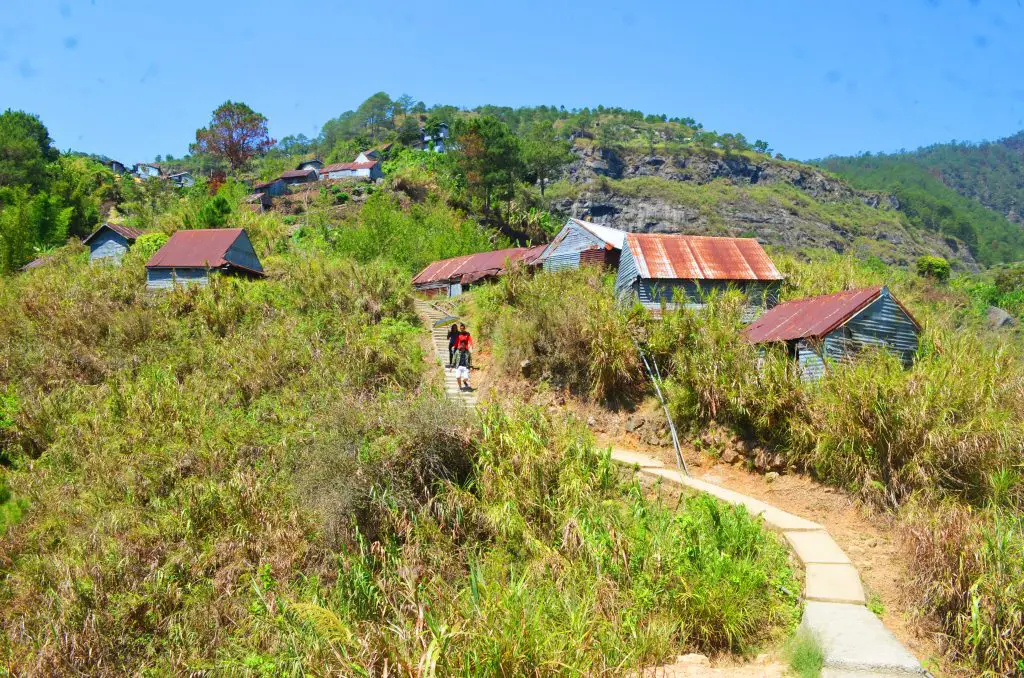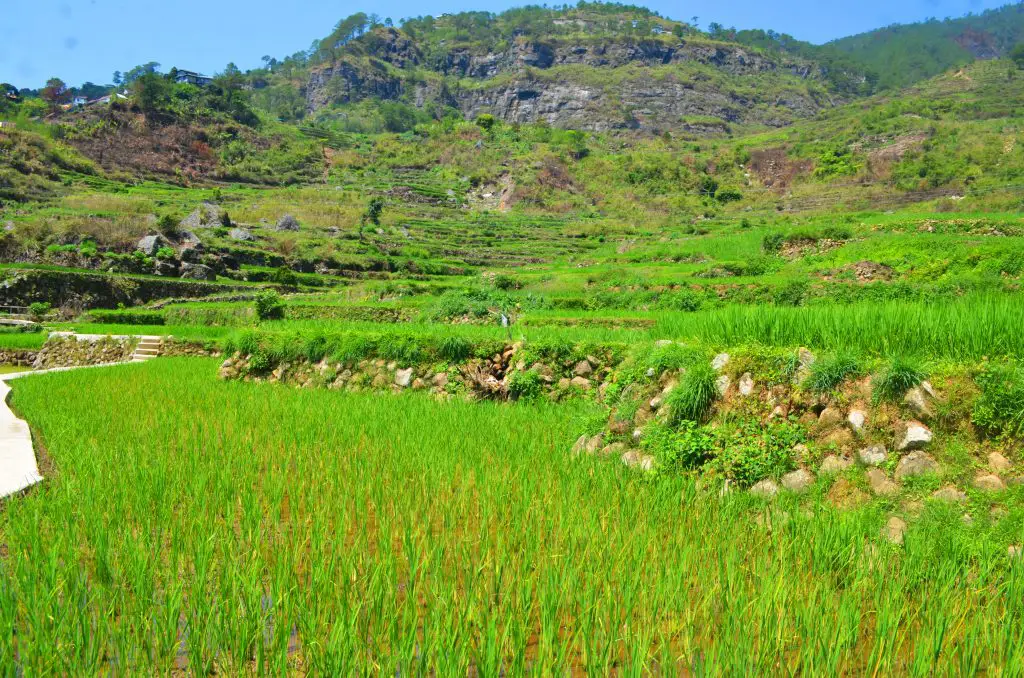 At some point, we had to cross small creeks. Then, we crossed along a mountain slope overlooking a pristine river. In a few while, lo and behold, the majestic Bomod-ok falls comes to the scene! After less than an hour of trek, we finally made it here. But according to our guides, it will take two hours for average hikers to reach the falls. Yes, it depends on one's pace.
Behold the Sight of Bomod-ok Falls
Bomod-ok falls is certainly a sheer beauty to behold. I've been to countless waterfalls already and I can say that this is one of the best. At first sight, I could not help but be reeled into a standstill in utter amazement and bewilderment. Literally, my jaw dropped. Simply gazing on it was enough to make our trek here more than a worthwhile experience.
But what better way to enjoy the falls than soaking on its pristine waters. Yes, Bomod-ok falls has a naturally-built pool with crystal-clear waters. It's so inviting that I and my friends immediately unwrapped ourselves and jumped into the pool. Oh, the waters are icy-cold! But that eventually dissipated the exhaustion I gained along the way. I felt so alive and rejuvenated.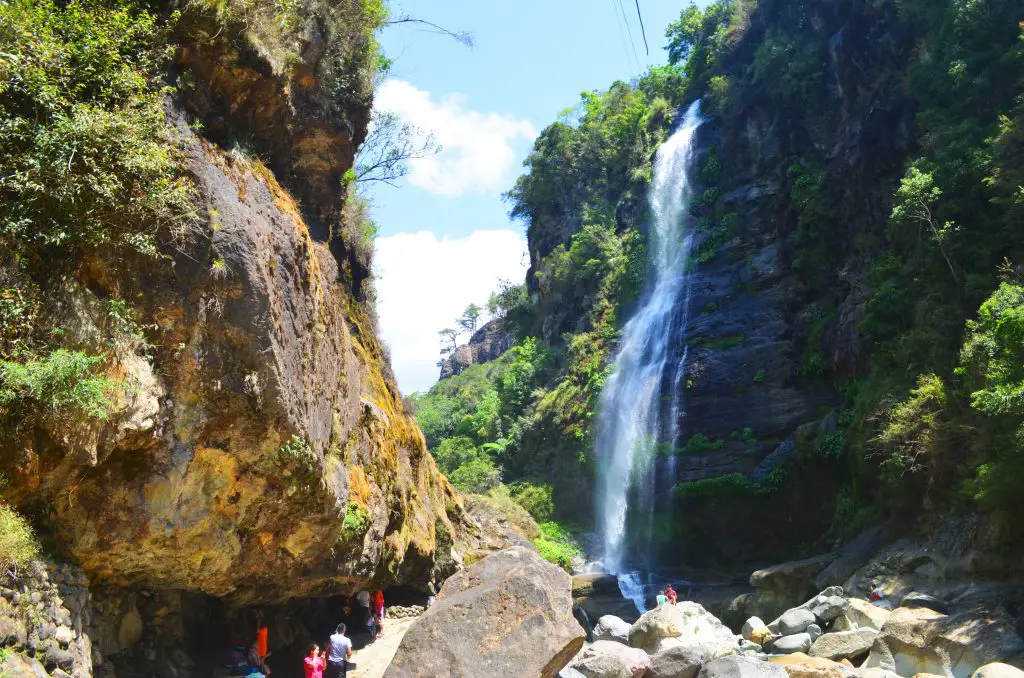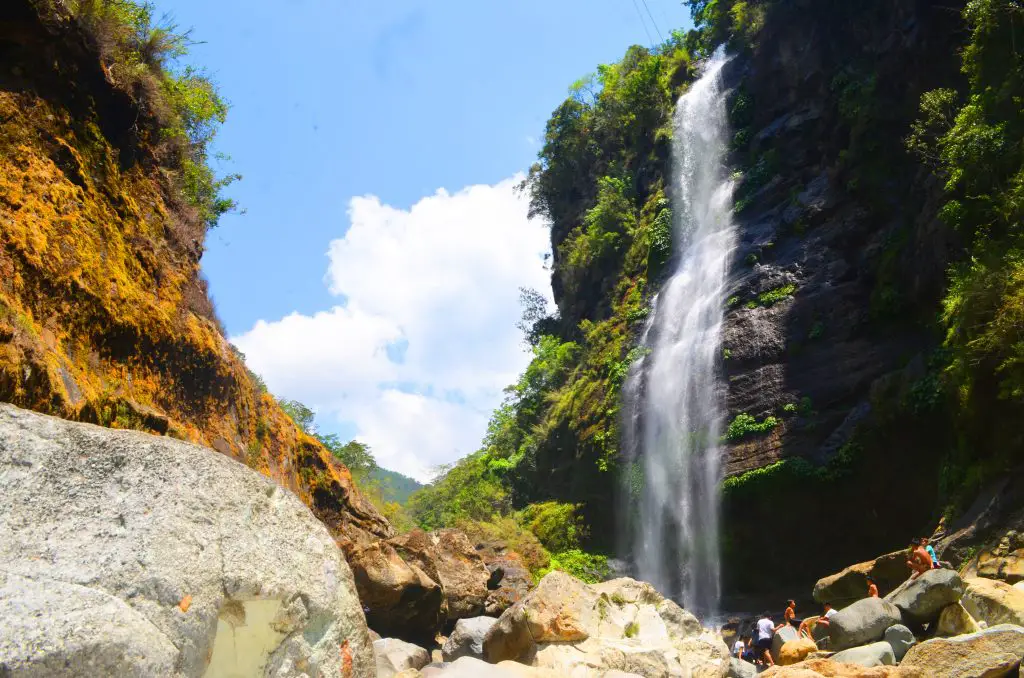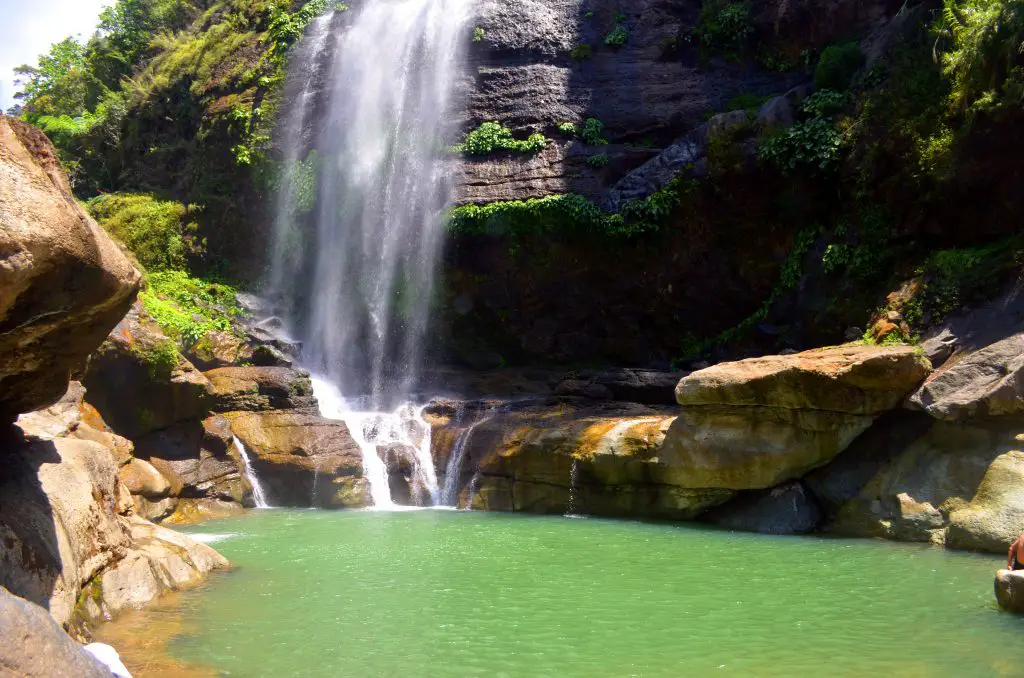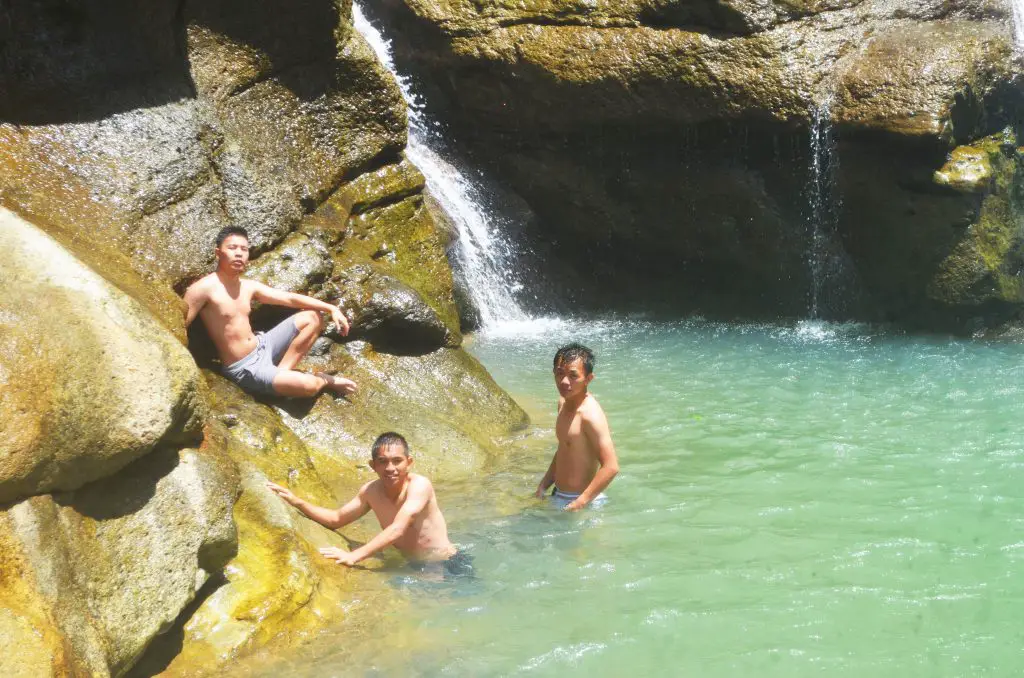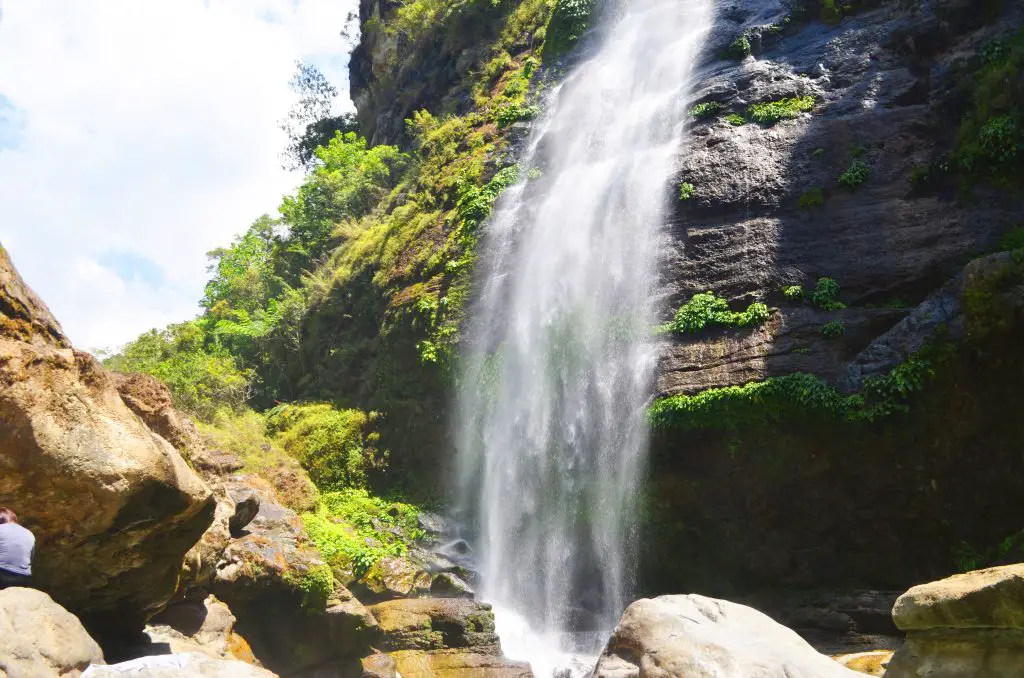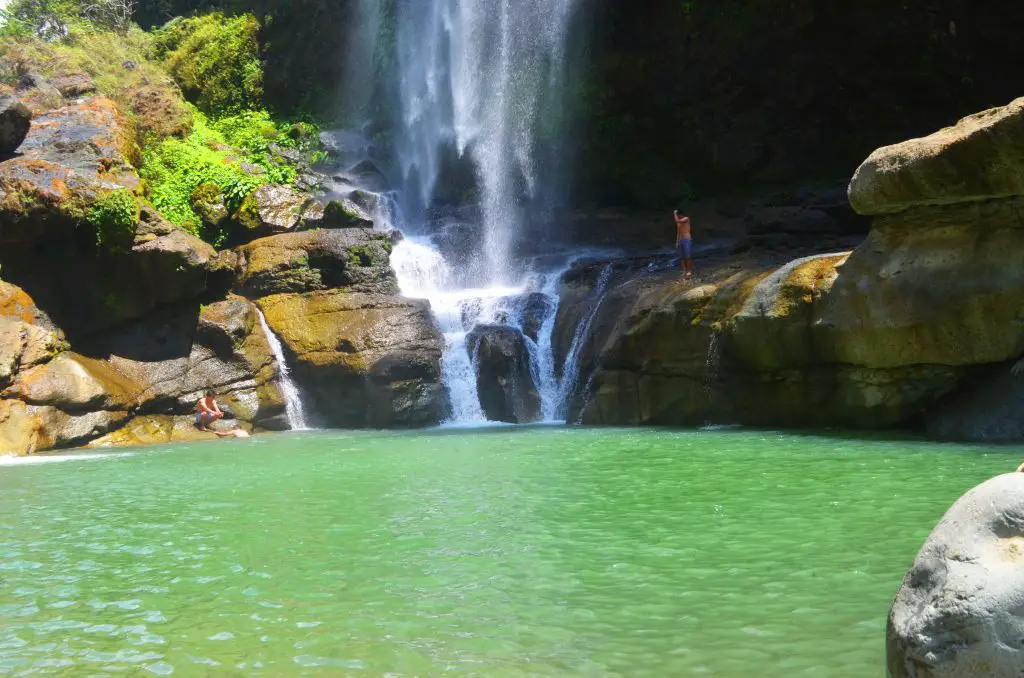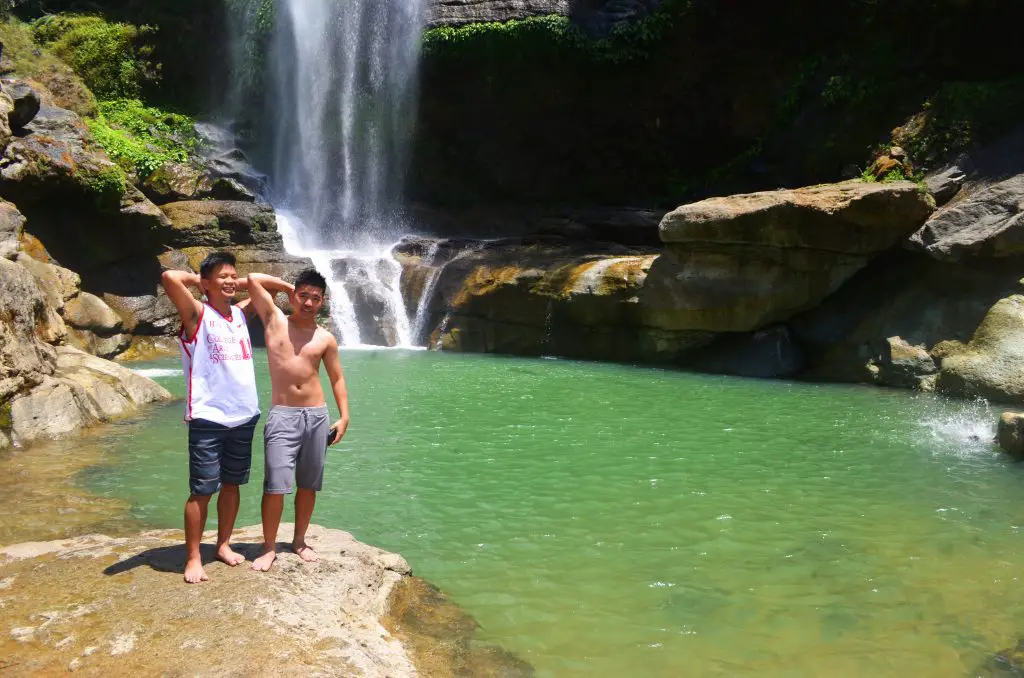 Oh, beautiful rock formations and giant boulders surround the pool. I then took these as platforms to do cliff jumping and diving. Oh, we had so much fun, reminiscent of our childhood years.
At the shallower parts of the pool, I noticed fingerlings. These are actually species of fish commonly found in the rivers of the Cordillera. The presence of these indicates that the waterfall and the adjacent river remain relatively clean and healthy. Hopefully, the locals will maintain so because Bomod-ok falls is indeed both a natural and cultural treasure.
Bomod-ok falls measures more than 50 meters high (around 200 feet), making it the highest single-drop cascade in Sagada.
Assaulting our Way Back
There are no required time limits when immersing at Bomod-ok falls. But get ready once you're done, it's a long and uphill hike of going back to the road. But just like what I always do when I set off to adventures, I never think about the difficulty or length of the trail. That would tire and exhaust you even more.
Instead, I bask in the scenes around. I look at the flowers, the hopping insects, the flowing waters, the swaying trees, and just internalize my amazement to these. Somehow, just relishing the sights is enough to keep me going. Well, of course, talking with your guide or your companions could also of big help.
If you feel like drinking, there are make-shift booths along the way. Once you reach barangay Fidelisan, you can drop by on the several stores found there. If I were you, I would mingle with the locals, share stories with them, crack casual jokes, and more importantly, listen to their stories. Some locals are shy when seeing visitors for the first time but once you are able to open up to them, they could have endless thoughts or words to say. Now, that is one way for you to have a meaningful experience while learning about their place and culture.
Some thoughts about Fidelisan Mines
I was able to talk with the barangay captain after our visit to Bomod-ok Falls. He mentioned that the locals are reluctant to share about the issues surrounding Fidelisan mines. Of course, I won't have to divulge further. But from my observation and interactions, the community is divided with regards to it. Some are in favor while others are against.
I actually talked to a young child who shared her opinion about the mines. She said, "Madik ah dyta minas ta kabutbuteng karkaru nu agbungbong da (I don't like the mine because it's scary especially when they make use of explosives)."
Another local whom I talked to shared that even if it's considered a small-scale mine, the miners are transitioning into a full-blown commercial scale. Accordingly, the holes they are creating are going deeper and deeper and could cause the whole community to sink. She even added that they could sometimes feel tremors as a result of the explosions.
"Ti dadduma ket masayang lang kwarta da nga nagapu balitok ta apan da lang isugal wennu pangbisyo (Some who sold gold are just wasting their money for gambling and vices)," she furthered.
I just hope that both the locals, the municipal officials will do something to address such issues. Fidelisan, as a community, is already earning from its growing ecotourism industry. Bomod-ok falls and its rice terraces are in fact, enough to sustain so. They might as well focus on this, instead of continuing an industry which could endanger lives and cause environmental and property damage.
From my latest update though, I've learned that the mines have been closed. This is a result of the government's order to curb irresponsible mining.
Try Speaking Local Utterances
As goes a popular adage, "When in Rome, do as the Romans do." In the same way, you can also try conversing with the locals using their language. This is especially helpful in building rapport with the community. Kankanaey is the main language in Sagada. Take note, this is different from the Kankanaey language of some communities in Benguet. I get it. You don't need to be well-versed. But you can at least try common utterances such as the following. Have fun learning and using them:)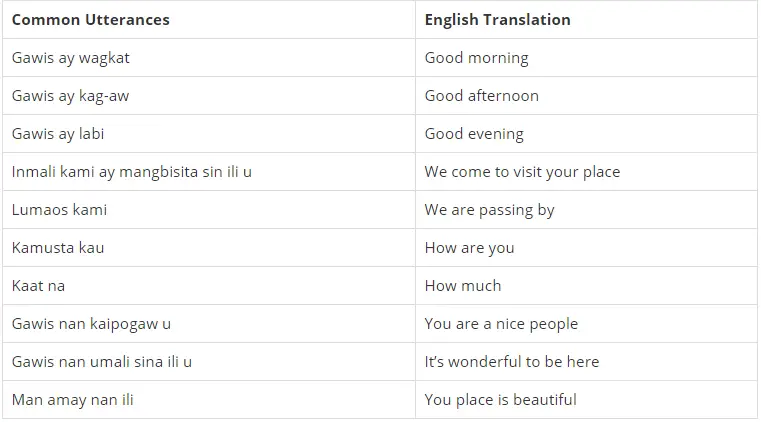 For your Information:
If you need more information that can help you in setting your itinerary to Bomod-ok Falls, simply ask them in the comment section below. You can also message us on our facebook page, Daniel's Eco-Travels. I will be more than glad and willing to help you with the answers whenever I can.
Please follow and like us: