Here is a comprehensive list of the best eco-cultural tourist spots in Bontoc, Mountain Province!
When we talk about tourism in Mountain Province, Sagada would certainly come to mind first. The tourist spots in Bontoc town are often overlooked though it is the provincial capital. More often than not, tourists go to Bontoc for side tripping after exploring Sagada.
Surprisingly, tourists don't know that they are missing beautiful and meaningful destinations. Yes, you've read it right! Bontoc does offer tourist spots you might never have expected. Interestingly, you need not go far as these are just within the town proper or just a few minutes of drive.
In just a day's tour or less, here are the must-see tourist spots in Bontoc. Oh yes, we were able to glimpse most of these and had happy and meaningful moments in just a day!
Let's go!
Behold Tourist Spots in Bontoc Town
1. Bontoc Museum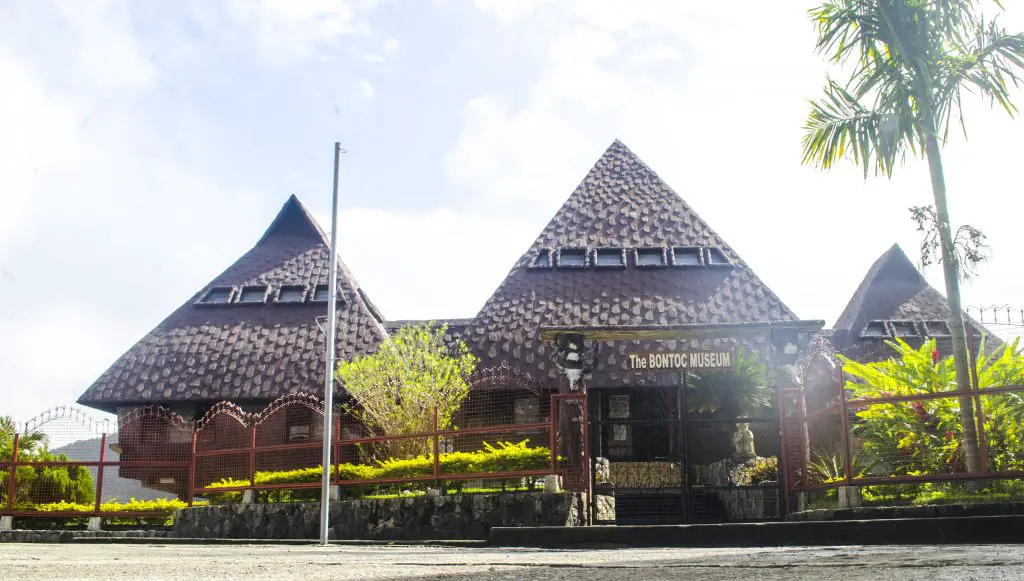 The Bontoc Museum contains an extensive collection of artifacts, old and new photos, accessories, weavings, books, magazines, and other reading materials. These depict the rich Cordilleran culture especially that of Bontoc and Kalinga.
The architectural design of the museum is a cultural beauty in itself. Apart from the main buildings, there is a backyard surrounded by traditional I-Bontoc dwellings.
The entrance fee per person is 65 pesos. The management strictly prohibits taking photos inside the museum.
READ: Bontoc Museum (A Practical Guide): How to Get There, What to See
2. The Provincial Capitol
This building was constructed during the American colonial periods and serves as the seat of the Provincial Governor. Part of it, however, was partly demolished to give rise to a new building with a similar design.
Criticisms from various civil sectors led to incomplete demolition. The Provincial Tourism Office (PTO) of Mountain Province is also located here. So if you want to know more about the ecotourism destinations of the province, do come here.
3. Kadchog Rice Terraces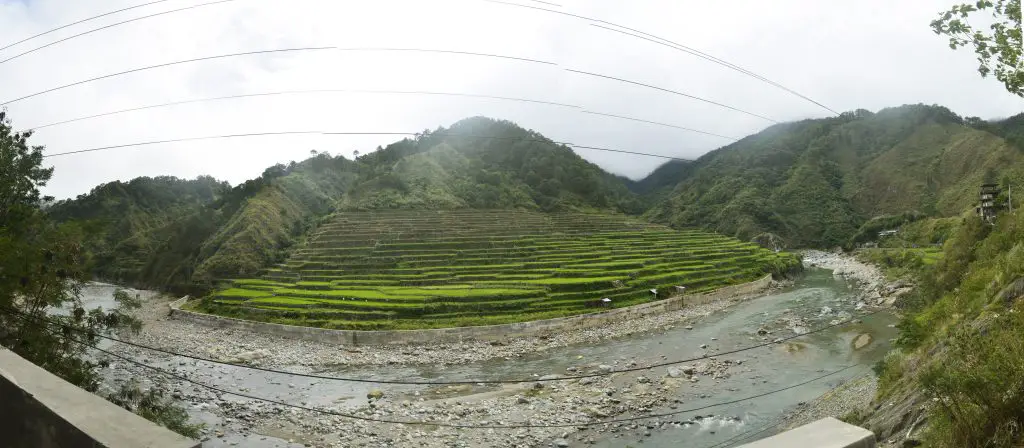 Visible along the Halsema highway, these stone-walled rice terraces can be reached via a 20-minutes' walk or 5-minutes tricycle ride from the town proper.
An abundant water supply coming from the forested mountains irrigates these terraces all year round. During the rainy season, the terraces project a rare view of stunning terraced waterfalls.
The mighty Chico River passing along the foot of the terraces adds to the scenic view.
4. Santa Rita Cathedral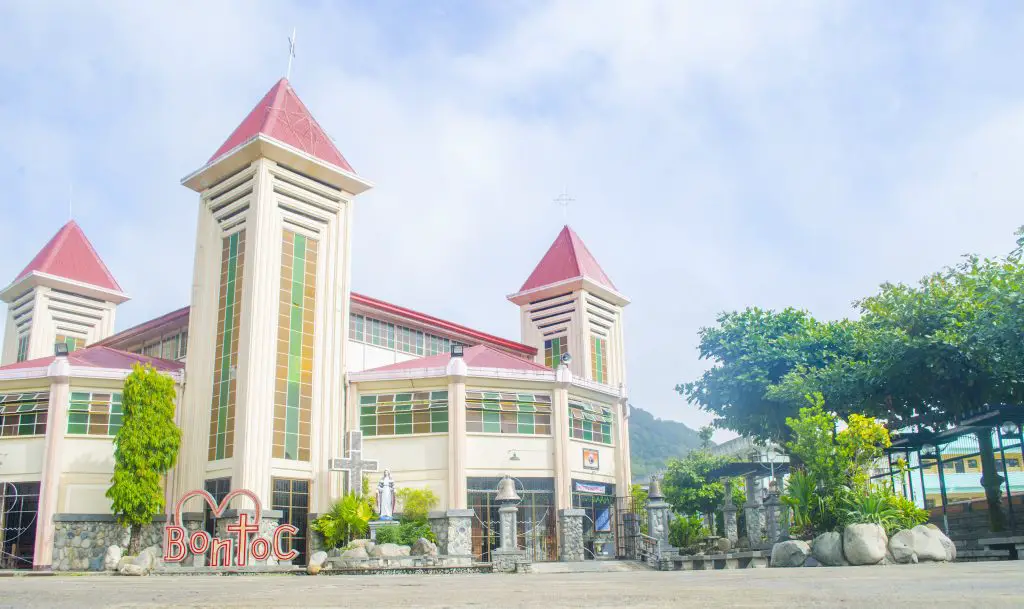 This is one of the historic and oldest buildings in Bontoc. It's pinkish and Gothic architectural design makes it a distinguishable landmark. It has a cultural touch, reflecting the Church's tolerance to the good culture of the I-Bontoc.
Though the majority of them are Catholics, many still abide by their old customary beliefs and practices.
5. Bontoc Public Market
If you are looking for an authentic culinary treat or locally-made items for souvenir, then don't miss visiting this market. Traditional products of Mountain Province such as etag (smoked meat), inasin (salted meat), muscovado sugar, heirloom rice varieties, including delicacies like the linapet and patopat are sold here.
On the second floor, you'll find rows of coffee shops serving brewed coffee with a matching pancake. The coffee servings are mostly of Arabica and Robusta varieties.
6. Pasalubong Center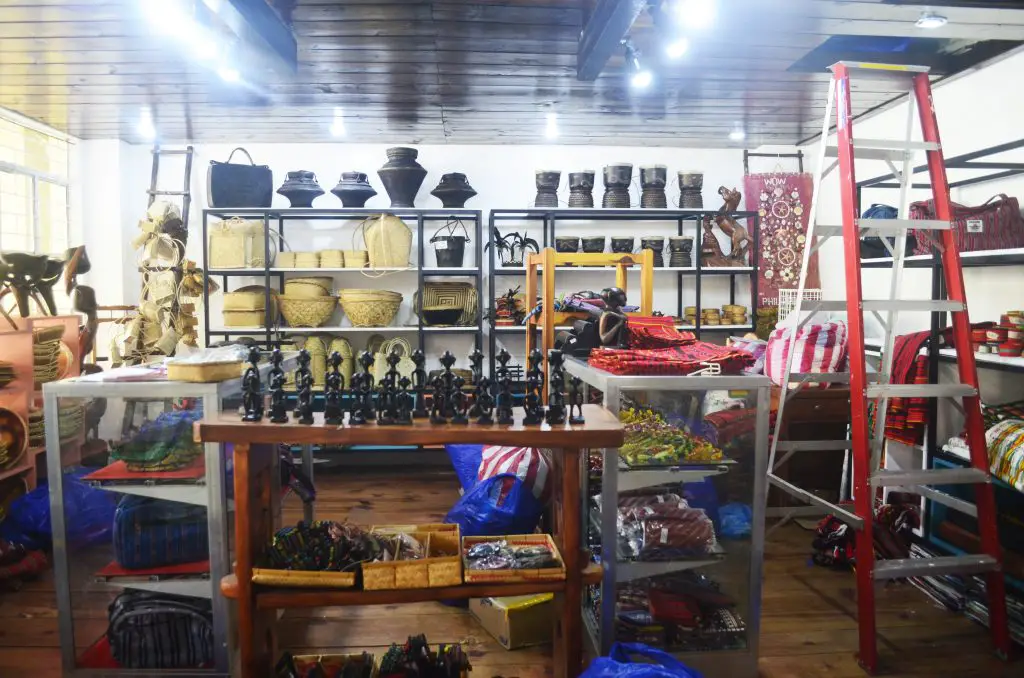 This is located near the Provincial Plaza (above the Landbank of the Philippines-Bontoc Branch floor). It showcases and sells the One Town and One Product (OTOP) of the different municipalities of Mountain Province.
These products include beautifully-crafted Sagada weavings, organic wines, and vinegar, colorful beads and accessories, as well as rattan-made products like baskets and bags.
7. Blue Lagoon Multi-Falls
This is a series of waterfalls, located at barangay Samoki. The highest of these measures more than 20 feet high. Getting to each of the falls, however, is a real challenge especially that one needs to hold unto plant roots, vines, and rock crevices to avoid slipping.
During sunny days, the waterfalls exude a blue appearance, similar to that of the ocean. There are naturally-built pools, offering an invigorating dip.
Local interventions, however, are needed to ensure convenience, safety, and sustainability of the area. This is one of the least known tourist spots in Bontoc.
READ: Blue Lagoon in Bontoc, Mountain Province (Your Complete Travel Guide)
8. Bontoc View Deck
From here, one could see the panoramic view of Bontoc town and its surrounding mountains. To get here, ride a tricycle for 300 pesos (back and forth). If you want to stretch some muscles or lose fat, you may jog for more or less an hour.
9. Teng-Ab Pastoral Complex
This is a Catholic property located high on a mountain slope. It overlooks the town of Bontoc including the surrounding mountain ranges and the Chico River. It contains several, big buildings with beautiful architectural designs. These are commonly used for retreat, seminars, and training.
10. Bontoc Plaza
Located in front of the Provincial Capitol, this public plaza is a favorite hangout station among the locals. During festivals such as Lang-ay, this serves as a venue for trade fairs.
In addition, the Bontoc Commerical Center, Provincial Library, Provincial Justice Hall, and the Children's Playground surround the said park. There is also a basketball and a tennis lawn.
READ: Lang-ay Festival (DIY Travel Guide): Everything you Need to Know
Other Must-See Bontoc Tourist Spots:
As I've mentioned earlier, the tourist spots listed above are those found within Bontoc town. But Bontoc is way more than those. If you're chasing adventure, here are some destinations to see.
11. Maligcong Rice Terraces
Location/Jump-Off: Brgy Maligcong, Bontoc
Maligcong Rice Terraces is among the most popular tourist spots in Bontoc. Some bloggers describe these as the most beautiful terraces in the country. Surely, that intrigues you. Come visit and you'll see why.
READ: Maligcong Rice Terraces in Bontoc (Your Complete DIY Travel Guide)
12. Mainit Hot Springs
If you want to experience a sulfuric bath, then this is the place to go. There are man-made pools where you can dip on thermal waters and experience rejuvenation.
Because of the abundance of hot springs, barangay Mainit looks like a steamy community. If you want to do something different, try cooking an egg on one of the hot springs. It works!
Location/Jump-off: Brgy Mainit, Bontoc
13. Alab Petroglyphs
These are ancient markings on a stone overlooking rice terraces and pine forests. Studies showed that these date back more than 3000 years ago, thus, existed way before Christ revealed Himself to humanity. The inscriptions partly depict the culture of the prehistoric folks who lived here.
Location/Jump-off: Brgy Alab, Bontoc
Trekking Time: 30 minutes-1hour
14. Humuyyo Falls
Humuyyo falls is considered as the tallest single-drop waterfalls in Bontoc. It measures more than 40 meters high. Its icy-cold water comes from mossy and pine forests upstream. Did I say cold? Yes.
Location/Jump-off: Brgy Talubin, Bontoc
Trekking Time: 30 minutes- 1 hour
Guide Fee: Donation
READ: Humuyyo Falls in Talubin, Bontoc (Your Complete Travel Guide)
15. Kaman Utek/Blue Soil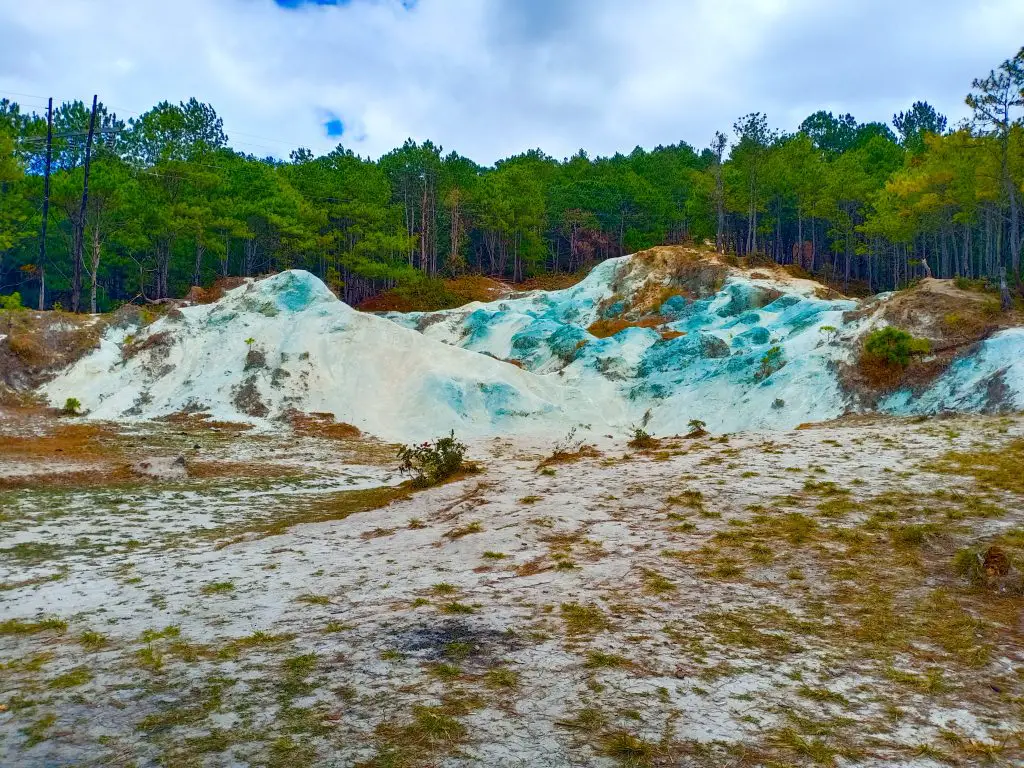 "Kaman Utek" literally translates into brain-like. That is because these limestone rock formations look like molds of the brain. They turn bluer when wet.
Sagada also promotes this as the Blue Soil. Expect a moderate hike when you come here. But don't worry aside from the formations, the pine forests are added sights.
Location/Jump-off: Brgy Balili, Bontoc
Trekking Time: 45 minutes
16. Mt. Fato
Mt. Fato stands next to Mt. Kupapey and you can hike both mountains on the same day. It's highest point is a huge rock formation where you'll catch a breathtaking view of Maligcong and its forests and mountains.
Don't forget to capture wonderful photos among the limestone rock formations found here.
Location/Jump-off: BrgyMaligcong, Bontoc
Trekking Time: 1 hour
17. Mt. Kupapey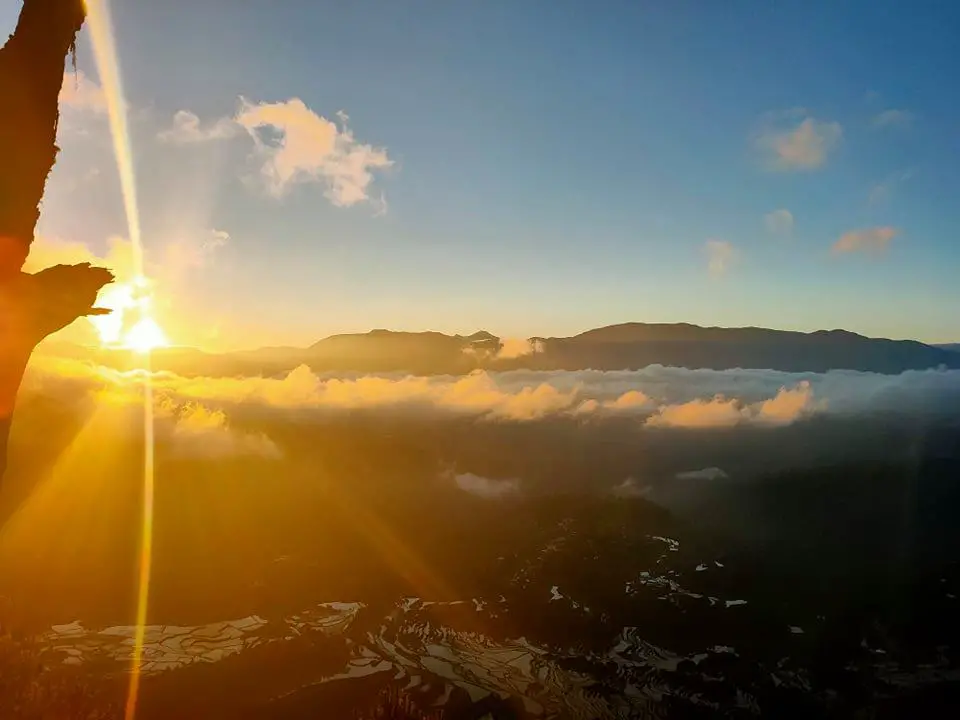 Mt. Kupapey is where you'll get the best views of Maligcong Rice Terraces. It's best to come here during the early morning so you can catch sight of a spectacular sunrise with frequent sea of clouds. It's good for casual hikers too!
Location/Jump-off: Brgy Maligcong, Bontoc
Trekking Time: 1 hour
READ: Mt Kupapey (1642+): Your Complete DIY Travel Guide
18. Lipnok Falls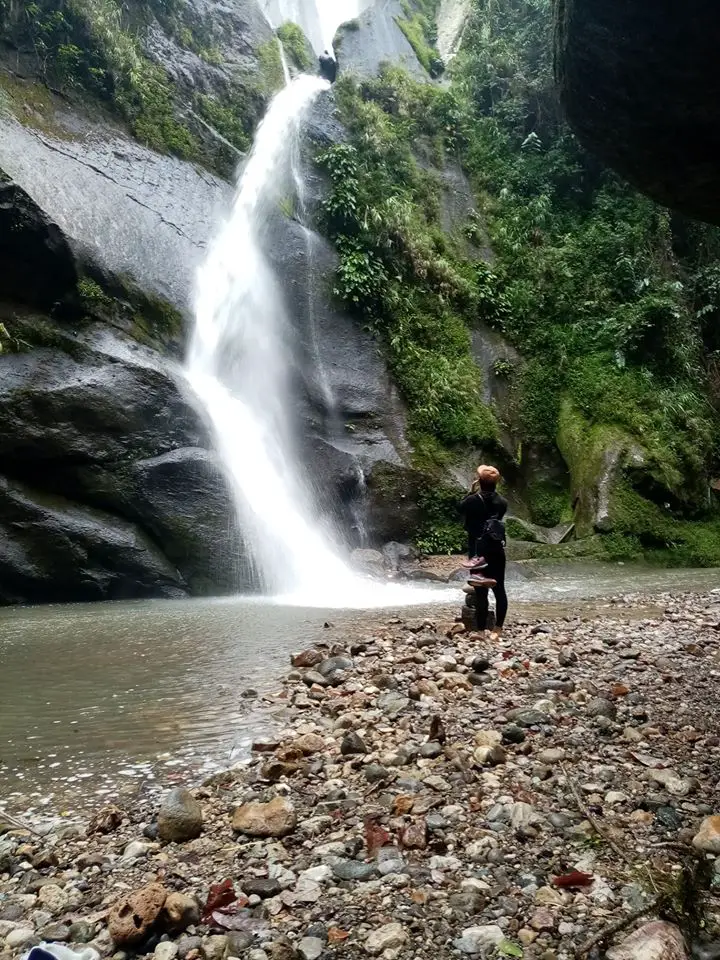 Lipnok falls is one of the newly-discovered tourist spots in Bontoc. It cascades like drizzles vertically. Stand on its base and you'll feel rejuvenated by its chilly and pristine waters.
To get here, you'll be following a brook. Expect a lot of jumping too! But wouldn't that be fun for an adventure?
Location/Jump-off: Brgy Maligcong, Bontoc
Trekking Time: 2 hours
19. Bayyo Rice Terraces
These can be seen along the highway when going to or from Banaue, Ifugao. Towering mountains surround these terraces and offer an imposing view. The locals don't allow the building of structures within the terraces to protect them.
Location/Jump-off: Brgy Bayyo, Bontoc
20. Pitawana Falls
Pitawana falls is one of the remotest tourist spots in Bontoc. The hike may take some time but I assure you, the view of the falls and the rejuvenating swim it offers makes it a must-see destination! The crystal-clear waters come from the mossy forests of Mt. Kalawitan.
Location/Jump-off: Brgy Bayyo, Bontoc
Trekking Time: 30 minutes-1 hour
For Your Information:
If you need more information that may help in setting up your itinerary to the tourist spots in Bontoc, Mountain Province, do contact the following:
Bontoc Tourism Map