Here is your complete DIY travel guide to the Bontoc Museum, one of the best cultural tourist spots in Mountain Province.
I have always been fascinated by the olden culture. As an indigenous person myself, I find it a meaningful experience learning and exploring the culture of different tribes in places I go to.
If not to experience the culture myself, I just visit creative showcases such as museums. I've been to different museums but what really nudges me to keep coming back is Bontoc Museum.
Bontoc Museum is indeed a must-see when you visit Bontoc town. It's just a walking distance from the bus stations. With an affordable fee, you can already glimpse of priced collections, some dating back to thousands of years ago.
I've been to Bontoc Museum several times. But I just love coming back if given the chance especially that I get to learn and discover something new whenever I visit.
If you're someone like me with a passion for culture and history, you should see it as well. It's also a place for those wanting to learn cultural arts and crafts.
Quick Facts
Location/Jump-off: Bontoc Town, Mountain Province
Bontoc Museum Entrance Fee: Php 65 per person
Opening Time: 8 AM to 5 PM (Monday-Saturday), 3:30 PM to 5 PM (Sunday)
Special Feature: It showcases the rich culture of the tribes of the Cordillera region. They have Chinese artifacts too.
How to Get to Bontoc Museum, Bontoc?
Once you're in Bontoc town, you can easily reach Bontoc Museum from any points. If you're coming from the GL Bus Station or Rising Sun Bus Station, trekking time takes 5 and 10 minutes respectively.
If you want, you can also ride a tricycle. Fare is Php 10 per person.
If I were you, however, I would prefer walking so I can also glimpse and experience sights and activities in Bontoc.
To guide you, you can always ask help from the locals. I am sure most of them would readily give directions with a smile. As a local myself, it's my joy helping visitors and seeing them enjoy and appreciate our community.
Once you reach the museum, you'll have to register and pay the entrance fee of Php 65 per person. If you want to know more about the museum and the collections, you can always ask the nun in charge to guide you.
What to See?
The design of Bontoc Museum is an attraction itself. It is constructed with a cultural touch, showcasing the unique architectural skills of the I-Bontoc.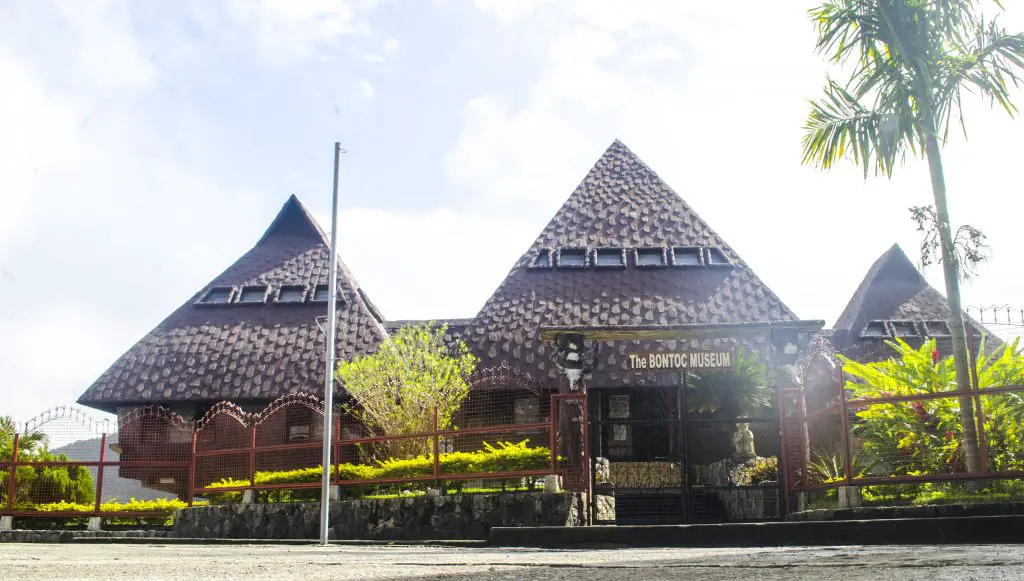 While inside, you can glimpse on an extensive collection of artifacts, indigenous implements and tools, colorful weavings, rattan and bamboo products, and numerous other materials. These showcase the local industries and skills not just of the Bontoc folks but also the communities of Ifugao, Kalinga, Abra, and Benguet. That means the Bontoc Museum is giving you a picture of the diverse yet interwoven Cordilleran culture.
There is also a wide array of centuries-old Chinese material collection. Among these are heirloom porcelain, exquisite jars, plates, bowls, and stoneware. According to the curator, these date back to the Ming, Sung, and Ching dynasties. This is no wonder for me since I remember my grandmother narrating to me that their ancestors traded with the Chinese.
You can also see antique pictures, showing the missionary attempts of both Americans and Belgians. Yes, they have pics depicting some practices in the past such as headhunting. Sounds disturbing? Don't worry. These practices are long gone.
In a nutshell, visiting Bontoc Museum leads you not only into a cultural understanding but a visit to the rich history of the different Cordilleran tribal groups especially the I-Bontoc.
Oh, I was not able to take photos inside because it is prohibited. I guess that's one way for them to preserve the authenticity of the materials.
Wait, there's more…
After our inside tour, we proceeded to apparently, an outdoor museum. This shows the typical setup of a Bontoc village in the past. There are well-furnished huts made of wood and bundled grasses. One of these is called ato where men and elders used to gather to talk about the political and social affairs of the community.
There is also a big cherry tree at the center. You are lucky if this is in the fruiting season. When I and my friend visited, there were just two of us. So the nun in charge allowed us to climb and pick as many fruits to fill our craving stomach.
There are also rows of herbs, vegetables, and other fruit trees.
The Bontoc Museum also has an adjacent shop, selling souvenir items such as native necklaces, personalized shirts, bracelets, books, etc. When you buy from this, you are helping realize the vision of the school and the church mission.
Tips and Reminders
Don't take pictures inside the Bontoc Museum. The management prohibits so.
Avoid touching items inside the museum. These are for your eyes only.
If I were you, I would buy a souvenir to help in the advocacy of promoting the preservation of local culture.
Don't wear revealing clothes when you come here. Take note. You are in a conservative community.
For your Information:
If you need further information that may help in setting up your itinerary to the Bontoc Museum, simply ask them in the comment section below. You can also message us on our Facebook page namely, Daniel's Eco-Travels. I will be more than glad and willing to answer them whenever I can:)