Have you always wanted to experience the unique culture of Bontoc but tend to miss out local occasions such as Am-among Festival and Lang-ay Festival? Don't fret. Any time of the year, you can have a personal encounter of such. Simply visit the Bontoc Museum, within the town proper.
Bontoc Museum is one of the most popular tourist spots in Bontoc. If my memory serves me right, I visited the place at least three times. I learned so much about the wonderful culture not just of Bontoc but also of other municipalities and provinces.
Bontoc is the capital town of Mountain Province. It is less popular compared to Sagada. But a lot of tourists don't know that it also hosts fascinating tourist spots such as the Bontoc Museum/
How to Get to Bontoc Museum?
The Bontoc Museum is very much accessible. It is near the provincial capitol and Bontoc plaza. It is within the compound of Saint Vincent's Elementary School, a Catholic property founded by Belgian missionaries during the American period.
Anywhere from Bontoc proper, you can simply take a walk for some minutes. Or ride a tricycle for 10 pesos only. A registration fee of 65 pesos is being collected per person.
What to See in Bontoc Museum?
The design of Bontoc Museum is an attraction itself. It is constructed with a cultural touch, showcasing the unique architectural skills of the I-Bontoc.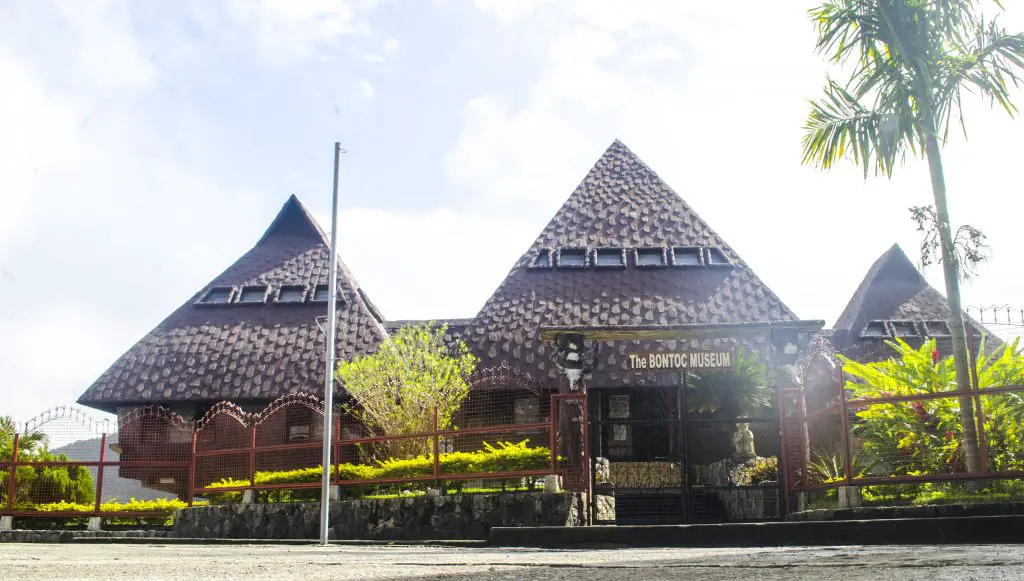 While inside, you can glimpse on an extensive collection of artifacts, indigenous implements and tools, colorful weavings, rattan and bamboo products, and numerous other materials. These showcase the local industries and skills not just of the Bontoc folks but also the communities of Ifugao, Kalinga, Abra, and Benguet. That means the Bontoc Museum is giving you a picture of the diverse yet interwoven Cordilleran culture.
There is also a wide array of centuries-old Chinese material collection. Among these are heirloom porcelain, exquisite jars, plates, bowls, and stoneware. According to the curator, these date back to the Ming, Sung, and Ching dynasties. This is no wonder for me since I remember my grandmother narrating to me that their ancestors traded with the Chinese.
You can also see antique pictures, showing the missionary attempts of both Americans and Belgians. Yes, they have pics depicting some practices in the past such as headhunting. Sounds disturbing? Don't worry. These practices are long gone.
In a nutshell, visiting Bontoc Museum leads you not only into a cultural understanding but a visit to the rich history of the different Cordilleran tribal groups especially the I-Bontoc.
Oh, I was not able to take photos because it is prohibited to do so while inside the museum.
Wait, there's more
After our inside tour, we proceeded to apparently, an outdoor museum. This shows the typical setup of a Bontoc village in the past. There are well-furnished huts made of wood and bundled grasses. One of these is called ato where men and elders used to gather to talk about the political and social affairs of the community.
There is also a big cherry tree at the center. You are lucky if this is in fruiting season. There are also rows of herbs, vegetables, and other fruit trees.
The Bontoc Museum also has an adjacent shop, selling souvenir items such as native necklaces, personalized shirts, bracelets, books, etc. When you buy from this, you are helping realize the vision of the school and the church mission.
Some Important Reminders
Don't take pictures inside the Bontoc Museum. The management prohibits so.
Avoid touching items inside the museum. These are for your eyes only.
During Monday to Saturday, the Bontoc Museum is open from 8:00 am-5:00 pm. On Sunday, it is opened from 3:30 pm to 5:00 pm.
Listen intently to the museum's curator. Ask questions if you may.
For your Information:
If you need further information that may help in setting up your itinerary to Bontoc Museum, simply ask them in the comment section below. You can also message us on our facebook page namely, Daniel's Eco-Travels. I will be more than glad and willing to answer them whenever I can:)
Related Articles:
Please follow and like us: