What are the must-see falls in Sagada, Mountain Province?
Sagada hosts the famed Sumaguing and Lumiang Caves, considered the deepest caves in the country. But there is more to that.
Sagada is also home to beautiful waterfalls, some of which lie in wait for daring and avid adventurers. So if you've been feeling exhausted, visiting Sagada's falls can provide you the relief and rejuvenation you badly need.
Let's now take you to some of these.
1. Bomod-ok Falls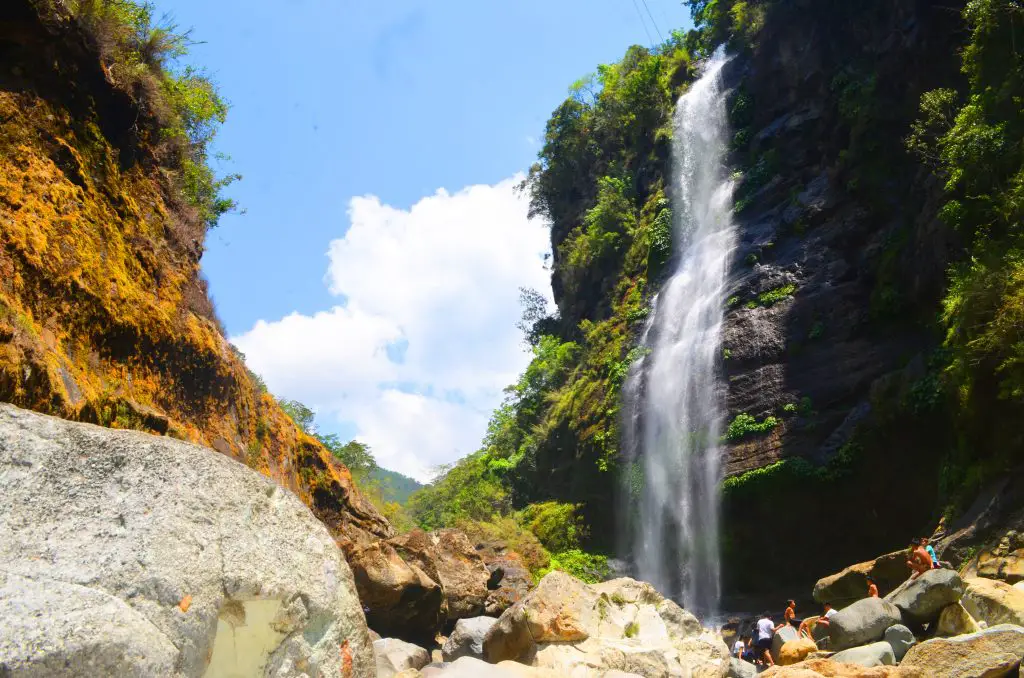 Bomod-ok, also called the Mother Falls, is the most popular falls in Sagada. Its waters emanate from a cave and cascade into a wide and naturally-made catchbasin.
The pool is very deep as reflected by its dark bluish appearance. The waters are crystal-clear during good weather conditions and one couldn't help it but take a plunge.
Beautiful rock formations surround the pool. From there, you can jump or dive your way to the pool. Oh, did I tell you? The waters are icy-cold! That's more than enough to blow your worries away and relieve you from the long hike of getting to Bomod-ok falls.
Bomod-ok falls measures more than 50 meters high, making it the highest single-drop falls in Sagada.
Guide Fee: Php 500 for a group with a maximum of five persons
Hiking Time: 30-minutes to 1 hour from jump-off points
Jump-Off Point: Brgy. Bangaan, Brgy. Aguid
Best time to Visit: During summer months (February to April)
For your complete travel guide, read this article: Bomod-ok falls (DIY Travel Guide): Everything you Need to Know
2. Pongas Falls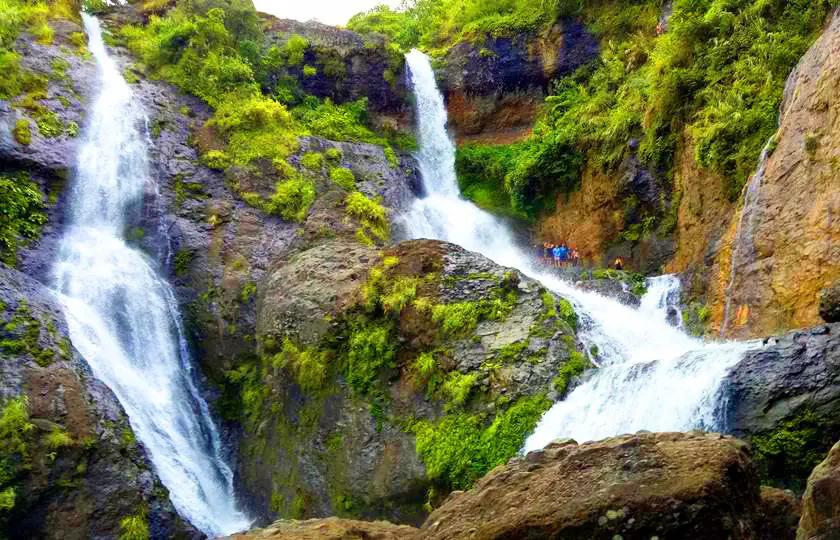 Pongas Falls is the rising gem of Ankileng in Southern Sagada. In the past, it was hardly accessible. Today, the trails have been improved and paved, making it safer to reach the falls.
Still, getting to Pongas falls is much more challenging compared to the trail to Bomod-ok falls. The path is narrower and traverses steep terrains and precipice.
But I tell you, the views you see along the way are breathtaking! Pine forests, rice terraces, limestone rock formations are just some of these.
Pongas Falls is best visited when its waters are in full force. Coming here during the rainy season is, therefore, the right choice. During summer, its waters are almost reduced to trickles. But during the rainy months, its a complete beauty!
Pongas falls measures around 40 meters high. Personally, it is one of the most unique falls in Sagada.
Trekking Time: 1-2 hours
Guide Fee: Php 500 for a group with a maximum of five persons
Jump-Off Point: Barangay Ankileng
Check out this article for more details: Pongas Falls in Sagada (Your Complete DIY Travel Guide)
3. Bokong Falls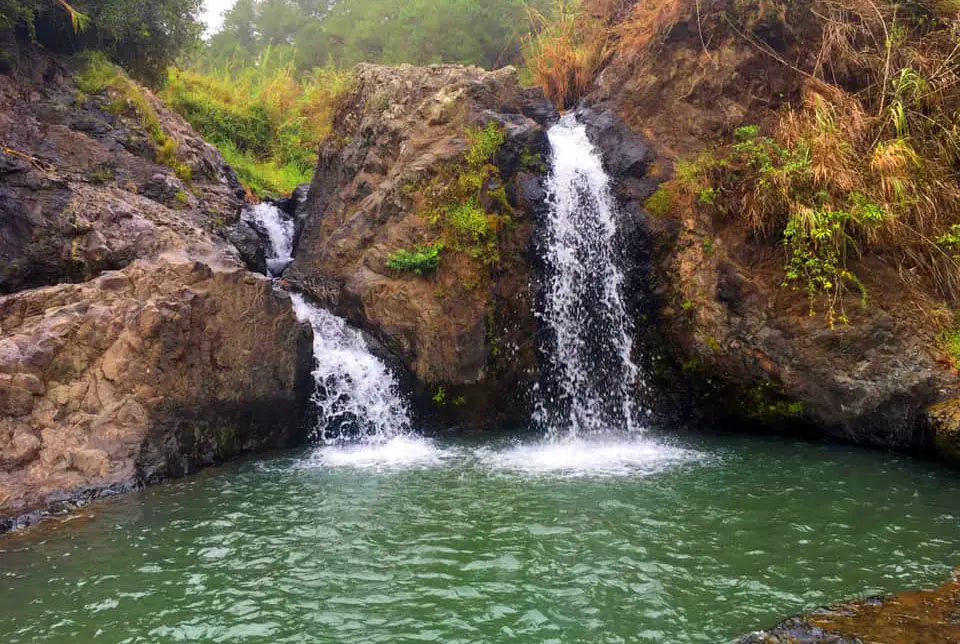 Bokong is the most accessible falls in Sagada. Though it only requires light trekking, getting here can be a little bit tricky. That's why it's always best to have a guide with you. Besides, that's one way for you to help in the local economy.
Bokong may not be the highest falls in Sagada but it surely captures one's amazement with its beautiful pool. It's a twin falls with the higher cascade measuring around 15 feet high. On top of it, you can jump towards the pool.
The waters are not as cold as those of Bomod-ok falls and Pongas falls. But they provide a perfect respite, especially during summer. Fewer people also come here, thus, Bokong falls makes up a good choice for introverted travelers like me.
The brook feeding Bokong falls leads to Sagada's Underground River, about half a kilometer away.
Trekking Time: 20-30 minutes
Best time to Visit: any time of the Year
4. Bumayeng Falls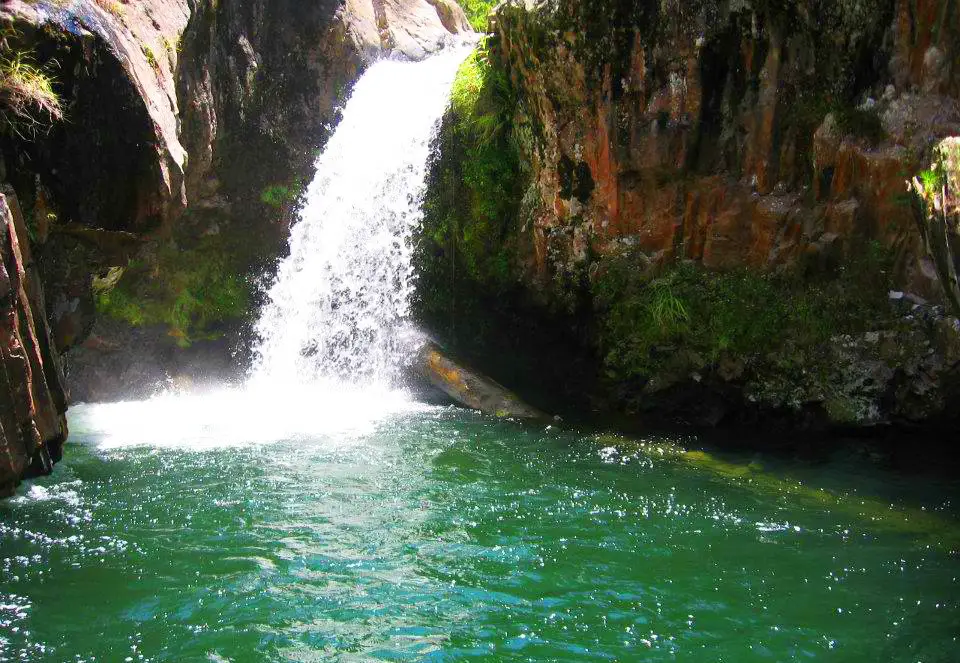 If you're done chasing the above three falls in Sagada, you may now want to try a more challenging option. This time, let's take you to Bumayeng falls!
Bumayeng falls lies in the mountains of Aguid in northern Sagada. To reach the falls, you'll need to hike for more or less two hours. Expect to trail on dense vegetation, steep precipice, and later on, clamber across boulders as you navigate the brook leading to Bumayyeng falls.
Bumayeng falls compose of at least three different falls, each with beautiful pools. The waters are icy-cold and crystal-clear. Because of its remote location, its probably the most pristine falls in Sagada.
Jump-off Point: Brgy Aguid
Trekking Time: 2-3 hours
Best time to Visit: Summer Months (February to April, etc.)
Special Features: Pine forests, pristine waters, multiple falls
5. Ubwa Multi-Falls
Ubwa falls is a favourite destination among the locals. It features several waterfalls, each with different designs and special features to offer.
Because its pools reflect the blue sky during good weather conditions, the locals aptly named it, "Blue Lagoon."
It takes a challenging hike, however, to reach Ubwa falls and the trails are yet to be improved.
NOTE: This is a work in progress. So, if you are from Sagada or if you're a traveler who explored other falls in Sagada, you may add to the list. You may also recommend a DIY Sagada falls itinerary.
Please follow and like us: