Here is a comprehensive list of the best Guimaras tourist spots you should not miss.
Guimaras boasts of growing the sweetest mangoes in the whole world! But this small island province is more than just these iconic fruits. It is now one of the recognized best eco-tourism spots in the Philippines.
Home to eco-historical wonders, visiting Guimaras will lead you into an adventure of a lifetime.
If you're planning to visit, here are the must-see Guimaras tourist attractions. We aim to promote these destinations for sustainable management and to help boost local eco-tourism.
Aside from the famous Guimaras points of interest, we included the off-beaten destinations.
Here we go.
Quick Facts
Location: Western Visayas Region, Philippines
Capital: Jordan town
Population: 200 000
Major Languages: Hiligaynon, Kinaray-a, Ati, Filipino, English
1. Natago Beach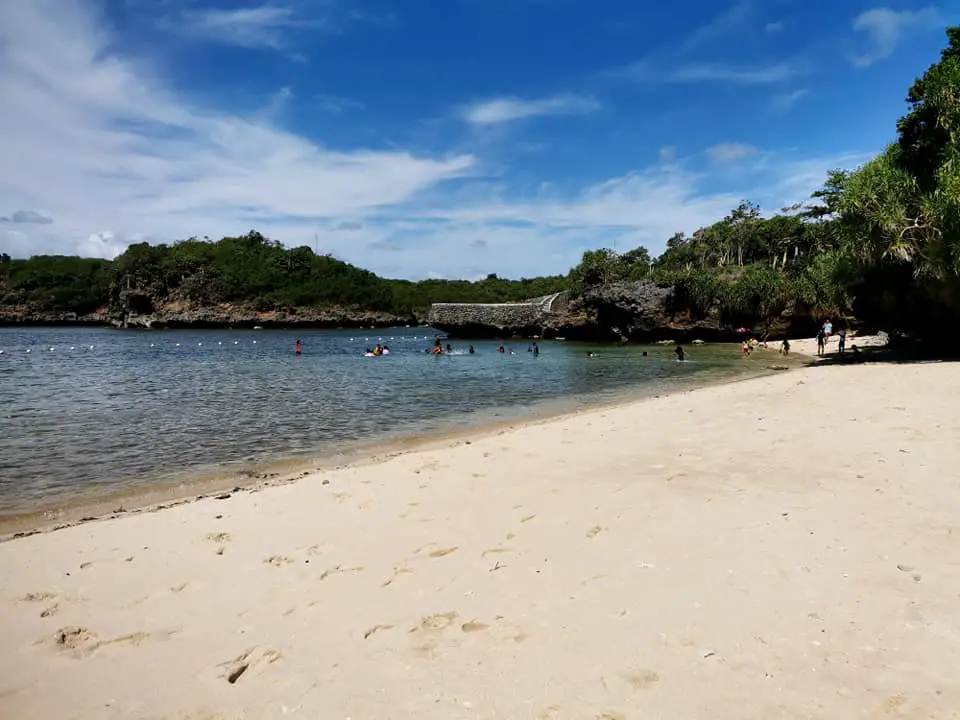 If you're after laidback destinations in Guimaras, then Natago Beach should make up your bucket list. It consists of multiple sandy beaches fringed by colossal limestone rock formations.
The waters are crystal-clear, and from time to time, you'll catch sight of rare marine species. You can try climbing one of the rocks and jump or dive your way to the sea. Just make sure it's deep enough.
Don't miss out on seeing a stunning sandbar that appears during low tide. Snorkeling is another activity to do here.
Location/Jump-off: Jordan
Entrance Fee: Php 50 per person
2. Baras Cave and Beach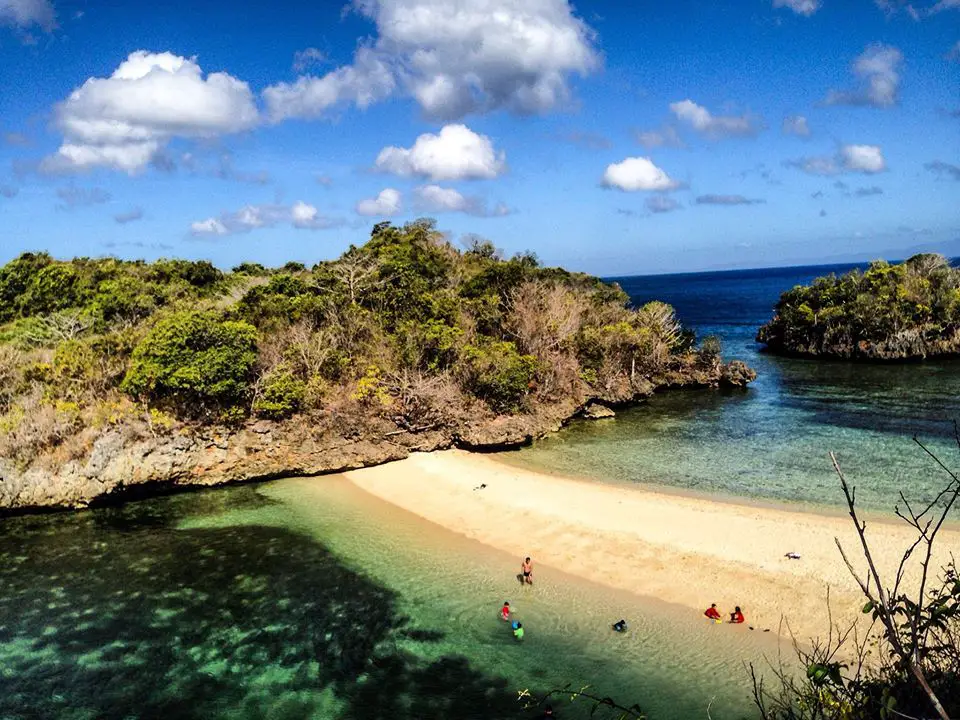 Baras Cave is close to Natago Island. Although the boatman will take you inside for you to see the cave's interiors, you will not be allowed to swim. That's because of strong water currents.
You can, however, take pictures of some of the rock formations inside. You'll also find mesmerizing rock formations here plus, there's just nothing like it gazing at the turquoise waters.
Location/Jump-off: Jordan
Entrance Fee: Php 30 for Beach, None for Cave
3. Guisi Beach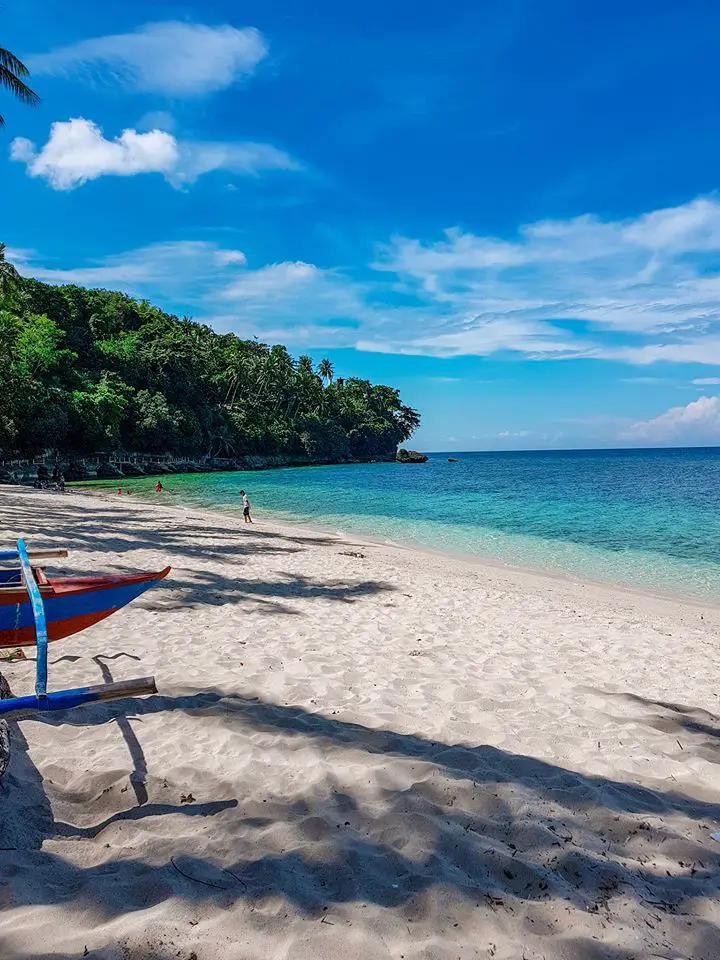 Guisi Beach features a stretch of golden yellow sand beach complementing the emerald green waters of the sea. Locals and visitors love to gaze at what's underneath as the waters are so transparent.
Here, you could see fishes, crabs, and other aquatic species lurking among the rocks. On both ends of the beach, you'll find beautiful rock formations.
You can use these as platforms for cliff diving or jumping. Guisi Beach is one of the top tourist spots in Guimaras.
Location/Jump-off: Nueva Valencia
Entrance Fee: Php 30
4. Capitoguan Cave
Capitoguan Cave is one of the least known Guimaras tourist spots. It has a length of 250 meters while its mouth is 12 meters high. It is home to thousands of endemic bat species. If you want to glimpse of these wildlife species, you should come here.
Location/Jump-off: Jordan
5. Guisi Lighthouse
If you're done swimming or snorkeling, check out GuisiLigthouse near Guisi Beach. It dates back to the 18th century or the Spanish era and is, in fact, the second oldest lighthouse in the country.
When trekking to the lighthouse, you'll come across ruins of Spanish-style structures. If you're brave enough, you can climb a spiral staircase to reach the top of the lighthouse.
From here, you'll catch a breathtaking view of Guimaras Strait and Guisi Beach.
Location/Jump-off: Nueva Valencia
Trekking Time: 10 minutes
Entrance Fee: Php 10
6. Higante Cave
Higante Cave is one of the attractions in Guimaras leased with a lot of fascinating folklore stories. According to one of these, a giant has inhabited the cave; thus, the name.
"Higante" is a Filipino term that means giant. Surely, that's something to hear more about. The cave is located on top of a hill overlooking, which is a good viewing point. 
Location/Jump-off: Jordan
7. Southern Orchard Plantation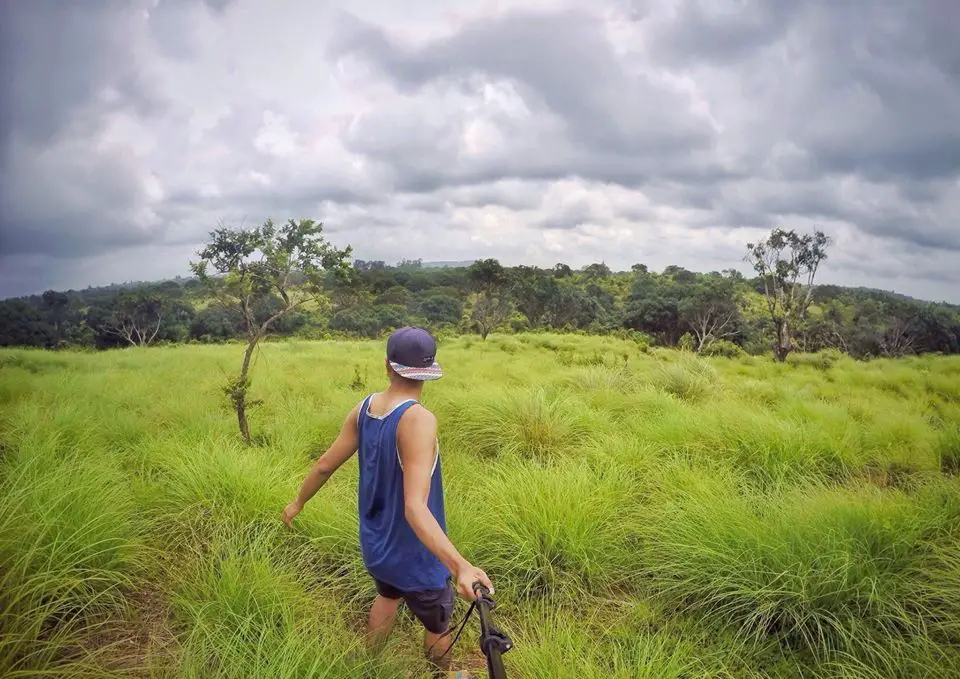 What's a trip to the world's producer of sweetest mangos without visiting one of the farms? Visiting a farm will immerse you in how these priced fruits are grown.
Plus, you'll get to appreciate the rustic and simple living there. One of the best farms to visit in Guimaras is the Southern Orchard Plantation, the second biggest in the province. It covers around 220 hectares and has 14 000 mango trees.
Location/Jump-off: San Lorenzo
Travel Time: 15 minutes jeepney ride from Jordan port
8. Turtle Island
If you want to glimpse one of the Philippines' endangered species, check out Turtle Island. For years, the locals here have been protecting the turtles from poachers.
Through eco-tourism, they are helping promote its conservation. Aside from the turtles, the island also has sandy beaches with azure waters. Every penny you give here helps save the turtles from extinction.
Location/Jump-off: BrgyLawi, Jordan
Boating Time: 30-minutes from Alubihod Bay, Nueva Valencia
Entrance Fee: Donation
Contact: (033)-524-1703
9. National Mango Research and Development Center
To protect the quality of Guimaras' mangoes, which are internationally-acclaimed, the government put up the National Mango Research and Development Center. Here, tourists can learn about the mango industry of the province.
Location/Jump-off: Jordan
10. Tatlong Pulo Beach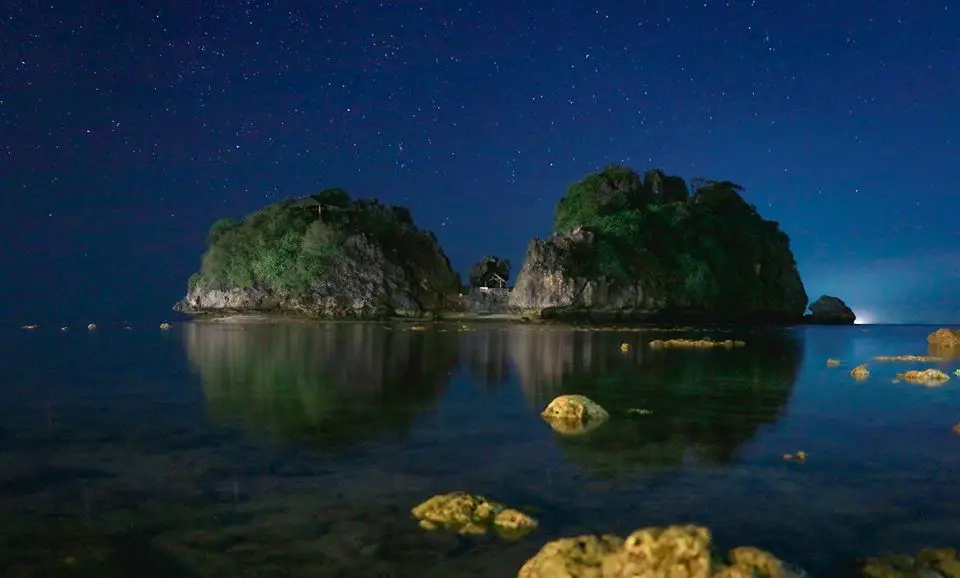 TatlongPulo Beach is one of the off-beaten Guimaras tourist spots. As a result, it is also one of the most preserved, and if you're someone who prefers less touristy destinations, there's nothing like it here.
It has a white sandy beach and crystal-clear waters that will surely entice you for a rejuvenating swim. During low tide, you can walk your way to the other islets.
Location/Jump-off: Jordan
11. Southeast Asian Fisheries Development Center (SEAFDEC)
If you want to experience and learn about marine conservation, visit the Southeast Asian Fisheries Development Center (SEAFDEC). It's also a research center with four islets that are interconnected by floating footbridges.
Among the common marine species, you'll find here are turtles, giant clams, and sea horses.
Location/Jump-off: Brgy Igang, Nueva Valencia
Entrance Fee: Php 30
Contact: (033)-330-7000
12. Roca Encantada
Roca Encantada is the summer residence of the influential Lopez clan. Build in 1910, the house was dedicated to Dona PresentacionHofilena Lopez. It stands adjacent to a rustic beach with picturesque limestone rock formations. It was declared a heritage house by the National Heritage Institute.
Location/Jump-off: Navalas
13. San Lorenzo Wind Farm (Guimaras Windmills)
Owned by PHINMA Energy, San Lorenzo Wind Farm is the first of its kind in the entire Visayas. You can take pictures with them as your background. They are Guimaras' version of the famous Bangui Windmills in Ilocos Norte.
Cool fact? Guimaras is the first province in the Philippines to ban coal and other fossil fuel energy sources. Hopefully, other provinces will follow, given the intensifying climate change.
Location/Jump-off: San Lorenzo
Entrance Fee: Php 25
14. Alubihod Beach
Alubihod Beach is a public beach and is one of the most frequented destinations in Guimaras. It has a long stretch of seemingly creamy beaches with color variations because of red pebbles all over.
Both locals and tourists troop here during holidays to escape the simmering midday heat. Alubihod Beach is usually the start of organized tours on the island.
Location/Jump-off: Nueva Valencia
15. Navalas Church
Considered as the oldest church in Guimaras, Navalas Church is a favorite pilgrimage site among Catholics. It was built by the Spaniards in 1880 using locally-available resources.
One could just wonder how the church stood the test of times, such as wars, calamities, and weather conditions. It's also one of the recognized Guimaras tourist spots.
Location/Jump-off: Buenavista
16. Ave Maria Islet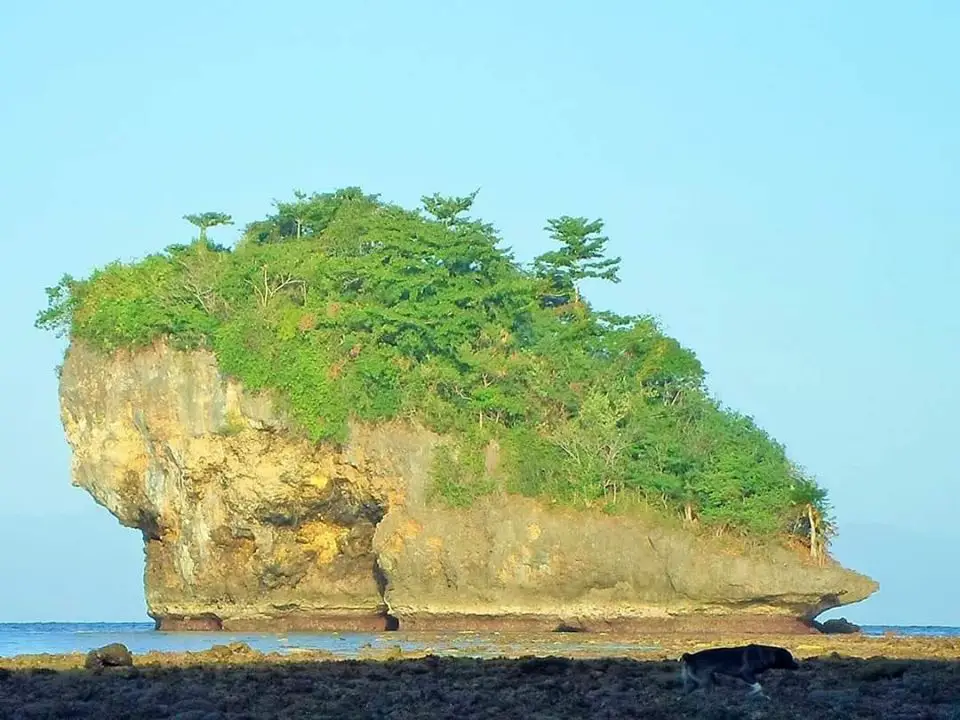 Although it's one of the famed Guimaras tourist spots, Ave Maria Islet is generally raw and off-beat. Enjoy running around its white beach or splash on its crystal-clear waters.
The surrounding sea teems with abundant marine life so you can go snorkeling to chance on amazing schools of fish.
You can also do cliff jumping and wait for the tide to go low so you can catch sight of a beautiful sandbar. Lush forests cover most of the islets. 
Location/Jump-off: Jordan
Entrance Fee: None
17. Trappist Monastery
Also referred to as Abbey of Our Lady of the Philippines Monastery, the Trappist Monastery is managed by the Cisterian Order of the Strict Observance. It is one of the most visited Guimaras tourist spots.
It is an ideal spot for spiritual contemplation. But more than that, you can also buy a variety of mango souvenirs here.
Location/Jump-off: Brgy San Miguel, Jordan
Entrance Fee: None
Travel Time: 20-30 minutes of jeepney ride from Jordan Port
Contact: 09285024756, 09274634465
18. Balaan Bukid (Holy Mountain)
BalaanBukid is a favorite pilgrimage site, especially among Roman Catholics who compose the majority of the province's population. During Holy Week, a group reenacts the crucifixion of Christ.
Although you may not see this during the rest of the year, climbing the rocky mountain is still worth it. From here, you'll amazing views of Iloilo Strait.
There is also a chapel and a giant cross at the summit, making it ideal for contemplation.
Location/Jump-off: Jordan
19. Lamurawan Island
Lamurawan Island features a small beach. But what makes it unique is the presence of a grotto of the Virgin Mary. The grotto also provides an exhilarating view of the surrounding islands.
Tourists love coming here to shoot Instagrammable photos. It has become of the most frequented Guimaras tourist spots.
Location/Jump-off: Nueva Valencia
Entrance Fee: Donation
20. Taklong Island
Taklong Island may not have the usual powdery white sandy beaches. But it's known for its rich array of marine biodiversity. It's no wonder why tourists and even locals love coming here to snorkel or dive. Who could also resist the inviting crystal-blue waters of the sea?
Location/Jump-off: Nueva Valencia
21. Taklong Island National Marine Sanctuary
Taklong Island National Marine Sanctuary is one of the protected tourist attractions in Guimaras. It serves as a research center of the University of the Philippines Visayas based in nearby Iloilo province.
The sanctuary consists of different small islands with verdant forest cover. Among these, you'll find sandbars, hidden coves, and white sand beaches.
On one of the hills here, you'll see another lighthouse where you could glimpse of a stunning view of Guimaras island and the surrounding seas.
Location/Jump-off: Nueva Valencia
22. Isla Naburot
The owners initially established Naburot Island as a rest house for their six children, thereby, building six cottages. But tourists, nowadays, can visit the island and stay in one of the guesthouses. It's a peaceful getaway with numerous rock formations. The island also offers an entrancing view of the sunset.
Location/Jump-off: Brgy. Sinap-sapan, Guimaras
23. Museo De Guimaras
If you want to deepen your understanding of the rich culture and history of Guimaras, you should visit Museo De Guimaras.
The materials showcased are divided into zoology, arts, archaeology, and anthropology. You'll surely appreciate how such a small province brims with a lot of exciting stories.
Location/Jump-off: Brgy San Miguel, Jordan
24. Smallest Plaza
Listed in the Guinness Book of World Records, the Smallest Plaza is one of the Guimaras tourist spots nearest to the port. Its notable landmark is a modest statue of Dr. Jose Rizal, the country's national hero. 
Location/Jump-off: Jordan-Hoskyn Rd, Poblacion, Jordan
25. Camp Alfredo Adventure Park
Want to chase adventure and thrill in Guimaras? Visit Camp Alfredo Adventure Park. Among the tons of activities to do here are forest zip-lining, and crossing a hanging forest bridge. Oh, they have a must-try swimming pool free from chlorine.
Location/Jump-off: Brgy Ravina, Sibunag
26. Pit Stop Restaurant
Surely, you must have tasted a variety of pizza flavors. But a mango pizza? That seems a little tricky. But yes, the Pit Stop Restaurant does serve Mango Pizza. As mango is the province's most famous produce, it's no wonder why some local restaurants are leveling up servings of this iconic fruit. And it does not end there. Make sure you try their Mango Sisig, and Mango Bulalo! What a bizarre way to chase gastronomic experience, right?
Location/Jump-off: Jordan
For More Information
If you need more information to help set up your itinerary to the tourist spots in Guimaras, do contact Guimaras Provincial Tourism Office via the following:
Tel. Number: (033)-880-1000 loc. 15
Email Address: guimarastourism@yahoo.com