Here is your complete DIY travel guide to Mount Makiling Forest Reserve, one of the Philippines' last ecological frontiers.
Mount Makiling Forest Reserve is a vast span of tropical rain forests and one of the country's last reserve for dipterocarp species.
Thanks to the University of the Philippines' Los Banos, the reserve has become a thriving sanctuary for iconic wildlife species that could have otherwise, gone extinct.
A weekend afforded me and my friend Shaila the opportunity to explore the sanctuary although our primary goal was to assault Mt Makiling's peak. It's been a while since we last hiked, thus, we were in swelling eagerness to escape the urban setting and enjoy nature at its finest.
Quick Facts
Location/Jump-off: Los Banos, Laguna & Sto. Tomas, Batangas
Area Covered: 4,244 hectares
Attractions: Mt Makiling's peak, Mud Spring, Flat Rocks, Giant Trees, Rafflesia, etc.
Trekking Time: 4-5 hours to Mt Makiling's Peak
Environmental Fee: Php 20 per person
READ: Mt Makiling (via UPLB Trail): Your Complete DIY Travel Guide
How to Get to Mount Makiling Forest Reserve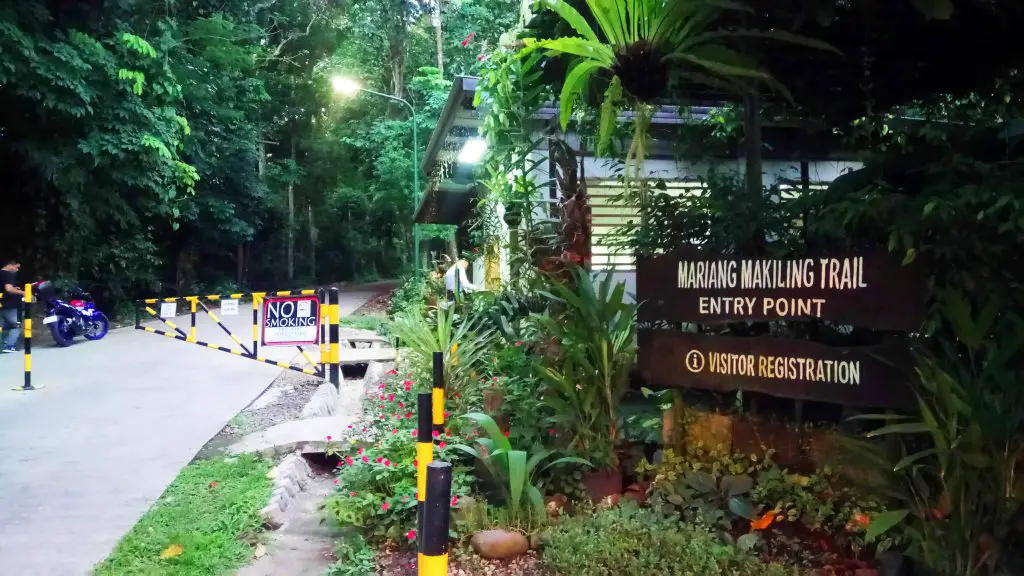 The primary jump-off points to Mount Makiling Forest Reserve are the College of Forestry of UP Los Banos (UPLB) in Los Banos, Laguna and Sto Tomas in Batangas. Here is how you get there.
Option 1 (Via UPLB trail). Ride an HM Transport bus bound to Sta. Cruz, Laguna. The station is along Mary Land Street in Cubao, Quezon City, just along EDSA. They have an hourly trip.
Make sure to tell the driver to drop you by Olivarez Mall/Plaza at Los Banos. Travel time from Cubao to Los Banos is two hours although it could take 3-4 hours during heavy traffic. Regular fare is 117 pesos.
Upon dropping by Olivarez Mall, cross to the other side of the street. There, wait for a jeep which passes by the UPLB College of Forestry. Stop there and start hiking towards Mt Makiling gate. There, you'll need to register and pay the entrance fee of 20 pesos each.
Option 2 (Via Sto. Tomas, Batangas Trail). Ride a bus passing by Santo Tomas. The station is near LRT-Buendia. Fare is 114 pesos. Drop by Brgy. San Miguel in Batangas. Proceed to the registration area and pay 20 pesos per person. Note: this is for the Palanggana (West) Trail.
You can also opt for the Sipit (East) Trail.
Both trails from Sto. Tomas are far more challenging than the UPLB trail. These are only recommended for experienced hikers. A guide is required.
Our DIY Trek to Mount Makiling Forest Reserve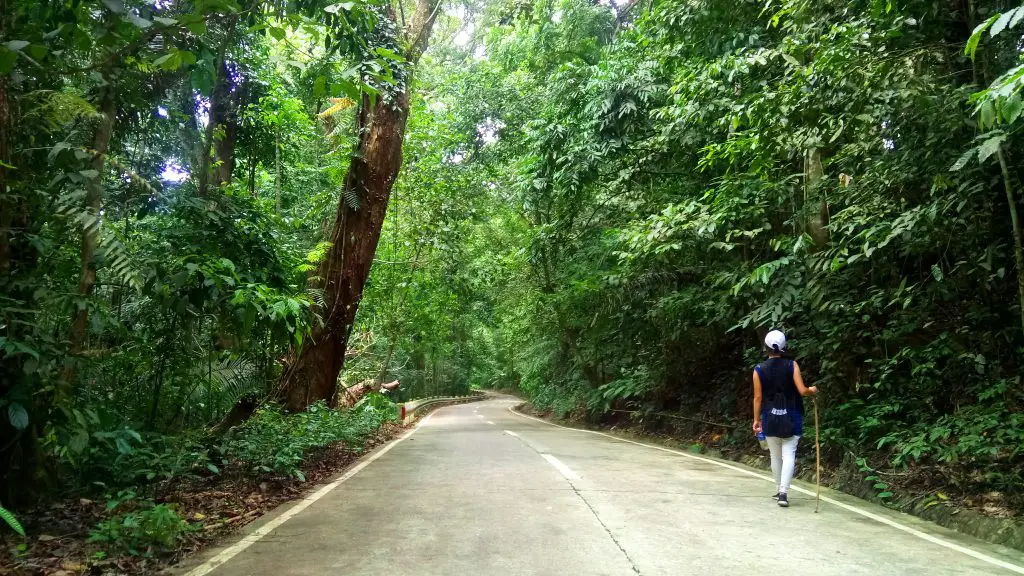 I and my friend chose the UPLB trail because the forests here are more pristine. That is because the Makiling Center for Mountain Ecosystems under the College of Forestry of UPLB is stationed here and has been implementing projects and policies to protect the sanctuary.
Our goal then was to assault the summit of Mt Makiling and then, proceed to explore other attractions within the sanctuary.
We did not have to hire a guide since the trail is well-established and that, it leads straight to the summit. There are also signage and marks indicating the stations and directions.
Initially, we trekked on the cemented road for about an hour and a half. The road ends at Station II. From here, we then had to trek on a narrow path traversing dense forests. This is the more challenging part of the trail, especially when nearing the summit as it runs on steep slopes.
But it was also the more exciting part because we got to see a variety of flora and fauna species.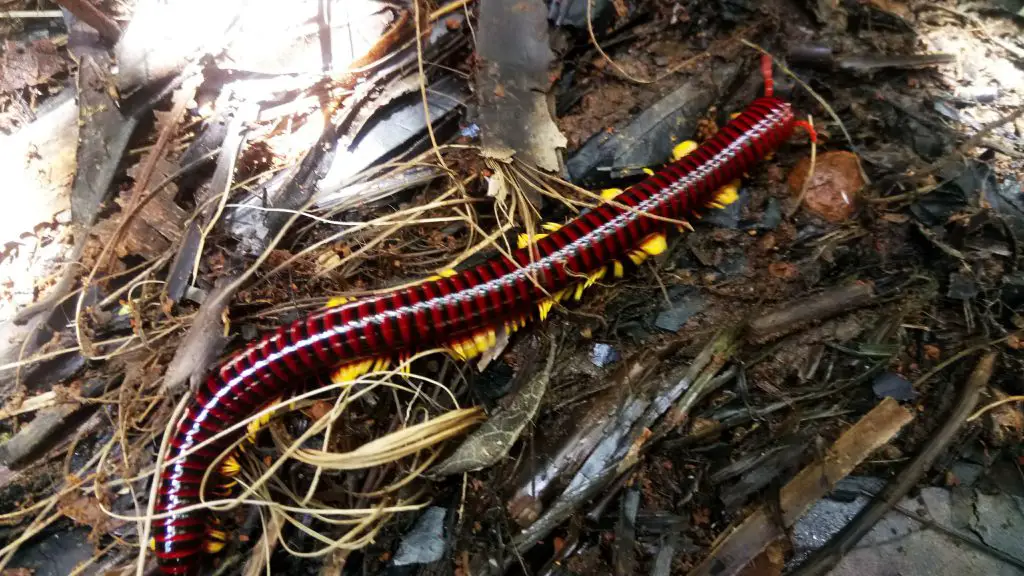 We also chanced on rare millipedes and worms including other insects. Birds of different species likewise provided constant surprises and amazements.
The view got better when we finally reached Mt Makiling's summit after hours of trekking. From here, we could see the vast plains and forest-clad mountains of both Laguna and Batangas provinces. Mt Banahaw and Laguna de Bay are also visible from the peak. Oh, what a mesmerizing sight indeed!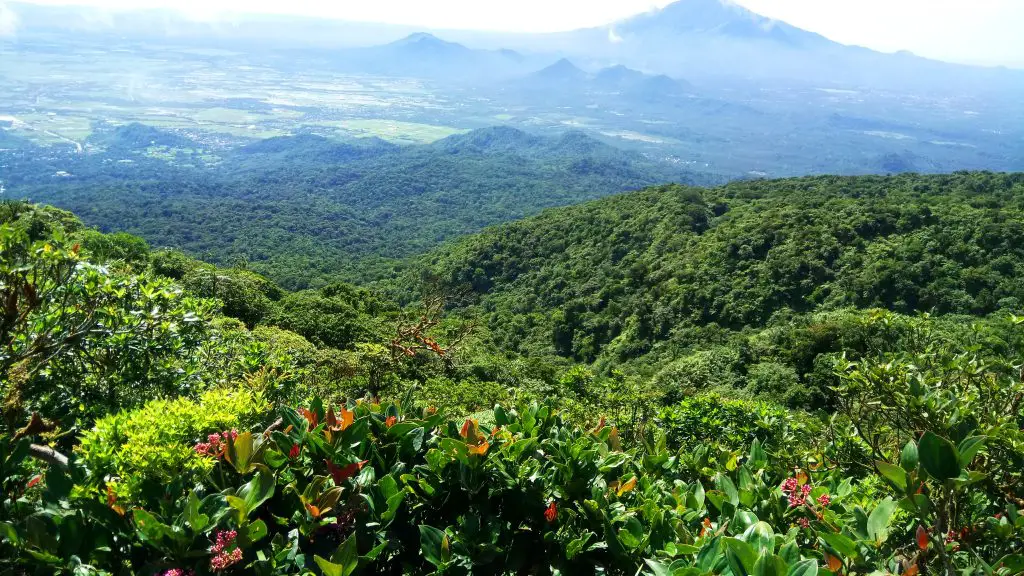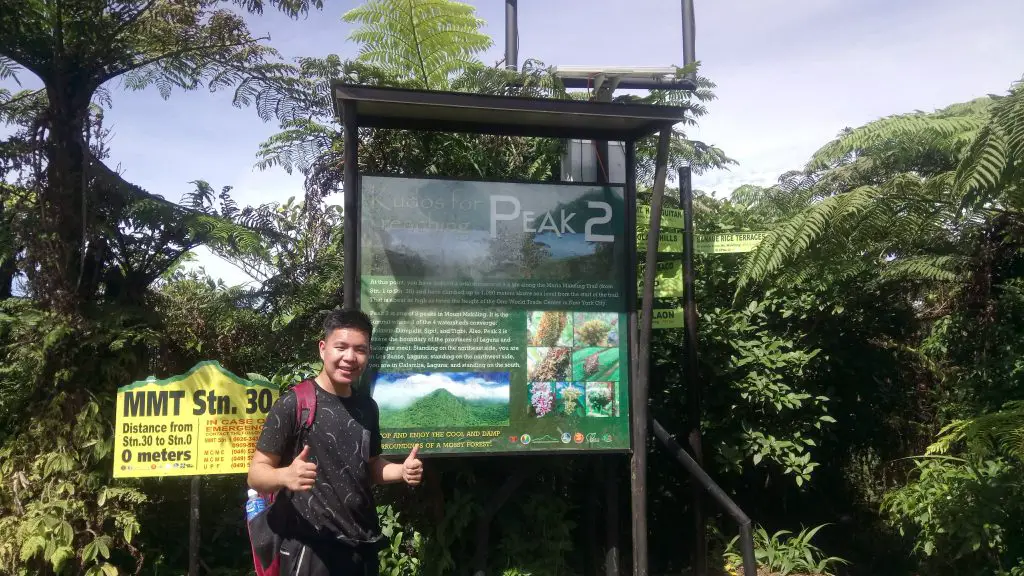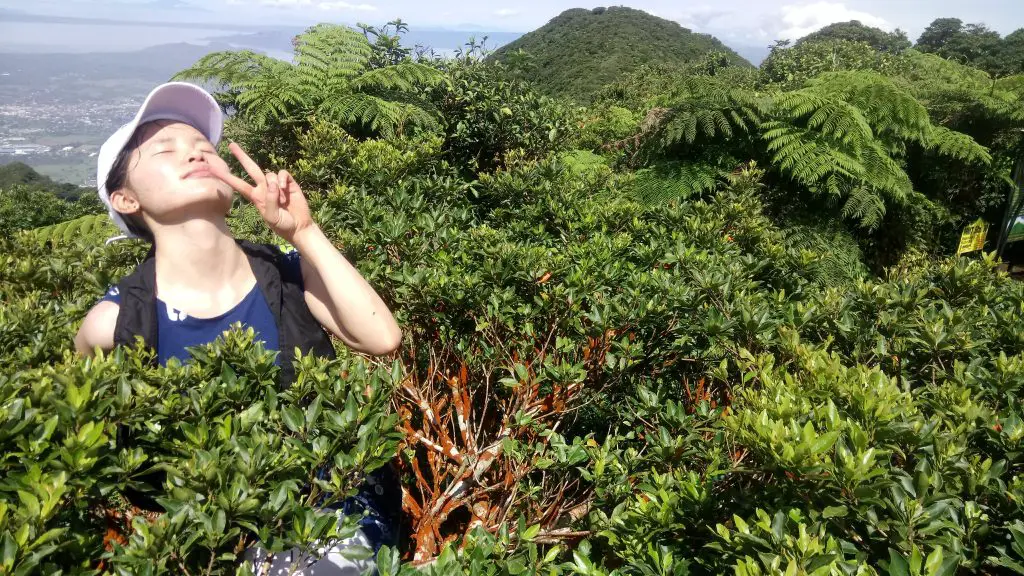 What Else to See at Mount Makiling Forest Reserve
Since we reached Mt Makiling's peak a little bit too early, we decided to spend the rest of the day exploring other attractions in the sanctuary. From the summit, we hiked down to see the following:
Mud Spring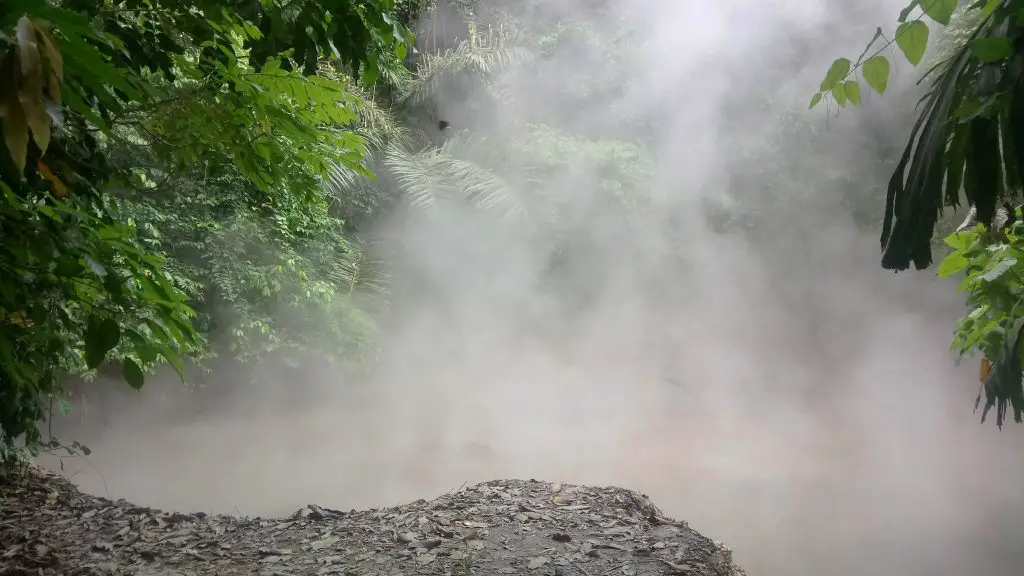 From the paved road at Station 8, it takes 15 minutes of a hike on a narrow trail to reach the mud spring. You'll be passing by dense forests with big Narra trees and endemic orchids and flowers.
The mud spring is one of the remaining mud pots in Mount Makiling Forest Reserve. It constantly emits steams and a rotten-egg-like smell. It's such a mystical sight and I was wondering if there could be spirits guarding it.
Dipterocarp Forests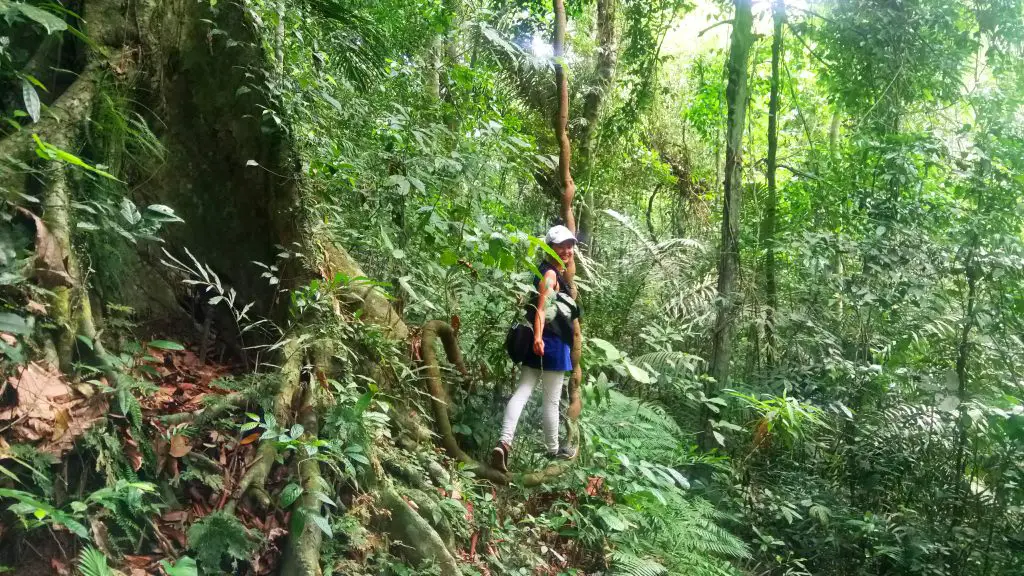 Most of the forests on the lower slopes of Mount Makiling Forest Reserve are actually of the dipterocarp kind. These are one of the few remaining in the country as a result of massive logging in the 1990s-1980s.
A plethora of wildlife species inhabit these forests including monitor lizards, hawks, snakes, and various bird species. Vines, rattan, hardwood, and different orchids also abound.
Rafflesia Flowers
Yes, you'll not only find these giant flowers in Malaysia or Indonesia. They also bloom on the slopes of Mount Makiling Forest Reserve. We were lucky to chance on them and to tell you, it was a magical encounter. It felt like I was in another world like in Jurrasic Park.
These giant flowers indicate the the forests are still healthy.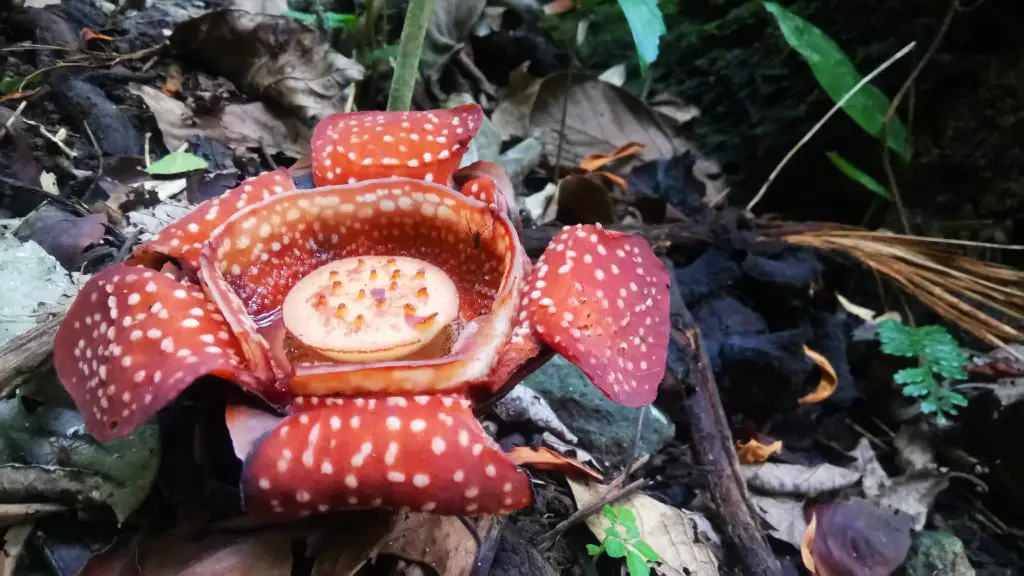 Flat Rocks
Literally, these are big formations with flat tops. They're like giant tables where unseen spirits dwell and play. From the road, you also have to hike on dense forests to reach them. Expect to see unique species as the forests here are as pristine as those found on the higher elevations.
A brook with sulfuric waters gently passes along the Flat Rocks. Shoot Instagrammable photos as you pose amidst the rustic surroundings. It's a good place to meditate as you experience the beating forest, teeming with all sorts of wildlife diversity.
Botanical Garden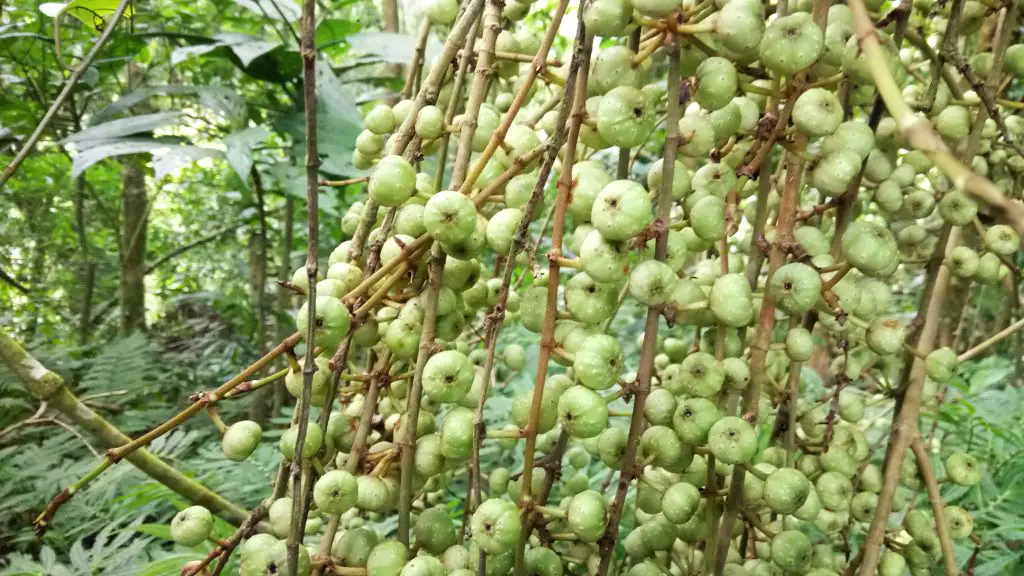 Botanical Garden gives you a richness of the flora and fauna of Mount Makiling Forest Reserve. Here, you'll find a variety of flowering plants such as orchids including endangered and rare species. Numerous types of insects such as butterflies thrive on these abodes.
The garden serves as a research center for the Philippines' rich arrays of botany. As one of the world's biodiversity hotspots, the Philippines is home to unparalleled botanical species. Experience beauty and diversity when you come here.
Aside from the above attractions, here are other places to see in Mount Makiling Forest Reserve. We hope to visit these the next time we come back. That is why it's best to come here early so you glimpse of all these in a day tour.
Mt Makiling Recreation Center
Tayabak Campsite
Pook ni Maria Makiling
Makiling Scout National Reservation
For Your Information
If you need further information that may help in setting up your itinerary to Mount Makiling Forest Reserve, contact the management via the following: 09263438634, (049) 536-3572, (049) 536-2243.
For other relevant information, ask them in the comment section below. You can also message us on our facebook page namely, Daniel's Eco-Travels. I will be more than glad and willing to answer them whenever I can:)