Major Jump-Off Point: Brgy. Macalana, Barlig, Mt. Province
Alternate Jump-Off Point: Brgy. Ogo-og, Barlig, Mt. Province
Hours to the Summit: 5-6 hours
Mt Amuyao soars to more than 2, 702 MASL, making it the highest peak in Mountain Province and the fourth highest in Luzon. Some sources, however, suggest that Mt Amuyao stands at 2, 862 MASL. If verified, this will make it to the top ten highest mountains in the Philippines.
Originally, there are two trails leading to Mt Amuyao. However, the local government closed the Batad-Mt. Amuyao trail for regeneration purposes.
Alternately, a new trail from Mt Amuyao to Ogo-og was established. This offers hikers the opportunity to explore other barangays of Barlig especially those in Kadaclan cluster, known as the "Shangrila on the Edge."
In my gnawing search for adventure and relief from daily bustles, I and a fellow traveler decided to assault Mt Amuyao during a long holiday. I've been to the mountain before. But this time, I wanted to totally commune myself with its rustic offerings.
In this article, I will detail:
How to Get to Barlig, Mt Province
Where to Stay
Tips before Hiking
Preliminaries and Arrangements
What to Prepare
Sample Itinerary
READ: Mt Makiling (Your Complete DIY Travel Guide 2019)
How to Get to Barlig:
Bontoc, the capital town of Mt. Province is the jump-off point to Barlig.
Manila to Bontoc. Take Coda Lines bus from H.M. Bus Station, Cubao, Manila. Schedule of trips are:
8:00 PM (Semi Deluxe- Fare is Php 760)
9:00 PM (Super Deluxe- Fare is Php 980)
10:00 PM (Super Deluxe- Fare is Php 980)
Travel time to Bontoc takes 12 hours. If it's your first time, tell the driver to drop you at Bontoc town since the buses are bound to Sagada.
Note: Coda Lines buses pass along Banaue. If you're sitting on the right window side, you can glimpse the famous Banaue Rice Terraces.
Bontoc to Barlig. Jeeps bound to Barlig depart by 1 pm and 2 pm. The jeepney station is located in front of the All Saints Cathedral. Be at the station at least 30 minutes before the departure since the jeeps are filled to capacity before the departure time. Fare is Php 80.
From Bontoc, it takes two hours to reach Poblacion, Barlig. If the weather is fine, you can opt for the top load so you can have a full view of the scenery along the highway.
Preliminaries & Arrangements
Upon reaching Barlig, tourists should first register at the Municipal Tourism Office (MTO) of Barlig and pay 25 pesos each. A guide is also required for every five tourists. The fee per guide is 1,500 pesos for a day.
If an overnight is preferred, the guide fee is 2000 pesos. For every excess in the pack, 100 pesos is required. Mt Amuyao is part of barangay Macalana. Thus, it also collects an environmental fee of 50 pesos per person.
There will also be a brief orientation. Usually, this is conducted both by the PNP and the tourism officer. This is to ensure the safety and convenience of the hikers.
Also, it will be up to the tourism officer or tourism staff assigned to coordinate with the tour guides.
On the Trail to Mt Amuyao
From Macalana, the trail will lead one along stone-walled terraces and pine forests. On the higher elevations, mossy forests dominate. The trail may be winding and steep in some parts, but the sights of orchids, mosses, and trees can relieve one's exhaustion.
Small, endemic birds are also usual sights. Moreover, there are two springs where hikers can stop for a drink. On a personal note, a slower pace would be preferable since you get to see and appreciate the natural wonders lining the trail.
All in all, the hike to Mt Amuyao can take three to five hours.
READ: Mt Kalugong in La Trinidad, Benguet (Your Complete DIY Travel Guide)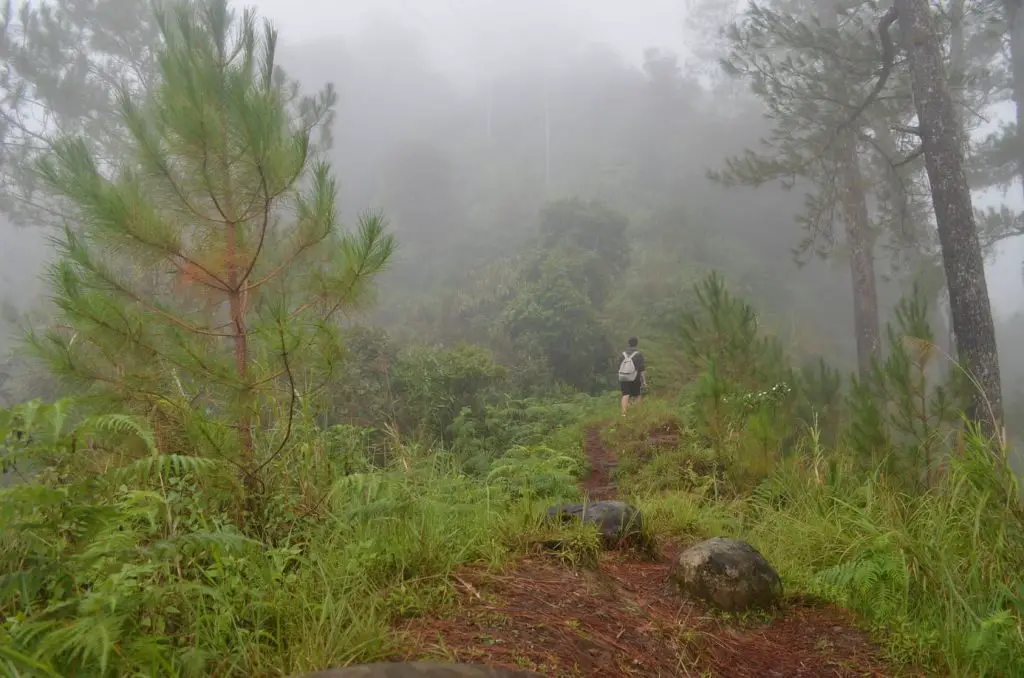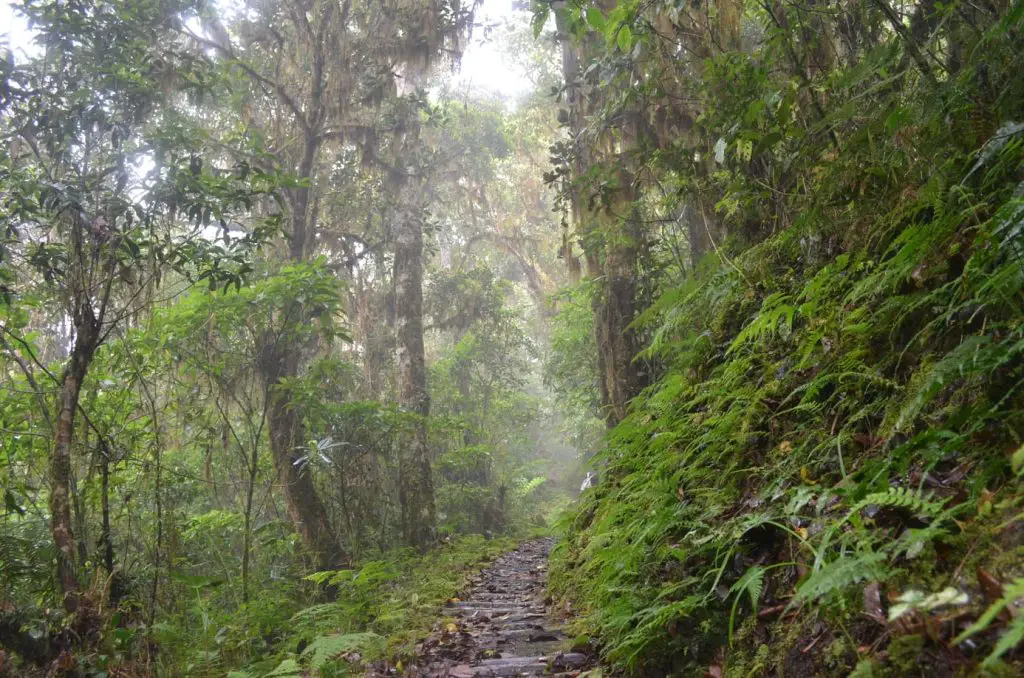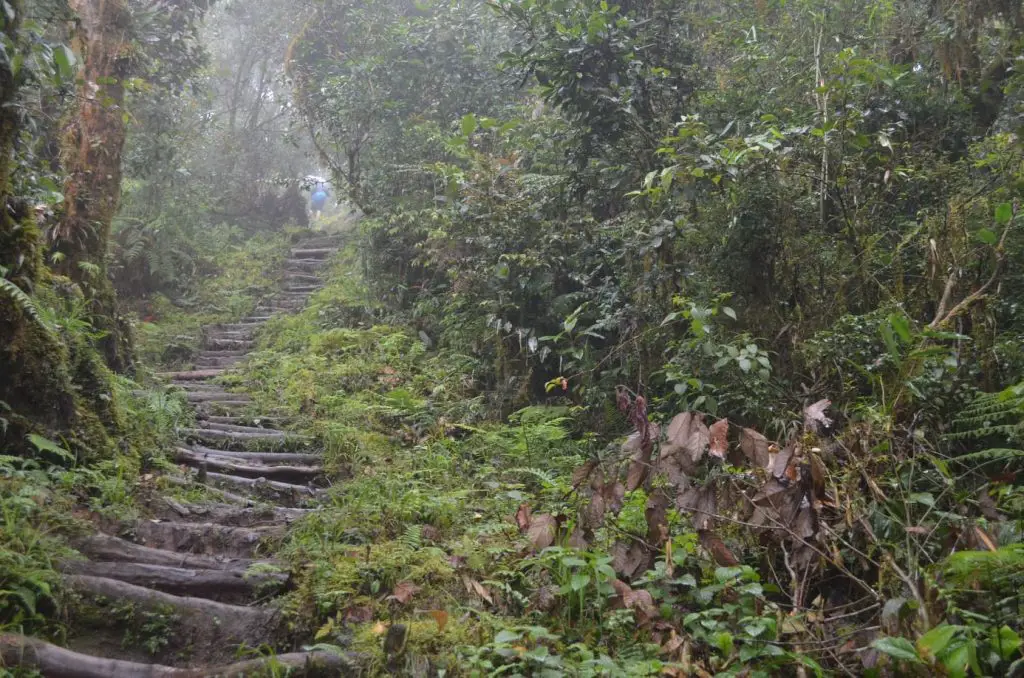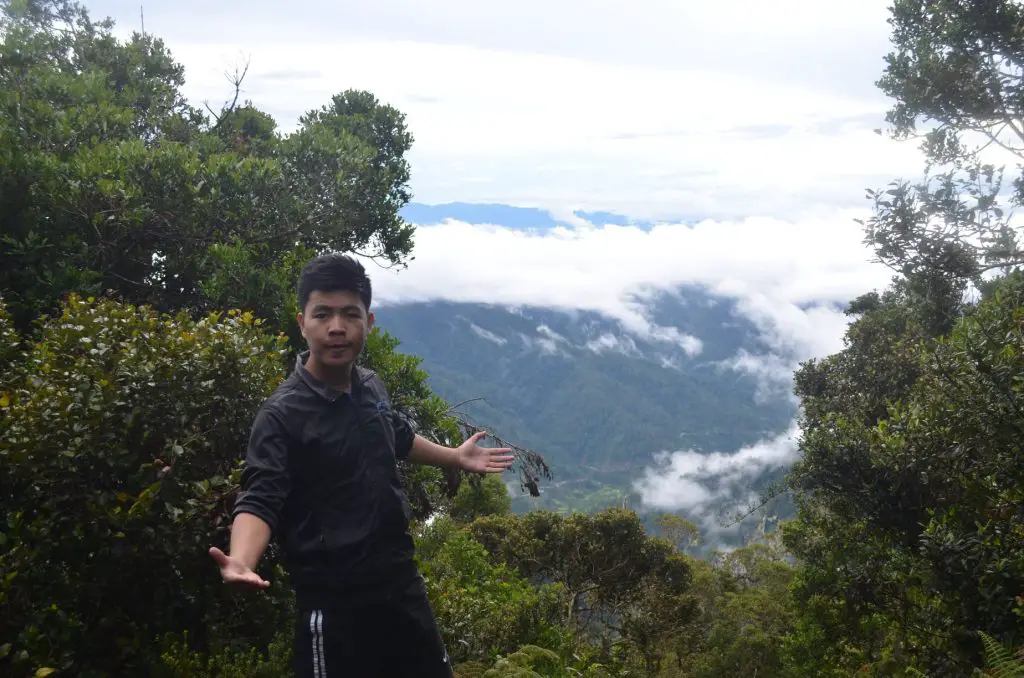 READ: Mt. Yangbew in La Trinidad, Benguet (Your Complete DIY Travel Guide)
When atop Mt Amuyao
The sights to see atop Mt Amuyao are every mountaineer's dream. Foremost of which are beautiful sunrises and sunsets. A stunning sea of clouds frequently appear. According to the locals, the best time to go to Mt Amuyao is just after the rains. They claim that the sea of cloud formations are at their best during these periods.
On clear, sunny days, one can have a panoramic glimpse of the mountain ranges of Ifugao, Kalinga, Benguet and the distant plains of Isabela. Add to these the mountains of Barlig, carpeted in mossy and dipterocarp forests. Barlig, after all, is the last ecological frontier of Mountain Province.
During the summer months of March to April, the bonsai forest of Mt. Amuyao comes in full bloom. Flowers of different colors spring in full display. Even white orchids can usually be spotted especially along the trails. Just like in Mt. Pulag, Mt Amuyao has groves of mini-bamboos.
The nearby Mt Kalawitan and Mt Napulauan can also be seen from here.
Because of the strategic location and height of Mt Amuyao, both ABS-CBN and GMA established relay towers.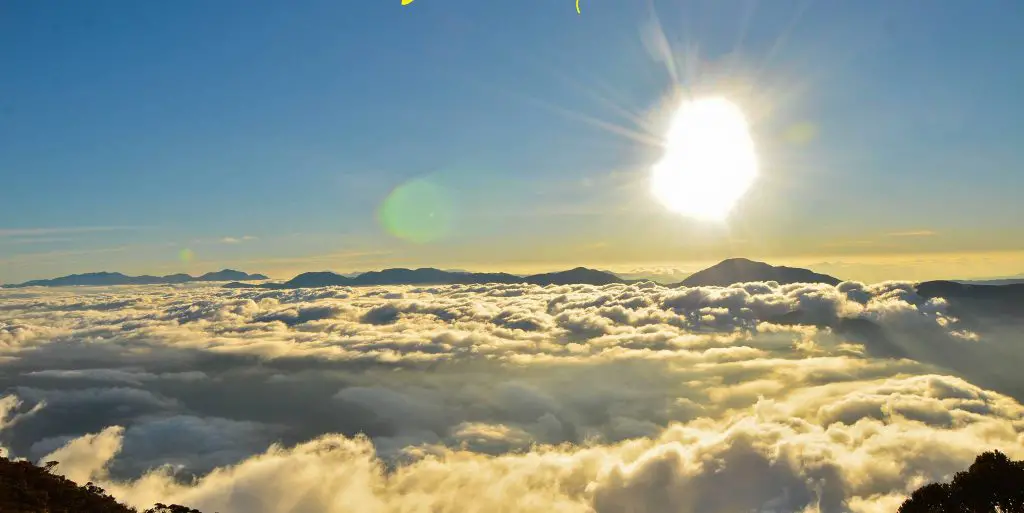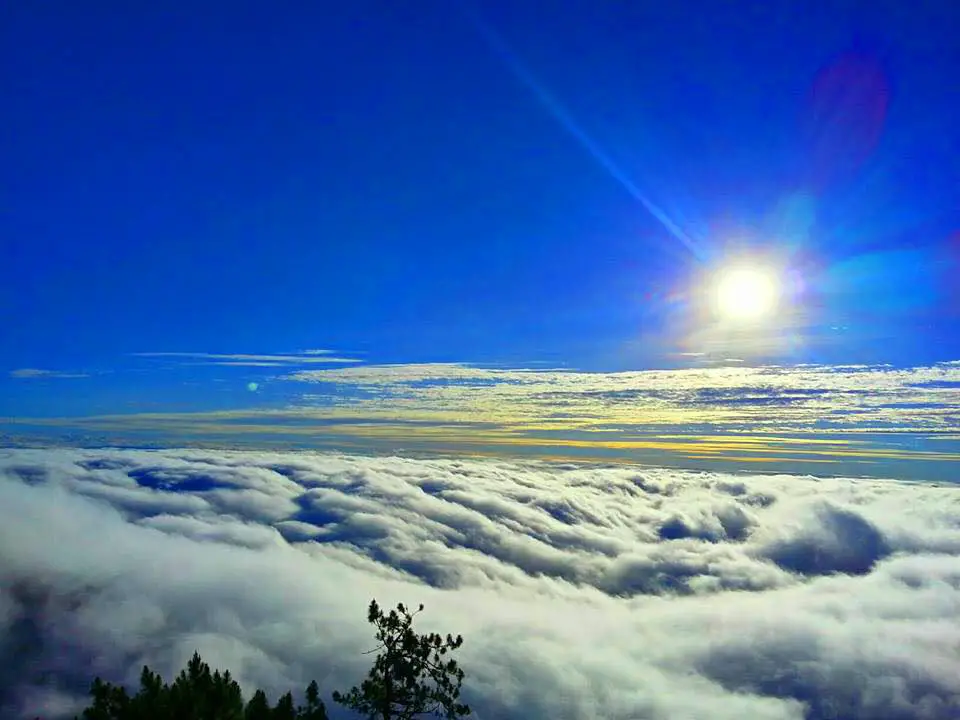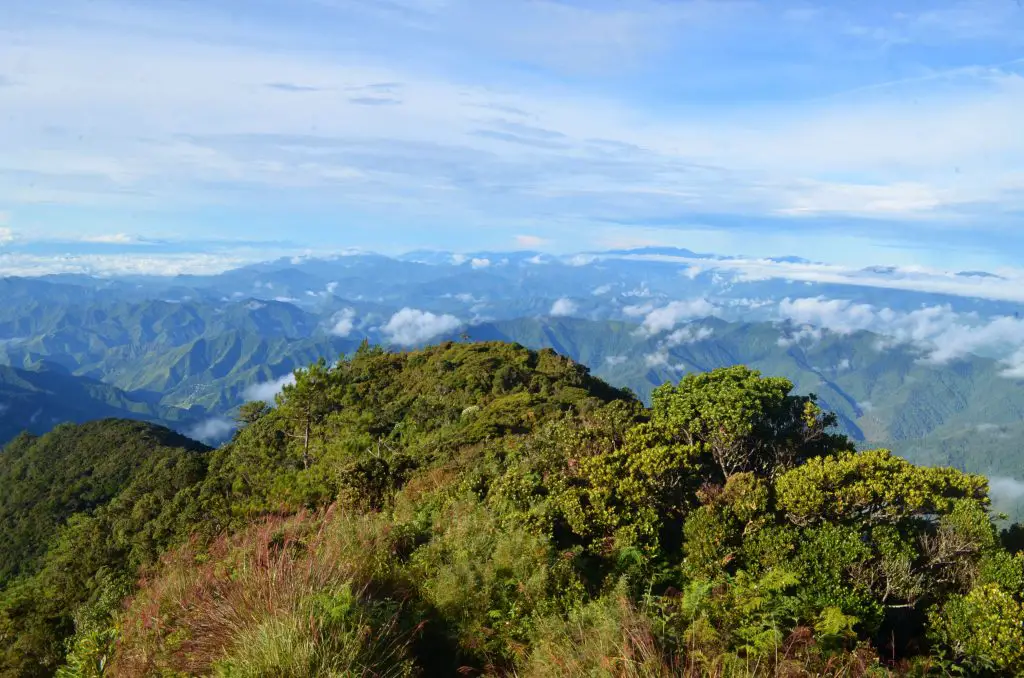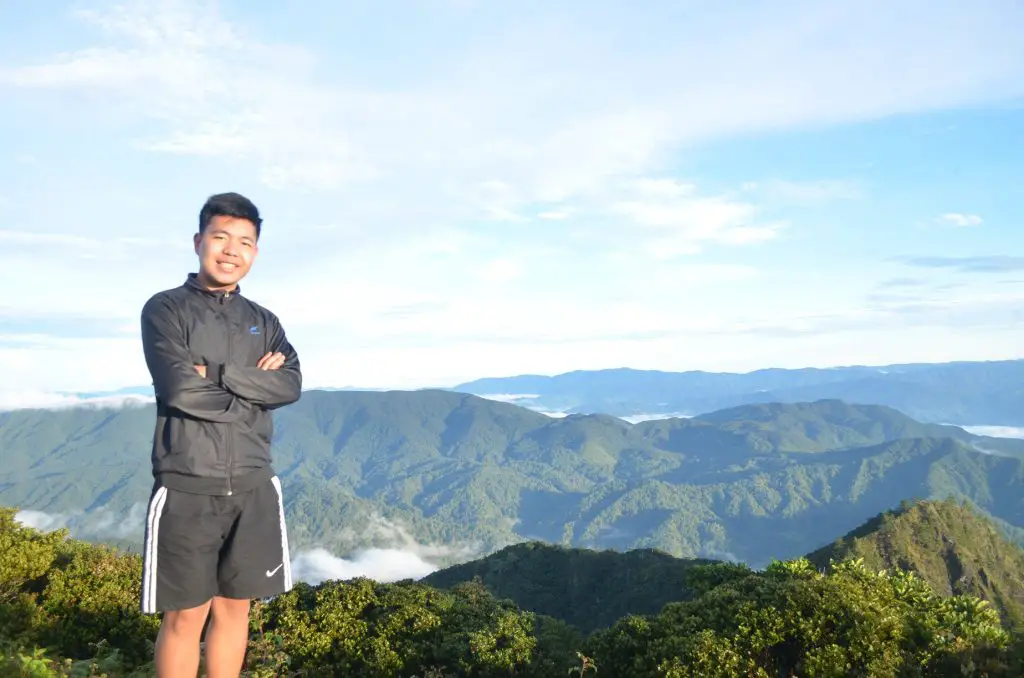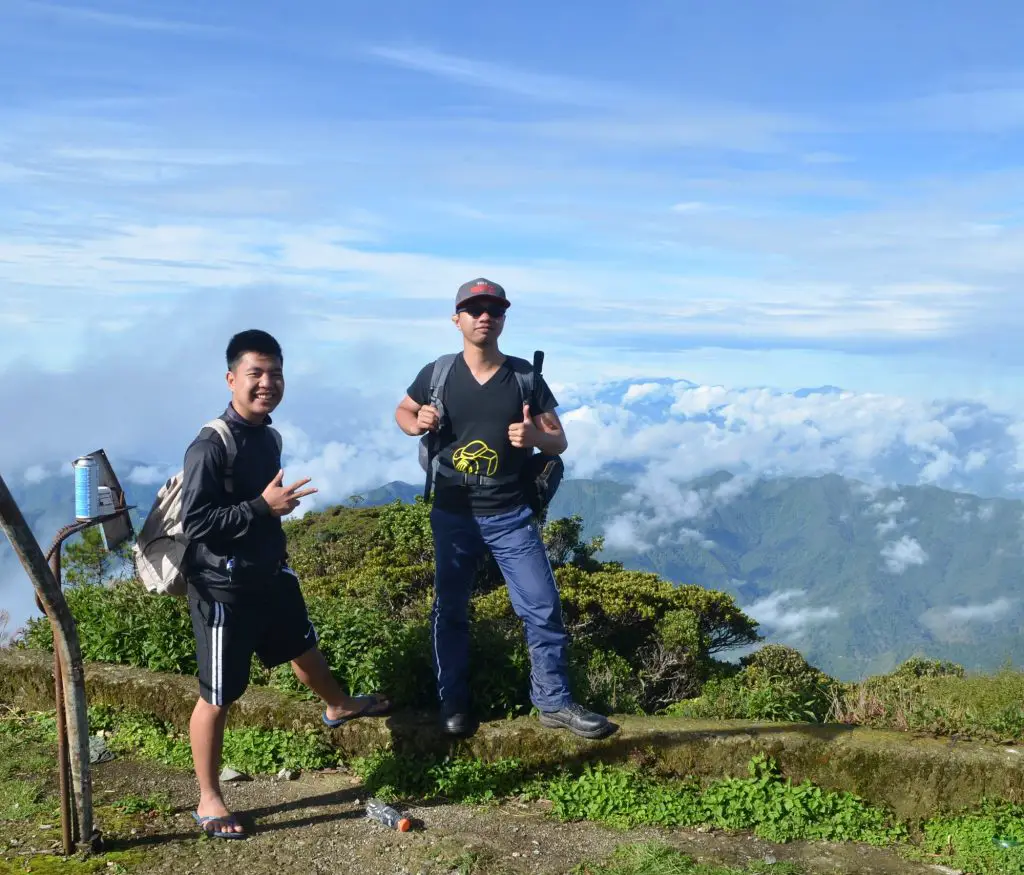 READ: Mt. Timbak in Benguet (DIY Travel Guide): Everything You Need to Know
Where to Stay/Eat in Barlig:
Travelers or visitors may stay at the following:
Halfway Inn and Restaurant (Rate: 250 per head/ night)
Seaworld Inn (Rate: 200 per head/night)
Cozy Nook and Cafe (Rate: 300 per head/night, with hot shower)
There are several stores that sell basic commodities. Other dinings in Barlig central are Hanjo Cafe and Loloped's Eatery.
Globe is the only existing network in Barlig central.
Barlig Tourism Office Guidelines:
Register at the Tourism Office and PNP Station.
Pay the registration fee of 25 pesos individually at the Treasury Office on weekdays and at the Tourism Office on weekends.
The tourism office will assign a tour guide for the tourist.
The tour guide will accompany the tourist to the designated barangay (Macalana) to pay the environmental fee of 50 pesos individually.
The group will then proceed to their destination.
What to Bring:
When I go hiking, I don't carry much except for the essentials. I simply want to walk with ease so I can make the most out of the experience. Normally, I only bring a bottle of water and a few chocolate bars. But since climbing Mt Amuyao is a challenging one, do bring the following:
Water Bottles. At least 2-3 liters of water per person.
Backpack (better if it's rainproof or is wrapped in plastic). You never know if its gonna rain.
Snacks (e.g. Chocolates, Bread, and Skyflakes)
Jackets (Preferably rainproof. Needed to protect you from insects, leeches and leaf blades. Plus, it freezing cold atop Mt Amuyao during the morning and evening)
Rain Gear (You can use this in case you don't have an umbrella when it rains)
Medicine Kit (Just in case untoward incidents happen)
Extra shoes, socks, slippers (If you find necessary)
Sleeping bags and sleeping mat (That is, if you will camp atop Mt Amuyao. Coordinate at the tourism office about this.)
Gloves, Bonnet, Cap (For extra protection/comfort)
Plastic Bag (This is where to put your trash into. Please never ever litter. Bring back your trash away from the mountain)
Eating Utensils
Camera (To capture moments and sceneries)
NOTE: You can hire a guide to serve as your porter.
Sample Itinerary
Day 0
7:00 PM. Assembly at Coda Lines Bus Station, Cubao, Quezon City
8:00 PM. Departure of First Trip
Day 1
8:00 AM. ETA arrival in Bontoc, Mt Province
NOTE: You can stroll around Bontoc town while waiting for the jeep to arrive from Barlig.
1:00 PM. Departure of first jeep to Barlig.
3:00 PM. ETA Arrival in Poblacion, Barlig. Have a meal break.
5:00 PM. Start hiking to Mt Amuyao.
11:00 PM. ETA arrival in Mt Amuyao. Dinner. Sleep and prepare to watch the sunrise the following morning.
Day 2
5:30 AM. Wait for the Sunrise.
6:00 AM. Breakfast.
7:00 AM. Start hiking back to Barlig town.
12: 00 PM. ETA Arrival. Lunch.
2: 00 PM. Back in Bontoc.
3:00 AM. ETA arrival in Manila.
Extra-Sights to Visit near Mt Amuyao
Visiting Mt Amuyao may already be a fulfilling and rewarding hike. However, for those who want to try other experiences, here are some tourist spots in Barlig you can visit:
Allob Hot Spring and Waterfall
Tomallan Falls
Wangcharlin Falls
Munkingub Falls
Rock of Ages
Lake Tufub
Siblaw Taraw Quicksand (Lake of Mosses)
Most of these are on untamed and remote locations and can only be accessed through hunter's trails.
READ: 20+ Must-See Tourist Spots in Barlig (Your Complete DIY Travel Guide 2019)
For your information needs:
If you need further information that may help in setting up your itinerary to Mt Amuyao do contact:
Ms. Jansen Focad, Tourism Officer, 09264004717
Barlig Tourism, Facebook Page, (Via Messenger)
You can also message us on our facebook page namely, Daniel's Eco-Travels. I will be more than glad and willing to answer them whenever I can:)
Please follow and like us: