Major Jump-Off: Barangay Cruz, La Trinidad
Alternate Jump-off: Barangay Tawang, La Trinidad
Difficulty: Minor Climb, Paved Trail
Time Required: 20-30 minutes
Special Features: Pine forests, Views of La Trinidad, Limestone Formations
Mt Kalugong is a must-see tourist destination if you are visiting La Trinidad in Benguet. This is not your typical getaway though. Expect to be immersed with nature and have a soul-relieving experience when you get here.
For the second time, I decided to visit Mt Kalugong alone. I simply wanted to unwind and commune myself with nature. Fortunately, Mt Kalugong is very much accessible from the town center.
By the way, Mt. Kalugong is named as such because it resembles the shape of a hat. "Kalugong" means hat in the local term.
Read: Mt Makiling (Your Complete DIY Travel Guide 2019)
How to Get to Mt Kalugong
If you are coming from Baguio City, ride a jeep bound to Camp Dangwa or Upper/Lower Tomay. Regular fare is 12 pesos.
Don't forget to tell the driver to drop you along the road going up to Mt Kalugong. This is located in Barangay Cruz, just beside the Benguet Memorial Service.
From this point, walk on paved road all the way to Mt Kalugong. That takes more or less 20-30 minutes.
If you are not sure where you are heading, just ask the locals there for direction. Feeling thirsty or hungry? No worries, there are stores along the trail.
Upon reaching Mt Kalugong, proceed to the registration booth. There, you will need to pay 100 pesos per person. For this amount, you can have a whole day of fun and exploration in Mt Kalugong.
READ: Mt Timbak in Benguet (DIY Travel Guide) Everything you Need to Know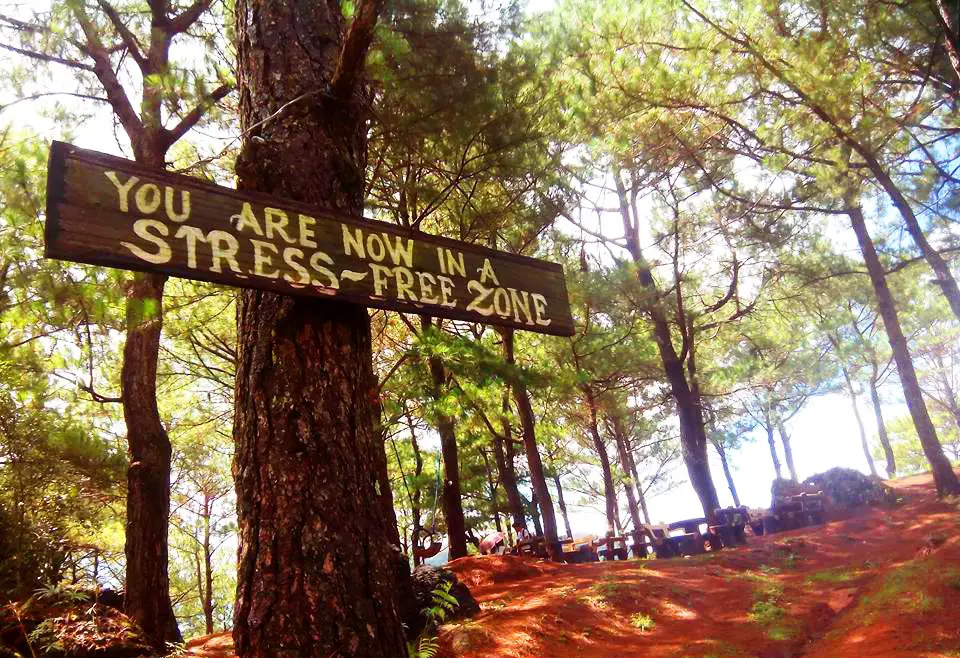 What to See at Mt Kalugong
There's just a lot of interesting sights to see at Mt Kalugong.
Of course, we first have patches of luxuriant pine stands. These give the place a relaxing and refreshing atmosphere. From time to time, different birds hover around and create natural music to the ear. I consider myself lucky to have witnessed a swarm of bees pollinating a flowering shrub during my visit.
Various limestone rock formations can also be found. Some of these formations lie on the edge of a mountain, back-dropped by a panoramic view of La Trinidad valley. Here, you can also view Mt. Yangbew, Santo Tomas, Mt. Pokgong in Tublay, and parts of Baguio City. Similar to the famous Marag Limestone of Apayao, Mt Kalugong's limestone formations offer opportunity for rock climbing. Again, take extra caution. Any reckless move can result to injury and the heaven knows what else.
If you happen to be atop Mt Kalugong during the early morning, you can often glimpse of a stunning sunrise. For me, its best to come here during such period.
Oh yes, you can also find native dwellings at Mt Kalugong. No wonder, it is called an eco-cultural destination.
READ: Mt Yangbew in La Trinidad, Benguet (Your Complete DIY Travel Guide)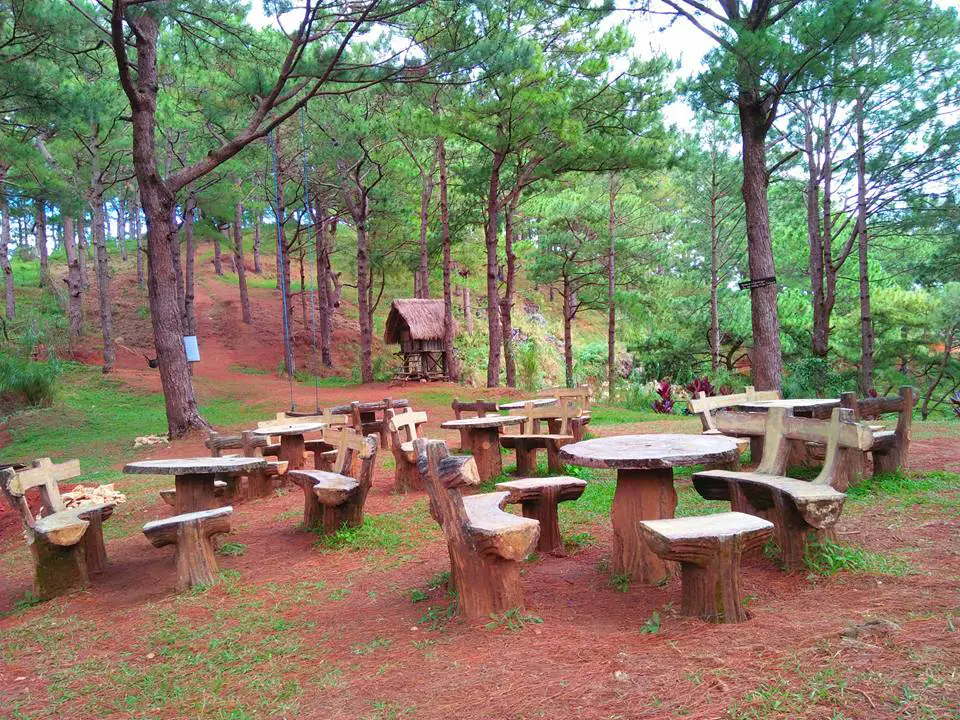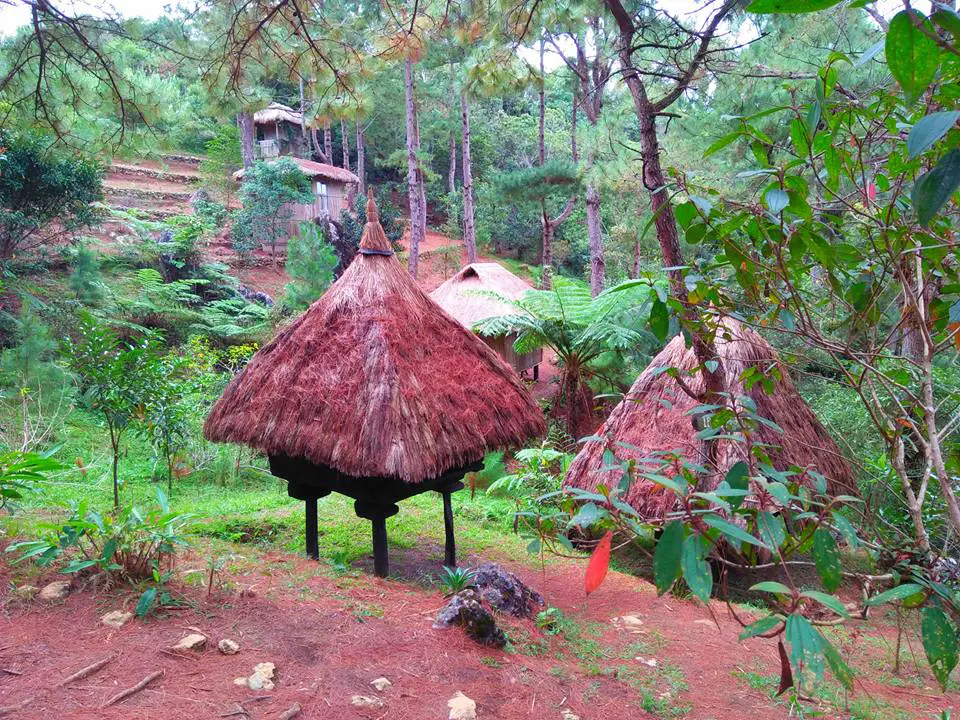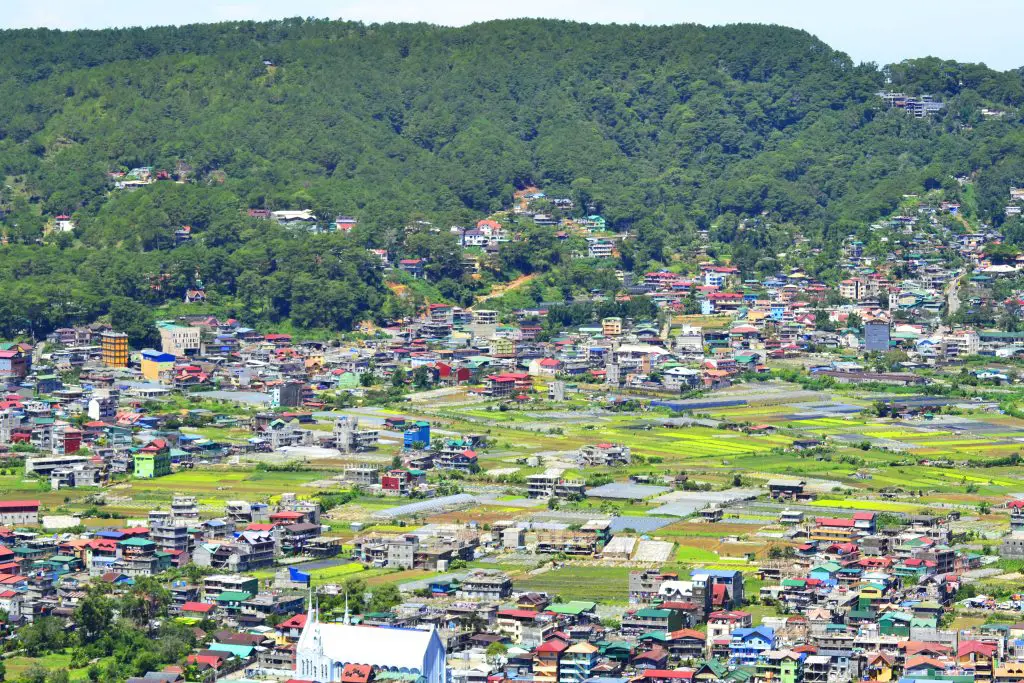 What else to do?
Aside from sightseeing, picnic and camping can also be done at Mt Kalugong.
For those who like to spend the night here, there are cabins worth 800-900 pesos for two persons. You can also set up a tent on a designated area. Fee per person is 250 pesos.
Meanwhile, there are several hammocks and swings in the area.
If you are feeling hungry, do check out Mt Kalugong Kape-an/Cafe which serves snacks and brewed coffee. To get here, you need to trek along shrubs and foliages. This is a perfect respite for those yearning solitude and reflection. Simply ask the personnel around to provide you with directions. If not, you can request for them to guide you.
The cafe sits along the edge of the mountain. Thus, it also gives a panoramic view of La Trinidad town including notable sites such as Strawberry Farm, San Jose Church, and the Benguet State University. Primarily, it serves coffee and desserts. The items are a costly though. But to sip coffee while gazing at a remarkable view makes the experience exceedingly worth it.
READ: Mt Timbak in Atok, Benguet (Luzon's 3rd Highest Peak Travel Guide)
Tips and Reminders
The best time to visit Mt Kalugong is during early morning and late afternoon to catch sight of spectacular sunrises and sunsets.
There is no need for a guide. Exercise caution though when climbing the rock formations and only follow designated trails.
Please don't ever litter. Help protect Mt Kalugong by adhering to basic protocols. If you want, you can also pick up litters along the way.
Bring your own food if you want to cut costs.
Mt Kalugong opens by 6:00 am.
READ: Mt Amuyao in Barlig, Mt Province (Your Complete DIY Travel Guide)
For your Information
If you need further information that may help in setting up your itinerary to Mt Kalugong in La Trinidad, simply ask them on the comment section below. You can also message us on our facebook page namely, Daniel's Eco-Travels. I will be more than glad and willing to answer them whenever I can:)
Get to know more about my travels here.
Please follow and like us: