Location/Jump-off: Maligcong, Bontoc, Mt. Province
Height: 1,642 meters above sea level
Trekking Time: 30 mins-1 hour
Special Features: Sunrise, Sea of Clouds, Pine Forests, Maligcong Rice Terraces
Here is your complete DIY travel guide to Mt Kupapey, one of the emerging tourist spots in Bontoc, Mt. Province.
I couldn't think of a better way to enjoy nature at its finest than hiking mountains. It has been my ultimate respite from the bustles and hustles of daily realities. Whenever I get to conquer a mountain, there's that powerful sense of realizing the great possibilities that one can create.
Driven by such insatiable quest for adventure, I and two friends trekked to Mt Kupapey, a premium ecotourism destination. It's not the highest of mountains but it certainly offers a rewarding experience of a lifetime.
READ: Maligcong Rice Terraces in Bontoc (Your Complete DIY Travel Guide)
How to Get to Maligcong, Bontoc?
Maligcong, a barangay of Bontoc municipality, is the jump-off point to Mt. Kupapey. Here is how you'll get there.
Manila to Bontoc. Take Coda Lines bus from H.M. Bus Station, Cubao, Manila. Schedule of trips are 8:00 pm, 9:00 pm, 10:00 pm, and 10:30 pm. It takes 10 to 11 hours to reach Bontoc. If you are not familiar, tell the driver to drop you at Bontoc town since the buses are bound to Sagada. Fare is 725 pesos for semi-deluxe and 935 pesos for deluxe. Click on their website for more information here.
Baguio to Bontoc. There are two bus companies operating from Baguio to Bontoc. First is GL Trans. This is stationed at Dangwa Terminal at the back of Center Mall. Regular trips are 7:30 am, 8:30 am, 10:00 am, 1:00 pm, and 2:30 pm. On the other hand, the Rising Sun buses are stationed at Slaughter Compound, Magsaysay. Departure starts at 4:00 am to 4:00 pm. All in all, the trip takes 5 to 6 hours along the Halsema Highway. Regular fares for both buses are 212 pesos. For senior citizens, students, and PWDs, fare is 176 pesos.
Bontoc to Maligcong. The jeepney station is located at the back of the Public Market. Regular time departures are 8:00 am, 12:00 pm, 2:30 pm, 4:30 pm, and 5:30 pm. Fare is 20 pesos. On the other hand, trips from Maligcong back to Bontoc town are 6:30 am, 8:00 am, 9:00 am, 2:00 pm, and 4:00 pm.
Preliminaries & Arrangements
Before hiking to Mt Kupapey, tourists should first register and pay an environmental fee of Php 50. Registration is done in the the lodging where the tourists are to stay. A guide is also required for every tourists, whether travelling in solo or by group. Fee for a guide is Php 500.00. One guide is required for a maximum of five pax. A Php 100 fee is collected for every additional person.
On the Trail to Mt Kupapey
During our visit, we hoped to see an incredible view of the sunrise and sea of clouds which Mt Kupapey is known for. So, we started trekking at 5:20 am. Initially, we trailed on gentle slopes. There were open grasslands where carabaos feed. I just love how the early morning mists projected a stunning view of such landscapes. The feeling was surreal and we were surely lost in amazement.
As we went deeper into the pine forest, I felt more connected to the rustic world. Though I could feel my heart beating fast at some point, it was not so tiring at all. Nature had its own way of relieving us along the way. The constant chirping of birds were natural music to the ear while the chilly breeze gave a caressing touch.
It took us almost 40 minutes before we finally reached Mt Kupapey. For an average trekker, the hike could take more or less an hour. We were a bit too early, thus, it was still dark. We also noticed that there were a group of hikers who went ahead. Good thing, they built a bonfire where we warmed ourselves.
Behold the Views from Mt Kupapey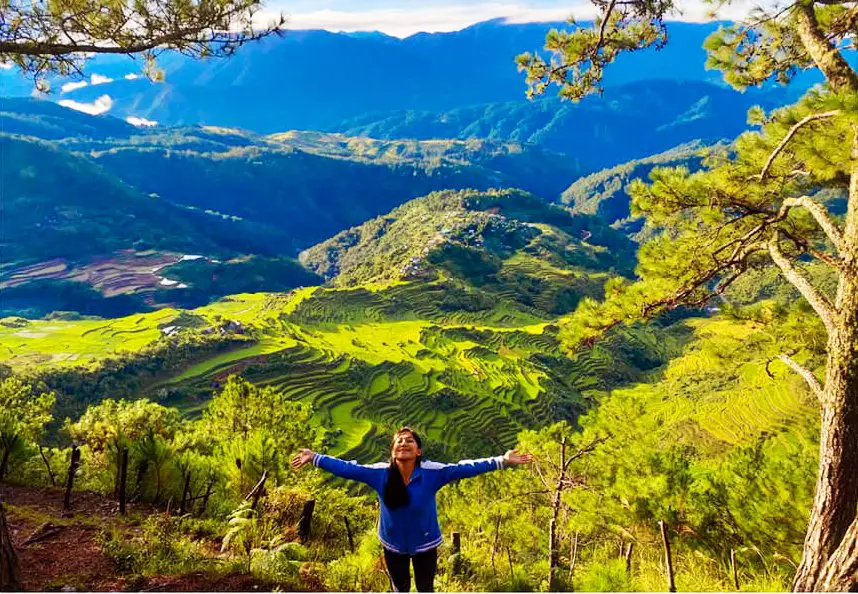 About 15 minutes later upon our arrival, we could see the distant rays of the sun slowly peering over the mountains. We were in sheer excitement and fascination as the emerging sun slowly unravelled a breathtaking view of the mountains and the rice terraces.
From Mt Kupapey, Maligcong Rice Terraces appeared like stunning layers of gentle cascades like the famous Kaparkan falls in Abra. Mt. Amuyao, the fourth highest mountain in Luzon, can also be seen. I could not help but just stand in awe and wonder at such creations. The view just totally blew me away and I could feel a total relief from the slight exhaustion I got along the way.
Unfortunately, we were not able to get the best view of the sea of clouds as these hovered wildly and covered the sceneries from time to time. But at least, we got a partial glimpse of the marvelous views to see from Mt Kupapey. That's all the more reason to keep coming back. It's bliss and love at first glance (winks).
Accommodation
Below is a complete list of accommodation in Maligcong, Bontoc. Rates are of January 14, 2020. Contact the given numbers for updates/changes.
Tips and Reminders
The best time to hike to Mt Kupapey is during the early morning to chance on the best views.
Don't ever litter.
Avoid picking flowers along the way. They are for your eyes only.
Respect local customs and traditions by refraining from acts or utterances that may be offensive to the community. Among these include Public Display of Affection or wearing of mini-shorts.
Refrain from smoking when hiking to the mountain.
Sample Itinerary & Budget
Sample DIY Itinerary and Budget
Day 1
9:00 PM – Arrival in Coda Lines Station, Cubao
10:00 PM- Departure of Coda bus
Fare: Php 720
Day 2
11:00 AM – Arrival in Bontoc
1:30 PM – Departure of Jeep to Maligcong
Fare: Php 40
2:00 PM – Arrival in Maligcong
2:00 PM-5:00 PM – Rest, Rice Terraces Viewing, etc.
Day 3
4:00 AM – Wake up Call, Breakfast
5:00 AM – Start of hike to Mt Kupapey
5:40 AM – Arrival in Mt Kupapey, Bonfire while waiting for sunrise
6:00 AM – Expected sunrise and sea of clouds viewing
7:00 AM – Trek back to Maligcong village
7:30 AM – Arrival in the community
9:00 AM – Departure to Bontoc proper
9:30 AM – Arrival in Bontoc
10:30 AM – Departure from Bontoc to Manila via Coda Lines
Note: You may book PM schedules of Coda Lines if you want to explore sights within Bontoc town.
Estimated Budget: Php 3,000 per person
Try Speaking the Local Language
Some locals are often shy when talking with people of different language. Others would even avoid such conversation. That is why, if you want to connect with them, it helps to speak the local language. You don't have to be well-versed. Trying out some common utterances and expressions can be a great way of building rapport with the people.
Most of the people belong to the Bontoc tribe (also called Ifontok) and they speak Finontok. Other tribes can also partially understand this language. So, do try learning and speaking the following:
Extra Sights Near Mt. Kupapey
Hiking to Mt Kupapey is mostly done during the early morning. Thus, you'll have the rest the day for extra sidetrips to other tourist spots in Maligcong. Among these are the following:
Mt. Fato. Mt. Fato is adjacent to Mt. Kupapey and can be hiked for more or less an hour. Tourists hiking to Mt Kupapey usually proceed to Mt. Fato as trails connect both mountains. The mountain is called "Fato" because it's summit features a big limestone rock formation. "Fato" is a local term referring to a rock or stone.
Lipnok Falls. Lipnok Falls is a newly-discovered tourist spot in Maligcong. It takes more than an hour of hike from the community to reach it. It is, however, recommended only to extreme hikers or adventurers as the trail is slippery and can be dangerous especially just after the rains.
Maligcong Rice Terraces. While you'll have an overview of the terraces from Mt. Kupapey, what better way of enjoying it than walking along them. Imagine trailing along the rice paddies while the fresh scent and scenery gives you a feeling of rejuvenation.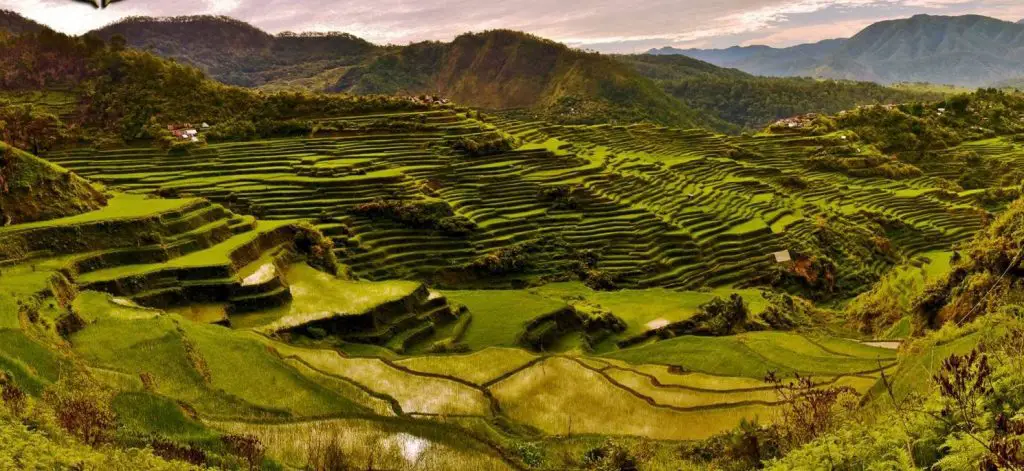 For More Information
If you need more information that may help in setting up your itinerary to Mt Kupapey, do post your queries on the comment section below. Don't forget to check back on it after a day or two for our reply. Thank you.
For more updates about eco-travels or ecotourism destinations, do like our page, Daniel's Eco-Travels.
Please follow and like us: