Here is your complete DIY travel guide to the tourist spots in Natonin!
Where can we find the longest rice terraces in the Philippines? You might say, "It's in Banaue, Ifugao!" Nope. It is actually found in a remote municipality called Natonin.
Natonin is located in the eastern Mountain Province. It is one of the hardest to reach due to rugged road conditions and mountainous terrains. It is only then that road improvement is almost in full swing.
From a bird's eye view, Natonin looks like a bowl of rice terraces, surrounded with towering peaks. These peaks feed numerous brooks and streams leading to the Siffu River. The abundance of water and fertile soil makes Natonin a hub for heirloom rice production.
How to Get to Natonin, Mt Province
Manila to Bontoc. Ride a Coda Lines bus. This is the only bus heading straight to Bontoc, the primary jump-off point to Natonin. The time of departures is 8:30 pm and 9:30 pm. Reminder, they do online booking. If you don't want to miss out seats, book in advance. Or go to the station as early as 5:00 pm to grab a ticket. For more information, click on their website here. From Manila to Bontoc, the trip takes 10- 11 hours.
Baguio to Bontoc. There are two options. First, you can ride GL buses. These park at Dangwa Terminal (back of Center Mall). Times of departures are 7:30 am, 8:00 am, 10:00 am, 1:30 pm, and 2:30 pm. Second, you can ride Rising Sun buses (stationed at Slaughter Compound, Magsaysay). They have bus schedules from 4 am to 4 pm.
Bontoc to Natonin. There is only one scheduled trip bound to Natonin regularly. The mode of transport could either be a jeep or a mini-bus. These station alongside All Saints Cathedral. The time of departure is 10:00 am. It is advisable, however, to be at the station at least an hour before the departure for reservation purposes. From Bontoc, it takes 6 hours to reach Poblacion, Natonin. Poblacion is the town center.
Behold Must-See Natonin's Tourist Spots
1. Apatan Rice Terraces
These terraces are alongside Mt. To-or Viewpoint. You can view them from the national highway. Unlike those found in Banaue, the terraces here have stone walls to protect them from erosion. Experience indigenous farming of heirloom rice when you get here.
2. Lamayen Rice Terraces
Lamayen Rice Terraces are also visible from the highway. In fact, you can gaze on most of the rice terraces of Natonin when you follow the road to and from Poblacion. You'll also spot some charming waterfalls along the way.
4. Mt. To-or
Mount To-or provides one of the best views of Natonin's rice terraces from east to west. This is actually a small and forested hill in the middle of rice terraces. Resembling the shape of a turtle, Mt. To-or also offers a vantage view of the lower barangays of Natonin. There is a shade constructed atop it. From the national highway, it takes around 20-30 minutes of a hike to reach Mt. To-or's zenith.
4. Mt. Binaratan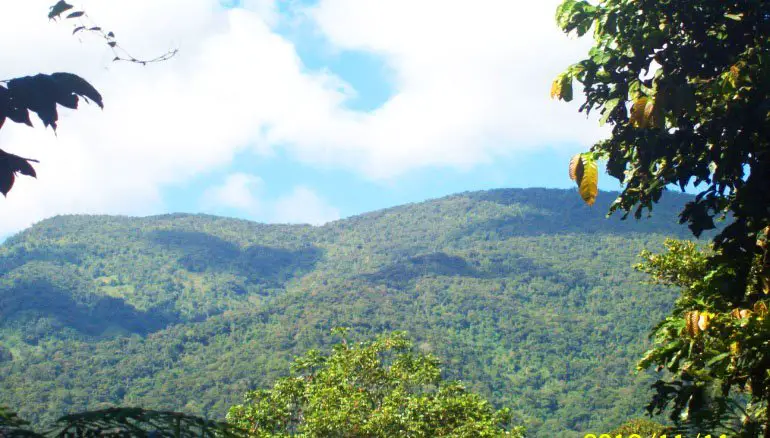 Mt. Binaratan is the most locally-popular mountain in Natonin. Dubbed as the "Silent Mountain," you won't hear any bird's chirping while you're on the summit. Mysterious, right? The trail is rustic and ecologically diverse and from time to time, you'll catch sight of wildlife above the forest canopy. During good weather conditions, the summit rewards you with a panoramic view of the forest-covered mountains of Barlig and Kalinga province. The famed "Sleeping Beauty" Tinglayan can also be seen from here.
Location/Jump-off: Brgy Maducayan, Natonin
Trekking Time: 4-5 hours to the summit
Guide Fee/Entrance Fee: Donation
READ: Mt Binaratan: The Silent Mountain of Maducayan/Dacalan
5. Mt. Patiking
Mt. Patiking is also a popular destination among the locals. Atop this mountain is a big boulder that resembles the head of an elephant. Standing on this boulder, you can view the extensive rice terraces and different barangays of Natonin. You'll also glimpse the Siffu River as it snakes its way among the mountains. It is best to come here early morning to catch a glimpse of the spectacular sunrise.
Location/Jump-off: Sitio Purag, Brgy Banao, Natonin
Trekking Time: 45 minutes
6. Naropaan Falls
Naropaan falls is one of the several cascades found in barangay Sta. Isabel. It measures 45 feet high and has a little pool at the base. Like heavenly drizzles, the cascading waters provide a natural massage and invigorating relief to the body.
Location/Jump-off: Brgy Santa Isabel, Natonin
Trekking Time: 10-15 minutes
7. Letalet Falls
Letalet waterfall drops lazily amidst the tropical forests of barangay Banawel. It measures around 30 feet high and has a naturally-built pool with icy-cold and crystal-clear waters. It's a good spot to escape the daily bustles and hustles of daily life.
Location/Jump-off: Brgy Banawel, Natonin
Trekking Time: 10 minutes from the highway
8. Laken Living Stone
A mystic stone located along the Siffu River at sitio Balanga. According to the locals, the stone was originally small (lagan) and slowly, it grew, making them wonder. That certainly sparks mystery. Your visit here would not be complete without swimming on the river and enjoying its soothing properties.
Location/Jump-off: Sitio Balanga, Natonin
Trekking Time: 2-3 hours
9. Vuyon Salt Spring
Located along the Maducayan River, this spring emerges from a rock opening and has a salty taste. Oftentimes, crabs gather in the spring for unknown reasons. There is an interesting story about this, however, I would not like to spoil your excitement. I'll leave it to the locals to share it with you.
Location/Jump-off: Brgy Saliok, Natonin
Trekking Time: 1 hour
10. Agomoyamoy Falls
Agomoyamoy falls is found deep in the forests of Maducayan. It takes hours of trekking on dense forests and crossing streams before finally catching sight of the waterfall. If you're seeking extreme hiking, then it's worth the challenge. The falls is two-layered and cascades like a bridal veil from afar.
Location/Jump-off: Maducayan, Natonin
Trekking Time: 4 hours
Explore More Natonin Tourist Spots
11. Mt. Balikongkong
Mt Balikongkong is also a relatively unexplored peak just like Mt Binaratan. It's an ecological paradise, teeming with various flora and fauna species. Who knows? You might catch sight of a deer or a wild pig when you come here.
Location/Jump-off: Maducayan, Natonin
Trekking Time: 4-5 hours to the summit
13. Mt. Luwaan
Mt. Luwaan is one of the least explored tourist spots in Natonin. Mossy forests cover the mountain entirely and only a few hunters were able to glimpse of its beauty. According to the locals, Mt. Luwaan is bordered with Lias community in Barlig. A local hunter shared to me shared that it is home to the critically-endangered Philippine Flying Fox. Hopefully, the local authorities will implement measures to preserve the mountain.
Location/Jump-off: Brgy Maducayan, Natonin
Trekking Time: 4-5 hours
14. Turgak Falls
Turgak Falls lies in the remote forests of Maducayan. It has two layers collectively measuring more than 80 feet high. There is just nothing like it gazing on the falls majestic beauty as it gushes out from the cliff amidst green foliage.
Location/Jump-off: Brgy Maducayan, Natonin
Trekking Time: 3-4 hours
15. Mt. Gitgit
Mt Gitgit is another relatively unknown mountain which hides a vast array of biological wonders. Just like many of the rich mountain peaks of Natonin, it also warrants protection.
Location/Jump-off: Brgy Maducayan, Natonin
Trekking Time: 3 hours
16. Maducayan River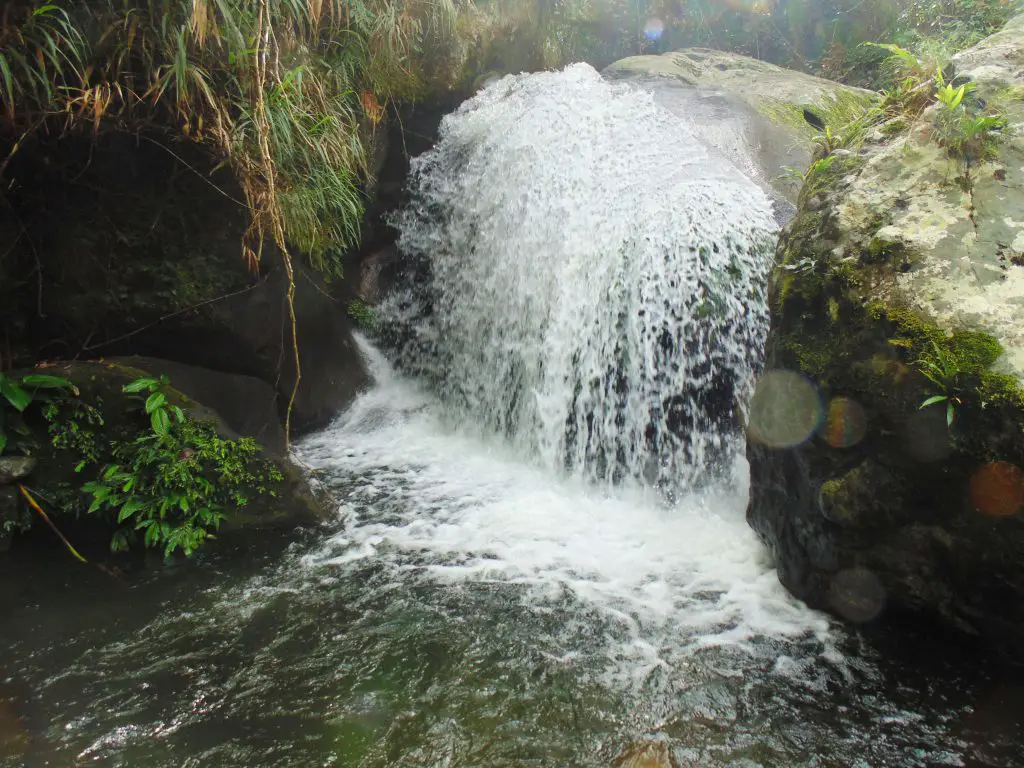 Maducayan River emanates from pristine mossy and dipterocarp forests. It thrives with endemic marine species such as eels and crabs. The waters are icy-cold, enough to soothe the hardened muscles. The river's upper tributaries teem with several waterfalls and rapids. If you're an adventurer, these are wonders you should not miss.
Location/Jump-off: Brgy Maducayan, Natonin
17. Siffu River
Siffu river originates from the mountains of Barlig and grows bigger as it traverses Natonin. Fishes and eels also abound though illegal fishing depleted their population in recent years. It takes hours of trek from the nearest barangay to get here. But no worries, your exhaustion immediately dissipates as you relax on its invigorating waters.
18. Lagan River
Lagan River meets with the mighty Siffu River. It emanates from mossy forests upstream. With its crystal-clear waters, you'll surely love swimming here as you gaze at the lush surroundings.
19. Penadna Falls
Penadna falls is one of the locally-frequented tourist spots in Natonin. It can be seen along the national highway and takes a minute or two to get to its base. It measures around 80 feet high and is surrounded by verdant vegetation. It's best to view the falls during the rainy season as it dries up during summer months.
20. Purag Rice Terraces
These are the first rice terraces of Natonin you will see when arriving from Barlig or Bontoc town. From the highway, these look like cascades surrounded by mountain slopes. You can also view them when hiking to Mt. Patikking, one of the rising tourist spots in Natonin.
Where to Stay in Natonin?
There are only two operating lodging houses in Natonin, both found in Poblacion. These are:
Cola Lodging
Php 200/night/person
Has four rooms
Contact person is Mr. Colalading – 09989866891
Ayungo's Residence
Php 100/night/room
Php 150/night/room if the kitchen is used
There are three rooms (each good for two pax)
With cold shower
If these lodging houses are filled to capacity, coordinate with the local tourism or the municipal/barangay officials for them to recommend where you can stay.
Some Important Reminders
Tourism is not yet fully-established in Natonin, thus, there are no organized tour groups and packages. That is why, proceed immediately or coordinate with the Tourism Office of Natonin. It will be up to them to recommend local guides.
In some barangays, the coverage of Smart and Globe is either weak or absent. It is only in Poblacion where there is a strong network connection.
Most of the tourist spots in Natonin don't have signage so don't hesitate to ask the locals for directions. Oh yes, do make friends with them.
Respect local culture by refraining from utterances and acts which are offensive to the community. Among these include wearing of mini-shorts and public display of affection (PDA).
Help in the preservation of the tourist spots in Natonin by following basic protocols such as proper waste disposal.
For more Info on Natonin tourist spots:
If you need further information that may help in setting up your itinerary to the tourist spots in Natonin, simply ask them in the comment section below. You can also message us on our facebook page namely, Daniel's Eco-Travels. I will be more than glad and willing to answer them whenever I can:)