Want memorable destinations just a few hours away from the metro? Check out the fascinating Pampanga tourist spots! Discover its off-beaten attractions and the best things to do in this article.
Pampanga province is the Culinary Capital of the Philippines, with sizzling pork dishes as its prime culinary offering. Unknown to many; however, Pampanga hosts ecotourism destinations that should make up for your bucket list.
Cascading waterfalls, stunning mountain views, naturally-built pools, and verdant wetlands are on their sleeves.
As a bastion of Catholicism in the country, Pampanga has some of the best churches and pilgrimage sites. And yes, it also boasts modern attractions such as Aqua Planet and Zoocobia.
However, on this list, we'll mostly show you Pampanga's natural destinations. Some of these are off-beaten, thus, ideal for those who prefer less touristy sites. Here we go.
1. Mount Arayat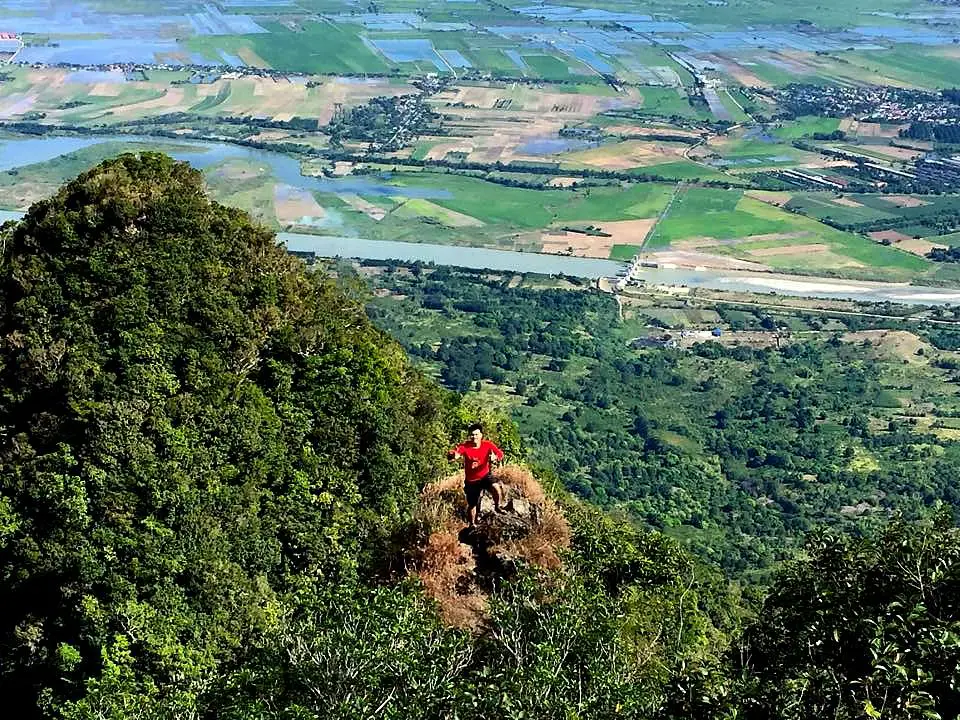 Dubbed the roof of Pampanga, Mt. Arayat stands in the middle of flat plains like a goddess guarding Pampanga. With a height of more than 1,026 meters above sea level, Mt. Arayat makes up for a rewarding hiking experience.
It hosts the province's last remaining rainforests, home to a plethora of flora and fauna species. Who knows? You might chance on cute monkeys or fierce monitor lizards along the way.
According to local folklore, Mt. Arayat is home to Mariang Sinukuan, the sister of Maria Makiling in Laguna. Mt Arayat is one of the beautiful places in Pampanga you should not miss.
Location/Jump-off:  Barangay Baño, Arayat
Entrance Fee: Php 30 per person
Other Fees: Php 700 for up to 5 pax for South Peak (local guide fee); Php 1,500 for up to 5 pax for Pinnacle (local guide fee); PHP 1,750 for up to 5 pax for North Peak (local guide fee)
2. Puning Hot Spring
Puning Hot Spring is one of the rustic tourist spots in Angeles, Pampanga. It sits on an ancestral domain of the Aeta indigenous groups.
Lush vegetation surrounds the spring, making it an ideal escape for nature lovers. All in all, there are 11 natural hot springs and two heated pools.
There is also a sand spa where you can cover yourself with hot sand to experience its therapeutic properties.
Location/Jump-off: Sitio Target, Brgy. Sapang Bato, Angeles City
Contact: 09193392795
Facebook Page: @PuningHotSpringAndRestaurant
3. Mount Pinatubo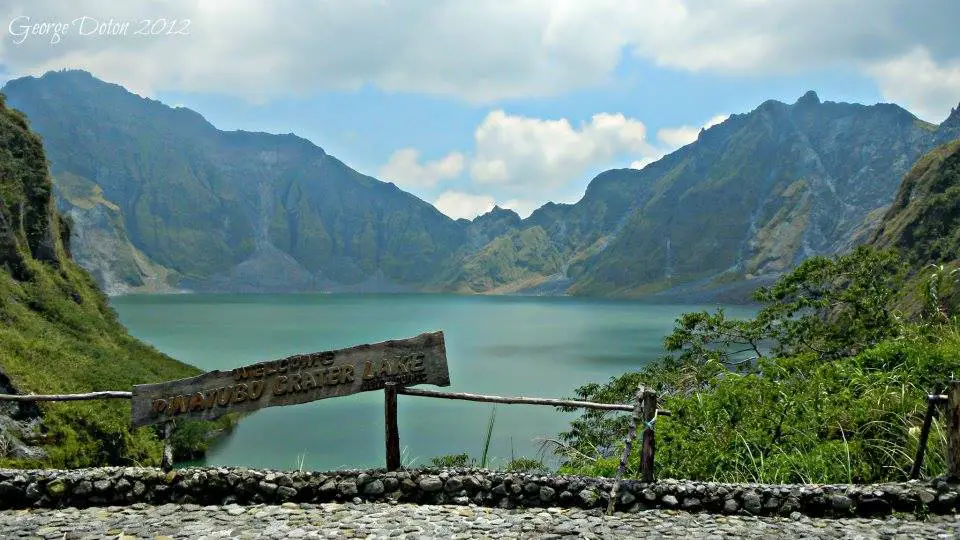 Mount Pinatubo is not exactly in Pampanga, but it is one of the jump-off points to the volcano's summit. Mt. Pinatubo became popular when it erupted in 1991, creating the world's largest lahar canyon.
Another highlight here is Mt. Pinatubo lake, with its blue waters and dramatic cliff borders. It is one of the most iconic tourist spots in Pampanga.
To reach the crater, you'll ride a 4 by 4 wheel on a lahar field and hike for 3 hours back and forth.
Package I: Manila to Pinatubo Crater Lake via Capas (PHP 200 – PHP 3000)
Package II: Manila to Pinatubo Crater Lake via Botolan (Php 2500)
4. Mount Pinatubo Twin Falls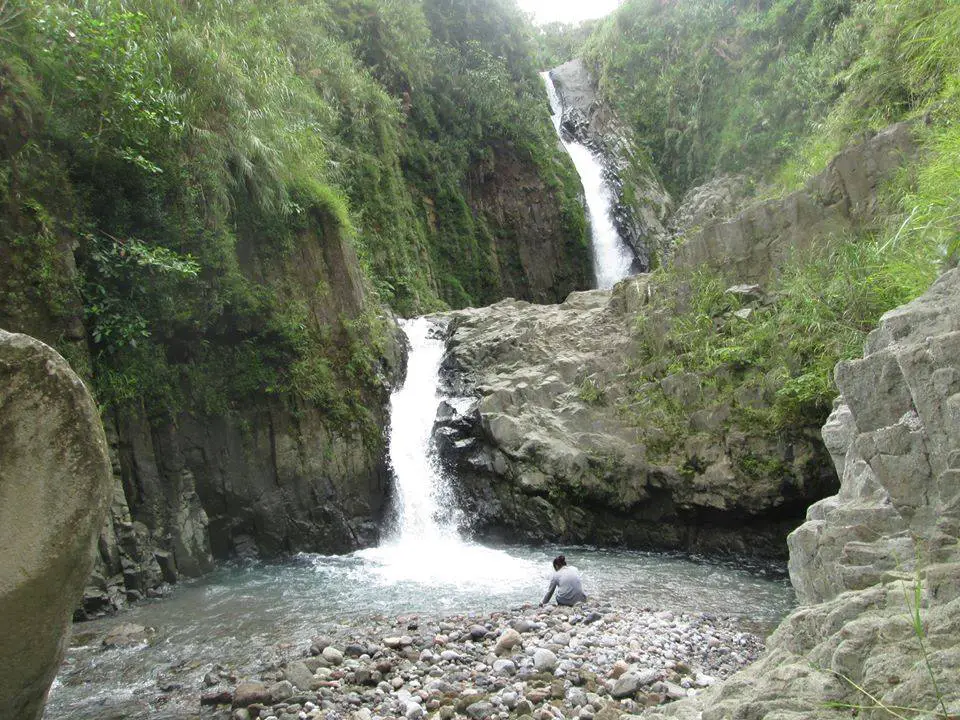 After hiking to the crater of Mt Pinatubo, hikers can proceed to twin falls located on a remote part of the mountain. It has two layers cascading on the crevices of steep walls.
If you don't want hours of hiking, you can ride a 4-by-4 vehicle to reach the waterfall. Twin Falls is one of the best tourist attractions in Pampanga.
Location/Jump-off: Porac
Trekking Time: 9 hours
5. Dinosaurs Island
If you've been watching Juraffic Park, then Dinosaurs Island should make up your bucket list. Here, you'll find life-size and moving dinosaur displays, a World of Fun, and a Fossil Museum.
You may hop on the Adventure Ride and the Jurassic Safari Ride for a thrill. Craving for more? There are the 7D Super Screen Theater and the replicas of the Wonders of the World.
The park is one of the most frequented tourist spots in Clark, Pampanga.
Location/Jump-off: Clark
Contact Numbers: 02 887 0803, 045 499 3033
Email: info@clarklandph.com
6. Miyamit Falls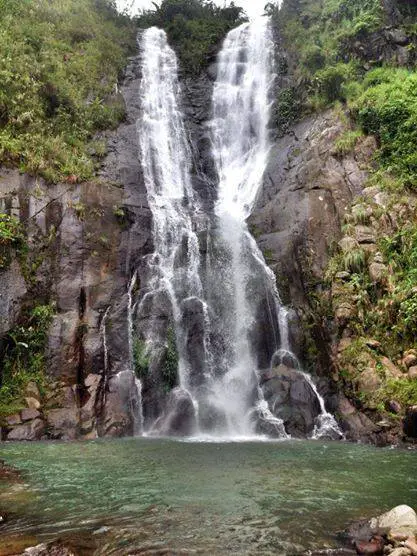 Miyamit Falls is your ideal escape for relaxation and for beating the simmering midday heat. Locals and tourists love coming here because of its proximity and accessibility.
It cascades like drizzles for more than 30 meters. Its naturally-built pool can give you instant relief with its crystal-clear and cool waters.
Location/Jump-off: Brgy. Sapang Uwak, Porac
7. Deca Wakeboard Park
Who says you have to go to Nuvali or Davao to experience wakeboarding? Guess what? You don't have to go that far. Here at Deca Wakeboard Park, you can experience just that.
Location/Jump-off: Brgy. Margot, Angeles City
Contact Numbers: 09053301013, 09184598488
Email: decawakeparks@outlook.com
8. Paradise Ranch
Paradise Ranch offers you a Baguio-like experience in Pampanga. The rustic sceneries here make it an ideal site for camping and family picnics.
You can also experience ranch activities like fish feeding and butterfly watching. Run wild on their aviary to chase beautiful peacocks, ostriches, and the famed Ibong Adarna.
Location/Jump-off: Clark
Contact Number: 09227172402
Website: paradiseranch-clark.com
9. Haduan Falls
Haduan Falls is one of the best tourist spots in Pampanga. It is part of the ancestral domains of the Aetas who have been guarding it for centuries. It's not that high, but the setting is serene and rustic. It has a catchbasin where you can have an invigorating bath.
Location/Jump-off: Sitio Haduan, Malabacat City
10. Holy Rosary Parish Church
Holy Rosary Parish Church is one of the favorite pilgrimage sites in Pampanga. Also known as Santo Rosario Church, it boasts two twin towers and castle-like architecture. Just like most churches in Pampanga, the holy Rosary Parish Church was built during the Spanish times. This is one of the most beautiful places in Pampanga.
Location/Jump-off: Angeles City
11. El Kabayo Stables
If you're a fan of cowboys or movies depicting the old Western setting, visit this place. It showcases a complete replica of a saloon and a telegraph office.
Among the fun activities, you can do here are adventure, scenic trail rides, riding lessons, carriage tours, and photo opportunities.
Location/Jump-off: Clark Freeport Zone, Angeles City
Contact Number: 045 499 0920
Website: elkabayo.com
12. Zoocobia Fun Zoo
Zoocobia Fun Zoo is a 50-hectare park that fits for a family and solo escapade. Here, you'll see a garden maze full of animal topiaries, a labyrinth, and a gravity car track with distinct steering and a braking system.
There is also a gallery of stuffed real animals preserved. You'll surely love the sights and things to do here.
Location/Jump-off: Clark Freeport, Angeles City
Entrance Fee: Php 350
Contact Number: 09227172402
Website: clarkfreeportmarketing.com
13. San Guillermo Parish Church
San Guillermo Parish Church is one of the oldest churches in Bulacan. Built in 1576 by Augustinian friars. Aside from its stunning architectural view, the church houses paintings of the Pinatubo eruption in 1991. It is one of the popular religious tourist spots in Pampanga today.
Location/Jump-off: Bacolor, Pampanga
14. Fontana Water Park
Fontana Water Park is one of the top tourist spots in Pampanga. It boasts of 10 water parks with various kinds of waves. Some of these are as high as three feet.
Want some thrill? You may try the so-called Big Horn, wherein you'll ride a floating tube that twists and turn as you cascade towards a pool.
Other attractions here are an idle river, an Olympic-size pool, a kiddie pool, and a refreshing water cottage slide. It's more fun here indeed!
Location/Jump-off: Clark Freeport Zone 2023
Contact Numbers: 09175537598, 045 599 5000
15. Darabulbul Falls/Dara Falls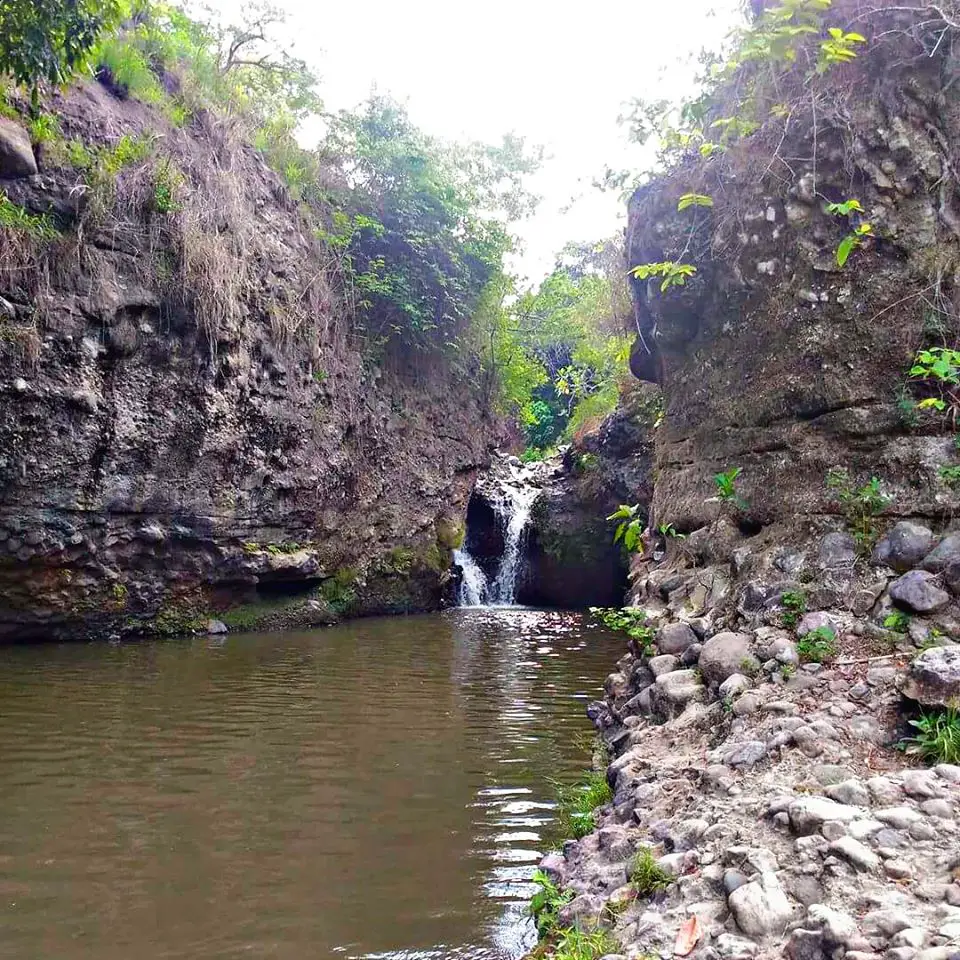 Darabulbul Falls is one of the most accessible falls in Pampanga; thus, locals and tourists love coming here to enjoy its view and cold waters. It is often likened to Pagsanjan Falls in Laguna.
Location/Jump-off: Brgy. Jalung, Porac
16. Nayong Filipino
As the name suggests, Nayong Filipino features replicas of the popular tourist spots in the Philippines. Among these are the Magellan's Cross, Chocolate Hills, and the statues of national heroes and famous politicians.
You'll surely feel like you've conquered the entire Philippines here. Moreover, you'll find the Mabini House, the Spanish Culture and Religion Museum, and the Philippine Museum.
Want more? You can go fishing and boating at a man-made lagoon. An area also showcases native huts of the Aeta and Ifugao people.
Location/Jump-off: Centennial Road, Clark Field, Mabalacat, Pampanga province
Contact Number: 09435532414, 045 4361 718
Website: www.nayonsaclark.com
17. Candaba Wetland
Candaba Wetland is one of the protected tourist spots in Pampanga, shared with Bulacan. It covers more than 32 000 hectares, featuring freshwater pools, marshes, and grasslands.
From October to February, migratory birds fly to the Candaba Wetland to escape the harsh winter in Russia and China.
There are white egrets, Philippine ducks, streaked reed-warbler, and white-breasted herons among the commonly seen bird species.
Location/Jump-off: Candaba
18. San Fernando Train Station
The San Fernando Train Station was the terminus of the infamous Bataan Death March in 1942. It witnessed the suffering of thousands of Filipino and American soldiers who fell to the Japanese invasion. It's now one of the recognized historical tourist spots in Pampanga.
Location/Jump-off: San Fernando City
19. Pamintuan Mansion
Pamintuan Mansion dates back to the Spanish regime. It boasts of well-preserved architecture and design. The mansion saw the first-anniversary celebration of Philippine independence from Spain.
Location/Jump-off: Angeles City
20. Bale Dutung
Bale Dutung offers you the best of Kapampangan dishes. The restaurant is known for its 3-4 hour dining and 12-course menu. Families love coming here to have an intimate gathering.
Book a reservation on their website before coming here. Bale Dutung is one of the best dining tourist spots in Pampanga.
Location/Jump-off: Angeles City
For Your Information
If you need more information to help in setting up your itinerary to the tourist spots/destinations in Pampanga, do contact the local tourism office via the following:
Tel. Number: (045) 963 0107
Email Address: ctipo.csfp@gmail.com
Office Address: 24 Capitol Blvd, San Fernando, 2000 Pampanga Province