Here is your complete DIY travel guide to the tourist spots in Paracelis!
Paracelis lies on the easternmost edge of Mountain Province. It is known as the land of the Golden Seeds because of its vast corn plantations and wide tracts of rice farms.
But there is more to that.
Unknown to many, Paracelis also hides eco-wonders waiting to be discovered. Here we go.
How to Get to Paracelis?
The town center of Paracelis, Mountain Province can be accessed from Tabuk City of Kalinga and Bontoc, the capital town of Mountain Province. So if you are coming from Manila, here are the options you can take.
Manila to Bontoc. Ride Coda Lines bus from H.M. Bus Station, Cubao, Manila. Schedule of trips are 8:00 pm, 9:00 pm, 10:00 pm, and 10:30 pm. It takes 10 to 11 hours to reach Bontoc. If you are not familiar, tell the driver to drop you at Bontoc town since the buses are bound to Sagada. Fare is 725 pesos for semi-deluxe and 935 pesos for deluxe. Click on their website for more information here.
Bontoc to Paracelis. You have two options. First, ride the only bus that travels from Bontoc to Paracelis. This parks along All Saints Cathedral and departs by 8 am. Thus, you will need to catch the earliest Coda Lines to catch the trip. Otherwise, you would have to spend the night in Bontoc before riding a bus the following morning. From Bontoc, it takes around 8-9 hours to reach Paracelis.
Manila to Tabuk City. Ride Victory Liners bus station from Kamias Station to Tabuk. Travel times takes around 10 to 12 hours via NLEX-Maharlika Highway traversing Nueva Ecija, Nueva Vizcaya, and Isabela. Fare is approximately 620 pesos. From Tabuk, ride vans bound to Paracelis.
Manila to Baguio. Ride buses going to Baguio. I would recommend the Victory liner since they have hourly departures. Victory Liner also has stations at Cubao, Quezon City and at Pasay City. Regular fare is 485 pesos and travel time takes five to six hours. From Baguio, there are buses and vans bound to Paracelis.
Behold Paracelis' Tourist Spots
1. Maalinsawang Falls
Locals love to come here because of its cool waters. Its pool is wide and very deep with two layers of mini-cascades. To get here, one needs to ride for 20-minutes from the town center and hike for some five minutes from the road. This is among the locally-popular tourist spots in Paracelis.
2. Siffu River
Siffu River emanates from the forested mountains of Barlig and Natonin. On its upper reaches, it's a raging torrent. However, it begins to flow smoothly once it reaches Paracelis. It is a potential site for whitewater rafting, boating, swimming, and other recreational activities. Visiting this spot is a rejuvenating way to escape the simmering heat of Paracelis' midday.
3. Canabo Falls
Canabo Falls is one of Paracelis' picturesque waterfalls. Locals and even some tourists frequent here to take respite. It measures more than 30 meters high and cascades like heavenly drizzles. It has a small cave on its base. Visitors could take pictures from there. The surrounding vegetation makes chasing the falls even more refreshing and memorable.
4. Nansusu Hills
The name indeed stirs curiosity. Why Nansusu? Nansusu in the local term means breasts. The hills are named that way because they resemble the shape of breasts when viewed from a certain distance. It is best to view them during the early morning and dawn. Hiking to the top of these presents an even more thrilling and exciting adventure.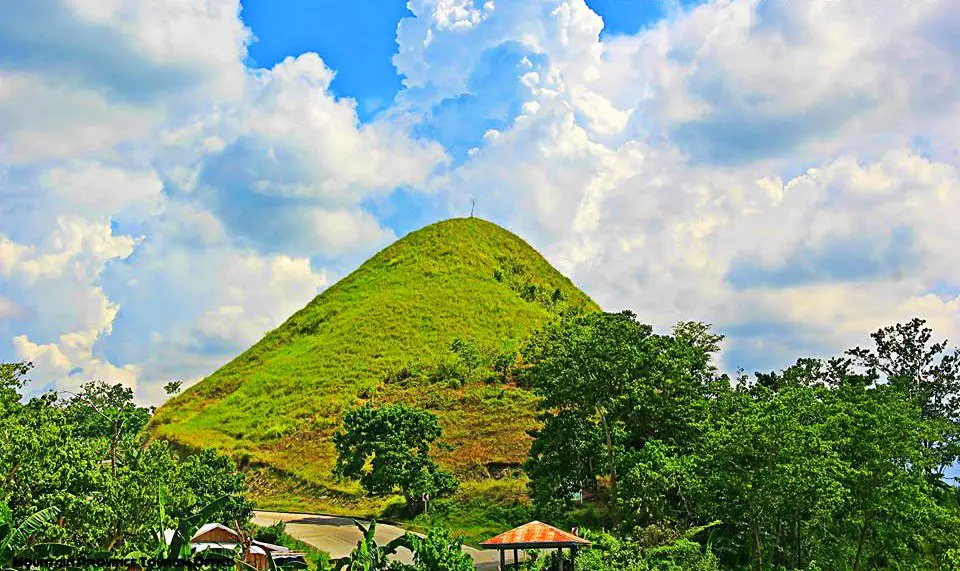 5. Mabarotbot Mud Spring
Mabarotbot Hot Spring tops the list of the most popular tourist spots in Paracelis. These are actually mounds of bubbling mud. Kapuso Mo Jessica Soho featured these on one of its episodes. Until today, the spring sparks mystery, especially among the locals. For them, the springs are the remnants of a sunken village. Because of that, they believe that unseen spirits dwell on these. One story tells of a man who died after trying to destroy one of the mounds. It is believed that he angered the spirits, thus, to his demise.
6. Pagga Falls
From the hot spring, one can side trip for a refreshing bath at Pagga falls, located on the same barangay. Its pristine waters come from dense forests upstream. It measures around 30 feet high and has a beautiful pool where you can soothe yourself after a challenging trek of getting here.
7. Paracelis' Primeval Forests
Paracelis once hosted the largest dipterocarp forest cover in Mountain Province. However, corn plantations have replaced almost all of these in recent years. Thankfully, secondary growth still remains in remoter areas. These forests host an array of ecological diversity such as monkeys, wild pigs, monitor lizards, and deer.
Hopefully, the local government and communities do commit to protecting what is left of their forests. These are treasures that must be nurtured since they can help boost ecotourism in the municipality while sustaining vital ecological services such as water.
8. Taptapwak Falls
Located in barangay Palitud, this hidden gem is one of the most pristine tourist spots in Paracelis, owing to the presence of forests and jungles upstream. The falls measures only 20 feet high but it created a deep and wide pool where one can dive or take a thrilling plunge. Don't be surprised. Local kids love doing that.
9. Sleeping Mummy
Don't think of preserved mummies when you come across this tourism spot. It's actually a mountain resembling the shape of a sleeping mummy from a certain viewpoint. It takes one's wild imagination to identify the mummy shape of the said mountain.
10. Balungay Falls
Situated between the border of Paracelis and Roxas, Isabela, this hidden wonder is slowly making it to the ecotourism world. The falls lazily cascade on a sliding platform. It's best to come here during the rainy months to glimpse of the fall's grandeur.
11. Nansawang Falls
Nansawang falls is one of the most documented tourist spots in Natonin. Located in barangay Poblacion, it only takes some minutes of hike from the road to get here. It has 8 layers of waterfalls, each with different designs to offer. On one of these layers, you can slide your way towards the deep pool. Locals love coming here for a picnic.
12. Da'dap Falls
Da'dap falls is recently listed among the tourist spots in Paracelis. It has a naturally-built catchbasin where you can dive or jump from the surrounding cliffs. It's a popular attraction especially during summer because its waters are cold and crystal-clear.
13. Simma'bot View Deck
From this spot, you'll catch a panoramic view of the rolling landscapes of Paracelis including its grassy hills, rivers, and patches of forests. Beautiful sunset and sunrise views also await. It's best to come here during the early morning to experience the rejuvenating atmosphere. You'll feel like you are in the summit of Mt. Pulag or the grassy mountains of Bukidnon while standing here.
14. Makilo Falls
Makilo falls is one of the least known tourist spots in Paracelis because it lies in a remote location. But some locals keep coming here because of its stunning beauty. It measures 30 meters high and is surrounded by pristine vegetation. It has a shallow pool and the best way to enjoy the falls is to stand on its base while its cascading waters caress your body.
15. Iyo Falls
Iyo falls is another popular destination among the locals because of its accessibility. Even youngsters love to come here to swim in the shallow waters and feel the cascades massage their backs. Secondary forests surround the waterfall, giving it a rustic view. It takes some minutes to walk from the nearest community to get here.
16. Camp Bato
Camp Bato is a big rock formation in Upper Banilag, Poblacion. It is a suitable site for rock climbing, picnic, or just sightseeing. From here, you can catch a magnificent view of the chocolate hills of Paracelis. Before climbing, make sure you are physically conditioned.
Tips and Reminders
Tourism is not fully established in Paracelis, Mountain Province so it's best to always coordinate with the local tourism office for assistance and recommendations.
Respect local culture and community protocols. This means, refrain from utterances or acts which may be offensive to the local community such as Public Display of Affection or wearing of revealing clothes.
Most of the tourist spots in Paracelis don't have signage, so don't hesitate to ask the locals for direction.
Don't ever litter. Let us help in keeping the tourist spots in Paracelis clean and green.
Let us help keep the place peaceful and sacred.
Yes, do mingle with the locals. Make friends with them. You'll learn a lot from their stories and enjoy their company.
For your Information
For more information about the tourist spots in Paracelis, do contact the following:
Photos Courtesy of Paracelis Tourism, Paracelis LGU, Mountain Province Tourism Office and MJane Chiyawan.