Where to eat in Baguio City? Here is a comprehensive list of some of the best, cheapest, and most restaurants in Baguio. 
The Philippines' summer capital is not only a shopping paradise with all its malls and numerous souvenir shops. It's also an ultimate getaway for those looking for a unique culinary experience.
Whether you're up for unique modern cuisines or traditional-based meals, Baguio City's got you covered. It offers a blend of American, Chinese, Filipino, and native cuisines that you'll surely love.
I'm a local of Baguio, and ever since, I've spent a great deal of my time dining in different restaurants. In this article, I will share my favorites and including the most well-reviewed by tourists.
You're in for a real treat. Here we go.
Best Restaurants in Baguio City
1. Good Taste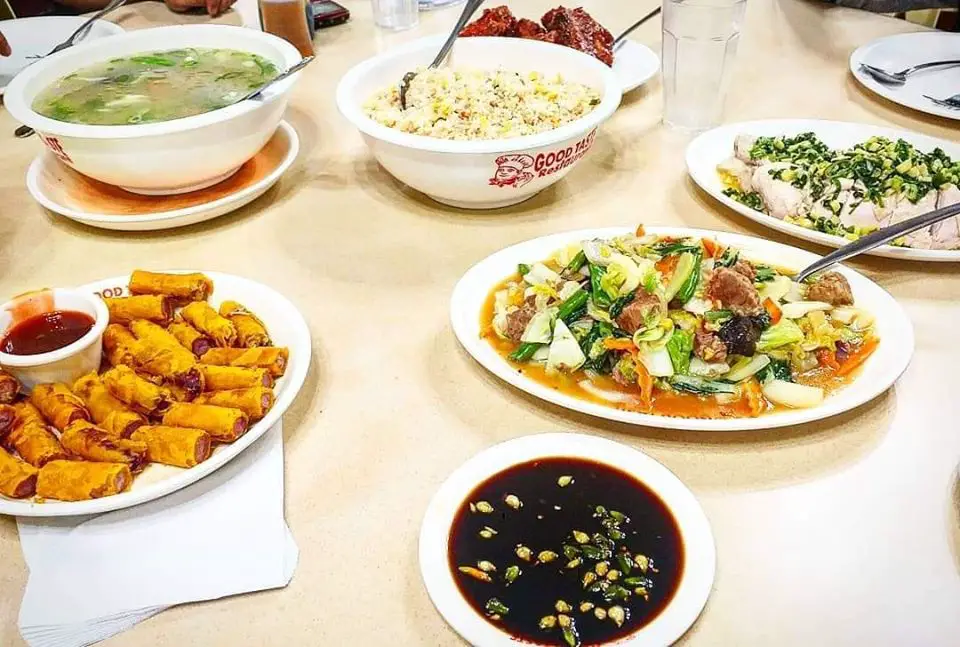 Dubbed as the "Food Factory of Baguio City," Good Taste is a popular option among both locals and tourists. Thousands troop here every day. It's known for having sumptuous meals at budget-friendly prices. 
With less than a hundred pesos, you can have a plate of rice, fried chicken, egg, pork meat, and mixed vegetables. 
Although the meals here are Chinese-inspired, they also serve American-style desserts such as cakes and pastries. You can also order unlimited soup and water.
Good Taste has two branches. One is located near Burnham Park while the other is near the Dangwa Station at the back of Center Mall.
Because of its popularity, expect crowd traffic while you order and wait for your food. Good Taste is just too good to miss for many.
Location: Carino St. Corner Otek St.
Tel. Number: 074-443-7959
Operating Time: 24/7
2. Health 102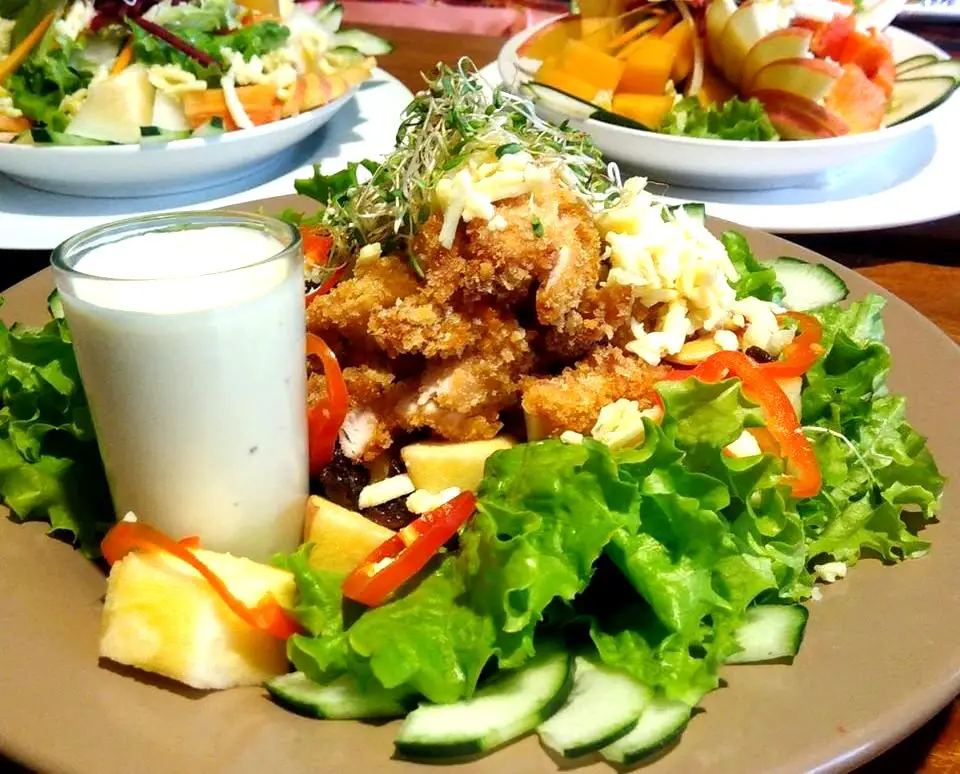 Health 102 is one of the top restaurants in Baguio for health-conscious persons and vegans.
It has two branches in Baguio while the main branch is in neighboring La Trinidad called Health 101.
They serve mostly vegetable-based meals, including fresh salads mixed with special herbs and honey. They also have meals consisting of organic heirloom rice packed with nutrients. If you still crave for meat, don't worry, they got cuts of combined meat and vegetables. 
This might surprise you. But the meals here are way cheaper compared to other vegan restaurants. For just Php 75, you can have two viands and a cup of healthy rice. 
Oh, don't miss trying out their healthy pastries and fruit shakes. 
Health 102 also sells organic and locally-grown vegetables as well as goodies. 
Location: North Hills Bldg., Lower Basement, General Luna Street
Mobile Number: 0920 927 5038
3. The Igorot Chef and Restaurant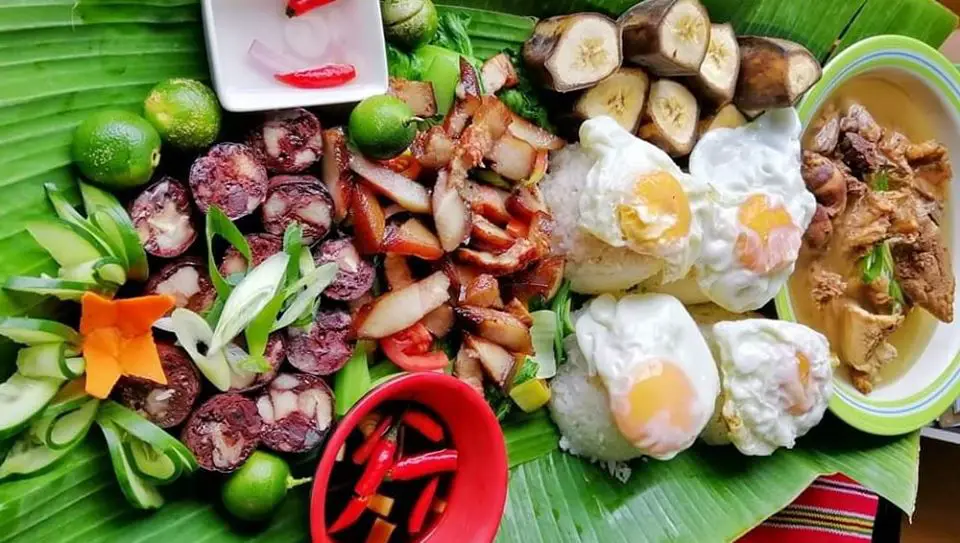 Igorots are the original and main inhabitants of Baguio City. They are not only known for their rich culture and history but also for their native delicacies. 
If you want to try indigenous-inspired dishes, visit The Igorot Chef and Restaurant. It has become a hub for so-called "baaks" (single people) in town. 
The most popular meal here is the locally-known "pinikpikan" which consists of native chicken mixed with herbs and vegetables. The famous etag (smoked meat) is often added to add flavor to the chicken stew. Its soup is exploding with various flavors that you'll surely keep ordering to your satisfaction.
Taste the rich culture of Baguio here at the Igorot Chef and Restaurant. 
Location: Pilando Building, Magsaysay Avenue
4. Lutong Bahay
Lutong Bahay is one of the most affordable restaurants in Baguio. The price of a meal ranges from Php 60 to Php 120. 
As the name suggests, Lutong Bahay serves common Filipino household meals such as pansit, dinuguan, ginataan, lugaw, barbecue, macarooni, spaghetti, pinakbet, and many more. All these are cooked already, so you don't have to wait too long for your order.
Lutong Bahay also serves snacks such as banana and camote cue and other variants.
Don't miss trying their very tasty beef shawarma.
Lutong Bahay is within the Public Market so you can drop here before or after shopping. 
Location: Baguio Public Market
5. Jack's Restaurant
Jack's Restaurant is founded by the late Jack Dulnuan. He came from an impoverished background but managed to build one of the most popular chains of restaurants in Baguio. 
The restaurant has branches in neighboring La Trinidad as well as in Manila. It is also one of the cheapest restaurants in Baguio.
Jack's Restaurant popularized the concept of servings with rice and a variety of viands on a plate. Its most popular dish is the so-called Jack's Rice. It contains fried chicken, pork meat, and mixed vegetables. It is served with complementing soup and sauce.
They also serve affordable Mami with rates ranging from Php 60 to Php 70.
Desserts? You've got them here.
By the way, you should try their brewed coffee, which is of Arabica variety.
Location: Laperal Building, Session Road
Tel. Number: 074-444-9888
6. Dap-ayan Restaurant
Dap-ayan Restaurant is not actually in Baguio but in La Trinidad town where the strawberry farm is located. So if you're visiting the farm, you might as well check out this restaurant, which is fast becoming a local favorite. 
Just like Good Taste, they also serve various rice meals at affordable rates.
One of their popular dishes here is Kiniing Rice. Kiniing is meat cured and smoked the traditional way. That is why it contains a uniquely tasty flavor with a mouthwatering aroma. Its soup is also very delicious that it can enhance every dish you cook with it. 
Are you looking for desserts? They've got cakes and pastries here as well. 
Today, it is one of the most frequented restaurants near Baguio. It is a few minutes of walk from La Trinidad Strawberry Farm. 
Location: KM 6, La Trinidad, Benguet
Operating Time: 24/7
7. Sab-atan Restaurant
Most of the time, Good Taste overfills with customers that you have to wait for up to an hour to get an order.
If you can't wait that long, check out Sab-atan Restaurant. It's just beside Good Taste building at the back of Center Mall and alongside the GL Trans Station.
Sab-atan Restaurant offers a different set of American, Chinese, and Filipino-inspired meals.
What I love ordering here is their seafood servings cooked ala sisig. Don't also miss out on their sumptuous Sab-atan Rice and order extra servings to your delight.
Location: Rajah Matanda St, Brgy Gen.Luna Street
Operating Time: 24 hours
Contact: 0930 548 7096
8. Sagada Lunch
Where to eat in Baguio for an authentic culinary experience?
One of the best places to eat in Baguio for an authentic culinary experience is at Sagada Lunch. Mind you. They serve dog meat here although I am not really fond of that.
But I keep coming back here to try other Igorot dishes such as the famous Pinikpikan (chicken stew).
You'll taste Cordillera when you visit Sagada Lunch. It's just a walking distance from Session Road and the Public Market. Many locals also love coming here to have a cup of beer and socialize. You may join them and learn from the conversations.
Location: 20 E Jacinto St, Baguio
9. The Ganza Restaurant
When visiting Burnham Park, don't miss trying the meals of The Ganza Restaurant. Serving foods on banana leaves, the restaurant is known for its grilled meat and fish mixed with highland vegetables.
It is within Burnham Park so if you're done biking or boating, you can proceed here for either breakfast or lunch. It is also a few meters away from the Melvin Jones Grandstand.
Location: Burnham Park, Lake Dr, Baguio, 2600
Contact: (074) 442 2478
Operating Time: 7 am to 10 pm
10. The Coffee Library
This may not be the best coffee shop in Baguio but I do love coming here over and over again. That's because they serve mouthwatering meals which complement every coffee mix.
Both students and employees troop here because of its idyllic setting. Whether you're making an assignment or preparing a terminal report, the coffee shop offers you an ideal ambiance.
Work on your stuff as you sip coffee variants.
Location: Rex Hall, Upper Bonifacio St
Operating Time: 8 am to 11 pm
Contact: 0917 503 7962
11. NARE Samgyeopsal Buffet
This newly-opened restaurant is a dream destination for those craving authentic Korean meals at affordable rates. For only Php 280 per person, you can have an unlimited feast, well, for as long as your tummy can take you.
Mind you. You'll have to pay for the food you cannot consume. Also, expect to wait for 15-30 minutes before you can finally relish the servings. That's how many the people who come here especially during lunch time and dinner.
NARE is now one of the most popular Korean restaurants in Baguio.
Location: Pilando Building, 254 Magsaysay Ave
Operating Time: 10:30 am to 11 pm
Contact: 0908 616 6922
12. The Farmer's Daughter Restaurant
When visiting Tam-awan Village, don't miss trying the meals of The Farmer's Daughter. It is also one of the must-try restaurants in Baguio.
Just like Sagada Lunch, The Farmer's Daughter serves natives dishes of the Cordillera region including the kinuday (smoked meat), pinikpikan, pak-pako (edible river fern) salad, pinuneg (blood sausage from pork) and kindot (grilled meats).
The restaurant's architecture also gives a unique ambiance because of its cultural touch.
It is considered one of the best restaurants in Baguio.
Location: Tam-awan, Longlong Road
Tel. Number: 074-661-4384
Operating Time: 9 AM to 8 PM (Monday to Saturday), 9 AM to 3 PM (Sunday)
13. Chaya Restaurant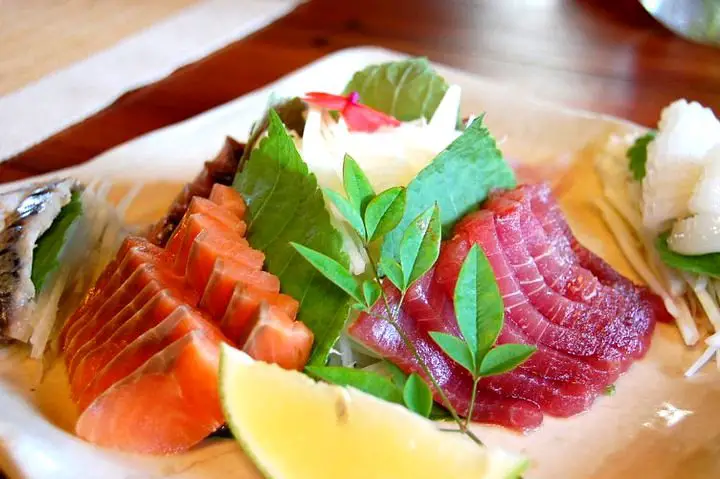 Chaya is one of the well-known Japanese restaurants in Baguio.
Ms. Sonoki Taguchi who owns the restaurant serves authentic Japanese meals including suhi and sashimi. One of their must-try meals is the Temaki Sushi which according to Taguchi, has divine properties.
I'm not really sure what she meant by that. But perhaps, feasting on this meal will give you a heaven-like experience.
Location: 72 Legarda Road, Brgy Campo Sioco
Tel. Number: (074) 424 4726
Operating Time: 10 AM to 9 PM
14. Habibi's Grill
Baguio is indeed a culinary melting pot. You don't only find Igorot, Japanese, American, Chinese, or Korean restaurants here but also Arabic-inspired hubs. That my friend leads us to Habibi's Grill which is one of my favorite restaurants in Baguio.
For only Php 99, you can try one of their best-selling cuisines namely, Beef Shawarma Pita. Other all-time favorites here are Labneh Balls ( cheese yogurt with dried mint leaves and olive oil) and Falafel Plate.
It's only a few minutes of walk from Burnham Park so, after sightseeing, you can proceed here for a sumptuous meal.
Location: Caguioa Street
Tel Number: 074-620-2913
15. Overtones Ito Sushi Bar & Japanese Restaurant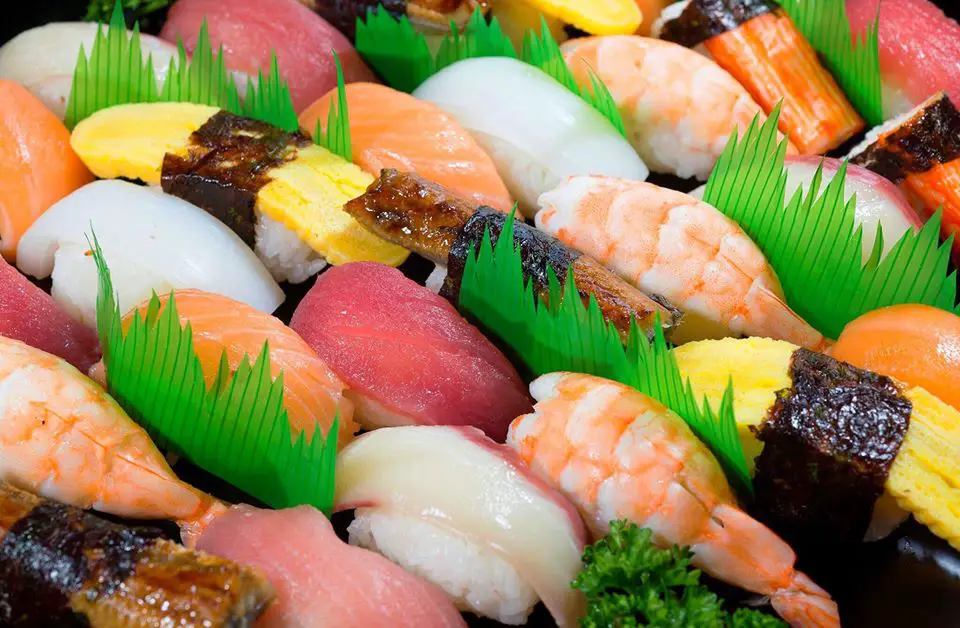 If you're up for more unique sushi and sashimi servings, visit Overtones Ito Sushi Bar and Restaurant. It's one of the best places to eat in Baguio for Japanese food lovers.
Everything here is served raw so you can feel the authentic taste of the tuna and salmon. Ah, there's just nothing like it savoring every bite that's fresh and relaxing.
You need to have added cash though when you come here because rates are relatively higher. For discounts, you can ask the staff for discount coupons and get the best deals!
Location: # 84 Laperal Building Session Road
Tel. Number: (074) 424 6510
16. Balajadia Kitchenette
Another ideal spot for tasting Cordilleran cuisines is Balajadia Kitchenette. It is one of the most cheapest restaurants in Baguio. But mind you. The foods here are as delicious as high end options.
For just Php 60, you can have a meal consisting of meat, mixed vegetables, and free soup. One of their best-selling cuisines is the delicious liempo which you can dip on dinuguan. Another popular choice is their mouthwatering bulalo.
Other meals served here are pinikpikan, butt and balls, and roasted goat. My personal favorite is the "pinapaitan," a tasty meal consisting of internal organs. It's known for its distinct bitter taste and strong aroma.
Location: Slaughter House Compound, Balajadia St., Brgy Santo Nino
17. Oh My Gulay
As the name suggests, Oh My Gulay is another vegetarian restaurant. So if you're craving for meat, you're in the wrong place. But if you're after healthy treats, you should try their meals.
The restaurant advocates for responsible consumption and environmental conservation. It champions veganism as one way to help restore Mother Earth and to promote a healthy lifestyle.
Inside the restaurant, you'll also find a mini-garden, a koi pond, a theter stage, and an Igorot-inspired boat for dining. It also showcases the works of Mr. Victor Oteyza, a Baguio-based artist.
Location: 5th Floor Azotea Building, Session Road
Mobile Number: 09399127266
Operating Time: 11:00 AM to 10:00 PM
18. 50s Dinner
Location: 92 General Road Luna Road
Tel. Number: 074-304-3100
Operating Time: 8 AM to 9 PM
19. Cafe Sabel
Location: Ground Level, BenCab Museum, KM 6, Asin Road, Tuba
Operating Time: 9 AM to 6 PM
20. Amare La Cucina Restaurant
Location: #1 Villamor Drive, Barangay Lualhati
Mobile Number: 09163321522
21. Secret Garden
Location: 34 Paterno St., South Drive
Tel. Number: 074-442-0406
22. Arca's Yard
Location: Ambuklao Road
Operating Time: 9 AM to 8 PM
23. Forest House
Location: 16 Loakan Road, Camp John Hay
Operating Time: 11 AM to 9 PM
24. Zushi Me
Location: La Azotea Building, Session Road
Operating Time: 10 AM to 12 AM
25. Baguio Craft Brewery
Location: 4 Ben Palispis Highway, KM 4
Tel. Numer: (074) 620 2278
Operating Time: 5 PM to 1 AM