Here is your complete DIY travel guide to the tourist spots in Tadian!
Tadian in Mountain Province remains lesser known when it comes to tourism. Unknown to many, however, Tadian hosts fascinating tourist spots. such as cascading waterfalls, scenic mountain views, healing springs, serene lakes, and mystic caves.
"Tadian" is derived from the Ilocano word, "Tadi," which is a horn-like growth at the hind of a matured cock. Cockfighting was a popular game in Tadian during the olden days. Thus, Tadian could mean "a place for arming cocks with a tadi."
How to Get to Tadian
There is no direct transportation bound from Manila to Tadian. Baguio City and Bontoc are the primary jump-off points. That means you need to get to these areas before you can access trips to Tadian.
Baguio to Tadian. You have two options. First, ride the Rising Sun Bus stationed at Slaughter House Compound, lower Magsaysay. There is only one trip and this leaves at 10:30 am. The second option is to take A Trans Bus. This is stationed at Dangwa Station, back of Center Mall. It has four trips which depart at 8:00 am, 9:00 am, 11:00 am, and 1:00 pm respectively. All buses proceed straight to Poblacion, Tadian. Poblacion is the municipal center.
Bontoc to Tadian. There are regular van departures from Bontoc to Tadian. These are stationed beside Walter Clapp Centrum, Lower Loc-ong. Time of departures starts from 9:30 am to 5:00 pm. A van leaves as soon as it is filled to capacity.
Tadian's Tourist Spots
1. Ub-ubanan Falls
Ub-ubanan Falls is the most locally popular waterfall in Tadian, located in barangay Sumadel. The said barangay is a 30-minutes' drive away from Poblacion. It is a three-layered falls, gently cascading in a sliding manner. It has naturally-built pools with icy-cold and crystal-clear waters. Take a dip on these pools and expect rejuvenation.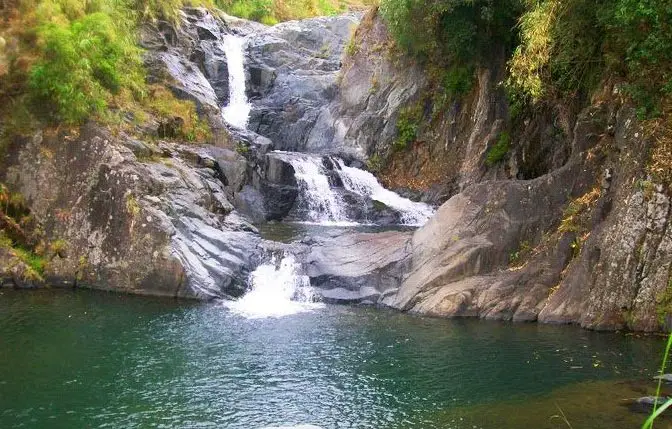 2. Pey-asan Falls
Pey-asan Falls measures around 10 meters high and has a wide and very deep pool. The local communities protect these falls since they provide water for both their domestic and irrigation needs.
3. Poy-asan Twin Falls
Poy-asan Twin Falls is nestled at barangay Bana-ao. It measures more than 100 meters high. Enjoy the cold showers while you're here and be blown away at such majestic sight!
4. Kaliwliwan Falls
Kaliwliwan Falls is a towering waterfall with three layers. It takes 30 minutes of a hike from Gawaan Lake to reach the falls. It has three small pools located. Its waters are also cold and crystal-clear, providing relief after the arduous trek of getting here.
5. Gawaan Lake
Gawaan lake is one of the several lakes found within the municipality. It offers activities such as picnic, boating, and fishing. Among the marine species found here are clams, crabs, tilapia, and eels. It is located at barangay Bana-ao, a one-hour drive away from Poblacion.
6. Mt. Mog-ao
Mt. Mog-ao is one of the iconic tourist spots in Tadian. It is a small mountain, however, it soars majestically amidst the rolling plains of said municipality. While atop, one can catch a breathtaking view of the Sunny Side, central barangays, adjacent Bauko, including the municipalities of Cervantes and Quirino in Ilocos Sur province. The mighty Abra River can also be seen here. When at barangay Pandayan, Mt. Mog-ao is viewed as the "Sleeping Lady."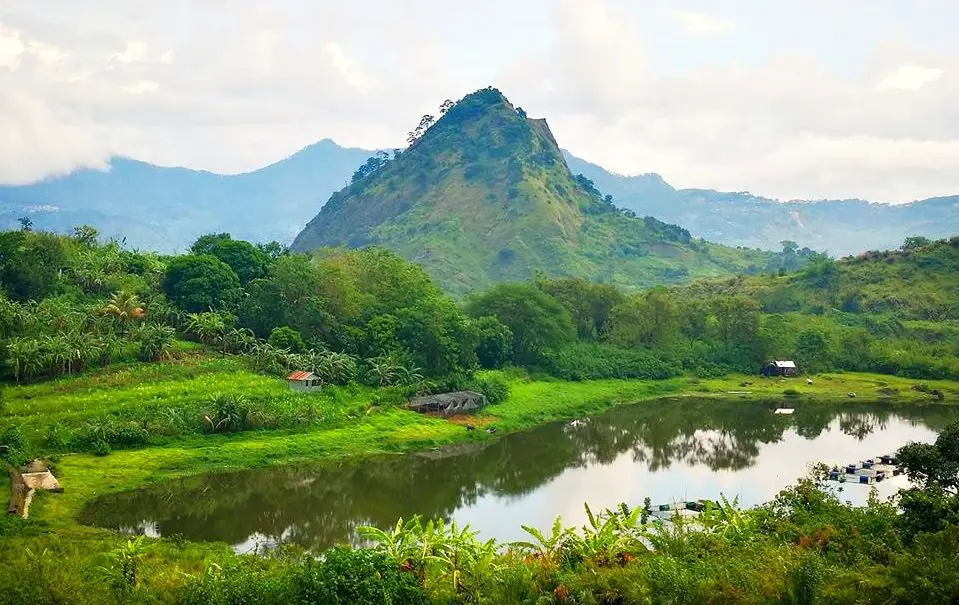 7. Enchanted Eels
If you are looking for a mystical encounter in Tadian, then visiting the Enchanted Eels would be a fitting choice. These sacred creatures are located at barangays Cagubatan and Lenga. According to the locals, the eels have been in their dwelling places for more than a century. They only come out for viewing with the use of a whistle or bait. The locals take care of the eels since they are believed to be connected to the spirit world.
8. Bangcagan Healing Water
Bangcagan Healing Water is another destination in Tadian leased with mystery. It is located at barangay Kayan East, some 15-minutes' drive away from Poblacion. The crystal-clear waters emanate from a spring. Locals claim that these waters can clean skin diseases. From the barangay proper, it takes 20 minutes of a downhill hike to get here.
9. Burial Caves of Brgy Banaao and Am-am
The Burial Caves of barangays Banaao and Am-am are also interesting sights to see especially if you are a historical and cultural lover. These burial caves portray how the I-Tadian buried their dead during the olden days. Certainly, you will be hearing a lot of myths, legends, and folklore surrounding these once you visit them.
10. Pangangpang Falls
11. Gao Falls
Gao Falls is one of the numerous cascades found along the Hoyohoy River in barangay Masla. It measures about 20 feet high and is a good spot to take a relieving shower. Don't worry. After visiting the falls, you can then visit several waterfalls found along the river.
12. Kabilang River Multi-Falls
13. Am-am Observatory Rock
14. Layog Country Farm
15. Binangi (Native House)
16. Kawayan Farm
17. Frog Rock Formation
18. Atey Falls
19. Bantey Rice Terraces
20. Bas-Ang Rice Terraces
Where to Stay in Tadian
The following are the main amenities in Tadian. You may contact the given numbers for information related to rates, the number of rooms, etc.
| | | | |
| --- | --- | --- | --- |
| Name of Establishment | Owner/Manager | Contact Number | Location |
| Camjo Inn | Ms. Freda Piditen | 09496961918 | Poblacion, Tadian |
| Parish Hall Guest House | Mr. Ervin San Jose | 09092539233 | Poblacion, Tadian |
| Banaao Homestay | Ms. Lalaine Balangoy | 09289506379 | Bana-ao, Tadian |
| Layog Country Farm | Ms Flordelina Layog | 09392118676 | Kayan West, Tadian |
Resorts in Tadian:
Egan Gem Garden Resort in Poblacion
Nabaneng Resort in Lubon
Cabunagan Resort in Cabunagan
Local Eateries:
Uyod's Eatery, Filomena's Central Point
Roadside
Sagi's, a snack house in Poblacion
Tips and Reminders:
Always coordinate and register at the Municipal Tourism Office of Tadian when planning to visit so they can help arrange for your itineraries and prepare tour guides.
Respect local culture and community protocols by refraining from utterances or acts which may be offensive to the locals. Among these include wearing mini-shorts, or public display of affection (PDA).
Never litter. As much as possible, take back your waste/garbage from where you bought them. Let us help in keeping the tourist spots in Tadian clean and green.
Buy supplies from local stores and enterprises so you can help boost the local economy.
Don't hesitate to mingle with the locals. Most of the time, they are interested to interact but they are simply shy. So, better do the first talk or move and build rapport with them.
Expect untamed trails on some tourist spots in Tadian since they are still undergoing improvements.
For your information needs:
If you need more information that may help set up your itinerary to the tourist spots in Tadian, do contact the following:
Ms Lhybner G. Micklay, Tourism Officer of Tadian: 09215483356
Municipal Email: lgutadian@yahoo.com
Facebook Page: Tadian LGU
You can also message us on our facebook page namely, Daniel's Eco-Travels. I will be more than glad and willing to answer them whenever I can:)