What are the must-see La Trinidad Benguet tourist spots?
La Trinidad is now a growing ecotourism destination. Its banner slogan, "Valley of Colors," speaks truly of the different tourist spots to see and experience there. From breathtaking mountain views, beautiful farms, and colorful occasions, La Trinidad offers a varied set of ecotourism attractions.
The good thing about these? Most of them are just minutes away from Baguio City. Here we go.
READ: 20+ Must-See Tourist Spots in Benguet (Your Complete Travel Guide)
La Trinidad's Tourist Spots:
1. Mt Yangbew
Overlooking the town of La Trinidad, Benguet, Mt. Yangbew continues to attract nature lovers, hikers, or adventurers. Hiking towards the peak is relatively easy.
Grasses and a few shrubs cover the rolling summit of this mountain. While atop, one can see the mountain ranges of Benguet including the famous Mt. Pulag of Kabayan and Mt Santo Tomas of Baguio.
It is best to come here during early morning and late afternoon to chance on beautiful sunrises and sunsets respectively. Sea of clouds also occasionally appears. To date, Mt Yangbew is one of the recognized hiking tourist spots in La Trinidad.
Entrance Fee: Php 30 (Local Tourists), Php 50 (International Tourists)
Jump-Off Point: Sitio Binat, Tawang
Trekking Time: 20-30 minutes
Special Features: Mt Yangbew Sunrise, Limestone Rock Formations
Mt Yangbew Elevation: 1648m / 5407feet
READ: Mt. Yangbew in La Trinidad (Travel Guide): How to Get there, What to See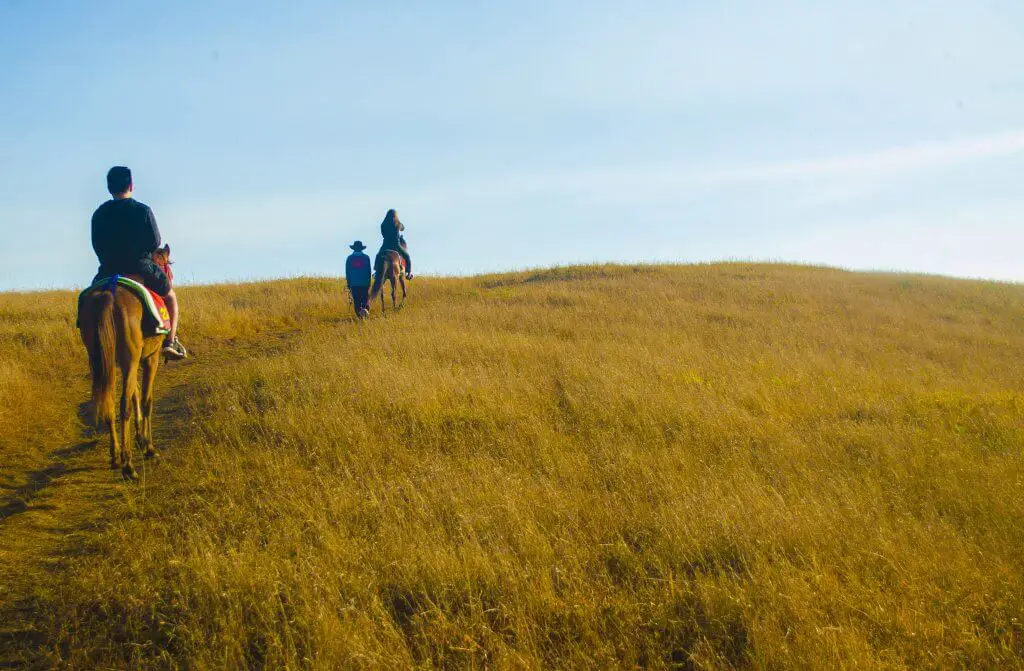 2. Benguet State University
Benguet State University is a premier educational institution in the whole of the Cordillera region. But more than it's esteemed performance, it offers different come-ons which draw local visitors.
BSU Marketing Center is one of these. Here, you'll find various kinds of locally-processed products such as jams, sweets, pickled fruits, honey, and many more. Organically-grown vegetables are also sold here.
Other interesting spots in BSU are Shimamura Park, Oval, BSU Museum, and the Centennial Park. By the way, BSU is also suitable for jogging during early morning because of its fresh atmosphere.
Entrance Fee: None
Best Time to Visit: Weekends
READ: Benguet State University: Best Things to See, Do and Experience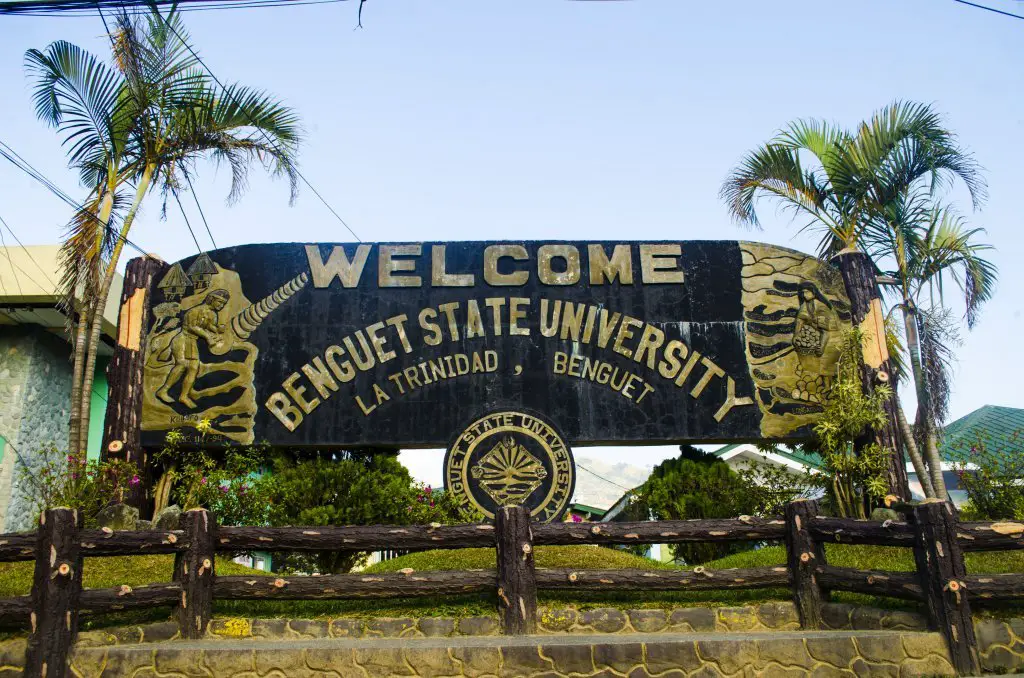 3. Strawberry Farm
Strawberry Farm is one of the most famous tourist spots in La Trinidad, Benguet. It speaks for the tourism of the municipality. During weekends and holidays, throngs of tourists arrive.
Here, one can pick fresh strawberries for a fee. Various vegetables such as cabbage, lettuce, and broccoli are also grown here. There are also numerous stalls selling locally-made souvenir items such as strawberry wines and jams. Strawberry ice cream are also available for sale.
Entrance Fee: None
Best Time to Visit: Morning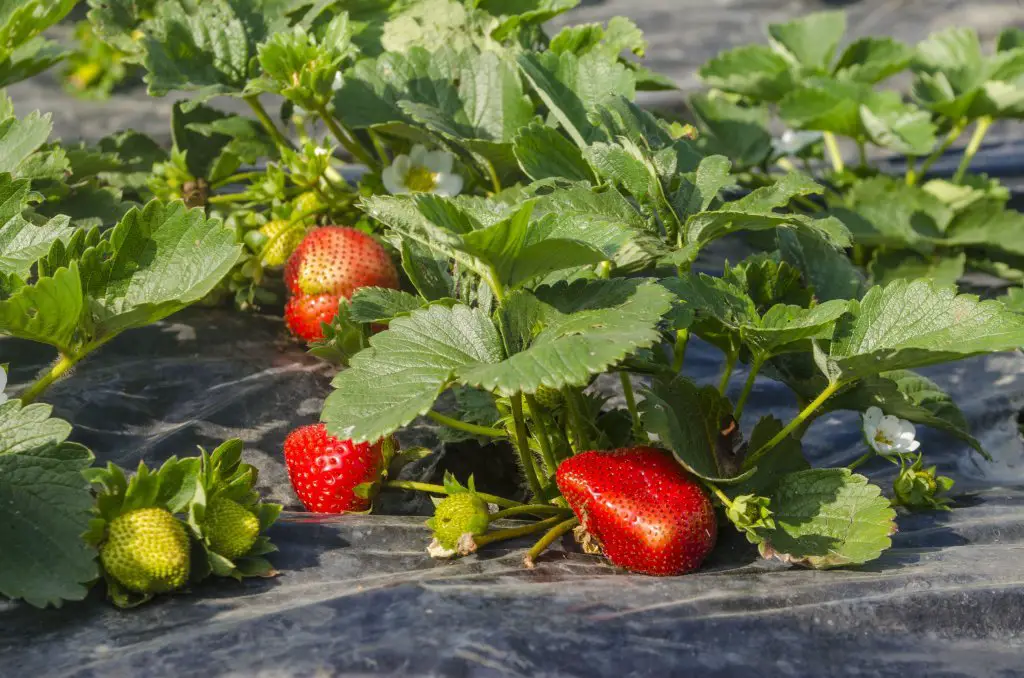 4. Mt Kalugong
This mountain is adjacent to Mt. Yangbew. Its summit resembles the shape of a hat (the local term for this is Kalugong). Pine trees also cover most of the summit. At the edge of it, there are limestone rock formations, reminiscent of those found in Mt. Yangbew.
Here, you can have a view of the La Trinidad valley. Since Mt. Kalugong is privately managed, you would need to pay for an entrance fee. There are also recreational amenities established, thus, it is a good spot for picnic or family gathering.
Getting here is relatively easy since there is a road leading straight to the top. However, it is one steep climb. To date, this is one of the most popular tourist spots in La Trinidad, Benguet.
Entrance fee: Php 120
Jump-Off Point: Brgy Cruz (trail head besides the Benguet Memorial Service)
Trekking time: 20-30 minutes
Special Features: Views of La Trinidad valley, Limestone rock formations, Mt Kalugong sunrise, Pine forests
READ: Mt. Kalugong in La Trinidad, Benguet (Your Complete DIY Travel Guide)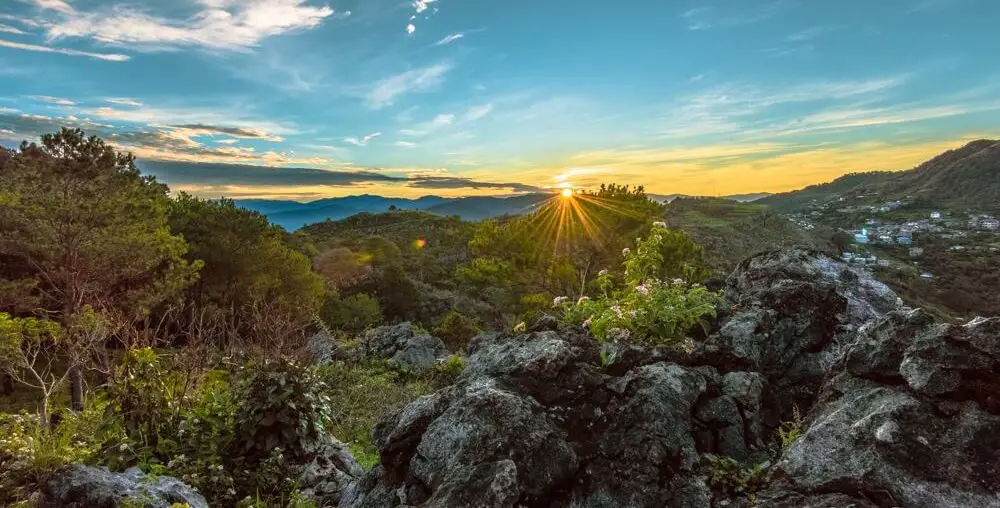 5. Binanga Falls
Located at barangay Shilan, this waterfall measures 15 feet high. It carved a very deep pool, surrounded with bare rock cliffs. It is named as such because it resembles a pot (binanga).
To get here, one needs to ride a garage at Shilan for 100 pesos towards the trailhead. From here, climb down a steep slope and pass by vegetable farms for about 15 minutes before finally reaching the falls. It has icy-cold waters, enough to soothe and harden the muscles after the arduous and downhill trek. This is a favourite picnic spot among the locals.
Further downstream, there is a higher cascade called Dinengdeng falls.
Entrance Fee: None
Jump-off Point: Brgy Shilan Hall
Trekking Time: 30 minutes
Garage: 10 mins (Fare is Php 100.00)
READ: Exploring Binanga Falls and Payogpog Falls of Shilan, La Trinidad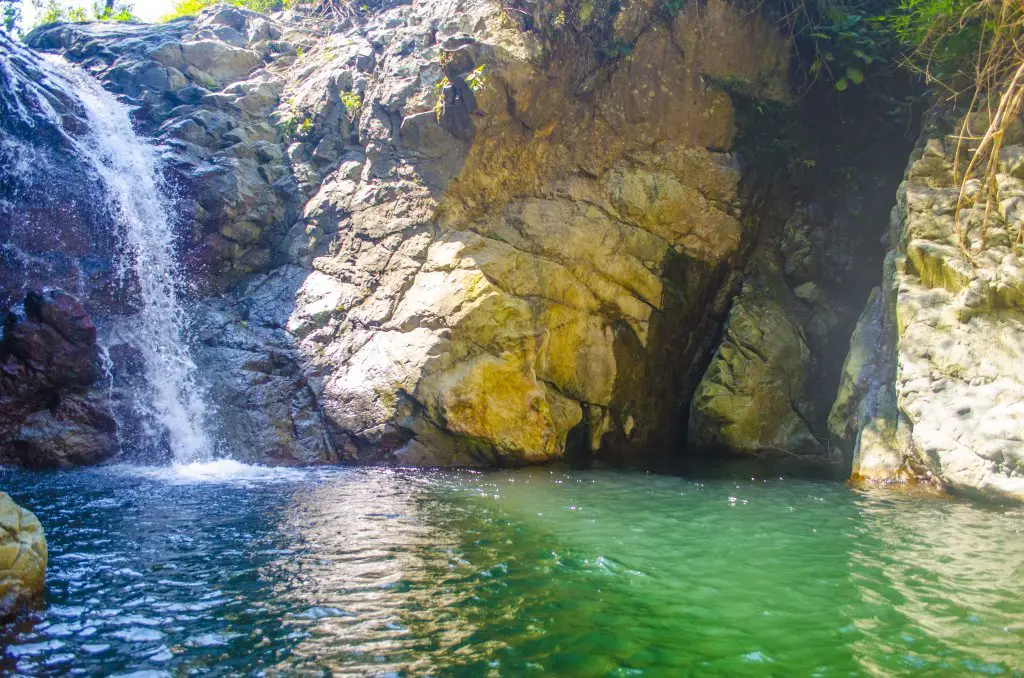 6. Payogpog Falls
This is also found on Shilan, just upstream of Binanga falls. Again, one needs to ride a garage from Shilan proper all the way to sitio Bito. From here, hike for more or less an hour to reach the falls at sitio Sagpawe. You will be crossing a brook thrice and pass along vegetable farms.
The falls measures 30 feet high and has a naturally-build catch basin. Its waters are also icy-cold. The best time to come here is during the rainy months for one to witness the full magnificence of the falls.
Entrance Fee: None
Jump-off Point: Brgy Shilan Hall
Garage: 15 mins to trailhead (Fare is Php 100.00)
Trekking time: 1-2 hours
READ: Exploring Binanga Falls and Payogpog Falls of Shilan, La Trinidad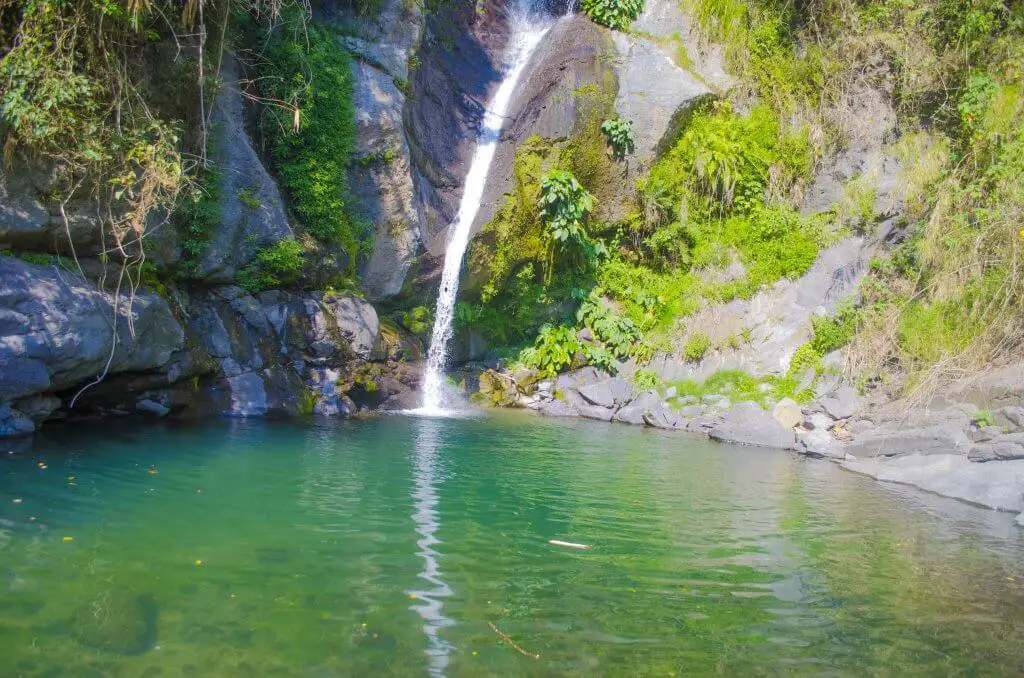 7. Benguet Agri-Pinoy Trading Center (BAPTC)
Considered as the most modern vegetable trading facility in the whole country, BAPTC was constructed to give local farmers a direct platform for selling their produce.
Several big buildings are housed in the facility. There are also existing eateries/restaurants. Due to arising issues, however, it is not being used to capacity until today. From the Strawberry Farm, you can just walk for 15 to 20 minutes to get here.
Entrance Fee: None
Best time to Visit: Morning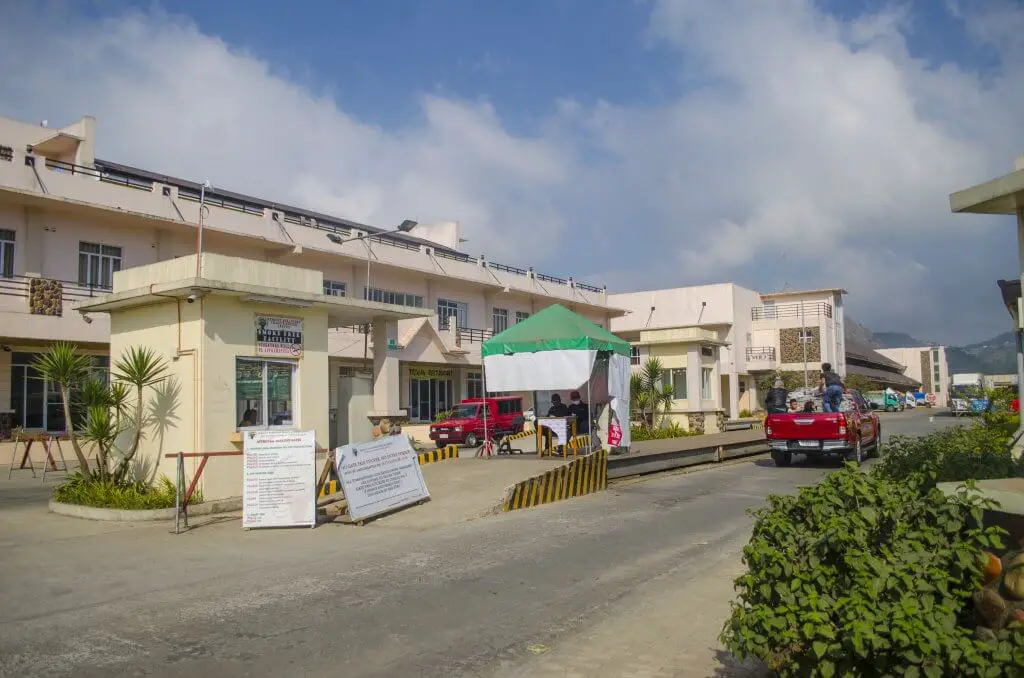 8. Lily of the Valley Organic Farms
The Lily of the Valley Organic Farm offers you a wonderful opportunity to experience picking fresh and organic vegetables for a fee. You can also experience do-it-yourself learning activities such as planting and weeding.
A homestay here offers modest accommodation. They have special and organic culinary meals. This is also suited for camping and picnic.
The Lily of the Valley Organic Farms is one of the recognized agricultural tourist spots in La Trinidad.
9. Benguet Museum
One of the cultural tourist spots in La Trinidad, this will lead you into the vibrant culture of the I-Benguet. It showcases various pictures, artifacts, and materials, depicting the traditional practices and beliefs of Benguet's different tribes. Located within the provincial capitol compound, admission here is free.
There is also a souvenir shop where you can buy local crafts.
Entrance Fee: None
Location: Adjacent to the Benguet Capitol
10. Mt Costa
One of the renowned tourist spots in La Trinidad, Mt Costa features elegantly-designed gardens, inspired by the world's best. It is located at Upper Lamtang, Puguis. Visiting Mt. Costa will leave you into deep communion with nature. Its verdant vegetation and colorful offerings can easily relieve you from life's daily hassles.
Entrance Fee: Php 350 (Regular), Php 250 (Students, PWDs, Senior Citizens), Free (Children below 3 years old)
Contact: 0977 409 7004
Opening Time: 9:00 am to 5:00 pm Every Day
Facebook: Mount Costa
Other La Trinidad Tourist Spots:
Puguis Communal Forest
Pedak Burial Cave
Talinguroy View Point
Begbeg Burial Cave
Tinedkaw Cave
Kulong Cave
Mt. Tayawan
Mt. Peripen Bato
Institute of Highland Farming Systems and Agroforestry
Alapang Communal Forest
Bahong Rose Farms
La Trinidad Trading Post
Tawang Stone Church
For your Information:
If you need further information that may help in setting up your itinerary to the tourist spots in La Trinidad Benguet, simply ask them in the comment section below.
You can also message us on our facebook page namely, Daniel's Eco-Travels. I will be more than glad and willing to answer them whenever I can:)
Disclaimer: This is a work in progress. You may help me come up with an updated version of this article by posting additional photos and information about other tourist spots in La Trinidad Benguet. Thank you very much.
Please follow and like us: