Here is your complete travel guide to the tourist spots in Banaue, home to UNESCO World Heritage Rice Terraces!
There comes a point in our lives when going through the daily routine becomes dull and void. Boredom strikes and we can't seem to find meaning and joy any longer in what we do. That's exactly how I felt in just a year of working in the bustling metropolis of Manila. The prevailing culture and the environment overwhelmed me, being a person who grew from a rural background. I knew I desperately needed an escape. Without a second thought, I decided to travel to Banaue in Ifugao to explore both its world-famous and off-beaten destinations.
Now if you plan to visit Banaue as well, don't miss out on these wonderful attractions.
READ: 20+ Must-See Tourist Spots in Ifugao (Your Complete DIY Travel Guide)
Banaue Tourist Spots
1. Banaue Rice Terraces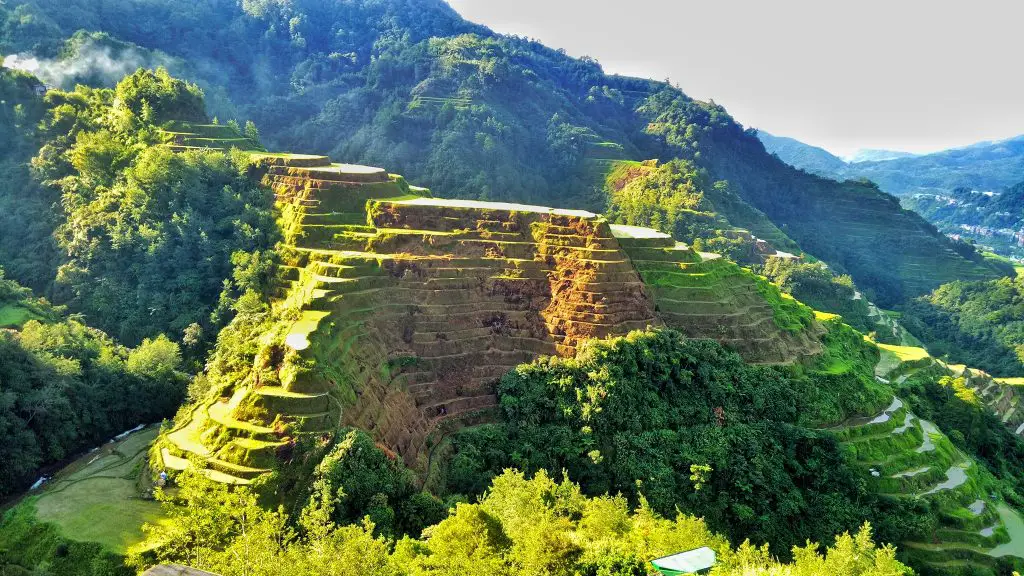 Considered a National Cultural Treasure of the Philippines, the Banaue Rice Terraces have long fascinated both local and foreign travelers. In fact, these terraces are the most popular tourist spots in Banaue. Built over 2000 years ago, one could just wonder in awe at how the Ifugao ancestors built such majestic masterpieces using wooden tools and stones. Catch a stunning view of these while walking or biking along the national highway.
2. Batad Rice Terraces
Imagine waking up one early morning and as you open your window, you're greeted with a breathtaking view of one of the world's most famous terraces, the Batad Rice Terraces. From a bird's eye view, these look like waterfalls cascading on the face of a dramatic mountain, from top to bottom. Experience trailing on these terraces as locals invite you to join them in planting or harvesting rice.
Location/Jump-off: Batad, Banaue
Minutes of Ride from Banaue Center: more or less 1 hour
READ: Batad Rice Terraces (UPDATED): Your Complete DIY Travel Guide
3. Tappiyah Falls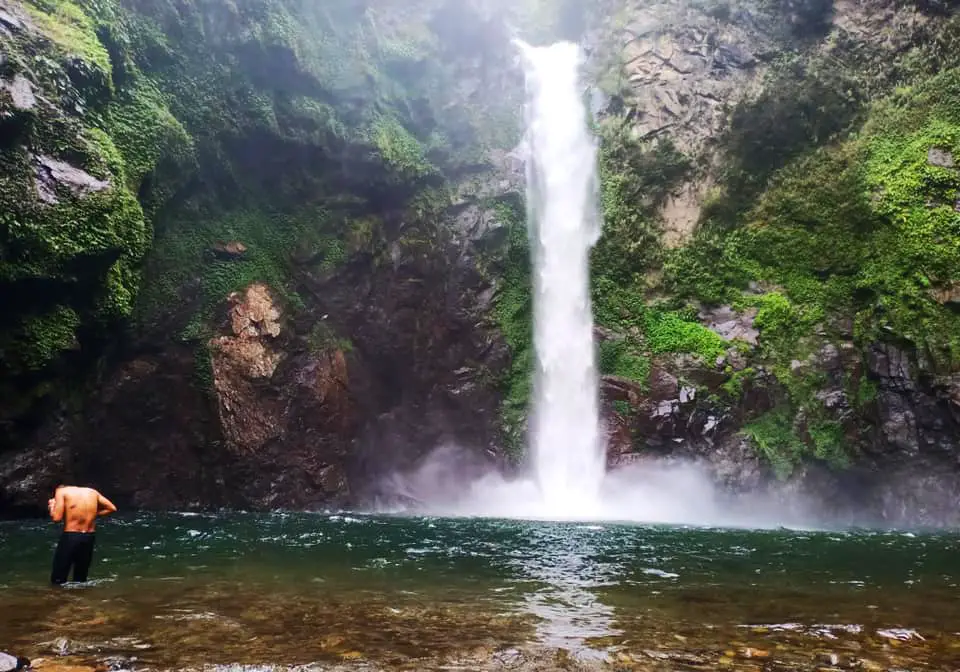 Visiting Batad Rice Terraces would not be complete without taking a glimpse of the majestic Tappiyah falls. Tappiyah Falls cascades on the face of a massive cliff for more than 50 meters. It roaring waters carved a very deep pool with churning waters. The trail leading to the falls may exhaust you but as you dip on the pool, expect instant rejuvenation. Tappiyah falls is one of the iconic tourist spots in Banaue.
Location/Jump-off: Batad, Banaue
Trekking Time: 1 hour to 1.5 hour
READ: Tappiya Falls (UPDATED): Your Complete DIY Travel Guide
4. Bangaan Rice Terraces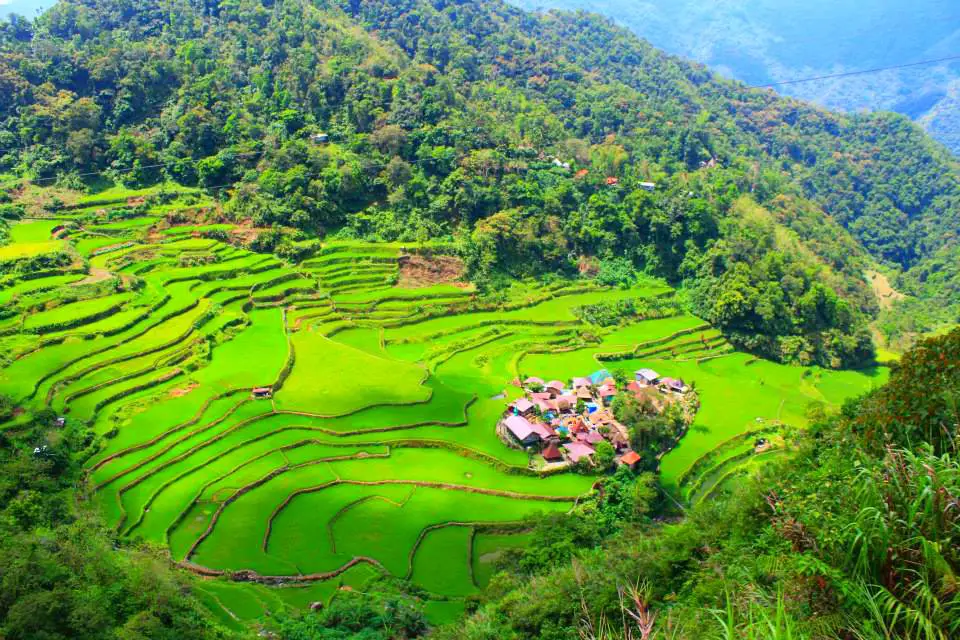 Bangaan Rice Terraces is among the less popular tourist spots in Banaue although it also offers an imposing view. What makes a visit here memorable and unique is the simplicity of life. Experience how the locals live in harmony with nature and have the chance to listen to their stories. Bangaan Rice Terraces remain to be one of the most pristine tourist spots in Banaue.
Location/Jump-off: Bangaan, Banaue
Trekking Time: 20 minutes
5. Banaue Viewpoint
Banaue Viewpoint offers the best spots for viewing the internationally-acclaimed Banaue Rice Terraces. It is composed of four different viewpoints which you can reach via walking or hiring a tricycle. Souvenir shops selling indigenous crafts and food products line the way including local cafes. Visiting these viewpoints will also give you the chance to interact with Cordilleran elders in traditional attires.
6. Hapao Rice Terraces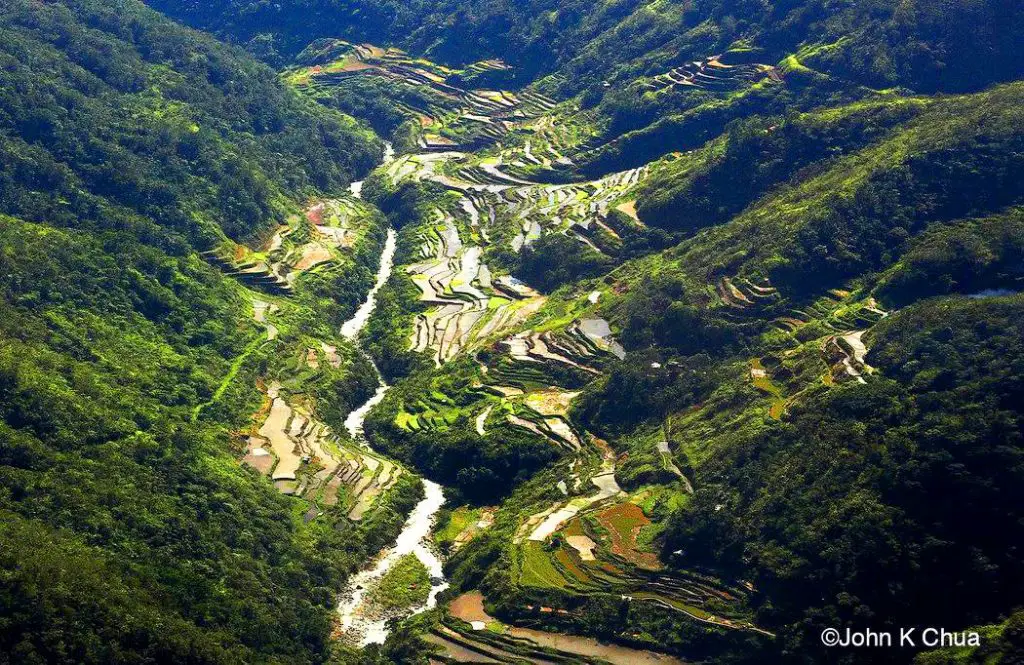 This is not actually a part of Banaue but that of its neighboring municipality of Hungduan. Hapao Rice Terraces is also listed in the UNESCO World Heritage site because of its pristine condition. Though it's the longest terraces in Ifugao, it's easier trekking here. Aside from the terraces, expect a majestic view of the mountains and the mossy forests. Rivers and streams with icy-cold and crystal-clear waters flow from these mountains.
Location/Jump-off: Hungduan
Minutes of Ride from Banaue: 2 hours
7. Banaue Museum
Just a stone's throw away from the town center is Banaue Museum which is housed in Banaue View Inn. Different artifacts and materials such as treasured jewelry, weaponry, and indigenous clothing can be found. The museum also showcases vintage photographs and books by famous anthropologist Otley Beyer. It is among the recognized cultural tourist spots in Banaue.
Location/Jump-off: Banaue town
Entrance fee: Php 50
Opens: 7AM – 4PM every day
8. Tam-an Village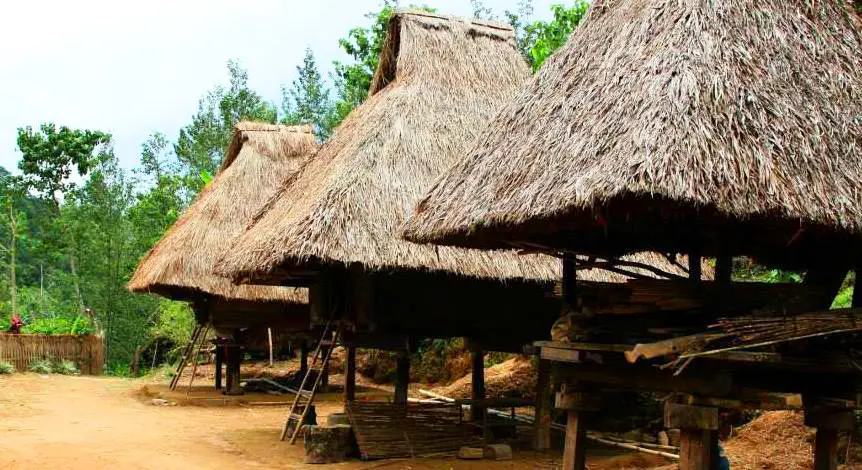 Immerse yourself into the rich culture of the Ifugao folks by visiting Tam-an Village. Here, you'll find native huts surrounded by rice terraces. It's just a walking distance from the town center. Take note. You're visiting a conservative community so avoid acts or utterances that may offend the locals such as wearing of mini-shorts or public display of affection.
9. Banaue Ethnic Village & Pine Forest Resort
Tucked in a rustic site away from the town center, Banaue Ethnic Village and Pine Forest Resort is one of the best accommodations in town. If offers both modern and traditional styles of accommodation options. Ah, there's just nothing like it standing here during early morning while catching a stunning view of the forests and rivers. Then, there are different kinds of birds chirping in harmony.
10. Hiwang Village
Similar to the Tam-an Village, Hiwang Village features native houses and structures. This is the best place to by bululs which are wooden sculptures of local gods. Here, you'll also find skulls which were taken during the headhunting years. Don't worry. Headhunting is no longer practiced as most of the locals embraced Christianity.
11. Hanging Bridge
Hanging Bridge is just within the town center. Walking here gives you a glimpse of the rice terraces, a river, and the surrounding community.
Location/Jump-off: Banaue town center
12. Banaue Arch
Banaue Arch is the first major landmark you'll see upon entering Banaue town. There's not really so much special about it except that it features a cultural design. Besides, it's a welcoming sign.
Location/Jump-off: Banaue town center
13. Awa View Deck
Awa View Deck offers one of the best views of Batad Rice Terraces and terraces of other villages and municipalities. It's a challenge though to get here as the trail cuts across steep terrains and dense forests. But as soon as you reach it, brace yourself for breathtaking views.
Location/Jump-off: Batad, Banaue
14. Bogyah Hot Spring
Bogyah Hot Spring is perfect for those looking for a healing dip. Its thermal waters can help relieve you from stress and heal skin diseases. After enjoying the warm waters, you can swim on an adjacent river with icy-cold and crystal-clear waters.
Location/Jump-off: Hungduan
Distance from Banaue: 2 hours
15. Mt Napulawan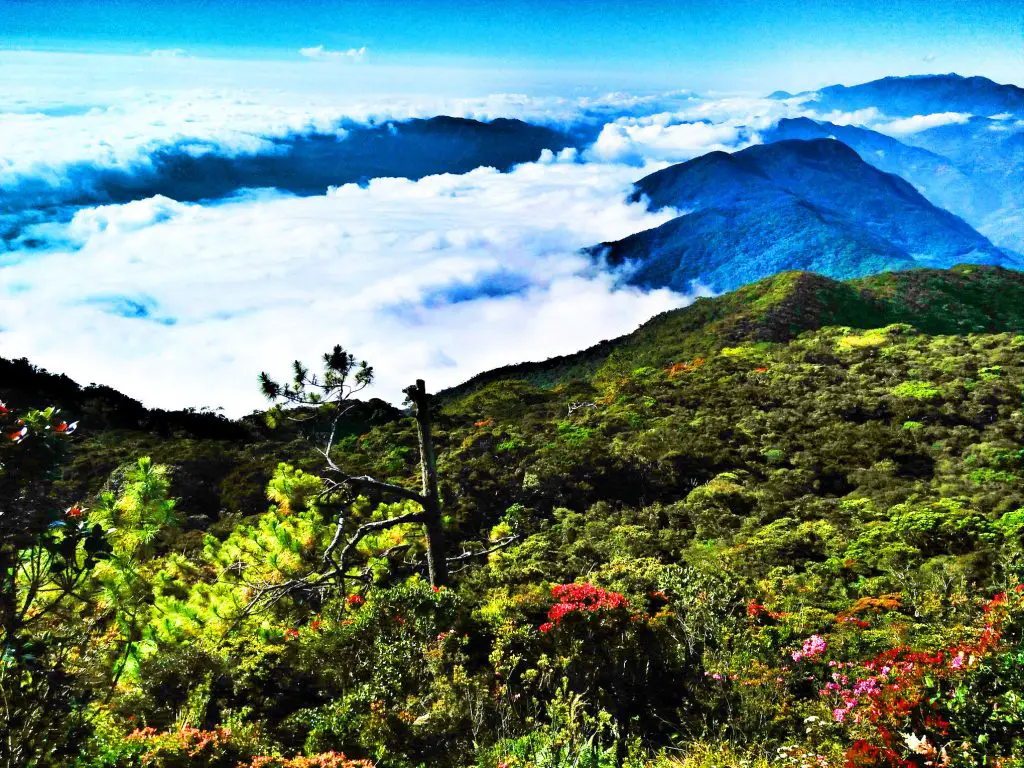 Mt Napulawan is one of the highest peaks in Luzon and it offers one of the most challenging yet rewarding hikes. Expect to trail for hours on pine and mossy forests and catch sight of stunning flora and fauna. You're even luckier if you chance on a sea of clouds which is a frequent occurrence.
Location/Jump-off: Hungduan
Distance from Banaue: 2 hours of ride
Trekking time: 5-6 hours
16. Guihob Natural Pool
Guihob Pool has icy-cold and crystal-clear waters, making it an excellent respite. It has a small waterfall where you can take the shower while gazing at the lush forests. Locals and tourists love coming here to have a picnic and to just enjoy the scenery.
Distance from Banaue town: 45 minutes' walk/ 15 minutes' tricycle ride
17. Cambulo Village and Rice Terraces
Cambulo Village and Rice Terraces lie on a remote part of Banaue that can only be reached via trekking. Because of that, the rice terraces here are among the most preserved. Getting here will give you a deeper experience of the local culture and an encounter with pristine landscapes.
18. Museum of Cordilleran Sculpture
The Museum of Cordilleran Sculpture helps promote the rich culture of Ifugao and other provinces composing the Cordillera region. It was founded 30 years ago by George and Candida Ida Schenk to showcase how the indigenous peoples (IPs) live in harmony with nature.
19. Poitan Village and Terraces
Dubbed as the weaver's village, Potan Village showcases native Ifugao houses sitting on a dramatic mountain slope. Locals believed that the stone walls protect them from invaders especially during the headhunting days. Here, you'll also find a legendary stone post that is protected and revered by the villagers.
20. Bocos Village
Just like Poitan Village, Bocos Village is a proud showcase of the rich Ifugao culture. Here, you'll also find native huts decorated with heads and skulls of carabaos and wild pigs. In the past, the wealth of the Ifugaos is measured in terms of the number of skulls. The more skulls you have, the more prominent you are in the community.
For your Information
If you need more information that may help in setting up your itinerary to the tourist spots in Banaue, do contact the following:
Photo Credits: John K. Chua, Ifugao Tourism, etc.
Please follow and like us: