Here is a complete list of Sagada's tourist spots you should not miss especially if you're an adrenaline junkie!
Sagada in Mountain Province easily ranks as one of the top ecotourism destinations in the Philippines. Cascading waterfalls, stunning caves, limestone rock formations, rustic mountain views, and authentic cultural heritage are among the tourist spots in Sagada. Indeed, it's a paradise of amazing natural, cultural, and historical wonders rolled into one.
A whole month of a break from work allowed me to visit Sagada's tourist spots from time to time. I've conquered most of these attractions, even the off-beaten tracks and I would like to share them on this travel guide.
Without further ado, let me now walk you through the different tourist spots in Sagada!
Behold Sagada's Tourist Spots
1. Mt. Ampacao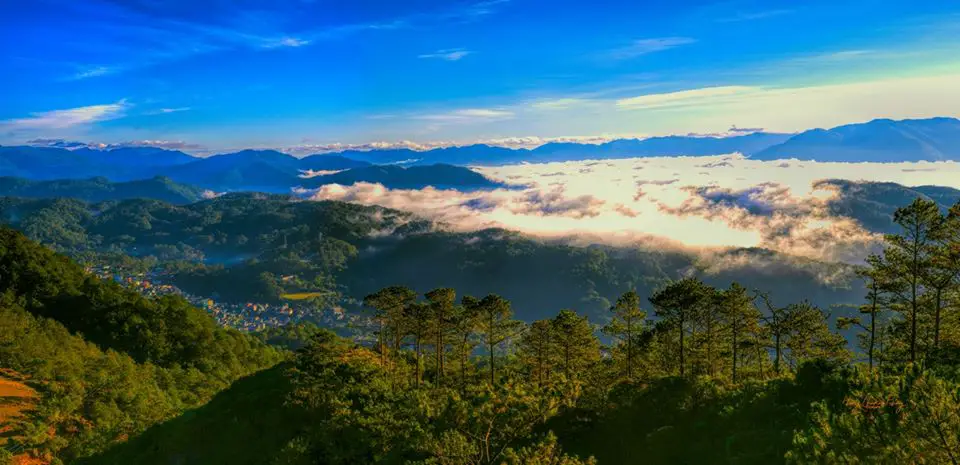 Mt. Ampacao towers to more than 1,889 MASL, making it the highest peak in Sagada. Getting here is quite easy as the trails are well-established and do not run across steep terrains. While atop, you can see a panoramic view of Sagada town and its surrounding mountains and pine forests. Kapay-aw rice terraces are also visible from here. During the early morning, a sea of clouds forms. Mt Ampacao is one of the most popular of Sagada's tourist spots.
Location/Jump-off: Ambasing Elementary School, Brgy Ambasing
Trekking Time: 40 minutes
Guide Fee: Php 1,700 for 10 visitors or less
2. Bumayeng Falls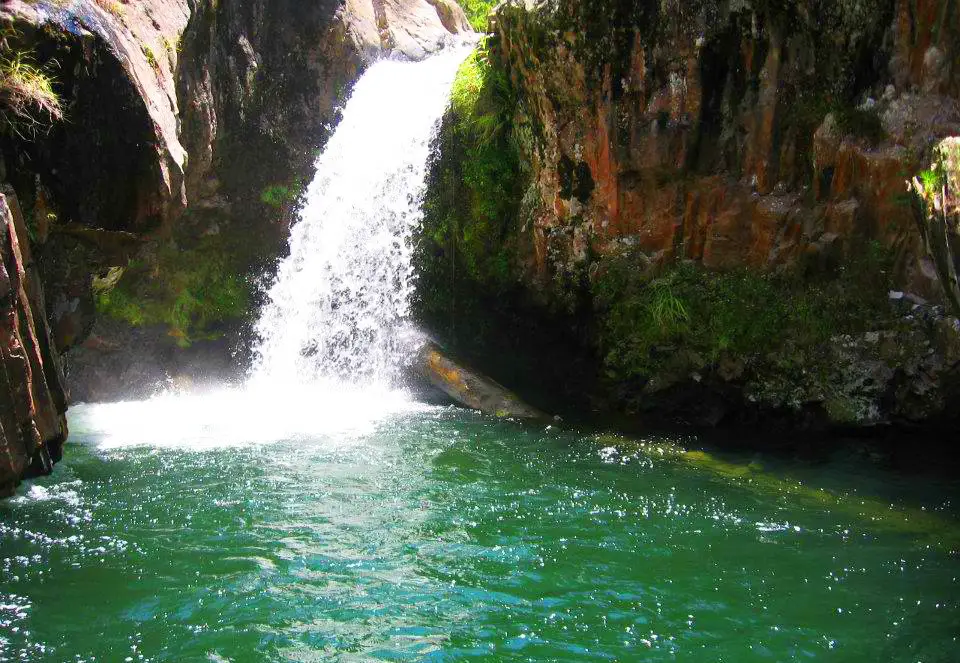 Bumayeng falls is one of the least known tourist spots in Sagada. To get here, one needs to hike for hours from Brgy Bangaan. Expect to cross streams, jump across boulders, and wade on pools before you can finally glimpse of the waterfall. Thus, it is only recommended for ardent adventurers and extreme hikers. Bumayeng is a multi-layered falls, each with a beautiful catchbasin. If you prefer a more rustic setting, away from social bustles and hustles, Bumayeng falls would definitely make up to that. But of course, you will need an experienced guide to take you here.
Location/Jump-off: Brgy. Bangaan
Fee: Php 2500 for 5 visitors or less (inclusive of guide fee and packed meal)
Trekking Time: 3 hours (one-way)
Transportation: Php 650 (one-way)
3. Kiltepan Viewpoint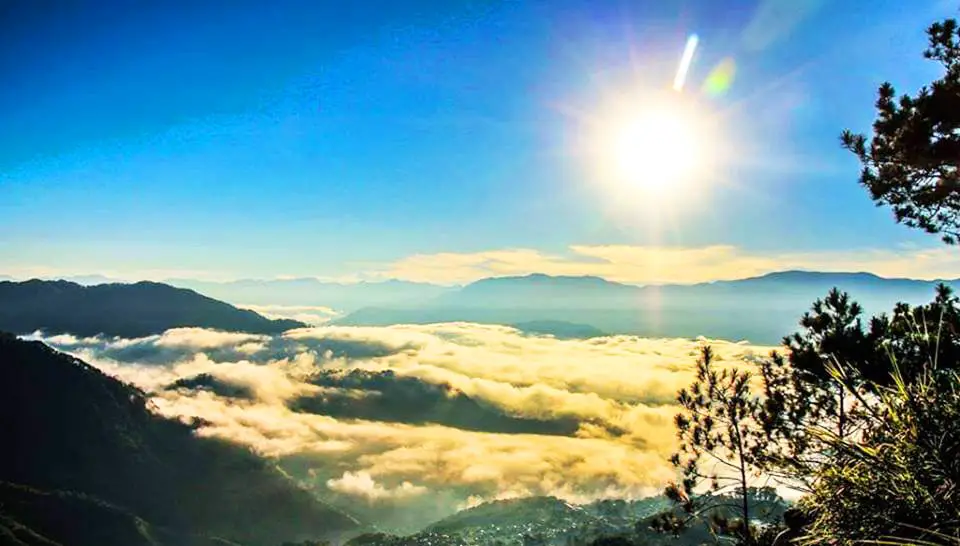 Made famous by the movie, "That Thing called Tadhana," Kiltepan Viewpoint offers a spectacular view of the sunrise and an occasional sea of clouds. That is why it is best to come here during the early morning or late afternoon to catch sight of a beautiful sunset. Some trek to the viewpoint from the town center for more or less one hour. Others arrange a van with the Sagada Tourist Information and this usually departs at 4:30 a.m. The viewpoint also offers a bird's eye view of the Kiltepan Rice Terraces.
Location/Jump-off: Sagada town center/Poblacion
Trekking Time: 30 minutes – 1 hour
Camping fee: Php 100 per person
4. Bomod-ok Falls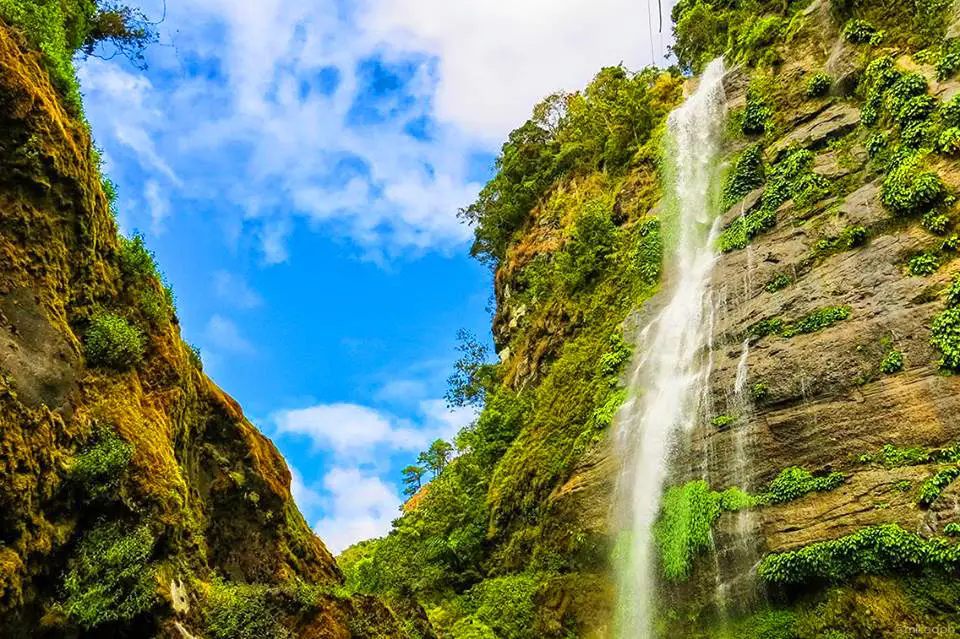 Bomod-ok Falls cascades for more than 50 meters, making it the highest single-drop falls in Sagada. It has a naturally-built pool with icy-cold and crystal-clear waters. Beautiful rock formations surround the pool and from these, you can jump or dive. To get here, you'll hike for more or less an hour, passing by barangay Fidelisan and their beautiful rice terraces. It's a downhill hike towards the Bomod-ok falls and obviously, an uphill trek back to the road. Bomod-ok falls is one of the tourist spots in Sagada you should not miss.
Entrance Fee/Barangay Fee: Php 10
Tour Guide Fee: Php 500 for a group with a maximum of 10 pax
Location: Barangay Fidelisan
READ: Bomod-ok Falls, Sagada (Travel Guide): What you need to know
5. Bokong Falls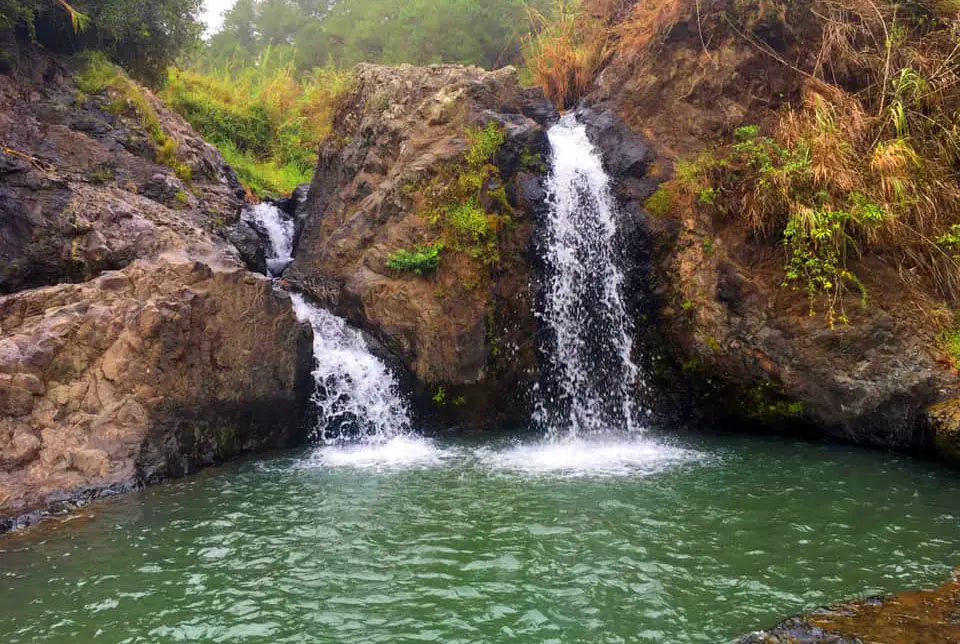 Bokong falls is one of the most accessible tourist spots in Sagada. It is just a 30-minutes of easy walk from the town center. The falls is relatively small compared to the rest. But it has its own unique features to offer. It has a small catchbasin. But don't be fooled by its miniature size. It is actually very deep and you must know how to swim before immersing yourself. One of my favorite things to do here is to jump from the top of the falls towards the pool.
Entrance Fee: None
Jump-Off: SaGGAS office
Trekking Time: 30 minutes
Guide: Optional
READ: Bokong Falls (DIY Travel Guide): Everything you Need to Know
6. Pongas Falls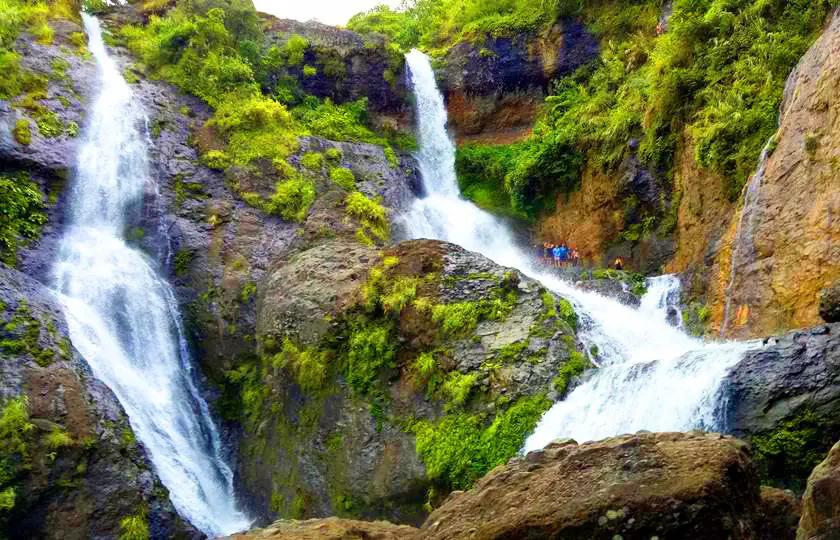 Located on a remote outskirt, this towering twin beauty is one of the less-known tourist spots in Sagada. It is best to come here just after the rainy months to catch sight of Pongas falls' full force. Accordingly, there are also more waterfalls to see upstream and downstream. If you have more time and energy, ask your guides to take you to some of these.
Entrance Fee: Php 10
Location: Barangay Ankileng
Trekking Time: 30 minutes- 1 hour
Guide Fee: Php 600 for a group with a maximum of 10 persons
READ: Pongas Falls in Sagada (Your Complete DIY Travel Guide)
7. Sumaguing Cave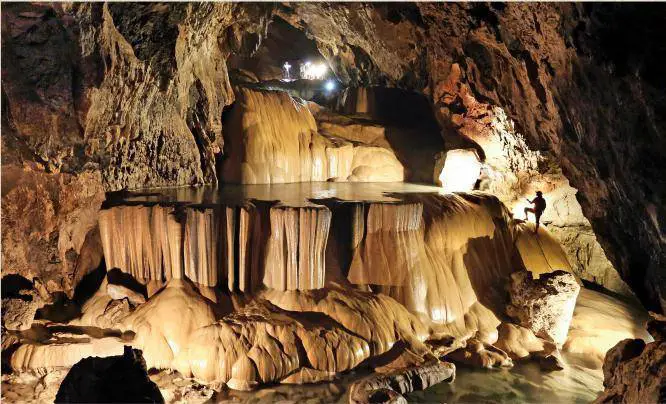 Sumaguing cave is arguably the most popular tourist spot in Sagada. It contains fascinating stalactite and stalagmite formations. The locals have interesting names and attributions for some of the rock formations. Spelunking here is quite challenging and can often be dangerous if safety procedures are not properly followed. It is considered the deepest cave system in the Philippines.
Two-way Transportation: Php 350 (Optional)
Tip: Best to come here with a group for a more budget-friendly experience
Guide Fee: Php 800 for 4 pax
Caving Time: 2 hours
8. Echo Valley and Hanging Coffins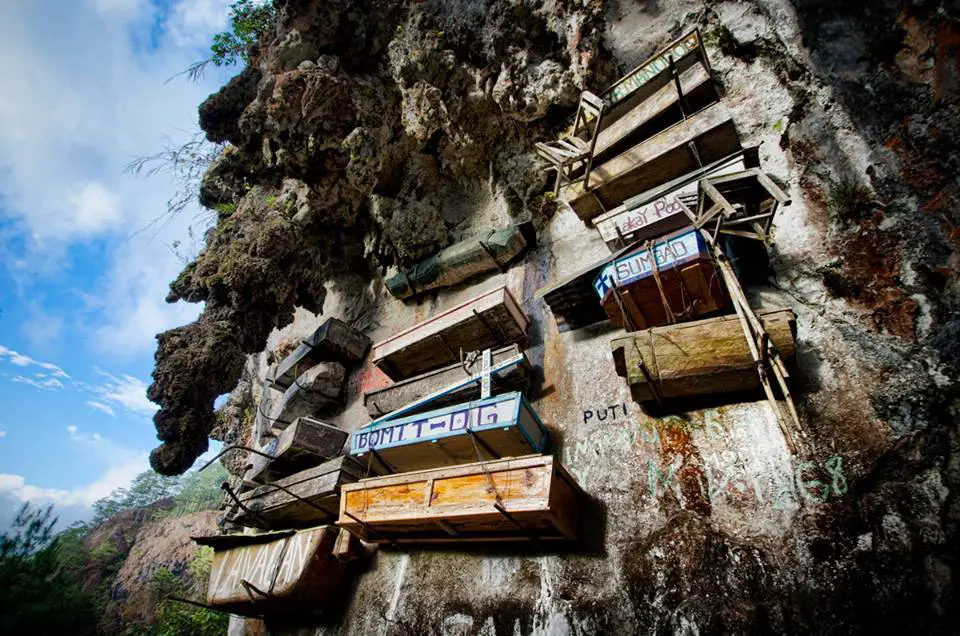 They don't call it the echo valley for no reason. While you're there, do create echoes and you'll see why. Interestingly, this is also where you can find the iconic hanging coffins, one of the cultural tourist spots in Sagada. You could just wonder how the locals of the past were able to place the coffins high up on the ground. To get here, you will be walking for around 20-30 minutes on a relatively easy trail. Expect to pass along rock formations and pine forest stands.
Entrance Fee: Php 10
Guide Fee: Php 300
Trekking Time: 20-30 minutes
READ: SAGADA HANGING COFFINS (Complete Travel Guide)
9. St. Mary the Virgin Church
This is one of the historical tourist spots in Sagada. It is a stone-walled structure catering to the spiritual needs of the locals who are mostly Anglicans. What I find interesting about this church is the fact that it was built during the American period. It's more than a century-old heritage! Regular masses are conducted here.The church is one of the sights to see when going to the Echo Valley and Hanging Coffins.
10. Marlboro Hill
If you are looking for challenging and at the same time, rewarding hiking experience, Marlboro Hill should be added to your list. It is one of the rising tourist spots in Sagada. On the average, it's a 3-4 hour hike that will lead across lush pine forests, scenic rice terraces, and limestone rock formations. You will also pass by the so-called Blue Soil or Blue Hill which turns bluish-green especially just after the rains. There are also good points here for viewing sunrise and sea of clouds, making it a good alternative for the Kiltepan viewpoint.
Guide Fee: Php 1800 for 3 pax
Transport Fare: Php 1350 (roundtrip)
READ: Marlboro Hills Sagada (COMPLETE DIY TRAVEL GUIDE)
12. Blue Soil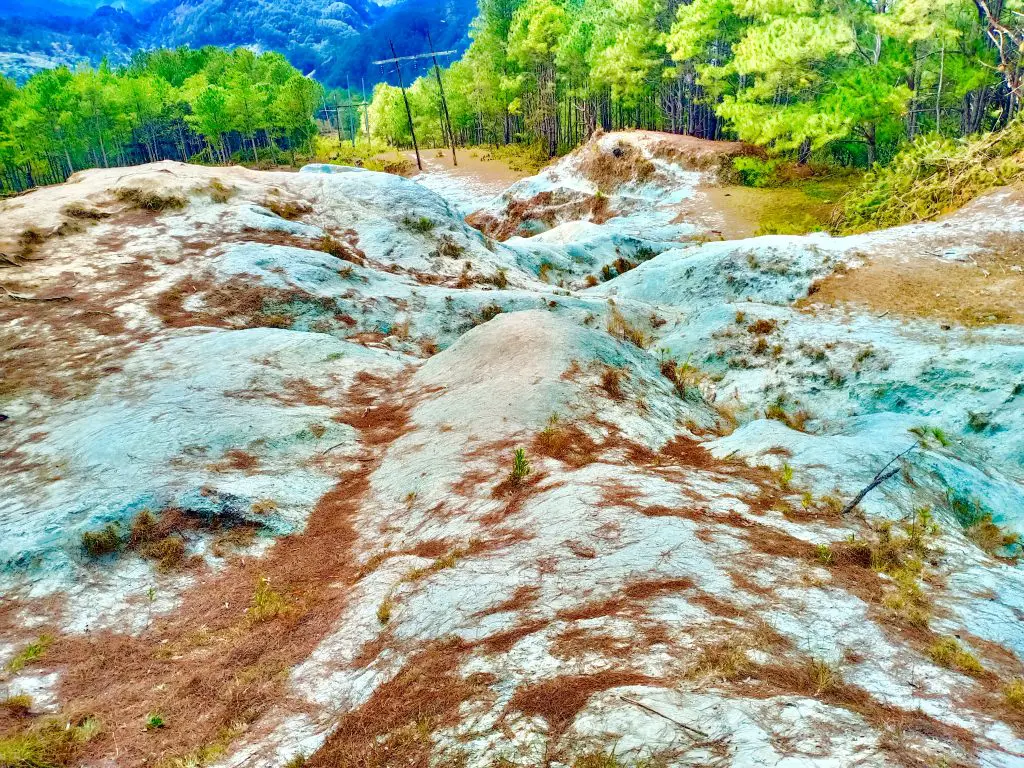 If you're up for a thrilling trek to a bizarre destination, check out the so-called Blue Soil. It features mounds of limestone rock formations that turn blue when wet. Those hiking to Marbolo Hills usually follow the trail all the way to the Blue Soil. Barangay Balili of Bontoc also claims the site and call it Kaman-Utek because it resembles the brain.
Location/Jump-off: Sagada town center
Trekking Time: 4-5 hours
READ: Blue Soil Sagada (UPDATED): Your Complete DIY Travel Guide
13. Sagada Underground River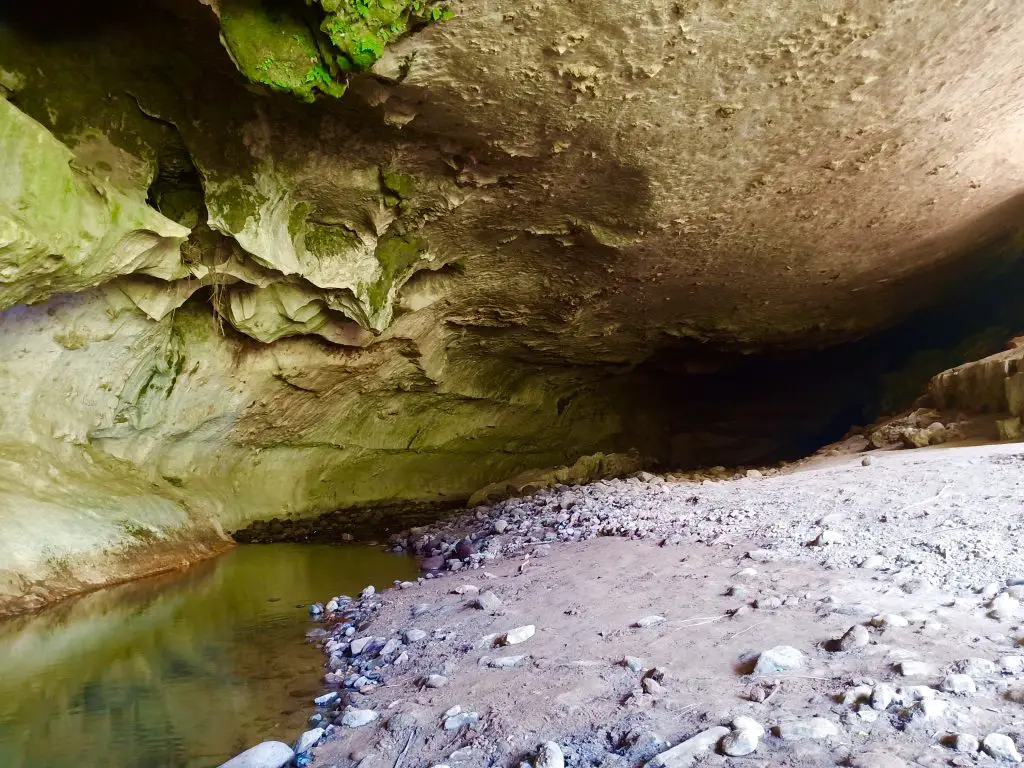 If you're coming from Bokong Falls or the Hanging Coffins, you can actually follow a trail leading to the Underground River. It's around 300 meters in length. Inside, you'll find natural pools and different limestone rock formations.
Location/Jump-off: Sagada town center
Trekking Time: 2-3 hours
READ: Sagada Underground River (Complete DIY Travel Guide)
14. Our Lady of Mount Carmel Catholic Mission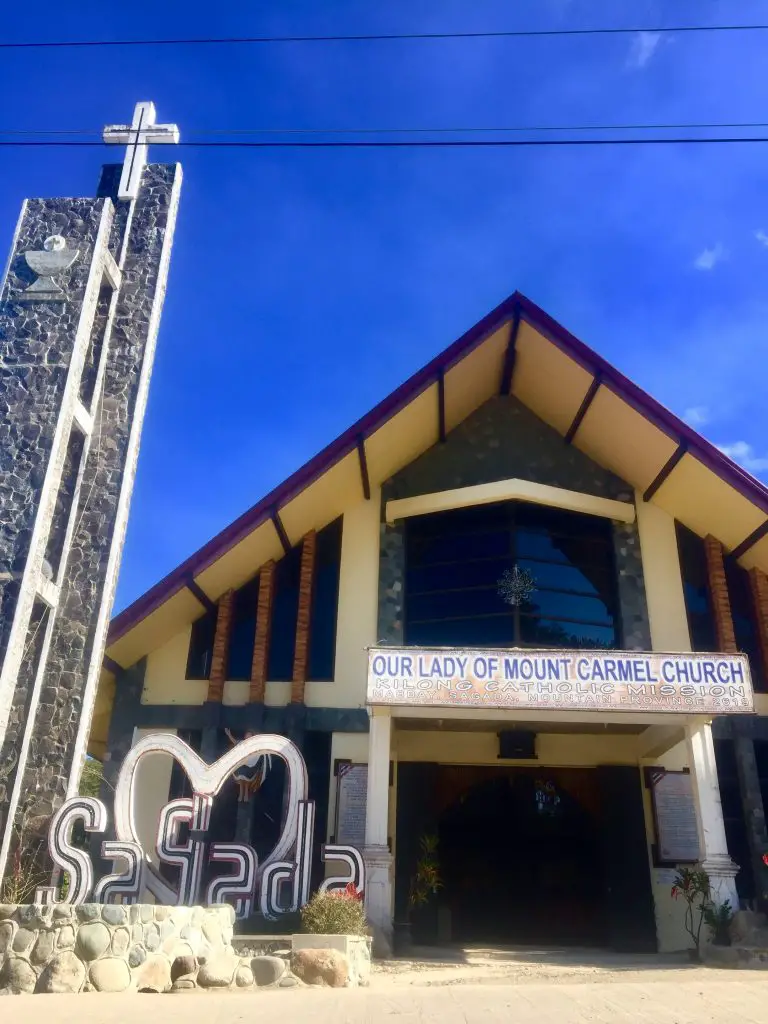 Our Lady of Mount Carmel Catholic Mission is a newly-constructed church catering to the Catholic faithful. You can see this along the highway when trekking to Kiltepan Viewpoint or Bokong Falls. It's just a 20-minutes' walk from the town center.
15. Fidelisan Rice Terraces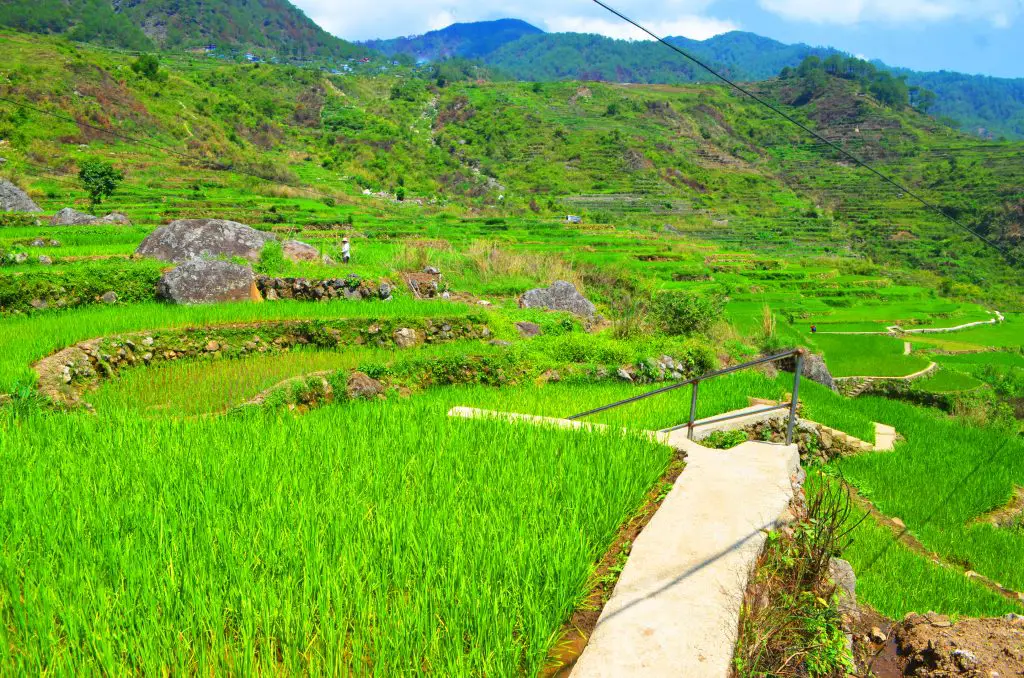 You'll catch sight of these when trekking to Bomd-ok Falls. These stone-walled structures signify the industry of the locals and their communion with nature. Interestingly, the locals' ancestors built these using only wooden tools and stones.
Location/Jump-off: Fidelisan
16. Lumiang Cave
Lumiang Cave is known for its piles of burial coffins. It is connected with the Sumaguing Cave and there is a tour package that covers both caves.
Location/Jump-off: Ambasing
Trekking Time: 25 minutes from tourism center
17. Lake Danum
Lake Danum is claimed by both Sagada and Besao. Because of this, the lake is currently closed for tourism.
18. Balangagan Cave
Balangagan Cave is one of the newly-discovered tourist spots in Sagada. It is a bit far from the town center and you need to ride a vehicle to reach it. Inside, you'll also find stalactite and stalagmite rock formations. It is drier compared to Sumaguing Cave and Lumiang Cave.
Location/Jump-off: Between Taccong and Suyo
19. Sagada Blue Lagoon/ Obwa Falls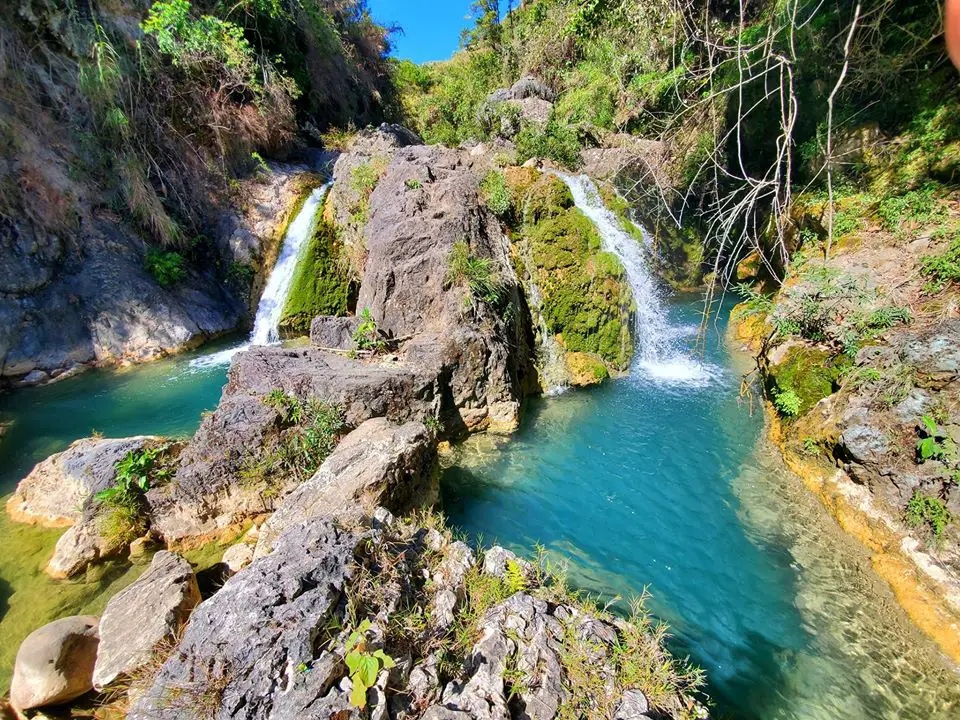 Sagada Blue Lagoon is a series of mini-waterfalls with circular pools that reflect the blue sky. It is one of Sagada's remotest tourist spots. Thus, getting here is recommended for extreme hikers and adventurers. Plunge into one of the pools to give you instant relief.
Location/Jump-off: Brgy Suyo
Trekking Time: 25 minutes from the highway
READ: 5+ Best Falls in Sagada (Your Complete Travel Guide)
20. Sagada Pottery House
Sagada Pottery House is one of the cultural Sagada tourist spots, advocating for the preservation of pot making in the said town. Here, you can experience and see for yourself how the pots are made. To get here, ride a jeep bound to Besao and tell the driver to drop you by the pottery house. If not, take the one hour walk to reach the place.
How to Get to Sagada
Manila to Sagada. If you want a direct trip to Sagada, ride Coda lines bus, stationed at HM Transport Cubao Terminal. This is located along EDSA at Cubao, Quezon City. Regular trip schedules are 8:00 pm, 9:00 pm, 10:00 pm, and 10:30 pm.
Fare is 720 pesos and travel takes around 12-13 hours. Take note. If you cannot do online booking, be at the station at least an hour before your preferred time of departure. For more information click here.
Baguio to Sagada. First, ride either Victory Liner or North Genesis buses going to Baguio. Both have stations at Pasay and Cubao, Quezon City and both have hourly departures. Travel time takes around five to six hours and fare ranges from 450 pesos to 485 pesos.
Upon reaching Baguio city, ride a taxi or Grab towards GL Trans station at Dangwa Terminal (back of Center Mall). GL Trans buses that are bound to or passes along Sagada depart by 6:30 am, 8:00 am, 9:00 am, 10:00 am, 11:00 am, and 1:00 pm. Travel time is more or less six hours and the regular fare is 220.
Bontoc to Sagada. If you are coming from Bontoc, there are jeeps there bound to Sagada. These are stationed in front of the Walter Clapp Hotel. A jeep departs once filled to capacity. Travel time takes less than an hour and fare is 50 pesos.
Try Speaking Local Utterances
As goes a popular adage, "When in Rome, do as the Romans do." In the same way, you can also try conversing with the locals using their language. This is especially helpful in building rapport with the community.
Kankanaey is the main language in Sagada. Take note, this is different from the Kankanaey language of some communities in Benguet. I get it. You don't need to be well-versed. But you can at least try common utterances such as the following. Have fun learning and using them:)
| | |
| --- | --- |
| Common Utterances | English Translation |
| Gawis ay wagkat | Good morning |
| Gawis ay kag-aw | Good afternoon |
| Gawis ay labi | Good evening |
| Inmali kami ay mangbisita sin ili u | We come to visit your place |
| Lumaos kami | We are passing by |
| Kamusta kau | How are you |
| Kaat na | How much |
| Gawis nan kaipogaw u | You are a nice people |
| Gawis nan umali sina ili u | It's wonderful to be here |
| Man amay nan ili | You place is beautiful |
For More Info on Sagada's Tourist Spots:
If you need more information such as Sagada weather, Sagada map, and Sagada itinerary, kindly contact:
Sagada Tourist Information Center: 0917 134 5353
Sagada PNP: 0908 2258115
Note: Sagada Tourist Information Center opens from 7 AM to 5:30 PM. You can also refer to the following brochure for more info about Sagada tourist spots' package rates.
Please follow and like us: