Here is your complete travel guide to the waterfalls in Benguet!
Benguet hosts a plethora of beautiful waterfalls, many of which are hidden on remote locations while others are just few meters away from the road. Definitely, countless more are yet to be explored and documented. This makes the said province a perfect getaway especially during the summer months.
So the next time you decide to spend the holidays, you may consider visiting Benguet's waterfalls. Take note. Most of these are waterfalls that I have personally visited and experienced.
1. Bayokbok falls (Tuel, Tublay)
Being one of the nearest and most accessible from La Trinidad and Baguio city, Bayokbok in Tuel, Tublay is now one of the most popular and visited waterfalls in Benguet. It's just less than an hour of ride from the said town centers. The falls compose of three beautiful cascades, the highest of which measures around 30 feet high. Each of these has very deep and wide pools which are perfect for cliff jumping/diving, swimming, and rafting. You can also do rappelling here. The river feeding these falls is one of the cleanest in Benguet. Thus, different aquatic species such as eels and small fishes thrive here. In addition, it is best to come here during the summer/sunny months as the waters are in their pristine and blue conditions. To date, the locals are implementing guidelines to ensure the sustainable management of Bayokbok falls.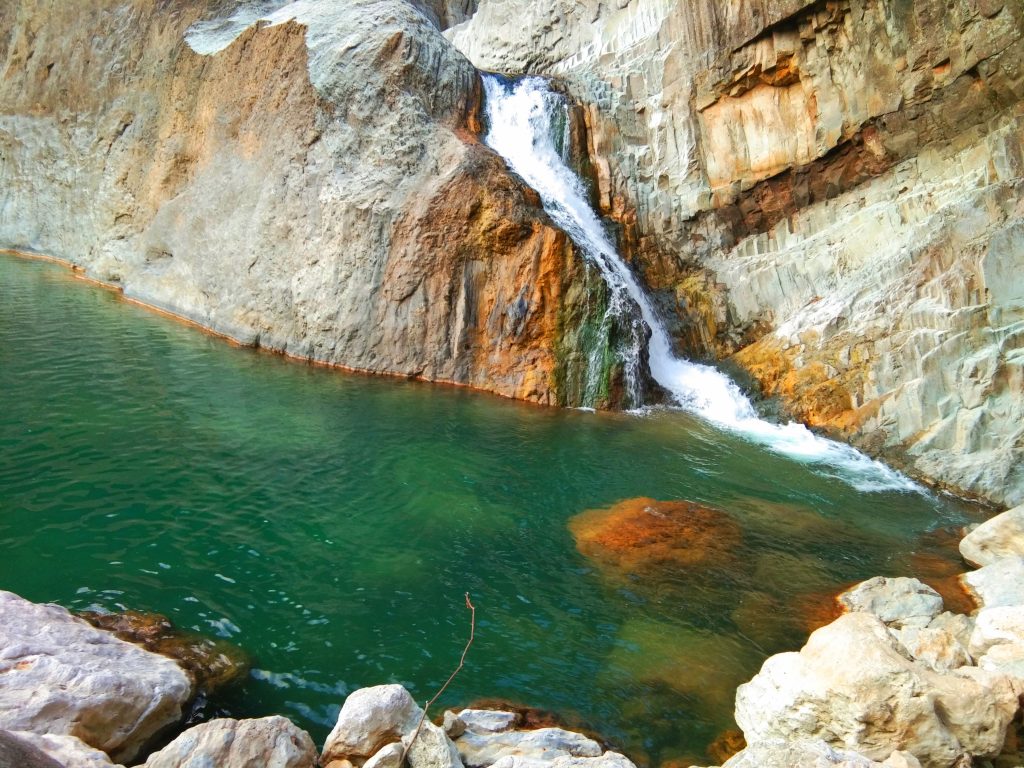 2. Binanga Falls (Shilan, La Trinidad)
Binanga Falls measures around 10 feet high and cascades on a small but very deep basin. The basin appears like the shape of a cooking pot, locally known as binanga/banga. For that, the falls is called Binanga. This is also one of the nearest waterfalls from La Trinidad. It takes just less than an hour of ride to get here. From the trailhead along the barangay road, there's another downhill trek of about 20 minutes before reaching the falls. Make sure you have a guide with you or at least an experienced friend since there are steep and slippery parts of the trail. Any reckless move can break bones or get you killed. Anyways, the waters of Binanga falls are icy-cold. Verdant vegetation surrounds it.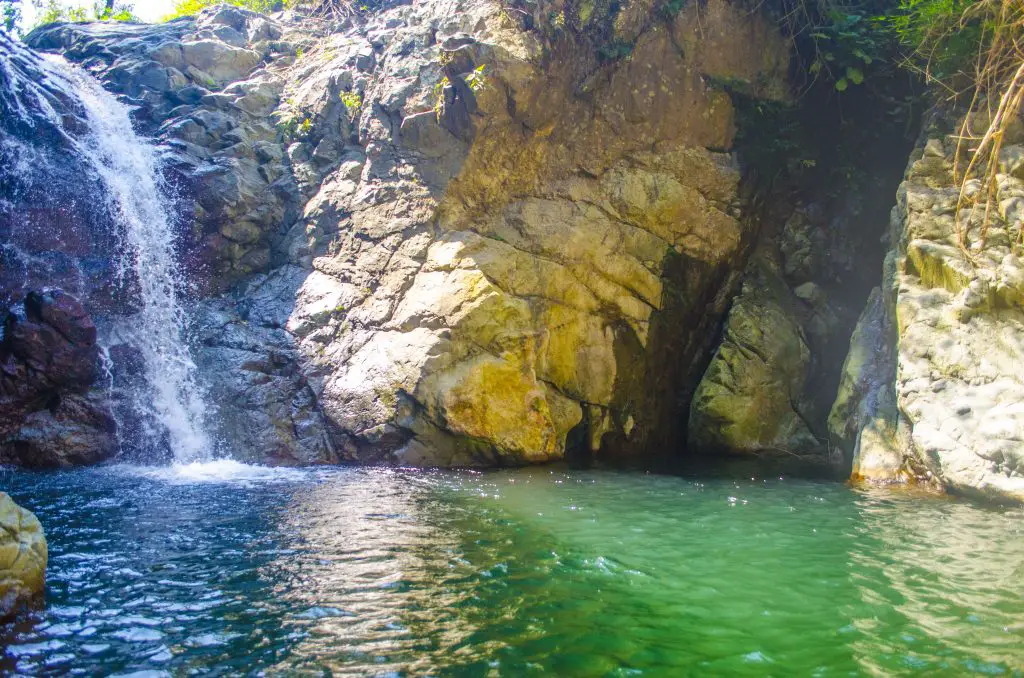 3. Badi Falls (Sagubo, Kapangan)
Just like Bayokbok falls, Badi falls is now one of the most popular waterfalls in Benguet. It is actually a series of at least four picturesque waterfalls of which the highest, measures more than 30 meters high. The highest is called the main falls and is most frequented by the locals and visitors. Most of the falls have naturally-built pools with crystal-clear waters. The name Badi is derived from a species of insects called badi-badi. These are small, edible and aquatic insects usually found attached on rocks and on cascades. To get to Badi Falls, one needs to hike for more or less two hours from the community proper. Expect to trail along dense forests while gazing at panoramic mountain views of Kapangan and La Union province.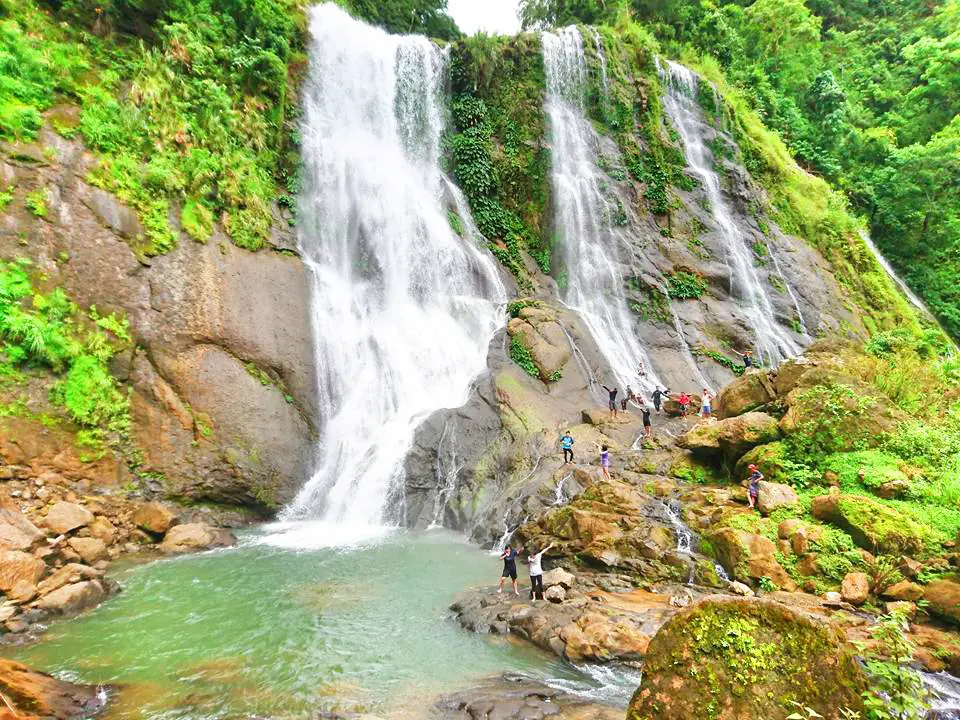 4. Payogpog Falls (Shilan, La Trinidad)
Payogpog falls is fed by the same brook leading to Binanga falls downstream. It is actually higher and has a wider but shallower pool which reflects its green surrounding. Payogpog falls measures around 30 feet high and cascades on a sliding manner. Although near to the town centers, getting here, however, is no walk in the park. From the trailhead which is where the barangay road ends, one then treads on a path, passing across vegetable farms and crossing the brook for a number of times. It really takes some extra-endurance and strength. But the challenges and difficulty along the trail is eventually dissipated as one marvels on the falls and soak on its refreshing waters.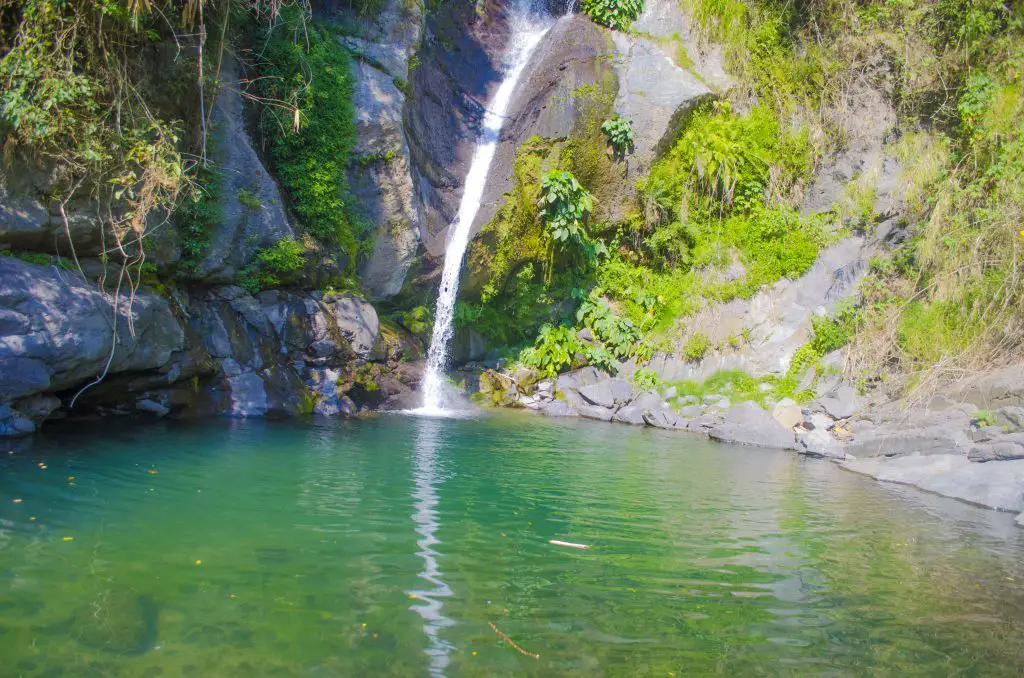 5. Ketong Falls (Ambongdolan, Tublay)
Ketong falls is a hit and miss. During summer, only trickles of water cascade. But during rainy months, it is transformed into a raging beauty. I've been to the falls twice already and what I appreciate of it most is its beautiful pool. It's wide and deep and at first sight, you would think that a creature lurks underwater. Stunning, white rock formations surround the pool. These are perfect platforms for jumping or diving. It is also a perfect place to unwind, given the serene and mystic atmosphere. Actually, the cascading waters of Ketong falls emanate from Bengaongao Cave. So if I were you, I would take a side trip to Ketong falls after spelunking at both Paterno Cave and Bengaongao Cave. From what I've heard, rappelling can be done from the caves towards the falls. Oh, that is something that excites an adventurous soul like me.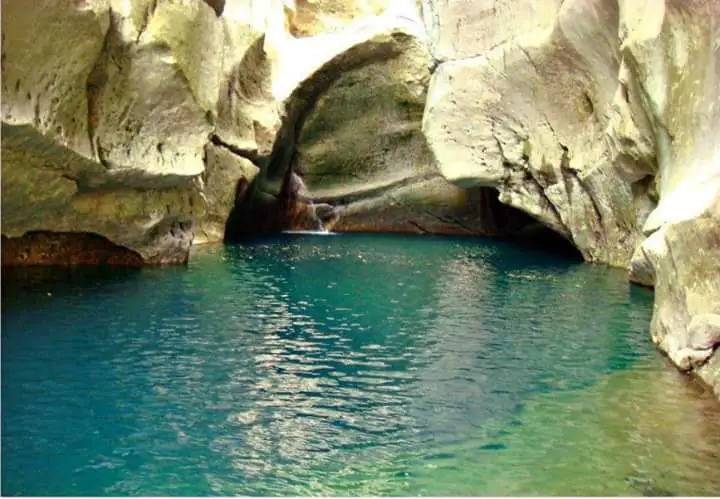 6. Tekip Falls (Poblacion, Bakun)
Just like Ketong Falls, Tekip falls is a hit and miss. During summer, it is reduced to trickles. However, it transforms into a sheer and breathtaking beauty during the rainy months. Tekip falls is actually one of the most photographed waterfalls in Benguet. From the community proper, it takes less than an hour of hike to reach the falls. It measures more than 50 meters high and cascades like a huge curtain of water. Oh, how I loved standing on its base while its drizzle-like cascades provide me with an invigorating massage. Oh yes, the waters are icy-cold, enough to soothe the muscles after the quite exhausting trek of getting here. Further downstream, there are other cascades worth visiting. Just make sure you have a guide since the trails to these are steep and slippery. Indeed, Tekip falls is one of the most scenic waterfalls in Benguet.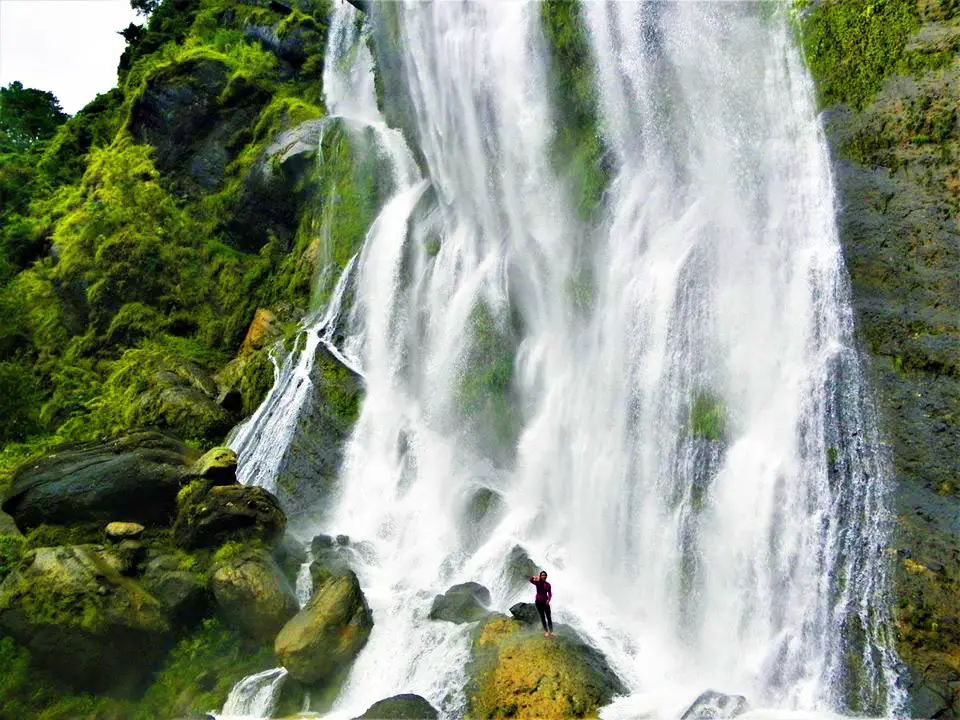 7. Towing Falls (Sablan)
Towing falls is a three-layered cascade and one of the most accessible waterfalls in Benguet. From the national highway, it takes around five minutes of downhill trek to reach the main falls. The main falls, being the highest, measures around 40 meters high. It has a very wide and deep pool. Rock formations surrounding it provide a good spot for jumping or diving. Fishing can also be done here the traditional way. I recommend, however, that you always have a guide with you if you are a non-swimmer. There have already been incidents of drowning here. Towing falls is indeed a promising destination. However, I've noticed issues such as plastic litters and lack of safety personnel. I just hope that the local authorities will create and implement guidelines to boost the sustainable management of Towing falls.
8. Shamsham Falls (Baayan, Tublay)
This is one of the least known waterfalls in Benguet but one that is promising to boost ecotourism development. Similar to Badi falls, Shamsham falls consists of several beautiful cascades, each with different features to offer. Take note, however, that trails to these falls are not yet well-established. I would only recommend these to extreme hikers/adventurers. Chasing these falls entails hopping across boulders, wading on deep pools, and trailing on dense forests. Expect to get wet and muddy. But these are thrills and fun for those looking for total immersion with nature. The highest of Shamsham Falls measures around 40 meters high and cascades on a small and shallow pool. By the way, Sham-sham falls literally means "nine-nine." Accordingly, the falls is named after the ninety-nine women who jumped off the falls to escape the Japanese who attempted to rape them. That was during World War II.
9. Lengsad Falls (Poblacion, Kibungan)
This is just one of the numerous waterfalls found in Kibungan. During rainy months, Kibungan, just like its neighboring municipality of Bakun, becomes a paradise of roaring and stunning waterfalls. There would just be cascades everywhere, at varying lengths and dimensions. Lengsad falls is one of the permanent falls of Kibungan, meaning, it never dries out even during summer. It measures around 50 meters high and has a wide and very deep pool. Similar to Ketong falls, the bluish pool would make one think that something dwells underneath. It would feel more secure and inviting to swim on it with brave buddies. Hikers going to and from Mt. Tagpaya love to side trip here to relax on its icy-cold waters. From the Kibungan Municipal Gym, it takes one to two hours of hike to reach Lengsad falls.
10. Mangta Falls (Poblacion, Bakun)
Mangta falls can be seen along the way going to Mt. Kabunian and Mt. Gedgedayan. It is a multi-layered falls of which only the last waterfall is established for visitation. It measures around 40 meters high and has a small and naturally-built catch basin. One might wonder why is it that despite the height of the falls, only a small pool has been created. From the looks of it, the falls is reduced into trickles during the summer months. But during rainy days, it becomes a roaring cascade. To get here, one needs to hike for about an hour from the community proper. It is situated just near a mini-hydro plant.
Knowing Benguet's Waterfalls More
If you need more information that may help in setting up your itinerary to the waterfalls in Benguet, feel free to note them in the comment section below. You could also message us on our facebook page, Daniel's Eco-Travels.