Here is a comprehensive list of the best tourist spots in Atok, Benguet – your ultimate getaway for a fun-filled experience.
I grew up traveling to Baguio via Halsema Highway which traverses Atok, one of the northern municipalities of Benguet. For as long as I can remember, this was a peaceful town, hemmed by towering mountains and death-defying vegetable gardens. But today, it rapidly grew in popularity because of the Northern Blossom Farm.
Sure, tourists from all over the country brave the winding roads to reach Atok just to glimpse of the colorful flowers. But did you know that Atok is more than just the farm? In fact, that is just an icing to what this humble municipality has to offer.
So if you want to make up the most out of your visit to Atok, Benguet, here are the best places to see.
Popular Tourist Spots in Atok, Benguet
1. Mt Timbak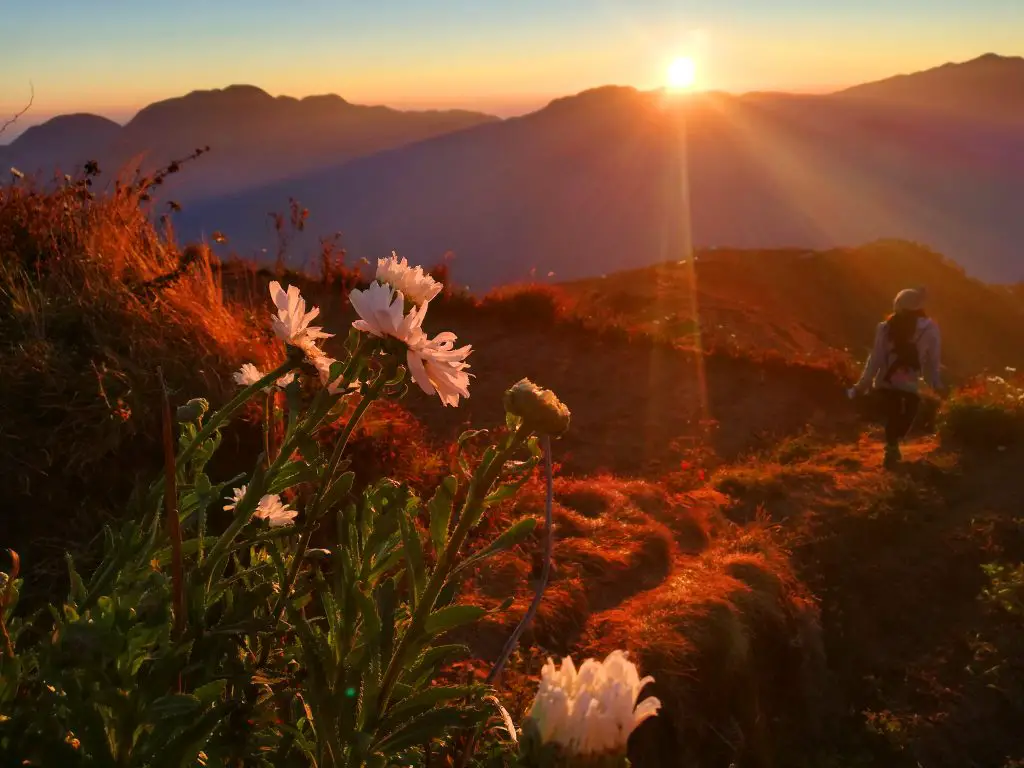 Mt Timbak boasts a majestic height of more than 2717 meters above sea level, making it one of the highest peaks in the Philippines and the third highest in Luzon. Despite its incredible elevation, you might be surprised when I tell you that trekking to Mt Timbak's summit is like a walk in the park. That's because there is a road that leads all the way near to the summit. From where it ends, hike for a few minutes and boil, you're at the top of this majestic peak!
From the summit, you'll catch a panoramic and breathtaking view of surrounding mountains including the peaks of Mt Pulag, Mt Tabayoc, and the distant Mt Kalawitan and Mt Amuyao. It's best to come here during the early morning to catch a stunning view of the sunrise and chance on a sea of clouds. Along the way, you'll also see wildflowers and different types of vegetables grown on terraces.
Mt Timbak is now one of the top tourist spots in Atok, Benguet. Part of it is also shared with neighboring Kabayan municipality. But it's easier to access the mountain's peak from the former.
Location/Jump-off: Atok, Benguet
Registration Fee: Php 20 per person
Trekking Time: 2 hours from Halsema Highway, 15 minutes from jump-off
What to See: Sunrise, Occasional sea of clouds, Views of Mt Pulag and Mt Tabayoc
Travel Guide: Mt. Timbak in Benguet (DIY Travel Guide): Everything You Need to Know
2. Highest Point
Since post World War II, the Highest Point held the title of literally being the highest point of any highway system in the Philippines. But this title was taken when in 2019, a point in Mount Gui'ngaw along the Kiangan-Tinoc-Buguias road was declared the highest. But don't let that stop you from visiting. In fact, if you want to gaze on dramatic views, you should come here.
There is a shaded viewpoint and from here, you can see face to face the imposing Mt Timbak including mountain ranges leading all the way to Mt Pulag. If you're lucky, you can also chance on a breathtaking sea of clouds which usually form just after a rainy day. What more if you'll see a rainbow form?
From a distance, you can also view a towering waterfall which cascades in full force during the rainy months.
Location/Jump-off: Atok, Benguet
Entrance Fee: None
What to See: Mountain views, sea of clouds, pine forests, etc.
Trekking Time: more or less an hour from the town center
3. Northern Blossom Flower Farm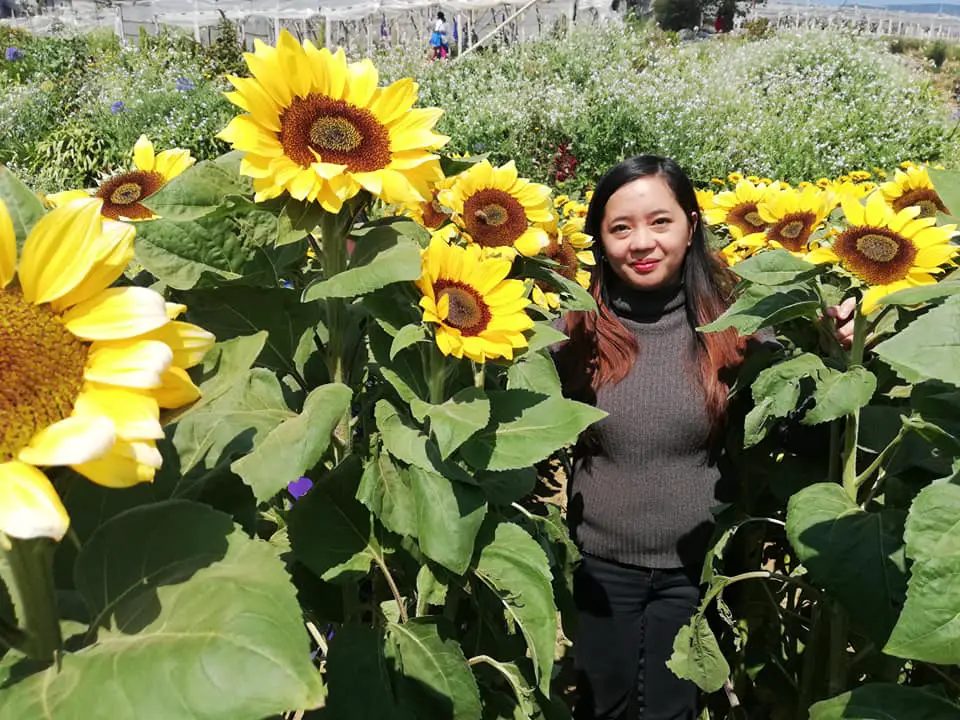 Northern Blossom Farm is arguably the top tourist spot in Atok, Benguet. Here, you'll find a variety of flowers representing different species, colors, and sizes. Oh, how it feels like you're in heaven seeing all the flowers blooming at the same time.
One of the iconic species here is the cabbage rose which is a hit and miss because it does not show its vibrant color all year round. Other common flowers grown here are sunflowers and snapdragons. You can ask a local guide to identify the flowers for you or to give more information about them. There is no fixed rate for a guide so it's up to you how much to give or if you will hire one.
If you're after the sunrise, no problem. The farm is also a good vantage point and like when you're atop Mt Timbak, you can chance on a sea of clouds and even a rainbow from here. That is why it's best to come here during the early morning.
Imagine standing or sitting on the farm as you gaze on the lovely flowers and the scenic views of the mountains while drinking brewed coffee. That's how it's like here.
Location/Jump-off: Brgy Paoay, Atok, Benguet
Entrance Fee: Php 300 per person
Best Time to Visit: January to April
Contact: 09081513368 (Owner), 09465147799 (Tourism Office)
4. Haight's Place/Sakura Park
Have you been dreaming of personally witnessing the famous Sakura trees bloom? If yes, you don't have to travel as far away to Japan. Instead, ride your way to Atok, Benguet to reach Haight's Place where Sakura Park is located. Surprised? For all, we know Sakura trees only grow and bloom in Japan. But this local farm proved that Sakura can also thrive in the Cordillera hinterlands.
Why Haight's Place? Well, history tells of Mr Franklin Guy Haight, an American soldier, who settled in Brgy Paoay, Atok, Benguet in the 1900s. He must have been attracted by its temperate weather and the rustic views so he then married a local and started living the life of a farmer. He started with small plots, planting different varieties of vegetables such as potatoes, and cabbages.
Today, Haight's Place features vast flower and vegetable farms where you can stroll around and have a feel of a farmer's life. Because it sits on a high elevation, you can also view of panoramic mountain scenes from here.
It's now one of the best tourist spots in Atok, Benguet.
Location/Jump-off: Brgy Paoay, Atok, Benguet
Entrance Fee: Php 20 per person
Maintenance Fee: Php 80 per person
Best Time to Visit: December to May
5. Bosleng Lourdes Grotto
If you're a devout Catholic like me who can't help it but chase spiritual realms wherever I go, check out the Lourdes Grotto. It's just 20 minutes of a hike from the summit of Mt Timbak. It's just a small man-made grotto underneath a big pile of rocks. There, you'll find a statue of the Virgin Mary, reminiscent of the famous pilgrimage site in France.
The local Roman Catholic Congregation manages the grotto. From time to time, they conduct prayers and spiritual retreats here.
You can climb to the top of an adjacent boulder and from here, you'll catch a bird's eye view of the surrounding mountains and vegetable gardens.
When you come here, please give due respect to the grotto. Remember. It's a sacred place for Catholics.
Location/Jump-off: Brgy Paoay, Atok, Benguet
Entrance Fee: None
6. Natumpukan Half Tunnel
Half tunnel, eh? Yes, you've read that right. It's literally a man-made half tunnel carved on a steep mountain precipice along the Halsema Highway. You can see this when going to and from Atok, Benguet. That is why make sure you're awake when you're already nearing it. On one side, you can mountain views and on the other, sheer cliff. Growing up, I often wondered how did the locals build a road that traverses such unforgiving terrain.
If you're riding your own car, you can do a stop over here to relish the views.
Location/Jump-off: Sitio Bonglo, Brgy Paoay, Atok, Benguet
Entrance Fee: None
7. Spanish Trail
Built on steep mountain terrains, the Spanish trail is another incredible feat you should see. It was built as a horse trail during the Spanish regime and despite centuries of neglect, much of it remains intact. Walk on this trail and learn about the country's rich history. Not only that, but you'll also surely love the thrill of navigating on these extreme terrains while relishing scenic views.
Off-Beaten Tourist Spots in Atok, Benguet
8. Adevonan Falls
If you're done with mountain trekking or flower gazing, why not level up your adventure to Adevonan Falls, one of the hidden tourist attractions in Atok, Benguet. It has a majestic height of 90 feet and cascades like heavenly showers. Even if you only stand near it, the mists it creates can already give you a rejuvenating relief.
The brook feeding the waterfall emanates from pristine pine forests upstream. It has a naturally-built pool with icy-cold and crystal-clear waters. During World War II, both American and Filipino soldiers used it as a bathing site.
Until today, it is a favorite escape of the locals especially the youngsters who love doing picnics there and other recreational activities.
Location/Jump-off: Sitio Banayakeo, Brgy Poblacion
Trekking Time: 20-30 minutes
Entrance Fee: None
Guide Fee: Donation
9. Amburayan River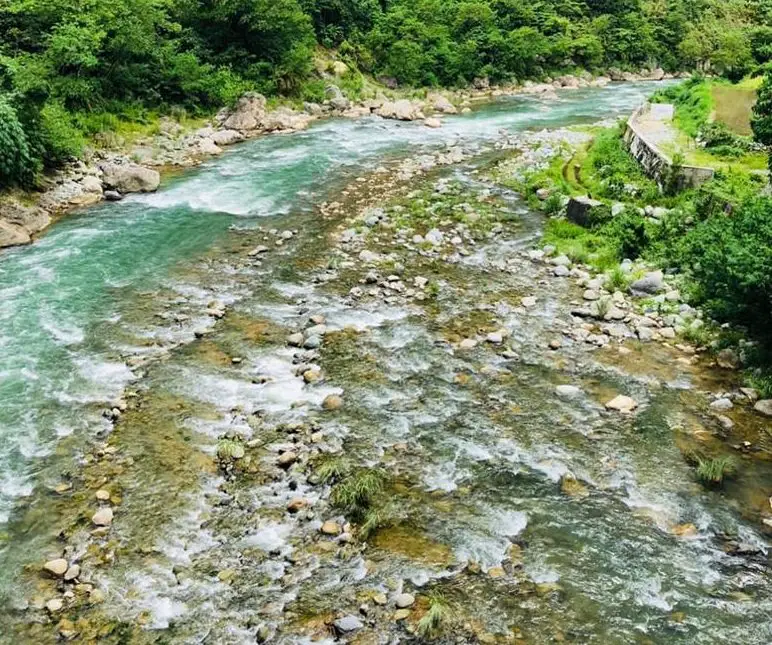 Amburayan River is one of the major river systems emanating from Benguet and flowing all the way to La Union. It has crystal-clear waters, making it ideal for swimming and whitewater rafting. Because of its pristine condition, it thrives with a variety of marine species. You can try joining the locals in fishing the traditional way.
Along the river, you'll find several waterfalls and rapids where you can have a rejuvenating swim. There are also gigantic rock formations on remoter locations. If you're into camping, ah, the river bank is a good fit to that.
Location/Jump-off: Brgy Naguey & Brgy Pasdong
Entrance Fee: None
Guide Fee: Donation
Trekking Time: A few minutes away from the communities
10. Naguey Rice Terraces
Think you'll only find rice terraces in Banaue, Ifugao?
You'll also find them in a remote barangay of Atok, Benguet that is set amidst the backdrop of towering mountains. These terraces were carved by the locals' ancestors years ago using primitive tools such as stones and wood. It's indeed an engineering feat worth appreciating especially these sit on mountain slopes.
Various heirloom rice varieties are grown on these rice terraces. One of the most popular is the Kintoman variety which the community folks use to make rice wine. Oh, you should not miss tasting this authentic wine. Upon tasting this, you'll realize that organically-made wines are as good as commercial ones. Plus, it's healthy and helpful for the community.
You can join the locals in planting or harvesting rice to make the most out of your experience. It's also a good chance for you to learn from the locals, their culture, and value-laden stories.
After that, you can proceed to the nearby Amburayan River to wash off mud and dirt. Oh, what a lifelong experience would that be, right?
Location/Jump-off: Brgy Naguey, Atok, Benguet
Entrance Fee: Donation
Guide Fee: Not Necessary
How to Get to Atok, Benguet?
First, ride any buses bound to Baguio City.
From Baguio City, you have the following options on how you can reach Atok.
Option I
Ride of any bus bound to Sagada or Bontoc in Mountain Province. There are two major companies operating to these destinations namely, GL Trans Station and Rising Sun. Don't forget to tell the driver to drop you off the Municipal Town Center of Atok. Here are their daily schedules.
GL Trans
5:30 AM, 8:30 AM, 9:30 AM, 10:30 AM, 11:30 AM, 1:00 PM
The station is at the Dangwa Station, back of Center Mall.
Fare is Php 120 per person and travel time is 2 hours.
No online booking/reservation. Proceed to the counter for a ticket.
Rising Sun
Starts from 5:00 AM to 4:00 PM
The station is at the Slaughterhouse in Lower Magsaysay
Fare is Php 120 per person and travel time is 2 hours
No online booking/reservation. Tickets will be given during the trip. It's a first-come, first-serve basis.
Option II
Ride a van from KM. 5, La Trinidad, Benguet specifically at the Shell Station. Regular trips starts at 3:00 AM and ends at 4:00 PM. Proceed here and reserve your seat. Pay the fare once you've reached Atok. It cost Php 120 and travel time takes an hour and a half.
The van will have a stopover on a restaurant near the municipal town center and the entrance of the Northern Blossom Flower Farm.
Where to Eat in Atok, Benguet
There are several restaurants and cafes in town. You might want to try a local version of Good Taste or Jack's Restaurant namely, the Ricken Star Restaurant where buses and vans do a stopover.
Don't also miss out tasting brewed coffee which the town is known for. Many stores and restaurants alike serve it. Try a cup or two as you relish the cold weather.
Where to Stay in Atok, Benguet?
Don't expect hotels and other high-end amenities here.
What you'll find are home-stays and inns to give you a more localized experience.
In support of local livelihood development, I recommend the accommodation offered by the Atok Women's Association Inc. (AWAI). They only charge you Php 200 for a room. Sorry, they don't have a heater. But wouldn't it be nice if you experience the cold waters of the mountain? I tell you, it's one rejuvenating experience.
For other options, do contact the Atok Tourism Office on their official contact numbers listed below.
For More Info on Atok, Benguet tourist spots
If you need more information to help you set up your itinerary to the tourist spots in Atok, Benguet, do contact the Municipal Tourism Office via the following:
Mobile Numbers: 09465147799, 09301892757
Official Facebook Page: ATOK Tourism