Here is your complete DIY travel guide to Binanga Falls and Payogpog Falls in Shilan, La Trinidad.
After working in the bustling city of Manila for some months, I decided to spend some days visiting the tourist spots in La Trinidad town. I wanted to experience and see something different so this time, I chased the off-beaten Binanga Falls and Payogpog Falls.
I was with two fellow adventurers and we were all in swelling eagerness to explore these two waterfalls. Initially, we did not expect that there would be such hidden eco-wonders within La Trinidad. All we knew then were the famed strawberry farms and its hiking destinations such as Mt Yangbew and Mt Kalugong.
That is why we felt like pioneers ready to unravel the waterfalls.
If you're planning to visit as well, let us walk you to Binanga Falls and Payogpog Falls.
READ: Towing Falls Sablan (UPDATED): Complete DIY Travel Guide
How to Get to Binanga Falls, Payogpog Falls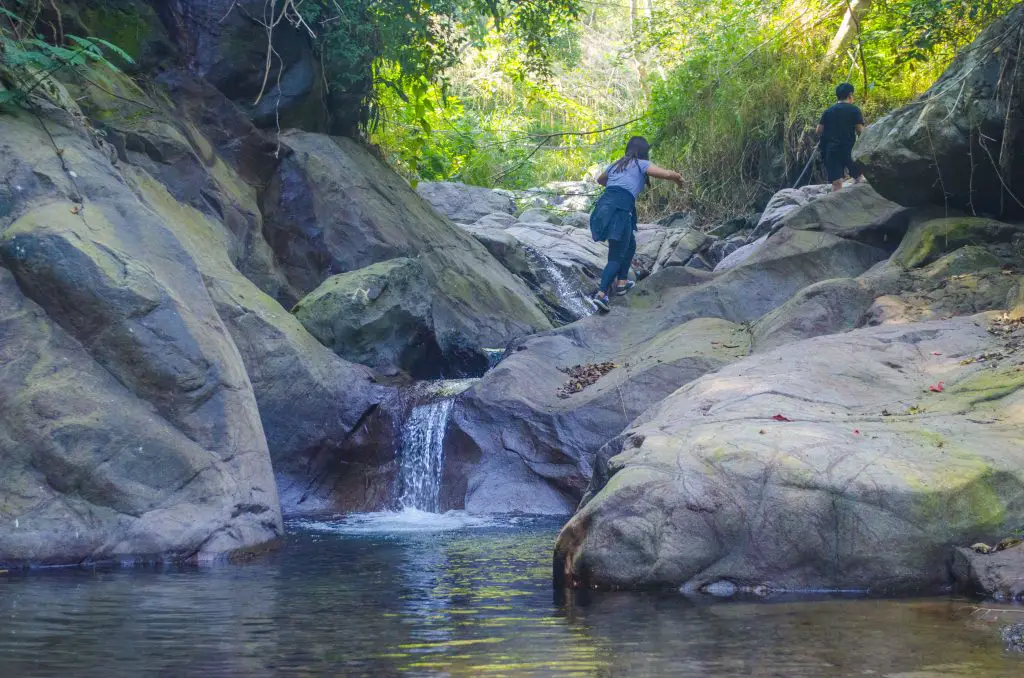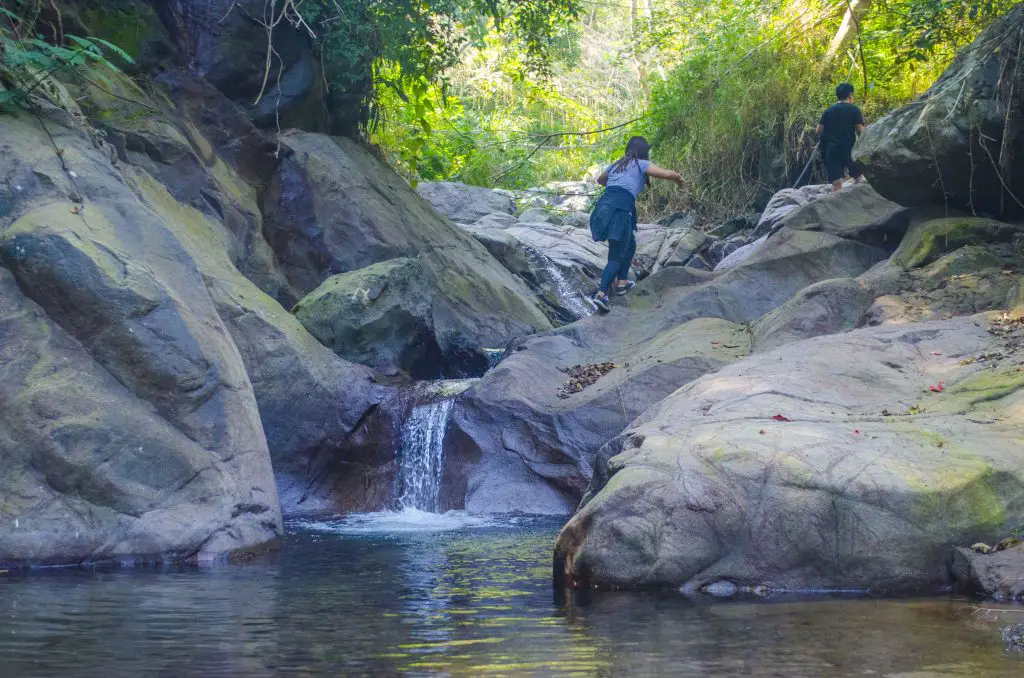 Both Binanga falls and Payogpog falls are within barangay Shilan. These falls are located on the same brook, however, are distant from one another. Payogpog falls is farther since it's nestled on the upper course of the brook.
Baguio City to Binanga Falls
If you are coming from Baguio City or La Trinidad proper, ride a jeep bound to Acop Shilan. Jeep station is at Lower Magsaysay, a walking distance from Center Mall. Travel time takes 30 minutes to an hour depending on traffic conditions. Thus, it's best to go there during the early morning. Fare is Php 20 per person.
Don't forget to tell the driver to drop you off the barangay hall of Shilan which is just along the national highway. Lately, the local officials required all tourists or visitors to register here and get a guide before proceeding to Binanga Falls. That is both for safety and convenience.
Brgy Shilan to Binanga Falls
After registering at the barangay hall, follow the highway for some meters until you reach an alighting road. There, rent a garage to take you the jump-off point of the waterfalls. Fare is Php 100 for a one-way trip and travel time takes 10 minutes.
From the drop off point, follow a narrow trail traversing steep and grassy slopes until you reach Binanga Falls. You'll also pass by vegetable farms.
What if your Have a Car?
From Baguio City, follow the road until you reach KM 6 in front of the Provincial Capitol, then turn right to the Halsema Highway. Keep going until you reach the Barangay Hall of Shilan just after a gas station. Stop here for registration. After, follow the road for some meters until you reach the alighting on the right side of the road. Follow this until you reach the jump-off trail to Binanga Falls.
Take extra caution since most of the road has a one-way lane and it traverses winding and steep terrains.
What about parking? You'll have to park your car on any available spaces along the road.
Trailing our Way to Payogpog Falls
I and my hiking buddies decided to first chase Payogpog Falls.
From the alighting road at Shilan, we rode a garage bound to sitio Bito where the road ends. From here, we slowly paced our way towards the falls.
There were a lot of diversions on the trail. Fortunately, there were locals whom we asked for trail guides. Initially, we passed by vegetable farms. Then, we followed the brook leading to the falls. Literally, we had to climb over big boulders and jump across pools. We were stretching our muscles to the max as our hearts pounded crazily while sweats came streaming out our pores.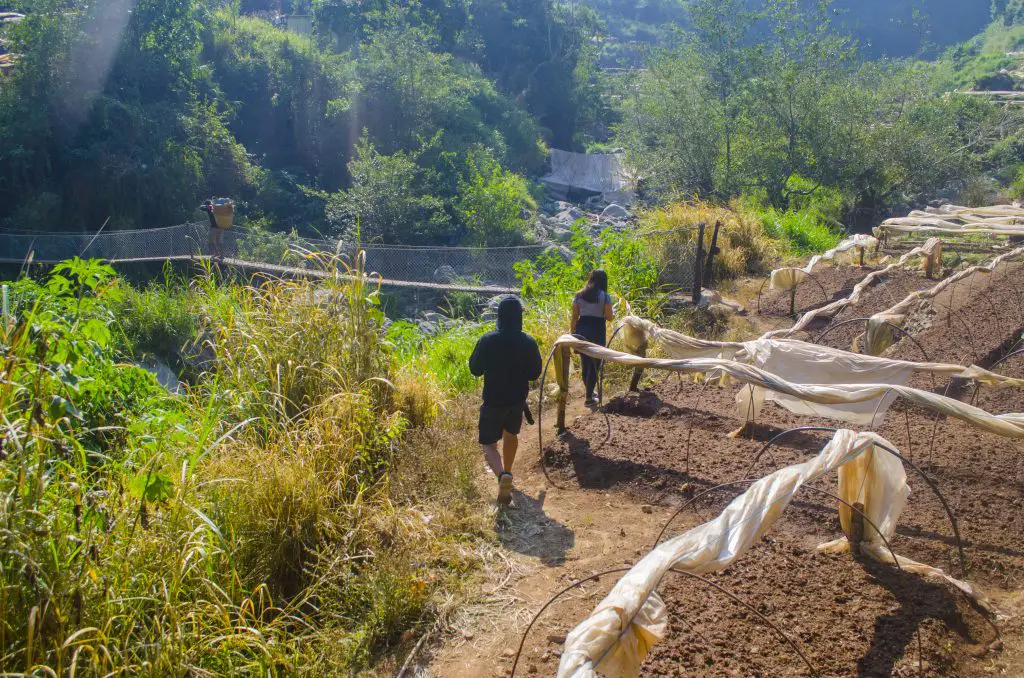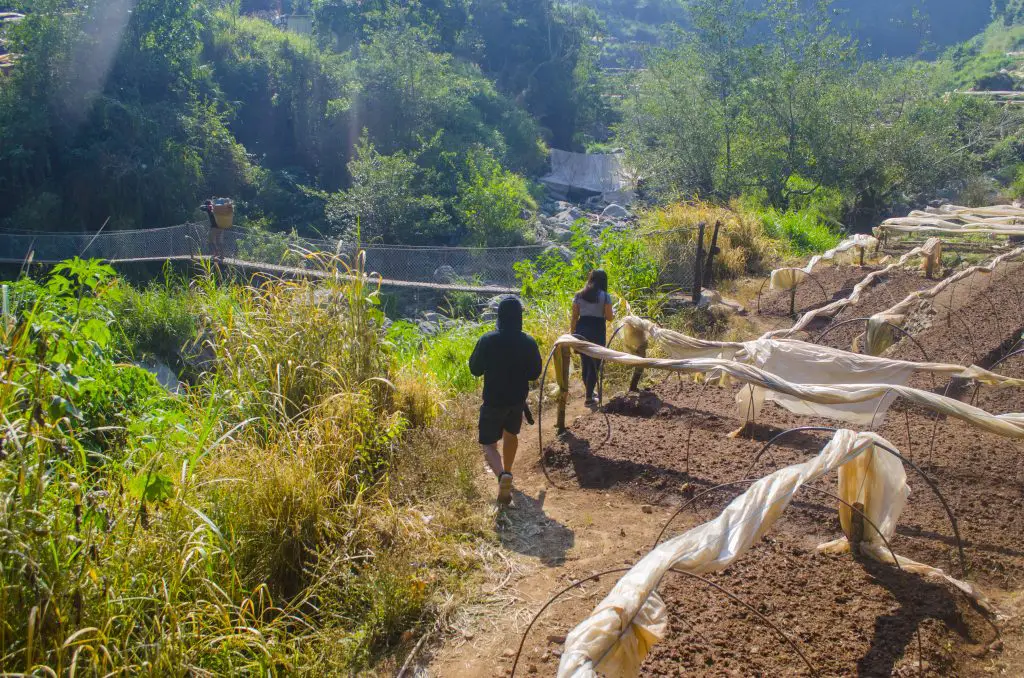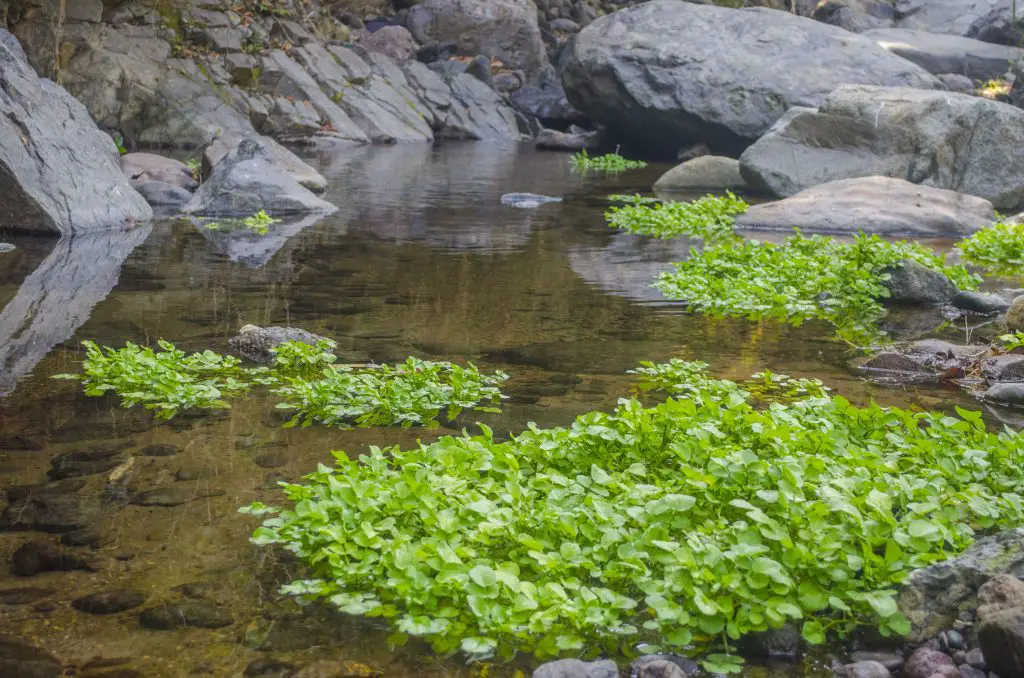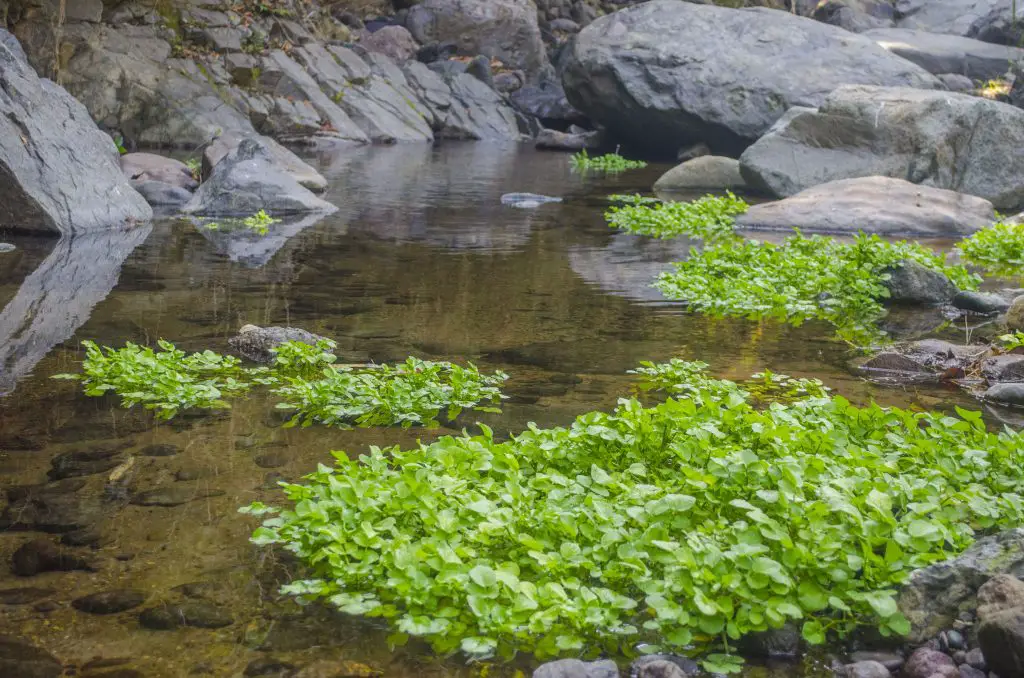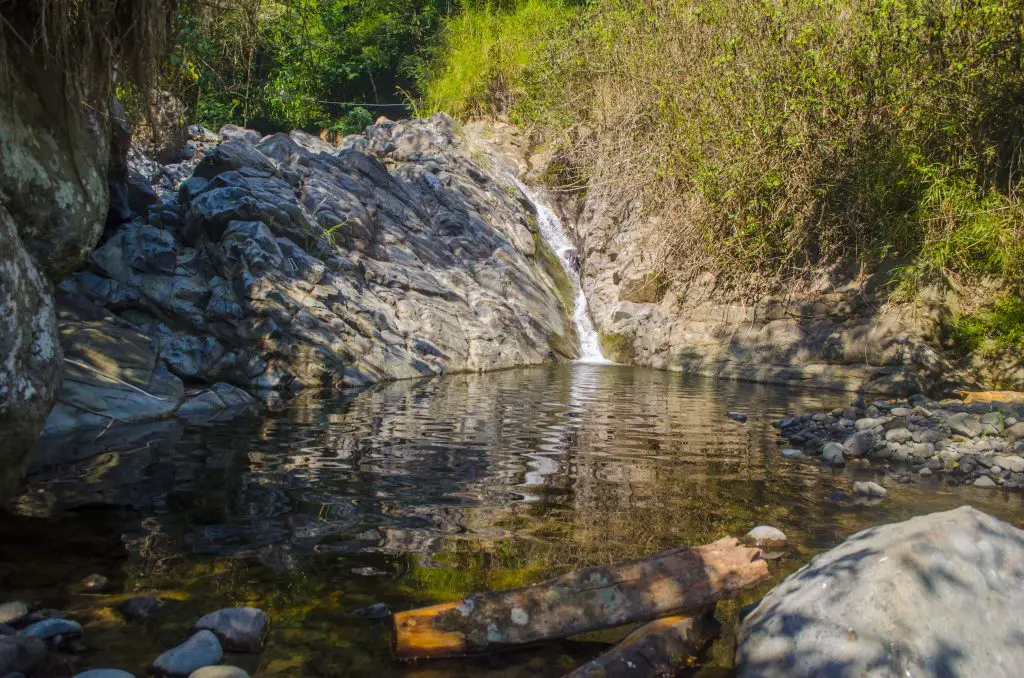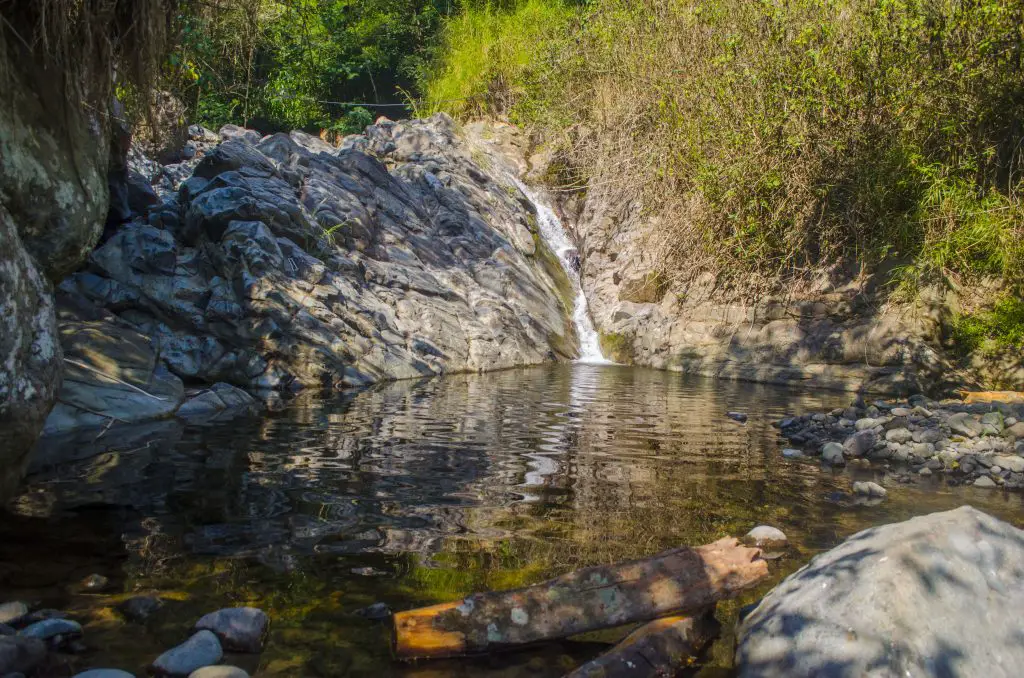 Obviously, the path is not yet fully established. However, nature did afford us with sights of relief and caressing atmosphere. While following the brook, we caught sight of small fishes and tadpoles. These are biological indicators of the brook's pristine condition. I just hope that such will be maintained. That is not only beneficial for the marine species but the locals who venture on it.
After almost an hour of a challenging trek, we finally reached Payogpog Falls!
Payogpog waterfall cascades lazily on a beautiful catch basin. The surrounding vegetation gives the pool its greenish appearance. From my estimation, the falls measures 30 feet high.
To my amazement, there were birds flying across the pool. I bet they are targeting the little tadpoles on the shallow pool.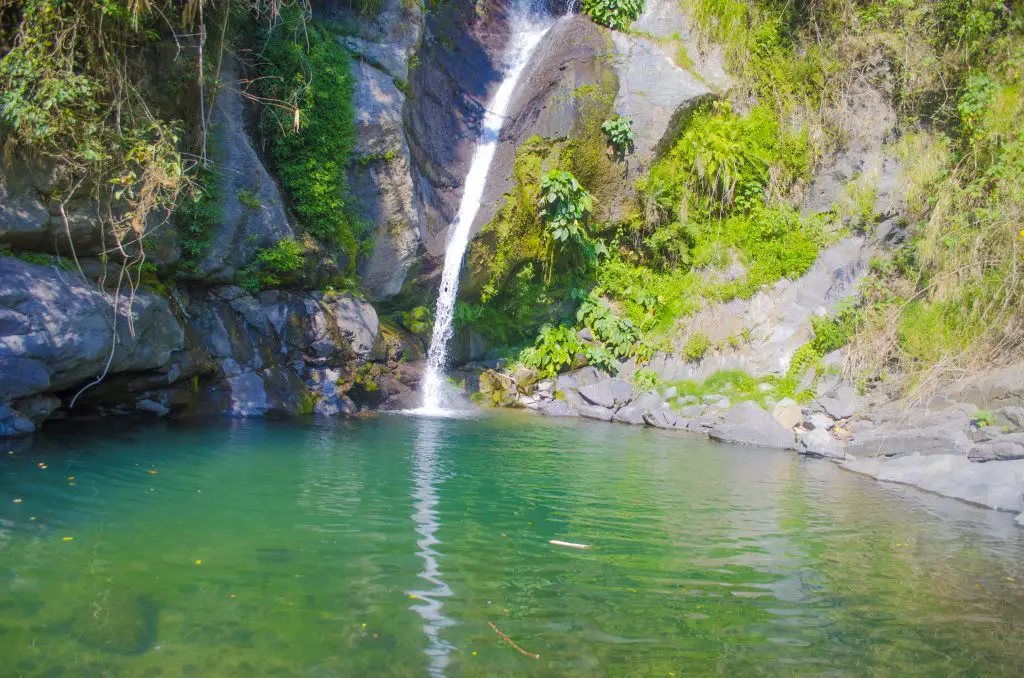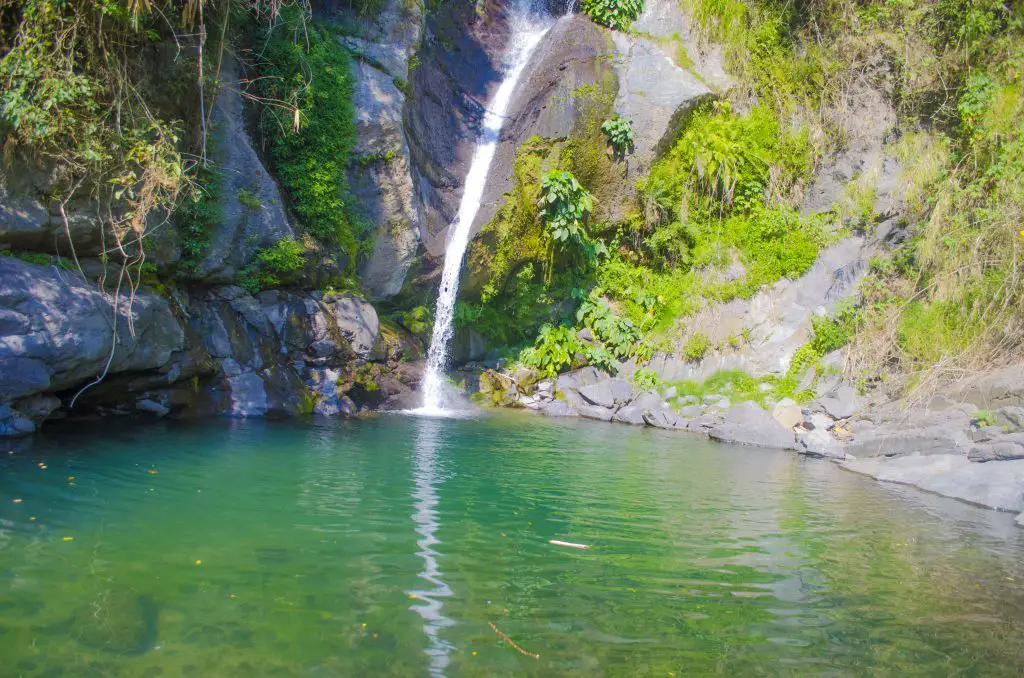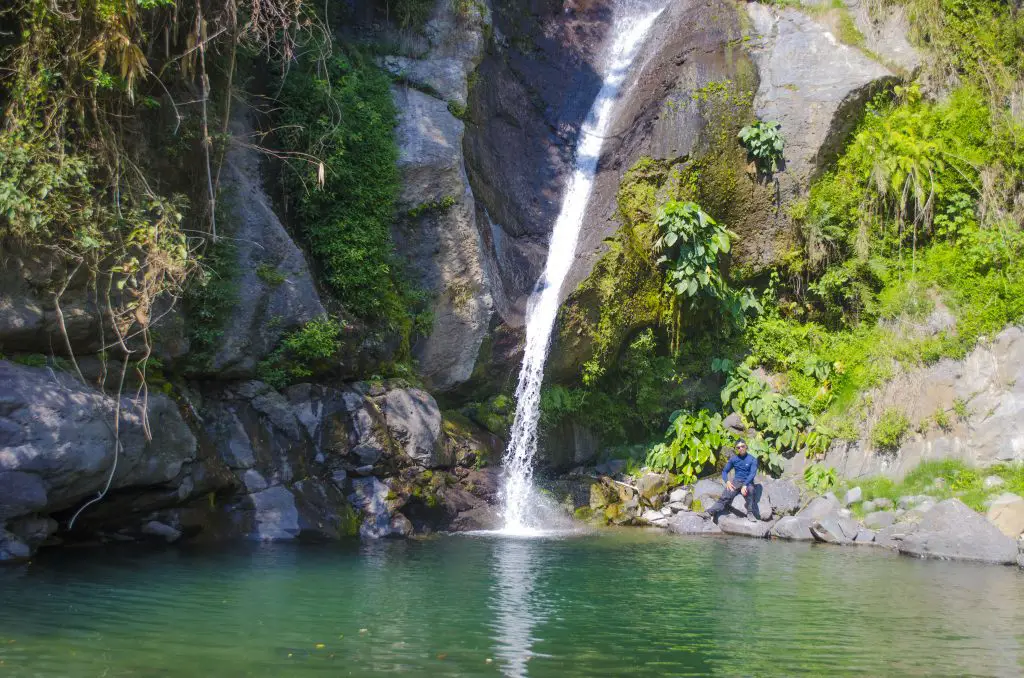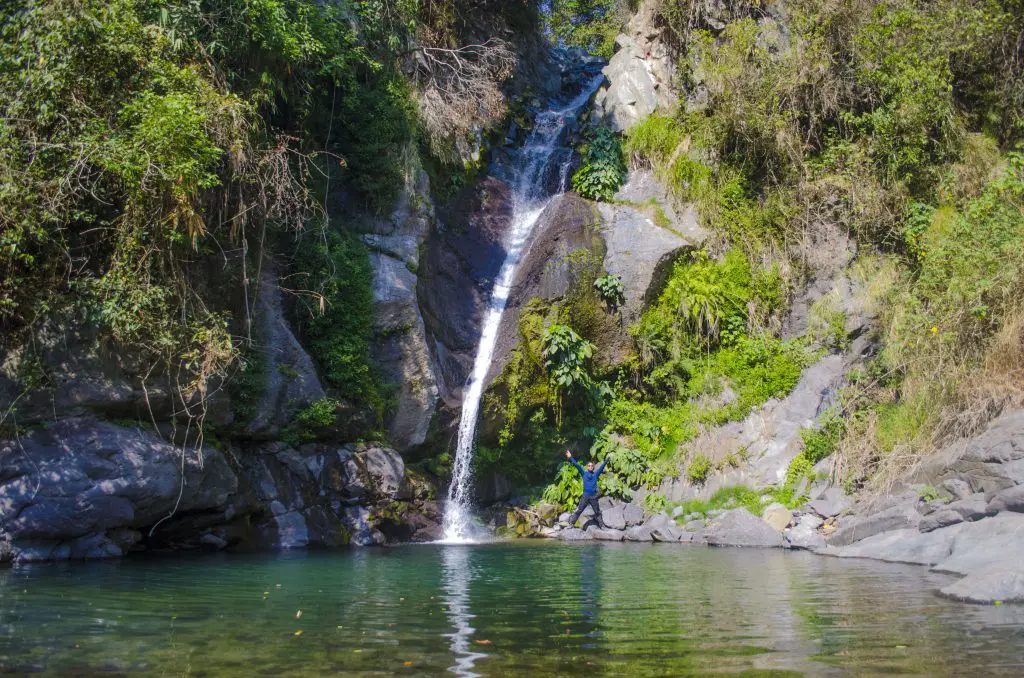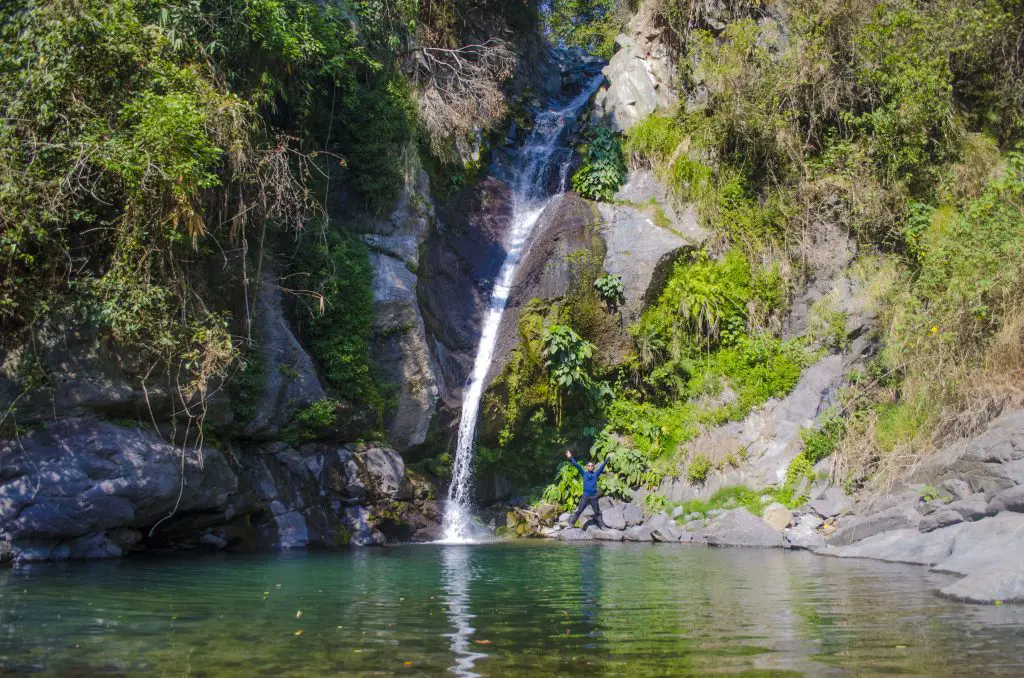 According to a local we met, it is best to visit Payogpog falls during the rainy months so one can witness the full strength and magnificence of the falls.
Next, Chasing Binanga Falls
After a while of gazing and relishing Payogpog Falls, we then hiked our way back to sitio Bito. From where the garage dropped us, we followed the road leading to the trailhead of Binanga falls. That took us around 10 minutes.
From the trailhead, we then followed a downhill and very steep trail. The soil was loose and dry. Because of that, I slipped twice. We had to walk slowly and hang unto plant leaves and branches.
After 15 minutes, we finally caught sight of Binanga falls. I've been here before but that time, the waters are murky because it just rained. This, we were in luck for a better view.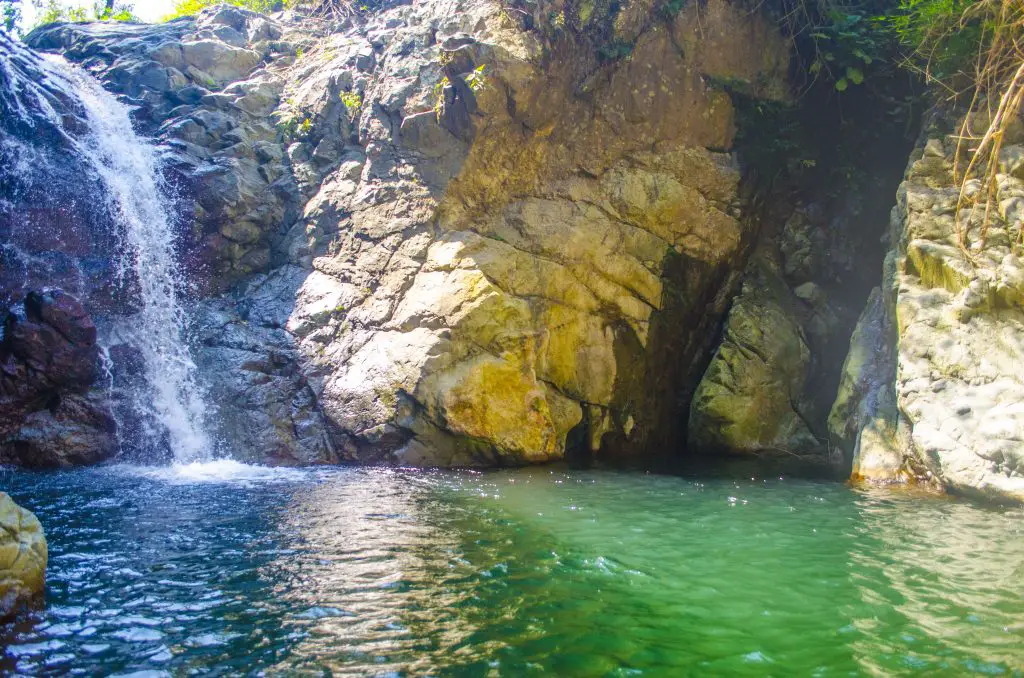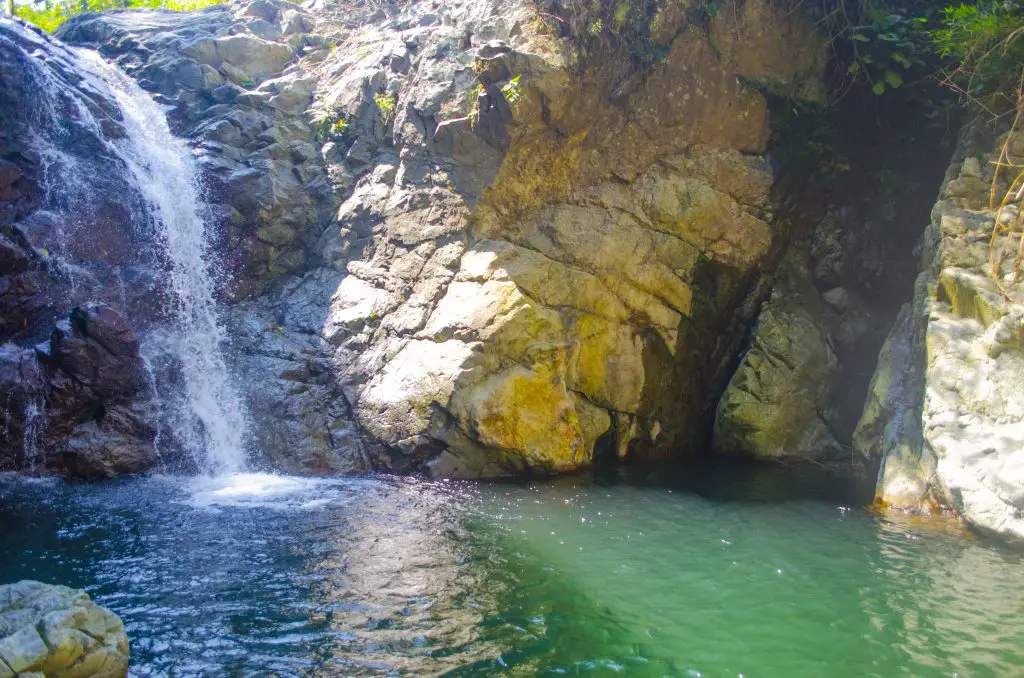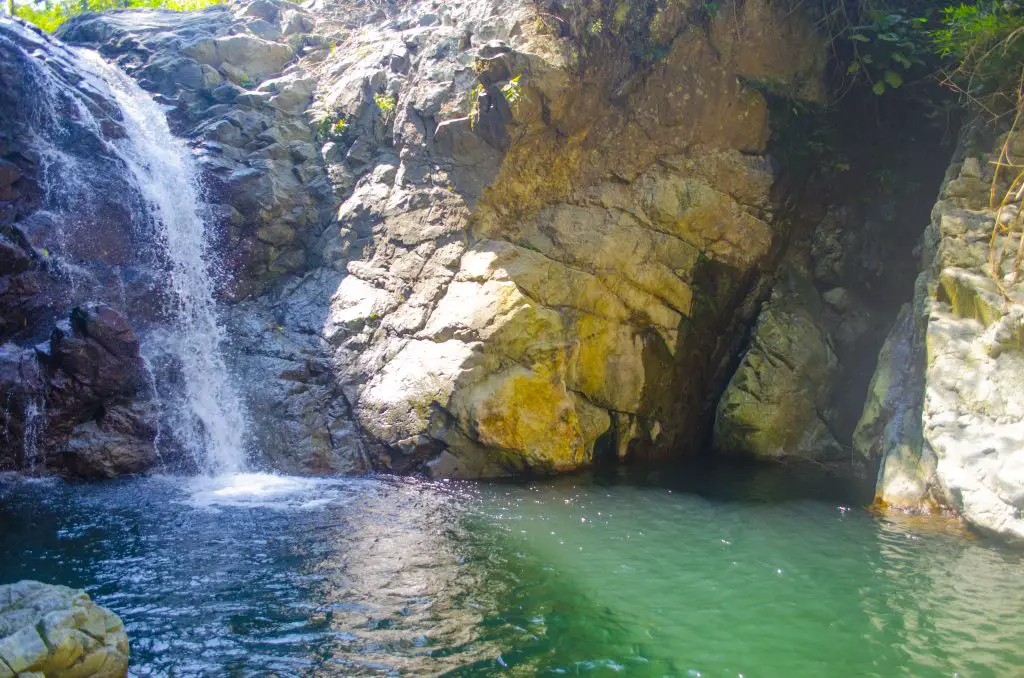 Binanga is derived from an Ibaloi term which literally means, "pot." It is named as such because the falls has a naturally-built pool resembling the shape of a pot. From what I know, there has been no actual measurement as to how deep the pool is. Exposed rock cliffs surround it. These are a good platform for jumping or diving into the pool.
Given my excitement, I could not help but eventually jump into the pool. And yes, it was freezing cold! I could almost feel my body freezing at first. However, I was able to slowly adapt to the cold waters and soon, became comfortable with it. How rejuvenating. I simply floated myself across the pool while relishing the invigorating touch and songs of nature.
Binanga falls is smaller compared to Payogpog Falls, measuring around 18 feet high. But it has a stronger water volume and a deeper pool. Dense forests also surround Binanga falls. I consider myself lucky to have witnessed a water bird scouring nearby.
Tips and Reminders:
The trails to Binanga falls and Payogpog Falls are not yet fully established so make sure to wear comfortable hiking shoes and clothes.
Always coordinate with the barangay officials when planning to visit these falls. The barangay hall is just some minutes away from the garage's station.
There are no registrations or environmental fees. These are still being finalized.
As much as possible, have a guide especially when going to Payogpog Falls. Coordinate with the local officials regarding this. If no one is available, ask the officials or the locals for the directory.
Exercise extra caution when going to the falls. Parts of the trails are steep and dangerous.
Don't ever litter. Let us help in maintaining the beauty of Binanga falls and Payogpog falls.
For More Info on Binanga Falls, Payogpog Falls
If you need more information that may be helpful in planning your itinerary to Binanga falls and Payogpog falls, do contact the local officials via the following:
09202254093 – Hon. Joel C. Kimpa-oy, Chair on Tourism
09092169707 – Hon. Jayson P. Balagot, Barangay Secretary
You may also post your queries on the comment section below or message us on our Facebook Page namely, Daniel's Eco-Travels. I will be glad to answer you whenever I can.