What are the can't-miss Cebu tourist spots to include in your travel itinerary? Read on to find out.
Nestled in the heart of the Philippines, Cebu is an enchanting island province that has long been regarded as one of the country's top tourist destinations.
Steeped in history, blessed with natural wonders, and surrounded by crystal-clear waters, Cebu offers a diverse array of attractions that cater to the interests of every traveler.
In this comprehensive guide, we will take you on an unforgettable journey through the best Cebu tourist spots including its off-beaten destinations and historical attractions.
1. Magellan's Cross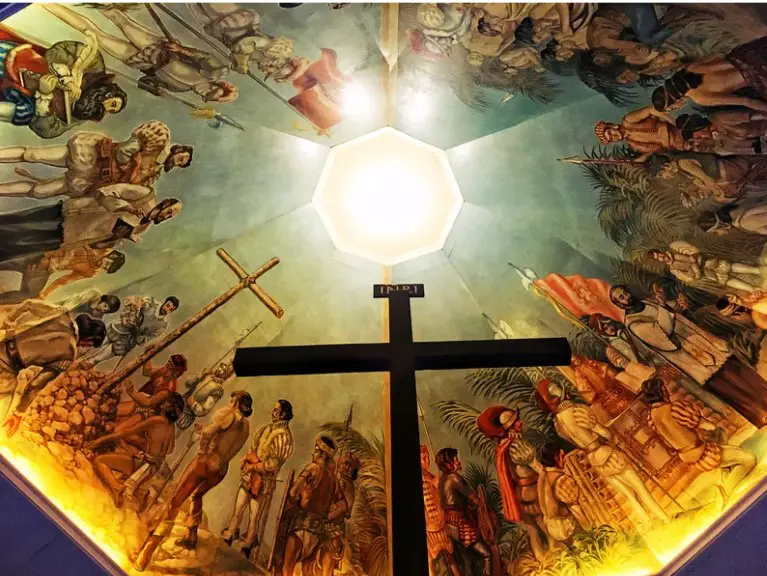 Our journey commences with a historical landmark that holds immense significance in Cebu's past – Magellan's Cross.
Located in the heart of Cebu City, this iconic site marks the spot where the Portuguese explorer Ferdinand Magellan planted a cross upon arriving in the Philippines in 1521.
The event symbolizes the introduction of Christianity to the archipelago, making it an important pilgrimage site for locals and a must-visit spot for tourists.
As you stand before the towering cross encased in a small chapel, you will be transported back in time, reflecting on the pivotal moment in history that forever shaped the cultural and religious landscape of the Philippines.
It is considered a historical Cebu tourist spot.
2. Basilica Minore del Santo Niño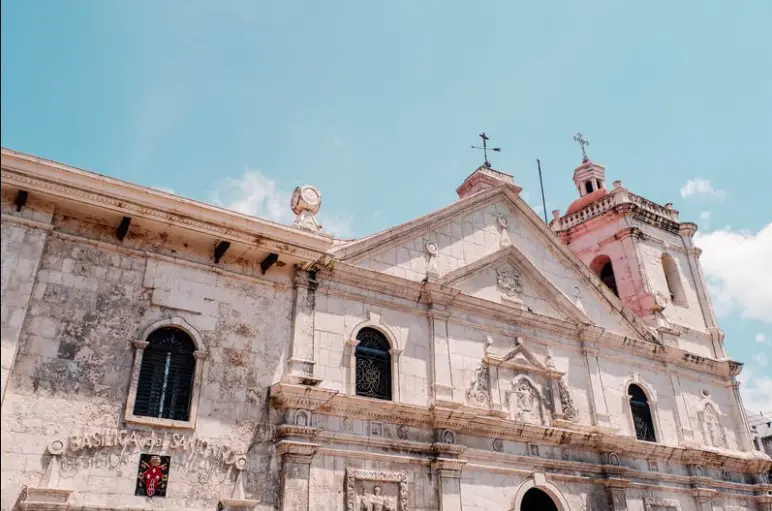 Adjacent to Magellan's Cross stands the majestic Basilica Minore del Santo Niño, a testament to Cebu's deep-rooted religious heritage.
As the oldest Roman Catholic church in the country, the Basilica houses the iconic statue of the Child Jesus (Santo Niño), which was gifted by Magellan to Queen Juana upon her baptism. This cherished relic is believed to possess miraculous powers, drawing thousands of devotees and pilgrims every year.
As you step inside, the grandeur of the church's architecture and the solemnity of its interior will leave you in awe, evoking a sense of reverence and spirituality.
3. Fort San Pedro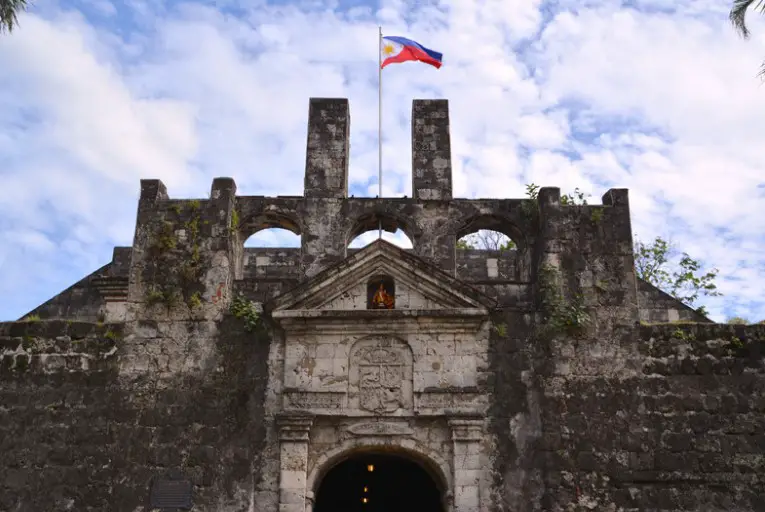 For history enthusiasts, a visit to Fort San Pedro is a must. Located in Cebu City, this 16th-century bastion fort is a tangible reminder of Cebu's colonial past.
Originally built by Spanish conquistadors under the command of Miguel López de Legazpi, the fort served as a defensive structure against pirates and local uprisings during the Spanish colonial era.
As you explore the well-preserved ramparts, gardens, and cannons, you'll gain insight into the island's tumultuous history and the strategic importance of Fort San Pedro in shaping the course of events.
4. Taoist Temple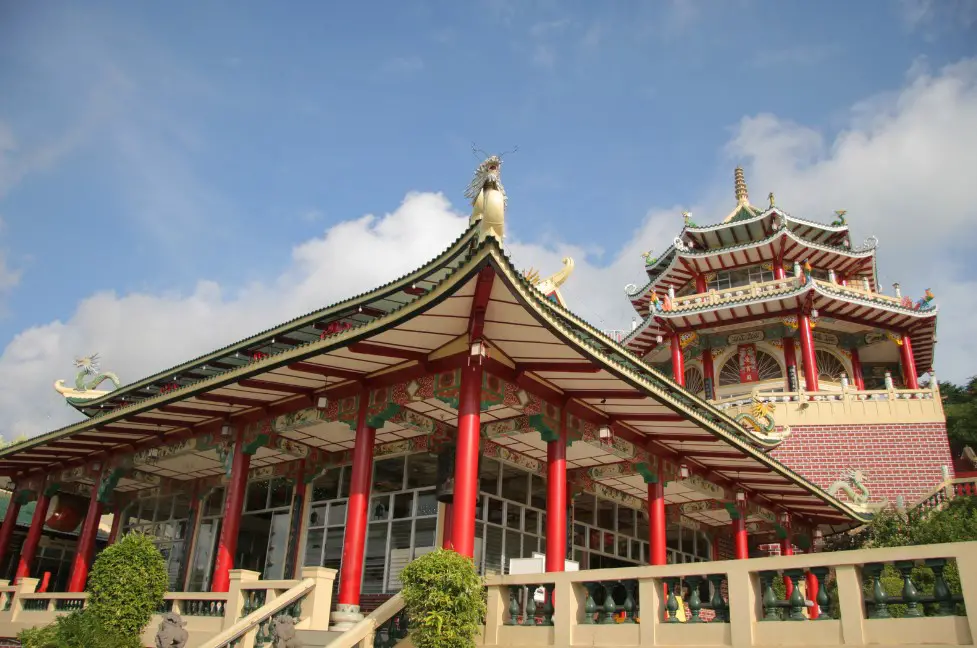 Perched atop the hills of Beverly Hills Subdivision, the Taoist Temple is a captivating cultural landmark that offers a unique spiritual experience.
Modeled after traditional Chinese architecture, this ornate temple boasts vibrant colors, intricate carvings, and stunning panoramic views of Cebu City and its bustling surroundings.
Visitors are encouraged to climb the 81 steps, symbolizing the 81 chapters of the Taoist scriptures, to reach the temple's main hall.
Here, one can partake in rituals, such as lighting incense sticks and making wishes, providing an immersive glimpse into Taoist practices and beliefs.
5. Tops Lookout
To witness one of Cebu's most spectacular sunsets, head to Tops Lookout, located at the highest point of Cebu City.
As the day draws to a close, the city's lights begin to twinkle, and the sky transforms into a canvas of vibrant colors. Couples, families, and photography enthusiasts gather here to capture this breathtaking sight and savor the romantic ambiance.
Whether you visit Tops Lookout during the day or night, the panoramic vistas of the city, the surrounding islands, and the vast ocean will leave you mesmerized.
6. Oslob Whale Shark Watching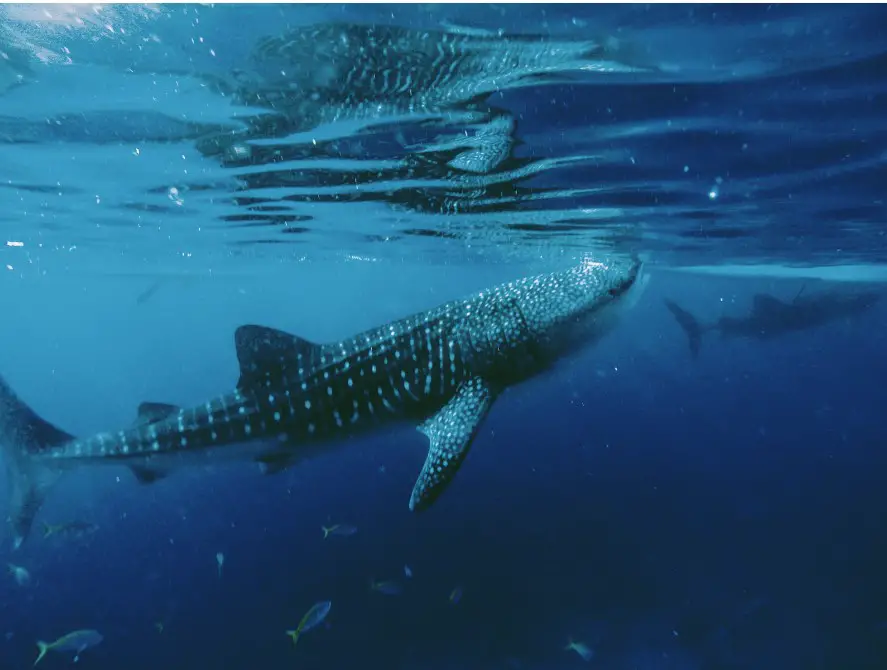 Embark on an extraordinary adventure in Oslob, located in the southern part of Cebu, where you can witness the graceful giants of the sea – the whale sharks.
Known as "Butanding" in the local dialect, these gentle giants come to feed on the plankton-rich waters of Oslob, providing an unforgettable opportunity for travelers to swim alongside them.
While the whale shark watching activity has garnered both praise and criticism for its environmental impact, efforts are being made to ensure responsible and sustainable tourism practices to preserve these majestic creatures and their natural habitat.
7. Kawasan Falls
Hidden amidst the lush greenery of Badian, Kawasan Falls beckons nature lovers and adventure seekers alike.
As you trek through the tropical forest, the sound of cascading water grows louder, leading you to a paradise of turquoise-blue waters surrounded by verdant vegetation.
Kawasan Falls is a multi-tiered wonder, with the main waterfall standing at an impressive 40 meters tall. Visitors can take a refreshing dip in its cool, clear waters, or opt for an adrenaline-pumping canyoneering adventure, navigating through canyons, cliffs, and natural water slides.
8. Moalboal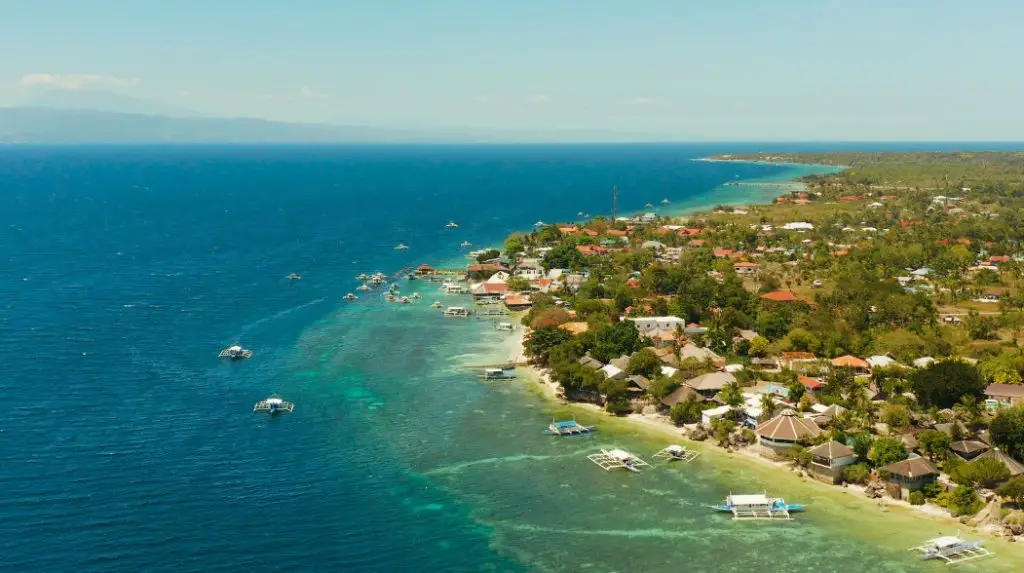 Situated along Cebu's southwestern coast, Moalboal is a haven for diving and snorkeling enthusiasts. Its vibrant coral reefs and diverse marine life, including the famous sardine run, make it a mecca for underwater explorations.
Dive into the azure waters and witness the breathtaking spectacle of millions of sardines moving in unison, creating a mesmerizing dance that has earned Moalboal international acclaim as one of the best diving spots in the world.
9. Pescador Island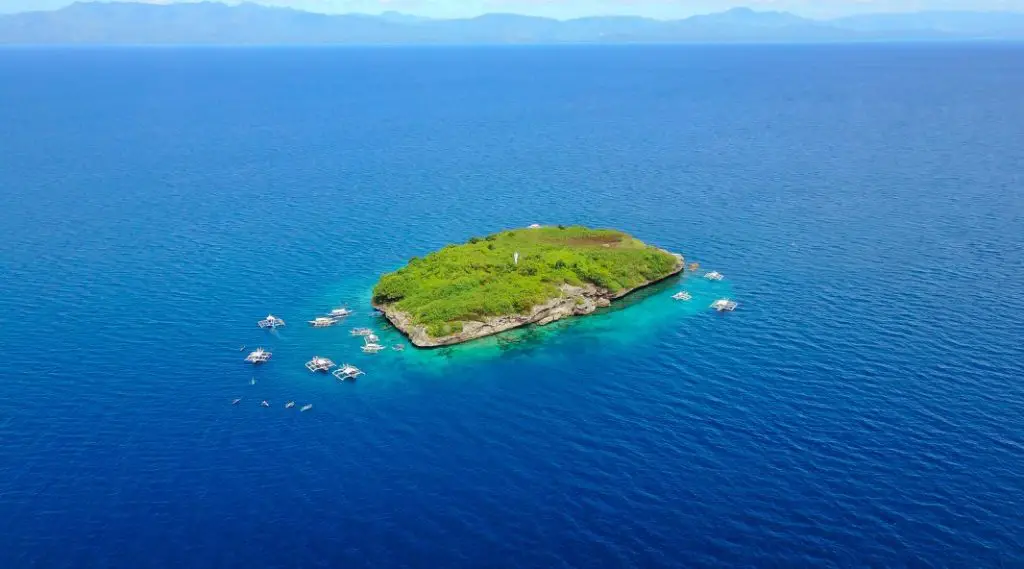 Just a short boat ride away from Moalboal, Pescador Island awaits your discovery. This small island is a marine sanctuary brimming with life, offering divers and snorkelers the chance to encounter sea turtles, colorful coral formations, and an abundance of marine species.
The highlight of a visit to Pescador Island is the opportunity to swim with the swirling sardines, creating a surreal experience as the school of fish moves gracefully in harmony.
10. Malapascua Island
Malapascua Island, situated off the northern tip of Cebu, boasts postcard-perfect beaches and a laid-back ambiance, making it an idyllic tropical retreat.
The island is renowned for its dive sites, particularly Monad Shoal, where early morning dives provide a chance to spot thresher sharks.
Beyond the underwater wonders, Malapascua's warm hospitality and serene atmosphere invite travelers to unwind and bask in the natural beauty of the island.
11. Bantayan Island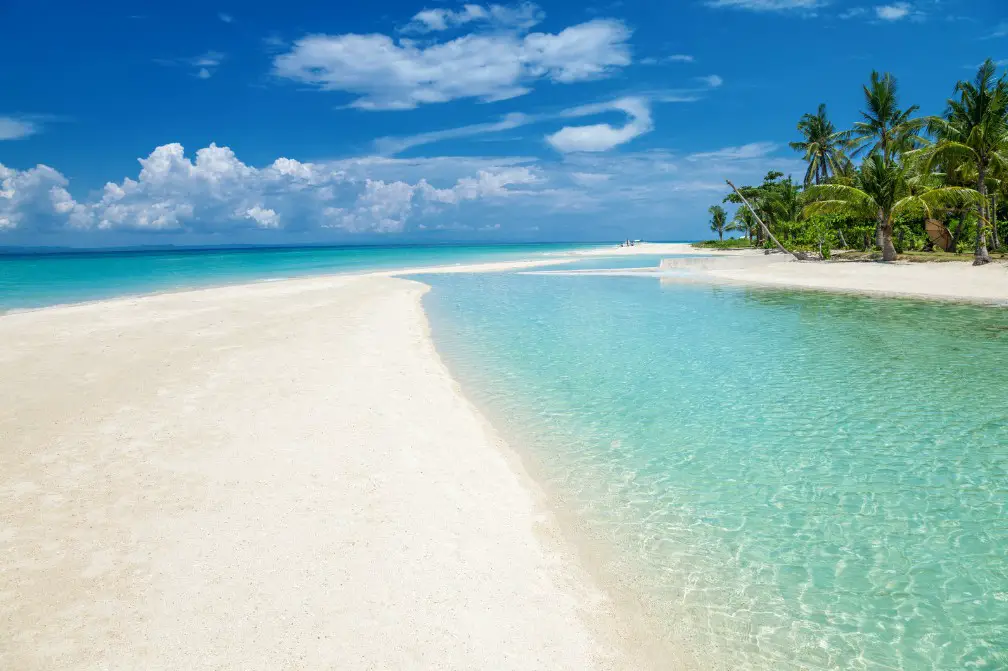 Regarded as the "Little Boracay" of Cebu, Bantayan Island is a paradise of pristine beaches, azure waters, and swaying palm trees.
Located in the Visayan Sea, the island's laid-back charm and friendly locals make it a favorite destination for travelers seeking relaxation and tranquility.
Spend your days lounging on the soft sands, snorkeling in the clear waters, and savoring delicious seafood freshly caught from the surrounding seas.
12. Camotes Islands
Comprising four idyllic islets – Pacijan, Poro, Ponson, and Tulang – the Camotes Islands offer a serene escape from the crowds.
With relatively fewer tourists, this hidden gem is the perfect destination for those seeking off-the-beaten-path adventures.
Explore the magical landscapes, including underground caves, pristine lagoons, and secluded beaches. Enjoy island hopping, discover local traditions, and immerse yourself in the unspoiled beauty of this lesser-known paradise.
13. Sirao Flower Farm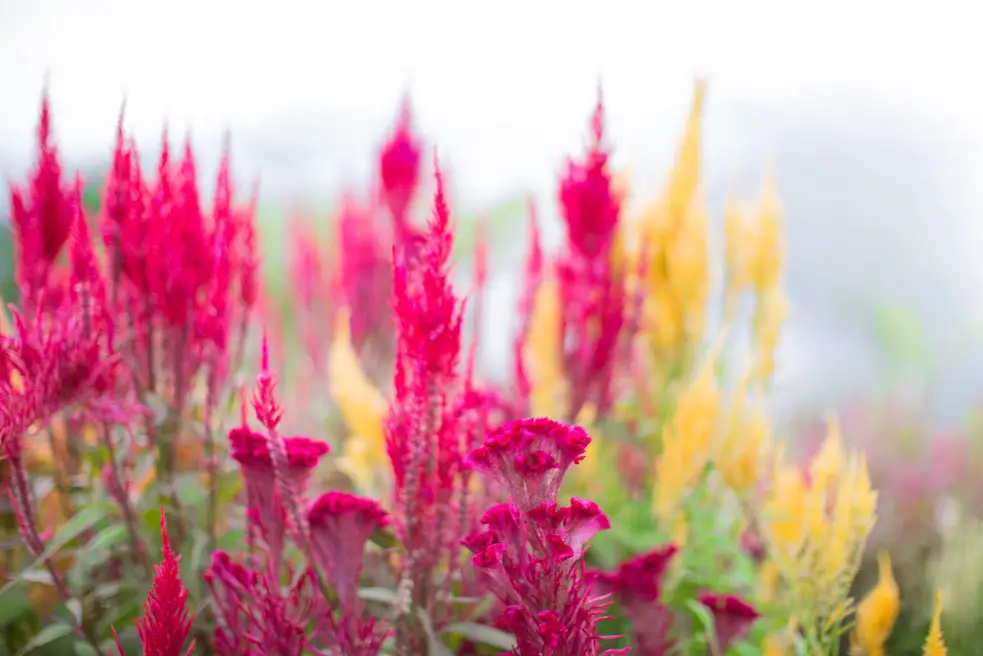 A feast for the senses awaits at Sirao Flower Farm, often referred to as the "Little Amsterdam of Cebu." Situated in the highlands of Busay, this charming flower garden features a riot of colors from a myriad of blooms.
Stroll through the rows of vibrant flowers, capturing Instagram-worthy photos against the stunning backdrop of blossoms in full bloom. The farm's beauty is at its peak during the cooler months of December to February.
14. Olango Island Wildlife Sanctuary
Nature enthusiasts and avid birdwatchers will find solace at the Olango Island Wildlife Sanctuary, located off the eastern coast of Mactan Island.
Designated as a critical habitat for migratory birds, this ecological haven hosts thousands of avian species during their annual journey from the colder regions of the world.
Visitors can explore the bird sanctuary via guided tours and observe the majestic migratory birds, including egrets, sandpipers, and herons, as they seek refuge in the sanctuary's wetlands.
15. Cebu Safari and Adventure Park
Tucked away in the mountains of Carmen, the Cebu Safari and Adventure Park offers an exhilarating experience for families and adventure seekers alike.
Covering over 170 hectares of land, this sprawling sanctuary houses an extensive collection of animals from around the world, including giraffes, tigers, zebras, and exotic birds.
The park's safari rides and animal encounters allow visitors to get up close with these magnificent creatures, fostering an appreciation for wildlife conservation and the importance of protecting endangered species.
16. Temple of Leah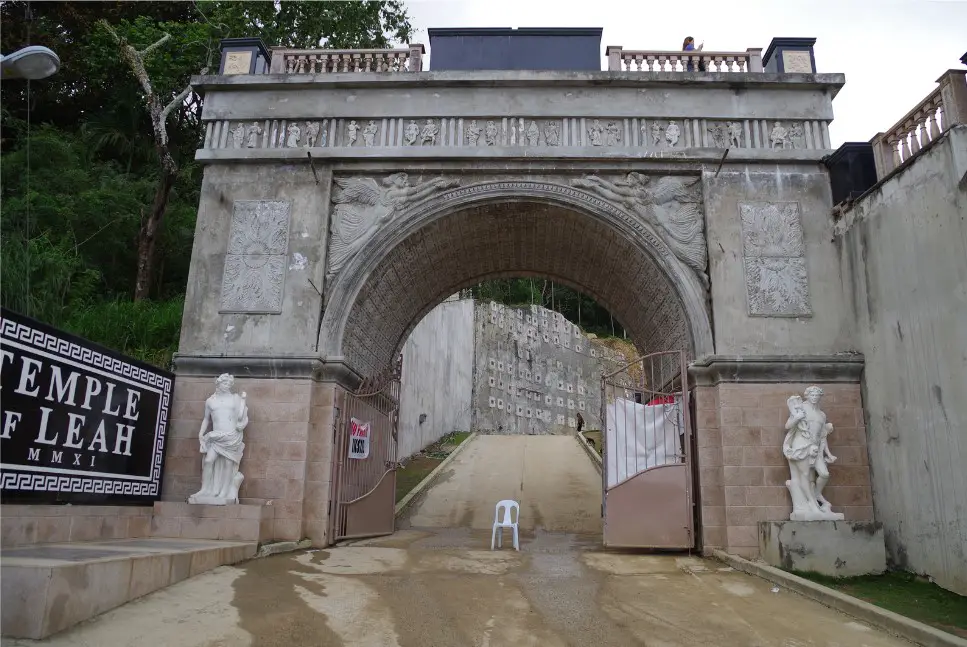 A grand gesture of love and devotion, the Temple of Leah is a Greco-Roman-inspired architectural marvel. Built by Teodorico Adarna, a Cebuano businessman, as a tribute to his late wife, Leah, the temple stands as a symbol of undying love and everlasting memories.
As you explore the temple's intricate halls and adorned rooms, you'll discover an array of art pieces, sculptures, and antique collections, each holding a story that reflects the life of Leah and her husband's unwavering affection.
17. Heritage of Cebu Monument
Located in Parian, Cebu City, the Heritage of Cebu Monument is a visually stunning and intricate tableau that encapsulates Cebu's rich history and cultural heritage.
The monument depicts significant events and figures, such as the arrival of Ferdinand Magellan, the baptism of Queen Juana, and other key moments in Cebu's past.
Sculpted by national artist Eduardo Castrillo, the monument serves as an open-air museum that educates visitors about the city's vibrant past while providing an excellent backdrop for memorable photographs.
18. Simalar Shrine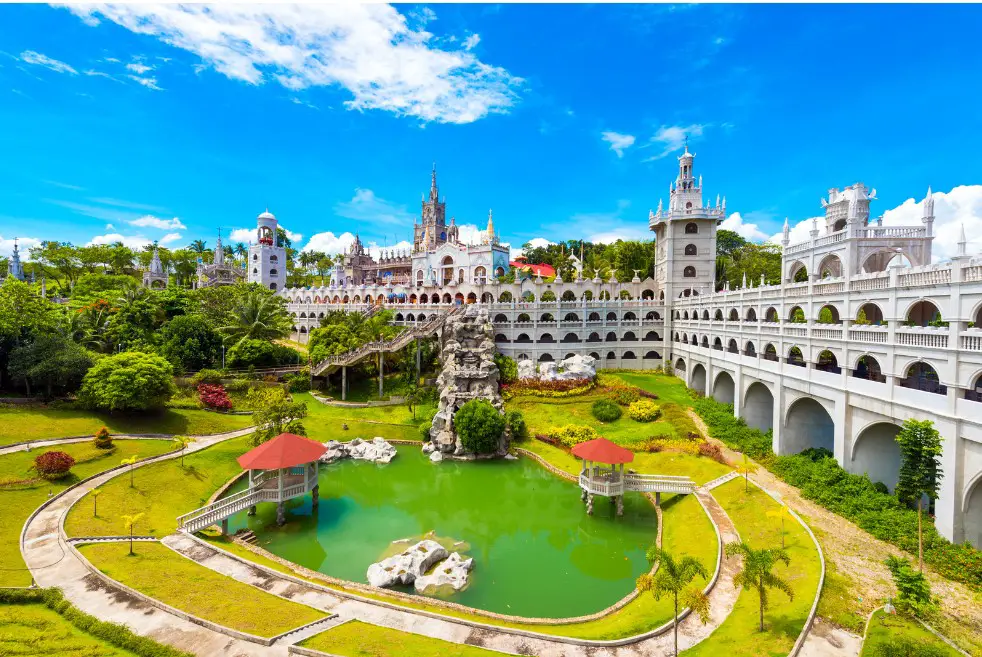 Simala Shrine may not seem like it but it is in fact, a church, attracting Catholic pilgrims. Its stunning architecture resembles ancient castles in Europe. This makes it one of the most iconic Cebu tourist spots.
Marvel on the shrine's design and surrounding landscape or pray inside for blessings and guidance. Masses are also celebrated here so make sure to pay respect.
19. Mactan Island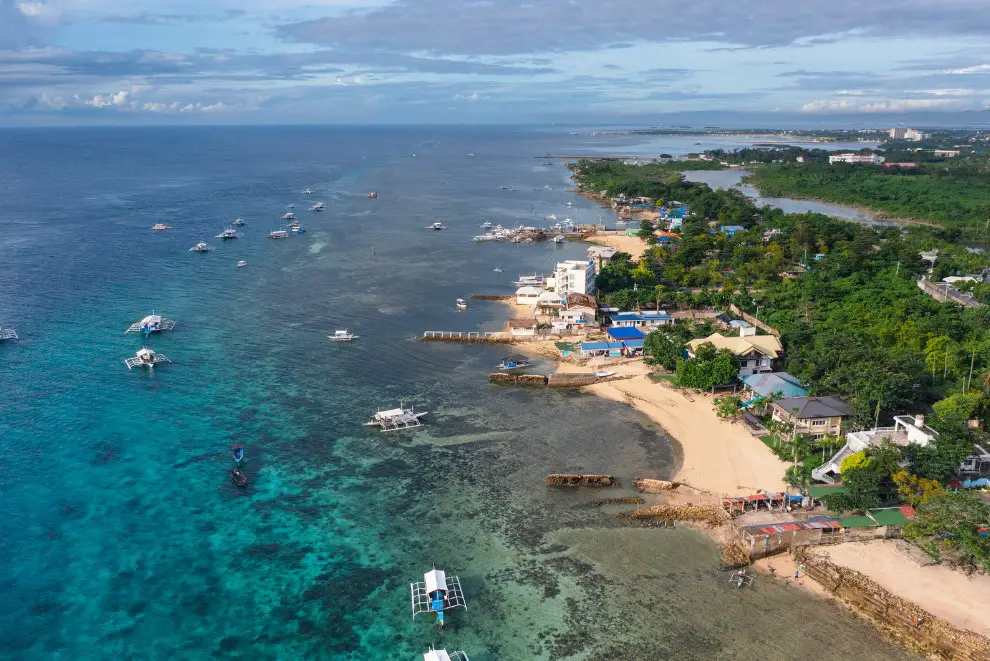 As we conclude our exploration of Cebu's top tourist spots, we cannot overlook the historical significance and beauty of Mactan Island.
Connected to mainland Cebu by two bridges, Mactan is renowned for its white sandy beaches, luxury resorts, and water sports activities.
Mactan's historical significance lies in the Battle of Mactan, where the local chieftain, Lapu-Lapu, famously defeated Magellan in a skirmish, resulting in the explorer's untimely demise. Today, the Lapu-Lapu Shrine stands as a tribute to the brave Mactan chieftain.
Beyond its history, Mactan offers an array of water-based activities, such as island hopping, jet skiing, and scuba diving.
The island's pristine beaches, crystal-clear waters, and vibrant marine life ensure that every visit to Mactan is an unforgettable experience.
Cebu, the Queen City of the South, is indeed a treasure trove of enchanting tourist spots that captivate travelers from near and far.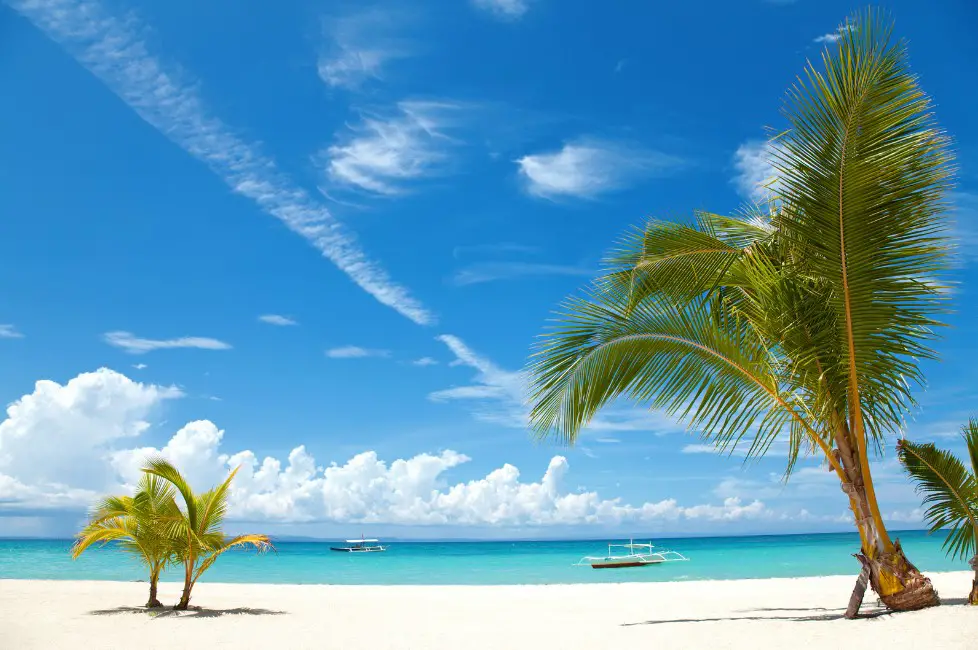 Whether you're a history buff, a nature enthusiast, an adventure seeker, or a lover of culture, Cebu offers a kaleidoscope of experiences to suit every taste.
From the historical landmarks in Cebu City to the stunning marine life in Moalboal and Malapascua, from the serene beauty of Bantayan and Camotes Islands to the vibrant colors of the Sirao Flower Farm, Cebu delights visitors with its multifaceted allure.
As you embark on your journey to explore the best Cebu tourist spots, prepare to be mesmerized by the island's rich heritage, breathtaking landscapes, and warm hospitality. Let Cebu weave its magic, leaving you with cherished memories and a yearning to return to this enchanting paradise time and time again.
Have you been to this island? Feel free to share us your favorite Cebu tourist spot in the comment section below.