Here is your complete DIY travel guide to Towing Falls, one of the hidden tourist spots in Sablan, Benguet.
Whenever boredom strikes, the first thing that comes to my mind is to travel. That has always been my way of escaping realities and reconciling myself to my inner core. I was in college then when one time, the tons of assignments and extra-curricular responsibilities just took their toll on me that I felt too exhausted. Out of nowhere, that adventurous instinct convinced me to reconnect with nature. Alas, I decided to visit Towing Falls in Sablan.
I have been hearing about it previously and I even saw stunning photos of it. "This must be an ultimate getaway for thrill, fun, and adventure," I told myself. Surely, I didn't want to go on a new territory all by myself that time. So I invited my best friend Mecka and yeps, he readily agreed.
We set off from Baguio City with swelling eagerness and anticipation.
Quick Facts:
Towing Falls Address: Sitio Towing, Brgy Lower Poblacion, Sablan
Travel Time: 30 minutes from Baguio City
Trekking Time: 15 minutes to the falls from the jump-off trail
Entrance Fee: Donation
READ: Binanga Falls: How to Get There, What to Expect
How to Get to Towing Falls from Baguio
Here are two options to take if you're planning to go to Towing Falls via commute from Baguio City.
Option I
Ride on any of the buses bound to La Union, Ilocos Sur, and Abra. They have stations at Governor Pack Road (just below SM Baguio and alongside Upper Session road) and Otek Street. I would recommend Partas Bus if you wish convenience. The minimum fare is Php 60 per person for a one-way trip.
Don't forget to tell the driver to drop you by the Municipal Town.
Take note, however, that during peak days, some buses would prioritize only passengers bound to their destinations. So if this is the case, try the second option.
Option II
Ride any of the regular jeepney trips to Sablan. The station is at Otek Street in front of Puregold Otek. Fare is Php 35 per person for a one-way trip.
I and Mecka chose this option because we wanted to interact with the locals and hear stories about Towing Falls. Besides, it's cheaper (hehe).
It took us around 30 minutes of ride before finally reaching the jump-off point to Towing Falls. That's already past the municipal town center.
Trekking to Towing Falls Sablan
At the jump-off trail, you'll find Toing Store. Beside it is the trail leading all the way down to Towing Falls.
When we arrived there, we chanced on some locals who happily pointed the trail to the waterfall. Although there is no entrance fee at that time, we had to register for proper documentation.
Lately, however, the local tourism implemented a new guideline that registration should be done at the Poblacion Barangay Hall on weekdays. During weekends, registration should be at the Municipal Hall or at the Sablan Municipal Police Station.
For a group especially those new to the to the community, a local guide is required to ensure safety and security.
With bursting excitement, we then dashed our way, passing along citrus farms and some secondary forests. Mind you. Although the path is paved, it runs on steep terrains so trek with caution as it is also slippery especially during wet months.
Because we ran with caution (hehe), it took us just about 5 minutes to reach the waterfall.
Behold Majestic Towing Falls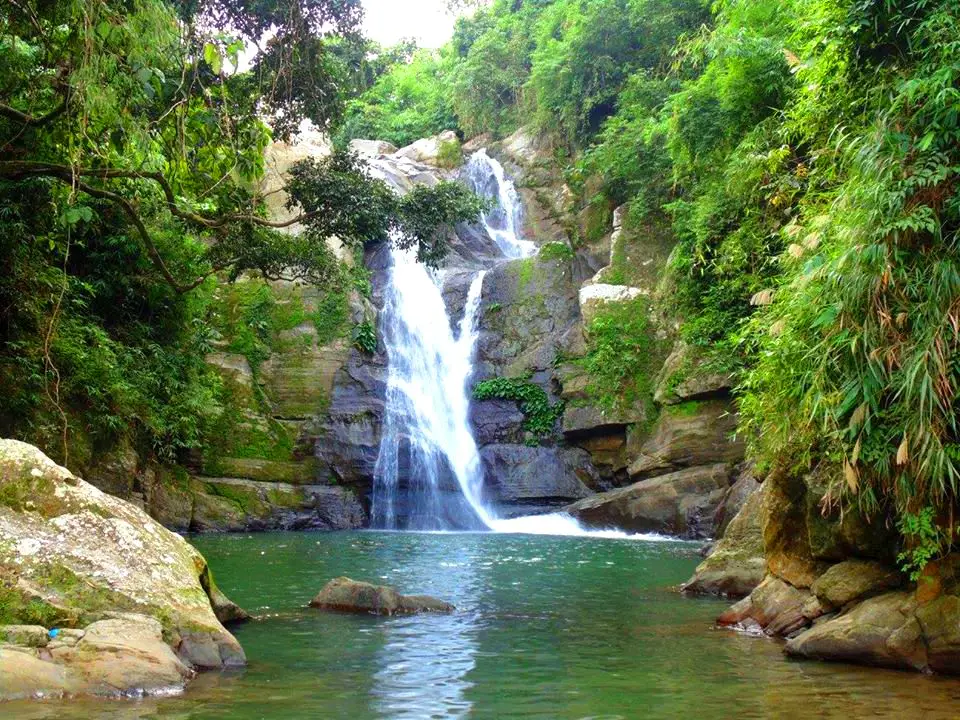 Upon seeing the waterfall for the first time, I tell you, I was blown away in sheer amazement. Seeing it cascade on a scenic cliff like a bridal veil immediately relieved me of unwanted thoughts and pressures. It's indeed a majestic beauty with a height of more than 120 feet.
That's for the main layer. Yes, Towing Falls is multi-layered with three picturesque waterfalls in all. The main waterfall is the third layer and from the edge of its pool, you can see both the second and first layers below. There is a separate trail you need to follow to get to the first waterfall.
The main Towing Falls is the highest and it has a very wide and deep pool. Up to this day, there is no official measurement of the pool's depth but looking at its very greenish appearance, I bet it's very, very deep. That is why it's not advisable for non-swimmers. Local officials also encourage visitors to swim only on the shallow parts since there were previous drowning incidents.
But since I and Mecka were both aching for adventure, we immediately dived into the pool. We then braved our way and swam towards the base of the waterfall. We climbed on concave rocks and had the cascading waters give us rejuvenating massage.
What a great way to relieve us from the daily hustles and bustles. Nature really is the best therapy for me.
Tips and Reminders
Best to come here with companies both for fun and safety purposes.
Don't forget to register at Toing Store beside the jump-off trail.
Do take caution when swimming in the deep pool. If you're a non-swimmer, just stay on the shallow parts.
Please don't litter. That's basic. Let us all help in keeping Towing Falls clean and green.
Enjoy. Enjoy. Enjoy. Make the most out of your visit to relish nature and reconnect with your inner self.
Personal Rants and Musings
Towing Falls is indeed a pride of Sablan municipality. Its unrivaled beauty makes it an ideal getaway near Baguio City and outside the bustling Metro Manila metropolis. Aside from the breathtaking view of the waterfall, the rustic surroundings are added sights to see. You can even spot wildflowers and orchids along the way.
Sadly, we noticed that there are plastic bottles and food packaging littered along the trail. There are also broken glasses on one of the boulders surrounding the pool. Good thing, we did not step on it given our excitement to swim.
While we all want to appreciate and relish the beauty of Towing Falls, it's imperative that we likewise manage it properly and give it due respect by simply disposing our garbage properly.
Hoping the local authorities will revitalize measures and policies to sustainably manage Towing Falls. Let us all be a part of that.
For Your Information
If you need more information to help in setting up your itinerary to Towing Falls, contact the Sablan Municipal Tourism Office via the following: