What are the must-see attractions on Mt. Yangbew, also called Mt Jumbo? Read on to find out and learn the best things to do.
La Trinidad, the capital town of Benguet, is more than just a home to the famous strawberry farms. It is also a mountaineering hub. One of its rising destinations is Mount Yangbew. It is the tallest mountain in the municipality and is also most frequented by local hiking enthusiasts.
An adventure-filled weekend afforded me and two buddies the opportunity to assault this mountain once more. Yep, I have climbed it at least twice while I was in college. But I just love doing it again and again especially when my wanderlust strikes (as it always does).
Quick Facts
Major Jump-Off: Sitio Binat, Barangay Tawang, La Trinidad
Elevation: 1648 meters above sea level (MASL)
Trekking Time: 30 minutes to the summit
Difficulty: Minor Climb, Trail Class 2, 2/9
Special Features: Grassy Summit, Limestone formations, Views of La Trinidad and Baguio City, Horseback Riding, Sunrise
Mt Yangbew Directions from Baguio
The easiest and most convenient way to reach the jump-off of Mt. Yangbew is via a taxi. The jump-off is located at Sitio Binat in Barangay Tawang, La Trinidad.
If you are coming from Baguio City, you'll reach the jump-off in 20-30 minutes via taxi. Fare ranges from Php 170 – Php 200. Make sure the driver is familiar with the destination, otherwise, you can use Waze or Google Maps to find the best routes.
At the jump-off, you'll find signage of Mt. Yangbew along the road. The registration booth is also there.
On the Trail to Mt Yangbew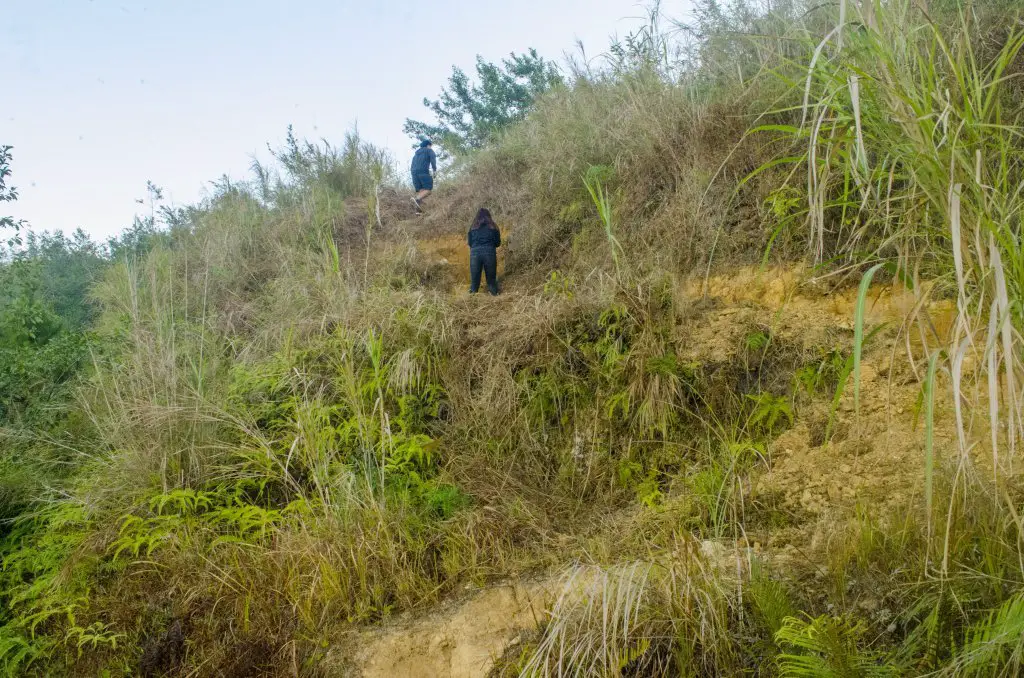 Because I and my two buddies wanted to catch the sunrise atop Mt Yangbew, we rendezvoused early in front of the Municipal Building. From here, we followed a pathway passing through Brgy Balili until we reached the trailhead at Sitio Binat.
The path to the zenith of Mt Yangbew is well-established and there is actually, no need for a guide especially if you're an experienced hiker.
From the trailhead, we followed a cemented road for about 5 minutes. What follows this is an unpaved trail all the way to the summit. Because it did not rain for the past weeks, the earth was loose and slippery. What more if it's rainy and wet? Fortunately, there are detour trails alongside.
The trek is pretty much easy. Well, that's for me since I have been used to even more extreme hiking. Frankly, anybody can actually assault the mountain without so much sweat and effort. Even beginners can do so. In fact, there are people who simply jog all the way to the top.
All in all, it took us 20 minutes to reach the top from the trailhead.
And we were just in time for the sunrise.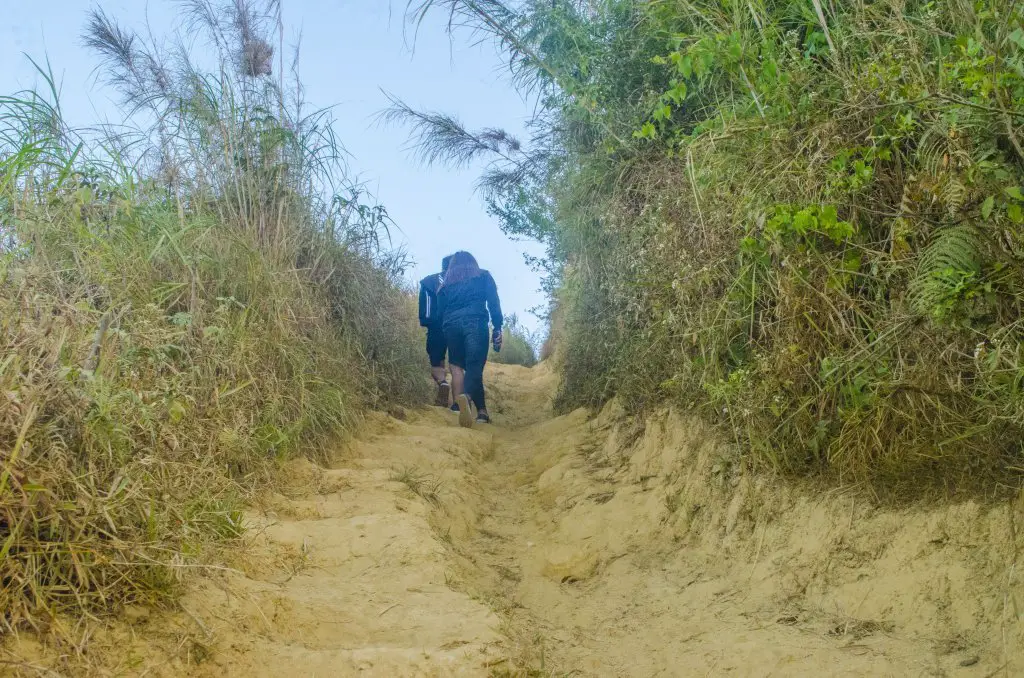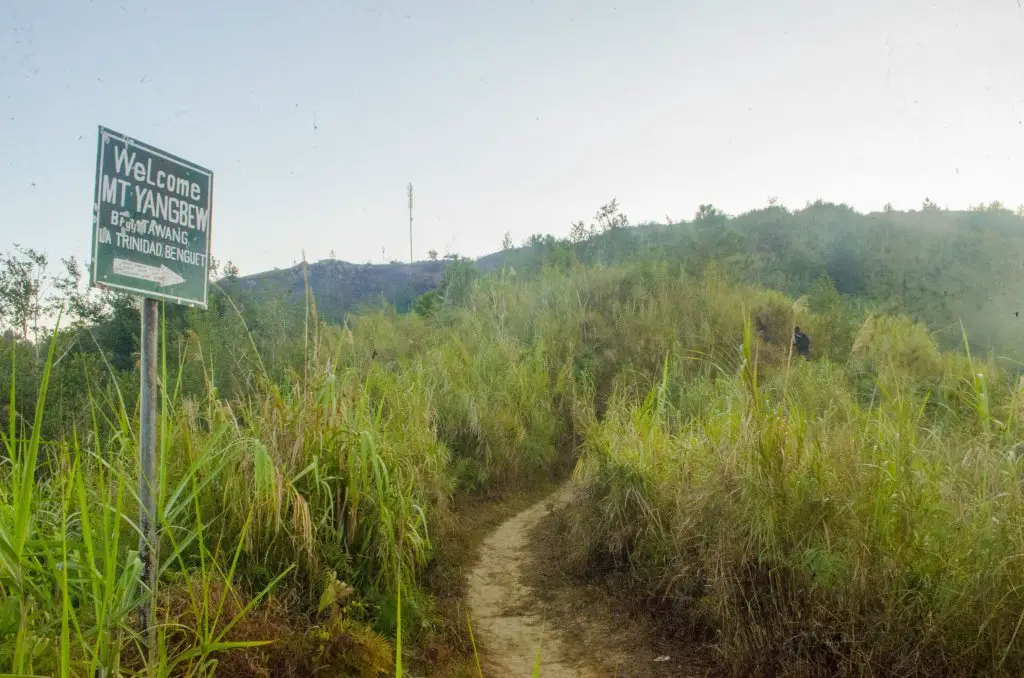 What to See Atop Mt Yangbew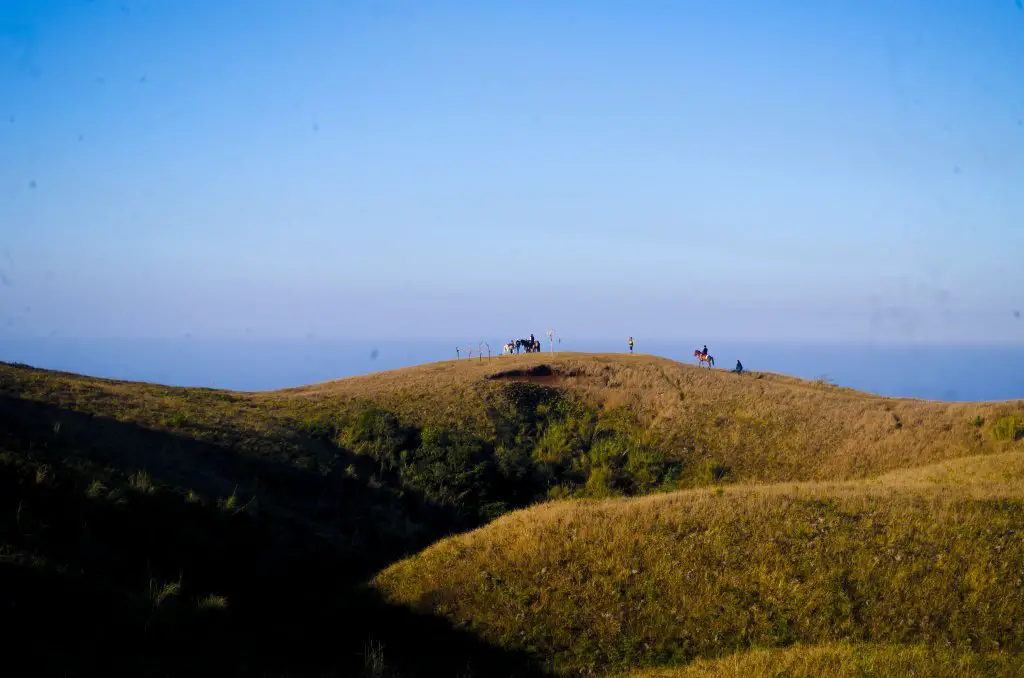 As the sun slowly rose from a distance, its glaring rays slowly unraveled magnificent views of the surrounding mountains.
From Mt Yangbew's summit, we caught a bird's eye view of La Trinidad Valley and neighboring Baguio City. The distant peaks of Mt. Pulag in Kabayan and Mt. Santo Tomas in Tuba are also visible from here.
Grasses and a few shrubs cover the summit of Mt Yangbew. That is why locals call it junior Mt. Pulag.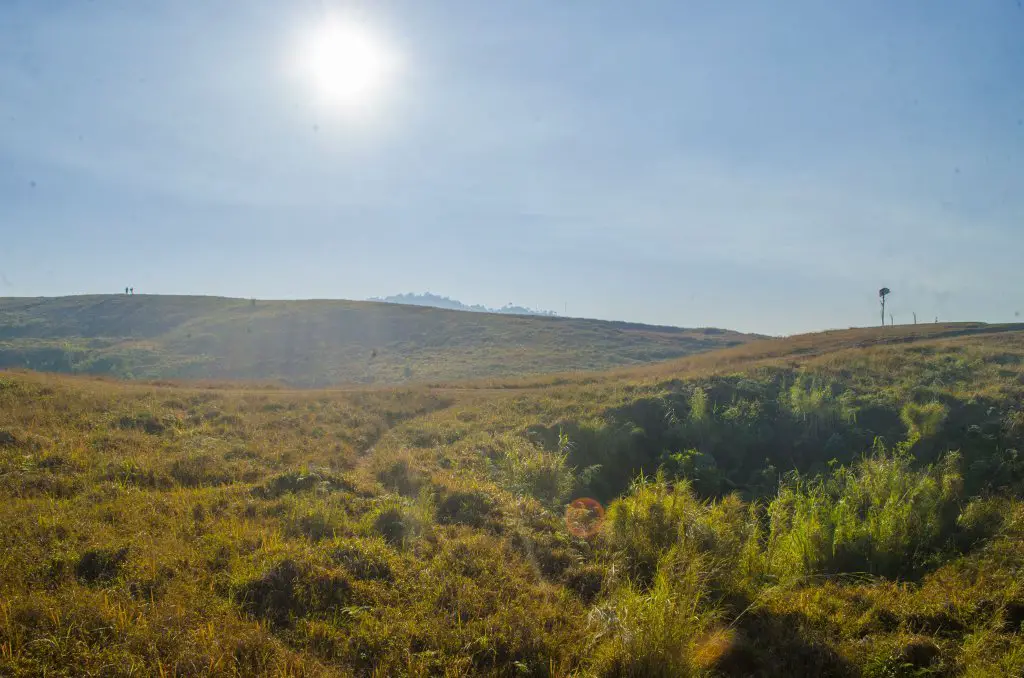 According to a local guide, big pine trees used to cover the area. However, these were logged during the American period. Burning of the mountain was also rampant in the past, thus, only grasses and a few shrubs managed to grow.
Another feature that makes the summit interesting is the presence of limestone rock formations. We all know that these are supposed to be found underneath the ocean or at least, just along the seashore.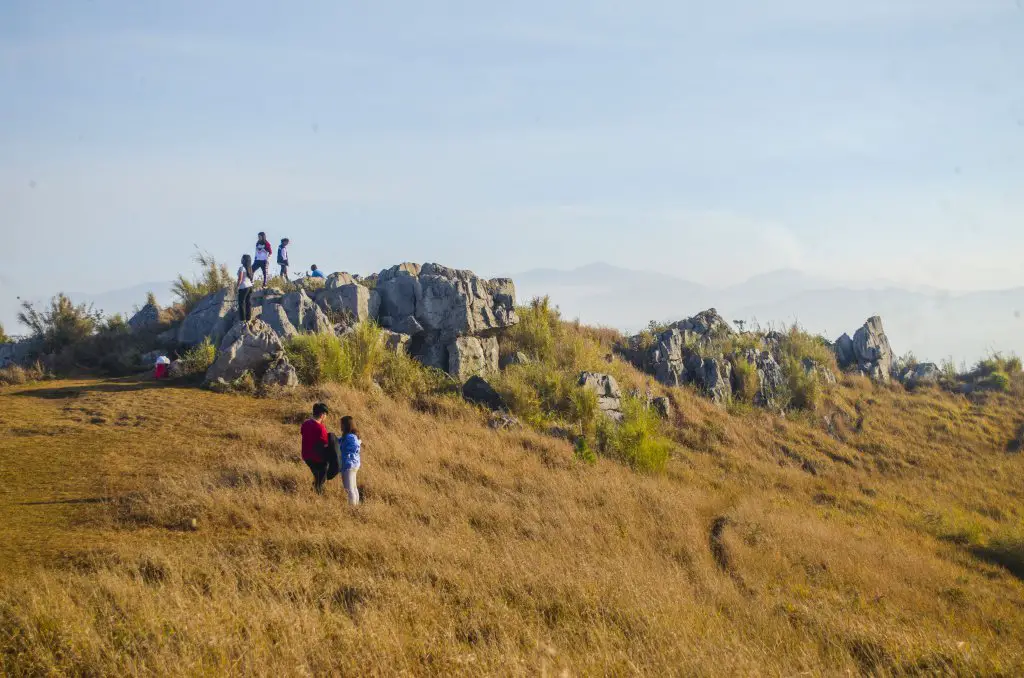 But why on top of Mt Yangbew? Certainly, this conjures up anybody's interest and imagination. Some acclaim that these formed during "The Great Flood."
By the way, the mountain is named Mt Yangbew because it used to be a jamboree site of the Americans in the past. Yangbew is a localized term for jamboree. In fact, the mountain was previously called Mt. Jambo/Jumbo.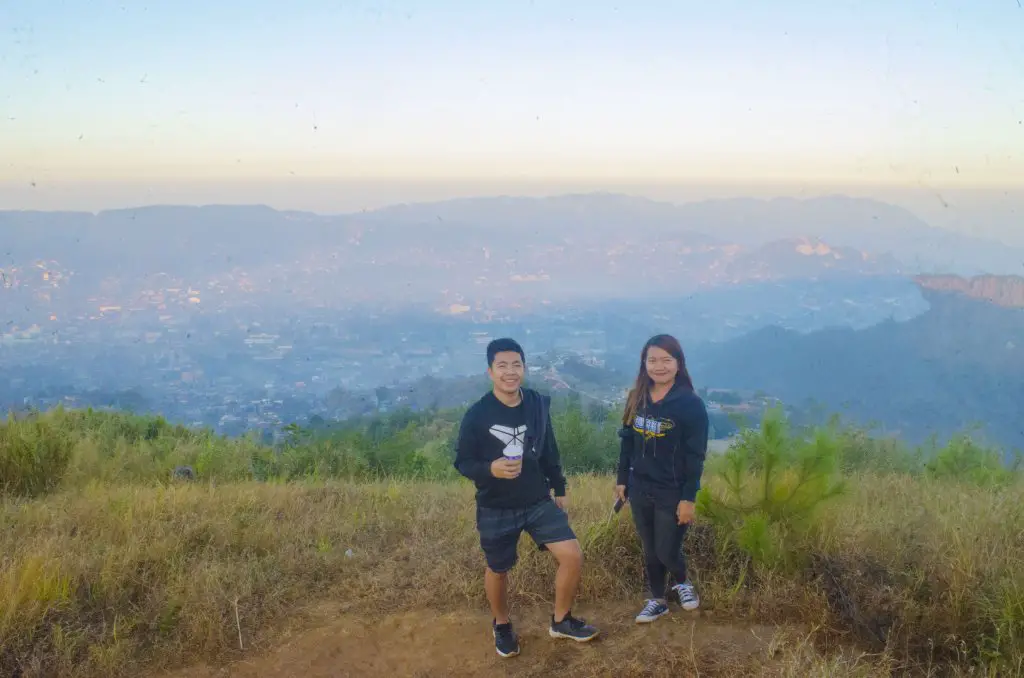 What Else to Do
Horseback riding can be done atop Mt Yangbew. The Yangbew Riders Association takes care of this. For an hour of the ride, the fee is 300 pesos. This can be halved if one ought for 30 minutes only. For picture taking with the horses, the fee is 25 pesos.
I am not really fond of animals being used for commercial purposes. I just hope though that they are well taken care of. We all hear/read of the elephant abuses in Thailand and elsewhere for tourists' sake. I hope that is not the case with the horses at Mt Yangbew.
Anyways, you can also have overnight camping atop Mt Yangbew. What a wonderful feeling it is to gaze at the stars and relish the cold and rustic breeze.
Extra Sights to See
The local guide also mentioned that there is a cave near the summit. However, it is still closed during our visit since it was undergoing assessment. They say the cave is deep and one needs to rappel to get inside. I can't wait to see what wonderful spectacles it offers.         
From Mt Yangbew, one can also visit Tawang Stone Church. We did that. From the summit, we hiked back to the road and followed it for some 30 minutes before finally reaching the church.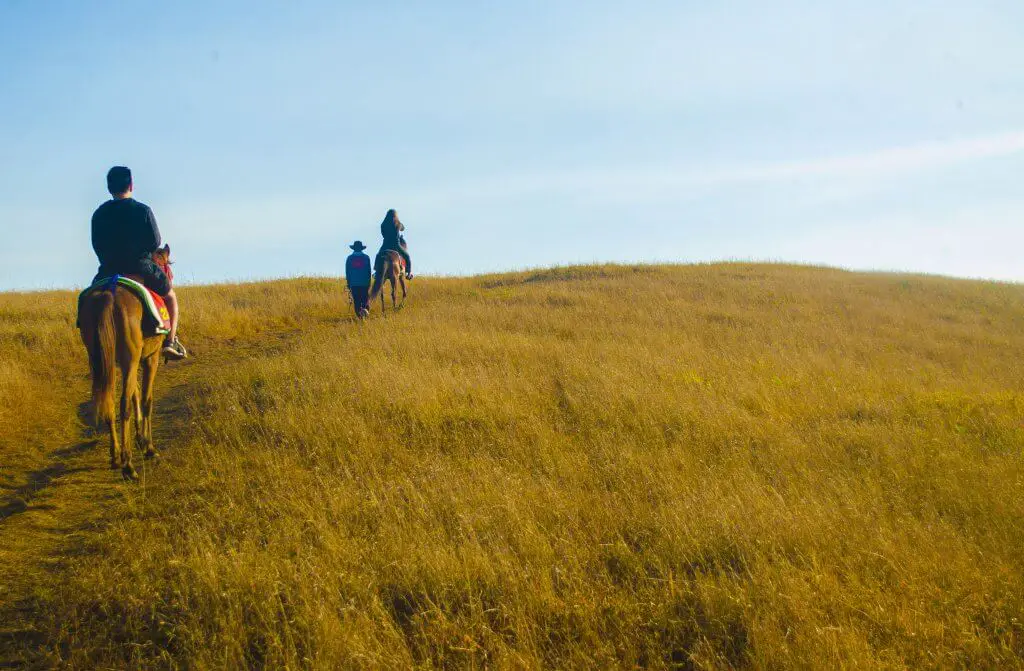 Fees to Pay
All tourists or visitors bound to Mt Yangbew are required to pay the environmental fee with the following rates:
Local Tourists: Php 30
Local Students: Php 25
International Tourists (both adults & students): Php 50
Mt Yangbew Camping (Overnight): Php 100 per person
Note: The rates apply whether you're a hiker or a biker.
Tips and Reminders
The best time to visit Mt Yangbew is during the early morning and late afternoon to catch sight of spectacular sunrises and sunsets and an occasional sea of clouds.
Always pay the corresponding fees. That is one way for you to help the local economy and the lives of the locals there.
Since the trail is well-established, there is no need for a guide. However, if preferred, you can ask for one at the barangay hall or at the trailhead reception area.
Please don't ever litter. Help protect Mt Yangbew by adhering to basic protocols. If you want, you can also pick up litter along the way.
Mt Yangbew and Mt Kalugong stand next to each other. So you can climb both on the same day.
You can bring your bikes or pets to Mt Kalugong.
When you hike too early and no person is present at the reception, just pay your fees when you hike back down. In some instances, personnel will collect fees at the summit.
For Mt Yangbew Map, check out Google Earth.
Mt Yangbew to La Trinidad Strawberry Farm
From Mt Yangbew, you can ride a taxi all the way to La Trinidad Strawberry Farm. The fare should be around Php 100 to Php 120.
If not, you can walk to reach the farm. Simply follow a path leading to Brgy Balili. Then, follow the road that leads to Sitio Tabangaoen, then to Benguet State University's last gate. From here, cross the main highway and follow the road to the farm. All in all, the trek could take 20-30 minutes.
If you're not sure where you're going, you can always ask the locals for directions.
Mt Yangbew to Mt Kalugong
Mt Yangbew stands next to Mt Kalugong and you can climb both mountains on the same day. There is actually a trail from Brgy Tawang to Mt Kalugong although I'm not sure if this is still open. If you're not sure, just wait for a taxi and tell the driver to take you to Mt Kalugong. The fare should range from Php 120-Php150.
So there you have it. If you have questions about Mt Yangbew, feel free to share them on the comment section below.