Just after my resignation from my job in the province, I decided to do another round of exploration. I simply wanted to unwind and prepare myself for a new work in the urban jungle of Manila. Together with a friend who is also an adventure-seeker, I set off to chase Shamsham falls in Baayan, Tublay in Benguet.
Why Shamsham falls? I saw it on one of the facebook posts of a friend. The pictures gratified me and fueled my wander lust. And it is not just one waterfall. But there are at least three of them. What more if I get to see these falls in person? So without much planning, I and my travel buddy ventured to Baayan in swelling eagerness and anticipation.
How to Get to Baayan, Tublay?
There are two options.
First, ride a jeep which departs at 1:00 pm. This is stationed at Dangwa Terminal, back of Center Mall. Fare is 50 pesos per person. There are a lot of stop-overs so more often than not, the jeep reaches Baayan early evening.
The second option is to ride a garage. These are stationed at Acop Shilan, just along the toll gate. Hiring a garage for a one-way trip to Baayan is worth 500 pesos. If you cannot afford such, you would have to wait until it is filled to capacity before departing. Fare per person is 40 pesos if the trip is until the barangay hall. But if you ought to ride all the way to sitio Togoy, fare is 50 pesos. Togoy is the jump-off point to the falls.
On the Trail to Shamsham Falls, Baayan
The garage dropped us in front of the barangay hall in Baayan. There were no barangay officials available because it was a weekend.
From the hall, we followed the road leading to sitio Togoy. This is the turning point and end of the road. I guess this is also one of the remotest sitios of Tublay. Life here is very much simple and beautiful as well. As we passed the sitio, we could see stone-walled rice terraces.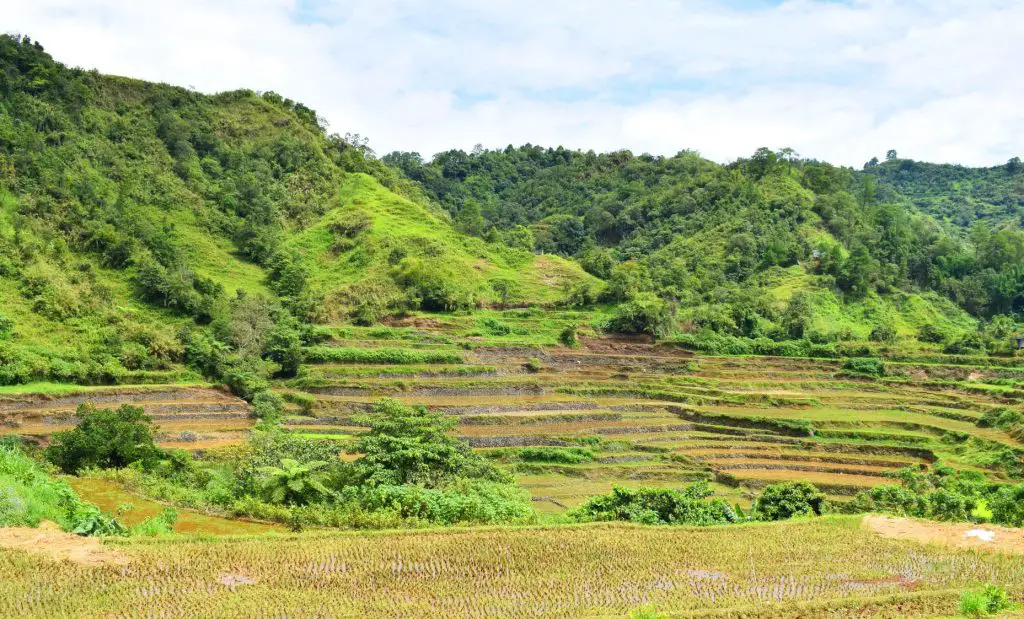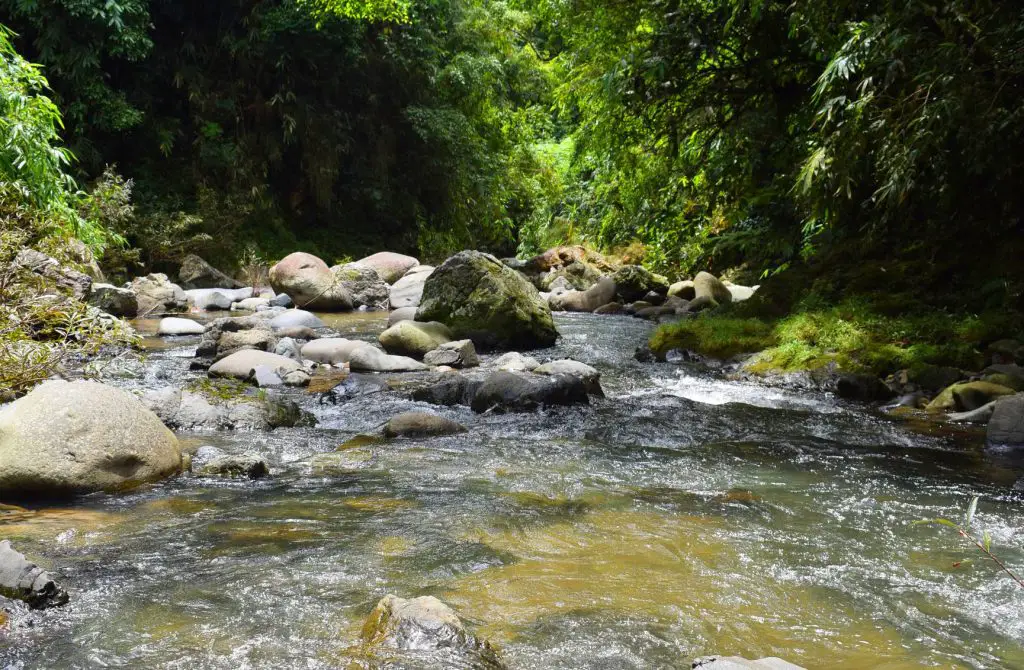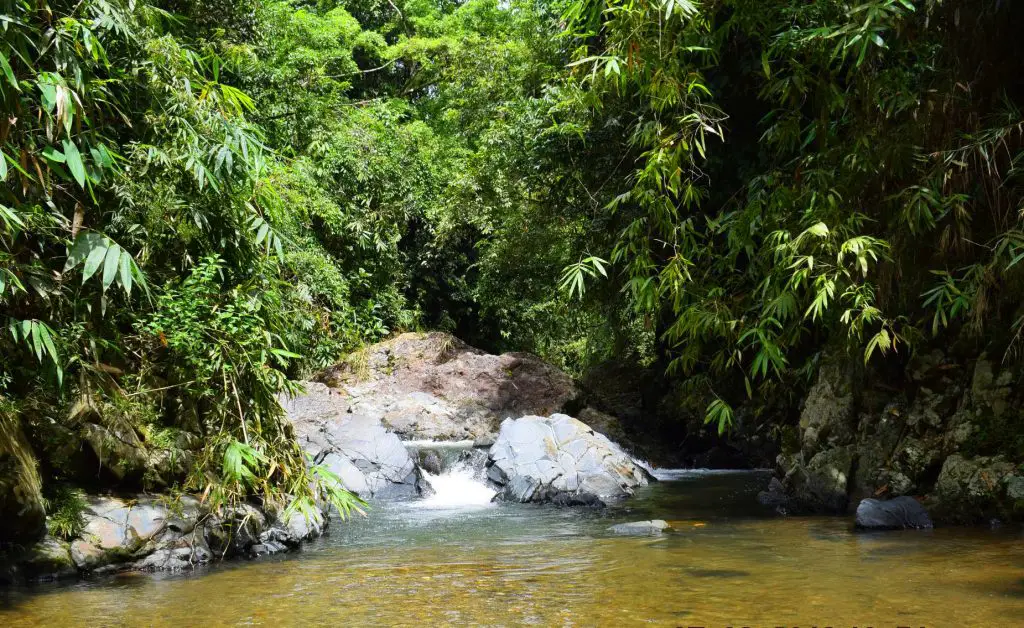 Later on, we followed a river up to a point where a brook merges. I knew that this brook would lead to Shamsham falls so we coursed our way along it. After some few minutes, we approached a small waterfall. To my estimate, it measures around 18 feet high. But its waters carved a wide and very deep pool.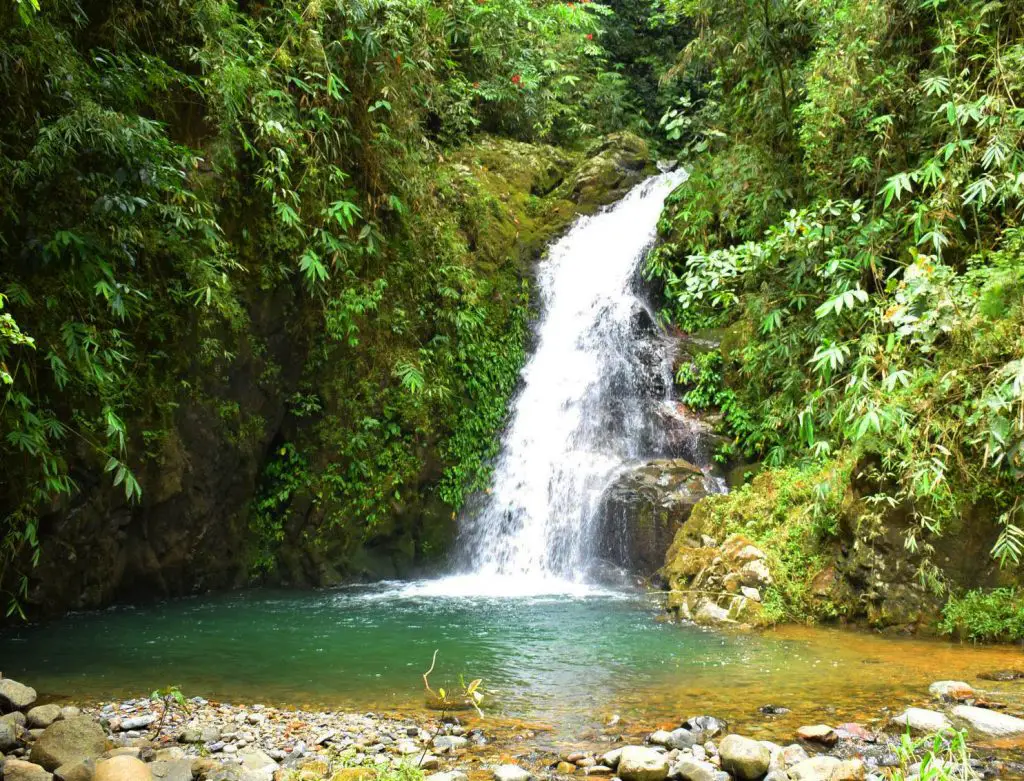 Although we wanted to give it a try, we opted not to climb over the first fall especially that we had gadgets at hand. Fortunately, there was a detour trail alongside. This time, we had to trail on dense forests. I can't help it but be amazed on the sight of wild plants, vines, and moss-covered trees lining the way. Nature really creates fascinating arts that no words could ever fathom.
More waterfall awaits
Later on, we chanced on another waterfall. It is a two-layered one, however, its second drop is hidden beneath the rocks. Just like the first waterfall, it has a naturally-built pool with greenish color. After all, it reflects the lush forests surrounding it. Again, we decided not to climb over it. So, we took another detour on the forest. It was a steep trail and literally, we had to hang unto vines and plant roots to avoid slipping.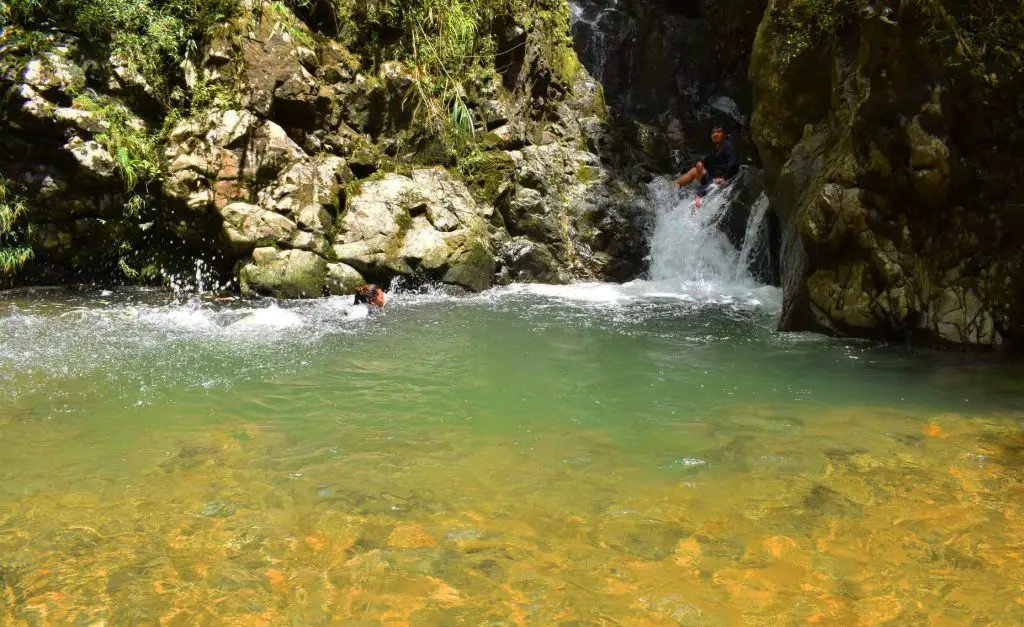 We then continued following the brook for around 20 minutes. Frankly, I never felt exhausted. The pure immersion with the natural world was simply rejuvenating and enlivening for me. The forest-scented breeze, chirping birds, colorful flowers, and verdant vegetation were all that I needed to keep me going. I think the same goes with my friend. We're travel buddies after all.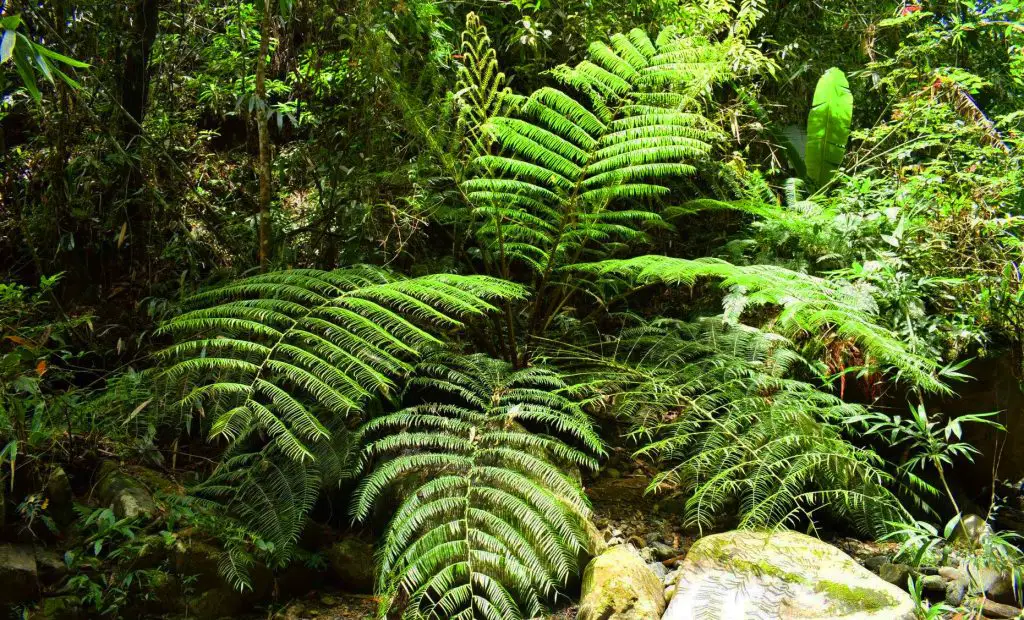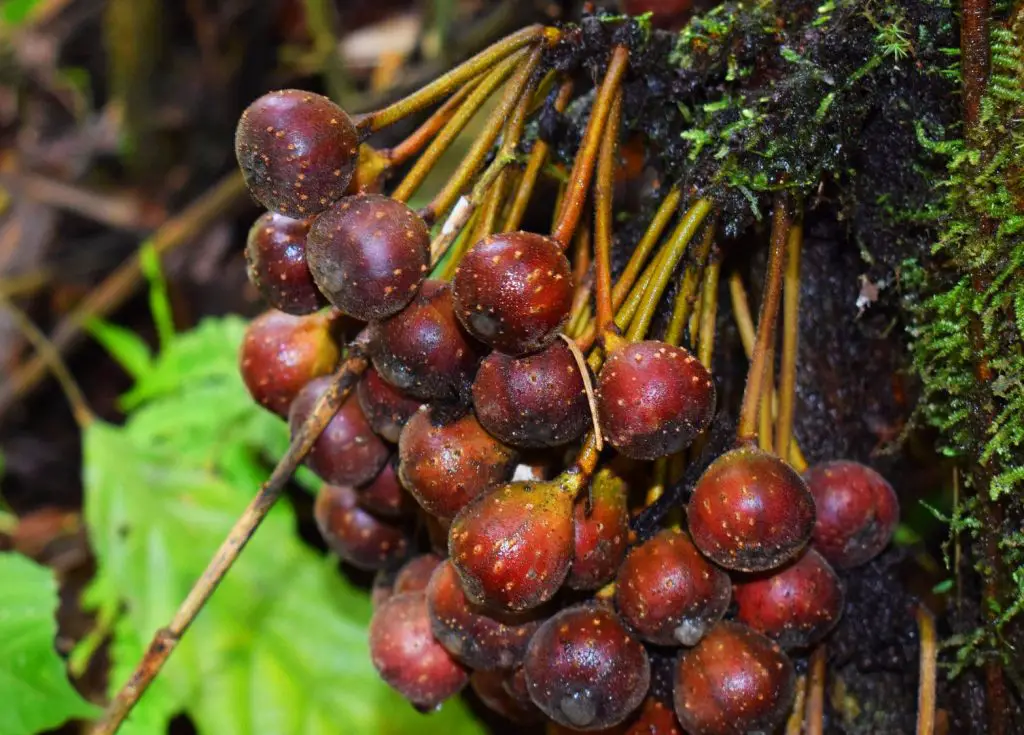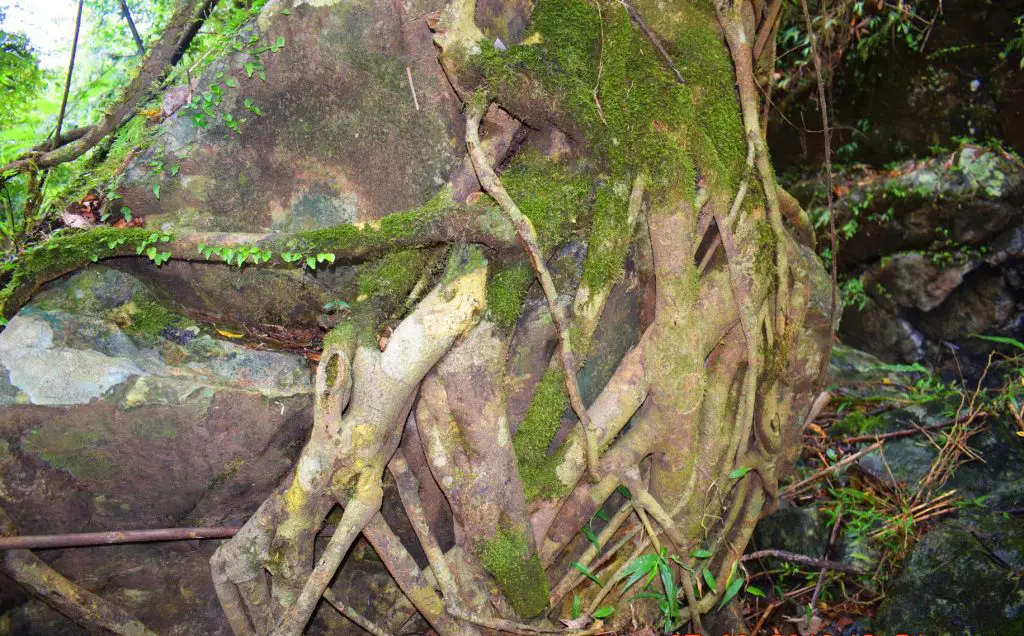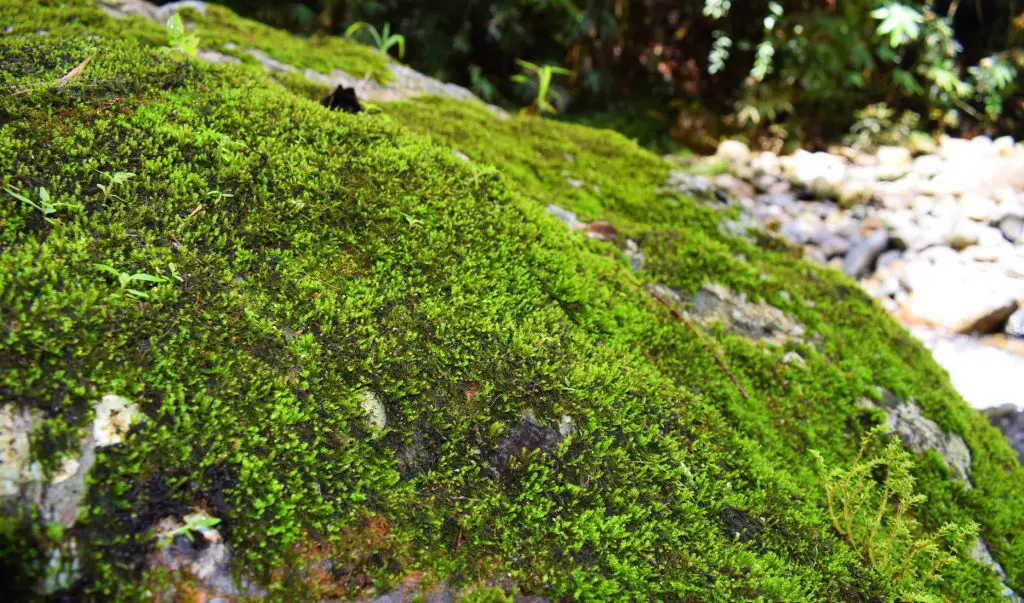 Yes, I was enjoying every moment of the way. Then lo and behold, I saw a seemingly huge bridal veil cascading in such majestic height. Oh, this must be it! Its Shamsham falls!
All in all, it took us about three hours to reach Shamsham from the barangay hall of Baayan.
Behold Shamsham Falls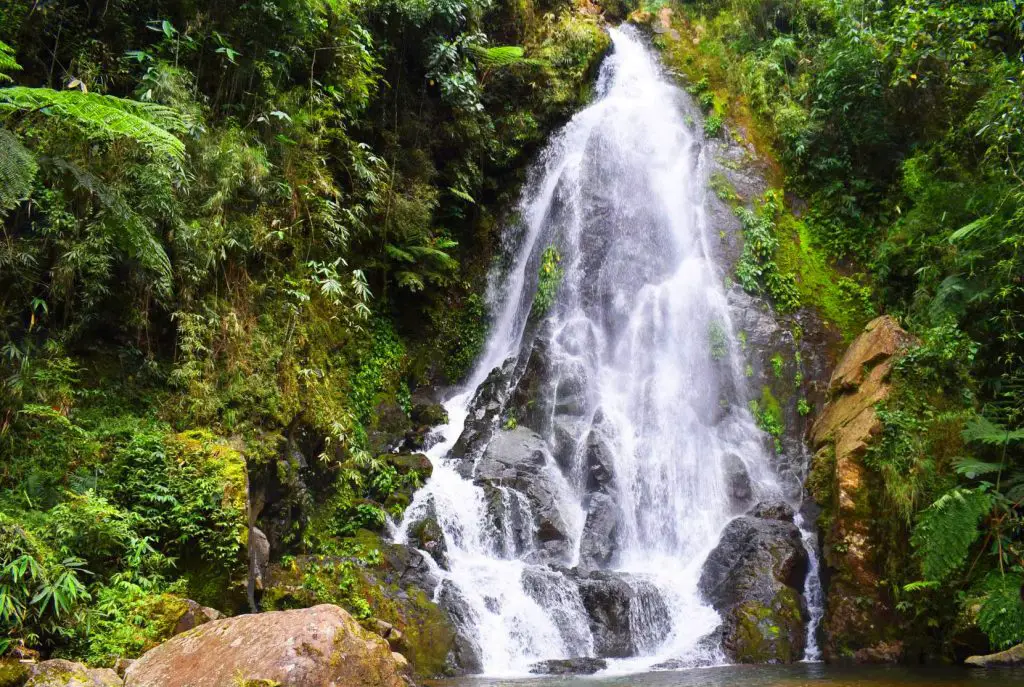 Shamsham falls is by far the highest falls I've seen in Tublay. Who knows? It could be the highest in the municipality. To my rough estimate, it measures around 60-70 feet high. Our visit was just after the rainy days so the waterfall's water volume was quite strong. And it pounded powerfully on the rocks at its base. It created a wide but shallow pool. It's a perfect spot, therefore, for my friend who is still learning how to swim.
A better way to enjoy Shamsham falls is to stand on the base as its waters gently massage your back. Of course, I had to position myself on the spot where the cascade is relatively moderate. I really loved it! It felt like I was totally loosening up from the grip of unwanted thoughts and gnawing anxieties. Nature really gives cure that even the most advanced drugs and therapies cannot match. Sometimes, it only takes a total immersion with nature to boost our mental and physical well-being.
But wait. Why is the falls called Shamsham? Shamsham is an Ibaloi term which literally means double nine (99). Accordingly, 99 women jumped off the falls to escape from the Japanese soldiers who attempted to rape them. That was during World War II.
Sustaining the Beauty of Shamsham Falls
I noticed that along the trails leading to Shamsham falls, there are littered plastic bottles and cellophanes. Some of the litters are containers of pesticides. I assume these contaminated the water so I was not able to see some tadpoles or any aquatic species for that matter. Definitely, this could also affect the well-being of visitors.
There are also commercial farms just above Shamsham falls. Hopefully, they would gradually transition to organic farming since the use of pesticides can adversely impact water quality. Like I've mentioned, this does not only affects marine species but also humans who simply want to enjoy the beauty of the falls.
Photos by: Abner Lawangen
Some Important Reminders:
Always consult the barangay officials when planning to visit Shamsham falls. Some parts of the trail can be dangerous to those who are not used to extreme adventures. It will be up to the officials to recommend a guide. Fees can be negotiated with them.
Wear long sleeves and hiking shoes. Remember, you will be passing along forested trails. Thorns and leaf blades line the way.
Bring extra clothes. Expect that you will get wet and muddy while trailing to Shamsham falls. That is because you will be wading on pools, some are chest-level deep.
Don't collect any flora and fauna. If you get attracted, simply stare and appreciate. Period.
It is better to have advanced coordination with the local officials. This way, they will help prepare for your itinerary.
Try Speaking Local Utterances:
As goes a popular adage, "When in Rome, do as the Romans do." In the same way, you can also try conversing with the locals using their language. This is especially helpful in building rapport with the community. Ibaloi is the main language in Baayan. I get it. You don't need to be well-versed. But you can at least try common utterances such as the following. Have fun learning and using them:)
| | |
| --- | --- |
| Common Local Utterances | English Translation |
| Mapteng jen agsapa | Good Morning |
| Mapteng jen mashem | Good Afternoon |
| Mapteng ja davi | Good Evening |
|  Edavas kami bengat | We are passing by |
| Kamusta | How are you |
| Enakad/Enahad kami la | We are going home |
| Dinmaw kami bisitaen iya mayat jen dugad yu | We came to visit your beautiful place |
| Mayat ta enunan taha muwan | It's good to see you |
For your information needs:
If you want to know more about Shamsham falls that may help in setting up your itinerary, kindly leave them on the comment section below. You can also message us on our facebook page namely, Daniel's Eco-Travels.
I would be more than happy and willing to help you:) For more meaningful travel experiences, I remain.
IMPORTANT NOTE: Shamsham falls is not yet fully established as a tourism site. Before you visit, coordinate first with the Tourism Officer of Tublay namely Mr Freddie Laron, through his number: 09998802688. In that way, he will also help in coordinating and planning your itinerary with the barangay officials of Baayan.
Related Articles: