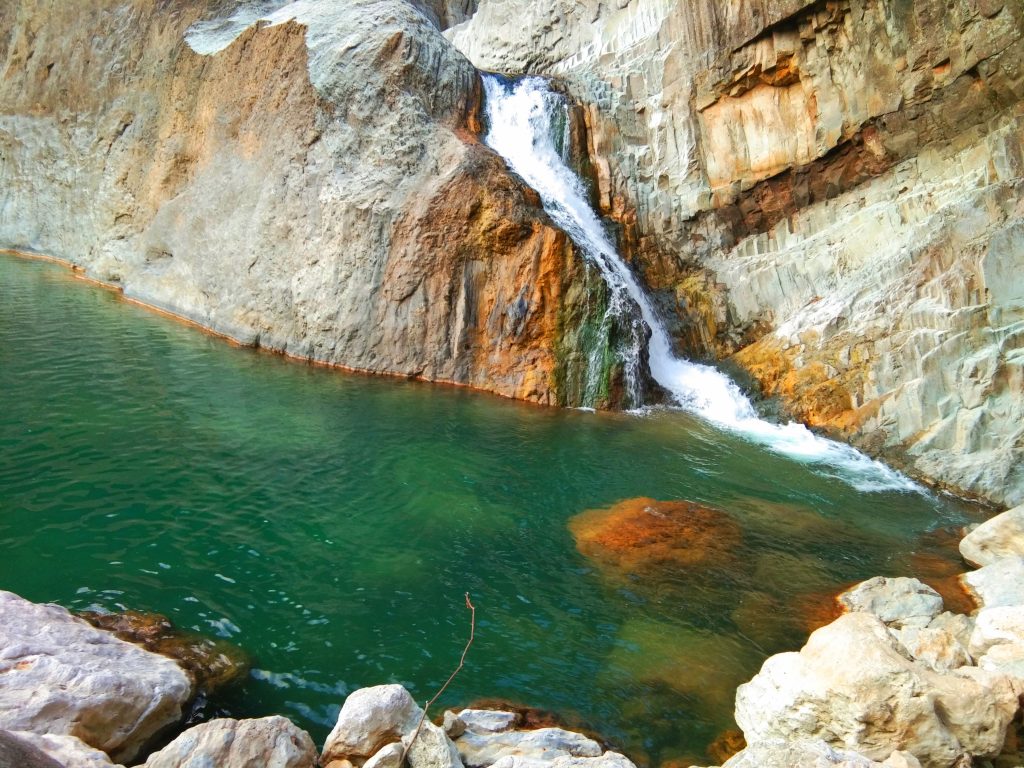 I have been to Bayokbok falls in Tuel, Tublay for a number of times already. It never ceases to allure me and fill my thirst for wander. Seeing the falls in its supreme cascade naturally dissipates my life's worries and burdens.
Bayokbok falls emanates from the mountains of Tublay and Kapangan, both are municipalities of Benguet. Sustainably managing this natural spectacle could significantly boost the local economy while preserving the natural environment.
Now, here is a complete travel guide to help you get to this beautiful destination and make the most out of your experience. In this article, I will detail the following:
How to Go to Bayokbok Falls (Baguio to Bayokbok falls, Bayokbok falls direction)
What you need to Know about Bayokbok Falls (Bayokbok falls entrance fee, etc.)
Where to Eat while at Bayokbok Falls
Tips and Reminders
Important Contact Information
Sustaining Bayokbok Falls
READ: Badi Falls in Kapangan, Benguet (Your Complete Travel Guide)
How to Get to Bayokbok Falls
It would be more convenient to proceed to Bayokbok Falls if you have your own car. However, if you don't, no worries. Here are the options you can take.
Option 1. Ride a garage (public vehicle) stationed at Alapang Junction. If you are coming from Baguio City, ride a jeep bound to Camp Dangwa or Upper/Lower Tomay and drop by by the Junction. There is a waiting shade there to serve as your landmark. Just across the waiting shade is the garages' station.
Upon reaching the Junction, hire one of the stationed garage for 400 pesos all the way to sitio Sayangan, Tuel. Just tell the driver to drop you by the registration booth of Bayokbok falls. Travel takes around 30-45 minutes.
Option 2. There is another garage station at KM 6 in front of the Als Restaurant, adjacent to the Provincial Capitol. If you are also coming from Baguio City, ride a jeep bound to Camp Dangwa or Tomay. Don't forget to tell the driver to drop you off in front of Als Restaurant. Fare from here to Tuel is also 400 pesos.
Upon reaching the registration booth at Sayangan, Tuel, pay an entrance/registration fee of 120 pesos each. This already covers environmental fee, barangay fee, and the rent for a life vest.
There will also be a brief orientation for safety purposes. Don't hesitate to ask questions. A guide will be assigned to lead you to the falls for free. But of course, you can offer the guide a tip. Moreover, you will be given a number which you will present to the guides at the falls.
From the booth, walk for some 10-15 minutes before finally catching sight of Bayokbok falls.
When going back to La Trinidad, you may ride the same garage you hired earlier. That is why don't forget to get the number of the driver.
You can also inquire at the registration booth for available garages or vehicles in the area. Fare is also 400 pesos.
Manila to Baguio City. Ride buses such as Victory Liner and North Genesis bound to Baguio. They have regular trip departures. Both also have stations at Pasay and along EDSA in Cubao. Fare ranges from 475 to 490 pesos. The trip takes around five to six hours.
READ: Stunning Waterfalls to See in Benguet (Your Complete Travel Guide)
Get to Know Bayokbok Falls More
"Bayokbok" literally means fall/cascade in the Ibaloi language. Most of the inhabitants of Tuel, Tublay are Ibalois. So, that's how the name of the falls came to be.
Bayokbok is a three-layered waterfall. Only the first drop, however, is visible once stepping on the site. To see the other two falls, one needs to climb over the first fall. For that, the locals installed ropes to help in the assault. Oh, how I'd loved soaking in the rejuvenating cascades at every stage of my rappel.
The first fall measures around 10 meters high. It cascades on a sliding platform sideward. It has a very long and deep pool. Even without dipping on the pool, one could somehow feel the sensation of what it's like to wade in the fall's invigorating waters.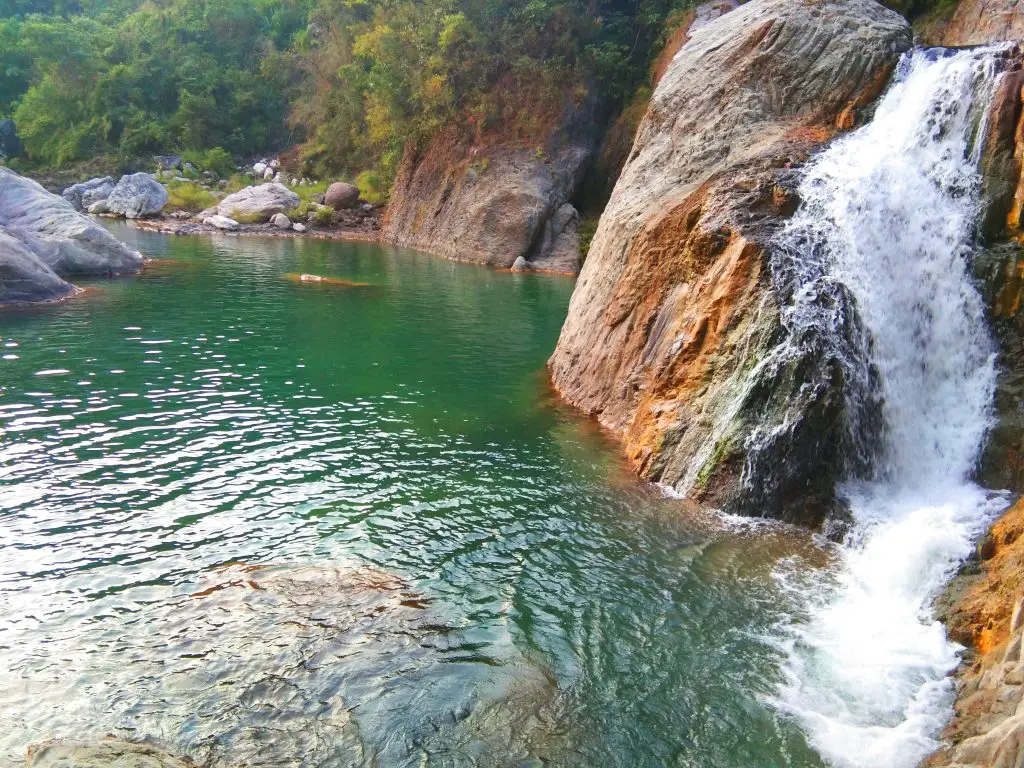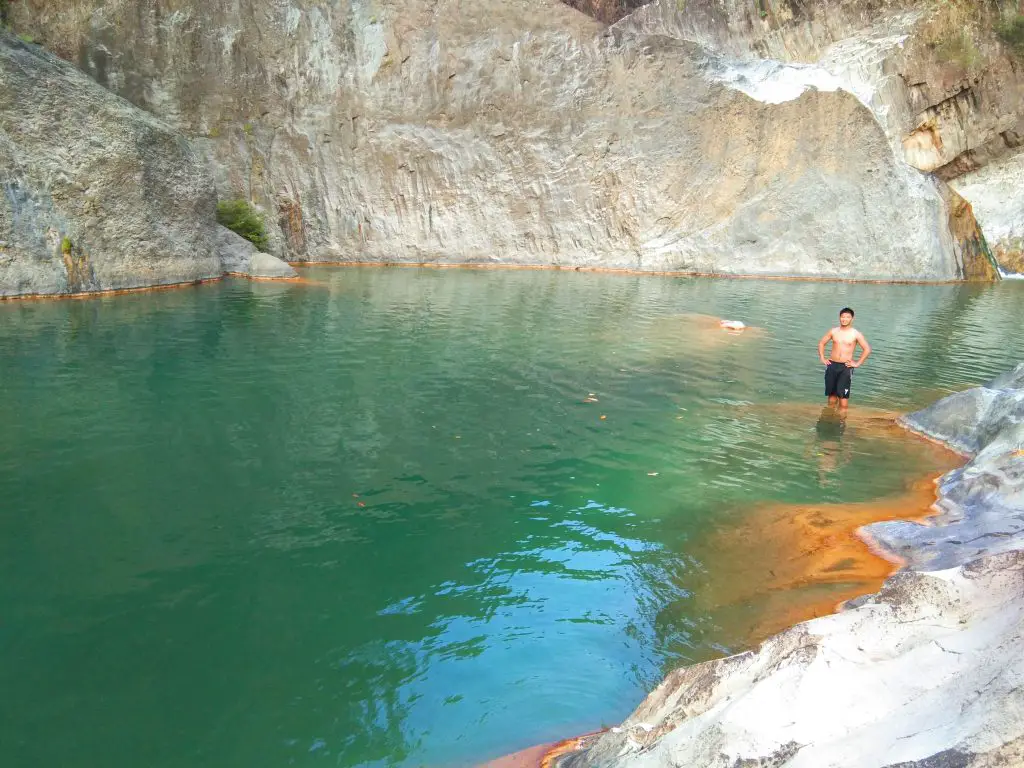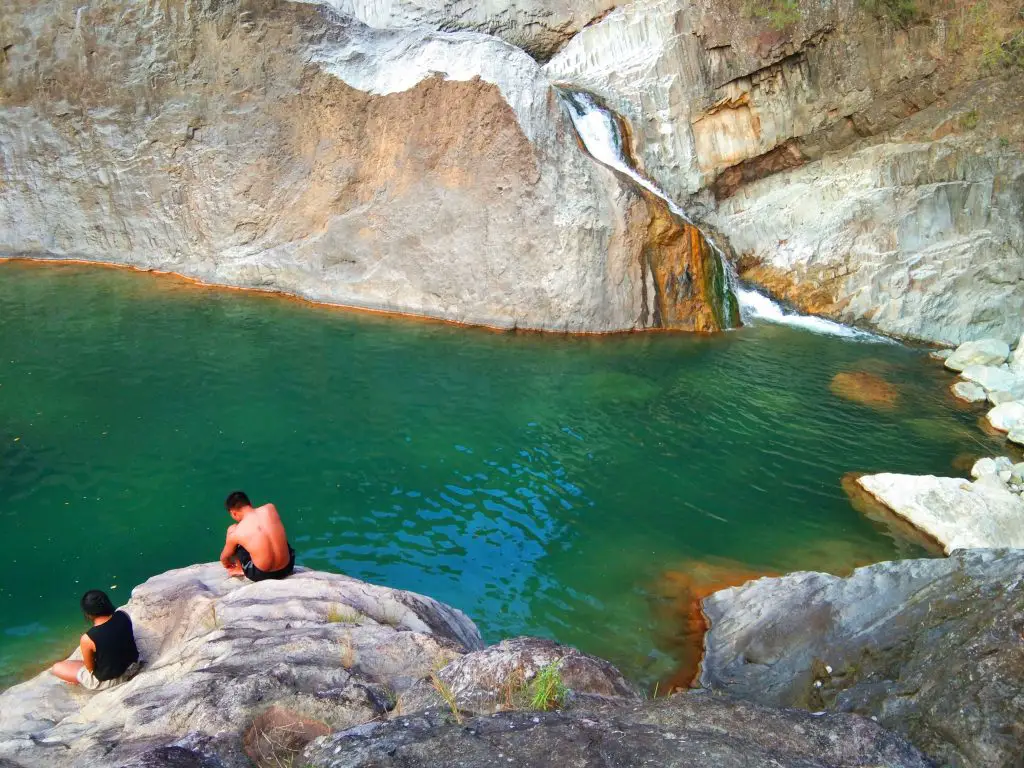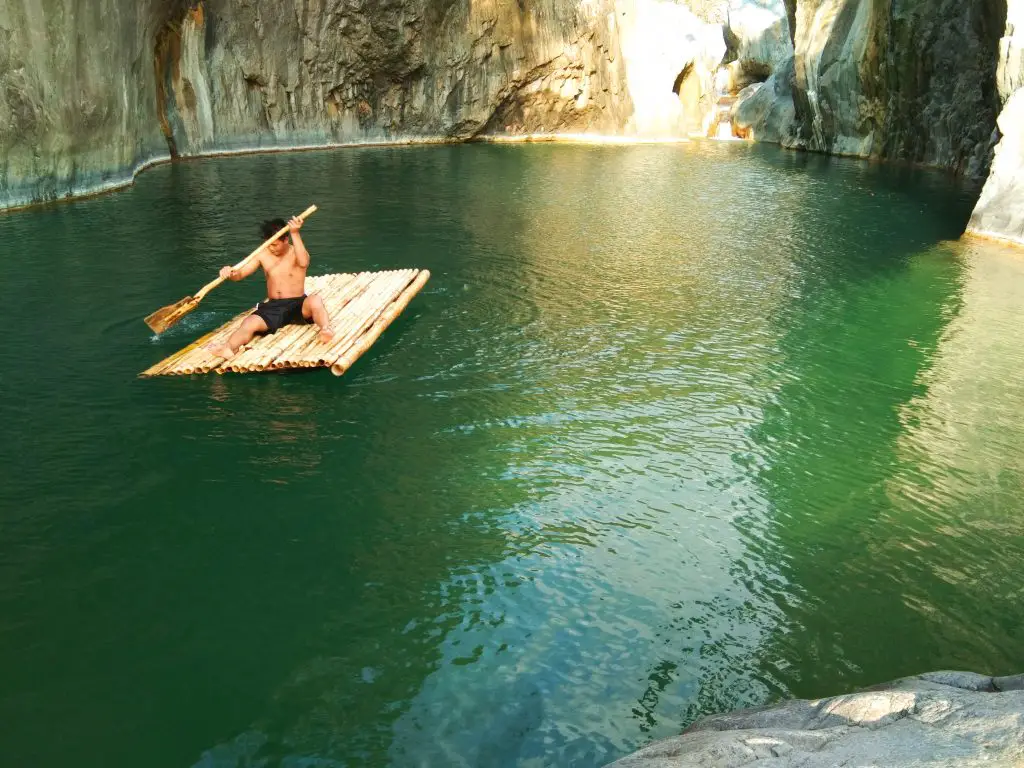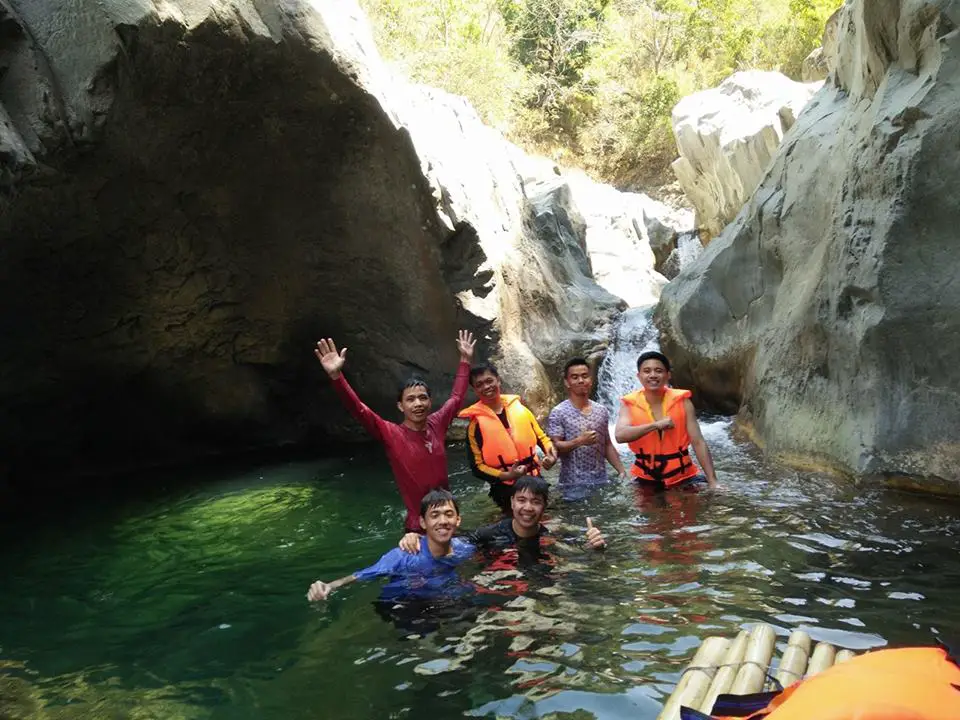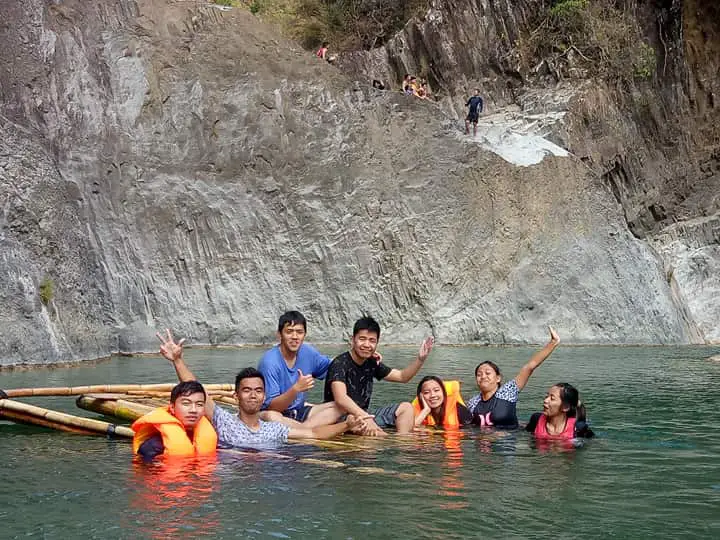 Both the second and third falls have beautiful pools. From my observation, the third falls' pool is the deepest. It has a small fall on the edge, measuring around 5 feet high. There is also an adjacent rock formation. It provides a good spot for jumping or diving.
According to a local guide, there is another small waterfall with beautiful white rock formations upstream. Due to limited guides, however, access to this is yet to be realized.
By the way, there are available life vests for non-swimmers. There is also a raft per layer of Bayokbok falls.
READ: Asin Hot Spring in Tuel, Tublay (Your Complete Travel Guide)
Surprises when Visiting Bayokbok Falls
Visiting Bayokbok falls may often come with extra-surprises.
When trailing on the established path, you'll catch sight of stunted yet massive trees with exposed roots as well as vines, casting a seemingly animated character. From time to time, you may witness endemic bird species.
Oh, I consider myself superbly lucky to have chanced on colorful birds, hopping from tree to tree.
A thrilling part of the trail is the narrow and quite long hanging bridge. For a first-timer, this may trigger fascination and excitement. Of, how lovely it is swinging with the bridge while gazing on the bluish pool below.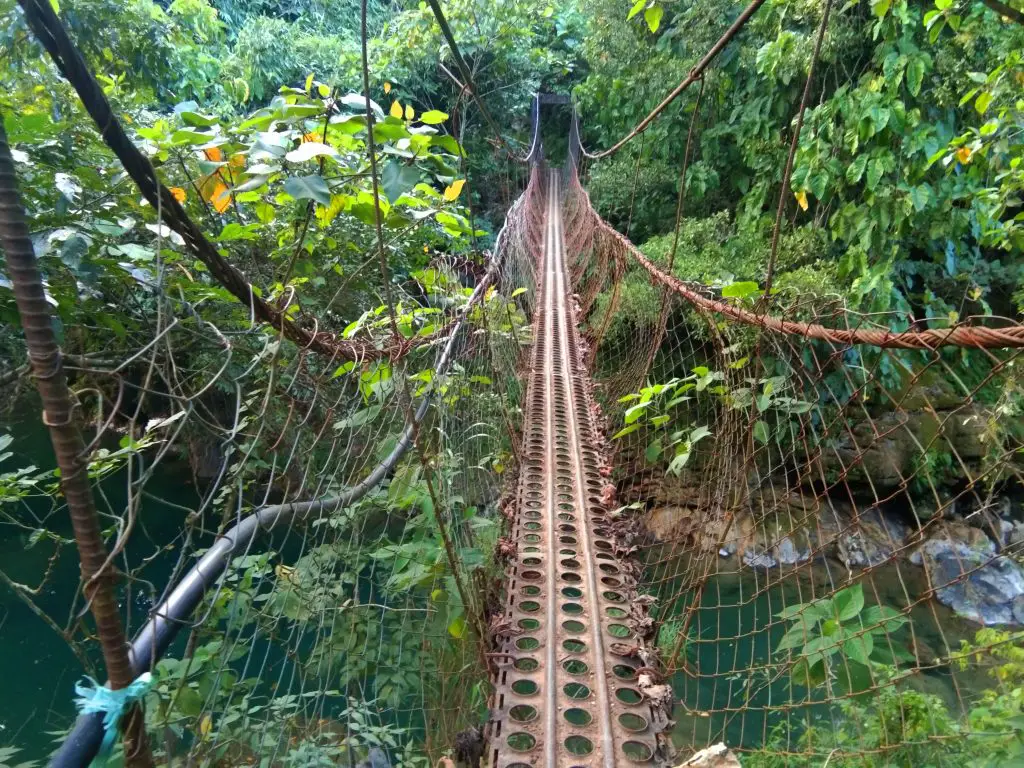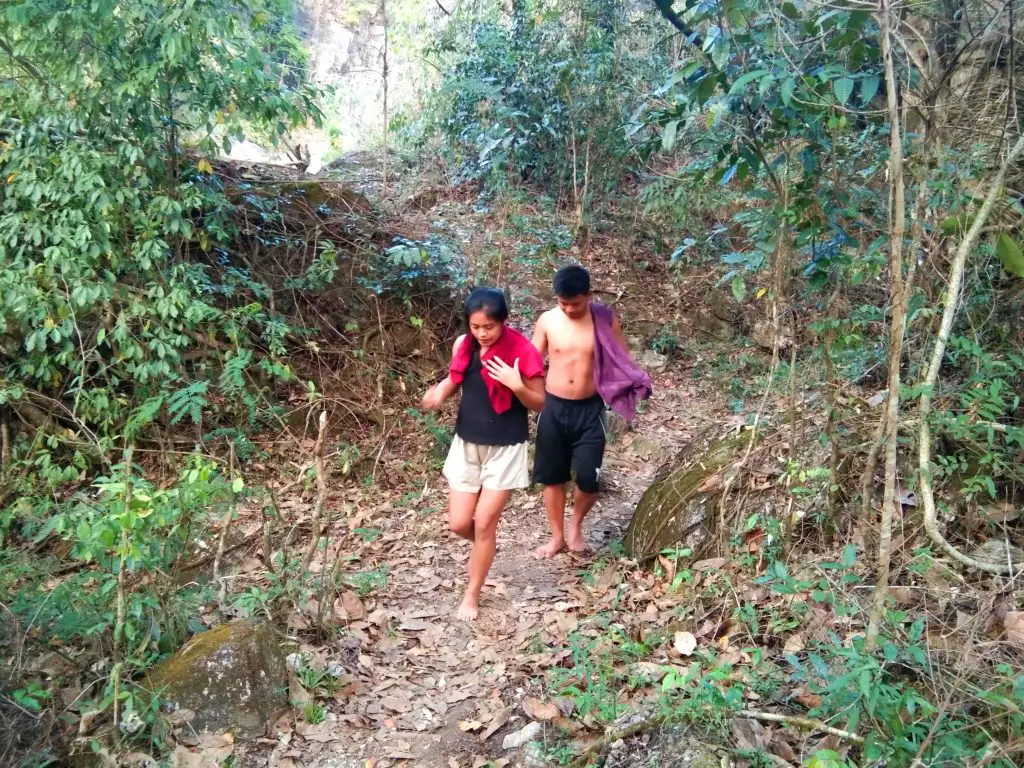 During my previous visit with my siblings, we took a not-so-popular trail. From Asin Hot Spring, we followed the brook for some 20 minutes to Bayokbok Falls. This brook is definitely worth a thousand pictures. There are numerous pockets of deep pools and some mini-waterfalls. You can bet. We were lucky to have trekked the brook during its grandiose and crystal-clear state.
For me, the brook leading to Bayokbok falls and beyond is a golden beauty. Check out the photos below and you will notice the seemingly gold stains of the rocks and boulders. I am not really sure why they appear that way. Perhaps, it is because one of the brook's sources is the Bengaongao cave, further upstream. From what I know, caves are usually sulfuric.
Add to our amazement, we caught sight of countless crabs as well as endemic fishes and aquatic insects. With that, I can say that Bayokbok falls is relatively healthy and clean.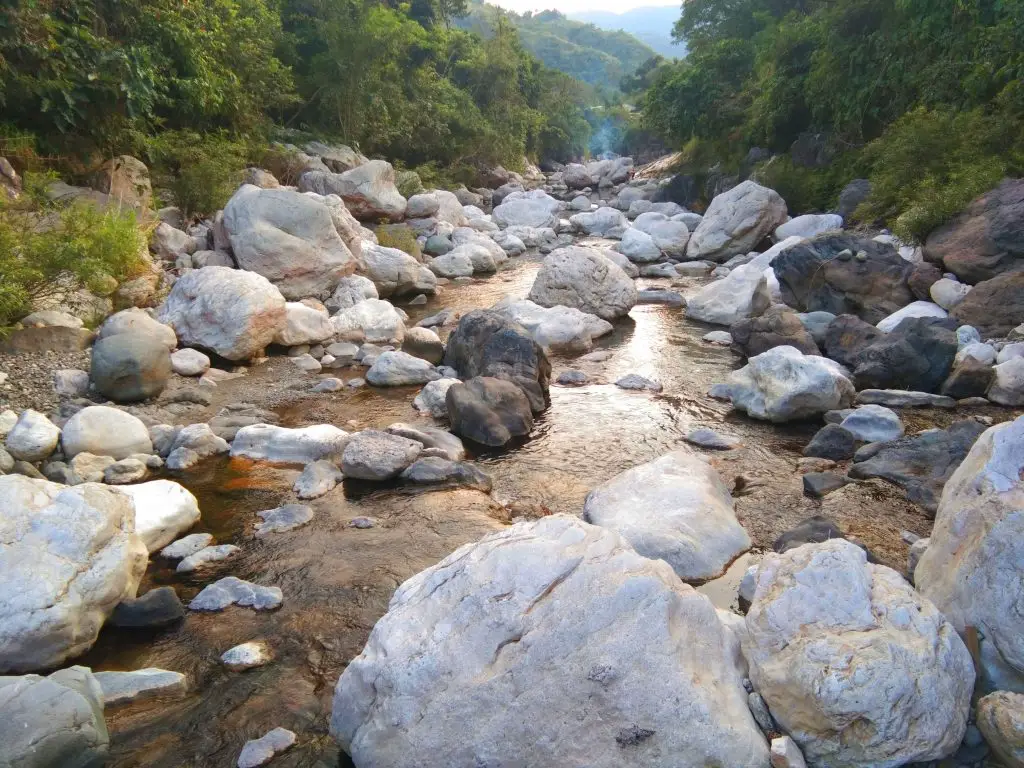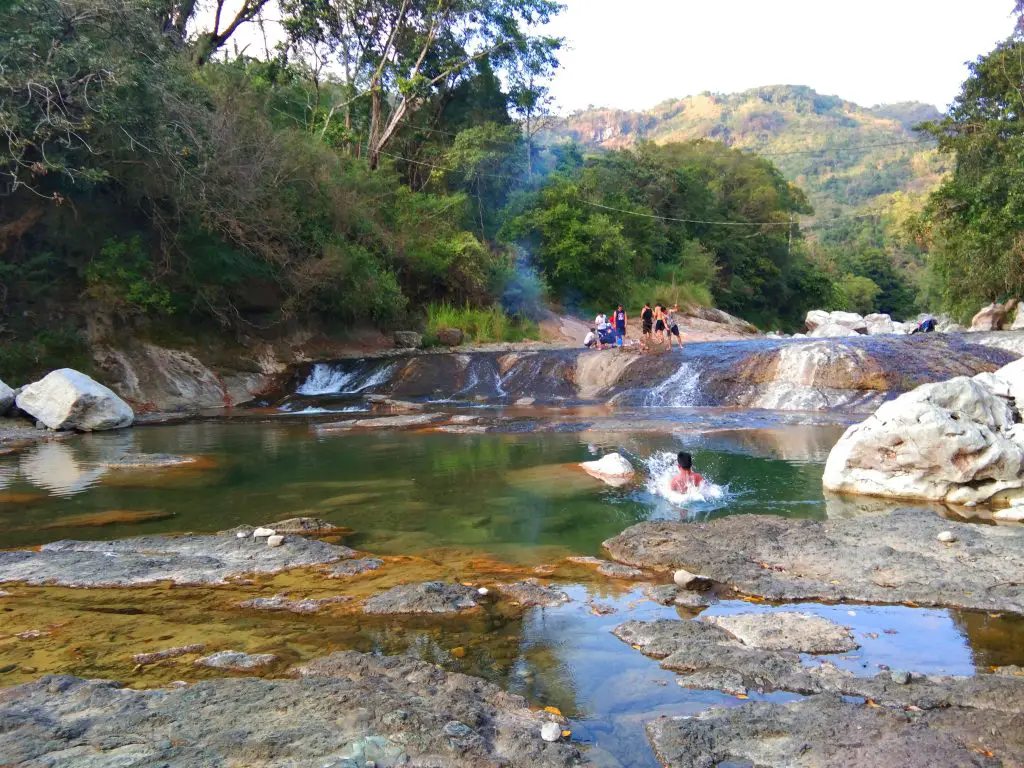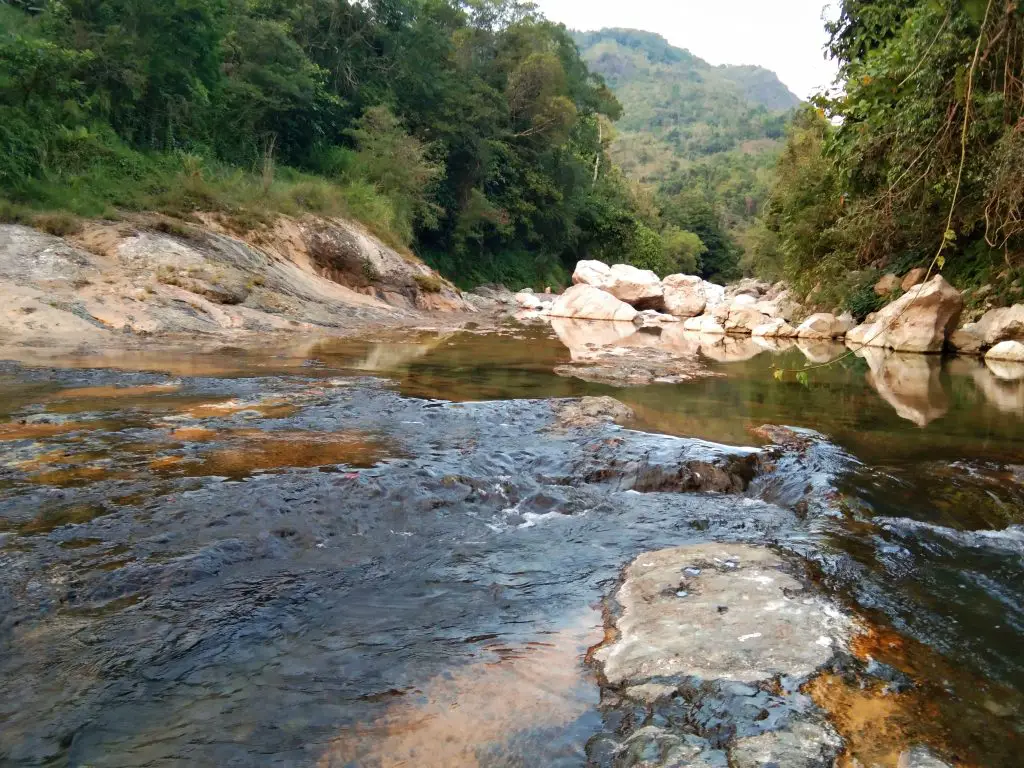 Sustaining Bayokbok Falls
Just like to any other natural spectacles, unregulated and irresponsible tourism may bring harm to Bayokbok Falls. Thus, proper guidelines and practices need to be implemented and formalized. Fortunately, the barangay and municipal officials are doing exactly that.
Gina Lopez, former DENR Secretary, has been visiting the site to help in the ecotourism development. It is hoped that the locals will actively participate, realizing that their role would mean the sustainable management of such a beautiful resource.
While the local authorities do their part, every visitor/tourist must also act accordingly. I have prepared the following list of tips and reminders below. Most of these are based on official guidelines.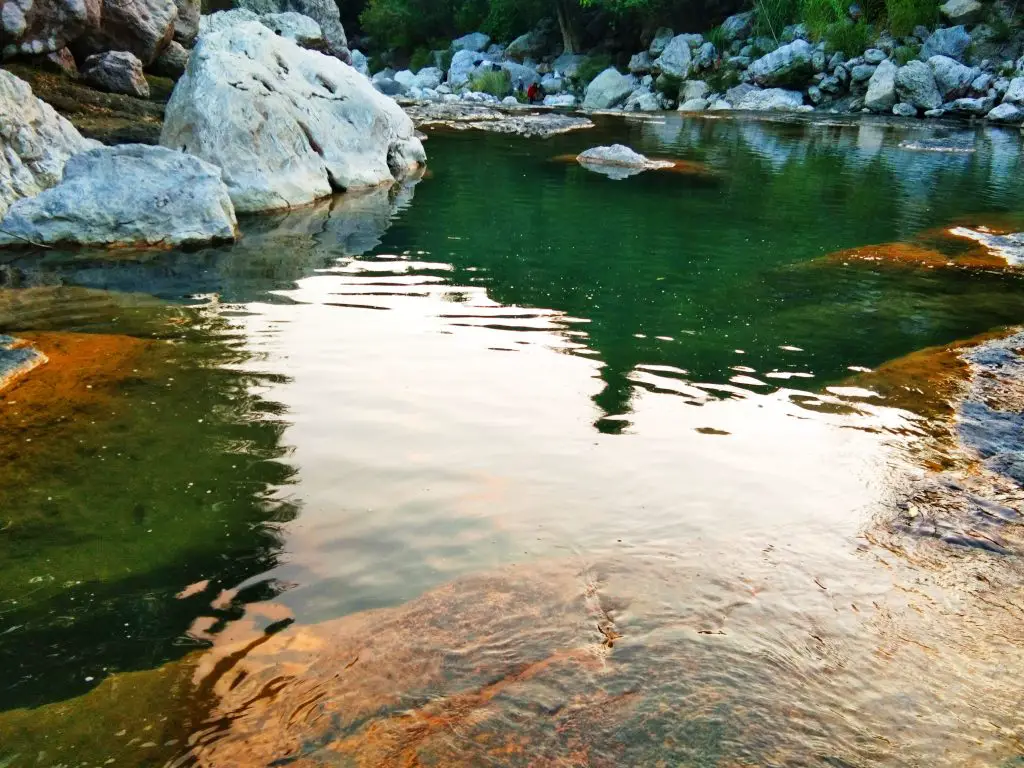 Tips and Reminders:
The best time to visit Bayokbok falls is during sunny days or summer months. This is when its waters are on their clearest state.
Don't ever litter. As much as possible, bring back your waste/garbage to where you got them. Let's help in maintaining the pristine beauty of the falls and the area.
In case you run out of water, there is a nearby spring. Just ask the local guides for direction.
Bring zip locks to protect your gadgets from the waters.
Be sensitive to local culture. This means, avoid actions or utterances that may be offensive to the community. Among these include public display of affection (PDA) or wearing of revealing clothes. Don't ever use bikini here, please!
Don't use shampoo or soaps when bathing on the pools. These could contaminate/pollute the waters and affect the fishes. Unless your soap/shampoo is certified organic.
If you are not used to swimming, make sure you are always visible by the local guides so they could immediately respond in case untoward incidents happen.
For other needs or assistance, again, don't hesitate to ask the local guides for help.
Bayokbok falls closes by 4:00 pm.
Enjoy, enjoy, enjoy.
Learn.
You may suggest more to this list:) Share them in the comment section below:)
Where to Eat?
There are some locals offering budget meals, desserts, and snacks. There are also several sari-sari stores in the area. The local authorities are encouraging tourists/visitors to dine on the local establishments instead of buying from the outside. This is to help boost the local economy.
One of the few locals serving budget meals is Ms. Juliana Quindao-Mara. Among her meal offerings are bulalo, pinapaitan, and other meat delicacies. Inclusive of rice, the price of each meal ranges from 70-85 pesos. She is also serving halo-halo for 30 pesos. You can order meals from her in advance when you plan to visit Bayokbok falls. Here is her number: 09467394184.
READ: Must-See Tourist Spots in Tublay, Benguet (Your Complete Travel Guide)
For your information needs:
If you want to know more about Bayokbok falls that may help in setting up your itinerary, do message Mr. Marco Macay, one of the local guides, through his no: 09508621847. He can answer queries regarding transportation and meals. In addition, you may contact Mr. Freddie Laron, Tourism Officer of Tublay, through his number: 09998802688.
For other queries, kindly leave them in the comment section below. You can also message us on our facebook page namely, Daniel's Eco-Travels.
I would be more than happy and willing to help you:) For more meaningful travel experiences, I remain.
READ: Bengaongao Cave and Paterno Cave of Tublay, Benguet (Your Complete Travel Guide)
Please follow and like us: