Here is your complete DIY travel guide to Botanical Garden, one of the rustic getaways in Baguio City!
I've been visiting Baguio City since I was a kid and at that time, I could easily pose Burnham Park as my favorite. Ask people my own age at that time and they would more likely say the same thing. After all, it has almost all childhood fun activities you could think of such as biking, boating, skating, and games.
When you ask me now what Baguio tourist spot is my favorite, I'd say, Botanical Garden! In this article, I'll later tell you why. Read on.
Quick Facts:
Location: Leonard Wood, Baguio City (between Teacher's Camp and Wrights Park)
Entrance Fee: Php 5-Php10
Costume Rental: Php 20
Sights to See: Centennial Park, Japanese Tunnel, Friendship Gardens, Native Houses, Flower Gardens, Pools and Streams, Igorot statues and sculptures
How to Get to Botanical Garden Baguio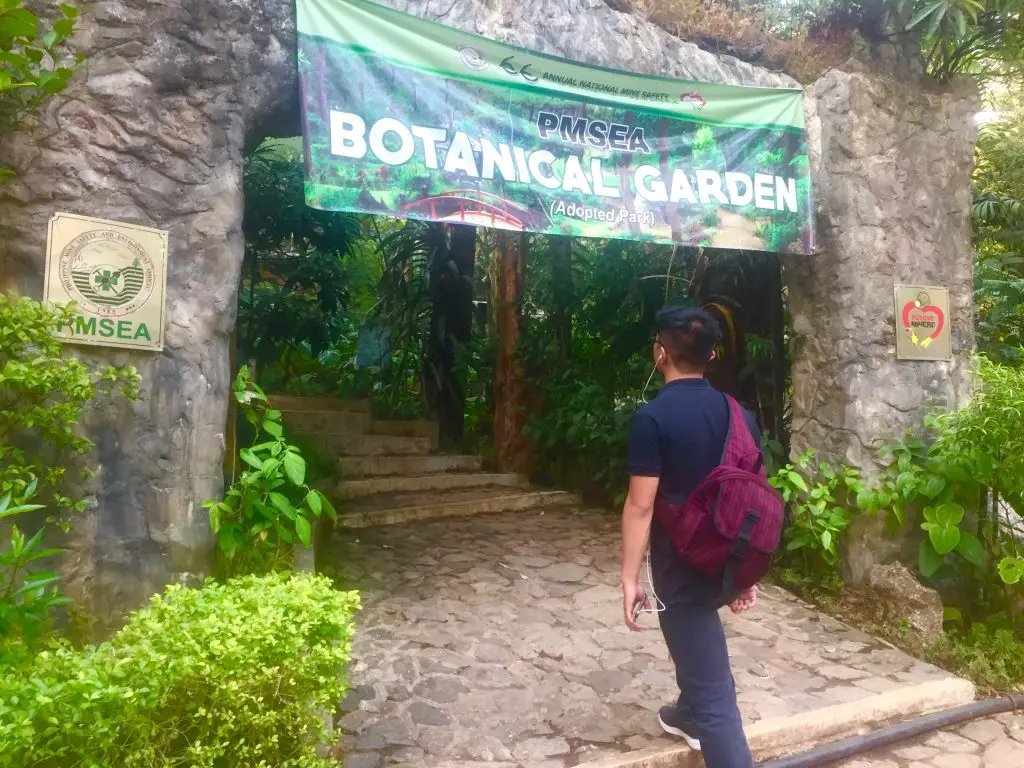 For a Do-It-Yourself mode, getting to Botanical Garden Baguio is not that hard. So if it's your first time coming to Baguio or visiting the garden, no worries. Almost every native of Baguio knows where it is and you could just ask them for direction to the station of the jeep leading to Botanical.
But since you're here, let me walk you through.
If you're coming from either Victory Liner Station or Genesis Bus Station, you can walk your way to the jeep station at Lower Session alongside Jollibee. If you're coming from Victory, trekking time can take 15-20 minutes. But if you're coming from Genesis which is on Upper Session, it will only take you 5 minutes.
Once you reach the station, ask for the jeep bound to Mines View Park because it also passes along Botanical Garden. There are hourly trips and jeep leaves once filled to capacity. From here, it takes 10-15 minutes to reach Botanical and make sure to tell the driver to drop you there. Fare is Php 9 per person.
If it's much more convenient for you, you can ride a taxi or Grab from the said bus stations all the way to Botanical Garden Baguio. Depending on traffic or road conditions, the fare can be more or less Php 100. Travel time can take 10 minutes.
Upon reaching Botanical, you'll see a landmark where a group of elderly women in traditional garments poses for a selfie with tourists. That's how you know you're there already.
Before entering the park, every visitor is should pay the registration fee of Php 10 per person for adults and Php 5 for children.
What if you have a Car?
If you're coming from Session road, head to Leonard Wood Road. Once you've passed Teacher's Camp, it's another 300 meters ahead before you see on your right a cemented signage of Botanical Garden. That's it! There is also a parking lot along the roadside near the main gate.
Other Options
Aside from the jeep headed to Mines View Park, you can also ride jeeps bound to Pacdal, Beckel, Country Club, Navy Base, and Tuding, Itogon. All of these are stationed at the Central Business District (Plaza) and all of them pass along Leonard Wood Road. Fare is also Php 9 per person. Don't forget to tell the driver that you're bound to Botanical.
What to See at Botanical Garden Baguio?
Botanical Garden Baguio hosts a variety of different things you can explore. Unlike in Burnham Park, there is less development here and most of the landscape consists of natural ecosystems.
You'll feel like you're in a jungle when you come here because of the diverse flora species.
Now, here are among the sights to see as you stroll around Botanical Garden Baguio.
Centennial Park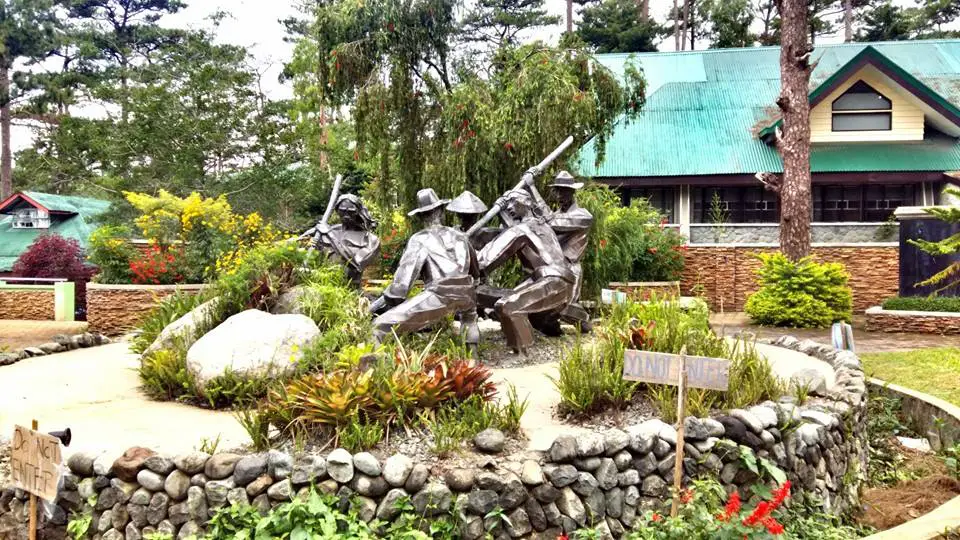 Centennial Park is a newly-added attraction in Botanical Garden. Its main highlight is a beautiful bronze structure created by Ben-Hur Villanueva, an esteemed Filipino artist.
The sculpture depicts the builders of the city such as the indigenous Cordilleran, Americans, Japanese, and Chinese, who are working together. It's one of the first things you'll see upon entering the gate.
Japanese Tunnel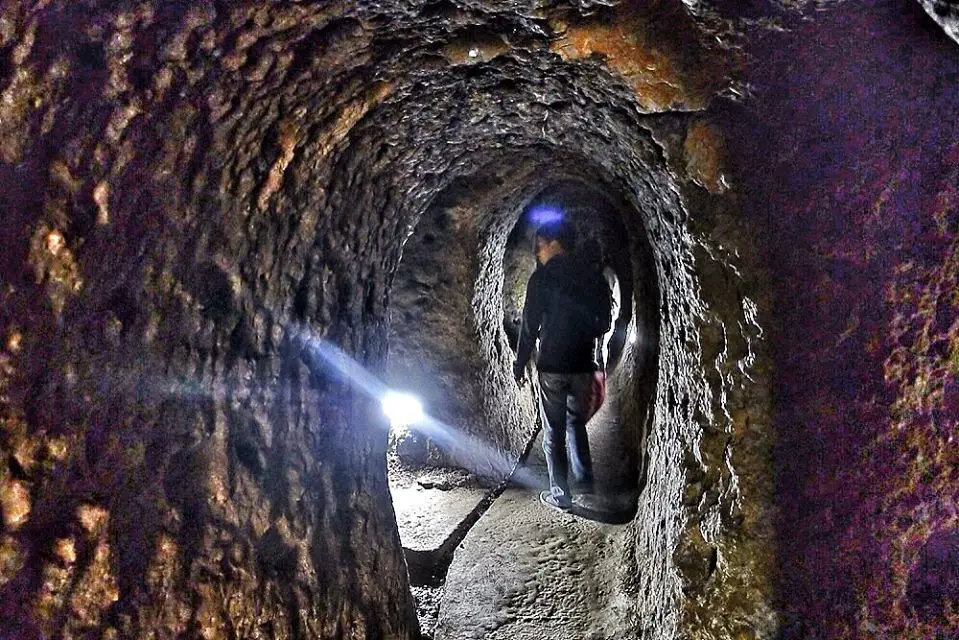 I've only learned about this during our last visit and I didn't know that such exist here. It was discovered in the late 1970s.
The Japanese soldiers constructed it in World War II as a means to transport war supplies and to serve as a bunker. It has an overall length of 150 meters and it's like a dark maze that will make you feel creepy and thrilled at the same time.
I was actually a bit afraid when we entered. In my mind, there might be wandering spirits since many Japanese perished here during the war. But don't worry. There are installed lights all over.
Friendship Gardens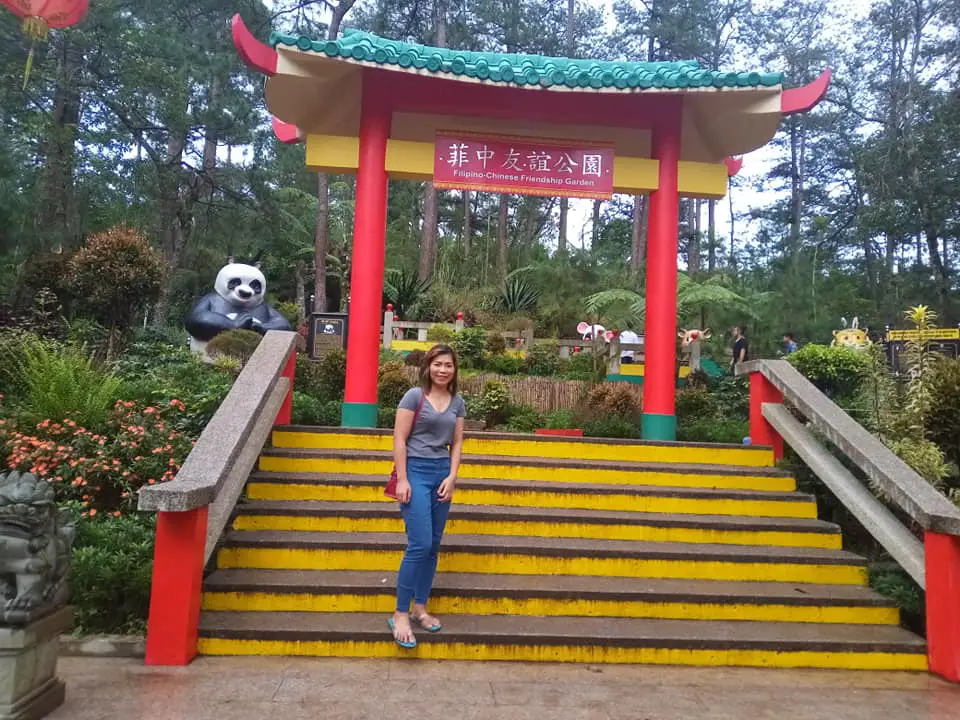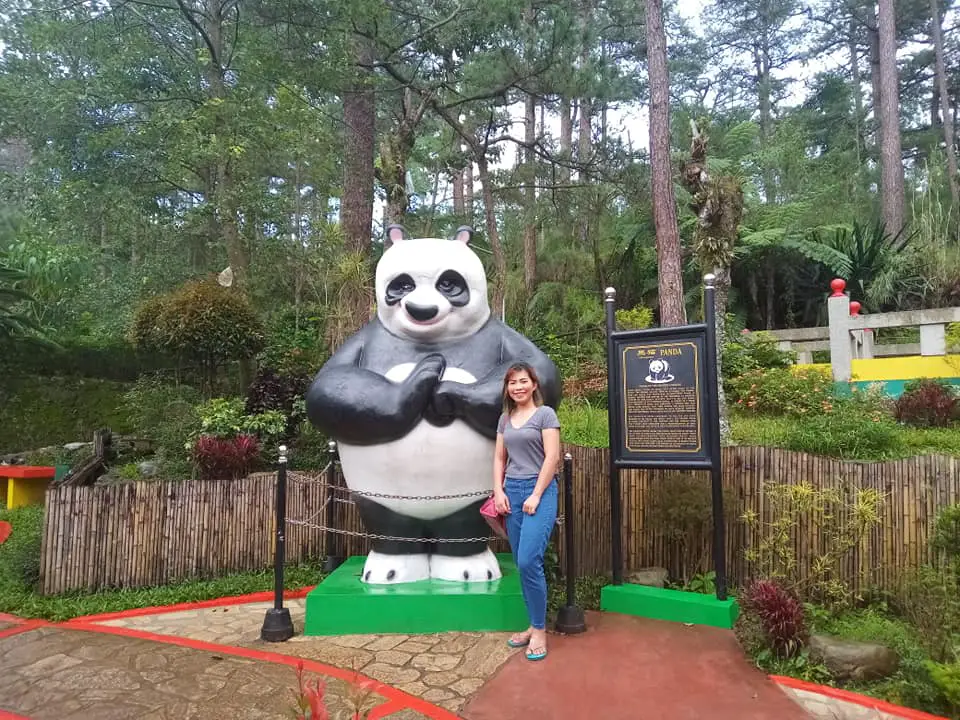 There are different gardens showcasing the friendship of Baguio City with other countries like China, Japan, Korea, Thailand and the United States of America.
Each garden has features identical to each country. For instance, you'll find here a replica of the Golden Gate Bridge in the USA including temples and pavilions reminiscent of China and Korea.
Then, you'll also see statues of elephants and mini-Buddhas. That will make you feel like you've traveled to different countries.
Igorot Native Huts
Botanical Garden Baguio is also a good spot for learning about the culture of the different tribes in the Cordillera region.
You'll different traditional houses depicting that of Benguet, Ifugao, Kalinga, and Mountain Province. All of the materials used to construct these are all locally-based.
You can wear traditional Igorot garments and pose on any of these native houses for picture taking. From time to time, tribal gatherings and rituals are conducted here. You're one lucky spectator if you chance on one of these.
Pine Forests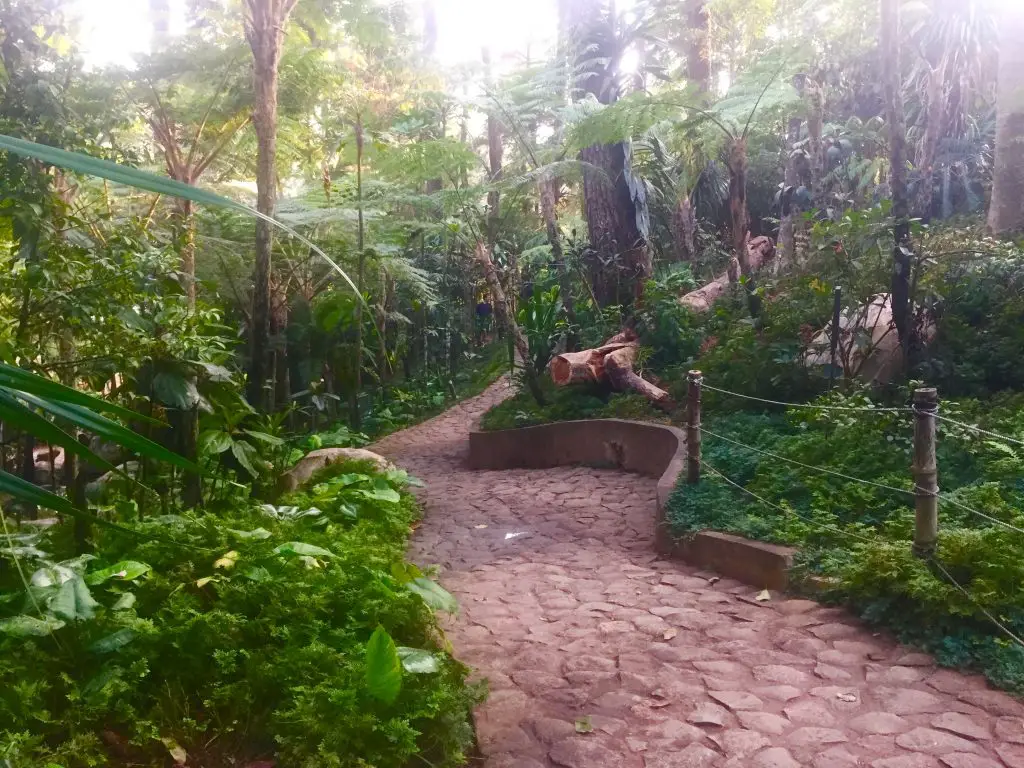 Among the parks in Baguio City, the pine forests here are among the most pristine. You'll notice that the trees are tall and big. That means that they have been here for a long time already.
That's a good thing, especially that the city has become synonymous with pine trees.
Flower Gardens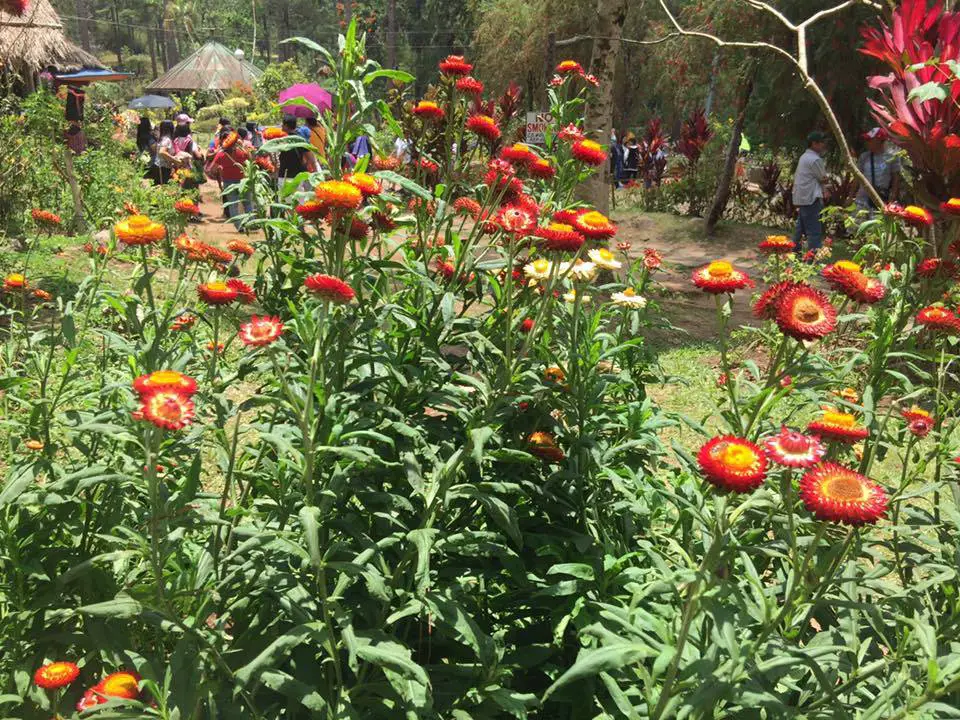 In almost every part of Botanical Garden, you'll find flower gardens or groves. You'll find here different flower species such as roses and sunflowers.
Who would not love taking pictures with these especially during the blooming season?
Wishing Well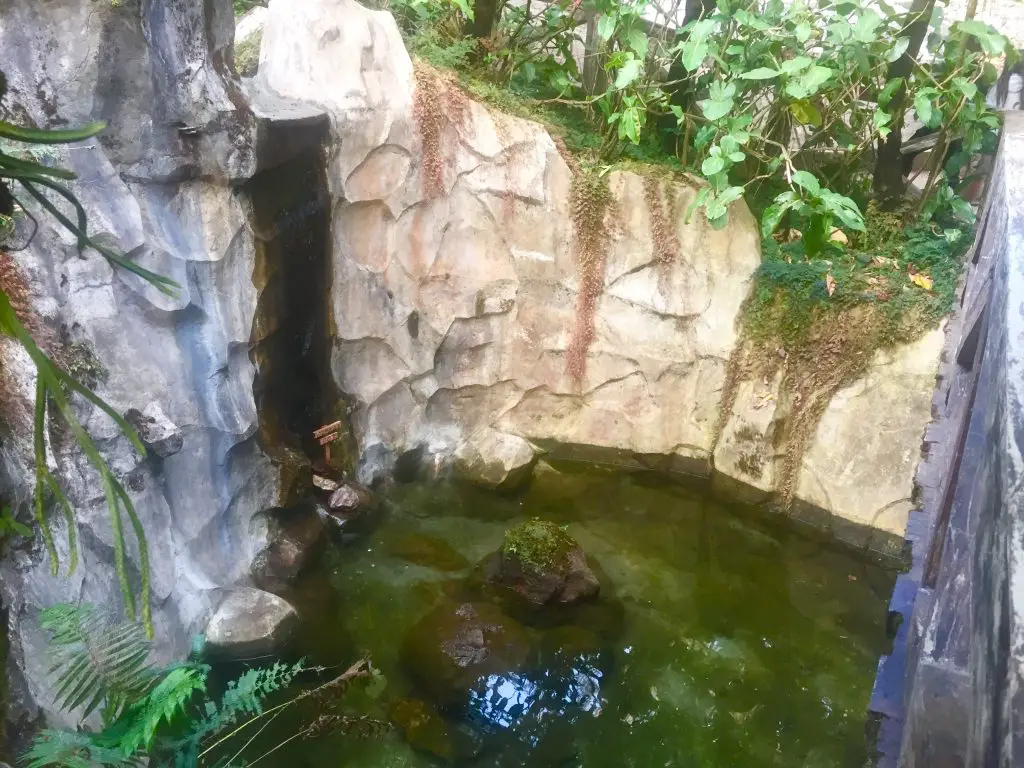 If I remember it right, we came across two wishing wells. One is actually a fountain and the other one is like a mini-waterfall with a natural pool. If you want to see the best views of the mini-waterfall, it's best to come here just after the rains.
Why is Botanical Garden one of the Best Baguio Tourist Spots?
Aside from the different sights to see here, it's one of the remaining ecological frontiers in Baguio City which is in danger of becoming an urban jungle.
Botanical Garden gives us a picture of what the city must have looked like before overdevelopment crept in.
Towering and lush pine forests. Crystal-clear streams and pools. Colorful flower gardens. These are reasons why I Botanical Garden is my favorite tourist attraction in Baguio City.
Sights to See Near Botanical Garden Baguio
If your energy is still up for exploration, you can visit some nearby Baguio tourist spots.
From Botanical Garden Baguio, you can walk towards Wrights Park and that will only take you about 10-15 minutes. It's that close!
If you're done sightseeing or horse-riding at Wrights Park, assault the long staircase there and you'll catch sight of The Mansion. You can just take a selfie outside The Mansion or go inside to check out the indoor museum and learn about its history.
Then, there is the Teachers Camp just before Botanical Garden when you're coming from the city proper. You can stroll around here to enjoy the rustic atmosphere amidst towering pine trees. It is also one of the historical Baguio City tourist spots.
Tips and Reminders
Don't ever litter, please. Let us all help in keeping Botanical Garden Baguio City clean and green.
Don't pick flowers. They are for your eyes only.
There is no need for a guide. Just be careful when strolling around.
Don't hesitate to ask the staff for tips and directions.
There are public restrooms within Botanical.
You can bring your pets here.
Wear comfortable walking shoes as you'll be training on stone paths and steps.
Always keep watch when your kids are loose. They might jump into one of the pools.
There are souvenir stalls near the entrance where you can buy potted flowers, and customized keychains, and T-shirts.
For more Info on Botanical Garden
If you need more information to help set up your itinerary to Botanical Garden Baguio City, do contact the management via the following:
Contact Number:  (074) 446 2009
Website: http://www.baguio.gov.ph