Here is your complete DIY travel guide to Winaca Eco-Cultural Village in Tublay!
A week after I started working in a private company in Baguio City, I began to feel exhausted and disillusioned with the daily grinds. I knew then I wanted an escape, a relief from the bustles and hustles. The pressures and tons of workload from my corporate job took its toll that I wanted to submit a resignation. But for practical reasons, I held on and thought of a way to cope. It was Friday and at that point, I decided to immerse myself with nature the following day. But where?
I browsed online and came about Winaca Eco-Cultural Village, a rustic haven near Baguio City. I've heard about it before but never got the time to visit. So I booked it for the following day's travel with one of my best buddies Alladin. And I tell you, it was a day of fun, thrill, exploration, and adventure.
If you're planning to go as well, read on. This travel guide's got you covered to make the most out of your visit.
How to Get to Winaca Eco-Cultural Village?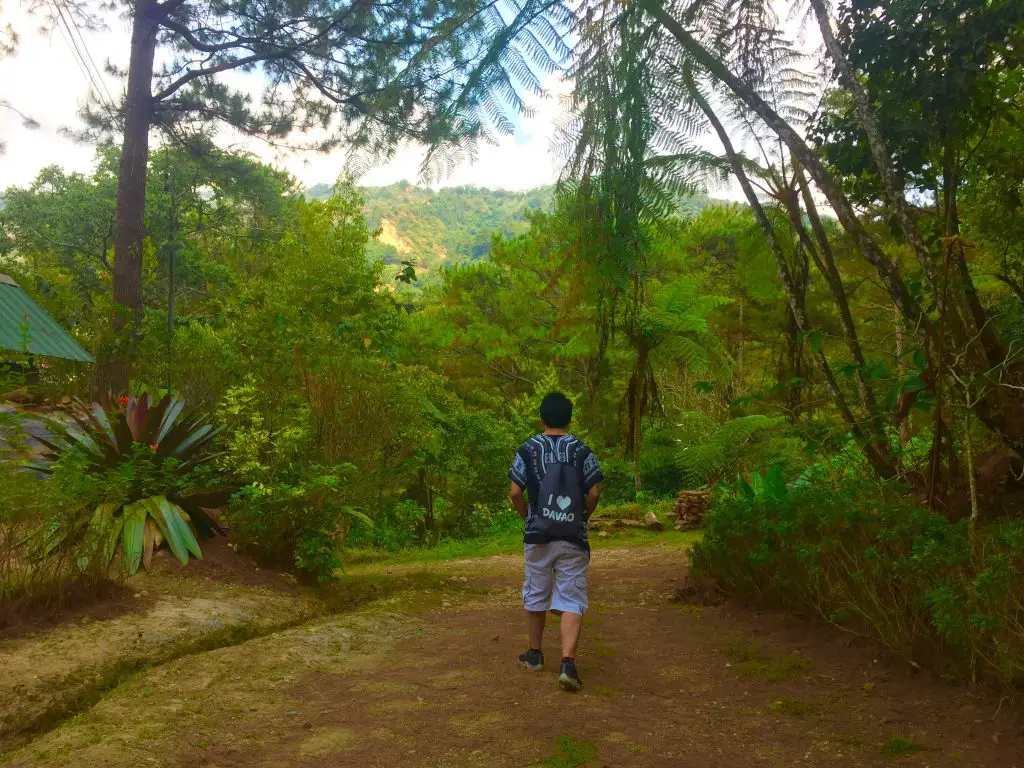 From Baguio City, ride a jeep bound to Acop Shilan. Jeep station is at Lower Magsaysay. Travel time takes 30 minutes or more, depending on the traffic condition. Thus, it's best to go there during the early morning. Fare from Baguio City to Acop, Tublay is Php 20.
Upon reaching Acop, ask the driver or any of the locals to point directions. Near the Acop toll gate, follow the road to the left for about 20 meters until you reach the dirt road leading straight to the farm. Trekking time takes 15 minutes to reach the gate which is also the registration area.
There, pay the entrance fee per person: Php 100 for adults and Php 80 for PWDs, Senior, and Kids. With that amount, you can have a whole day of fun and exploration at Winaca Eco-Cultural Village.
What to See at Winaca Eco-Cultural Village?
From the gate, it takes another 15 minutes of walk to reach the Green House Cafe and Restaurant where tourists usually do a stopover before proceeding with the trek.
We were supposed to interview Mr William Capuyan, owner of the farm, at the cafe but he was having a meeting so we opted to go hiking and exploring instead.
Just a few meters from the cafe, we reached the so-called tribal houses which feature the traditional structures of Sagada, Bakun, and Ifugao. You can enter these to see how it looks inside and have a glimpse of the local ancestors' daily lives. If you're planning for an overnight stay, you can rent one of these for Php 250 per person.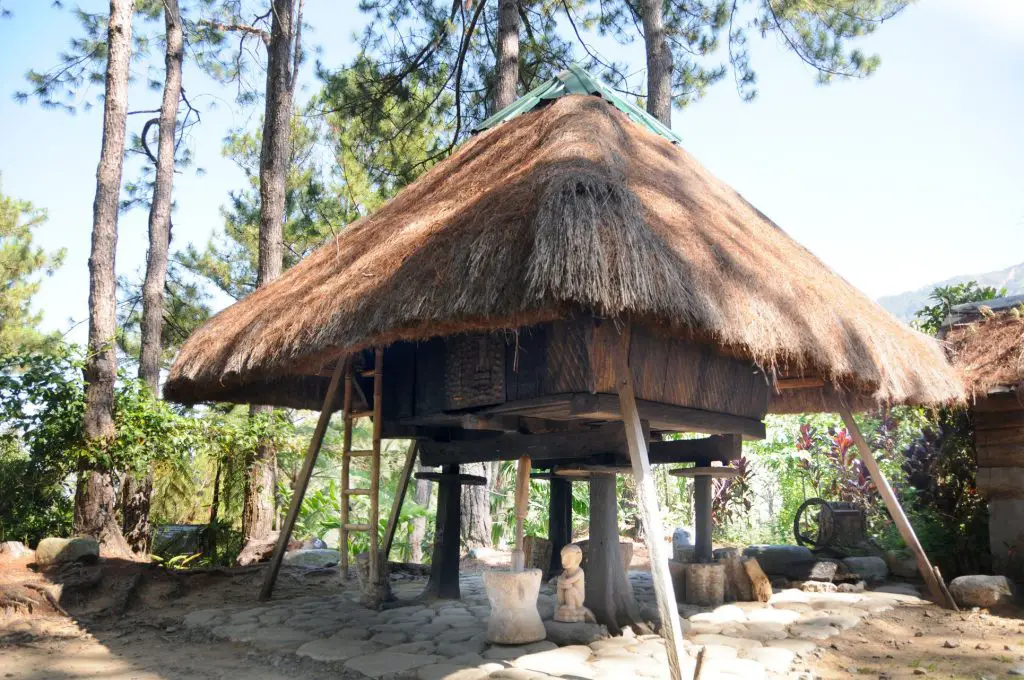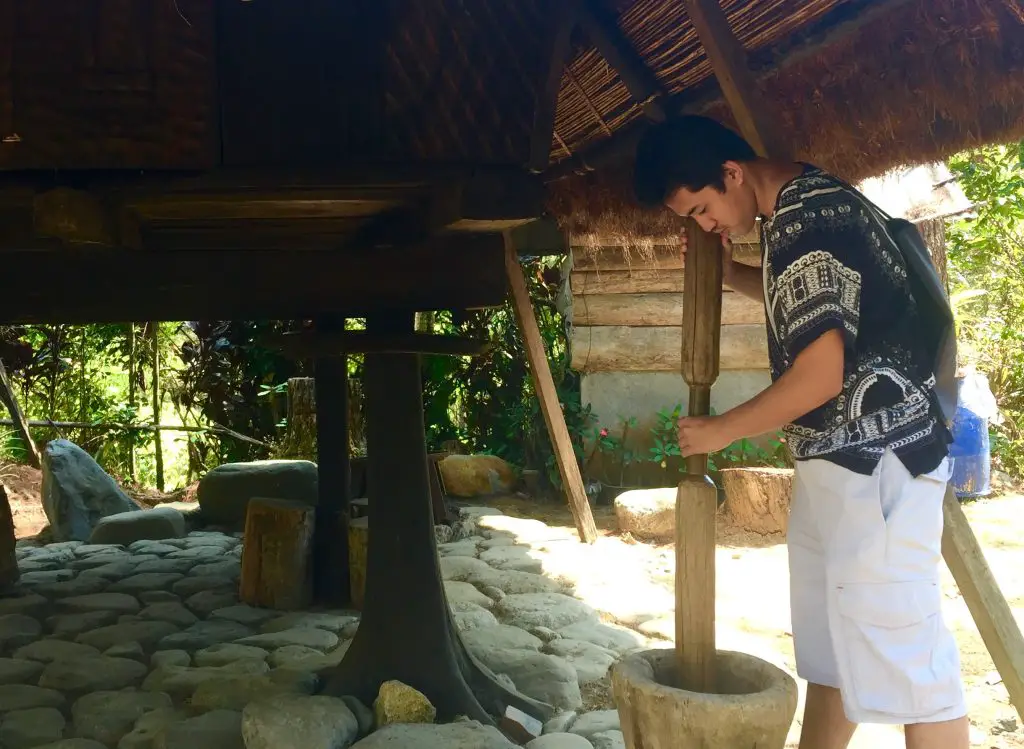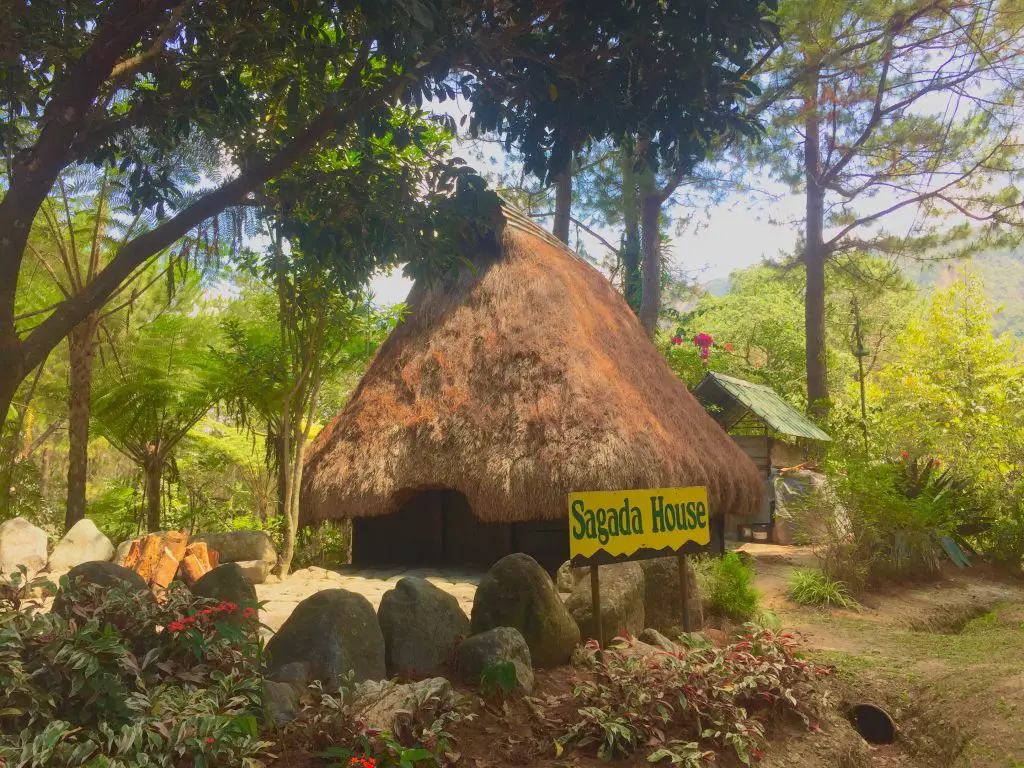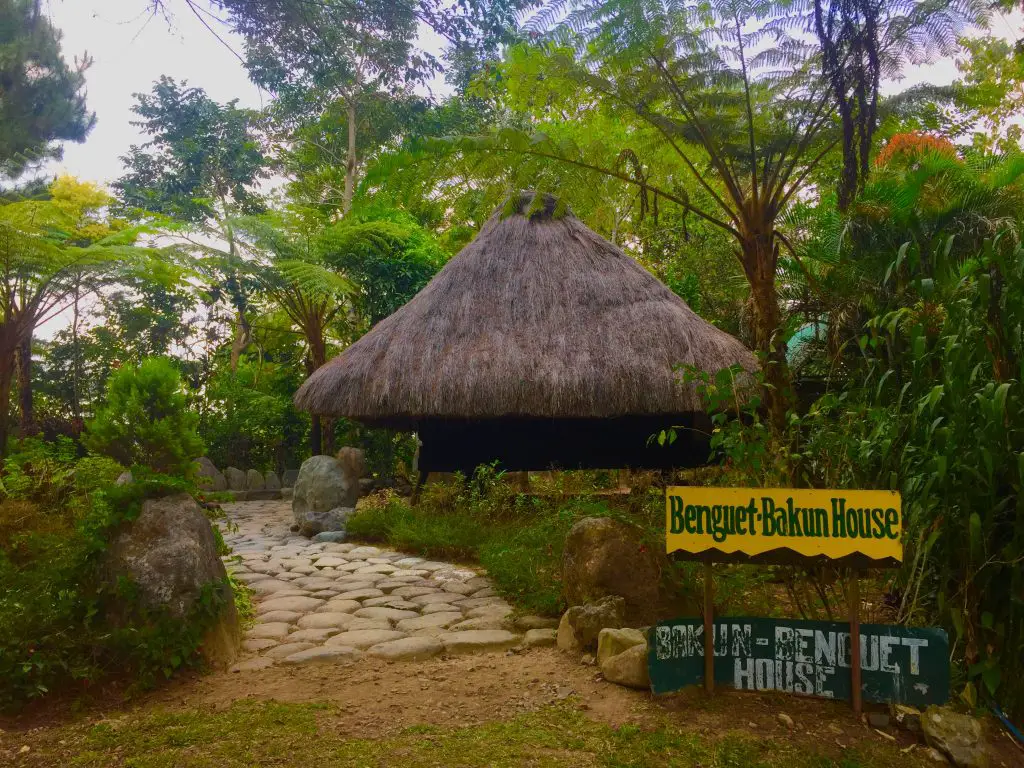 We then followed the road until we reached the so-called eco-trail which runs for about 2 kilometers. It led us into pristine pine forests, bamboo groves, organic farms, and secondary forests which teem with different flora and fauna. Wildflowers also abound including various birds creating natural music to the ear.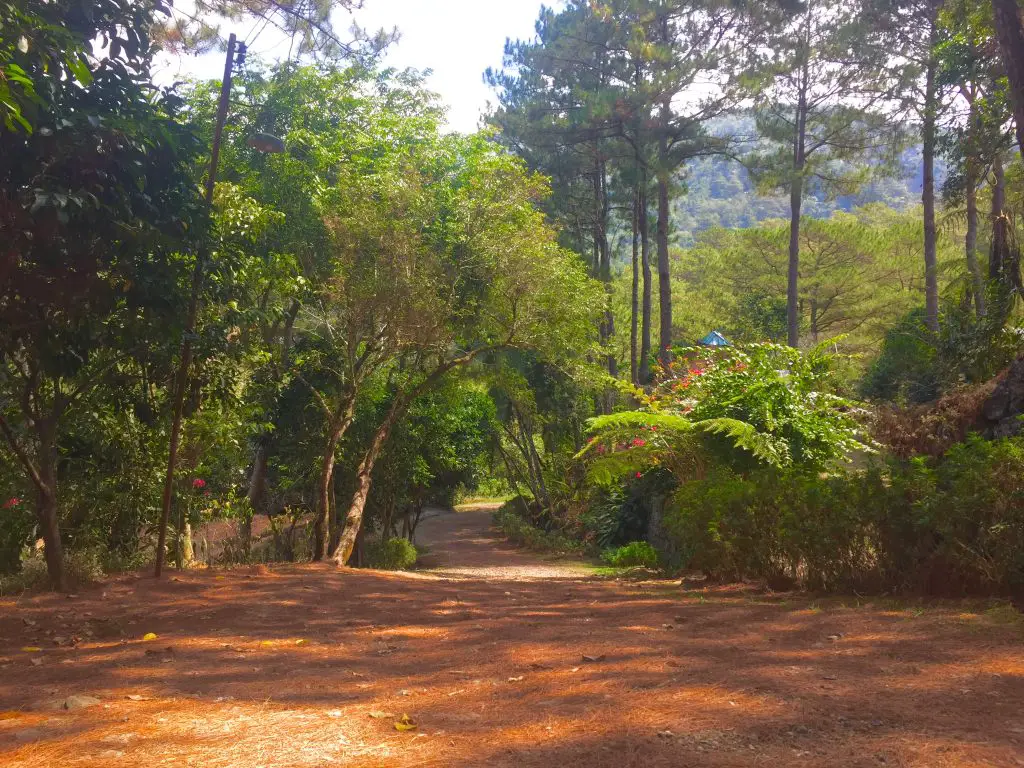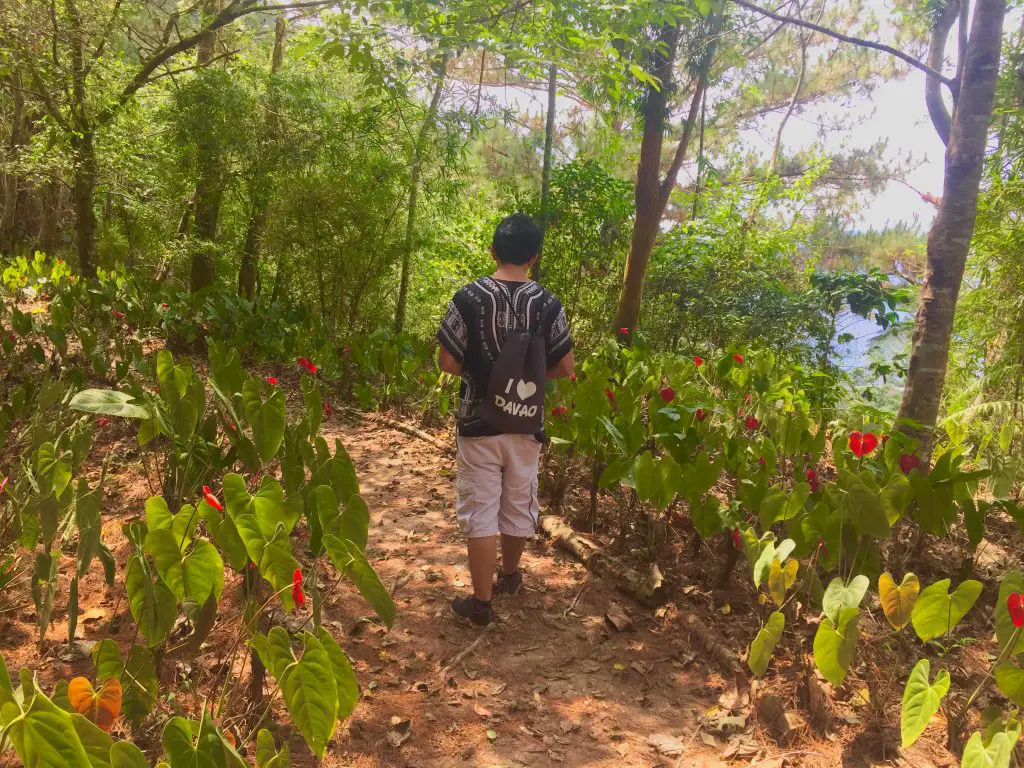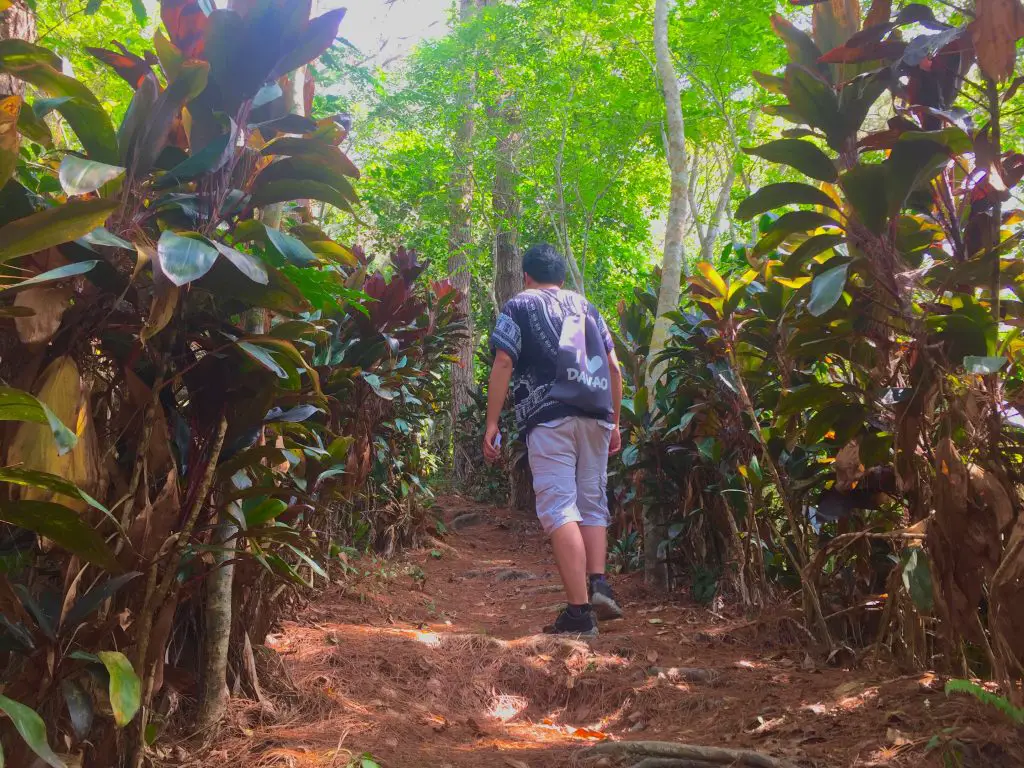 The eco-trail is well established, thus, even newbie hikers can easily complete the hike for more or less 30 minutes. But if you're not used to this kind of activity, make sure to contact one of the staff to serve as a guide. That's both for your safety and convenience.
Winaca Eco-Cultural Village also has the following:
Strawberry Farm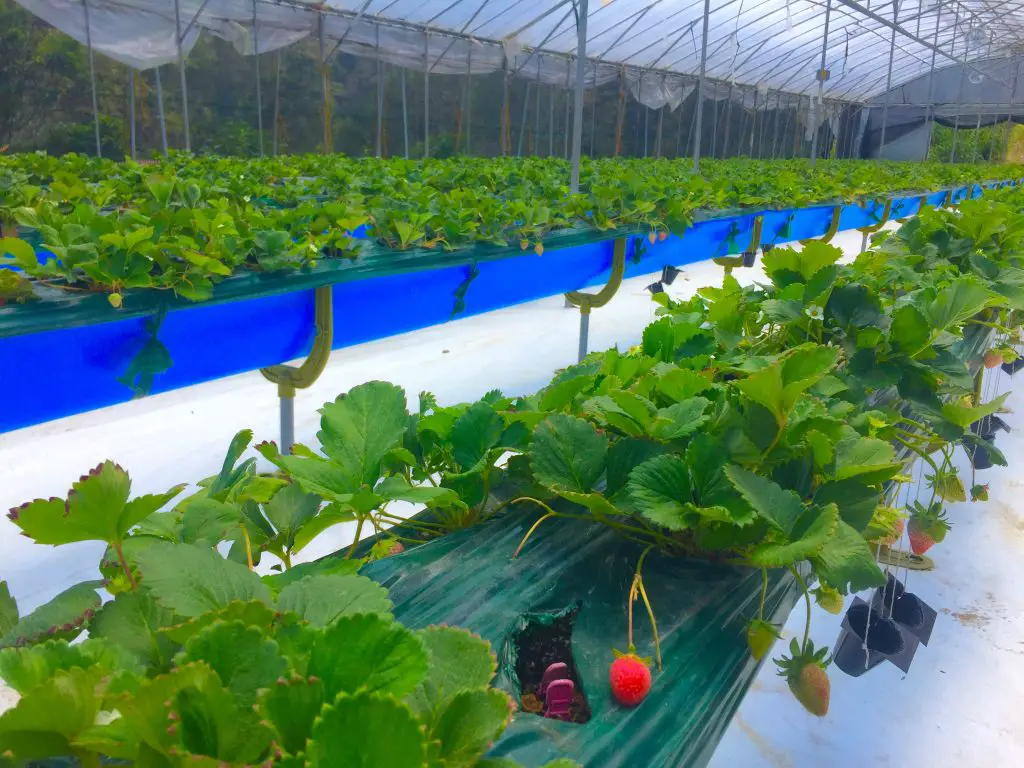 Unlike in the popular La Trinidad Strawberry Farm, strawberries in Winaca Village are grown through hydroponics. It is an innovative farming system which makes use of water and nutrient-based solution without the use of synthetic fertilizers or chemicals.
Flower Farms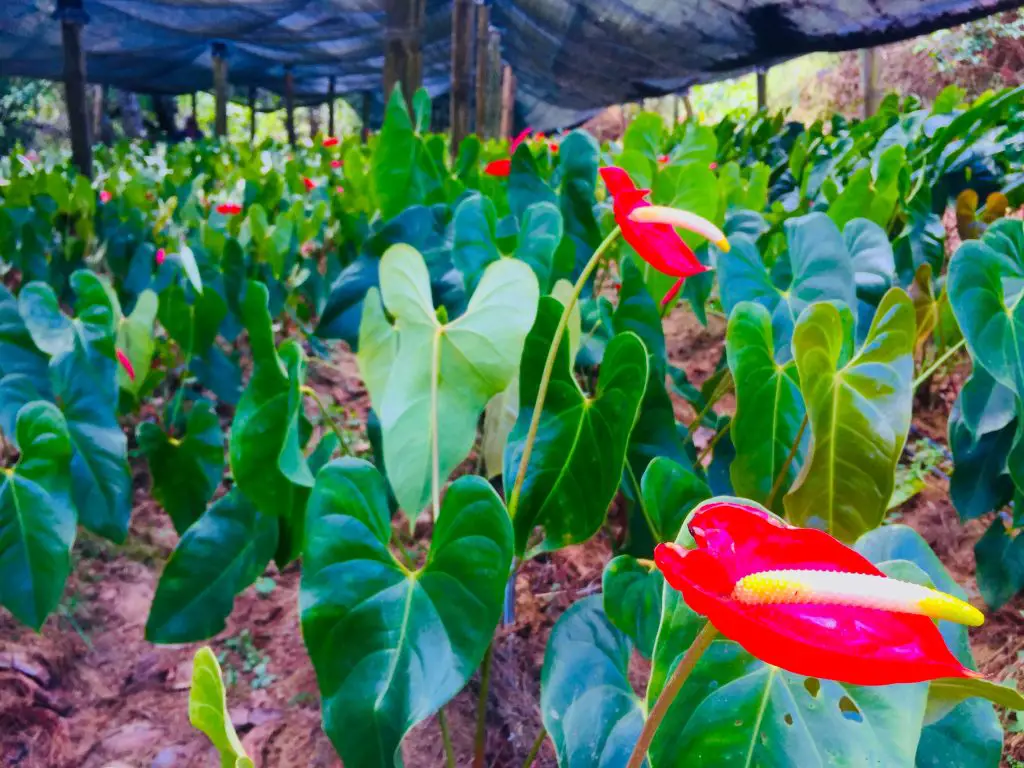 Different flowers are grown in Winaca Eco-Cultural Village. You can stop by one of these and shoot Instagrammable photos. Ask one of the farmers to get an overview on how they raise the flowers.
Poultry, Geese, Turkey, and Duck Farms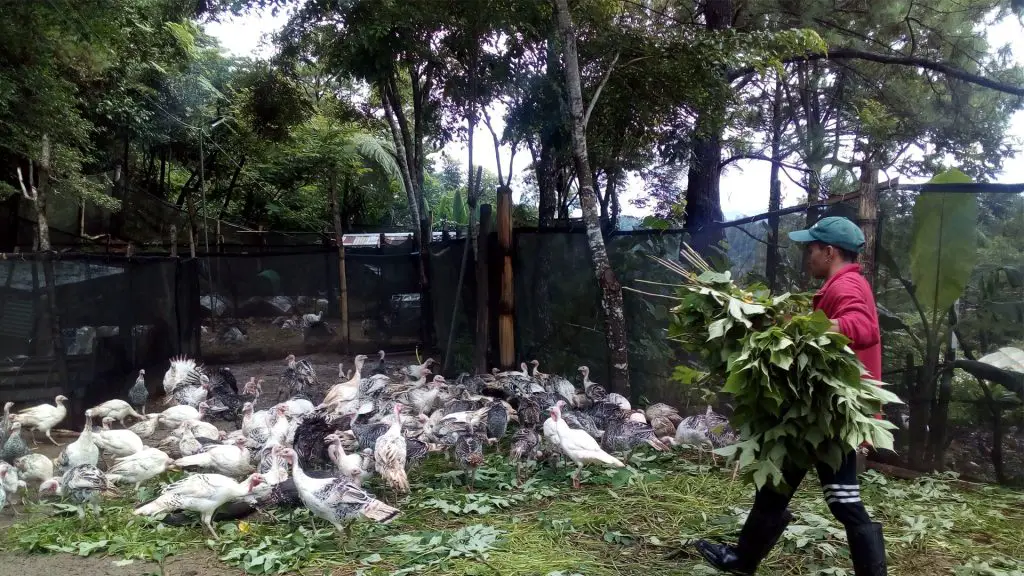 Winaca Eco-Cultural Village is one of the few suppliers of free-range chickens, ducks, geese, and turkeys in the province. All of these are grown organically.
Narda's Weaving and Souvenir
You can buy internationally-acclaimed souvenir items here such as bags, wallets, clothes, slippers, and much more. You'll also see for yourself how the weaving process is done.
Coffee Farms
Winaca Village has a few hectares of organically-grown Arabica coffee, mostly under the shade of pine trees. These are brewed and served at the Green Cafe and Restaurant.
Things to Do
Zipline
Rate: Php 100 per person
Length: 100 meters
Mudslide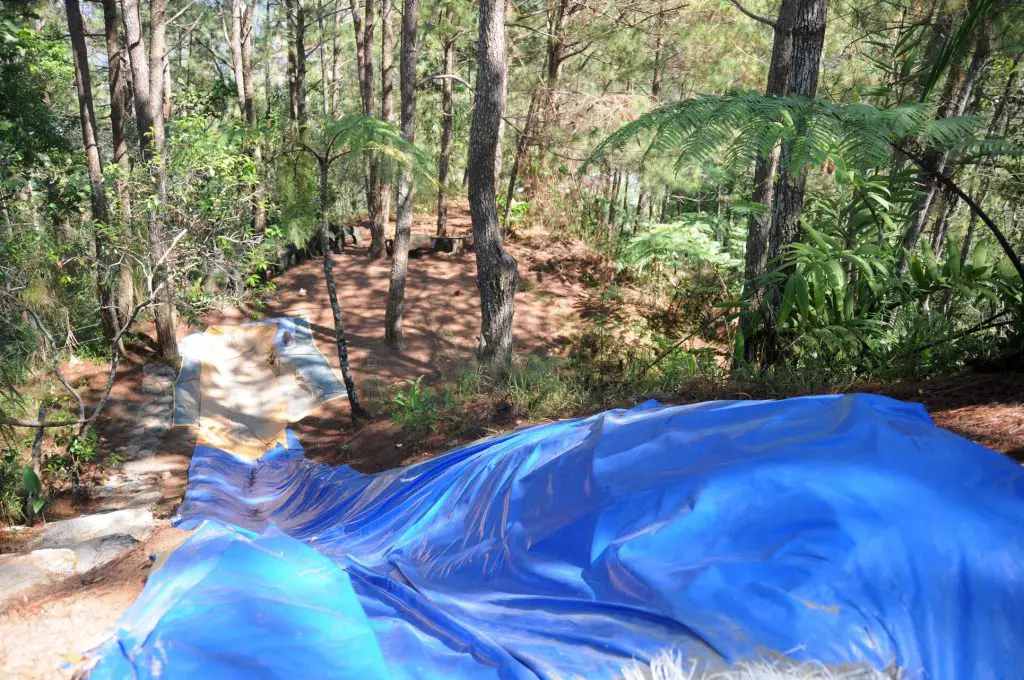 Rate: Php 50 per person
Duration: 10 minutes
Wall Climbing/Rappeling
Horseback Riding
Rate: Php 250 per hour
Note: Contact the staff in advance at least a day before the visit.
High or Low Rope Courses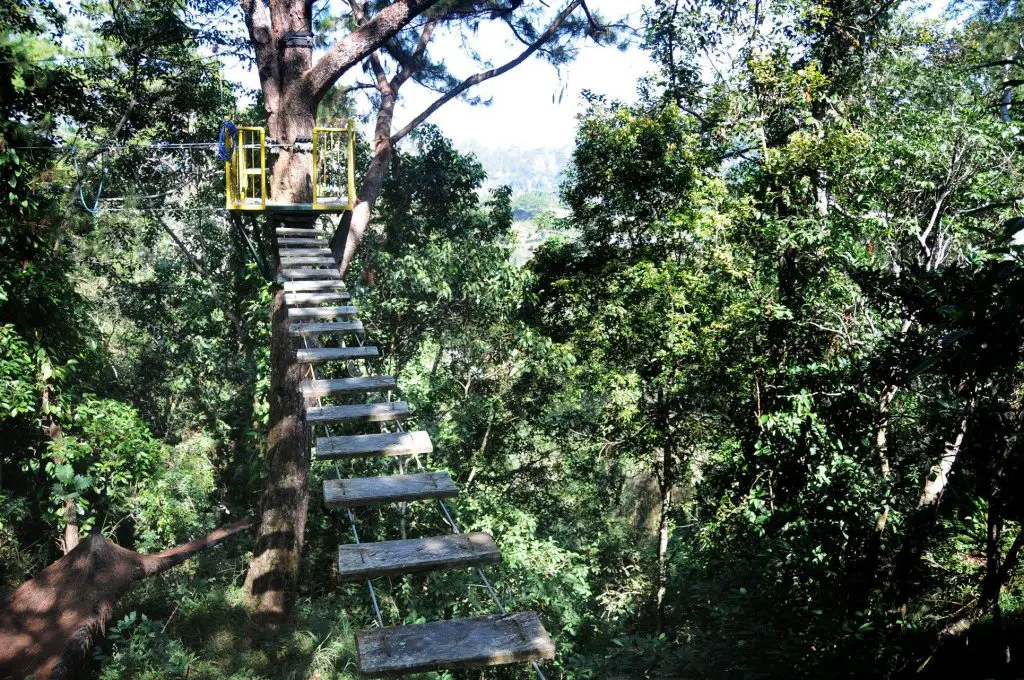 Where to Stay in Winaca Eco-Cultural Village
Winaca Eco-Cultural Village has two cottages to choose from for an overnight stay.
Cottage A – 1st Floor, good for 20 persons, Php 7,500; 2nd Floor, good for 8 persons, Php 3,000
Cottage B – Good for 8 persons, Php 5,000
Extra Persons – Php 350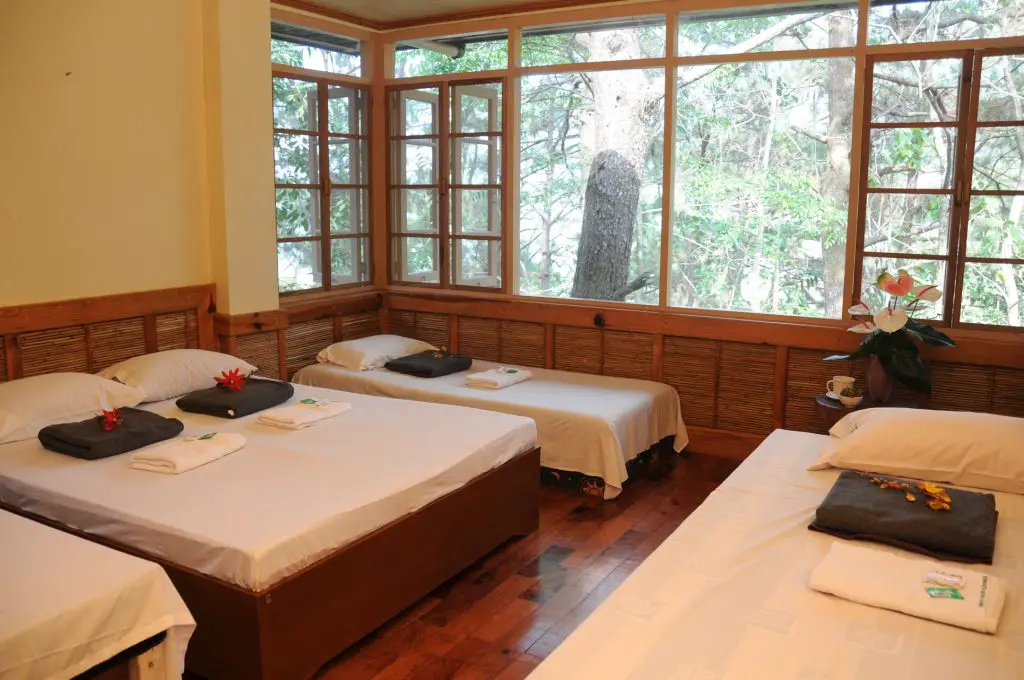 For budget-conscious travelers, you can rent one of the traditional houses for Php 250 per person. You'll be provided with beds and sheets to use. I highly recommend this for you to experience the culture of the people in the past. You'll surely love the serenity of sleep here while being warmed by a bonfire.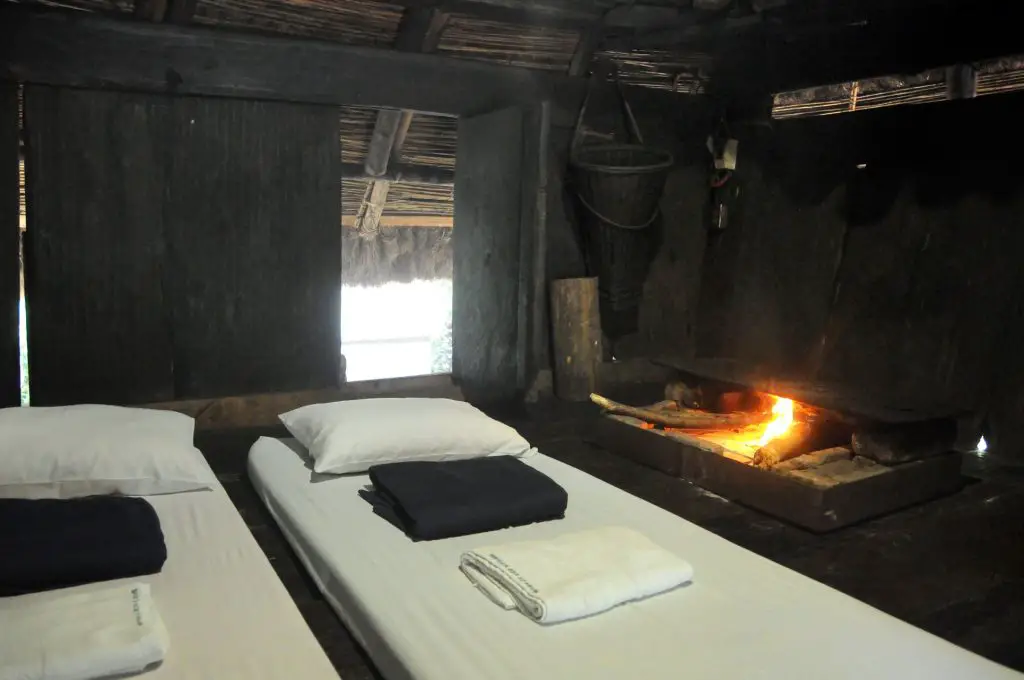 Tips and Reminders
Operating hour starts from 6 am to 8 pm.
For meals and snacks, pre-arrange with the staff at least a day before the scheduled visit. Meals start at Php 90 while snacks start at Php 60. Don't miss out on the pinikpikan (native chicken stew), one of their best selling cuisines!
No littering or picking of flowers.
Protect and don't disturb wildlife.
Bring your own bottle of water.
No smoking, vaping and spitting of betel nut or moma.
Wear comfortable hiking shoes and clothes.
For Your Information
If you need more information to help in setting up your itinerary to Winaca Village Tublay Benguet, do contact the management via the following:
Number: 0918 902 9294, (074) 665 3963
Email: winacainfo@gmail.com