Here is a comprehensive guide if you wish to visit Good Taste Cafe and Restaurant, one of the best yet affordable restaurants in Baguio. So what makes this restaurant special? What are its special meals? Find out more in this article.
I'm a local of Baguio City and you bet, I've been to most of its popular restaurants. Now if you ask me, "What is my favorite?" Without a hint of doubt, I would say in a resounding tone, "Good Taste Baguio!"
Both locals and visitors troop and easily fill Good Taste Baguio for one common reason: They serve sumptuous and tasty meals at a very affordable price.
With less than Php 200, you can have a meal consisting of meat, vegetable, soup, water, and other extras. A plate of that is good for 2 people. That is why some customers acclaim that the restaurant is high-end in quality but budget-friendly.
Yes, you should come here to make the most out of your Baguio itinerary.
P.S. If you're searching for info about Good Taste Cafe & Restaurant Otek Street Baguio Benguet, read on.
Get the latest updates about Philippine tourism including popular and off-beaten destinations by downloading the Visitour PH app. It's your one-stop shop for all Philippine travel-related information including destinations and accommodations!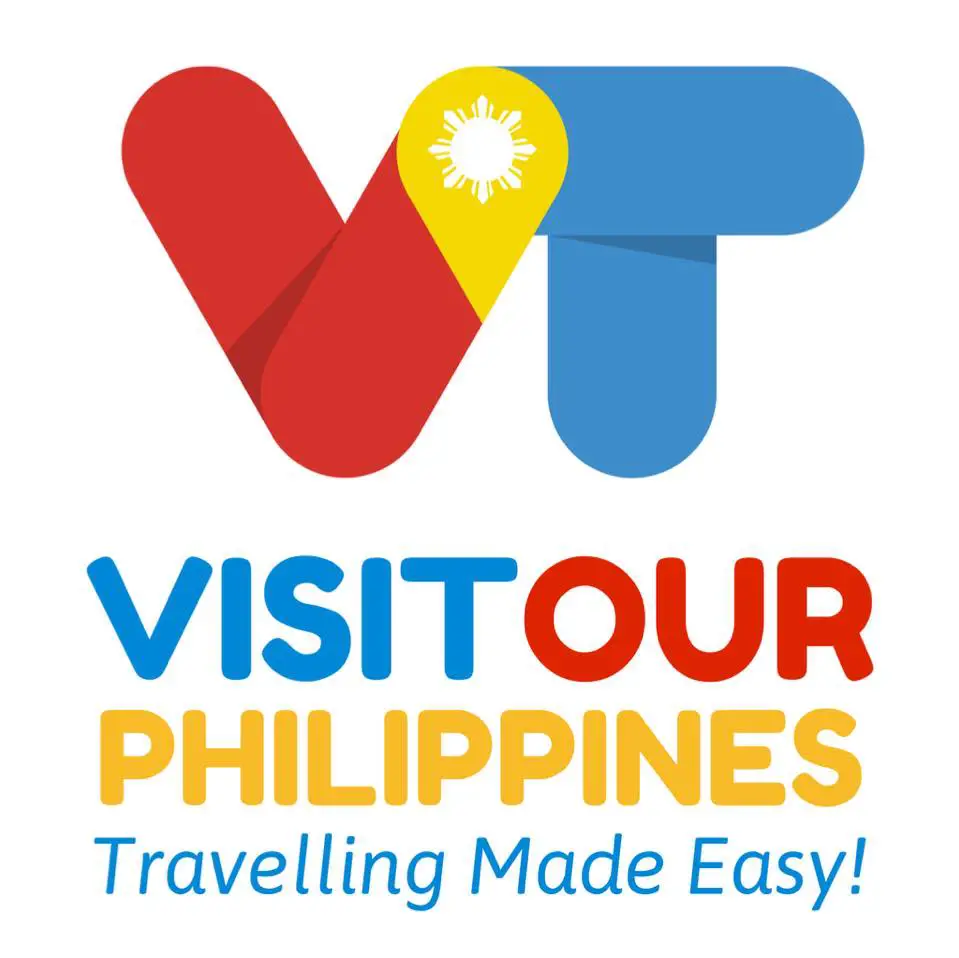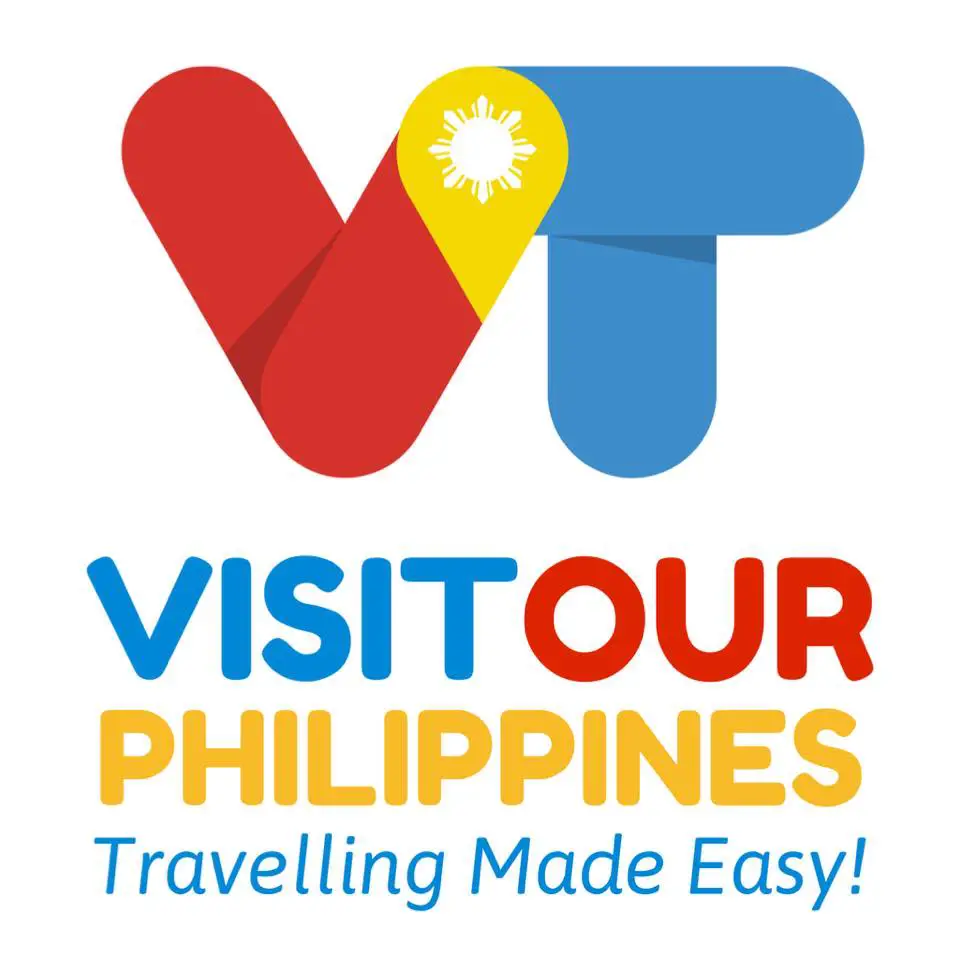 How to Go to Good Taste Baguio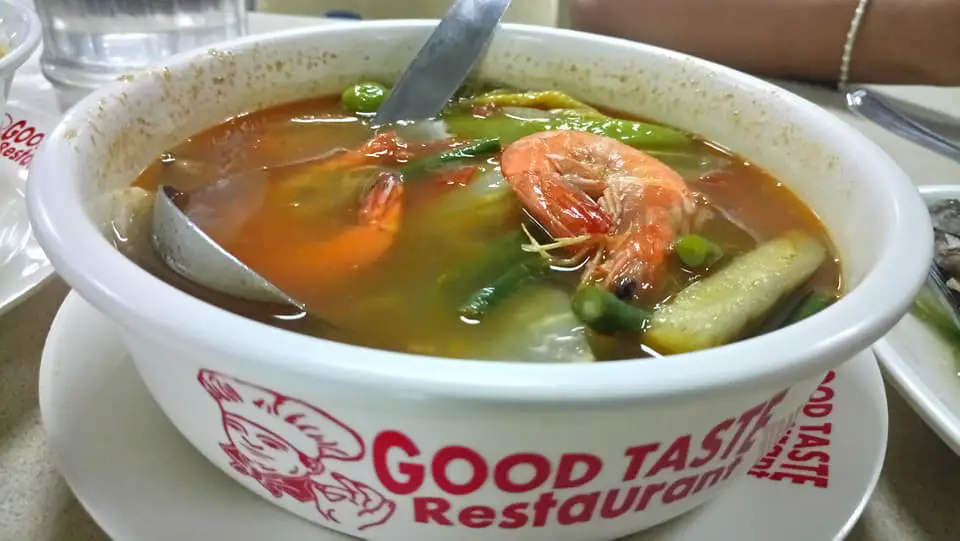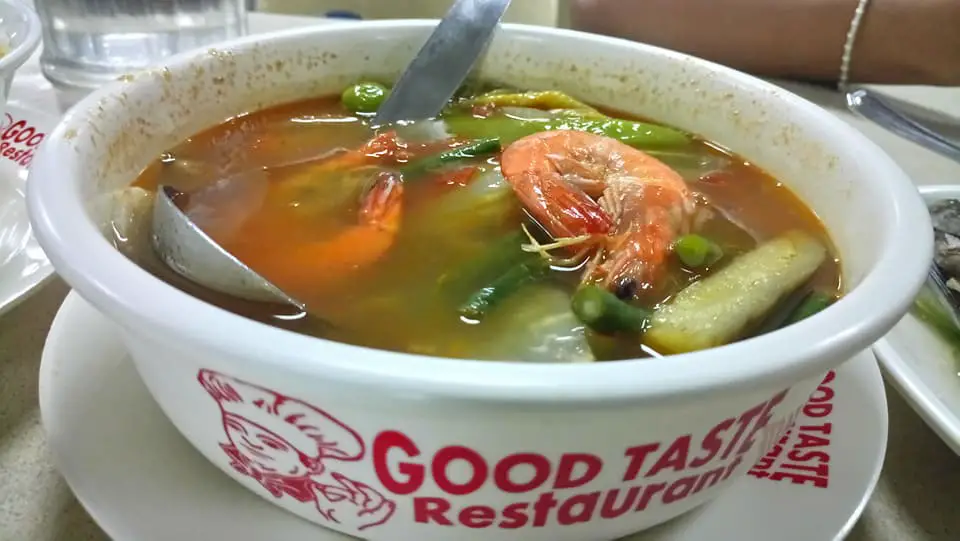 That depends. You should know that the restaurant has two branches in Baguio City: Good Taste Legarda and Good Taste Main Branch.
Now here is how you get to them.
Good Taste Baguio Legarda
Location: Otek Street, Baguio City
Contact: 0919 123 4567
Operating Time: 24 hours
Features: Bigger Building, More Spacious Parking, Near Burnham Park
Good Taste Baguio Legarda is the more popular option because of its proximity to Burnham Park, bus stations, Session Road, SM Baguio, and other top attractions in Baguio City. It also has a bigger and more spacious building consisting of five stories with a wide parking space on the base. It's located at Otek Street, a few minutes walk from Burnham Park and the Baguio City Hall.
Here is how you get there.
From Victory Liner Station, ride a taxi and tell the driver to drop you at Good Taste Baguio Legarda near Burnham Park. Travel time takes 10-20 minutes, depending on traffic conditions. The fare should be less than Php 150.
If you wish to stretch your muscles, you can walk your way there. From Victory station, follow the road leading to SM Baguio and Session Road. Continue until you reach Jollibee on Lower Session. There, you'll find a road to the left.
Follow this for some meters, cross the highway, then tread on the pathway to the right. Follow it until you reach Burnham Park. You can ask local sellers there to give directions to Good Taste Legarda. All in all, the trek should take you 20-30 minutes at an average pace.
Good Taste Baguio Main Branch
Location: Rajah Matanda Street, Baguio (back of Center Mall)
Contact: (074) 444 2201
Operating Time: 24 hours
Features: Near the GL Trans which has trips to Sagada and near jeep stations bound to La Trinidad Strawberry Farm
The main branch is the original Good Taste Baguio. It used to rent a small space in the building but since then, grew and expanded rapidly. Only the second floor is utilized for dining. The first floor is for those waiting for take-outs. it also has a base for parking.
How do you get there?
From Victory Liner Station, hop on a jeep and tell the driver to take you to Good Taste Baguio at the back of Center Mall. Travel time takes 20-30 minutes, depending on traffic. The fare is also less than Php 150.
If you also plan to walk to catch some sights or enjoy the cool atmosphere, follow the road to Session. Continue to the lower Session until you reach People's Park. Follow the path to the right, crossing a road twice until you reach Center Mall.
From there, walk for some meters and you'll see the entrance of Good Taste Baguio. Feeling lost? You can always ask the locals for directions. The trek can take you up to 25 minutes at a regular pace.
Good Taste Baguio Menu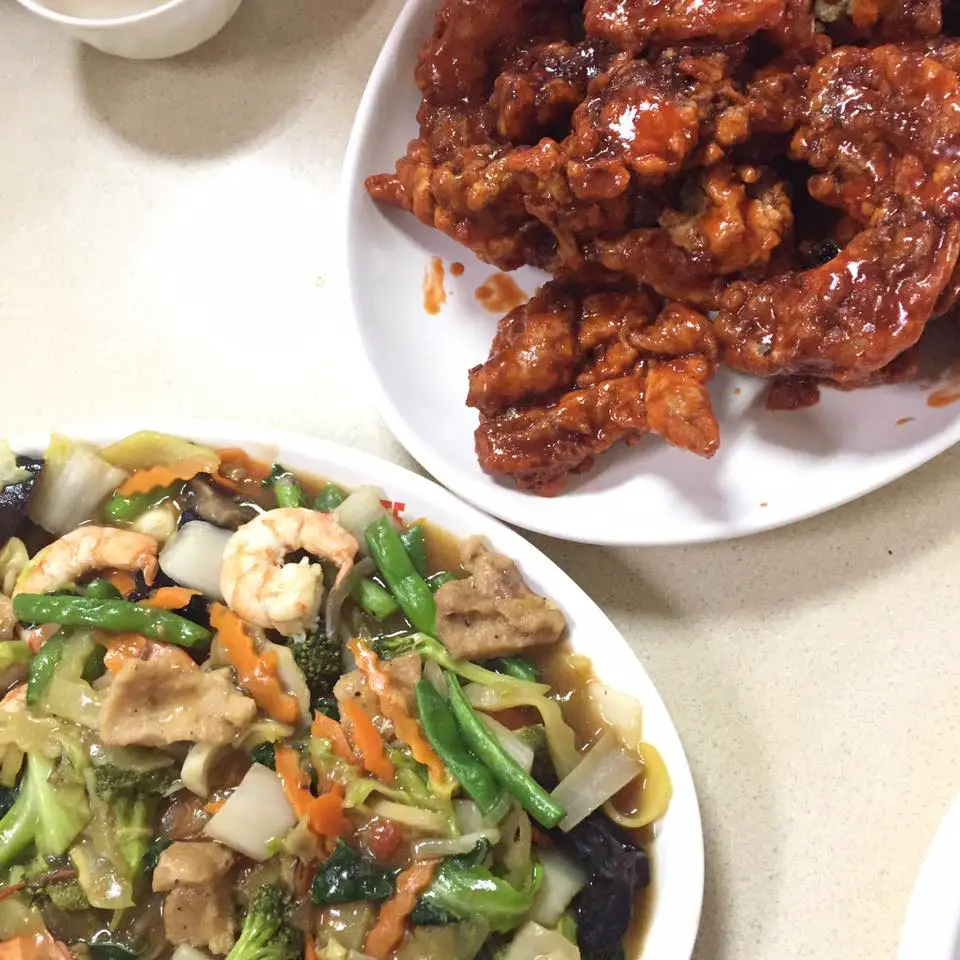 Both Good Taste Baguio branches offer the same set of meals. They are categorized as Combo Meals (individual serving), and Family Style (group serving). They also have desserts and drinks.
Every meal is accompanied by unlimited free soup, free water, and basic condiments like calamansi, sili, soy sauce, and vinegar.
Now here is a detailed breakdown of Good Taste Baguio Menu with the corresponding rates:
Combo Meals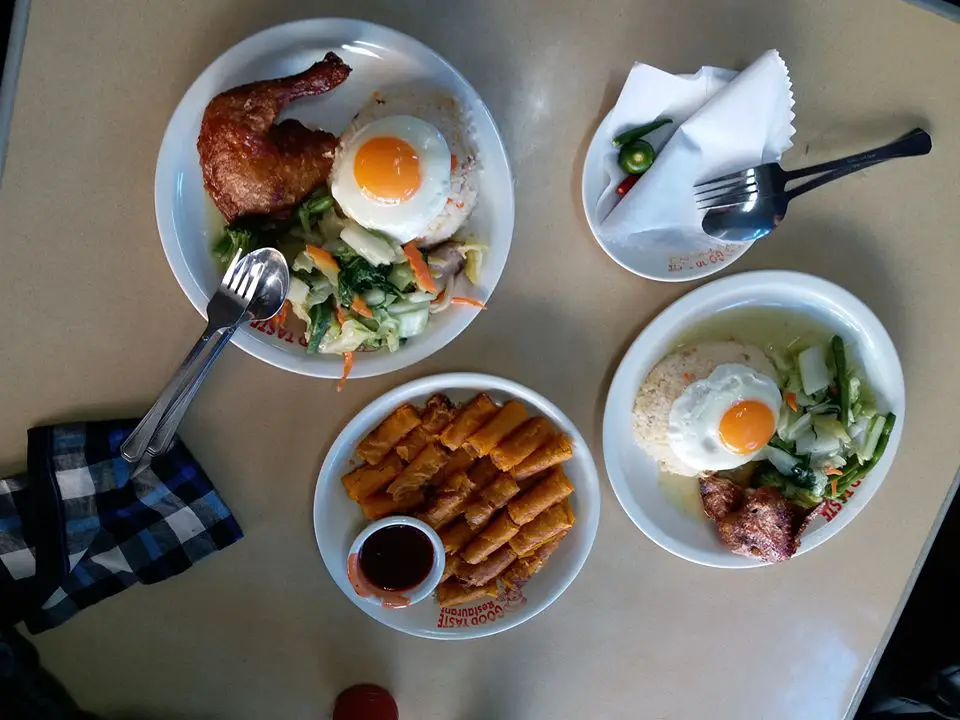 A combo meal is good for one person. I tell you though, it can fill two hungry stomachs!
Good Taste Fried Rice – Php 115
Good Taste Rice – Php 95
Fish, Shrimp Tofu Rice – Php 120
Tofu Shrimp Rice – Php 110
Halabos na Hipon Rice – Php 110
Beef Rice Meals – Php 90 to Php 95
Chicken Rice Meals – Php 90
Other Fried Rice Meals – Php 80 to Php 90
Lechon Rice Meals – Php 90 to Php 95
Shanghai Lumpia Rice – Php 90
Steamed Chicken Rice – Php 90
Tofu Vegetable Rice – Php 90
etc.
Tip: One of the best-selling is Good Taste Rice which consists of fried chicken, mixed vegetables, steamed rice, and pork on one plate! It's an innovative rendition of the famous Jack's Rice by Jack's Restaurant which popularized this style of cooking.
Family Style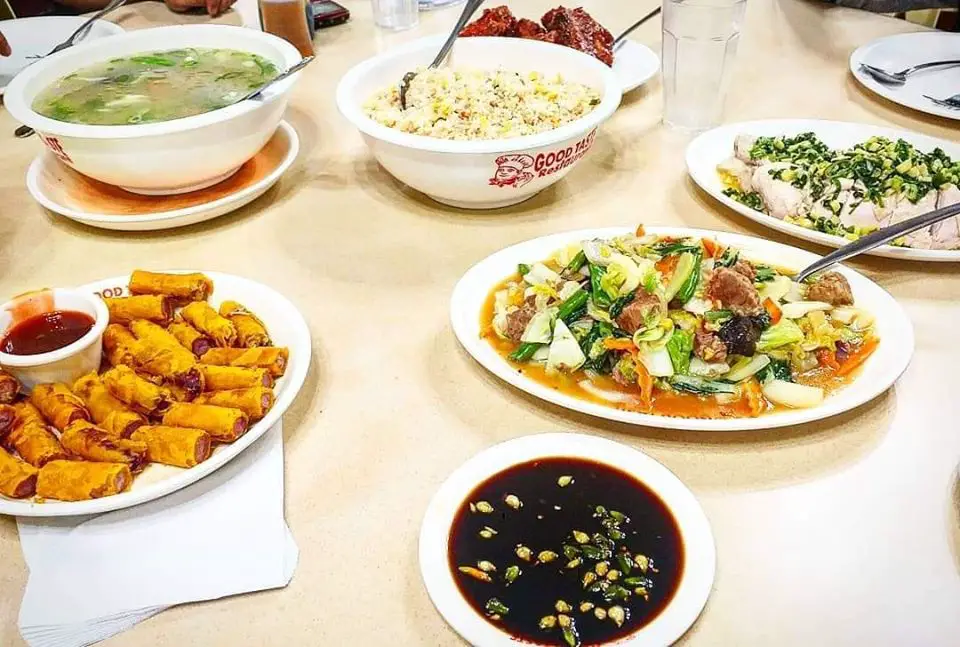 Each serving is good for two to five persons.
Hot and spicy buttered chicken – Php 180 (Half), Php 360 (Whole)
Buttered Chicken – Php 170 (Half), Php 340 (Whole)
Garlic Buttered Chicken – Php 170 (Half), Php 340 (Whole)
Fried Chicken – Php 150 (Half), Php 300 (Whole)
Steamed Chicken – Php 150 (Half), Php 300 (Whole)
Sweet and Sour Chicken – Php 195 (Whole)
Crispy Pata – Php 300
Pork Hong Ba – Php 330
Tilapia Servings – Php 130 to Php 220
Fish Shrimp Tofu – Php 200
Halabos na Hipon – Php 180
Tofu with Shrimp – Php 180
Adobong Hito – Php 170
Ginataang Hito – Php 170
Sweet and Sour Fish Fillet – Php 180
Fish Fillet with Tofu – Php 170
Fish Fillet with Vegetables – Php 160
Asado – Php 165
Beef Meals – Php 145 to Php 180
Chicken Meals – Php 145 to Php 155
etc.
Tip: One of the best-selling Family Style Menu of Good Taste Baguio is the buttered and steamed chicken. The steamed chicken comes with savory herbs and spices, giving it an irresistible aroma and mouthwatering taste.
Other Servings
Cold Beverage
Hot Beverage
Mami
Dimsum
Desserts
Special Soup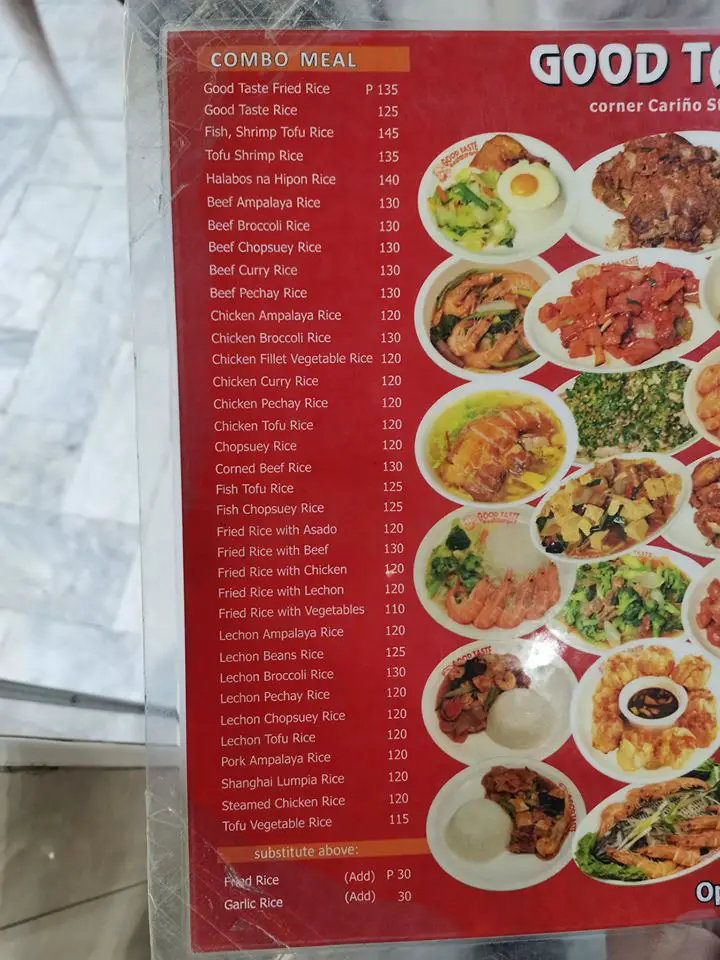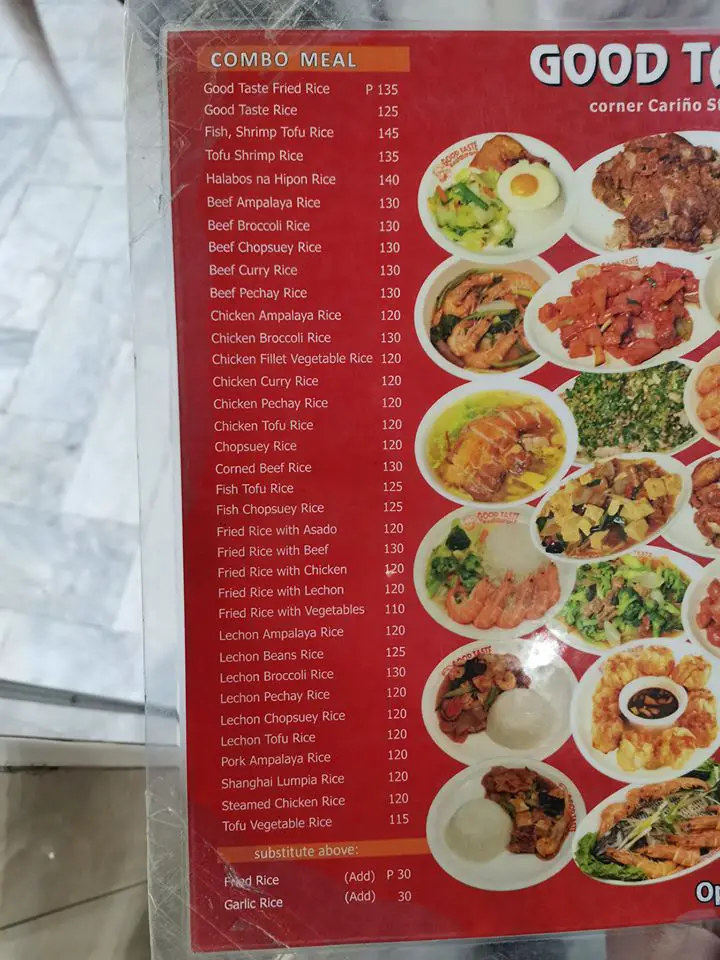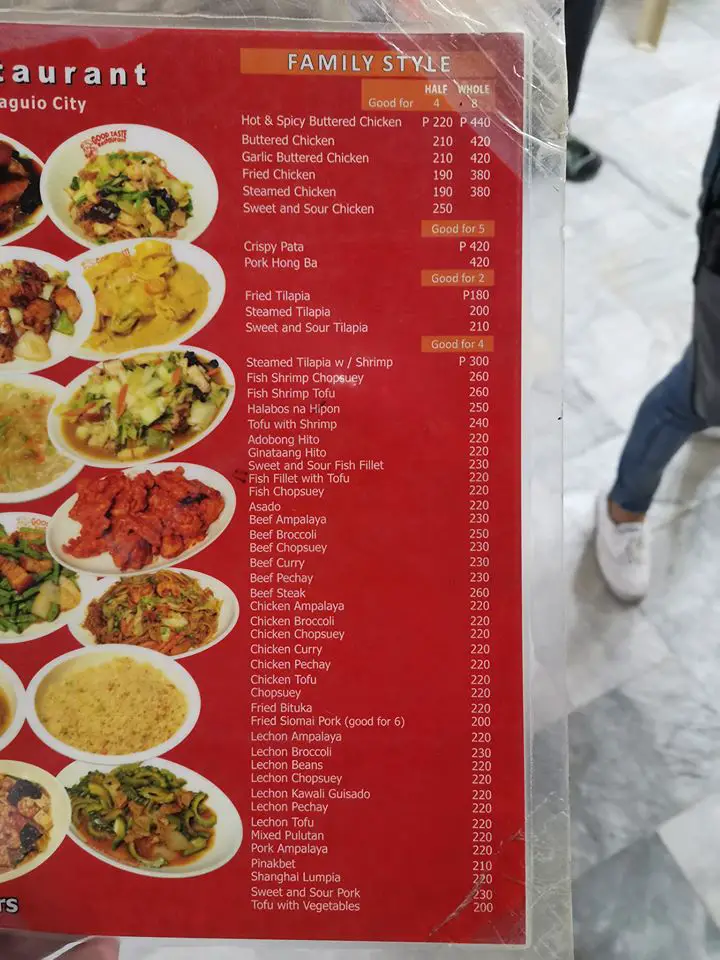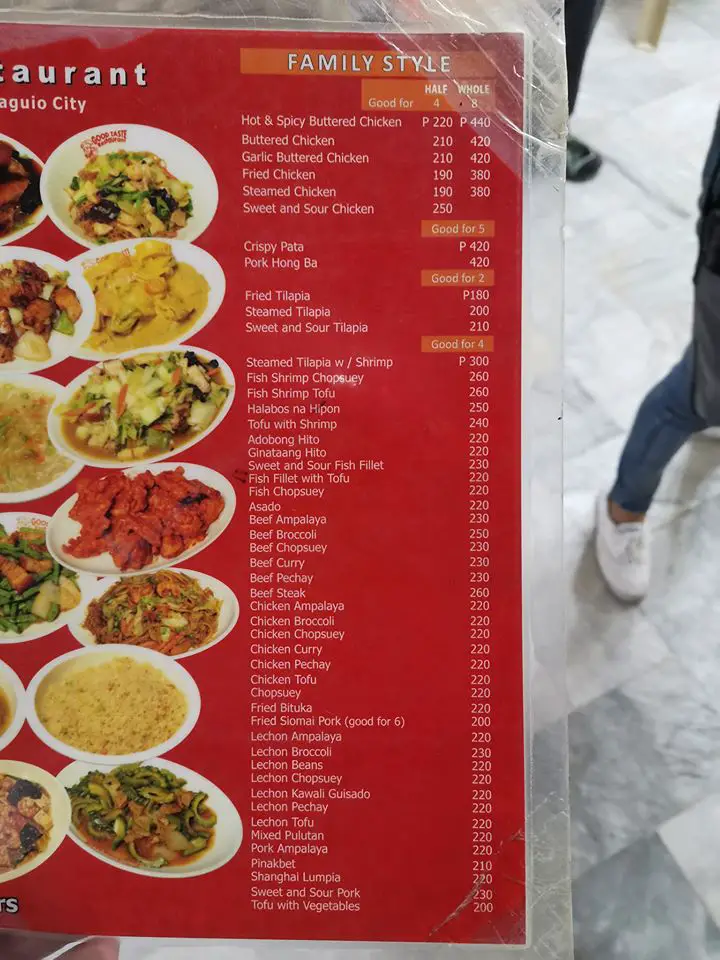 Good Taste Baguio Delivery
For Good Taste Baguio delivery, contact the following:
Mobile Number: 0975 821 8743
Delivery time is 24/7.
Tips and Reminders
If you wish to avoid the crowd, visit Good Taste Baguio in the early morning or late in the afternoon.
Waiting time for an order usually takes 10-25 minutes since they will still have to cook it for you so it's served fresh.
While waiting, you can ask a waiter to bring water and soup. You can sip a cup or two while waiting for your order.
If you're coming with a group, it's best to come early to reserve seats. Good Taste Baguio has tables that can cater to more than 20 people.
Enjoy Baguio good taste.
Frequently Asked Questions
1. Who is the owner of Good Taste Baguio?
Alfredo Go, known for his generosity and jolly personality, was the owner of Good Taste Baguio. He passed away at 65.
2. How do I order at Good Taste Baguio?
Contact their telephone number or message them on their Facebook Page.
3. Are pets allowed in Good Taste Baguio?
No. A notice on the entrance says so.
So there are some of the details to know about Good Taste Baguio. Have you been there and tried some of the meals? Feel free to share your experiences in the comment section below.