Here is a comprehensive DIY travel guide if you plan to go strolling at the Baguio Night Market.
Baguio City is a shopping paradise for all sorts of things. This highland metropolis teems with malls, thrift shops, souvenir shops, local stores, and many more. In fact, people from the neighboring lowlands troop here only to shop and head home.
If you've been visiting malls here and there, you might want to try a different shopping experience. Check out the Baguio City Night Market which is fast becoming a nighttime attraction in the city.
As a local, I frequent the night market to check out new stuff and to treat myself after a month or two of hard work.
Quick Facts:
Baguio Night Market Schedule: 9:00 PM to 4:00 AM
Location: Harrison Road, Baguio City
Tip: Secure your belonging.
Baguio Night Market Schedule & Location
Baguio Night Market opens every night from 9 PM to 4 AM. So before booking your ticket to Manila, you can always drop off here to buy ideal stuff. Or, it can be the other way around.
The night market is located along Harrison Road which is just a few minutes of walk from Burnham Park and Session Road. If you're coming from SM Baguio or the Baguio Public Market, trekking time takes only 5 minutes.
It's very much accessible if you're within the town center and there's no need to ride a jeep or taxi.
But if you're coming from distant points like Botanical Garden or Mines View Park, ride a taxi and tell the driver to drop you at the Harrison Road. Fare should not exceed Php 150 if you're coming from the said jump-offs.
If you're coming from Victory Liner station, you can walk to reach Harrison Road for 20 minutes. Or ride a cab for less than 10 minutes. Fare for that is less than Php 100.
How to Get to Baguio City Night Market from Manila? Ride a Victory Liner or Genesis Bus. Both companies have stations in Pasay City and Cubao, Quezon City and have hourly departures. Travel time takes 5-6 hours and fare is about 500 per person.
What to Buy in Baguio Night Market
Upon reaching Harrison Road during the opening time of the night market, you'll notice hundreds of stalls selling different items. That is why it's touted as the Philippines' version of the famous Patpong Market in Bangkok, Thailand.
These stalls are cramped on Harrison Road. But don't worry. Even with a huge crowd, you can navigate your way on narrow spaces. But expect to tread like a turtle.
If you're a first-timer, it's easy to get overwhelmed with all the options and you might end shopping unscrupulously. So it's always best to first roam around and see the items being sold. You can always ask for the price then bargain.
But please. Don't bargain too much. Many of the sellers of the Baguio Night Market depend on their daily sales to meet their needs. For most of them, it's their only livelihood. So please, support them by less bargaining and paying a fixed price. That's also one way for you to help the local economy.
To give you an idea on what to expect, let's breakdown Baguio Night Market into the following sections:
Filipino Street Food Section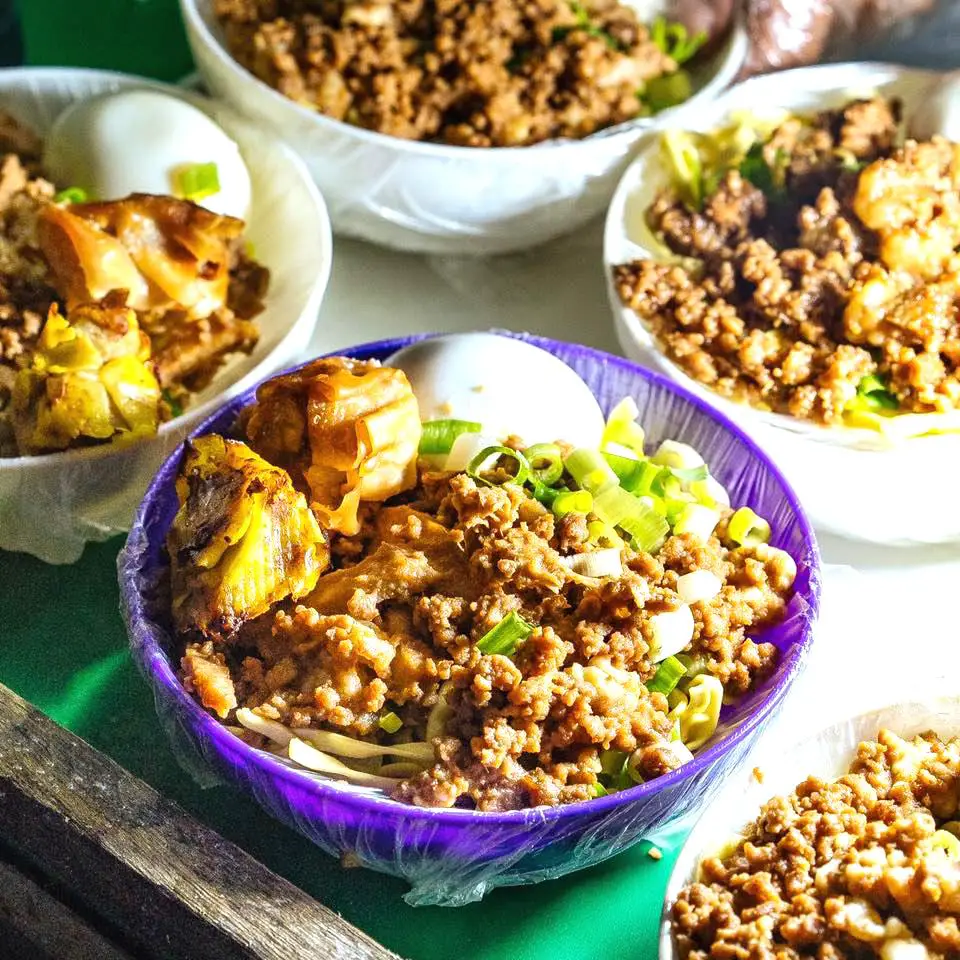 The Baguio Night Market has multiple stalls serving common Filipino street foods such as fish ball, one-day-old, kikiam, chicken balls, lumpiang shanghai, and the iconic Filipino balut (boiled duck embryo). Price for these ranges from Php 10 to Php 25 per serving.
If you want a treat to warm yourself, try their delicious Mami with different variants such as chicken, beef, and pork. The price for a serving is Php 25-Php 35.
What's a Baguio Night Market experience if you miss out on the famed Strawberry or Ube Taho. The rate for a serving is Php 35.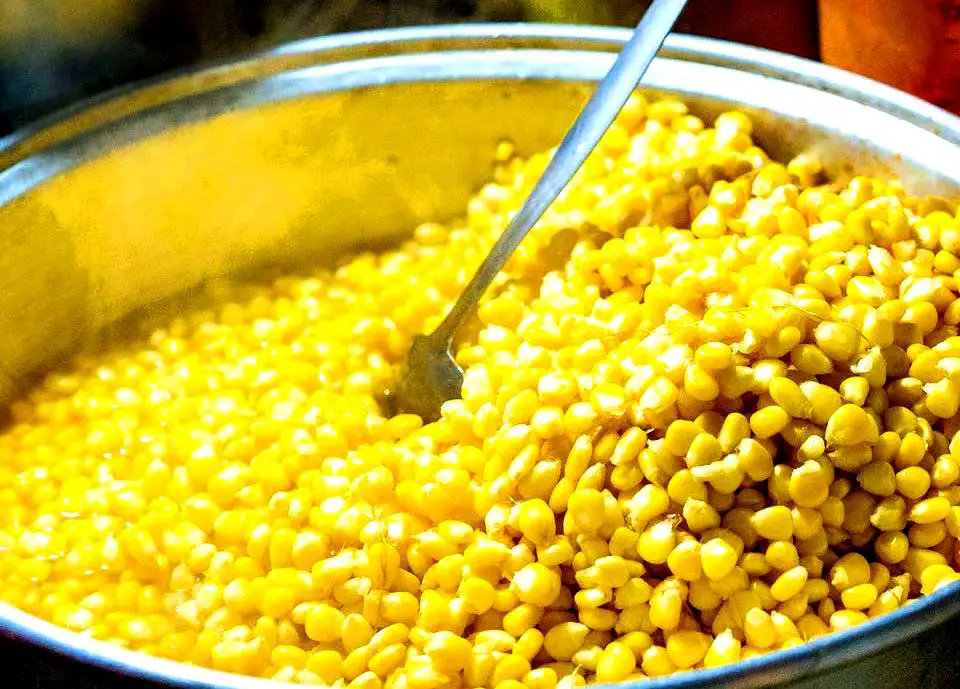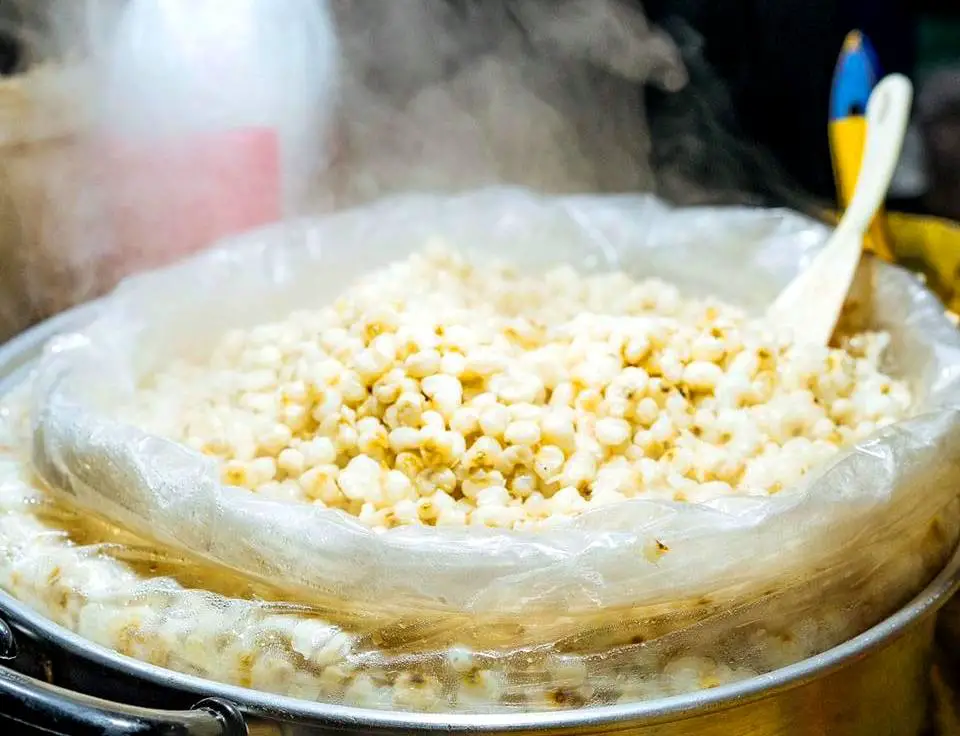 Korean Street Food Section
Baguio Night Market features several stalls selling Korean street foods. The prices are way cheaper compared to those sold in Korean restaurants. That means you're in for a sumptuous treat of your favorite Korean delights.
Among the common Korean foods sold are:
Odeng (Korean Fish Cake) – Php 10 per piece
Tteokbokki – Php 20
Mandu – Php 10
You can eat these along with selected Filipino street foods. Isn't it amazing? You're eating Filipino-Korean foods in one setting.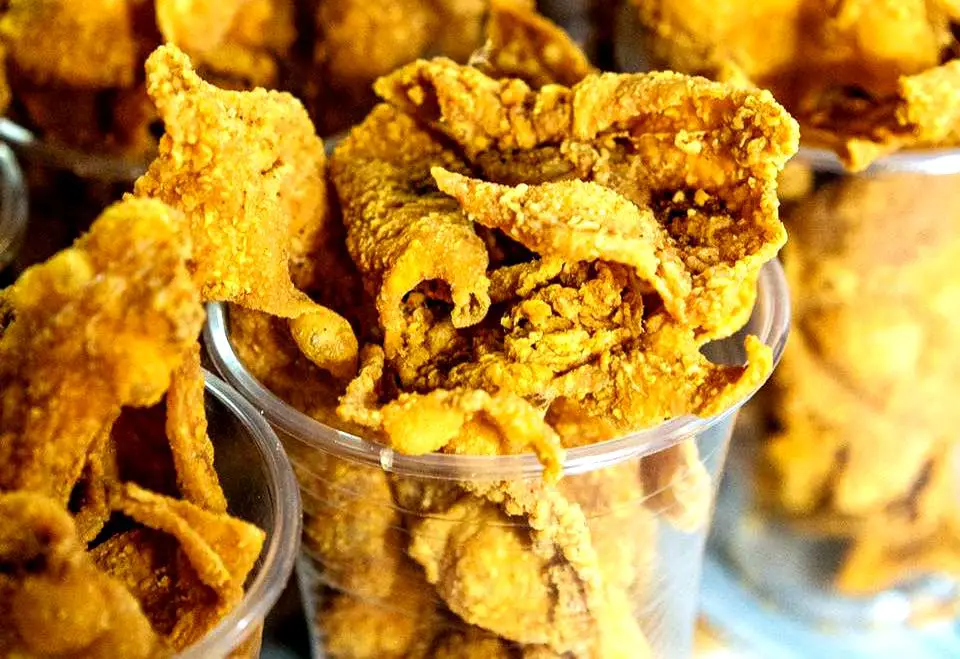 Ukay-Ukay Section
Ah, this is the most frequented section of the Baguio Night Market. Here, you'll find an amazing variety of second-hand clothes, shoes, bags, as well as branded goods.
You'll also find digital accessories and kitchen wares. And you can buy all these at impressively low prices.
Mind you. Even with only a hundred pesos, you can buy four to five clothes and other goodies.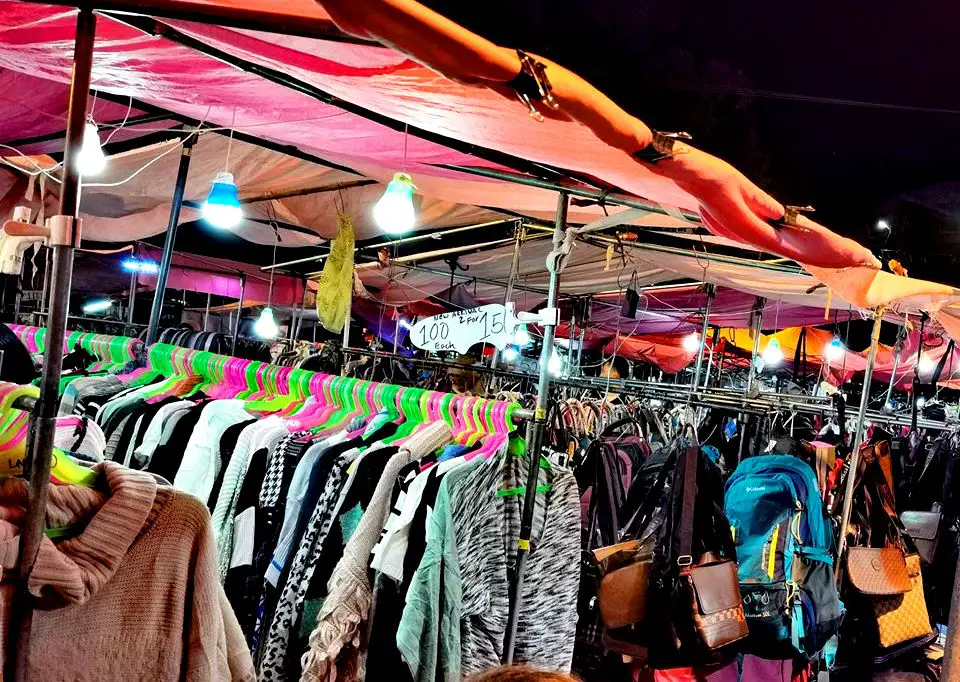 To give you a little bit of history, ukay-ukay started in Baguio as early as the 1980s. During that time, the Philippine Salvation army would donate secondhand garments to victims of calamities which frequently hit the country.
As shipped goods continue piling up, traders took advantage and bought these in bulk. They then sold these on key locations including Baguio City which was fast becoming a premium tourist spot in the Philippines.
Personalized/Local Brands Section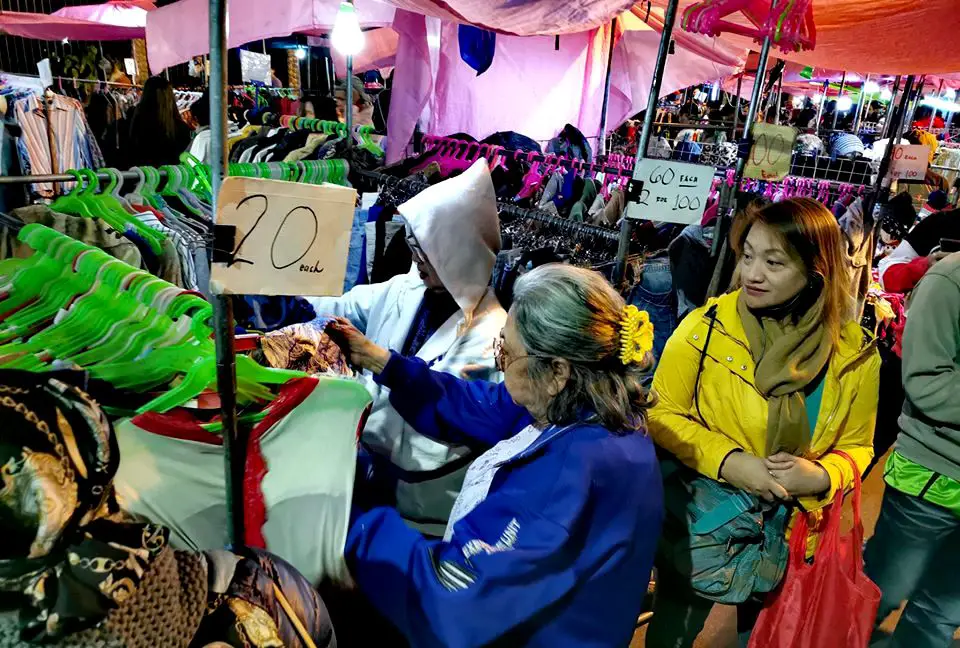 If you're looking for personalized items, don't worry, you've got them here at Baguio Night Market.
There are T-shirts, mufflers, and caps with imprints of Baguio City as well as key chains and personalized mugs.
If you want souvenir with an indigenous touch, check out the stalls selling traditional weaving including scarf. Some of these were woven from the famous tourist town of Sagada.
Buying one of these will give you a perspective about the colorful and rich culture of the different ethnic tribes in the Cordillera region. The price for these ranges from Php 100 per item to Php 500.
Tips and Reminders
Pickpocketing is rampant in the area even though there is security personnel. So bring only a bag or just your cash. Make sure you keep these securely. And always be mindful of your surrounding.
Expect a tight crowd when you come here.
As much as possible, don't bring kids or pets as you could easily lose them in the crowd.
Best to bring an umbrella is news reports reveal the possibility of rainfall.
If you have lots of cash, you don't have to bargain all the time. That's how you help support the local livelihood.
Wear a jacket. It's gonna be chilly. That unless, if you want to experience Baguio's chilly feel.