Here is a comprehensive DIY travel guide to Pandin Lake in San Pablo City, Laguna! It is the twin sister of Lake Yambo.
Imagine sitting in a place so serene and mystical that you feel like traveling back in time. There's just pure bliss and simplicity. No bustles and hustles. You just sit there – relishing the gifts of nature: the rustling trees, the gentle palms, the verdant hills, the diverse flora, and most of all, a stunning body of water that's so magical. That's exactly how I felt when I visited Pandin Lake.
If you're interested to visit there as well, read on as I share moments of our journey with my best friend to this unique destination. It's a perfect getaway especially if you want to escape urban complications and dramas.
Let's go!
How to Get to Pandin Lake (Our DIY Itinerary)
Our primary purpose in visiting San Pablo in Laguna was to meet with the owner of Mameng Derry Coffee Farm. But we knew that could happen in just a couple of hours so we planned on taking a side trip to Pandin Lake which is near the farm.
From the Buendia Bus Terminal Station in Pasay City, we took a 3 PM DLBT Bus trip bound for Lucena, Quezon City which also happens to pass by San Pablo, Laguna. We paid Php 150 each for the fare. It took the bus two hours and 30 minutes to reach San Pablo and there, we dropped by SM.
There, Kuya Derry of Mameng Coffee Farm fetched us and took us to our accommodation for the night. We spent Php 650 for a single-bed and un-airconditioned room with a private bathroom.
At around 7 am the following morning, we hopped on a jeep bound for the farm. There, Kuya Derry spent more than an hour teaching us how he manages his coffee farm and the best practices he has been applying through the years. It was a learning-filled immersion.
At around 10:00 am, we bid farewell to Kuya Derry and proceeded to the national highway where we waited for a jeep bound for Lake Pandin. If you're coming from San Pablo City Center, the trip takes 15-20 minutes to reach the jump-off point and the fare is Php 50. Don't forget to tell the driver to drop you off if it's your first time.
From the jump-off point, we followed a concrete road that led straight to Pandin Lake.
SUMMARY:
1. To get to Pandin Lake, ride on a DLTB Bus bound for Lucena, Quezon City and tell the driver to drop you off SM in San Pablo, Laguna. From SM, take a jeep or tricycle bound to the jeepney station of Ilog or Liwi. Each jeep departs whenever filled to capacity. Don't forget to tell the driver to drop you off at the jump-off point to Pandin Lake. Travel time takes 15-20 minutes while the fare is Php 50.
2. From the jump-off point, hike to Pandin Lake following a concrete road. That takes 20-30 minutes. Upon arrival, proceed to the registration booth to pay the corresponding fees. That is one way for you to help the local economy.
Behold the Mystical Pandin Lake
Seeing Lake Pandin for the first time was jaw-dropping. At first glance, it looked like a huge bowl of water surrounded by green vegetation. I could tell from the dark green color that the lake is very deep. It seemed as if a giant creature hides underneath. That's just my imagination though.
The lake was closed for tourism when we arrived due to COVID-19 restrictions but we were allowed to stay for the time being. We were able to get to know a young local who is also a guide. He led us to a good spot for swimming and spent more than 30 minutes enjoying the cool waters of Lake Pandin.
The guy was a very articulate one and he passionately shared stories about the lake and his interactions with visitors. I can sense that he really loves his town and is willing to campaign for the protection of their resources for the benefit of their community.
Anyways, how it felt rejuvenating swimming on the crystal-clear waters while seeing the rustic views of the surrounding green vegetation. This vegetation thrives with different flora species including coconut, Narra, orchids, vines, wildflowers, and many other kinds of trees. Surely, there are also various wildlife species inhabiting the forests.
Heck, we even saw a migratory bird (looked like a white heron) hovering around. The presence of both native and migratory birds indicates that the lake is pristine and thriving with marine life.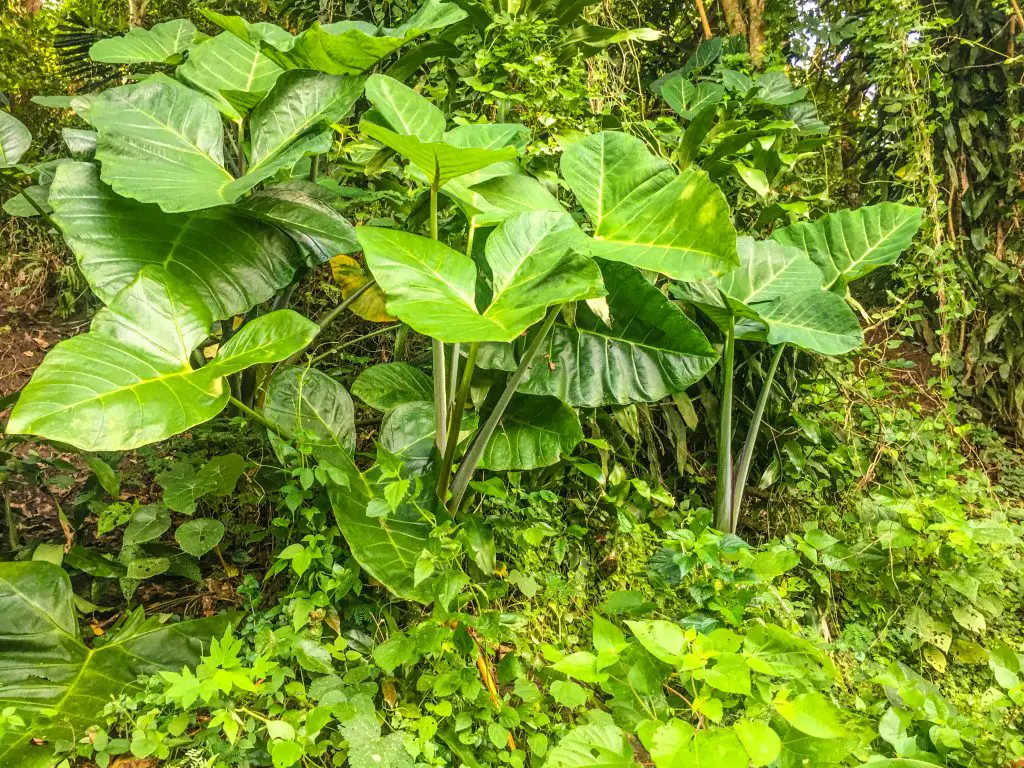 As our young guide and a newfound friend namely Chrisley told us, the lake teems with freshwater shrimps, tilapia, catfish, and many more. He shared that the locals have been defending the lake from exploitation attempts by outsiders. That is one big reason why until today, the lake remains one of the cleanest not just in Laguna but in the whole country.
REMINDER: All non-locals are required to wear a life vest before swimming.
What Else to Do?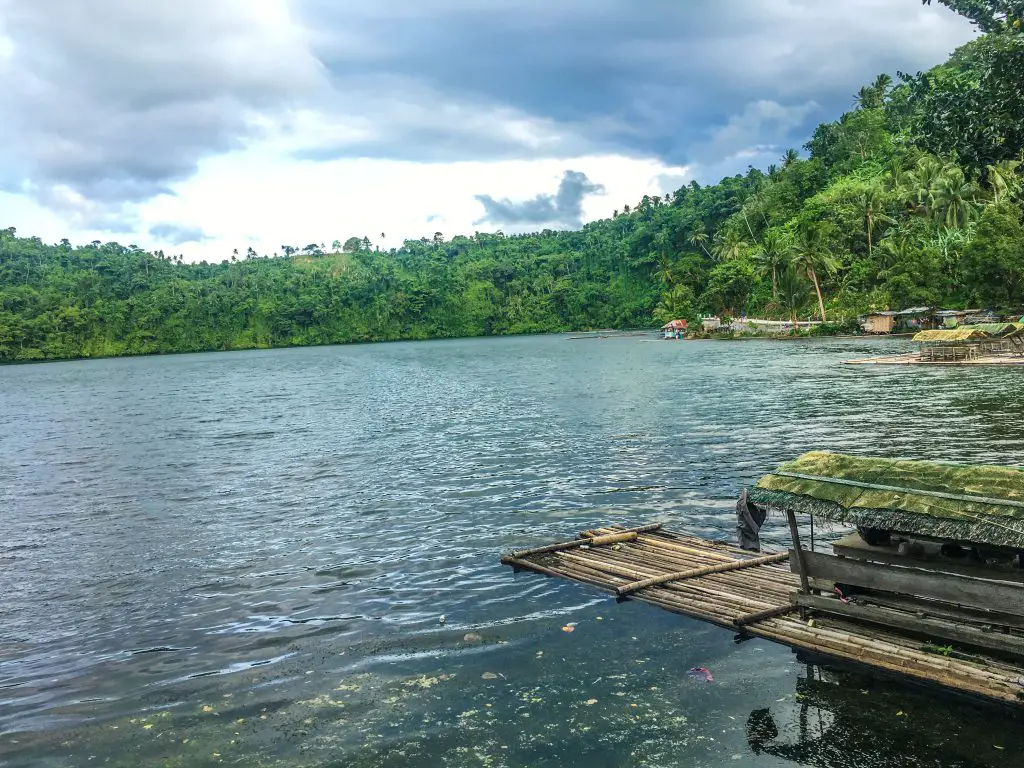 Aside from swimming, there are other activities that visitors or tourists can do in Lake Pandin. Here are other activities to try:
1. Rafting
Bamboo rafting is the main activity in Lake Pandin.
For a modest rate of Php 550 per person, you can enjoy a two-hour tour of the lake with guides. The guide will take you to a designated swimming site with a swing! For safety, you will have to wear a life vest since the lake is very deep, up to 180 feet at its center! The fee also comes with free foods typically consisting of grilled fish or ginataan (cooked in coconut milk).
If you're sort of short of budget, you can request the raft operators to exclude the food so you'll be discounted at Php 300 per person. That's what we did since we lacked cash.
2. Camping
Visitors can bring tents so they can camp for the night. There are designated camping sites around the lake. For a better view, visitors can camp on a hill between Lake Pandin and Lake Yambo. If you're lucky, you'll catch a stunning view of the sunrise.
3. Hiking to Lake Yambo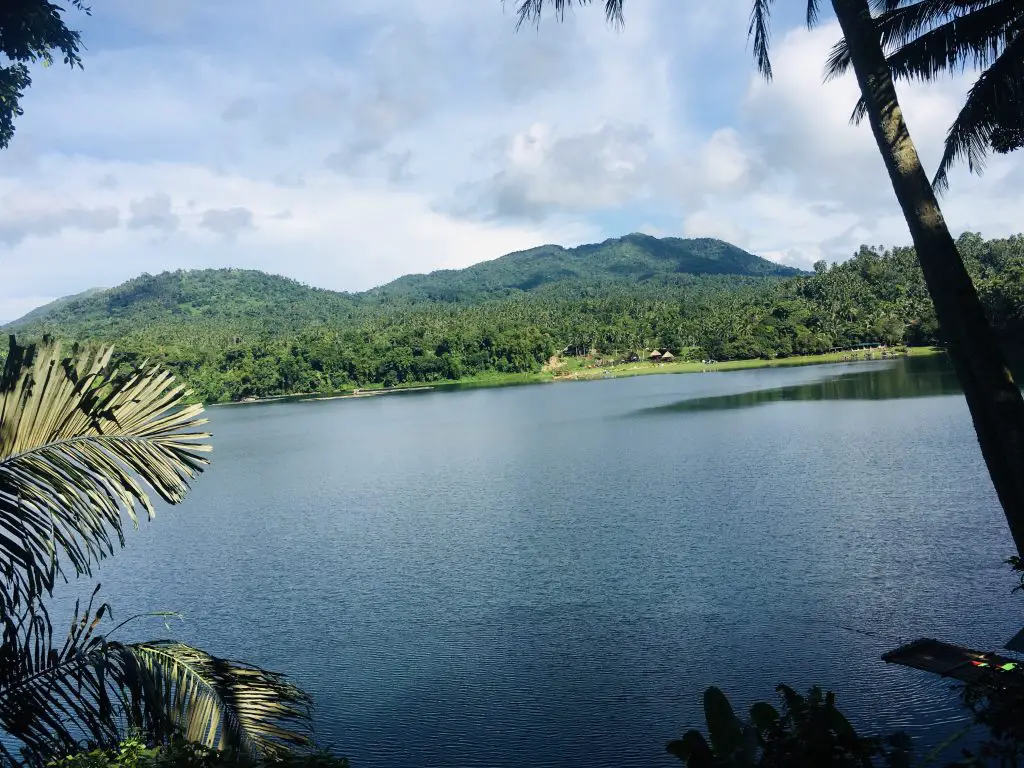 Visitors who rent a raft can glimpse Lake Yambo on the other side. There's only a little bit of trekking on lush forests. From the end of Lake Pandin, it took us 10 minutes to reach the viewpoint of Lake Yambo.
4. Fishing
We'll discuss more of these in detail when we come back for another mesmerizing experience.
Rants and Musings on Lake Pandin
Lake Pandin is truly a paradise to behold. It's fascinating to know that just near the bustling city of San Pablo is a tropical haven like no other. Its pristine beauty, thus, deserves serious attention not only from the surrounding community but also from the local authorities.
It's saddening to know that there are some external forces or entities trying to exploit the lake for their benefit. Thankfully, the locals who are like the guardians of the lake have been fighting for its preservation.
To solidify their commitment, they organized a local-based council to handle the sustainable management of the lake through community-based and eco-tourism. That is why I would love to keep coming back to Lake Pandin not only to enjoy the beauty but also to help in the local economy and advocacy.
For Your Information
For more details, do contact our young and energetic guide, Mr. Chrisley Diamante on his mobile number: 09659371369.