Located at the heart of the Philippines, Marinduque teams with a wide array of natural and historical attractions. Find more about Marindueque's tourist spots in this article!
Marinduque is one of the islands composing the tropical MIMAROPA region. Although it became known for one of the Philippines' worst mining disasters, it's evolved into one of its premium ecotourism destinations.
Likewise, the province continues to draw thousands of spectators during its famed Moriones Festival.
Touted as, "The Heart of the Philippines," the island is your ultimate getaway for fun, thrill, and adventure. Its ridge to reef landscape offers an amazing diversity of natural wonders.
Brace yourself for white beaches, crystal-clear waters, cascading falls, mystic caves, and many more when you come here.
Quick Facts:
Location: MIMAROPA Region
Capital: Boac
Population: 230 000
Major Languages: Filipino, English, Bisaya
1. Gasan Butterfly Garden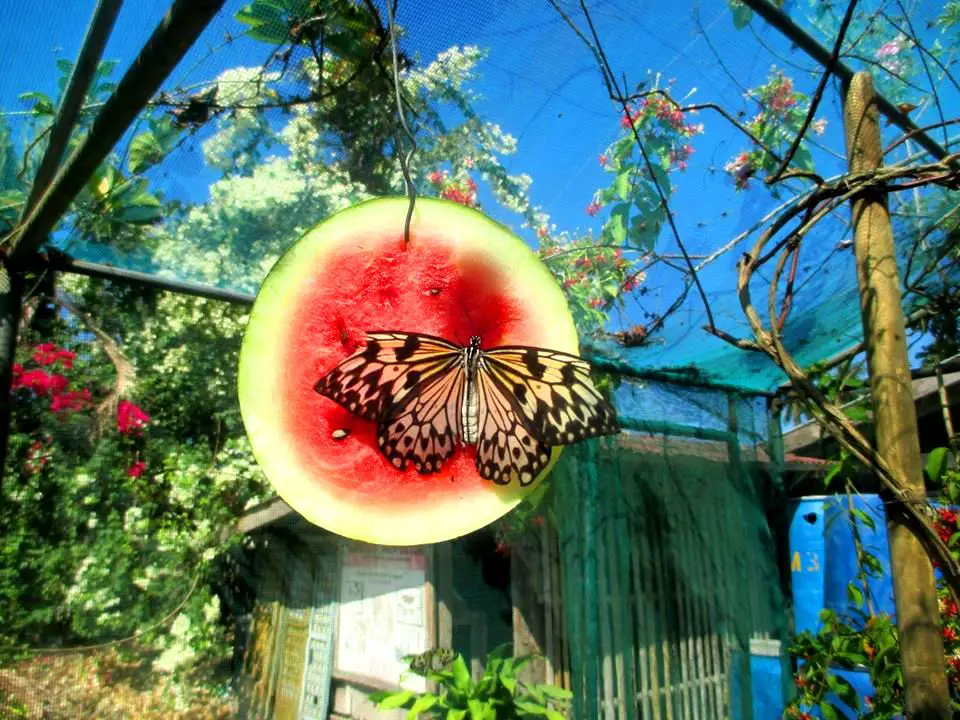 Imagine standing in a lush setting as thousands of colorful butterflies fly all around. That's exactly how you will feel when you visit the Butterfly Garden, one of the famous tourist spots in Gasan, Marinduque. The town, in fact, is the butterfly capital of the Philippines.
Location/Jump-off: Brgy Uno, Gasan, Marinduque
2. Maniwaya Island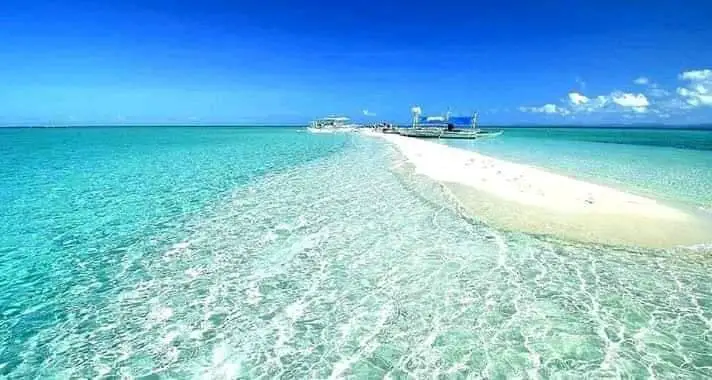 Maniwaya Island boasts one of the longest stretches of powdery white sands in the province. You'll feel like you are in the famed Boracay when you come here.
Add to that a mesmerizing view of the crystal-clear waters that are so inviting. Because the surrounding seas teem with marine life, you can snorkel here all day long.
From here, you can also check out the stunning Palad Sandbar and the enchanting Ungab Rock Formations. You'll never run out of things to do here. That is why it's one of the most popular tourist spots in Sta Cruz, Marinduque.
Location/Jump-off: Sta Cruz, Marinduque
Entrance Fee: None
3. Kawa-Kawa Falls
Have you ever thought of climbing from the top of a waterfall towards its deep pool? That may sounds scary but thrilling at the same time. So, if you want to have such kind of adrenaline-pumping experience, hike your way to Kawa-Kawa Falls.
Kawa-Kawa falls is only around 15 feet high with a circular and deep catch basin. Try climbing the cliff and plunge or dive your way to the pool. Just make sure you know how to swim and you hit the deep part. I do that always wherever waterfall I go.
The crystal-clear and cold waters will surely give you that soothing experience you're after. Swim around the pool as you relish the lush surroundings.
Location/Jump-off: Brgy Bangcuangan, Santa Cruz, Marinduque
4. Poctoy Underwater Museum
Poctor Underwater Museum is near the Poctoy White Beach. It's a man-made attraction set on a natural setting. When you dive here, you'll find a statue of the iconic Morion.
The project was realized through the initiative of Cong. Lord Allan Velasco together with Marinduque drivers.
Location/Jump-off: Torrijos, Marinduque
5. Malbog Sulfur Spring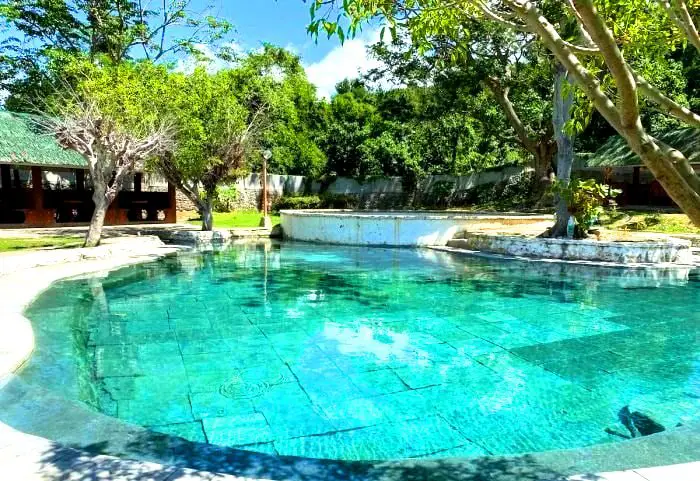 Aside from the powdery beaches, you might want to have a relaxing moment at the Malbog Sulfur Spring. The sulfuric waters emanate from the slopes of Mount Malindig, an inactive volcano.
Not only will you enjoy the sticky, thermal waters but also experience the healing properties. Research shows that sulfuric springs can cleanse one of skin illnesses as well as colds. The place is also a good hang out especially for families and friends.
Location/Jump-off: Brgy Malbog, Buenavista, Marinduque
Entrance Fee: Php 50 per person, Php 30 for Senior, PWD, Children
6. Poctoy White Beach
Another ideal spot for relaxation is Poctoy White Beach. As its name suggests, it also features white sands that extends for more than a kilometer.
One could not also help it but just stare at the mesmerizing waters. I bet expert swimmers would eventually take the plunge upon seeing the turquoise waters.
From the beach, you can also view the towering Mount Malindig, one of the hiking tourist spots in Marinduque. It's a public beach so expect large crowd especially during weekends and holidays. But don't worry; you'll enjoy the rustic sceneries here.
It is one of the best tourist attractions in Marinduque.
Location/Jump-off: Torijos, Marinduque
7. Mount Malindig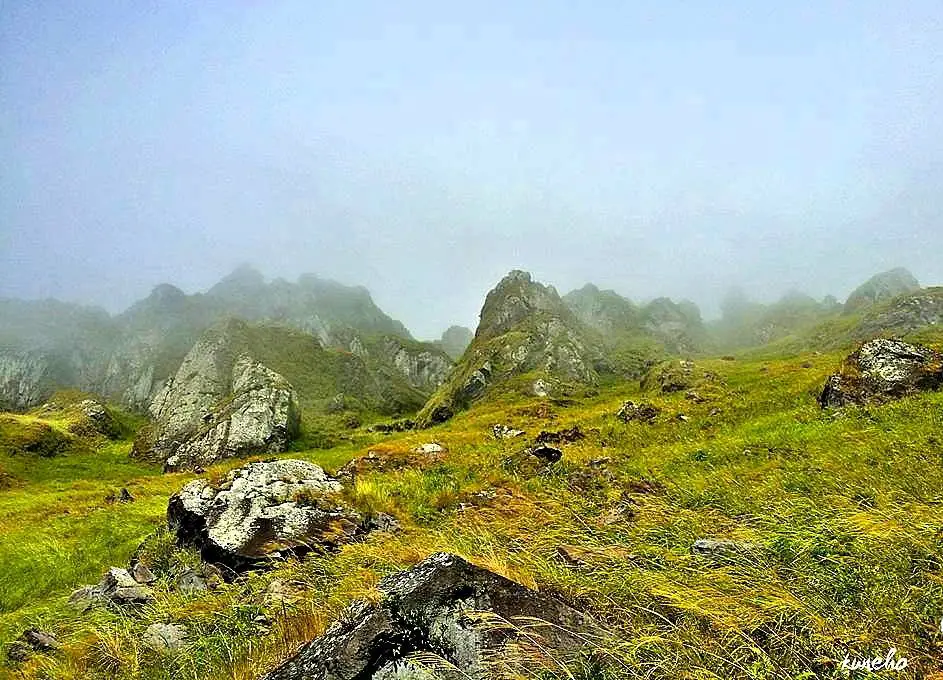 For adventurers like me, the journey is sometimes not enough when no hiking is involved. So if you're like that, trek your way to the majestic Mount Malindig.
Because the trails run on mostly gently-sloping terrains, assaulting Mount Malindig works for newbie hikers.
Along the way, expect to see unique flora and fauna species as the mountain is a critical biodiversity area. As you reach the higher elevations, you'll witness alluring mossy forests.
While atop, you'll catch a panoramic view of the rolling landscapes, beaches, and islands of Marinduque.
Hopefully, ecotourism will help sustain the rich flora and fauna of Mt Malindig.
Location/Jump-off: Buenavista & Torrijos, Marinduque
Elevation/Height: 1,157 meters above sea level
Entrance Fee: Php 45 per person
Guide Fee: Php 500 for a maximum of 4 pax
8. Mongpong Island
Mongpong Island is one of the farthest tourist spots in Marinduque. But that's all the more reason to have a peek especially if you're into less touristy destinations.
A known landmark here is Ungab Rock located on the eastern part of the island. The rock formation resembles the shape of an arch and it towers for almost 100 feet.
From where Ungab Rock stands, you'll find a long stretch of creamy-white beach. Although it is remote, some people live here. You can have meaningful interactions with them, learn about their culture, and share stories.
Location/Jump-off: Santa Cruz, Marinduque
9. Boac Cathedral
Boac Cathedral is one of the historical tourist spots in Marinduque. It dates back to the Spanish colonizers who initiated the construction of the Cathedral. It's known for its Gothic inspired architecture with resemblance to the churches in Latin America.
During the revolution against the Spaniards, Filipino warriors would often come here to seek blessing before heading out for war. The church also saw the blessing of the Philippine Revolutionary Flag in 1899.
Location/Jump-off: Boac, Marinduque
10. Bathala Cave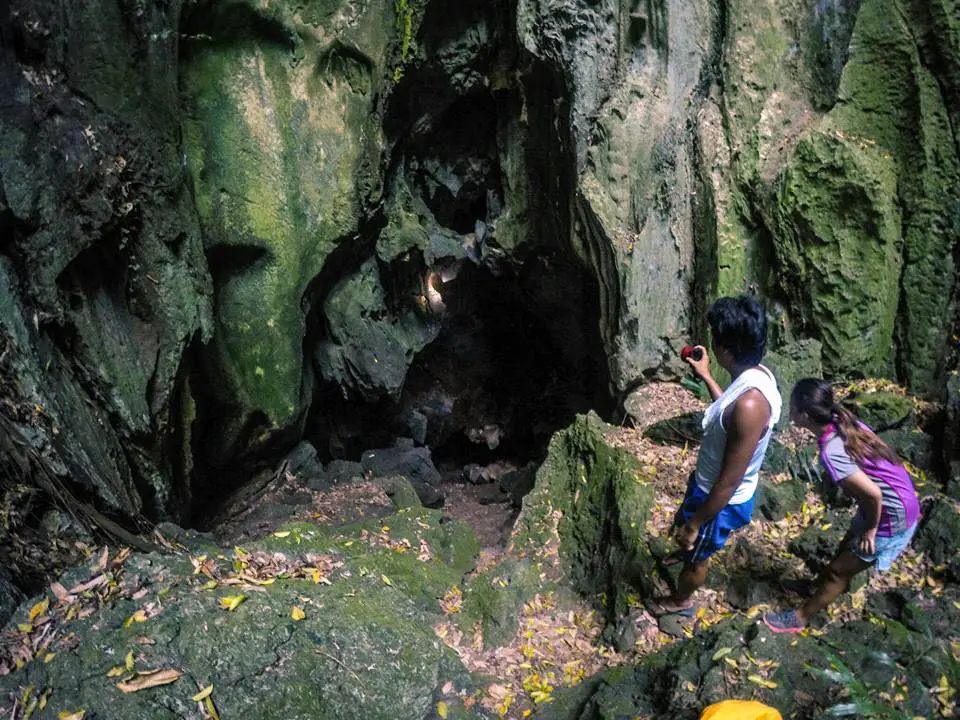 Chasing for a memorable spelunking experience? Don't miss visiting Bathala Cave system where you'll discover 7 caves in all. Only four of these, however, are open for tourism. These caves are: Church Cave, Cemetery Cave, Python Cave, and Secret Cave. Each of this has unique feature to offer.
My favorite is the Python Cave which is literally home to several pythons, one of the biggest snake species. You can spot them as you explore the cave. But don't worry. They are harmless as long as you follow proper practice. The locals are experts so for safety, they've got you covered.
Location/Jump-off: Santa Cruz, Marinduque
11. Tres Reyes Islands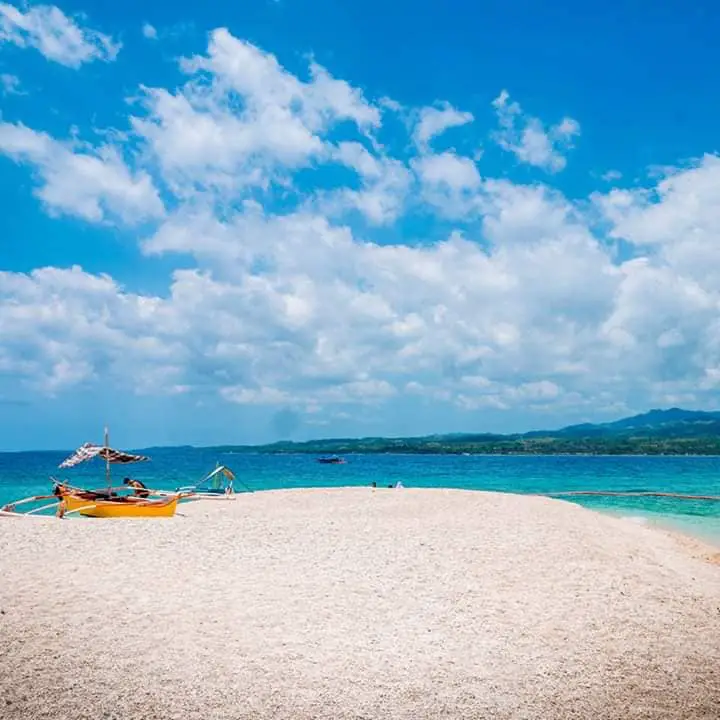 If you're chasing secluded tourist spots in Gasan, Marinduque, visit the Tres Reyes Islands. There are three islands composing it namely, Baltazar Island, Melchor Islands, and Gaspar Island.
Craving for an amazing snorkeling experience? Check out Baltazar Island which thrives with endemic marine species as well as colorful coral reefs. Want to try cliff diving or jumping? Visit the Melchor Island, known for its scenic cliffs along its shores.
Then there's Gaspar Island which is the biggest but it has only limited beaches. Nevertheless, there's just nothing like it staying here because of the incredibly tranquil setting.
Location/Jump-off: Gasan, Marinduque
12. Mang Illeol Sunflower Garden
That's right! You'll not only find beautiful sunflowers in Benguet or Baguio City. You catch sight of them at Mang Illeol Sunflower Garden. It's not as big as those found in Benguet, however, it still pays off visiting it for a Benguet-feel like experience here.
Location/Jump-off: Gasan, Marinduque
Entrance Fee: Php 20
13. Bagumbungan Cave
Another favorite spelunking tourist spot in Marinduque is Bagumbungan Cave. Inside, you'll find a variety of fascinating stalactite and stalagmite rock formations. Some are so bizarre-looking that you'll think you're in another planet.
Aside from rock formations, the cave features small waterfalls and a brook containing multiple pools. Take a look at these pools and you'll find different marine creatures such as eels, catfish, shrimps, and crabs.
You can also chance on owls and bats inhabiting the cave. That just goes to show that Bagumbungan Cave remains pristine, therefore, there is the need to protect it.
Location/Jump-off: Brgy San Isidro, Santa Cruz, Marinduque
Entrance Fee: Php 150 to Php 300 per person
Fee for Certificate: Php 50 (Optional)
Minimum Pax for a Guide: 2
14. St Joseph Parish
Another ideal spot for prayer and reflection is at St Joseph Parish, now one of the most frequented tourist spots in Gasan, Marinduque. It's a huge church that can cater to thousands of worshippers in a given Sunday.
Aside from its colonial design, the church's ceiling showcases patterns of the Buri fan, a popular handicraft in the area. A few meters from the church, you'll find a garden where you can have a tranquil retreat. You can also see here the old bells of the church.
Location/Jump-off: Gasan, Marinduque
15. Luzon Datum of 1911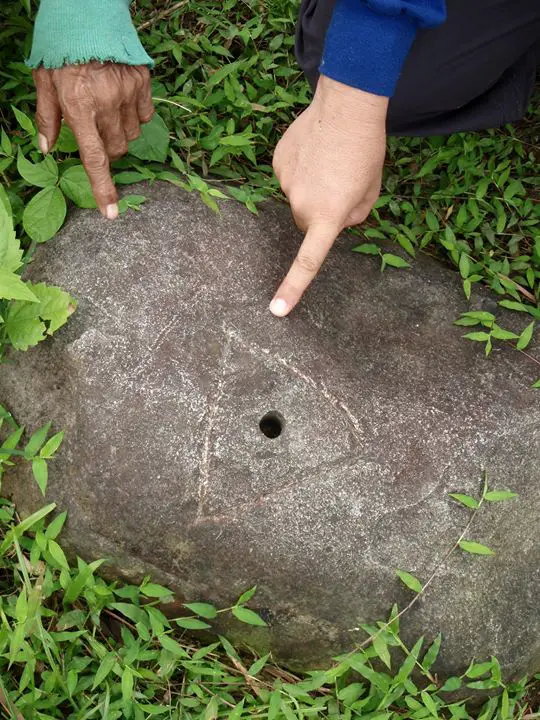 The Luzon Datum is a stone marker, nestled on a site that is considered the very center of the Philippines. Also called Station Balanacan, the stone marker sits on top of a hill referred to as Mt Mataas or Mataas na Bundok.
Before visiting Luzon Datum, please proceed to the barangay hall first in courtesy of the local officials and to inform them of your visit. Then, you can follow a road and another trail to reach the site.
Luzon Datum is one of the emerging tourist spots in Marinduque.
Location/Jump-off: Brgy Hinanggayon, Mogpog
Tricycle Fare: Php 150 from the barangay hall
16. Marinduque National Museum
To learn more about the rich culture and history of the province, check out Marinduque National Museum. Here, you'll find mostly photos depicting the culture of the local people. There are also retrieved items from sunken ships dating back during the wars.
The building where the museum lies is considered historical having been built in 1887. It is now one of the most frequented tourist spots in Boac, Marinduque.
Location/Jump-off: Boac, Marinduque
Entrance Fee: Php 20 for adults, Php 10 for children
Operating Time: 8 AM to 5 PM (Monday to Friday)