Explore the various Masbate tourist spots including beaches, caves, waterfalls, churches, and other attractions. Discover the best things to do here and the beautiful spots that Masbate is known for.
Masbate is one of the southernmost provinces of the Bicol Region. It is now an emerging eco-tourism site in the Philippines, owing to its countless beaches and islands.
Most of these remain in pristine condition. Other fascinating natural wonders you'll find here are hidden waterfalls, blue lagoons, and a thriving marine ecosystem. In fact, the province's seascape is one of the best diving sites in the world.
If you're planning to visit, don't miss out on seeing these best places to visit in Masbate.
1. Bat-ongan Cave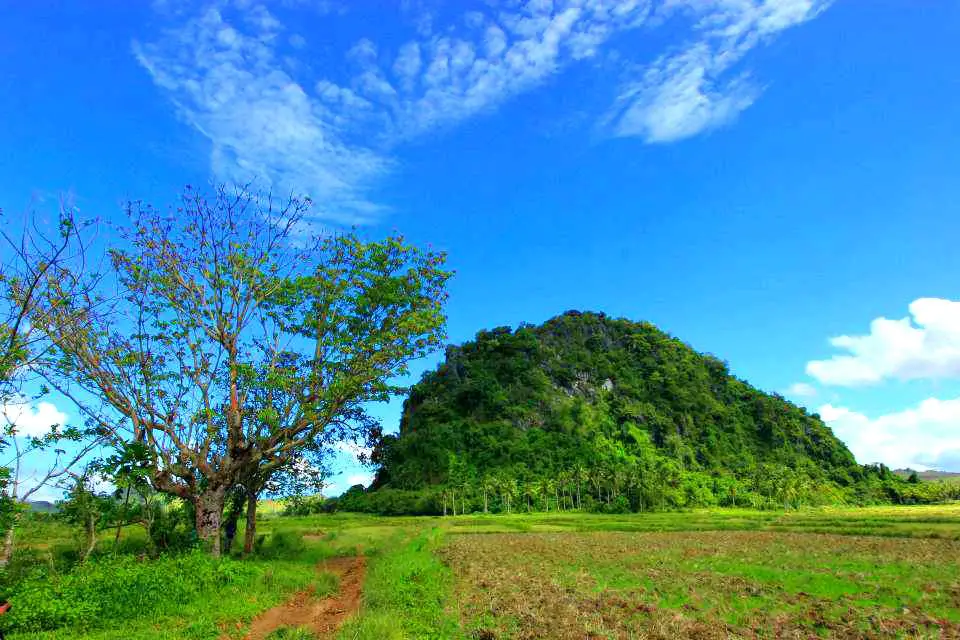 Bat-ongan Cave is one of the off-beaten tourist spots in Masbate. Locals believe that it is a meteor that crashed here millions of years ago. It has several openings that lead to an underground river and prehistoric caves.
Inside, you'll find a variety of rock formations. It's up to you to associate the figures, shapes, and sizes you see. Bats inhabit the cave, so expect to be stepping on guano.
The highest part of the cave is around 150 meters. To protect the cave, the local authorities are now implementing measures for sustainability.
Location/Jump-off: Mandaon, Masbate province
2. Pawa Mangrove Park
Craving for a rustic escapade near the bustling city, check out Pawa Mangrove Park. It is one of the eco-friendliest tourist spots in Masbate City. It covers around 300 hectares.
To tour around it, you'll walk on a long wooden bridge that extends for 1.3 kilometers. As you navigate your way, you'll catch sight of different bird species nesting on the mangroves or feeding on the mud.
As a carbon sink, the park needs continuous support to sustain its preservation.
Location/Jump-off: Masbate City, Masbate province
3. Busay De Gracia Falls
Busay De Gracia Falls is one of the newly-discovered tourist spots in Masbate. It cascades beautifully on a gently sloping cliff. You can climb this cliff to reach the top of the waterfall.
Just take extra caution so you won't be slipping. To enjoy the waterfall, you can position yourself at its base and let the cascading waters give you a natural massage.
Location/Jump-off: Baleno, Masbate province
4. Manta Bowl
Manta Bowl is an internationally-acclaimed diving spot off the coasts of Ticao Island. Swarms of manta rays come here to feed on the abundant planktons.
That makes it the "Manta Ray Capital of the Philippines." From time to time, one can also witness passing whale sharks as the site is located near their feeding ground in Donsol, Sorsogon. 
Location/Jump-off: Ticao Island, Masbate province
5. Butod Bar and Reef Marine Sanctuary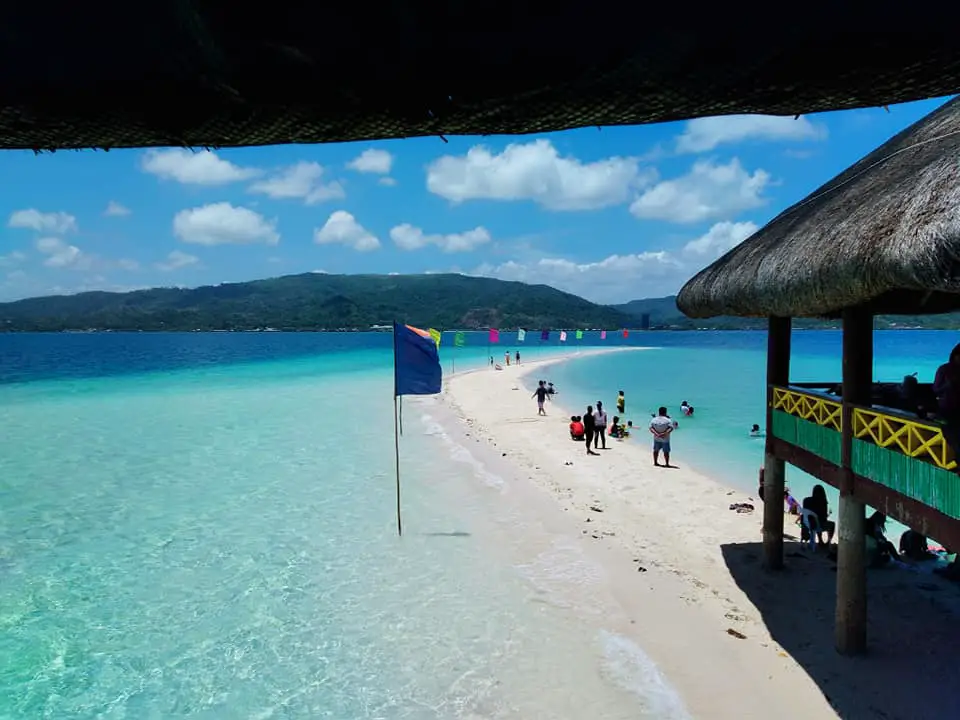 If you're chasing sandbar, white beach, coral reef, and mangrove reef in one idyllic location, you should visit Butod Sandbar and Reef Marine Sanctuary. It's one of the famous tourist spots in Masbate.
To protect the diverse and thriving species, the local authorities established it as a protected marine sanctuary, covering around 250 hectares.
Enjoy strolling on the powdery white sands or swimming in the crystal-clear waters. Oh, take a closer look at the waters, and you'll see a variety of fishes swimming around.
Location/Jump-off: Masbate City, Masbate province
Boat Ride: Php 500 (roundtrip)
Boating Time: 15-30 minutes depending on water conditions
6. Mount Mayong Payong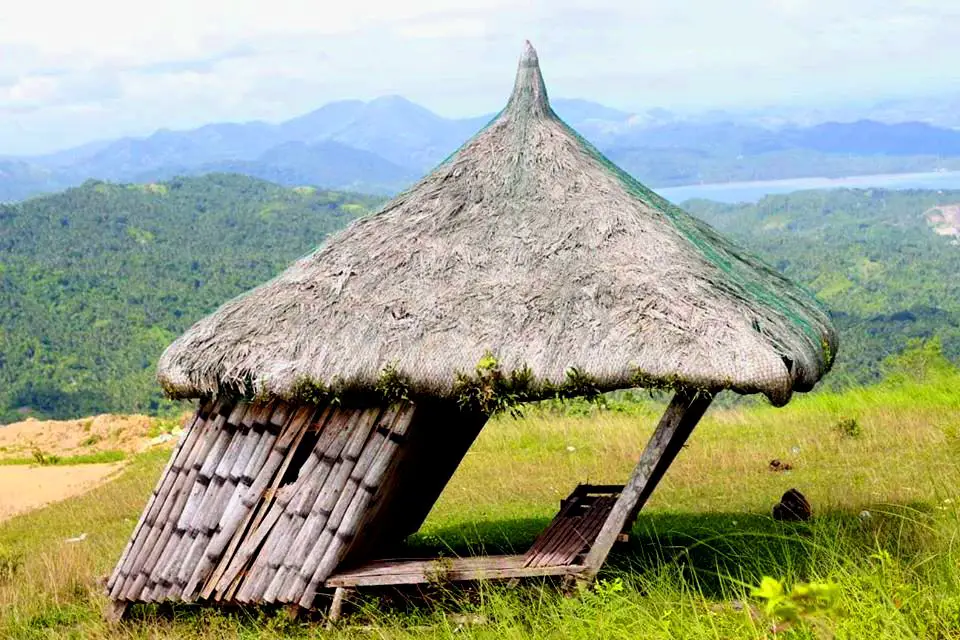 Mount Mayong Payong is one of the most popular hiking tourist spots in Masbate. It's an ideal spot for catching a magnificent view of the sunset.
From here, you can also gaze on the hilly and rolling terrains of Masbate, including the surrounding seascape. Getting to its peak is easy as you can ride a habal-habal to it. Fare is Php 40 to Php 50 per person.
Grasses with a few shrubs cover the summit. The best views are during the early morning and late afternoon.
Location/Jump-off: Mobo, Masbate province
Entrance Fee: Php 30 per person
7. Sombrero Island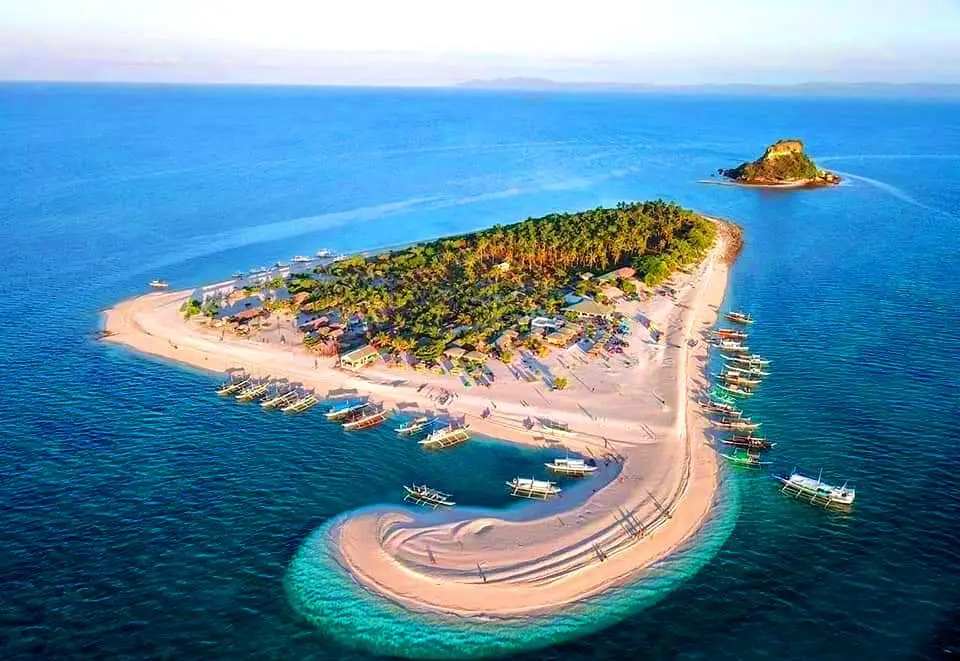 Sombrero means hat, so the island is named as such because it resembles the shape of a hat. There are the islands. The smaller one is hat-shaped with small beaches and a thriving marine ecosystem.
On the other hand, the bigger island has an extensive stretch of white beaches and a sandbar. There are also resorts and cottages made of traditional materials.
Unlike in some islands of Masbate, you can have an overnight stay here.
Location/Jump-off: San Pascual, Burias Island, Masbate province
8. Aroroy Lighthouse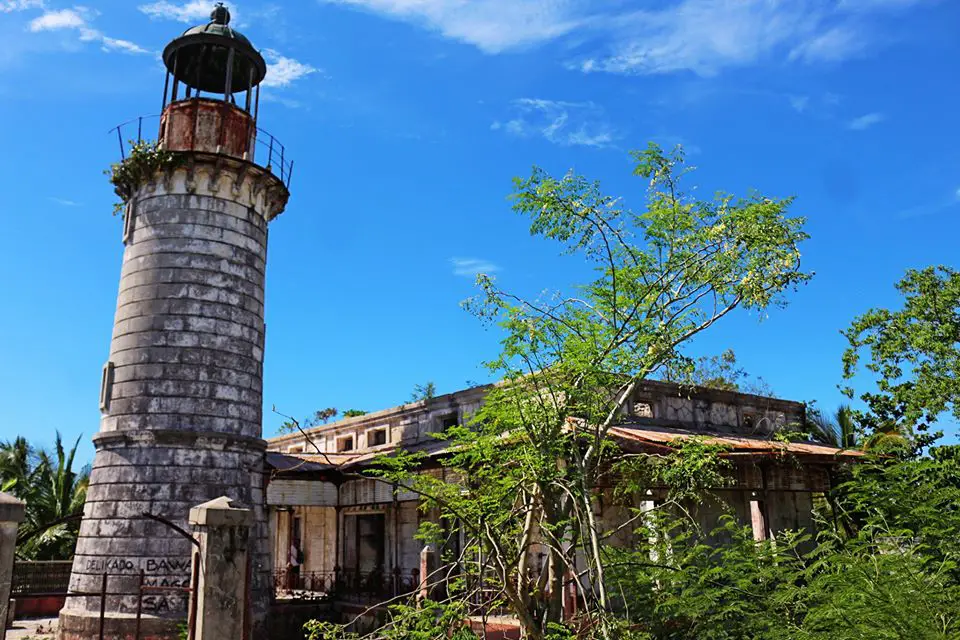 Aroroy Lighthouse is one of the historical tourist spots in Masbate dating back to the Spanish regime. Although it was built in 1896, it only became functional when the Americans took over the Philippines.
Even so, it is a tangible witness to significant events that brought the province to where it is today. It measures around 15 meters high. Today, the lighthouse is among the laid back tourist spots in Masbate.
Location/Jump-off: Brgy Calanay, Aroroy, Masbate province
9. Palani White Beach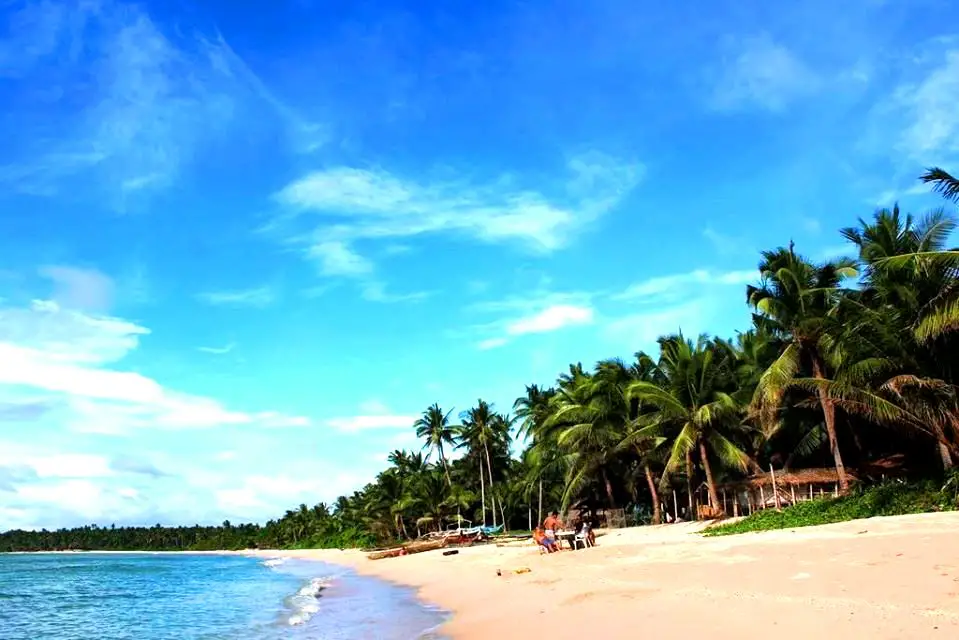 Looking for the whitest beach in Masbate, don't miss out on seeing Palani White Beach. Locals claim that it could match the one found in Boracay. It stretches for around 10 kilometers, and until now, it remains relatively pristine.
Its secluded location protected it from overdevelopment. Its crystal-clear waters are so inviting that one can't help it but jump or dive to have a rejuvenating swim. There is one resort near the area, though. Thankfully, it showcases eco-friendly amenities and practices.
Location/Jump-off: Balud, Masbate Island, Masbate province
10. Catandayagan Falls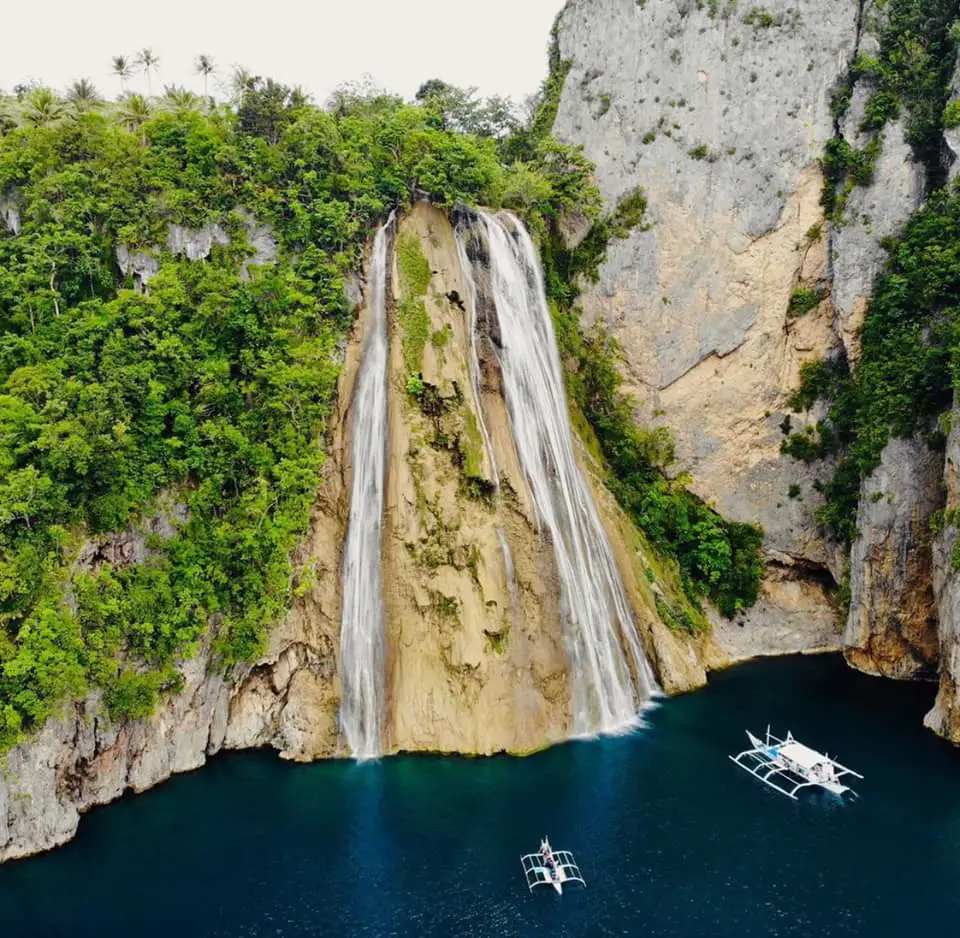 If you think of the most iconic tourist spot in Monreal, Masbate, the first attraction that comes to mind is Catandayagan Falls.
We've all seen or heard of waterfalls cascading on naturally-built pools. But Catandayagan Falls is different as it cascades directly to the open sea. It measures around 50 meters high and descends like a long bridal veil.
As long as you're a swimmer, you can jump into the base of the falls and feel its freshwater cascades. It's best to come here during the rainy months to witness its full grandeur.
Location/Jump-off: Monreal, Ticao Island, Masbate province
Boating Time: 1 hour from Masbate City
11. Animasola Island
Animasola Island is known for its gigantic sedimentary rock formation with an adjacent beach. Looking at this mammoth rock, one can't help but wonder at how it formed with all its layers and features.
You can climb your way to the top to catch a fascinating view of the surrounding landscape. Aside from the beach and the rock, other attractions you'll find here are a bluish lagoon, a hidden sport resembling a mermaid's abode, and seemingly hand-made sculptures.
After an adrenaline-pumping hike to the top, you can then swim around its crystal-clear waters.
Location/Jump-off: San Pascual, Burias Island, Masbate province
12. St. Anthony of Padua Cathedral
St. Anthony of Padua Cathedral is another historical tourist spot in Masbate, which also dates back to the Spanish times. It has, however, undergone several renovations to sustain functionality. Its imposing architecture makes it a recognizable landmark within the city. 
Location/Jump-off: Masbate City
Entrance Fee: None
13. Tinalisayan Island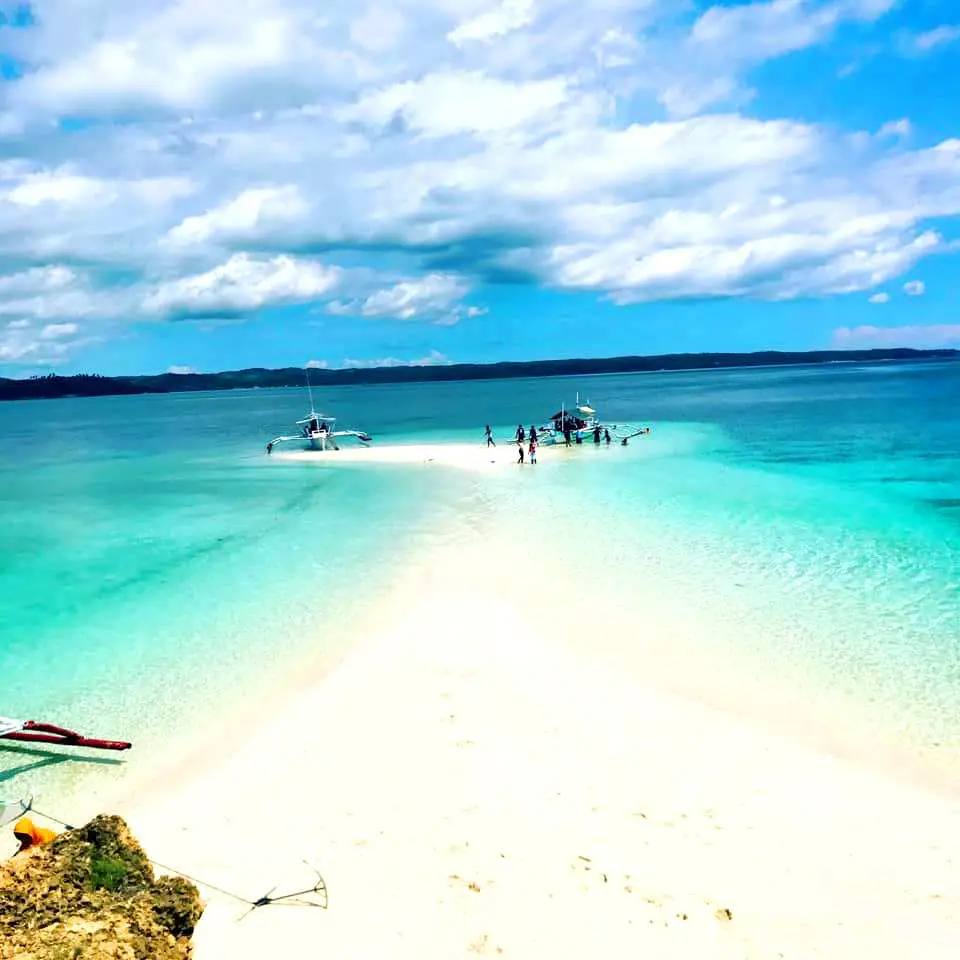 Another popular tourist attraction in Masbate is Tinalisayan Island. It also features a long sandbar surrounded by turquoise waters. Coral reefs and an incredible myriad of marine species thrive here.
So if you're into snorkeling, ah, there's just nothing like it here. Look here and there, and you'll be mesmerized at such astounding diversity. To get a bird's eye view of the surrounding landscapes, trek your way to a rocky hill.
Around the beach, you'll find big boulders. You can make use of one of these as jumping or diving platforms towards the deep sea.
Location/Jump-off: San Pascual, Burias Island, Masbate province
14. Porta Vega Beach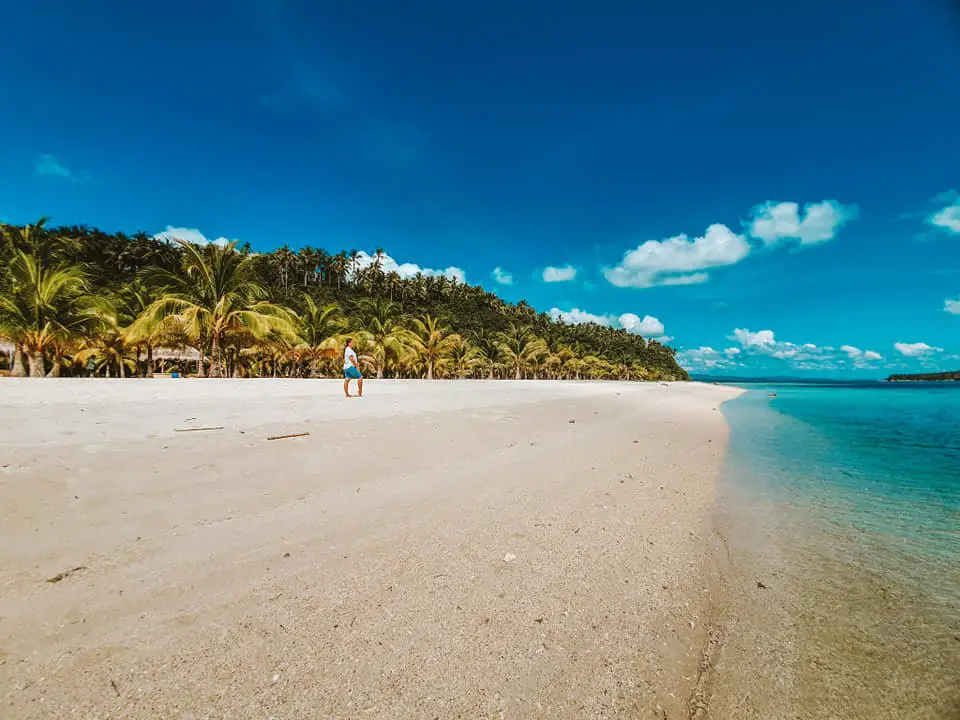 Porta Vega Beach is one of the most frequented beaches in Masbate and is also a popular attraction for the locals. Both locals and tourists love to spend their holidays and weekends here. Despite its touristy setting, it does offer unique features.
For example, you'll find dwarf groves of coconut trees lining the beach. Here, you'll likewise see a dome-shaped church that contains images, paintings, and Latin inscriptions. Who would not also fall in love with its crystalline waters?
Location/Jump-off: Dimasalang, Masbate Island, Masbate province
15. Halea Nature Park
Halea Nature Park is a must-see tourist spot in Masbate when you're visiting Catandayagan Falls and Manta Bowl. It features a small stretch of powdery white sands with lush forests and stunning limestone rock formations.
The waters here are so clear that you could see corals and fishes swimming around. If you're an adrenaline junkie, try climbing from one of the cliffs or boulders and jump or dive your way into the deep sea. It remains one of the off-beaten tourist spots in Monreal, Masbate.
Location/Jump-off: Monreal, Ticao Island, Masbate province
16. Rendezvous Hotel and Beach Resort
17. Freschco Beach Resort
18. Villa Bayot
19. Hayahay Beach Resort
20. Jontolo Lighthouse
For More Information
If you need more information to help in setting up your itinerary to the said destinations including the tourist spots in Cataingan, Masbate, do contact the Provincial Tourism Office via the following:
Contact Number: 0946 591 6228
Email Address: masbateprovincialtourism@gmail.com
Masbate Tourism Office Address: Provincial Tourism Office, Social Center, Masbate City
Anu pang magandang lugar sa Masbate (What are other beautiful spots in Masbate?) Feel free to share them in the comment section below 🙂