Want to explore the best Sorsogon tourist spots these coming holidays? Check out this detailed guide to help plan your itinerary.
Sorsogon is the southernmost province within mainland Luzon. Owing to its must-see natural wonders, Sorsogon nailed its name as among the best eco-tourism sites in the Philippines.
Not only will you enjoy marveling at the natural scenes but also learn to appreciate the importance of preserving the natural environment. Every penny you spend here also helps boost the local economy. This as most of the tours is organized by the local communities and organizations.
Now if you're planning to visit, here are the best places to visit in Sorsogon province.
Behold Must-See Sorsogon Tourist Spots
1. Juag Lagoon Marine Sanctuary
Juag Lagoon Marine Sanctuary aims to promote the conservation of endemic species. It also serves as a research site for marine life conservation.
Here, you can swim on the crystal-clear waters or go snorkeling to glimpse of a variety of fishes enclosed on pens/cages. Among the species you'll see here are lapu-lapu, trevally, giant clams, and many others.
Mangrove-clad hills surround the lagoon, and you can go exploring them to catch sight of different bird species.
Location/Jump-off: Matnog, Sorsogon province
Entrance Fee: Php 70 per person
Boat Rental: Php 1600 (can carry 10 passengers)
2. Donsol Whale Shark Interaction Site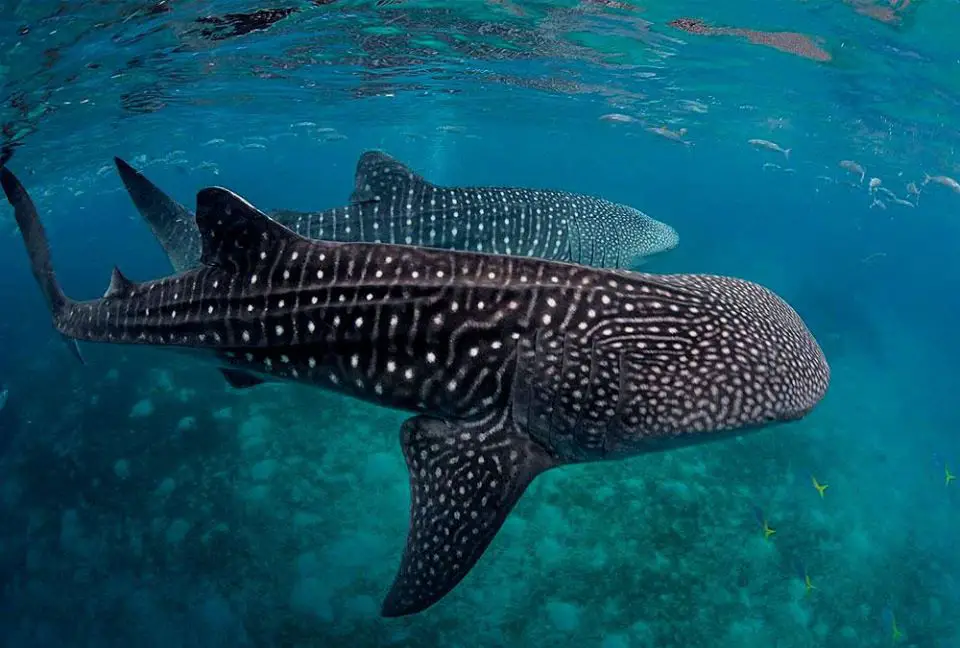 If you want to support the conservation of the endangered Whale Shark, check out the Donsol Whale Shark Interaction Site. Tourists from all over the country and the world come here to witness these gentle giants.
From a vantage point, one can see them feeding on thriving plankton and krill. Unlike in Cebu, the whale sharks here are not fed by humans and are allowed to live according to their natural habits. Therefore, it's one of the recognized ecotourism sites in the Philippines.
While it helps boost local livelihood, the industry also promotes the protection of the Whale Shark. Instead of hunting them for their meat, the local fishermen turned into guides protecting these species.
Interacting with whale sharks is one of the best things to do in Sorsogon province.
Location/Jump-off: Brgy Dancalan, Donsol, Sorsogon province
Best Time to Visit: February to May (peak season)
Registration/Entrance Fee: Php 300 per person
Boat Rental: Php 3500
3. Ogod River Firefly Cruise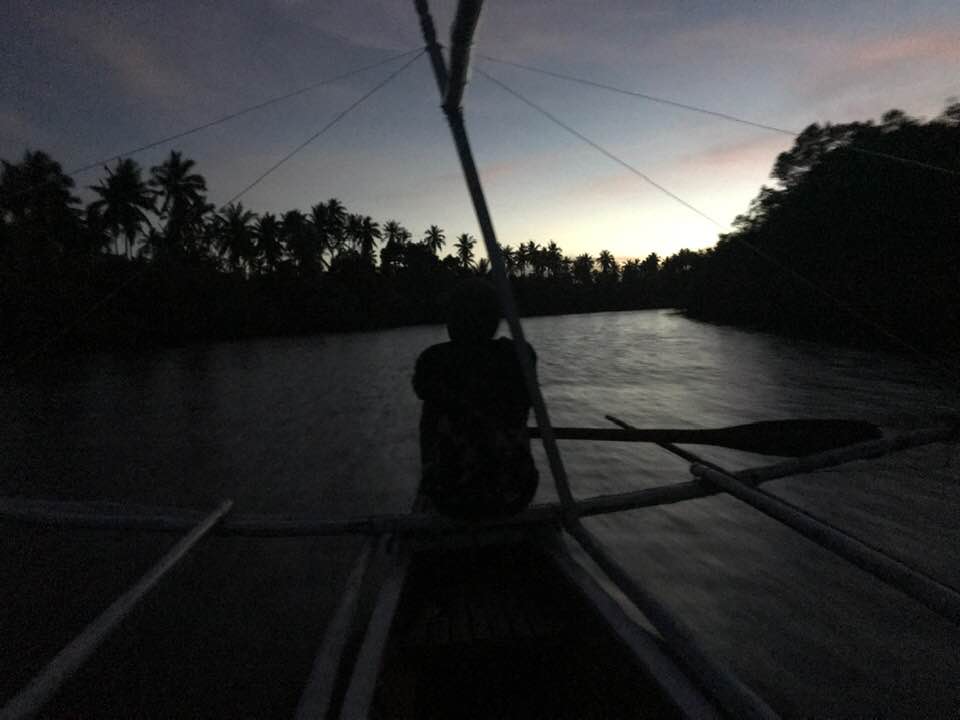 You must have witnessed those flashy fireflies on animated shows or cartoons. But did you know that you can personally see them at Ogod River?
Running at about 100 kilometers, Ogod River traverses mangroves, coconut plantations, and other lush sceneries. You can ride a boat for a cruise, and along the river, you'll see thousands of fireflies settling on trees during the night.
You'll think that it's Christmas with all the light shows when you come here. But then again, all that are natural spectacles. Tourists visiting the whale sharks also come here as part of a locally-organized tour package.
Location/Jump-off: Donsol, Sorsogon province
4. Bulusan Lake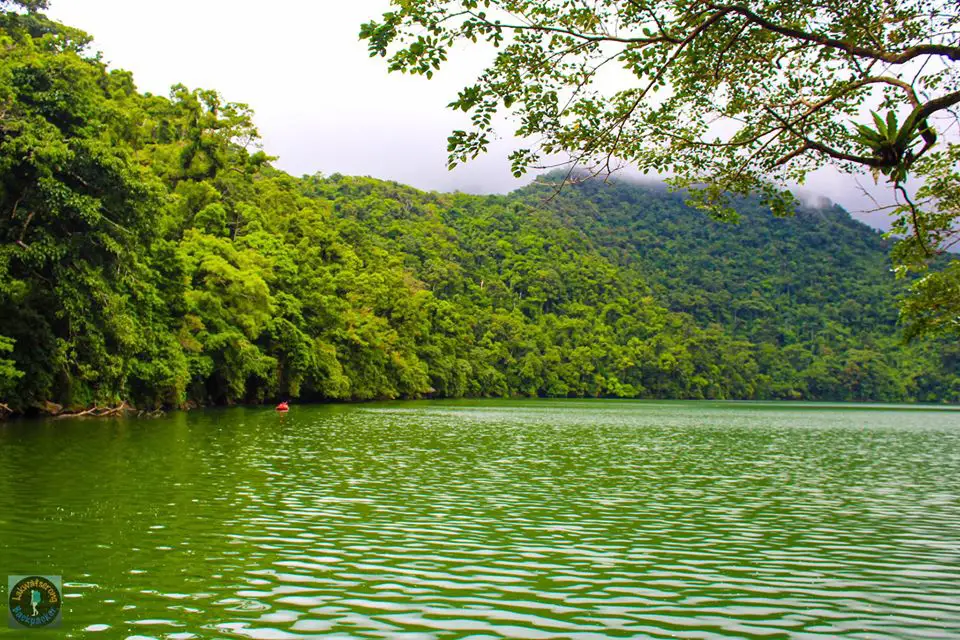 Bulusan Lake is one of the best ecotourism sites in the Philippines. Local organizations organize the tourism activities here, thus, directly benefitting the surrounding communities.
The lake sits on the foot of majestic Mount Bulusan. Therefore, dense tropical forests surround it, giving it an enchanting view. The waters of the lake reflect the forest's color.
From time to time, fogs envelop the lake, casting mystical scenes. To make the most out of your visit here, ride a boat and relish on the sights. You can also ask the local guide to share stories about the place.
For sure, you'll learn a lot about the rich history and culture of the communities surrounding the lake.
Bulusan Lake is one of the top tourist spots n Sorsogon.
Location/Jump-off: Brgy San Roque, Bulusan, Sorsogon province
Operating Time: 7:00 AM to 5:30 PM daily
Entrance Fee: Php 20 per person
5. Mount Bulusan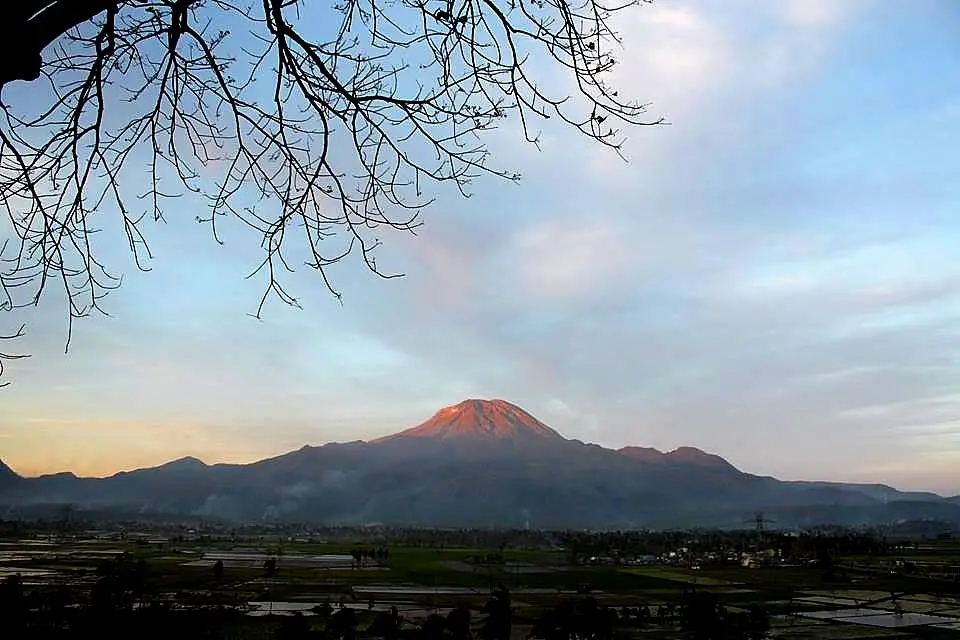 If you want to level up your adventure after relishing the beauty of the lake, why not climb the legendary Mount Bulusan. It is one of the few remaining last ecological frontiers in the province.
Home to a plethora of endangered flora and fauna species, Mount Bulusan, offers an adventure-filled journey of a lifetime. Along the trail, you'll catch sight of different wildlife, including deer, birds, wild pigs, and blooming orchids.
You can hire a guide from Bulusan Lake to take you to the peak of Mount Bulusan. To protect the mountain, the management only allows 20 trekkers a day. So make sure to book in advance to reserve your slots.
Location/Jump-off: Bulusan, Sorsogon province
Guide Fee: Php 500 per day for five pax
Porter Fee: Php 350 per day (Optional)
Contact: 09074352268 (Ms. Ana G. Bo, Operations Manager)
6. Lake Aguingay
If you're nearing the summit of Mount Bulusan, you'll notice a vast plain savannah surrounded by the forest-clad ridges. During summer, it's dry. But during the rains, it floods and turns into a vast lake that is three times bigger than Lake Bulusan.
Location/Jump-off: Bulusan, Sorsogon Province
7. Palogtoc Falls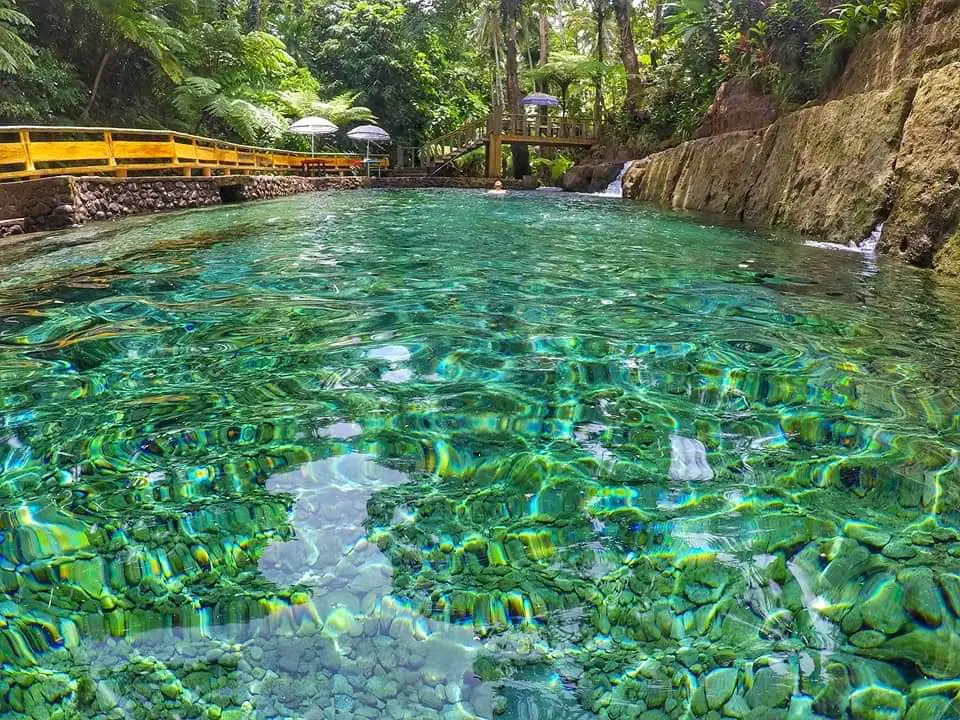 If you're looking for a soothing escape after exploring the forest-clad Mount Bulusan, check out Palogtoc Falls. It's a 5-foot cascade with a deep and wide pool. Its crystal-clear waters are so inviting one can't help but take a daring plunge to the pool.
You'll often notice local kids bravely jumping or diving into it. You can join them in fun and share casual stories with them. Lush vegetation surrounds the waterfall, making it feel like you're in the middle of the forest.
Location/Jump-off: Brgy San Roque, Bulusan, Sorsogon Province
Contact: 09075216960 (local management)
Operating Time: Every Day
8. Bayugin Falls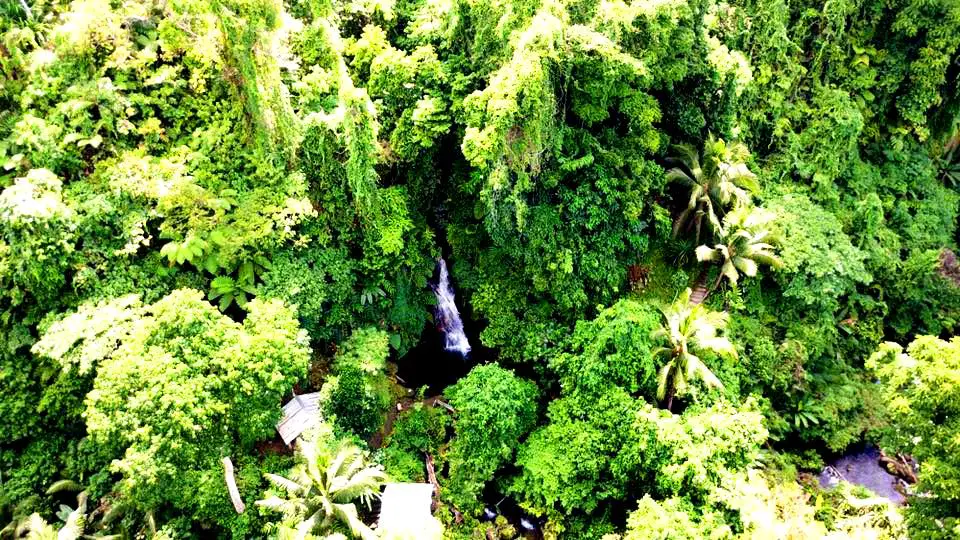 Bayugin Falls is an off-beaten tourist spot in Sorsogon, located in a rustic area. It measures around 20 feet high and has a naturally-built pool where you can have a rejuvenating swim.
Tropical forests surround the waterfall. Locals, especially youngsters, love to come here and swim or play on its crystal-clear waters. It is named as such because of the abundance of "Bayog," a local bamboo species growing nearby.
If you plan to hold a picnic, don't worry. There are available sheds/huts. You should also bring your food since there are no stores here.
Bayugin Falls is one of the best emerging tourist spots in Sorsogon.
Location/Jump-off: Brgy San Francisco, Bulusan, Sorsogon province
Trekking Time: 20 minutes
9. Paguriran Island and Lagoon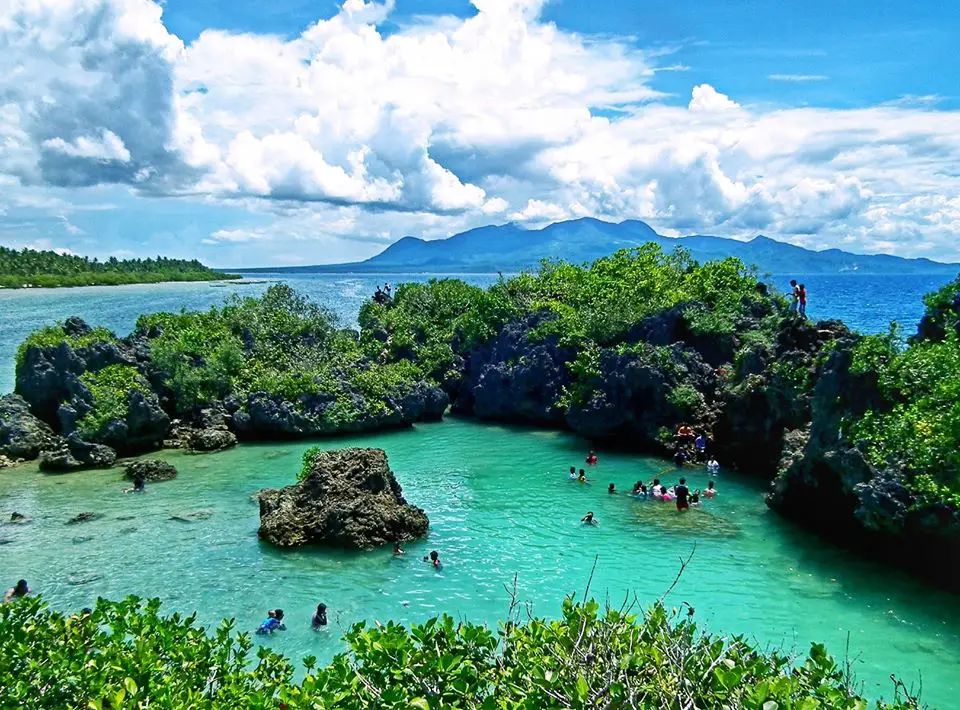 Paguriran Island is just a small rock islet connected to Sorsogon mainland via a sandbar. You can just walk on this sandbar to reach the island. There, you'll find a lagoon which is now becoming a popular swimming site among the locals.
Stunning limestone formations surround the lagoon, and you can use these as jumping platforms. The island is one of the best tourist spots in Sorsogon City.
Location/Jump-off: Brgy Sawanga, Bacon District, Sorsogon City
Entrance Fee: Php 20 to Php 50 per person
Camping Fee: Php 100 (exclusive of tent)
Cottage Rental Fee: Php 300 (Open Cottage), Php 500 – Php 1000 (Closed Hut)
10. Dancalan Beach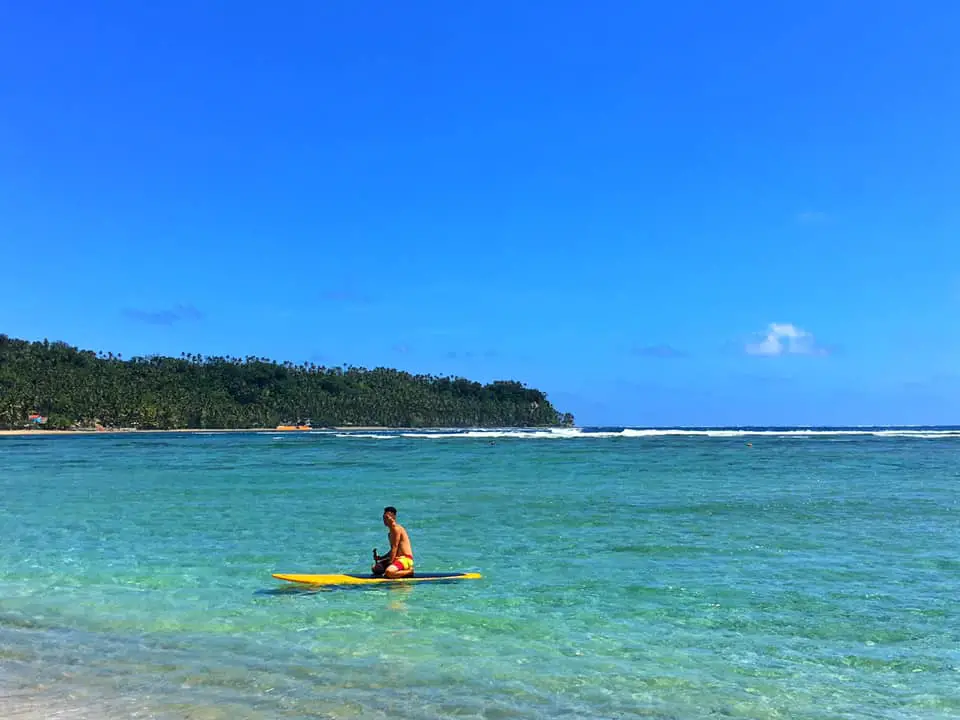 Facing the vast Pacific Ocean, Dancalan Beach features a crescent-shaped shoreline with almost white sands. It has a very shallow swimming area, and you need to wade for several meters before reaching the deep part. That makes it an ideal site for non-swimmers.
Talisay trees line the beach, serving as shaded areas for visitors. Although there are a few resorts on the island, it remains among the off-beaten tourist spots in Sorsogon.
You can also set up your tent here for camping or rent available cottages for a minimal fee.
Location/Jump-off: Bulusan, Sorsogon province
Entrance Fee: Php 10 per person
Cottage Rent: Php 100 (Open Cottage), Php 350 (Closed Huts)
Parking Fee: Php 20 (motorbike), Php 30 (tricycle), Php 50 (car)
11. Calintaan Island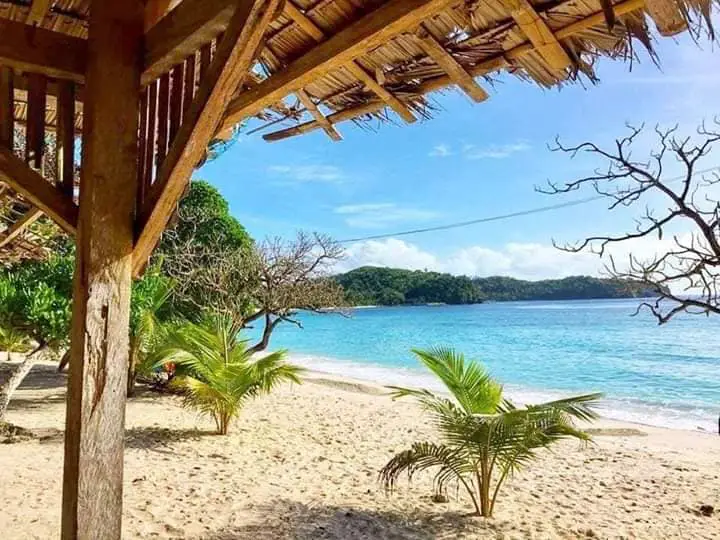 If you're after the clearest of waters, don't miss out visiting Calintaan Island. Its waters are so clear that you can see fishes swimming underneath.
You'll surely enjoy strolling on the creamy-white sands as you gaze on the alluring waters. Tall, coconut trees line the beach, and on some parts, you'll find bizarre limestone rock formations.
Enjoy swimming with your loved ones, or go for a memorable snorkeling experience.
Location/Jump-off: Matnog, Sorsogon province
12. Riza Beach
Known for its white sands lined by lush trees, Riza Beach is an emerging tourist spot in Sorsogon. It's growing in popularity, however, as a surfing site because of the moderate to big waves with sandy bottoms.
If you're a beginner or an advanced surfer, don't worry. The conditions at Riza Beach are just right for both. You can also avail of surf camp onsite at budget-friendly rates. There are surfboard rentals available for experts.
Location/Jump-off: Gubat, Sorsogon province
13. Tikling Island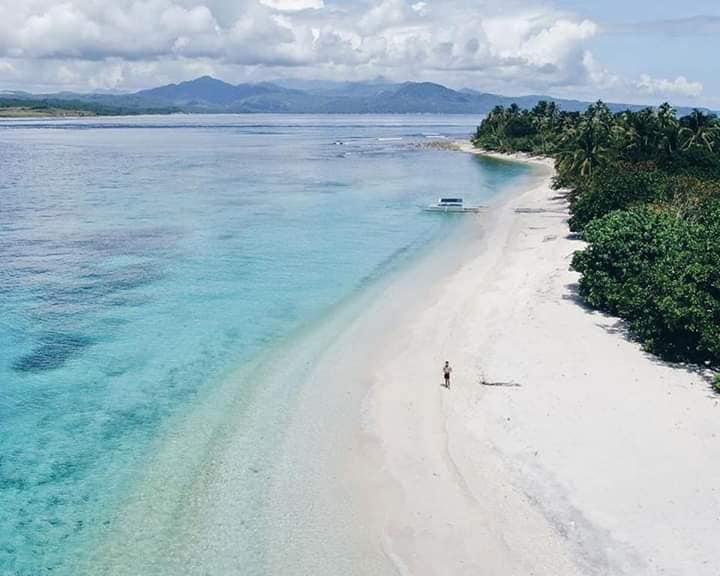 One of the most popular tourist spots in Sorsogon is Tikling Island. Although privately-owned, you can come here for a day tour. It boasts of powdery white sands complementing the turquoise waters.
It's an ideal site for swimming because the waters are calm, and there are shallow parts for non-swimmers.
To preserve the island's natural beauty, the locals don't allow the building of hotels and other modern amenities. They would encourage you to seek shade amongst the coconut trees. As you stroll around the beach, you'll also see beautiful rock formations.
Location/Jump-off: Matnog, Sorsogon province
Entrance Fee: Php 50 per person
Boat Rental: Php 1600 (Day Tour), Php 2000 (With overnight)
Boating Time: 30 minutes from the mainland
14. Mt Pulog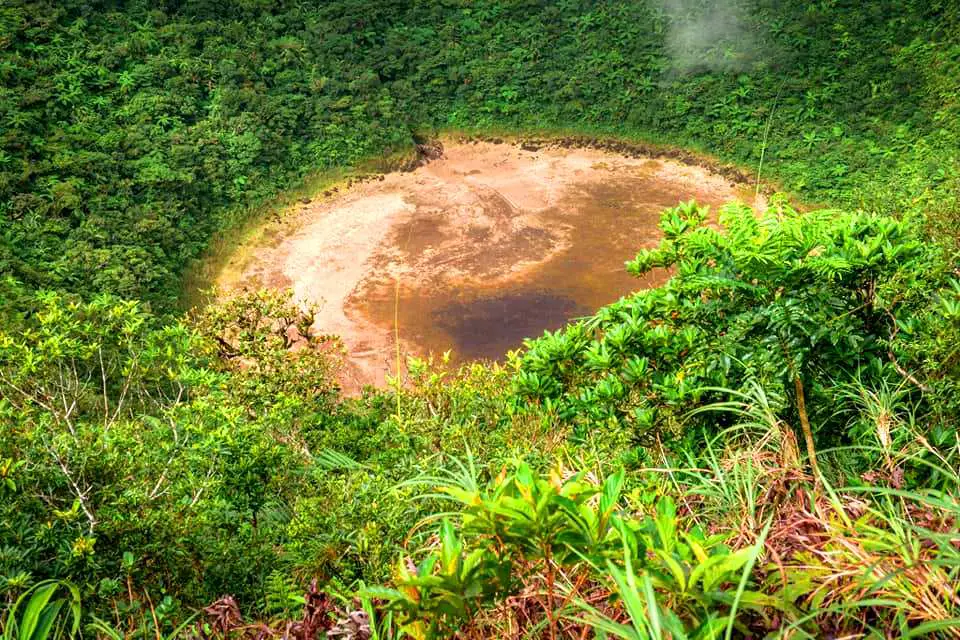 Okay. This is not "Mt Pulag" in Benguet, although a lot of people associate Mt Pulog with it. It's one of the best hiking tourist spots in Sorsogon. When hiking to the mountain, you can ask your guide if a native fruit called hagis is in season.
It's an excellent snack because its sour taste can excite you up to get going. The trail starts from grasslands and open woodlands. As you reach the higher elevations, it gets steeper, and the forests are denser, reminiscent of those in Mt Makiling.
Aside from the mesmerizing views from the summit, you'll also witness the stunning Pulog Lake. It is shaped almost perfectly round, surrounded by tropical forests.
Location/Jump-off: Brgy Sta. Cruz, Bacon, Sorsogon province
Trekking Time: 3-4 hours to the summit
15. Busay Falls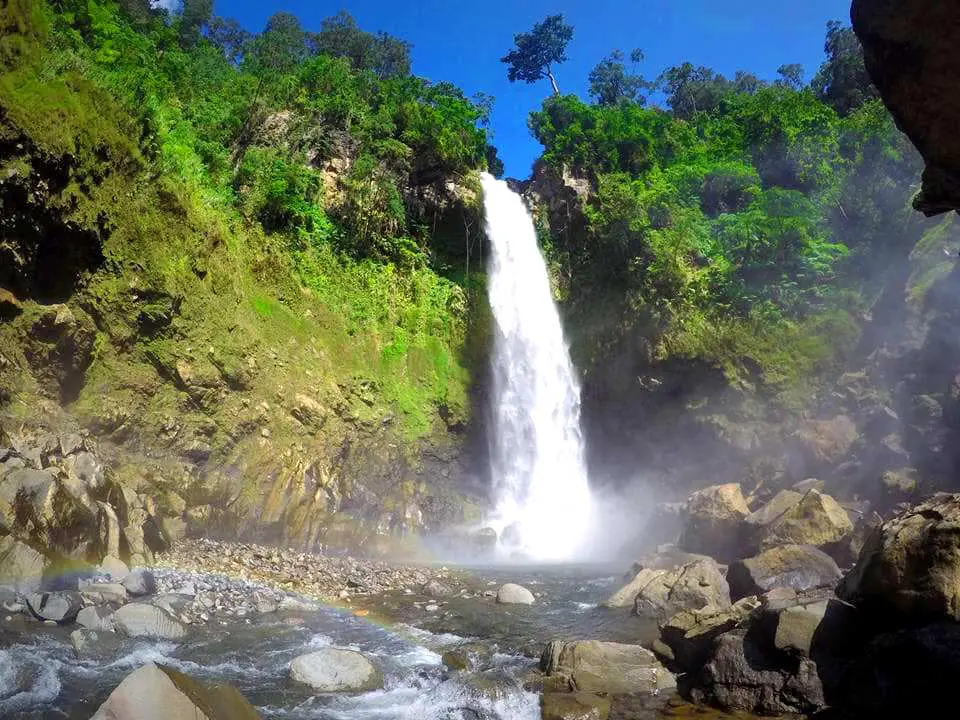 Busay Falls is another laid-back tourist spot in Sorsogon, making it ideal for people who prefer less touristy destinations. And guess what? There is not only one waterfall here but seven in all, each with unique features to offer.
You can explore and enjoy all these in a day. Only the first two layers, however, are easy to reach because the trails are well-established. It takes an extra dose of adventurous spirit to assault the other falls.
Expect to trail on dense forests, clamber on mountain precipice, and cross brooks before finally seeing each of them.
Location/Jump-off: Brgy Guinlajon, Sorsogon City
16. Subic Beach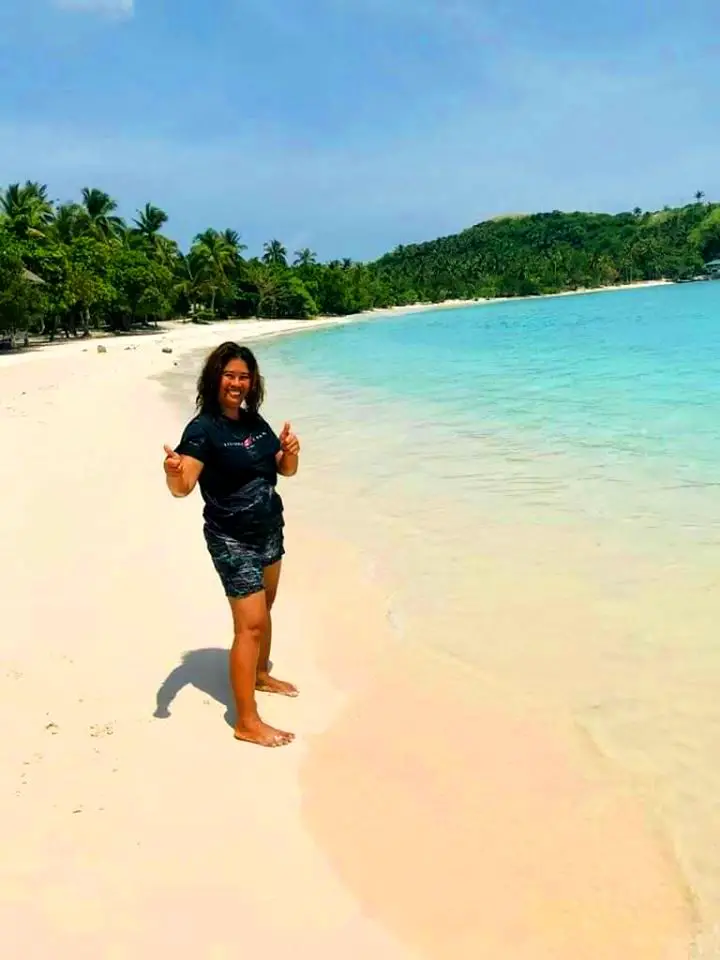 Want to chase pink sands and shoot your most unique photo yet? Might you want to visit Subic Beach? The pink feature of the beach is a result of corals mixed among the sands. It's a long stretch of scenic beach meeting with turquoise waters.
The waters are so enticing that one can't help but swim and experience immediate relief. These teem with rich marine life, including colorful corals; thus, snorkeling is an ideal activity here.
Make sure to bring your food and cooking materials to the beach as there no amenities to provide them. That is good, though, because it allows the preservation of the beach's natural beauty.
Location/Jump-off: Php 50 (locals), Php 300 (foreigners)
17. Bagatao Island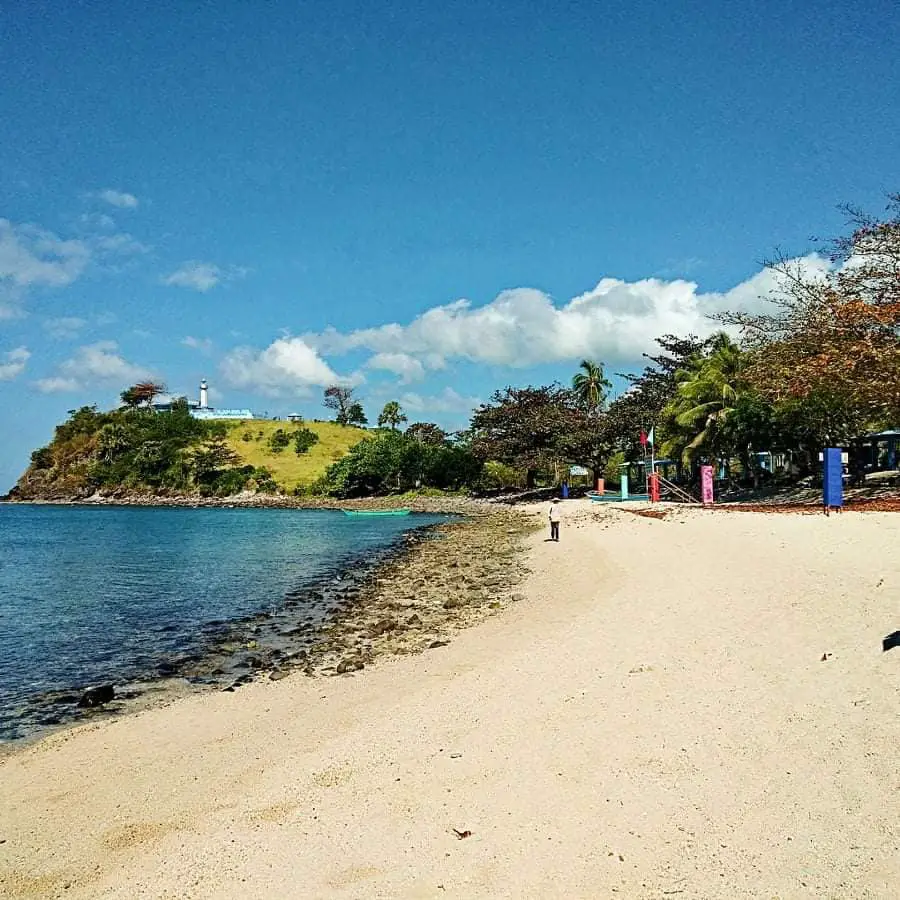 Bagatao Island is known for its century-old lighthouses that date back to the Spanish times. These lighthouses served as guiding posts for seafarers. At the same time, it served as a post for warning the villages of impending pirate attacks or Muslim raids.
But the island is more than that. After seeing these structures, you can have a relaxing moment on its only beach. The waters here are also calm, so if you're a non-swimmer, it's an ideal place to learn such.
Location/Jump-off: Magallanes, Sorsogon province
18. Botong Twin Falls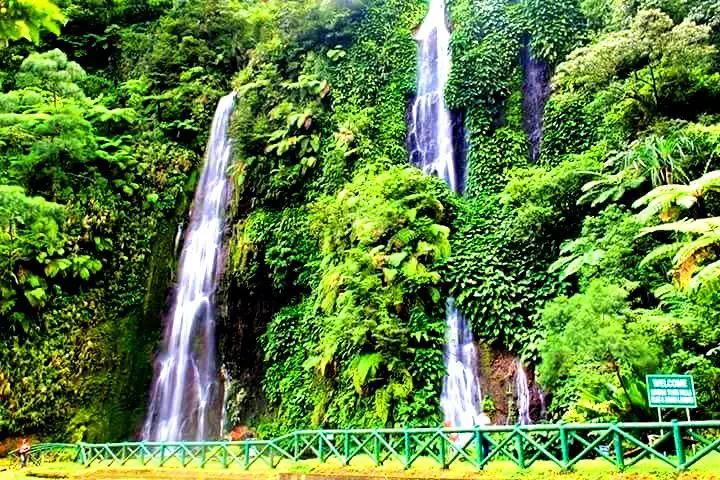 Ranked among the best eco-tourism sites in Sorsogon, Botong Twin Falls is indeed a majestic beauty to behold. Although they cascade near to each other, each fall comes from a different tributary.
What makes it even more interesting is that one fall has blue waters as reflected in the pool while the other has greenish waters. The right waterfall has a height of 40 meters, while the left cascade measures around 25 meters.
Lush plants and trees give the falls a rustic backdrop. It's best to come here just after the rains to witness the falls' splendid beauty. You can position yourself at the end of the waterfall as the cascading waters give you a rejuvenating massage.
Location/Jump-off: Brgy Osiao, Bacon, Sorsogon province
19. Buhatan River Cruise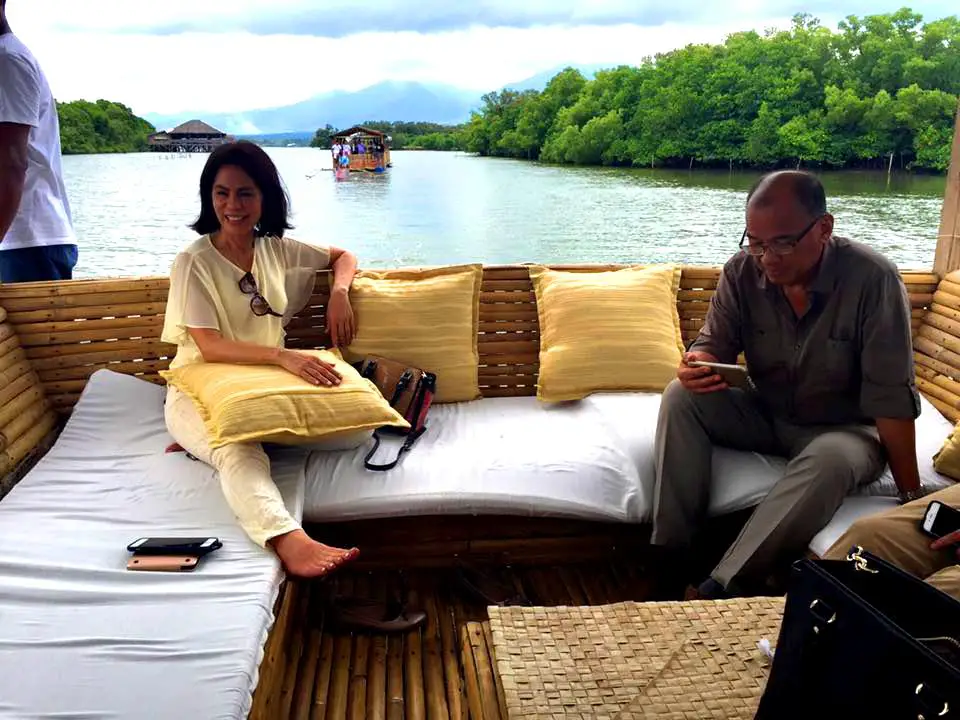 Buhatan River Cruise is one of the most popular things to do in Sorsogon. The locals of Buhatan themselves organized the cruise to protect the river and boost the local economy.
The tour involves riding on a raft with cushioned seats or a boat and following the river downstream. Expect to see pristine mangrove forests as well as occasional birds leaping from one tree to another.
As you relish the sights, the staff will treat you with authentic meals and snacks. During night time, you'll also catch sight of swarms of fireflies. That is why it's best to start your cruise during the later afternoon.
Location/Jump-off: Brgy Buhatan, Sorsogon City
Tour Package Fees: Php 3000 to Php 750
Tip: For budget-conscious travelers, it's best to travel with a group to cut on expenses.
20. Barcelona Church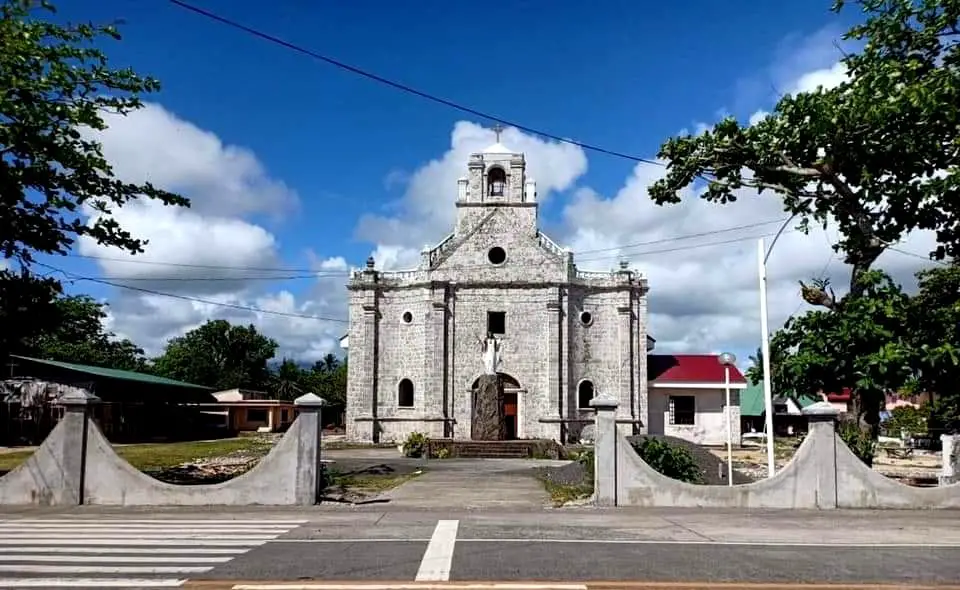 Also referred to as St. Joseph Church, Barcelona Church is one of the historical tourist spots in Sorsogon. Dating back to the Spanish years, the church was completed in 1874.
You might be surprised to know that there were no cement or steels used to build the church. Yet, it remains intact and functional up to this day. Near the church, you'll find other historical attractions such as the Presidencia Building, which served as a seat of government and as a fortress against Muslim attacks.
Another is a stone building, which was an educational center for the Ilustrados or the rich members of the society. To improve the tourism experience, the local authorities established a small park near these three structures.
Location/Jump-off: Pan-Philippine Highway, Barcelona, Sorsogon province
Entrance Fee: None
Operating Time: 8:00 AM to 5 PM every day
List of Other Sorsogon Tourist Spots
21. Juban Old House
22. Malawmawan Island
23. Palogtok Falls
24. Olango Beach
25. Prieto Diaz Mangrove Ecopark
26. Sorsogon Provincial Museum and Heritage Center
27. Ubo Falls
28. Irosin Hot Springs
29. Parolla Beach
30. Panumbangan Sandbar
For More Information
If you need more information to help in setting up your itinerary to the tourist spots in Sorsogon, do contact the Sorsogon Provincial Tourism Office via the following:
Email Address: sorsogonpto@yahoo.com
Related Articles