Here is a complete DIY travel guide to Poro Point Lighthouse in La Union.
I've always been drawn to landmarks with historical or cultural significance. There's always this insatiable urge in me to uncover the story behind and unravel the embedded lessons and values. For me, that's what makes travel meaningful. Not only will you capture the aesthetic beauty of a site but get immersed into its rich stories.
That is why, in one of our visits to La Union, we decided to check out Poro Point Lighthouse. I've heard it's been standing there since the American regime. I was pretty sure it would give me a deeper understanding of the local history.
If you're planning to visit as well, read on.
Quick Facts
Location/Jump-off: Poro Point Special Economic and Freeport Zone, San Fernando City, La Union
Travel Time: 10 minutes from city proper via jeep or tricycle
Jeep Fare: Php 10 per person
Entrance Fee: None
Extra Sights to See: Thunderbird Resort, Poro Point Baywalk, Acapulco Beach
READ: 40+ La Union Tourist Spot (UPDATED): Best Places to See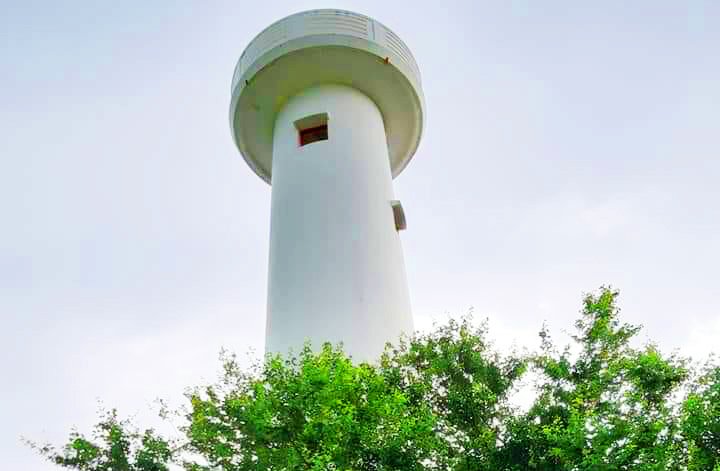 How to Go to Poro Point Lighthouse
Here are ways to get to San Fernando, capital city of La Union province and where the Poro Point Lighthouse is located.
Option I – Metro Manila to San Fernando, La Union
If you're coming from Manila, you can ride of any of the buses bound to the Ilocos Region. Among these are Partas, Dominion, and Viron. Travel time takes 6-7 hours depending on road conditions. Here are essential info such as fares and station for each bus company.
Partas
Deluxe Fare: Php 436
First Class Fare: Php 524
Cubao Bus Terminal: 816 Aurora Boulevard, Cubao, Quezon City
Pasay City Bus Terminal: Aurora Boulevard (Tramo) Corner Edang St. San Roque
Sampaloc Bus Terminal: Manila City
Contact Numbers: (02) 727 8278, (02) 852 8194, (02) 743 3242
Schedules: www.phbus.com/partas-bus/
Viron Transit
Regular Aircon Fare: Php 404
Manila Terminal: 209 Blumentritt Corner Dapitan
Quezon City Terminal: EDSA, Immaculate Concepcion, Quezon City
Contact Numbers: (02) 741 6588, (02) 741 0405
Schedules: www.phbus.com/viron-bus/
Dominion
Regular Aircon Fare: Php 382
Terminal: Epifanio De Los Santos Ave, Cubao, Quezon City
Contact Number: (02) 741 0405
Schedules and Routes: www.phbus.com/dominion-bus/
Don't forget to drop by San Fernando City as you might fall asleep and end up beyond the city. Also, don't forget to tell the driver/conductor that you are only bound to San Fernando.
Option II – Baguio to San Fernando, La Union
This was our jump-off point since we are locals of the city. From here, we rode a Partas Bus stationed at the Governor Pack Road, near Upper Session and SM Baguio. They have hourly departures and fare from Baguio City to San Fernando is Php 120 per person. Travel time takes an hour and a half.
When at San Fernando
Buses from Manila and Baguio typically drops passengers at the City Plaza near the Cathedral and the Provincial Capitol. From here, you can either walk or ride a tricycle to Gov. Ortega St., and Gov. Luna St. Here, ride a jeep bound to Poro. Fare is only Php 10 per person and travel time is 10 minutes.
You can also ride a tricycle to Poro Point Lighthouse but that's will cost higher.
READ: La Union Beach (UPDATED): Best Beaches to See
What to See at Poro Point Ligthouse
Upon reaching Poro Point Lighthouse, I could not help but be reeled to a standstill at such a superb structure. I guess that's how it impacted me because it was my first time seeing a lighthouse in person. It stands at 27 feet with a focal plane measuring 30 meters.
Seeing the Poro Point Lighthouse reminded me of the pirate movies I grew up watching as a kid. As I gazed at it, those scenes of pirates attacking villages and local warriors fighting them back flashed on my mind. At that moment, I was imagining myself atop the lighthouse and calling on the villagers to escape.
Built in 1905, Poro Point Lighthouse has an in-built gallery where you can learn about its rich history. Although it's not frequently used as intended, it emits flashing light every 10 seconds. That's how you know its working despite its olden age.
From the Poro Point Lighthouse, we walked for some minutes until we reached another lighthouse called Luz Del Puerto De San Fernando. It dates back to the Spanish times and is made entirely out of steel. Standing at 6 meters, the structure is now corroded and non-functional. Hopefully, the local authorities will implement measures to protect it from total collapse.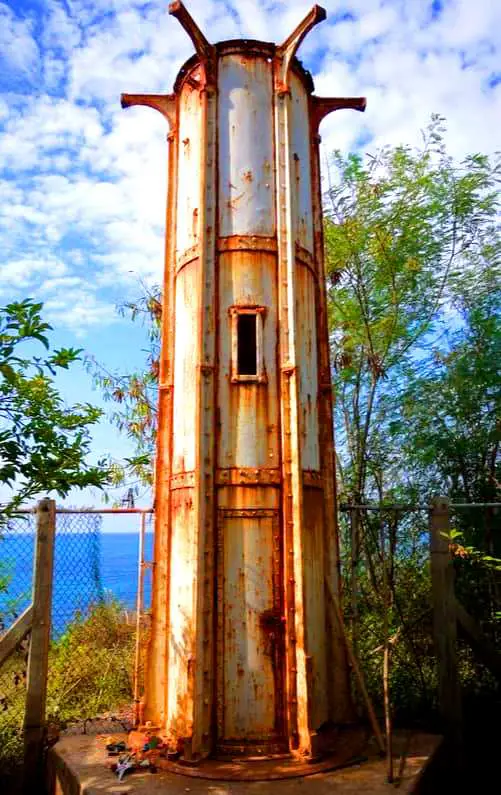 Wait…There's More
From the old lighthouse, we then walked a few meters and reached the edge of a cliff. I tell you, the views here blew me away that I literally felt like flying.
Here, we caught sight of breathtaking ocean views. The waves crashing on the rocky shores are also visible, creating natural music to the ear. The cliff itself is an impressive attraction.
The best time to visit Poro Point Lighthouse is during the later afternoon to also chance on a stunning sunset view. Many locals especially youngsters love to come here to jo or shoot Instagrammable photos.
Sights Near Poro Point Lighthouse
If you're done marveling at Poro Point Lighthouse, you might want to check out on the following nearby sights.
Thunderbird Resort
Thunderbird Resort is one of the top tourist spots and beach resorts in La Union. It boasts of high-end tourism amenities including luxury swimming pools, deluxe hotel facilities, and golf courses, amongst others. The resort also has one of the best beaches in La Union with powdery and creamy-white sands. It's just some minutes of walk or a ride from Poro Point Lighthouse.
Poro Point Baywalk
From Poro Point Lighthouse, trek back for about 20 minutes and you'll reach the Baywalk. It's a favorite hang out of the locals as well as a jogging spot during the early morning. From here, you can also view the vast ocean and the roaring waves crashing to the shore.
Acapulco Beach
Acapulco Beach is one of the popular public beaches in La Union. It features a long stretch of powdery sands. It's a budget-friendly destination and with less than Php 500 you can come here as a group and enjoy the sceneries and activities. From Poro Point Lighthouse, it takes 10 minutes of a ride to reach Acapulco Beach.
Tips and Reminders
Don't ever litter, please. Let us all help in keeping Poro Point Lighthouse clean and green.
Always follow designated trails and avoid reckless moves when viewing at the edge of the cliff.
There is no entrance fee but since Poro Point Lighthouse is within a military base, always ask permission from staff before entering or exploring.
Ask questions from the staff about Poro Lighthouse's history.
Learn and have fun friends.