Here is your complete DIY travel guide to Mines View Park in Baguio City.
I'm not really fond of the mining industry because of its irreversible impact on the natural environment. Of course, I don't mean that to all companies but growing from an indigenous community, I find the need to overhaul how mining is carried out especially in developing countries like the Philippines.
In that regard, I felt reluctant when my friend Meckafourth invited me to visit Mines View Park in Baguio City. But like any rational person aching for an escape from the daily hustle, I later on agreed. Anyways, I'll just be there to freshen myself.
So there we went.
Quick Facts
Mines View Park Address: Brgy Gibraltar, Baguio City
Entrance Fee: None
Fare: Php 12 for Jeepney, Php 80 – Php 100 for taxi/Grab
Mines View Park History: The mountains were mined by American corporations.
How to Go to Mines View Park Baguio City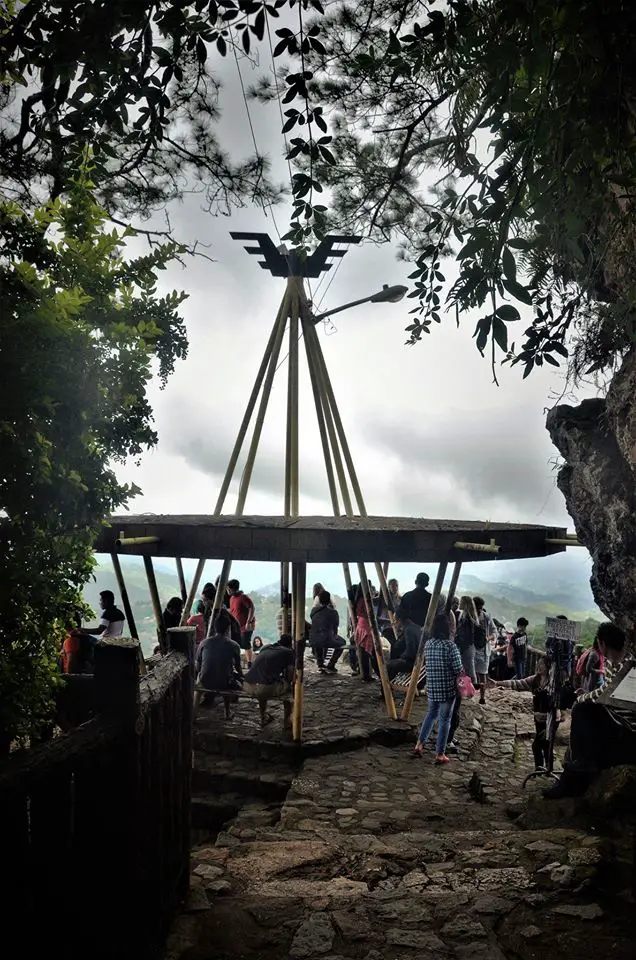 To get to Mines View Park Baguio, here are the options to take.
Option I
The easiest way to get to Mines View Park is via a taxi. If you're coming from Victory Liner or North Genesis station, hop on a taxi and tell the driver to take you to the park.
The fare should be around Php 80 to Php 120, depending on traffic conditions and travel time takes 10-15 minutes. That rate also applies when you book a Grab.
Riding a taxi is the best option to get to Mines View Park the earliest possible time. In that way, you'll catch a stunning view of the sunrise.
Option II
If you're within the business districts of Baguio such as Burnham Park and Session Road, ride any of the jeeps that are bound there. Don't hesitate to ask the locals where these jeeps are specifically stationed.
There are jeeps bound to Mines View Park that operate as early as 6 AM. Fare is Php 12 per person.
Option III
If you have your own car and you're coming from Session Road, proceed to Leonard Woord Road. Continue following it until you get past Teacher's Camp and Botanical Garden.
After that, you'll reach Pacdal Rotunda, drive straight up to C.P. Romulo Drive. You'll pass by Wright Park Riding Circle and The Mansion.
You'll then reach a turning point with the road to the right leading to Outlook Drive. Make sure you take the higher road to the left which leads straight to Mines View Park. The road that goes down leads to Itogon, Benguet.
Anyways, you can always make use of Waze to guide you. Even Google Earth suffices.
What to See at Mines View Park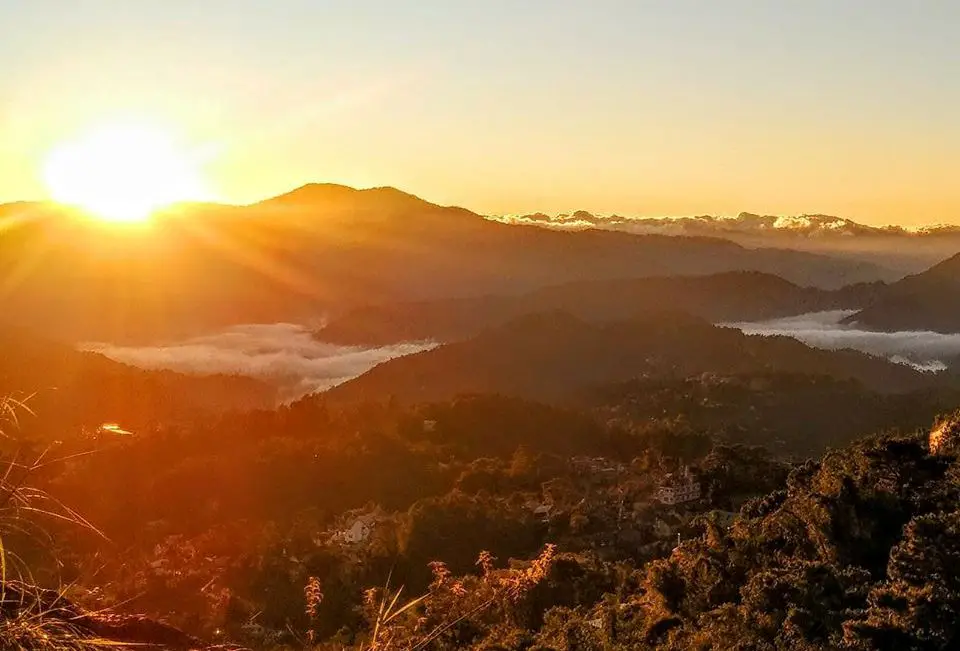 During our visit, it was afternoon so we didn't get to see the sunrise of which Mines View Park is becoming known for. I saw pictures of the sunrise here and its indeed marvelous and you can also chance on a sea of clouds.
That reminded me of the famed Kiltepan Viewpoint in Sagada. Because of that, you'll feel like you assaulted a summit when you come here.
Even though we missed the sunrise, we were rewarded with panoramic views of the mountains, mostly located at Itogon, one of the mining hotspots in the Philippines.
Despite years of mining, its fortunate to know that some of these mountains are slowly recovering. Proof of that are the pine trees growing on their steep slopes.
Hopefully, the locals continue protecting these forests as these are critical watershed areas for rivers leading to agricultural areas in the lowlands.
From here, we could also see the distant views of Kabayan and Bokod, both are municipalities of Benguet. Prominent Cordilleran peaks such as Mt Pulag, Mt Purgatory, Mt Ugo, and Mt Yabnong are likewise visible.
Aside from being a panoramic viewpoint, Mines View Park plays an important historical role in Baguio and the neighboring towns.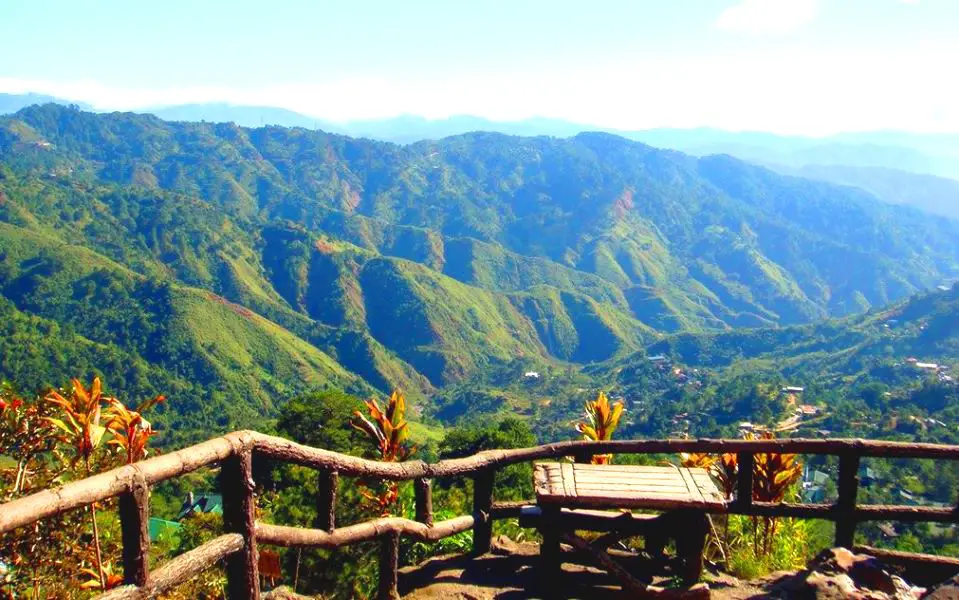 Extra Sights in Mines View Park
Aside from sightseeing, there are a lot of other things to see and do while at Mines View Park Baguio. These include the following:
Limestone Rock Formations
Personally, these are one of my favorite sights here. I'm not really sure why I get drawn so much to these rock formations. So like an impassioned and innocent child, I climbed one of these to shoot the best photos for posterity. The viewpoint structure itself stands on a massive limestone cliff.
Souvenir Shops
Before, there were fewer souvenir shops. Nowadays, however, they fill many corners, even extending all the way to Gibraltar Road.
I actually don't appreciate this sudden increase as it disrupted the natural setting of Mines View Park. The good thing, it provides livelihood for the locals though regulation is still needed.
From these shops, you can buy a variety of locally-made items including personalized shirts, hand-woven textiles, wood crafts, and many more. It's therefore, one of the places in Baguio to buy souvenir.
Wear Cordilleran Native Attires
Just like in Wright Park, you can also wear traditional Cordilleran attires here for a fee. That's one way for you to learn and appreciate the local culture.
I just hope though that the management makes this experience even more meaningful by capacitating the staff to share the cultural significance of the attires.
Visit the Good Shepherd
The Good Shepherd is just a walking distance from Mines View Park. This is where most souvenir goodies of Baguio are made including the famous strawberry jam and ube jam.
Take note. Every item you buy here helps support local livelihood and the schooling of local scholars.
Walk your Way to Wright Park & The Mansion
Wright Park and The Mansion are also a walking distance from Mines View Park. Walking time can take more or less 10-15 minutes. If you have more time, trek your way to Botanical Garden, Teacher's Camp, and The White House. That's also some minutes of walk.
Personal Musings
During our visit, I noticed that Mines View Park is already highly commercialized. With all the souvenir stalls and other cash-oriented activities, I could not fully appreciate nature there.
I also noticed litters everywhere, even on the vantage point. I just hope that the management will strictly implement responsible waste disposal.
Come on. If you're a tourist, please don't treat the site as your garbage bin.
What tourists also don't know is that the mountains they're seeing there are depleted landscapes. These were formerly gold and copper mines of a multinational corporation. Now, only small-scale mining persists.
It's a good thing though that natural ecosystems are slowly taking over their former habitats.