Here is your complete travel guide to Sagada's Hanging Coffins!
Location/Jump-off: Sagada Tourist Information Center
Trekking Time: 20-30 minutes
It was a regular Saturday when I and my childhood buddy Ricky visited Sagada for the third time to explore what we missed during our previous tour.
We were supposed to go caving but during this time, the local authorities prohibited spelunking as a precautionary measure against Coronavirus. Even swimming on Sagada's waterfalls was disallowed. Thus, we decided to just roam around the town center and explore nearby spots.
Because of easy access, we booked a tour to the famed Hanging Coffins of Sagada, located on a site called the Echo Valley. I've been there before but I wanted my friend to check it out because he's into cultural explorations.
Besides, the Hanging Coffins never fail to mystify me and my weird persona keeps nagging me to come back. And yeah, we wanted to try how it's like voicing out our frustrations at the Echo Valley.
If you're planning to visit as well, here is a complete guide to help you out.
Preliminaries and Arrangements
Before visiting any of the tourist spots in Sagada, register at the Municipal Tourist Information Center and pay an environmental fee of Php 50 per person. There, you can choose any of the following tour packages which include the Hanging Coffins.
Option I
Eco-Tour: 3 hours of loop hike to the Church of St. Mary the Virgin, Echo Valley, Hanging Coffins, Sagada Underground River entrance, and Bokong Falls.
Guide Fee:       Php 800 for 10 visitors or less (1)
                        Php 1000 for 11-20 visitors (2)
                        Php 2000 for 23-30 visitors (3)
31 pax and above will pay 60 pesos each
Option II
Adventure Trail: 3 hours of trekking from St. Mary the Virgin Church to the Echo Valley and Hanging Coffins. Includes Latang river tracing, Underground River exploration towards Bokong Falls.
Guide Fee:       Php 1000 for 10 visitors or less
31 and above will pay 100 pesos each
Option III
Echo Valley Hanging Coffins: 30 minutes' hike from the Tourist Information Center to have a close-up view of the Hanging Coffins.
Guide Fee:       Php 300 for 1-10 visitors (1)
                        Php 400 for 11 visitors (1)
                        Php 600 for 12-20 visitors (2)
                        Php 700 for 21 visitors (2)
                        Php 900 for 22-30 visitors (3)
                        Php 1000 for 31 visitors (3)
                        Php 1300 for 32-40 visitors (4)
41 pax and above – 30 pesos each
Aside from the guide fees, each person will pay an additional Php 10 for the access fee since the Hanging Coffins are located on a private lot.
During our visit, we chose the third option as it is within our budget range. There's just the two of us so we paid Php 300 for the guide and another Php 20 for the access fee.
On the Trail to Sagada's Hanging Coffins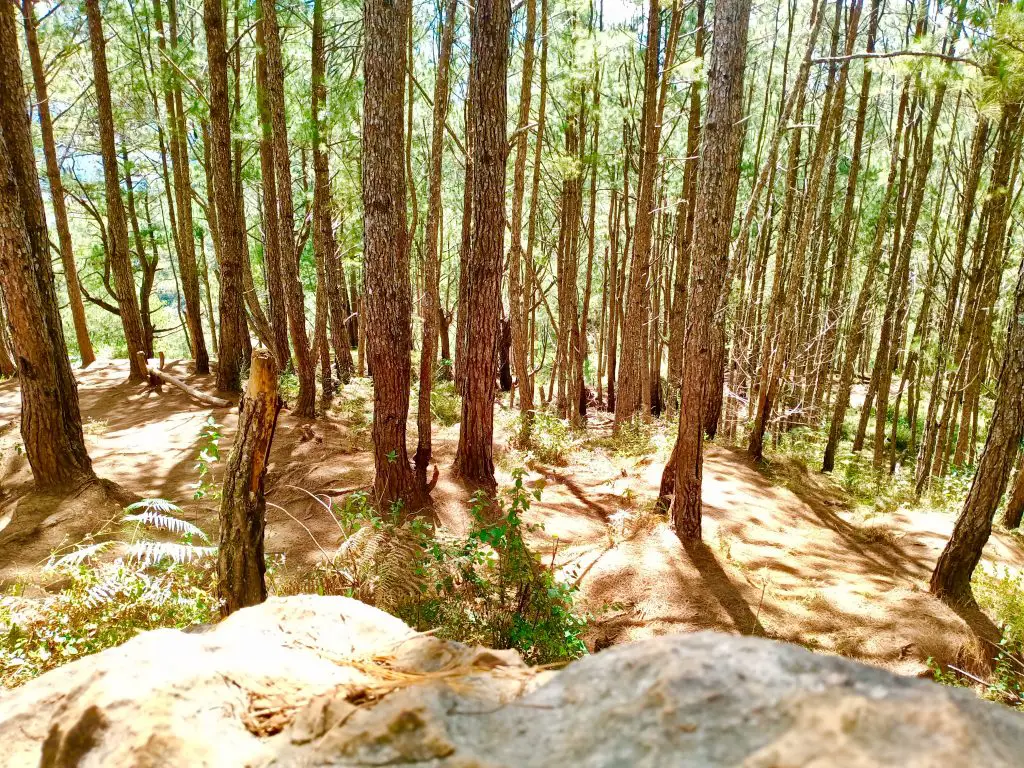 From the registration booth, we started trekking to the Hanging Coffins. After a few minutes, we reached a cemetery where a festival for the dead is conducted every November. I had this eerie feeling walking near the tombs especially that I'm literally afraid of ghosts.
Then, we trailed on a pine forest stand which provided us shade from the simmering midday heat. We came to a point they call Echo Valley. It overlooked the Hanging Coffins which were barely visible because of the forest's shading.
I wanted to shout as loud as I can to try if I could hear my echo there. But I kept that for the next visit, otherwise, I might have caused a disturbance. I did whisper my heartfelt sentiments though.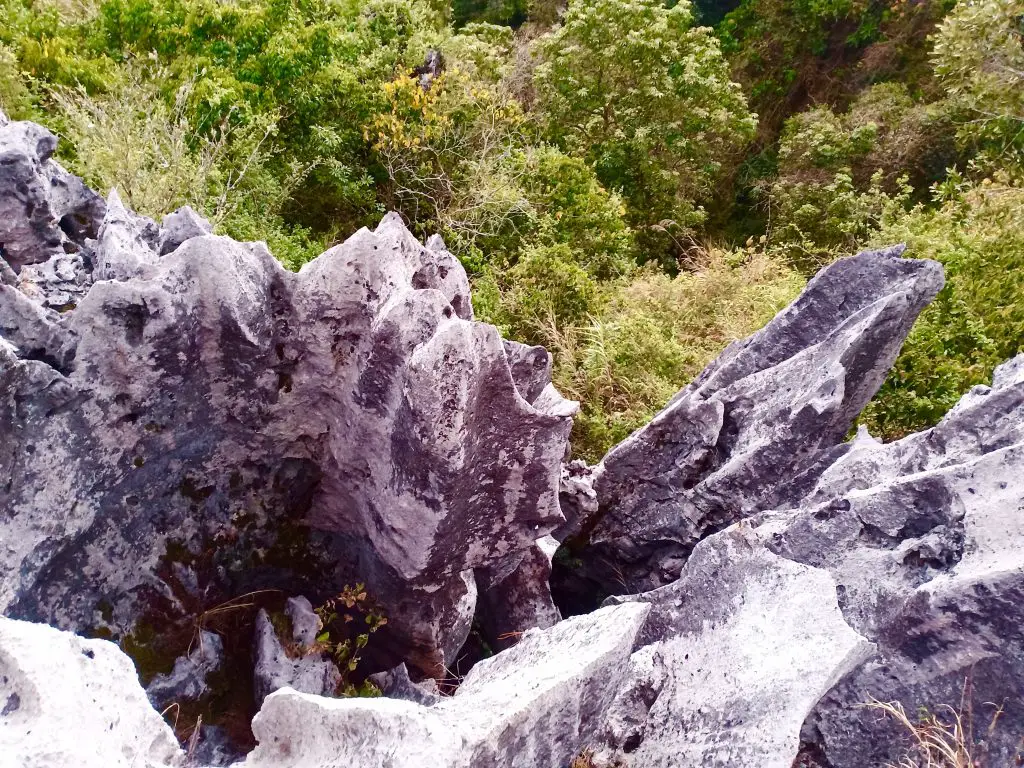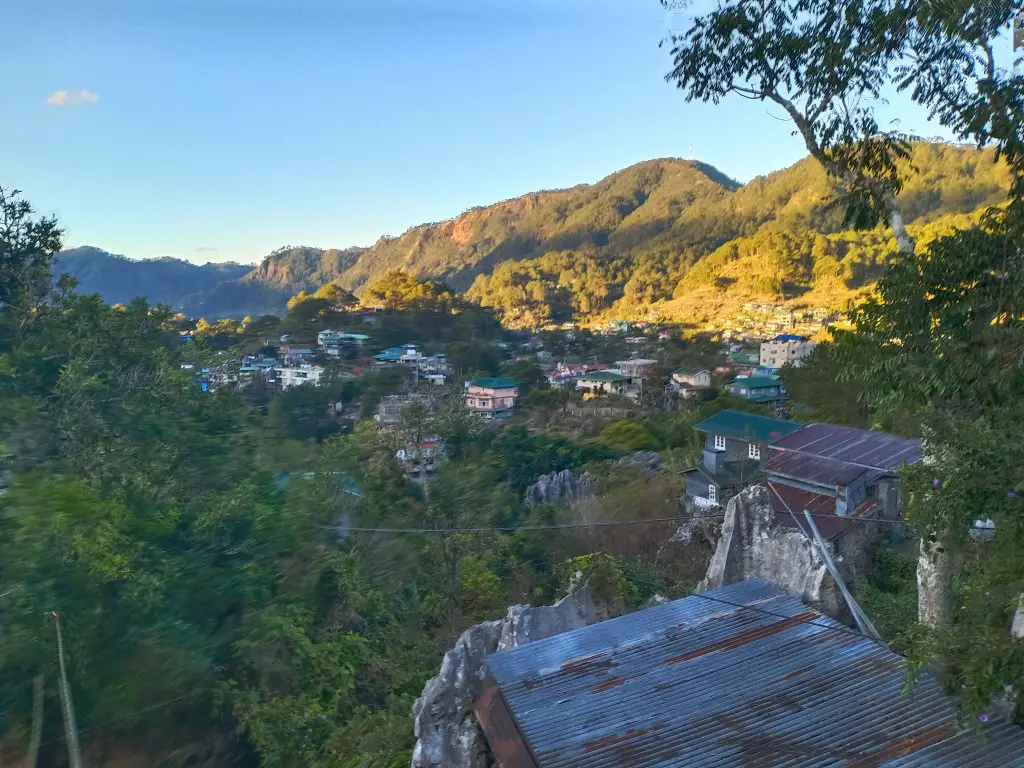 While at Sagada's Hanging Coffins
All in all, it took us around 20 minutes to reach Sagada's Hanging Coffins. Obviously, I was not that much surprised because I've been here before.
But my friend was all glued looking at the wooden coffins hanging on a cliff. He could not help but take as many pictures as he could for posterity.
As for me, I wanted to know more about the cultural and historical significance of the Hanging Coffins.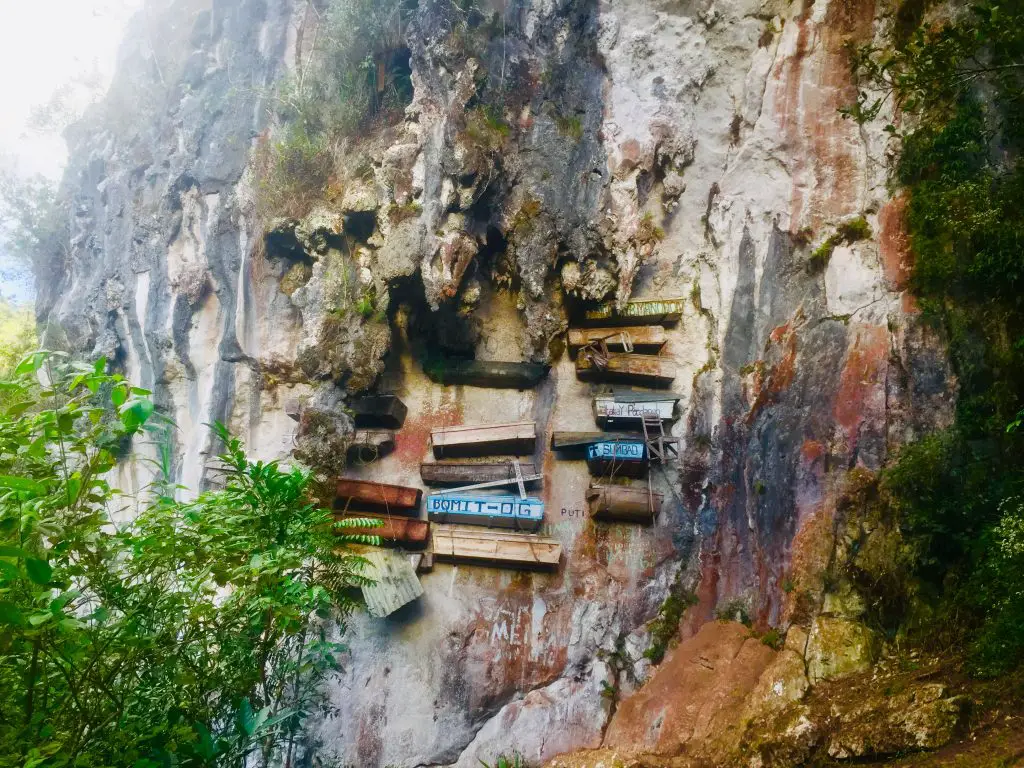 So I nagged our guide to share stories about it and that he did with passion mixed with humor. According to him, hanging the coffins of qualified individuals is a 2000-year old practice of the locals of Sagada.
It is believed that by doing so, the deceased persons will be closer to their ancestral spirits. Only elders and people of high status, however, are buried that way.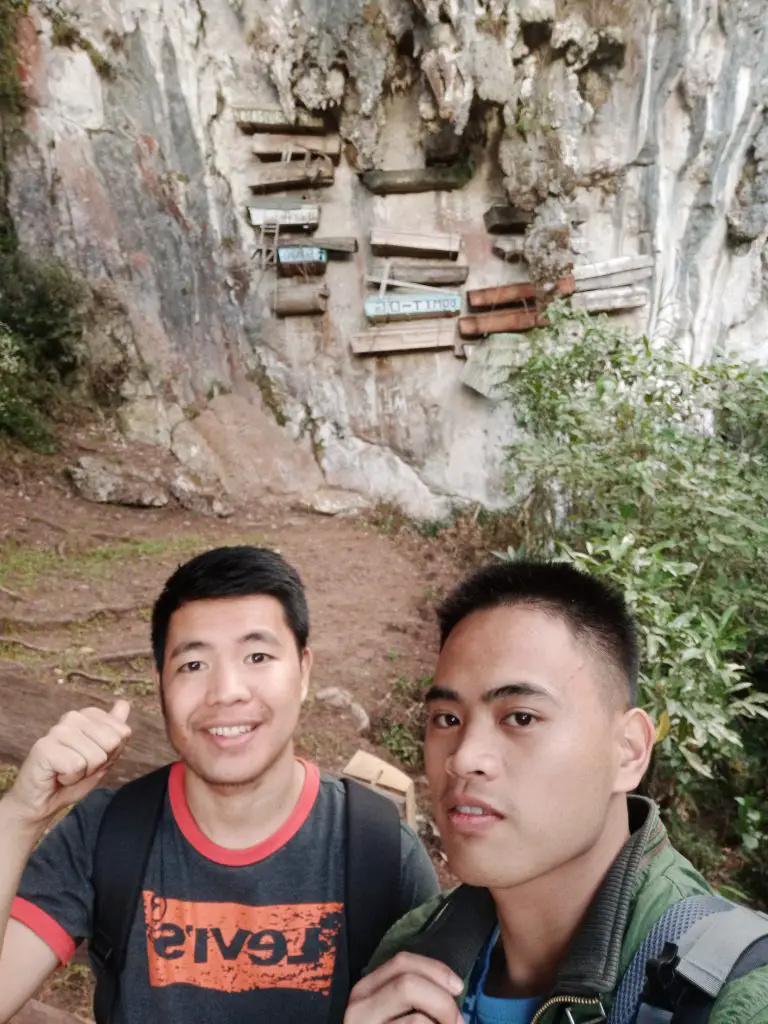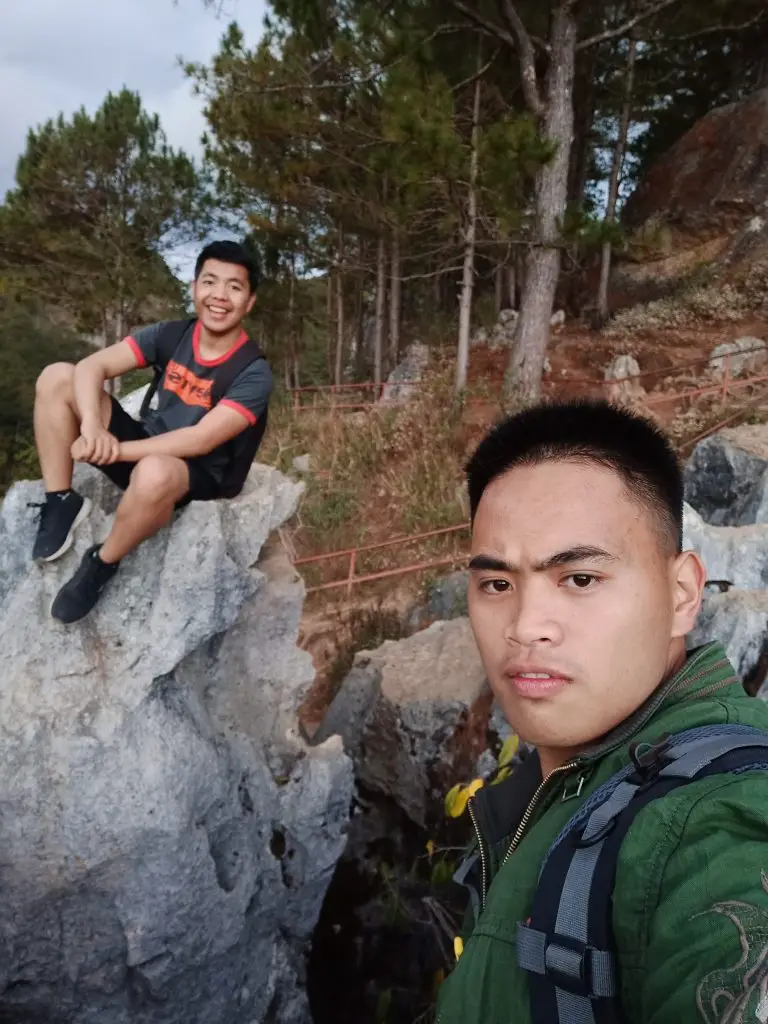 Tips and Reminders
Best to visit Sagada's Hanging Coffins during the early morning or late in the afternoon.
Wear comfortable hiking shoes and clothes.
Never litter.
Respect local culture by avoiding acts that may be offensive to the community such as wearing revealing clothes. Save your mini-shorts for the beach, not in Sagada!
Only follow designated trails.
For Your Information
If you need more information that may help in setting up your itinerary to Sagada's Hanging Coffins and other tourist spots, do contact the Municipal Tourist Information Center via the following:
Contact Number: 09171345353
Email: sagada@yahoo.com