Visit the historical and eco-cultural tourist spots in Bontoc with this comprehensive travel guide. We've listed both its popular and off-beaten destinations with options for extreme adventurers and nature lovers.
Although Bontoc is the capital town of Mountain Province, it's not as popular as neighboring Sagada in terms of tourism. Many tourists only know of it as a stopover or a side trip after exploring Sagada.
Little do they know that Bontoc hosts numerous destinations that will surely make up for an adventure of a lifetime. Not only does it hides various natural attractions but also cultural spots that will make you understand how the locals have been living in harmony with nature since time immemorial.
Here are some of them.
1. Bontoc Museum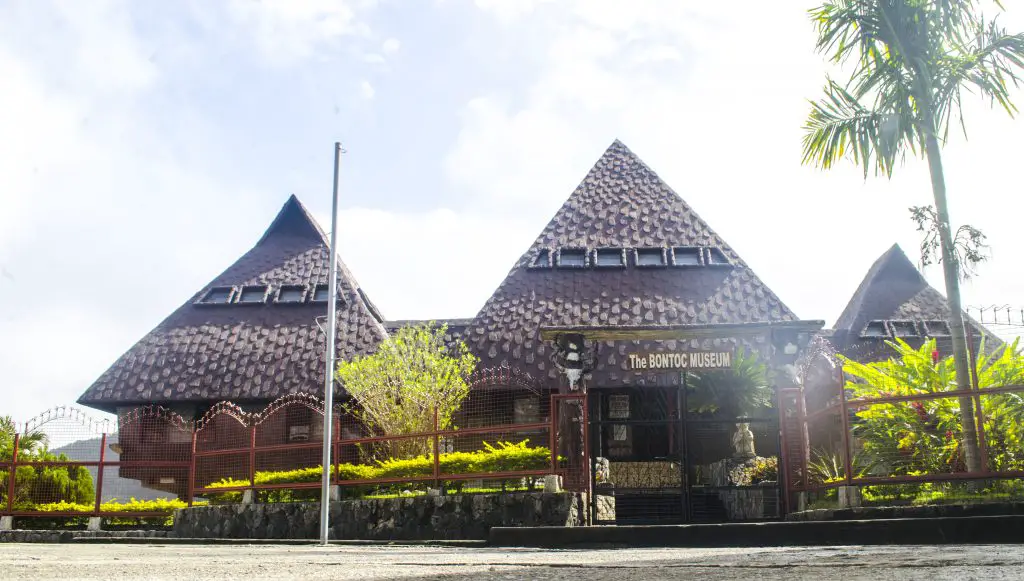 If you wish to have a deeper understanding of the rich culture of the Cordillera folks including those of the I-Bontoc, check out the Bontoc Museum. It features various artifacts, old pictures, weaving materials, books, and many other displays that will make you appreciate how diverse and thriving the local culture is.
The museum is just a walking distance from the bus stations and a few meters away from the Provincial Capitol.
Location/Jump-off: Bontoc proper
Entrance Fee: Php 60
Open: Monday to Saturday
2. Humuyyo Falls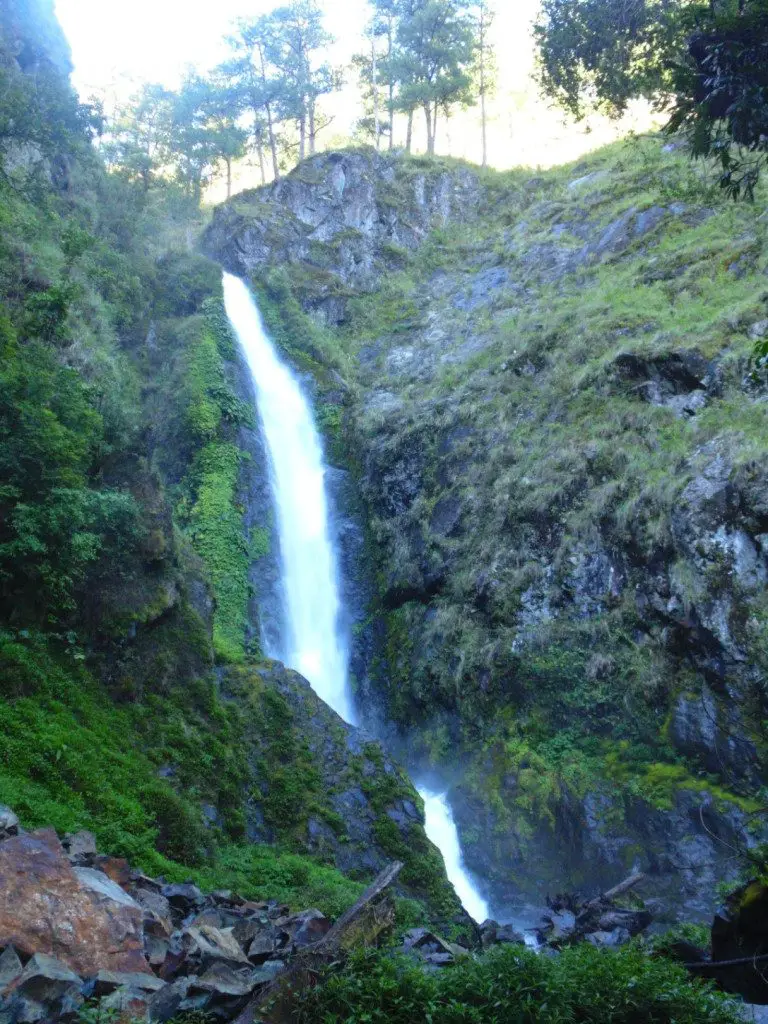 Level up your adventure in Bontoc when you check out the majestic Humuyyo Falls. It has cold and crystal-clear waters that will surely offer instant rejuvenation. To get here, expect to trail on rice terraces, irrigation canals, and dense vegetation.
Humuyyo Falls makes up for a good side trip for visitors hiking to Mt Kalawitan from Talubin.
Location/Jump-off: Brgy Talubin, Bontoc
Trekking Time: 30 minutes
Entrance Fee: Donation
Guide Fee: Donation
3. Maligcong Rice Terraces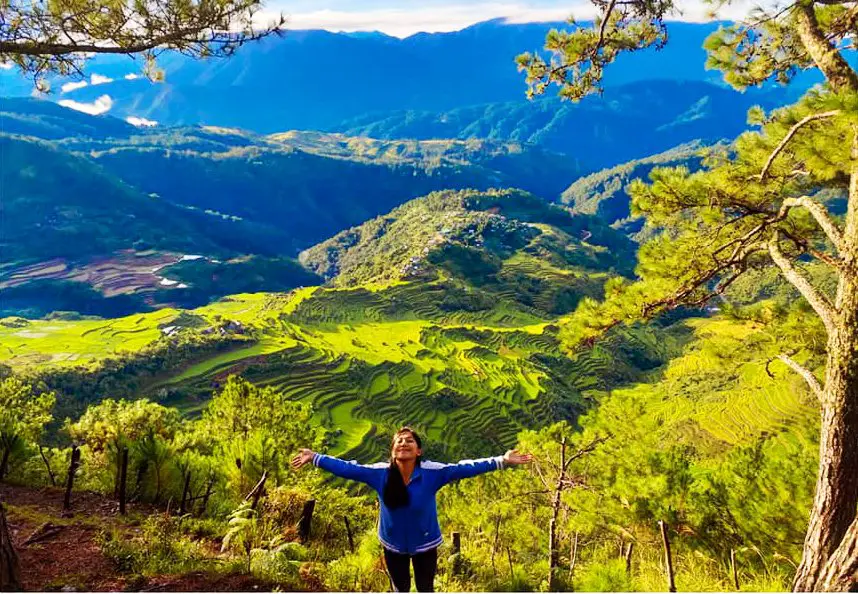 Speaking of rice terraces, most people would think of Banaue in Ifugao. But hey, there's more to see in Mt Province. One of which is the stone-walled Maligcong Rice Terraces.
To get the best view, consider trekking to adjacent Mt Kupapey. It is best to visit the rice terraces when the grains are golden ripe or during the growing season. Some locals here are willing to accept tourists who may help them plant or harvest rice. Wouldn't that be a fun and meaningful experience?
Location/Jump-off: Brgy Maligcong, Bontoc
4. Mt Kupapey
Mt Kupapey is one of the favorite hiking tourist spots in Bontoc. Known for its spectacular view of the sunrise and sea of clouds, the mountain also offers a stunning view of Maligcong Rice Terraces. From here, one can likewise view the towering mountain ranges of Eastern Mt Province including the mossy forests and majestic Mt Amuyao.
Location/Jump-off: Brgy Maligcong, Bontoc
Trekking Time: 30 minutes – 1 hour
5. Blue Lagoon Waterfalls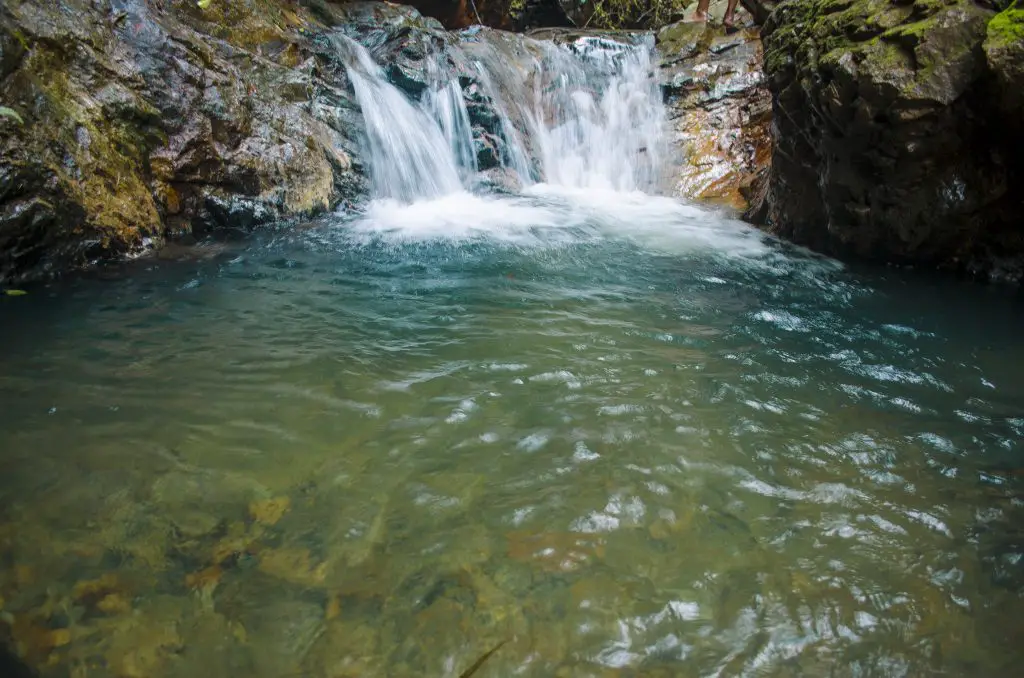 Hidden deep in the forests are mini-waterfalls collectively known as Blue Lagoon. Each waterfall has a naturally-built basin with ever-flowing crystal-clear waters. It's a secret tourist spot in Bontoc that only a few locals know although social media posting is slowly making it popular.
Come here if you wish to escape the daily hustles and bustles of Bontoc capital town.
Location/Jump-off: Brgy Samoki, Bontoc
Trekking Time: 2 hours
6. Bayyo Waterfall
Another waterfall in Bontoc worth seeing is this one found in barangay Bayyo. I'm not sure what the locals call it but I just named it that way since it's found in barangay Bayyo, just along the national highway. It measures around 30 meters high and cascades like drizzles.
Trekking Time: 20 minutes
7. Mount Pokis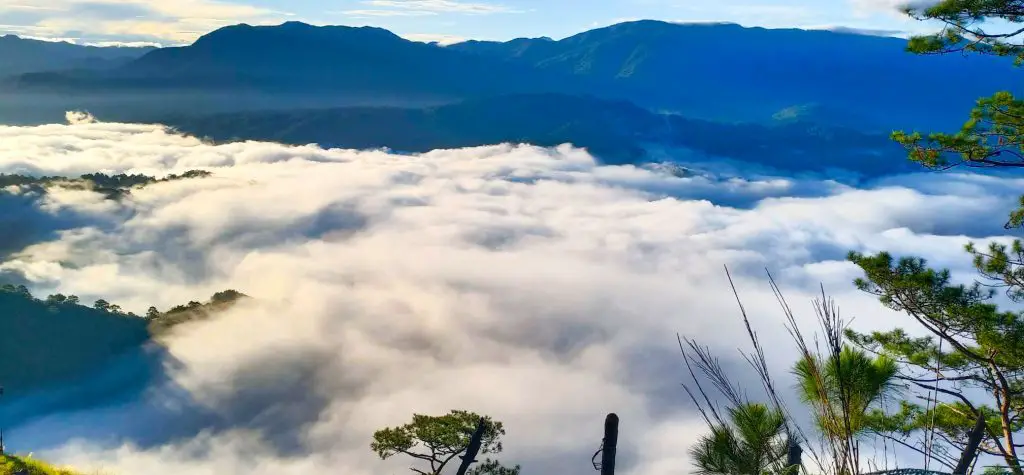 Aside from Mt Kupapey, one increasingly popular destination for viewing the sea of clouds is Mt Pokis. From the town proper, it takes more or less two hours of trek to reach it. Those with vehicles or motorcycles can reach it within minutes as a road leads straight near it. It's one of the emerging tourist attractions in Bontoc.
8. Bontoc Pasalubong Center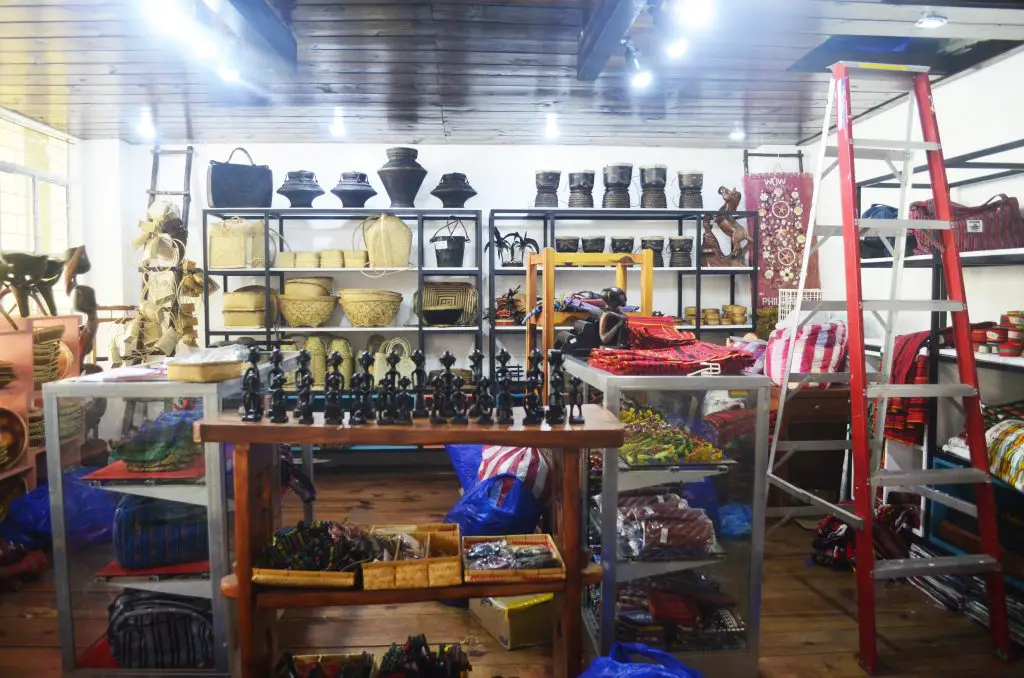 Looking for products or items that would give you an idea of the locals' ingenuity and creativity? Check out the Bontoc Pasalubong Center which fronts the GL Bus Station. Buying products here is a way for you to help in the local livelihood. Wines, different kinds of weaving, locally-baked goodies, and many more await patrons here.
Location/Jump-off: Bontoc town proper
9. Kadchog Rice Terraces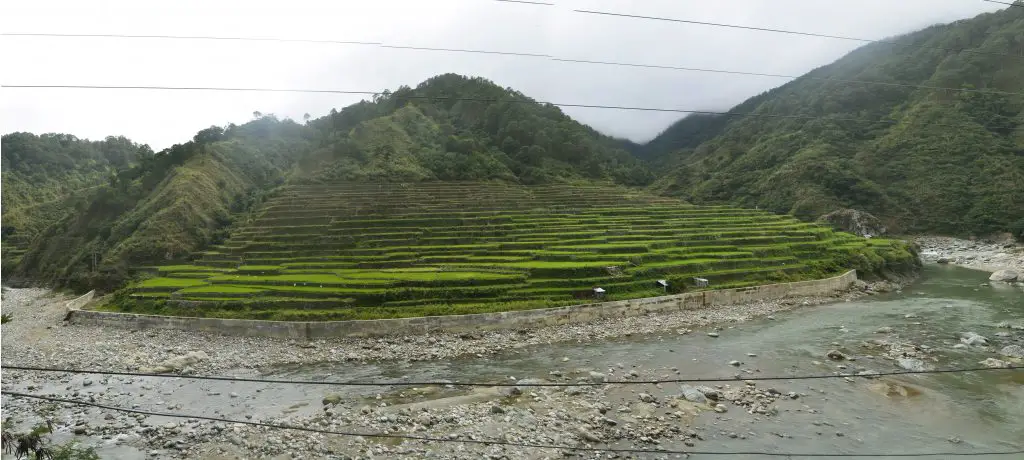 Kadchog Rice Terraces is a few minutes of a hike from the Bontoc town and you can view them along the Halsema Highway. Its stonewalled feature portrays the locals' hard work, industry, and engineering skills. Besides the rice terraces is the winding Chico River which snakes its way all the way to Kalinga and the lowland provinces of Isabela and Cagayan.
10. Santa Rita Cathedral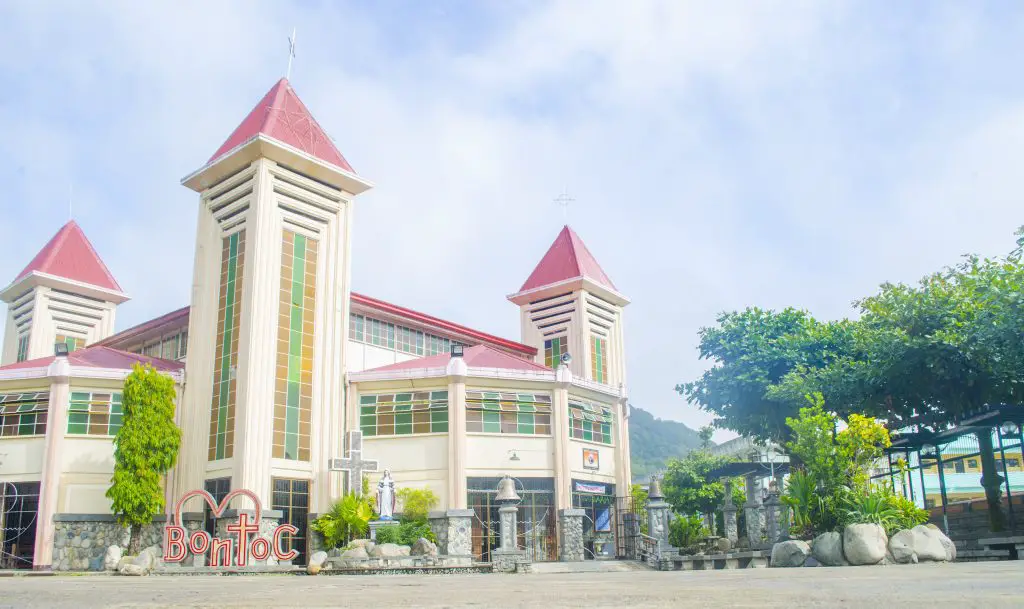 Santa Rita Cathedral is one of the notable landmarks in Bontoc due to its recognizable architecture. Built by Belgian missionaries during the American regime, the Cathedral played an important role in the town's deep Catholic history. It also offers daily masses and serves as a local pilgrimage site. It lies next to the Bontoc Plaza and the Bontoc Commercial Center.