Here is a list of the best tourist spots in Luzon, Philippines with description.
Luzon boasts of UNESCO World Heritage sites including the internationally-famed Banaue Rice Terraces dating back to 2000 years old. Its varied landscape is dominated by two grand mountain ranges namely, the Sierra Madre and the Cordillera range, home to pristine natural wonders.
Indeed, Luzon offers a myriad of natural and cultural attractions. It's more fun here. To get you started, here is a list of destinations to see. Take note. Most of these are unspoiled by the damaging impacts of mass tourism.
In this guide, we not only featured the best places in Luzon but also its off-beaten tourist spots.
Here we go.
Behold Tourist Spots in Luzon
1. Batad Rice Terraces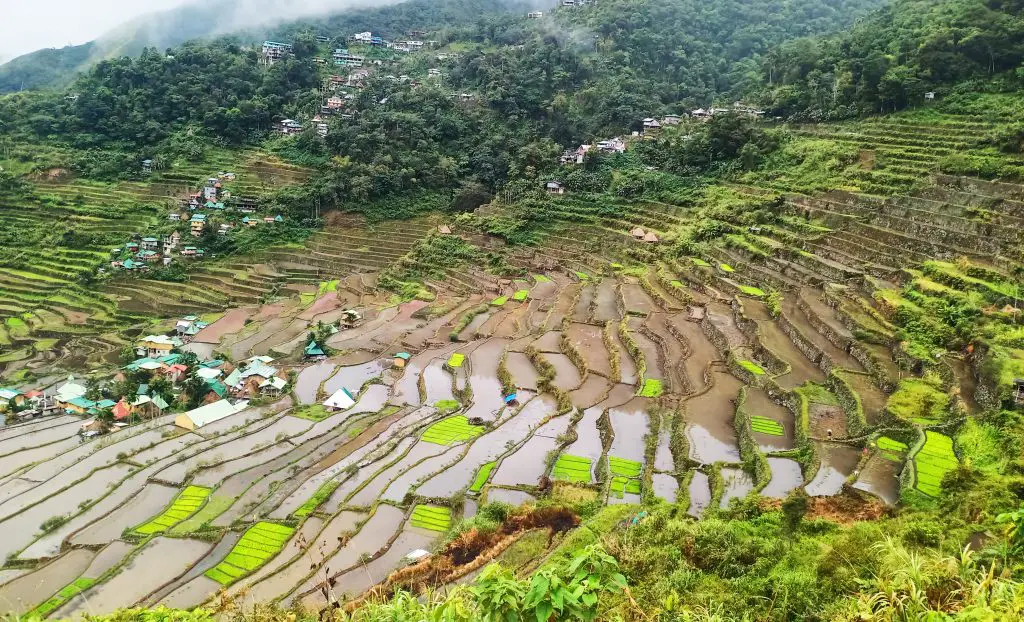 Listed among the UNESCO World Heritage Sites, Batad Rice Terraces sit on a secluded and scenic mountain. It's known for its amphitheater-like appearance with its stone walls.
One could just wonder how the locals' ancestors built the terraces using stones and wooden tools. Aside from sightseeing, you'll also have the chance to learn and experience how the farmers grow their crops here.
To get the best view of the rice terraces, you'll have to assault a steep terrain to reach the viewpoint.
Location/Jump-off: Batad, Banaue, Ifugao
Best Time to Visit: April-May, October-November
2. Sumaguing Cave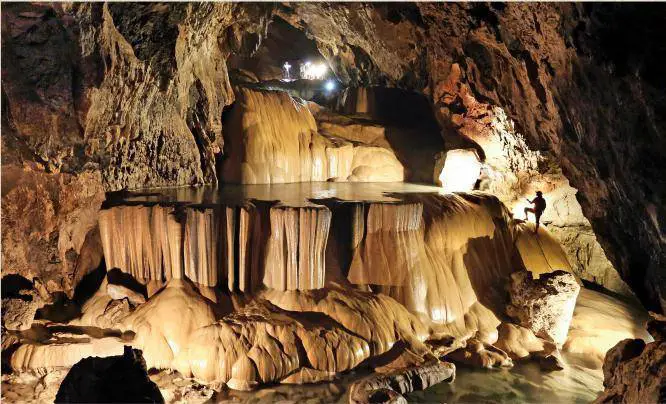 Sumaguing Cave is one of the several caves found in Sagada. It's considered the deepest cave in the Philippines.
Inside, you'll find stunning stalactite and stalagmite rock formations including naturally-made pools with icy-cold and crystal-clear waters. Bats also live in the cave. It is one of the most visited tourist spots in Luzon area.
Location/Jump-off: Sagada, Mountain Province
Spelunking Time: 2 hours
3. Tappiya Falls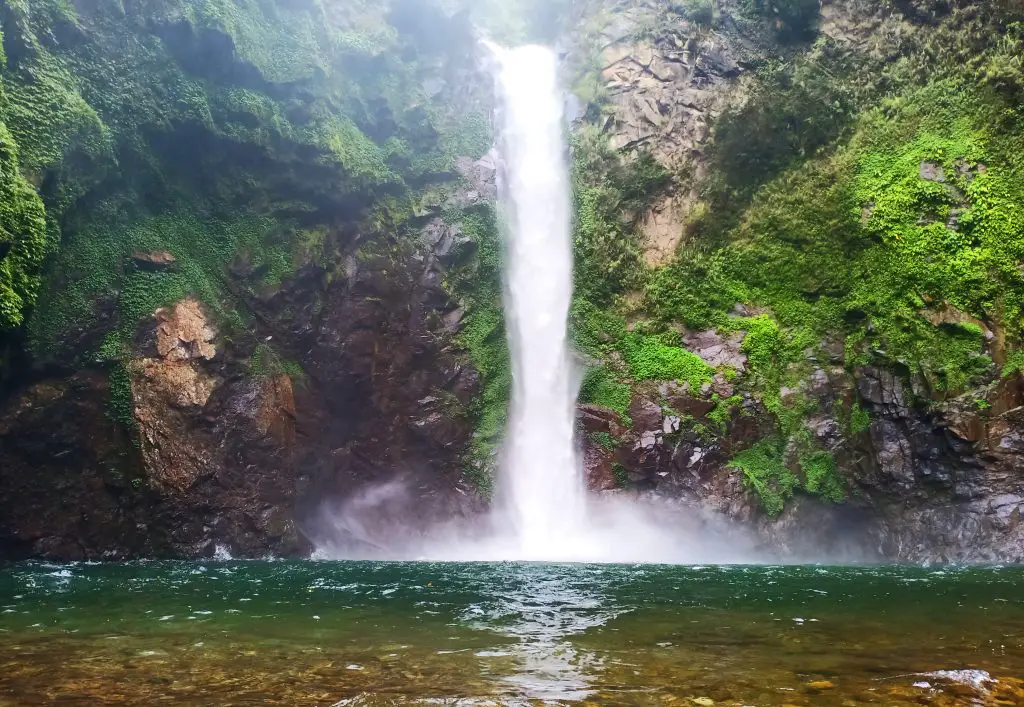 Tappiya Falls cascades for more than 50 meters, creating a wide and very deep pool. It's one of the nearby sights to see when visiting Batad Rice Terraces.
Expect a challenging trek along a steep mountain slope before reaching the falls. But don't worries. The sheer sight of the falls could easily dissipate your exhaustion. Tappiya Falls is one of the best tourist destinations in Luzon.
4. Bolinao Falls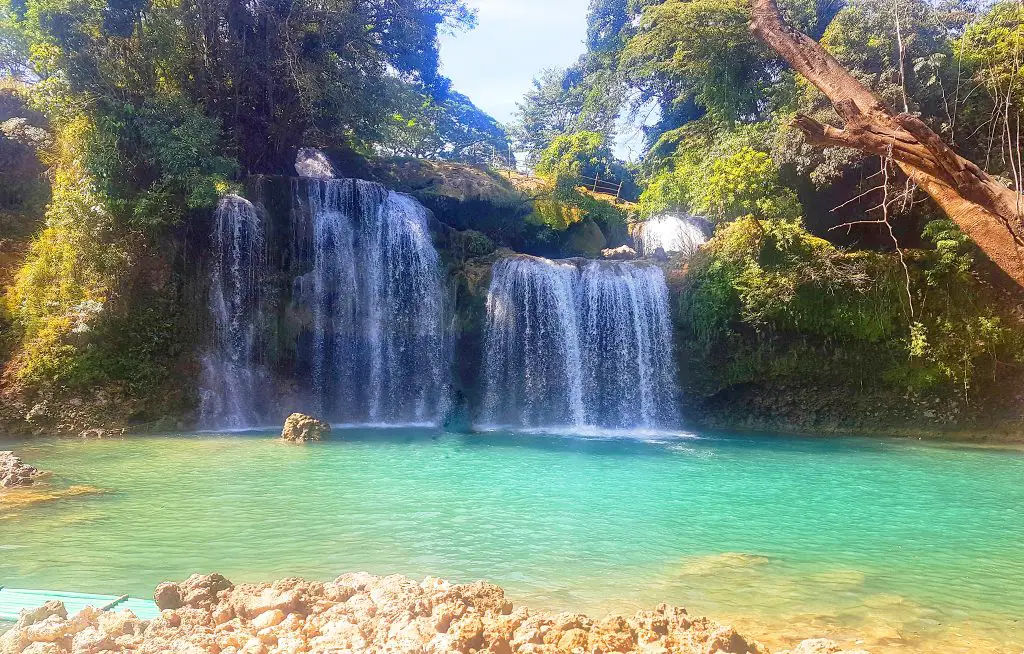 Bolinao Falls is a series of several waterfalls with mesmerizing blue pools and pristine vegetation. Upon reaching one of the falls, you cannot help but jump because the crystal-clear waters are simply inviting.
Locals and tourists alike love coming here especially during summer to escape the simmering heat of the day.
Location/Jump-off: Bolinao, Pangasinan
Trekking Time: 5-10 minutes
Entrance Fee: Php 20 per person for every waterfalls
Guide Fee: Php 1000 for 4 pax
Contact: Bolinao Tourism Office- (075) 5544284, bolinaotourismoffice@yahoo.com
5. Patar Beach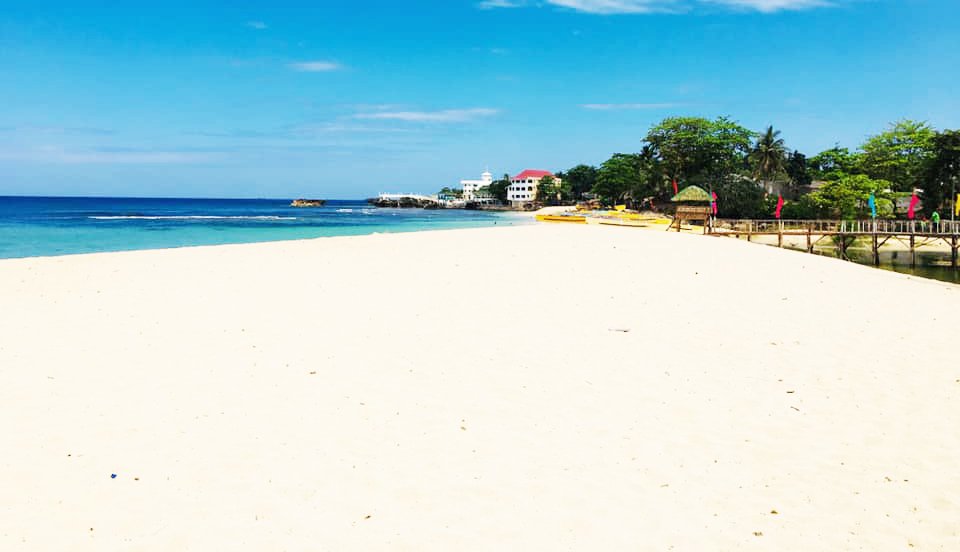 Patat Beach features a long stretch of fine and creamy golden sand. The crystal-clear waters plus the beautiful rock formations are a must-see here.
Another favorite natural spectacle here is the sunset which displays a breathtaking myriad of golden colors. It's one of the best Luzon travel spots you should visit.
Location/Jump-off: Bolinao, Pangasinan
Entrance Fee: None
Best Time to Visit: Weekdays
Contact: Bolinao Tourism Office- (075) 5544284, bolinaotourismoffice@yahoo.com
6. The Hundred Islands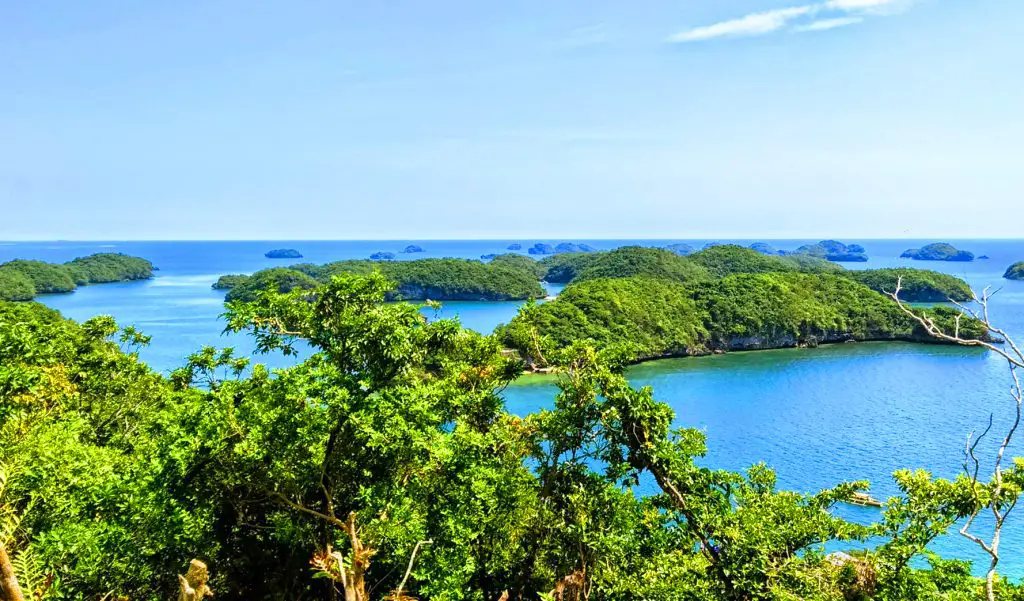 The Hundred Islands are among the best tourist spots in Luzon. In all, there are more than 120 mushroom-like islands, each with different features to offer.
Among the most frequented here are the so-called Governor's Island, Quezon Island, and Children's Island.
Here, you'll find white beaches, coral rock formations, beach forests, and a bat's cave. You can try jumping and swimming on the numerous pools found.
Location/Jump-off: Alaminos, Pangasinan
Contact: Tourism Office of Alaminos – (075) 2050917, 09209004470, 09282449011
Best Things to Do: Island Hopping, Swimming, Snorkeling, Helmet Diving, Ziplining
7. Mt. Pulag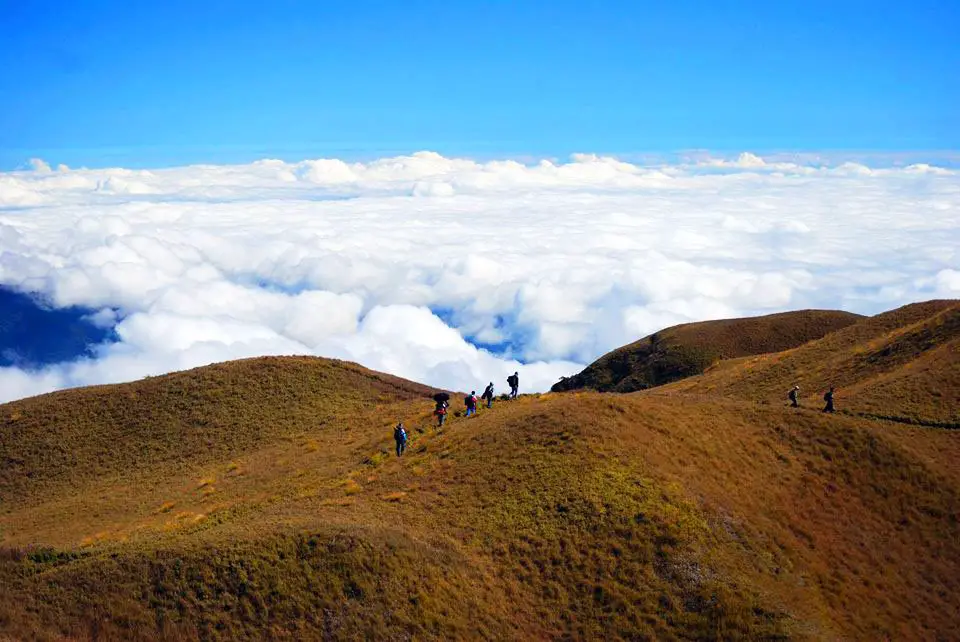 Mt. Pulag is the third highest peaks in the Philippines and is one of the most iconic tourist spots in Luzon. It is the ultimate getaway for those wanting to gaze and experience the best views of the sea of clouds, sunrise, and sunset.
The mountain is home to diminishing mossy forests and dwarf bamboo groves which host a plethora of endangered flora and fauna species.
Location/Jump-off: Kabayan, Bengeut
Entrance Fee: Php 175 per person
Camping Fee: Php 100 per person
Environmental Fee: Php 150 per person
Contact: 09127628844
8. Bonsai Forest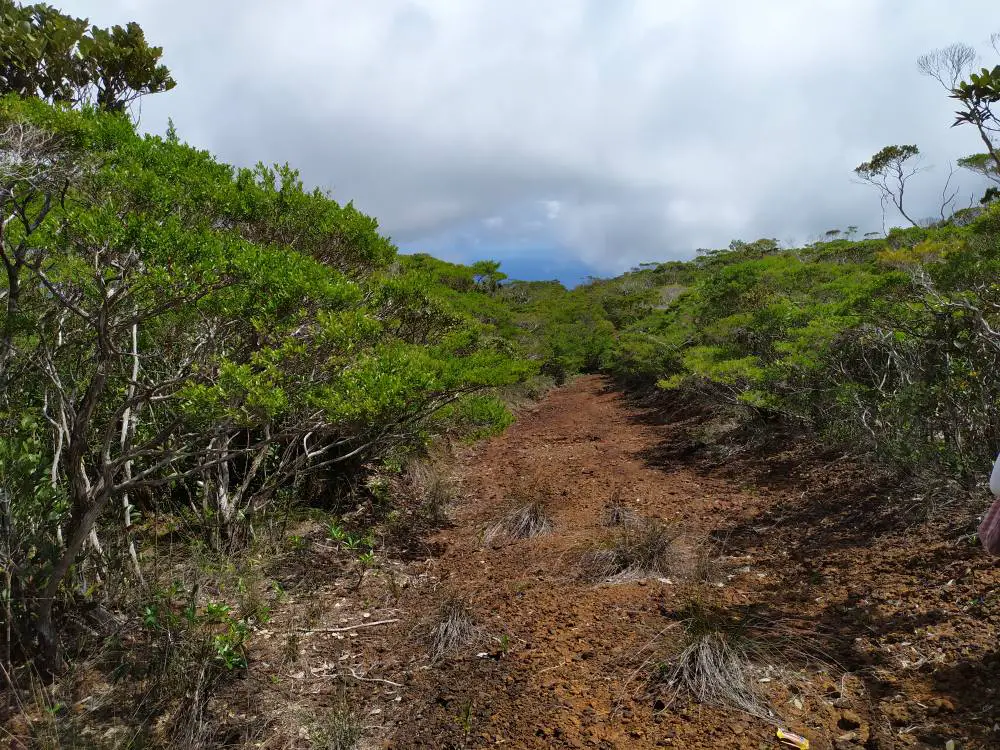 The Bonsai Forest is one of the least known tourist spots in Luzon, owing to its remoteness and the lack of marketing campaigns. It covers more than 5000 hectares with ranging from one foot to 7 feet.
Visitors can ride a boat to navigate along the Bonsai Forest. The serene and pristine environment makes one feel like time is standing still.
Location/Jump-off: Brgy Dibulo, Dinapigue, Isabela
9. Fuyot Springs National Park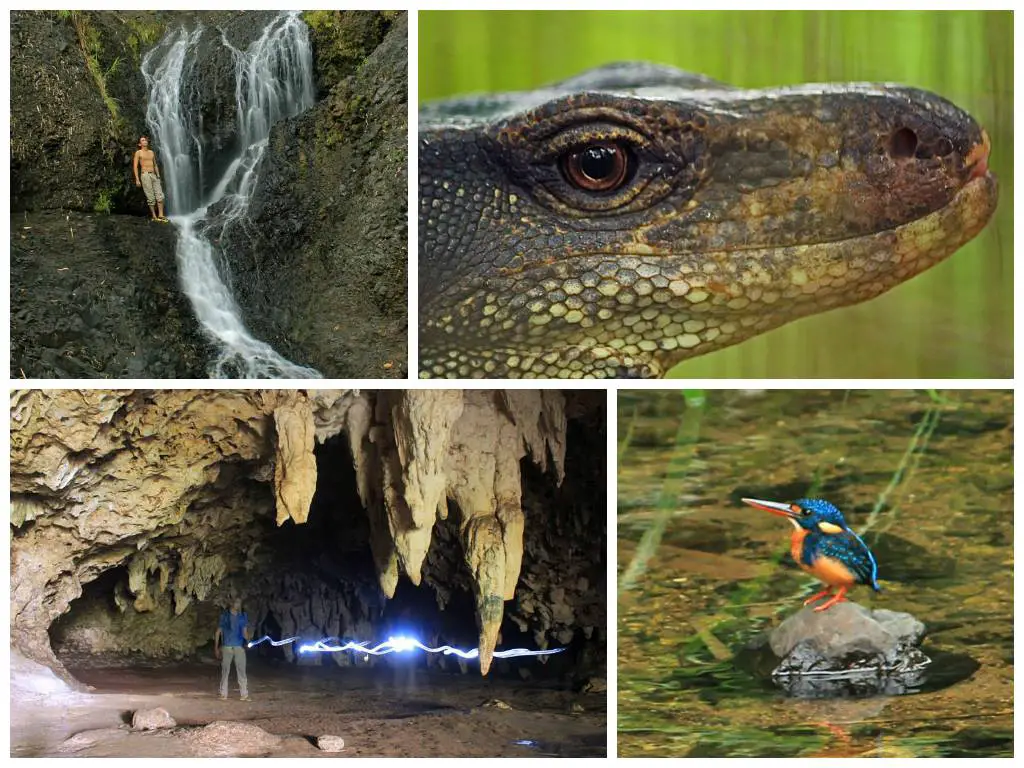 The Fuyot Springs National Park is one of the best places to visit in Luzon.
Here, you'll find numerous caves with stunning stalactite and stalagmite rock formations; cascading waterfalls; pristine rivers and brooks; and different naturally-built pools. It's a perfect respite for those aching for a lifelong adventure.
Location/Jump-off: Brgy Santa Victoria, Ilagan, Isabela
Entrance Fee: Php 100
10. Honeymoon Island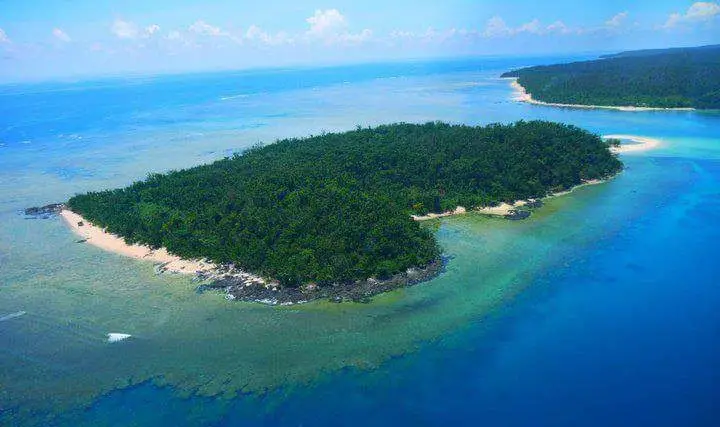 Honeymoon Island is renowned internationally for its white beaches, coastal forests, and rich marine life. Located in a secluded part of the Pacific Ocean, the island is fit for those wanting to experience a rustic ambiance.
Location/Jump-off: Divilacan, Isabela
11. Tangadan Falls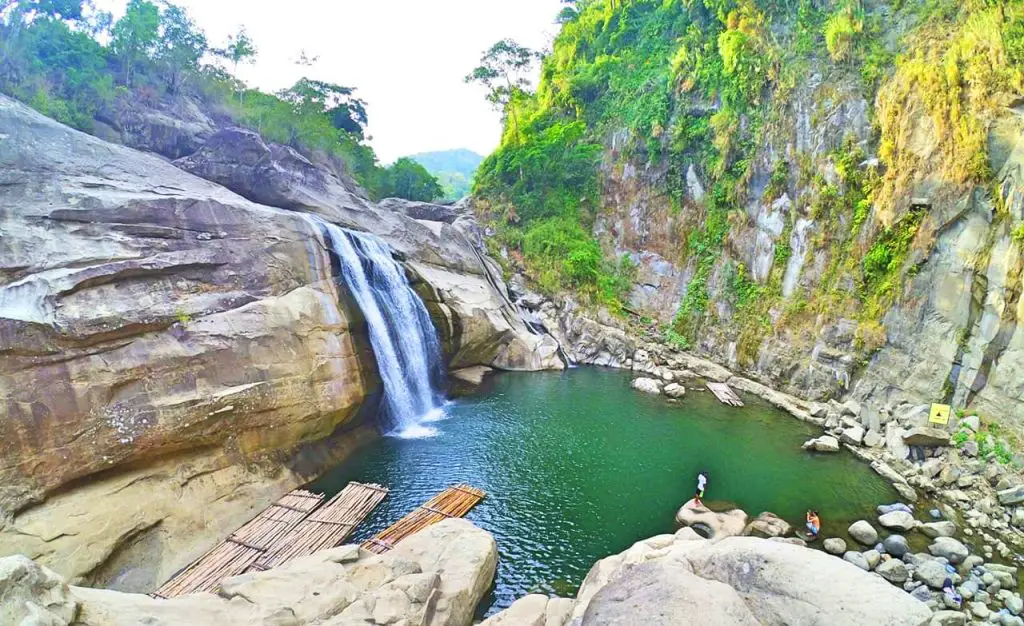 Tangadan Falls is one of the rising tourist spots in Luzon. It has three layers with the first layer measuring more than 40 feet high.
Each of the waterfalls has very deep pools with cold and crystal-clear waters. You can try jumping from one of the surrounding rocks or cliffs to experience the thrill. Just make sure you know how to swim.
Location/Jump-off: Brgy Duplas, San Juan, La Union
Entrance Fee: Php 30
Guide Fee: Php 500 for 5 pax
Trekking Time: 1 hour
12. Urbiztundo Beach
Urbiztundo Beach is one of the best places in the country for surfing, being in San Juan, the surfing capital of the North. The strong waves and current here combine to make it favorable for such activity.
Don't expect a white beach here though. But there's just nothing like it riding the powerful waves here.
Location/Jump-off: San Juan, La Union
Entrance Fee: None
13. Lotus Valley Farm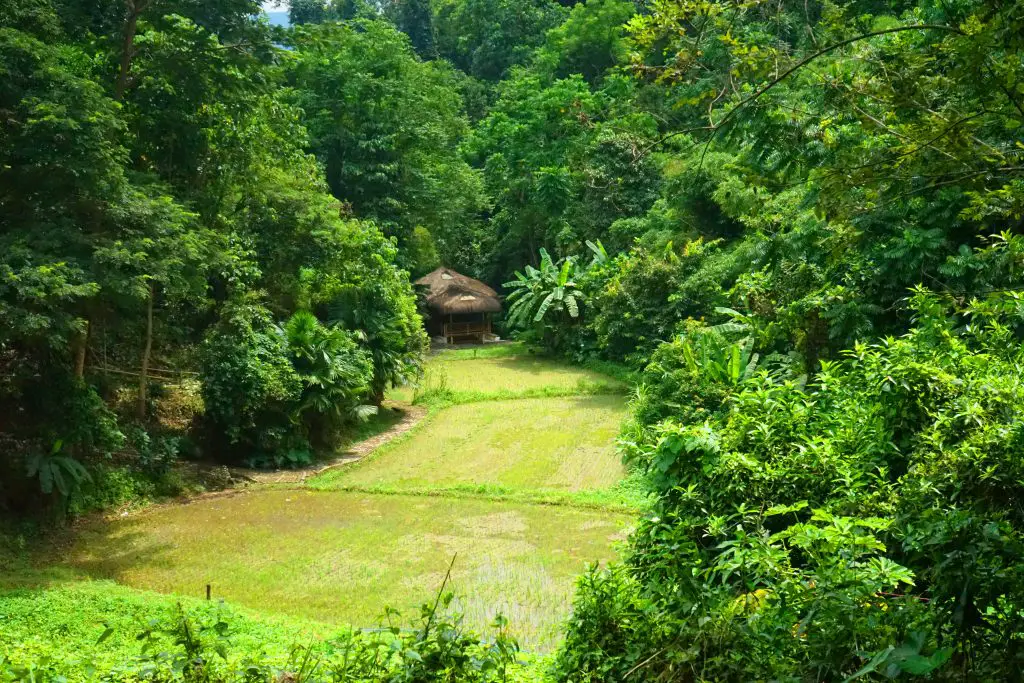 Want to learn how to experience a healthy and harmonious living with the natural and spiritual world? Then do not miss visiting Lotus Valley Farm. The Lotus Valley Farm features dense forests, organic farms, and hiking trails. They only serve organic and vegan meals here.
There are several cottages made of bamboo and locally-sourced materials. The farm is an advocacy feat of Mr. Ramon Tamayo to promote sustainable agriculture and environmental preservation.
Location/Jump-off: San Juan, La Union
Entrance Fee None: None
Cottage Fee: Php 5000-Php 6000
14. Palaui Island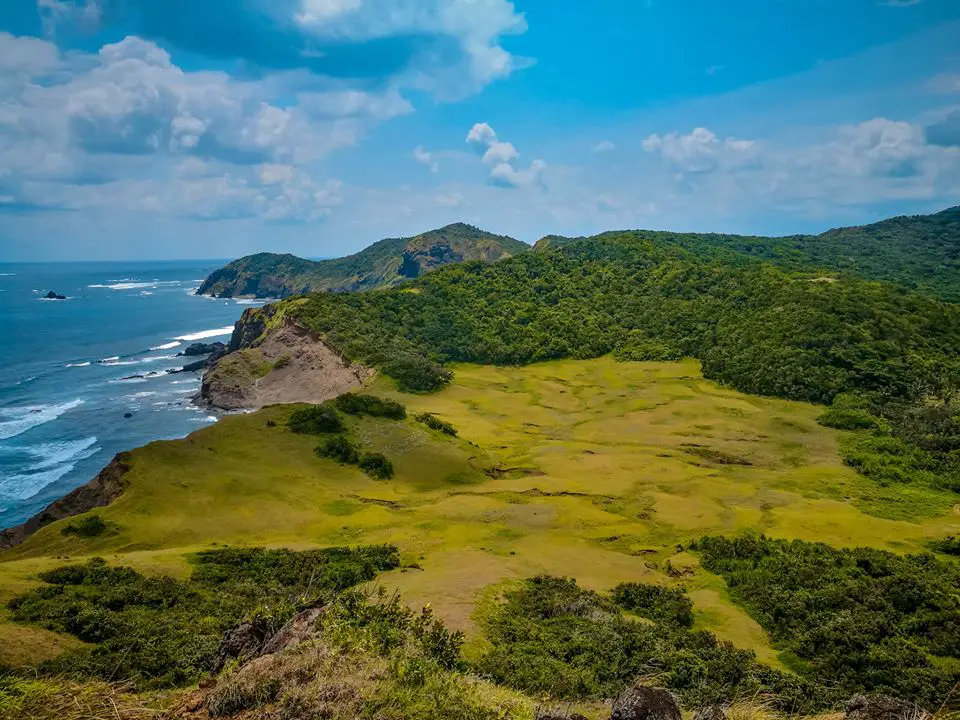 Palaui Island is one of the emerging tourist spots in North Luzon and is increasingly attracting both local and foreign tourists. Located off the main coast of mainland Luzon, this rustic paradise offers an experience of a lifetime for nature lovers and adventurers.
Pristine rainforests cover much of the island and here, there are monkeys, wild pigs, numerous bird species, and giant narra trees. Walk on its coasts and you'll find white beaches and blue lagoons.
Location/Jump-off: Sta. Ana, Cagayan
15. Callao Cave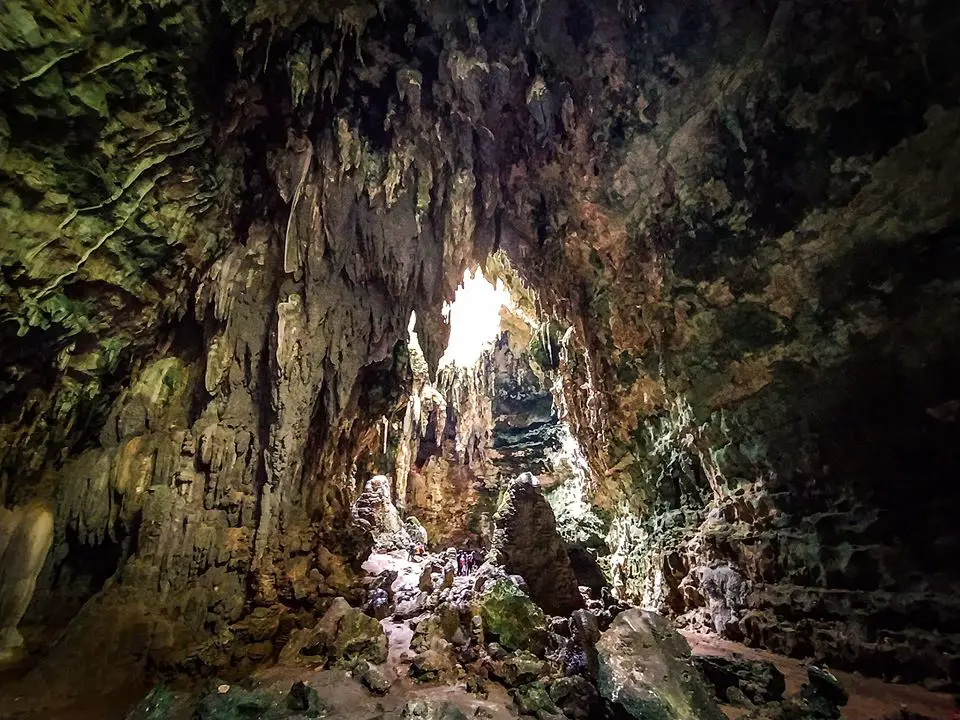 Callao Cave features a seven-chambered cave with stunning limestone rock formations reminiscent of a cathedral dome. One of these chambers contain a stone altar illuminated by a natural skylight.
Another cave hosts millions of bats while there's a cave provides refuge to the critically-endangered red-billed hornbills. For Catholic pilgrims, there is a cave which houses the Basilica Minore of Our Lady of Piat.
Location/Jump-off: Penablanca, Cagayan
16. Maligcong Rice Terraces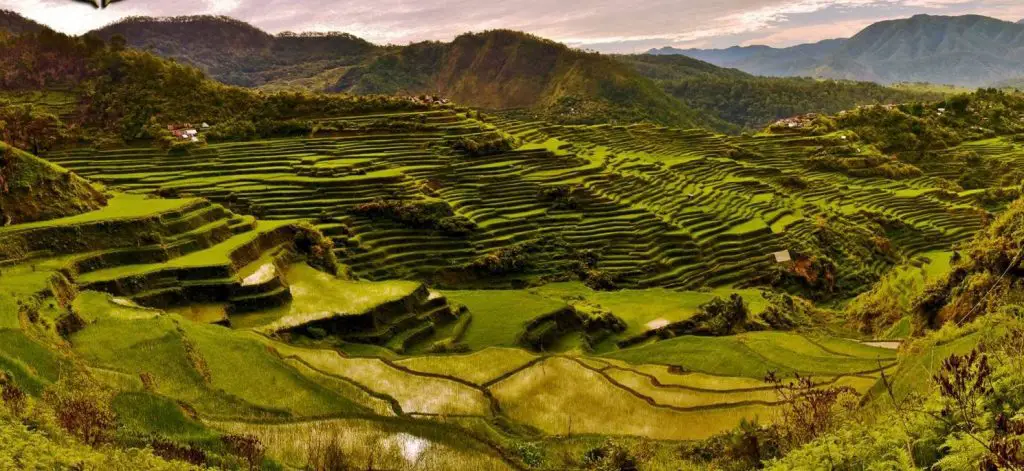 Cordillera is more than just the internationally-acclaimed Banaue or Batad Rice Terraces. It's more outskirts are also home to equally-imposing terraces. Such is the Maligcong Rice Terraces.
To catch the best view of Maligcong Rice Terraces, visitors can hike to Mt. Kupapey which is just an hour away. The mountain also offers a breathtaking view of the sunrise and sea of clouds.
17. Mt. Amuyao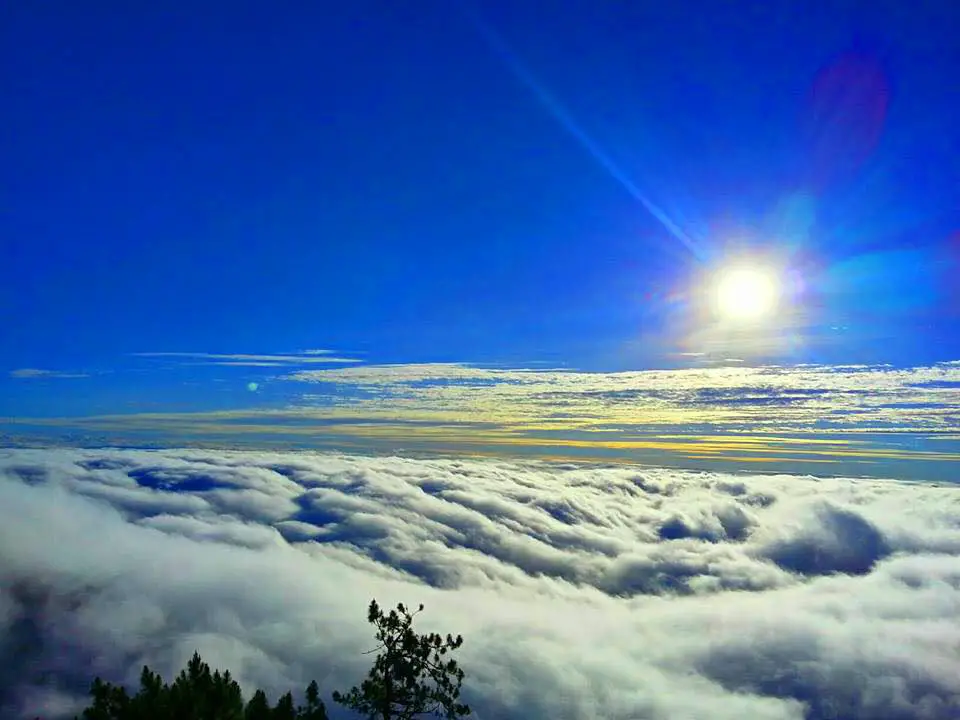 Mt. Amuyao is one of the favorite hiking tourist spots in North Luzon. Unlike other prominent mountains such as Mt. Pulag, Mt. Amuyao can easily be viewed from the national highway.
It's one of the highest mountains in the Philippines and home to an incredible array of wildlife species. It's has one of the most difficult climbs especially when you get to a part called, "Stairway to Heaven."
Mt. Amuyao also offers a stunning view of the sunrise and sunset complementing sea of clouds.
Location/Jump-off: Brgy Macalana, Barlig, Mountain Province
Trekking Time: 5-6 hours
18. Kaparkan Falls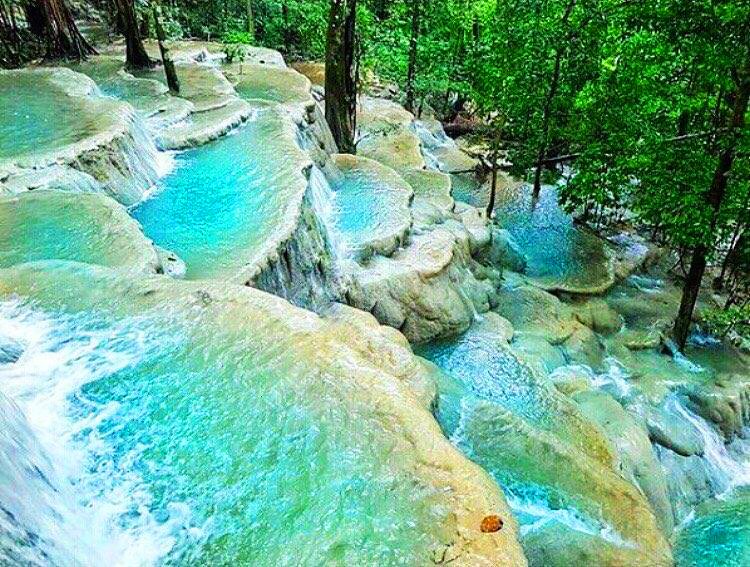 Kaparkan Falls is easily one of the recognizable tourist spots in Luzon. It features numerous layers of mini-cascades, each with swimming pools.
Even during the rainy months, the waters do not turn murky and one could just wander in awe.
19. Pagudpud Beach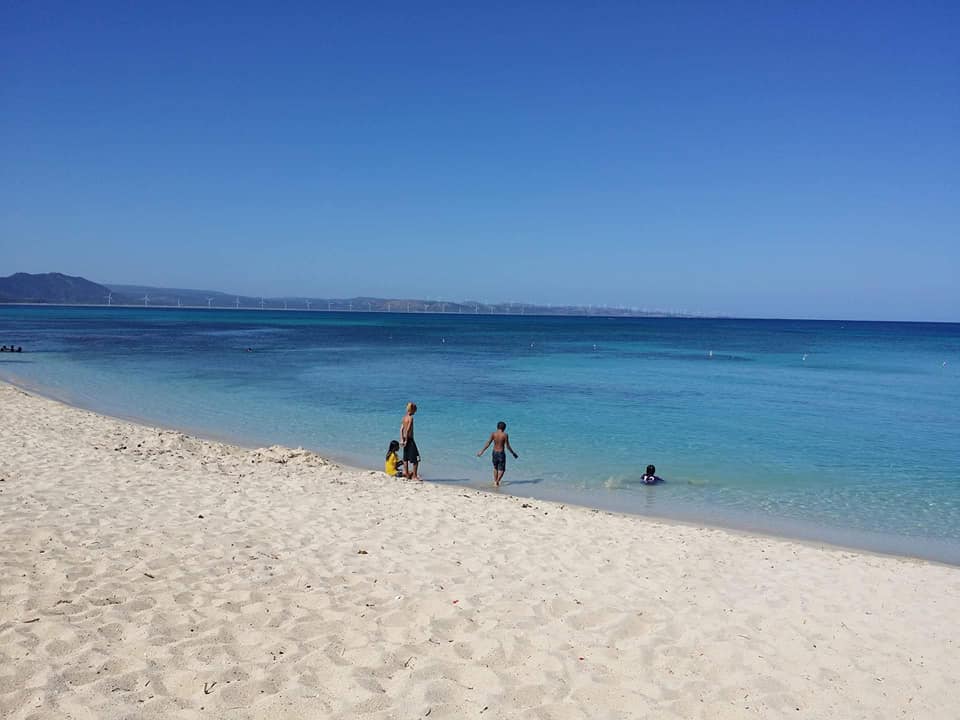 Pagudpud Beach is one of the idyllic places to visit in Luzon, often touted as "Boracay of the North."
Experience the serene and relaxing environment as you sip your coconut juice. From here, you can also catch sight of the famous Banguid Windmills.
20. Sleeping Beauty Mountain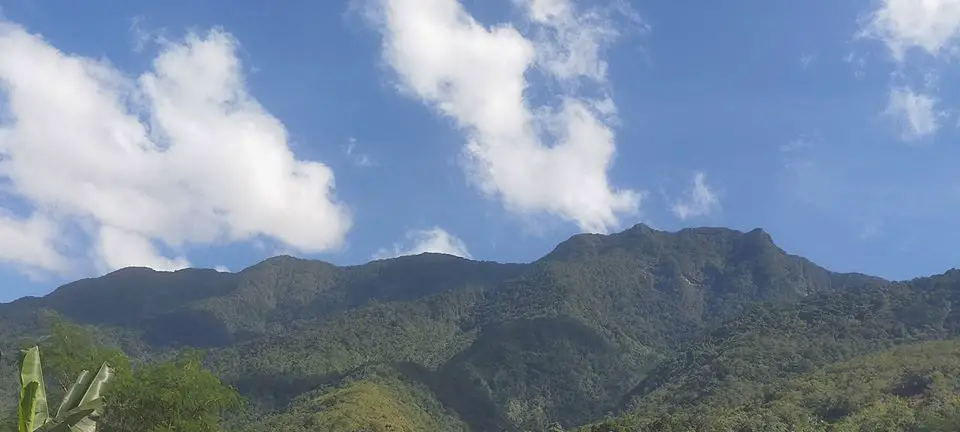 The mountain is named as such because it resembles the shape of a woman lying on its back as if sleeping. The locals have a legend as to how the mountain got its name.
Hikers can also trek to its summit and get a stunning view of Kalinga's mountains. Expect to walk on dense forests and cross brooks and streams before reaching the top. It's one of the off-beaten places to visit in Luzon.
Location/Jump-off: Tinglayan, Kalinga
21. Sayang Mossy Forest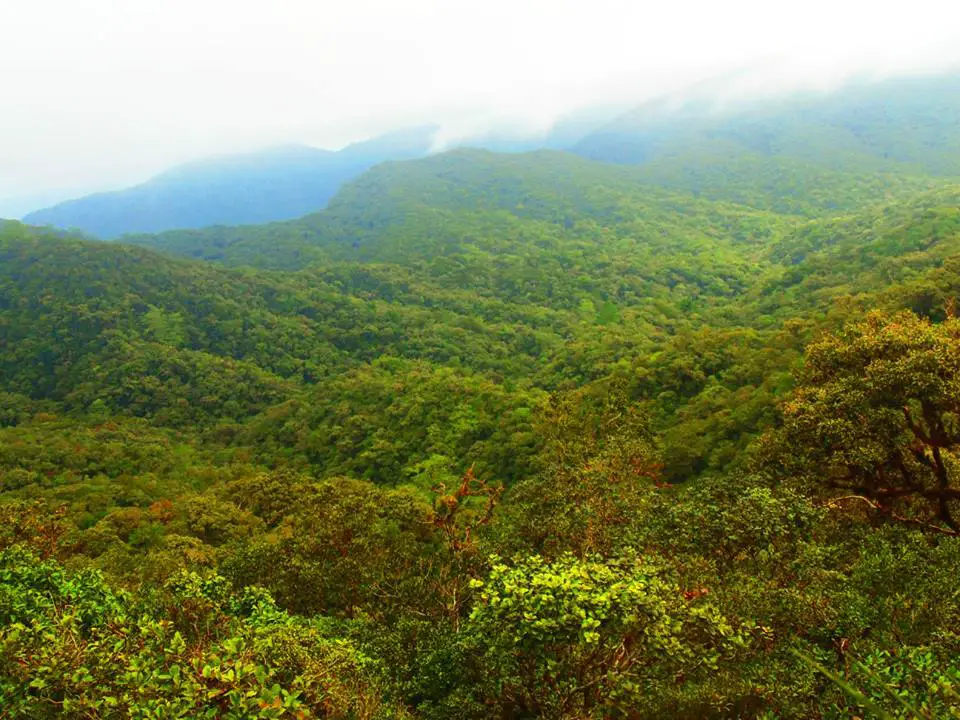 Sayang Mossy Forest is one of the untold beautiful spots in Luzon. Until today, however, it's not yet promoted for ecotourism. The locals protected it for centuries as it is their hunting ground.
Deer and wild pigs abound on these forests. It is a biological hotspot, home to orchids, different bird species, civet cats, and thousands of flora species.
In some parts of the forest, the trees are small that hunters could see deer or wild pigs running on the background. Thick mosses, some reaching up to 1 meter, cover most of the forests and trees.
Location/Jump-off: Brgy Lias Kanluran, Barlig, Mt. Province
Trekking Time: 1-2 days
Status: Trails not yet developed for tourism
For More Information
If you need more information that may help in setting up your itinerary to the best places to see in Luzon, do post them in the comment section below. Don't forget to check back on it after 3-5 days for our response.
Also, feel free to recommend some must-see tourist spots in Luzon which you personally visited. You may post them on the comment section as well.