Here is a comprehensive list of Batangas tourist spots you should not miss. We included both off-beaten Batangas tourist destinations and famous Batangas tourist attractions.
Batangas province is one of the Philippines' top tourist destinations. Its ridge to reef landscapes teems with an amazing array of ecological wonders that will make up for a lifelong adventure.
Pristine beaches, scenic mountains, cascading waterfalls, and abundant marine life are just among the must-see attractions here. 
Wait, there's more. Batangas is also home to some of the country's notable historical and cultural landmarks. Yes, you'll find the biggest Catholic Church in Asia right here in Batangas. It's more fun here, indeed.
If you're planning to visit, here are the must-see tourist spots in Batangas to visit.
1. Anilao Marine Protected Sanctuary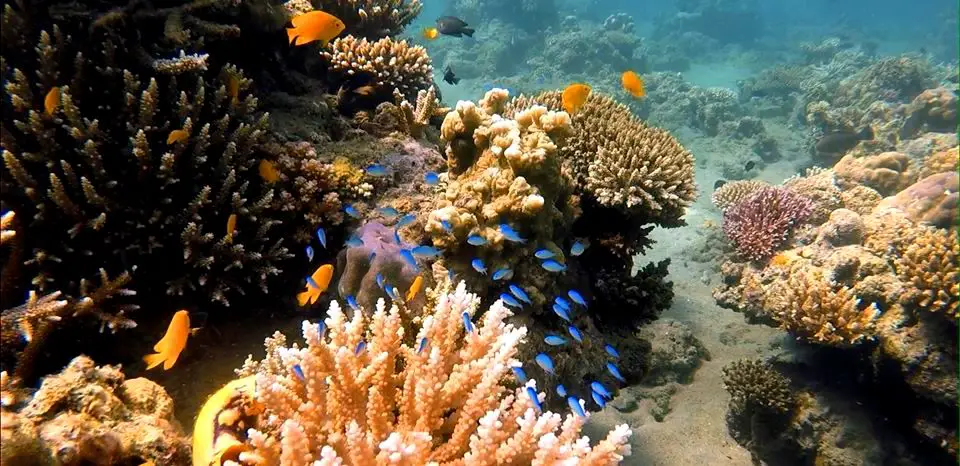 Anilao Marine Protected Sanctuary is one of the best diving spots in the Philippines, owing to the thriving marine diversity and vast coral reefs. There are at least 50 diving sites in the sanctuary with options for both advanced divers and starters.
Diving here gives to chance to glimpse rare and endangered species, including sharks, stingrays, and many more. It's one of the eco-friendliest tourist spots/attractions in Batangas province. The sanctuary is also ideal for a meaningful boat ride.
Anilao is one of the famous destinations in Batangas.
Location/Jump-off: Mabini
2. Mount Maculot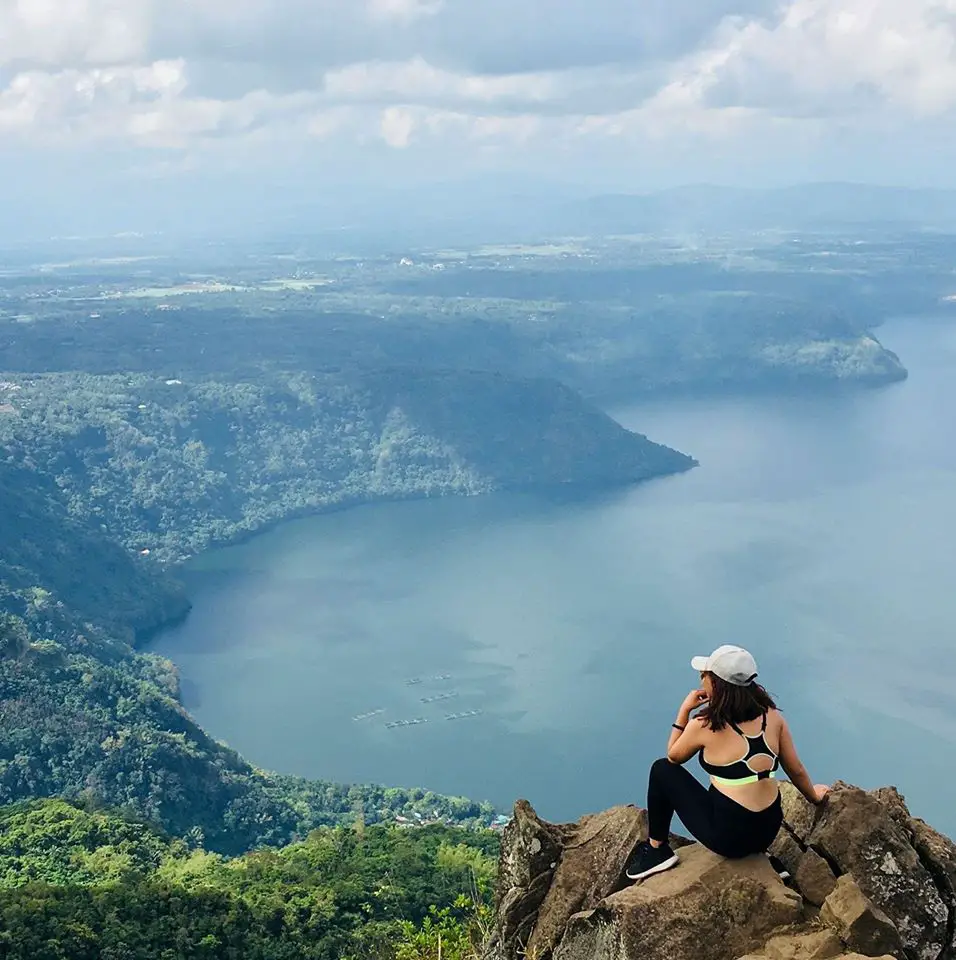 With an elevation of 947 meters above sea level, Mount Maculot is one of the favorite hiking tourist destinations in Batangas. It is generally an easy trek, although there are steep parts of the trail.
While atop, you'll catch a panoramic view of the beautiful Taal Lake, massive limestone rock formations, and lush forests. Many travel guides have been written about the mountain, owing to its popularity.
Location/Jump-off: Cuenco
Trekking Time: 2-3 hours
3. Taal Volcano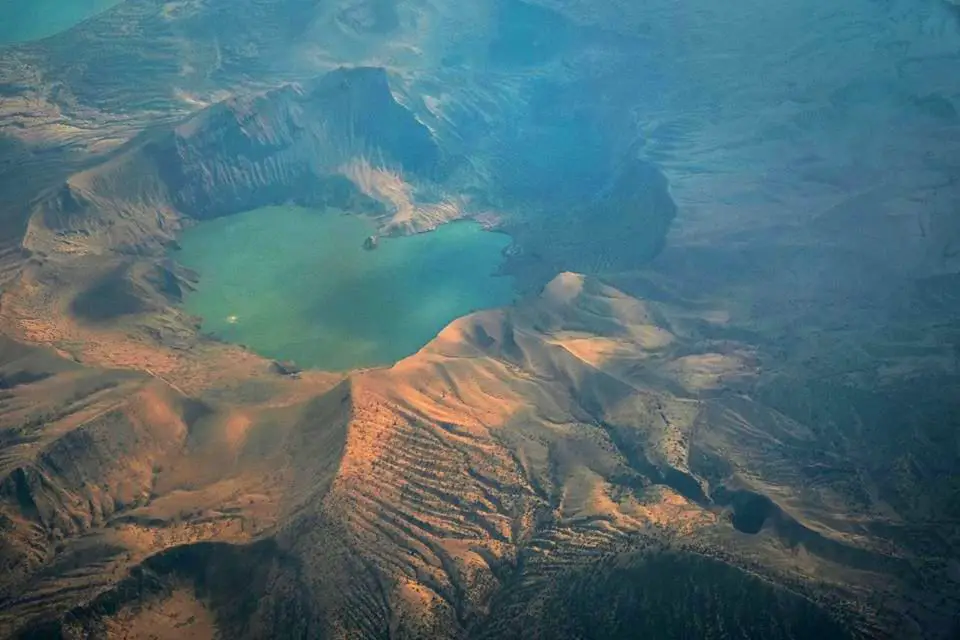 Taal Volcano stands at 311+ meters above sea level, making it the smallest active volcano in the Philippines. It nestles on a lake, and within the volcano, there is another lake called Taal Crater Lake.
If you want to step on the volcano, you can ride a boat towards its foot. Then trek your way or ride a horse to reach its summit and catch sight of marvelous views.
Taal Volcano is one of the most popular tourist spots/attractions in Batangas province.
Location/Jump-off: Talisay & San Nicolas, Batangas
Trekking Time: 40 minutes to the summit
4. Taal Lake
After trekking to the crater of Taal Volcano, you might as well spend the rest of the day relaxing at Taal Lake. It is one of the biggest lakes in the Philippines.
Among the activities to do here are kayaking or boating. There are local groups offering package guides on how you can sail across the lake and enjoy the sceneries.
Location/Jump-off: Talisay & San Nicolas
5. Masasa Beach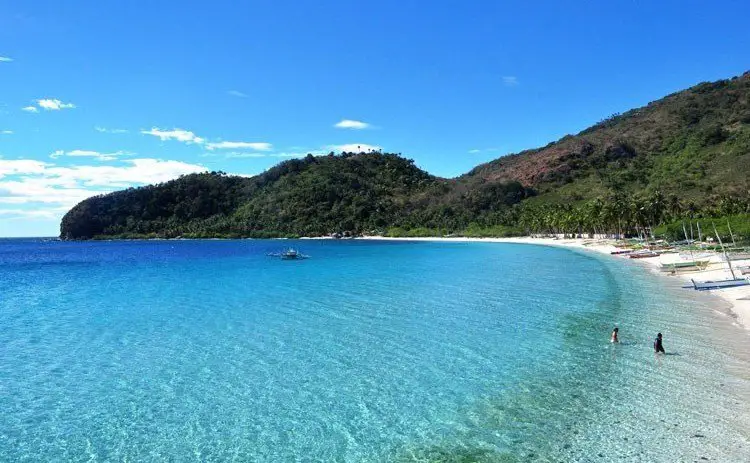 Masasa Beach is one of the best-kept tourist spots in Batangas. Known for its crystal-clear waters and a long stretch of fine sands, Masasa Beach is ideal for a family weekend getaway.
There are no luxurious resorts or hotels here, which is good so that you can enjoy nature at its best. The surrounding sea also teems with coral reefs and turtles, making it suitable for scuba diving, snorkeling, and water sports.
Location/Jump-off: Brgy Masasa, Maricaban Island, Tingloy
Environmental Fee: Php 15 per person
Chartered Boat Rental: Php 2000 to Php 2500
Contact: (043) 410 0607 – Mabini Tourism Office
6. Fortune Island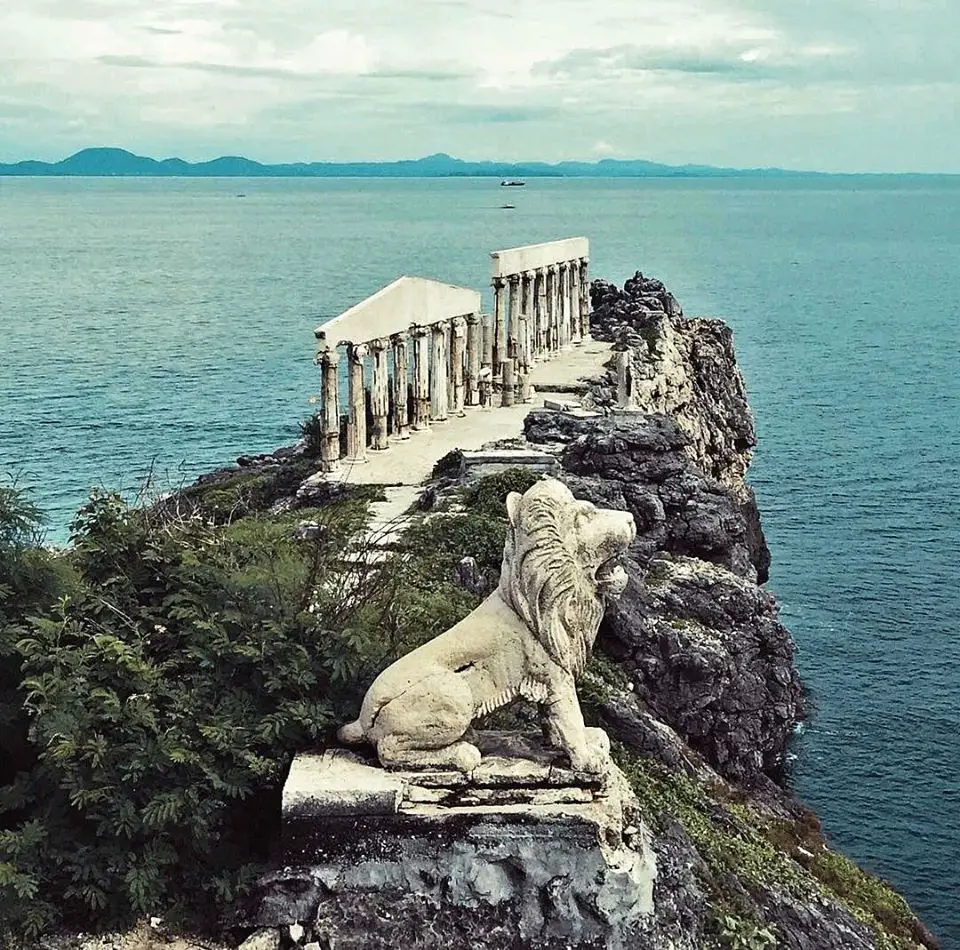 Fortune Island will make you feel that you're in ancient Greece or Rome. You'll find structures called "Acropolis," reminiscent of the Acropolis in Athens, Greece. It used to be a luxurious resort but was abandoned due to a lack of freshwater supply and typhoon onslaughts.
Aside from the picturesque structures, the site offers you a breathtaking view of the sea and the limestone cliffs. Among the things you can do here are cliff diving, snorkeling, and camping.
Location/Jump-off: Nasugbu
7. Mt Batulao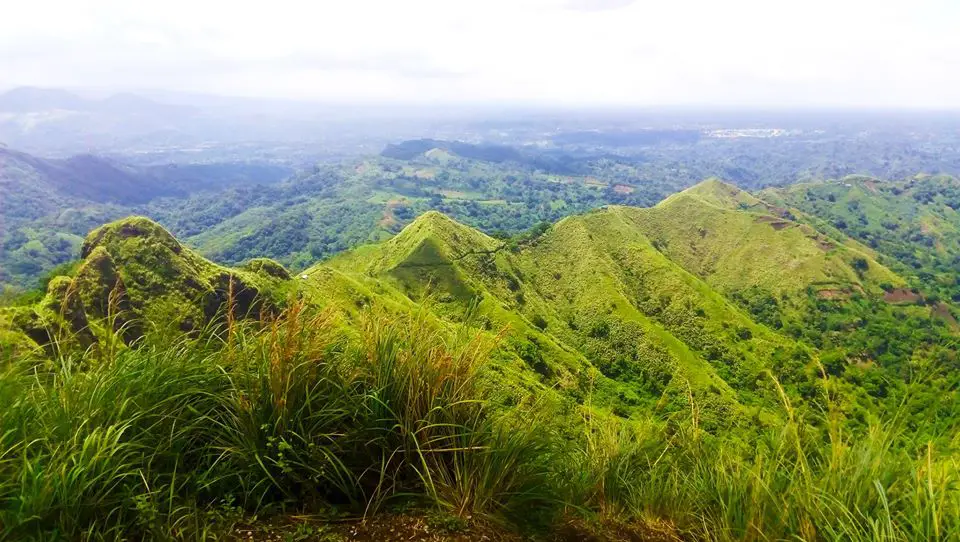 If you're new to hiking, you might want to try assaulting Mt Batulao. Don't worry. The trail is well-established, and it does not traverse steep terrains. You'll catch a stunning view of the rolling plains, lush mountains, and endless seas from atop. 
Location/Jump-off: Nasugbu
Trekking Time: 2-3 hours
8. Sombrero Island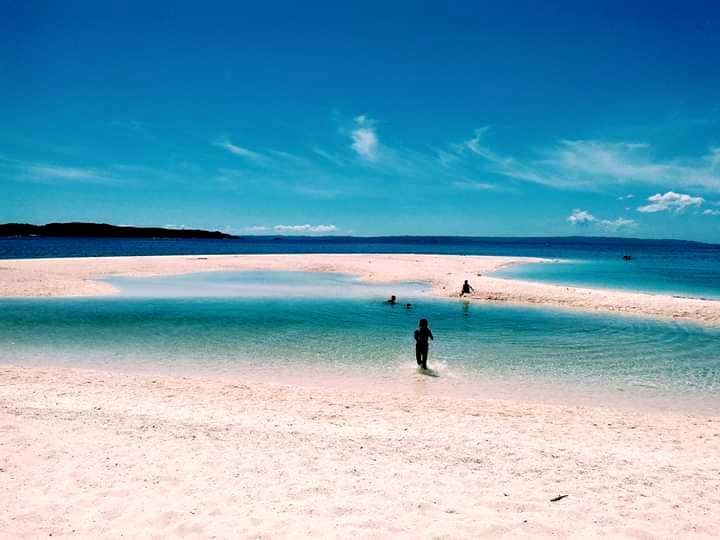 Another off-beaten tourist destination in Batangas is Sombrero Island. It is named as such because it resembles the shape of a hat when viewed from a distance. "Sombrero" literally means hat.
Here, you'll find pristine beaches with creamy sands and turquoise waters. Big boulders litter some of the beaches, and you can use these as jumping or diving platforms. Don't miss out on snorkeling here to catch sight of colorful corals and different fish species.
Sombrero Island also offers an opportunity for island hopping.
Location/Jump-off: Tingloy
Entrance Fee: Php 200 per head
9. Matabungkay Beach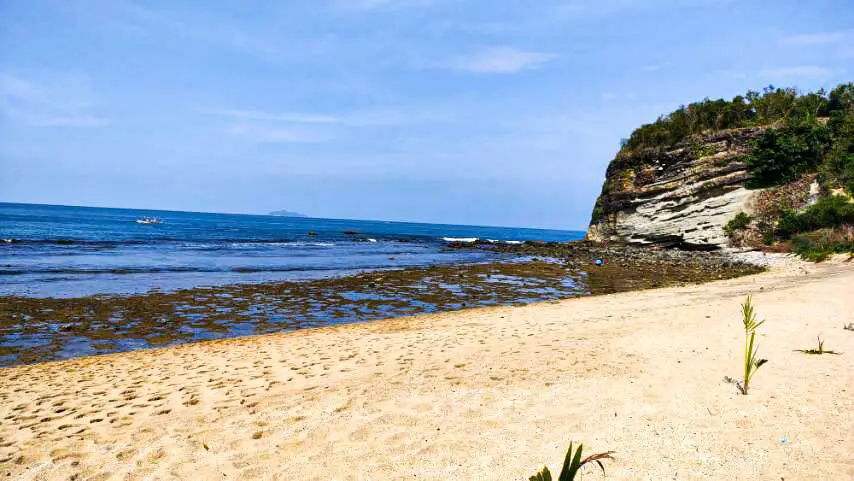 Matabungkay Beach is not for those seeking tranquility. After all, it is one of the busiest tourist attractions in Batangas province because of all the karaoke stations around and the various amenities lining the beach.
It's, however, an ideal getaway for family outings. Try hopping on one of the rafts and have your meals there. Other fun activities to do here are snorkeling, banana boating, and swimming.
10. Verde Island/Isla Verde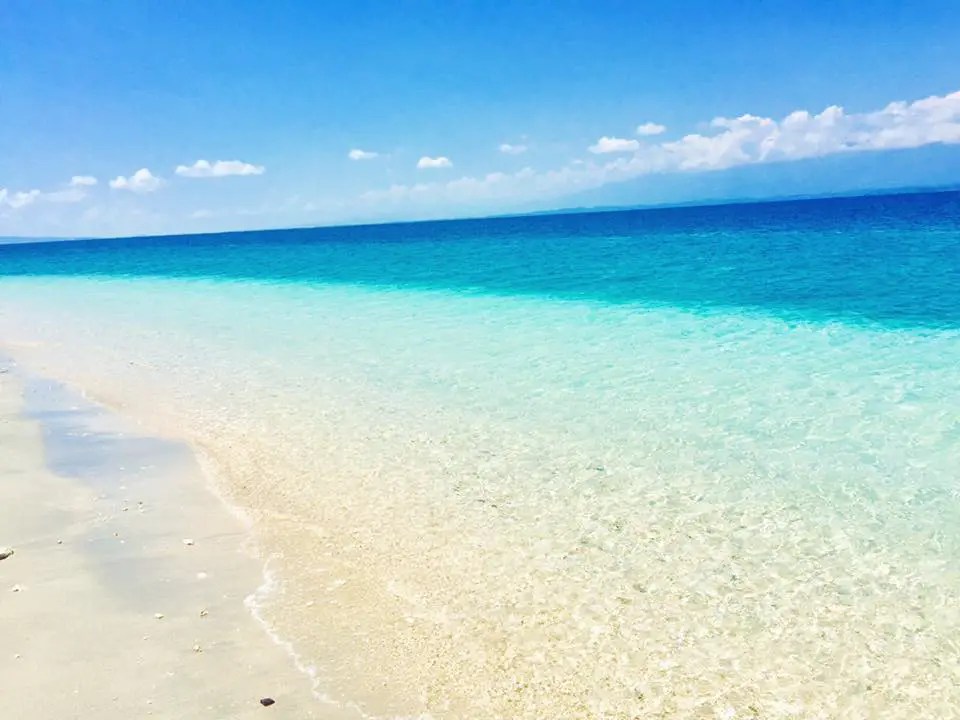 Although the island is just an hour away from the metropolis, it generally remains off-beaten and devoid of modernity. That makes it an ideal destination if you prefer less touristy settings or if you simply want to escape urban life.
It's not the special beach here but the thriving marine ecosystems filled with colorful corals and various fishes. Enjoy snorkeling as you break away from the daily hustles and bustles.
Location/Jump-off: Isla Verde, Batangas City
Best Time to Visit: March to May
11. Laiya Beach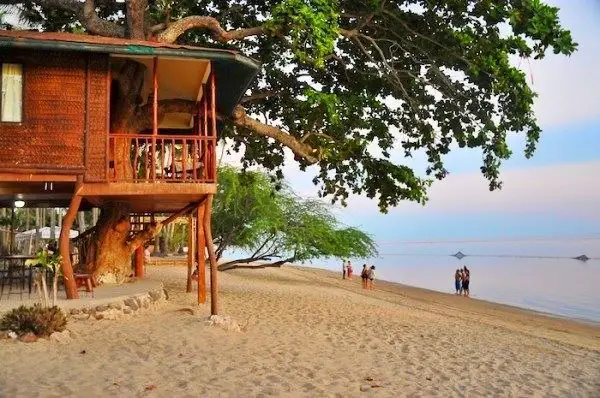 Laiya Beach is best known for its long stretch of powdery white sands, which are reminiscent of Boracay Beach. Numerous tourism amenities such as hotels, cottages, and resorts line the beach.
Luxurious travelers love coming here not only because of the modern amenities but also because of the impressive sights. Lush vegetation also lines the beach, and you can see huge limestone rock formations on the side.
Laiya Beach is one of the top tourist spots/attractions in Batangas province. 
Location/Jump-off: San Juan
12. Nasugbu Beach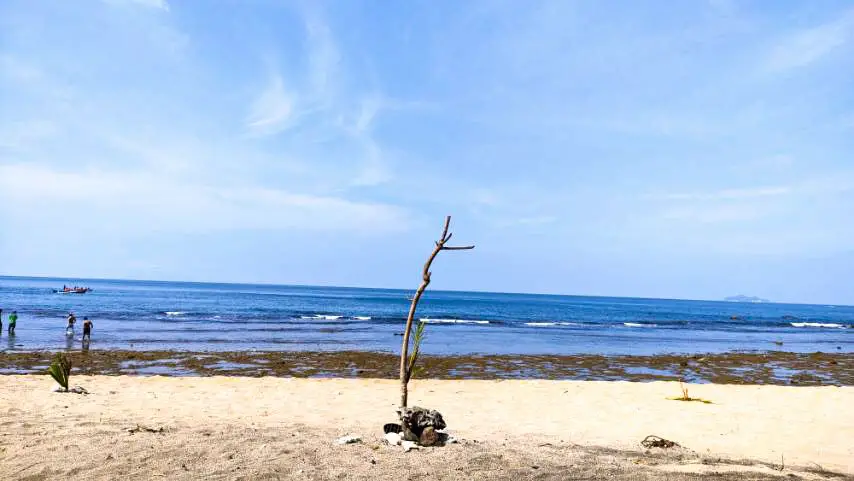 Nasugbu Beach offers a relaxing vibe because of the serene and tranquil environment. Although not as white, the sands here are powdery, complementing the clear waters.
To make the most of your visit here, don't miss out on snorkeling as the sea thrives with rich corals and fishes.
Location/Jump-off: Nasugbu
13. Lava Walk and Bird Sanctuary
The Lava Walk and Bird Sanctuary is part of the San Nicolas eco-tour aimed at raising environmental awareness. This tour will lead you to a 280-step trail built right over a path of Taal Volcano's hardened black lava.
It's a thrilling experience for many, especially with the destruction when it erupted in the 1960s and the 1970s. You will also visit a 15th-century church ruin.
Location/Jump-off: San Nicolas Municipal Town
Package Tour Rate: Php 1600 per person
Contact: 09975470608 (Municipal Tourism Office)
14. Mount Pico De Loro
Mount Pico De Loro is one of the newly-discovered tourist destinations in Batangas. Local authorities recently rehabilitated it and implemented measures to ensure responsible hiking. The number of hikers is regulated to protect the trail, so it's best to coordinate with them to reserve your slot. 
Location/Jump-off: DENR Ternate
15. Fortune Island
Known for its massive limestone rock formations and cliffs, Fortune Island is your ideal getaway for both hiking and beaching. Other activities to do here are swimming, camping, diving, and snorkeling.
Location/Jump-off: Brgy Bucana, Nasugbu
Entrance Fee: Php 350 per person
Contact: 09155047166 (Fortune Island Resort)
16. Sepoc Beach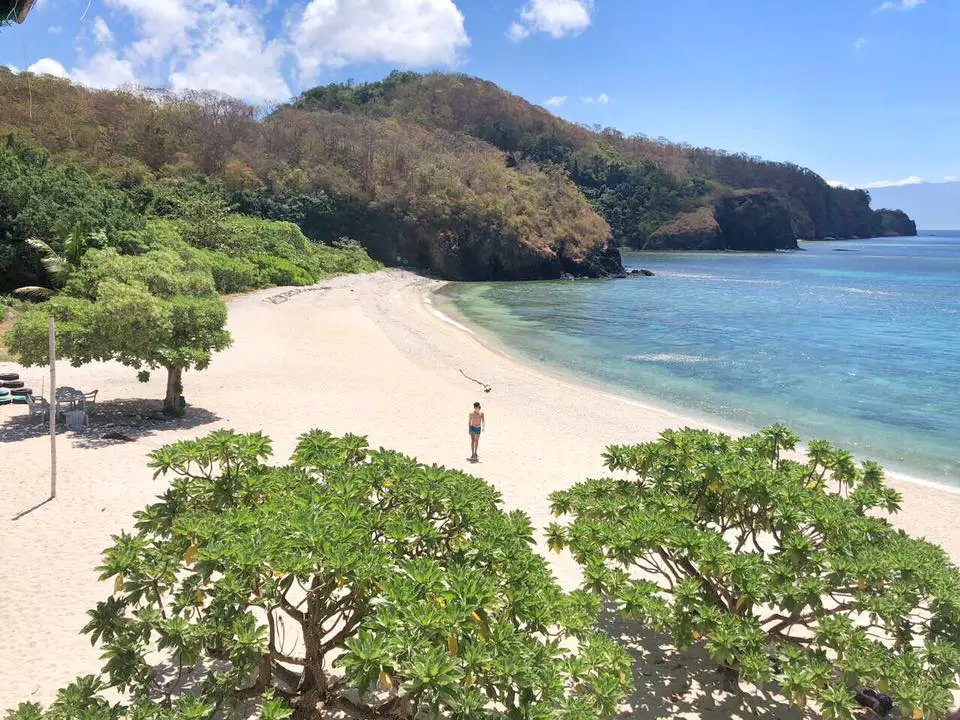 If you're done enjoying Masasa Beach, you might want to check out Sepoc Beach just on the other side. It provides a more private and leisurely experience with complete amenities.
There is also lush vegetation here where you can hike and enjoy nature at its finest. It remains one of the off-beaten tourist spots/attractions in Batangas province.
Location/Jump-off: Maricaban Island, Tingloy
Estimated Budget: Php 4000 to Php 7000 (inclusive of transportation, accommodation, diving, tour, etc.)
Contact Number: 09178464958, 09188463958
Email Address: frontdesk@eaglepointresort.com.ph
17. Basilica of Saint Martin de Tours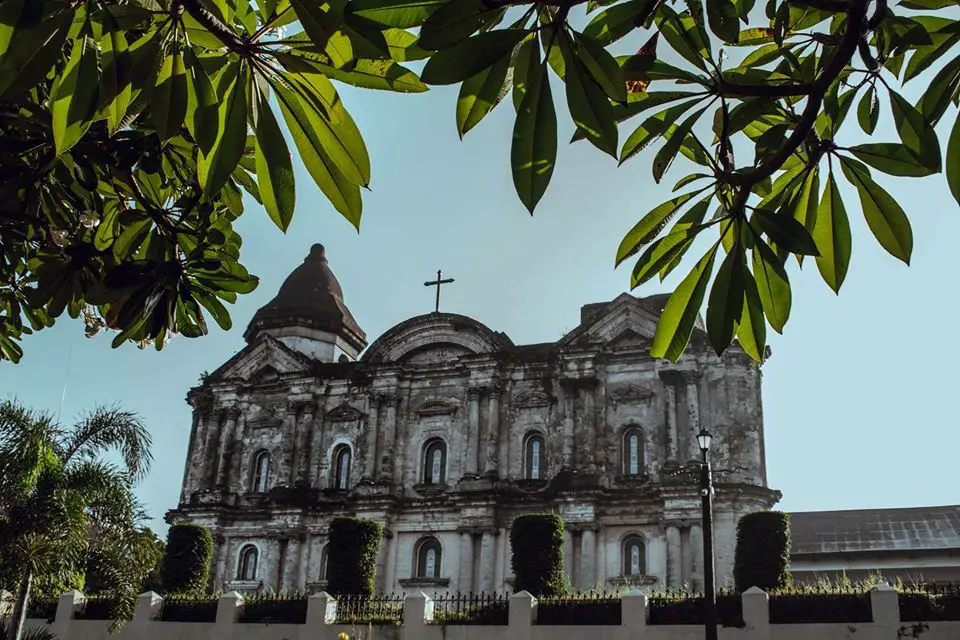 Standing 96 meters long and a width of 48 meters, the Basilica of Saint Martin de Tours ranks as the biggest church in the Philippines and Asia. It stands majestically on a hill, making it the imposing symbol of Taal town. It is considered as one of the most iconic tourist spots in Taal, Batangas.
The church survived countless calamities, including wars and storms. For many years, it underwent renovations and repairs. Saint Martin's patron saint and the locals celebrate his fiesta every November 11.
18. Malabrigo Lighthouse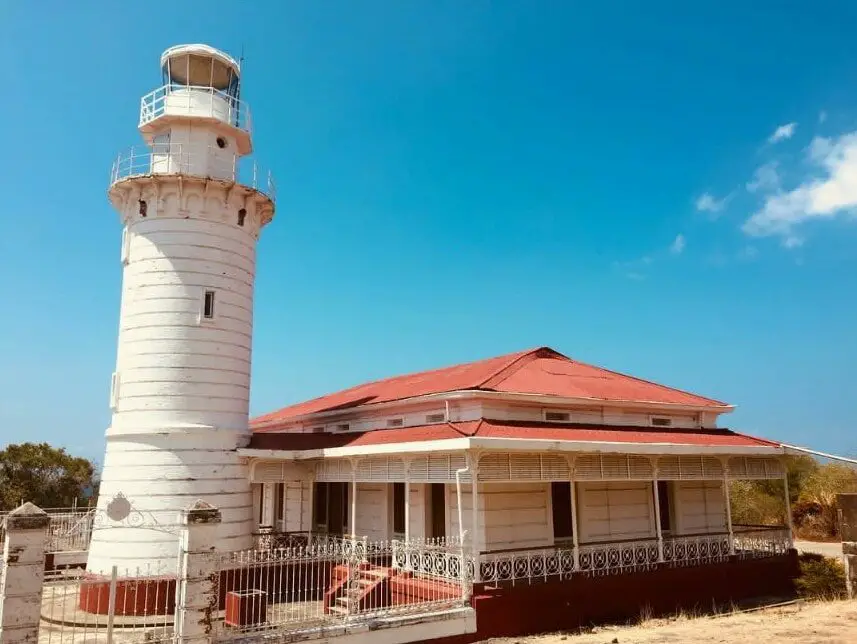 Considered the best-preserved lighthouse in the Philippines, Malabrigo Lighthouse has been a witness to various wars and calamities. That makes it one of the recognized historical tourist spots in Batangas.
You can climb the 100 stairs to reach the top of the lighthouse and catch amazing views of the landscapes.
Location/Jump-off: Brgy Malagbrigo, Lobo
19. Cape Santiago Lighthouse
Cape Santiago Lighthouse played an important historical role in Philippine maritime. Built during the Spanish regime, the lighthouse was meant to protect the towns from pirate or Moro attacks.
It also guided ships transporting goods along major routes. From the site, you'll also glimpse of panoramic views of the mountains and the seas. 
Location/Jump-off: Calatagan
Boating Rental: Php 760 roundtrip
Contact: 09198416486
20. Monte Maria Shrine
If you're looking for an ideal pilgrimage site, check out Monte Maria Shrine. It features a huge statue of the Virgin Mary, which stands at 98 meters. The statue symbolizes unity and peace among the people.
There is a nearby chapel where you can reflect and pray. You can glimpse breathtaking views of Batangas Bay and Verde Island Passage from the shrine. It is one of the best tourist spots in Batangas city.
Location/Jump-off: Batangas City
21. Caleruega Church
Caleruega Church is another locally-known pilgrimage site. The tranquility here makes it ideal for solace and meditation. Besides, you'll surely love the distinctive architecture of the church. Flowers and lush vegetation surround Caleruega Church, giving it a rustic view.
Location/Jump-off: Caleruega
22. Saint Padre Pio Parish and Shrine
Padre Pio is one of the most popular Catholic saints, known for his pious devotion and supernatural acts. Many miracles have been attributed to him. It's no wonder thousands of faithful Catholic troops here every year to venerate the saint. 
Location/Jump-off: Santo Tomas
23. Milea Bee Farm
Bees are considered among the most critical wildlife species on earth because they help produce almost all the foods we eat. To learn more about them, check out Milea Bee Farm, where you can see various bee species such as Philippine Native Bees, Italian Bees, and Stingless Bees.
Not only will you acquire knowledge about bees but also deepen your understanding of agriculture. Milea Bee Farm is one of the best tourist spots in Lipa, Batangas you should see. 
Location/Jump-off: Lipa City
24. Marian Orchard
Marian Orchard is known for its European-style gardens that make up for Instagrammable poses and angles. You will appreciate the crops and flowers grown and the stylish architecture and designs of the farm.
Location/Jump-off: Brgy Malabanan, Balete
Entrance Fee: Php 50 per person
Operating Time: 7 AM to 7 PM 
25. Kapusod Treehouse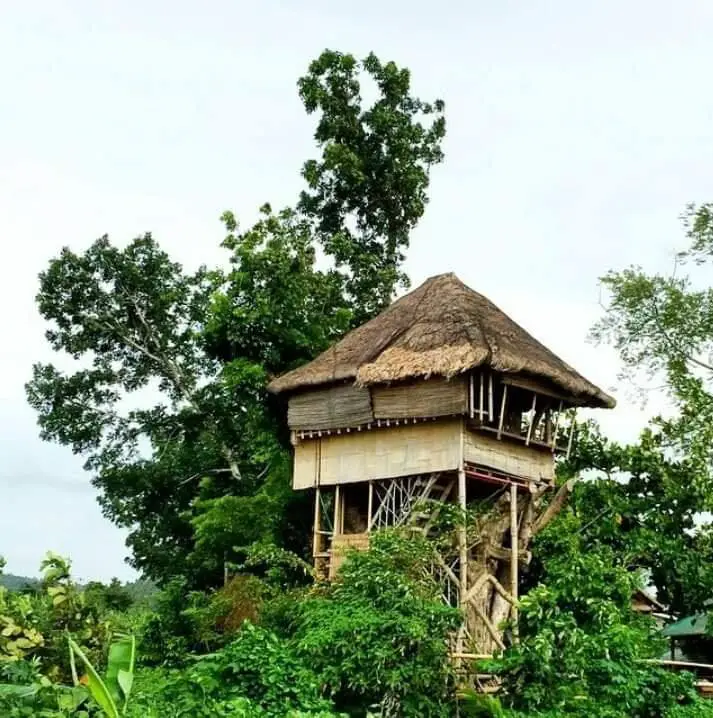 What's it like to live like Tarzan? You might want to experience that by checking out Kapusod Treehouse. There is a variety of treehouse designs or features to choose from.
You'll catch stunning views of the vast Taal Lake Protected Landscape from any of these. Staying at Kapusod will make you aware of the importance of nature and the need to protect it. It is one of the emerging tourist spots in Batangas province.
Location/Jump-off: Sitio Lipute, Brgy Kinalaglagan, Mataasnakahoy
For More Information
If you need more information to help in setting up your Batangas province tourist spots' itinerary, do contact the Provincial Tourism Office via the following:
Tel. Number: +43 7245 435
Messenger: m.me/BatangasPTCAO
Email Address: richbatangas@gmail.com