What are the can't-miss Rizal tourist spots that every avid adventurer should visit? Find out more on this comprehensive article. We also included the best things to do in Rizal including the remote places to see.
Rizal Province in CALABARZON Region is a favorite weekend getaway of tourists coming from Manila. In just an hour or less, one can reach many of its natural, historical and cultural destinations.
As the ecotourism industry grows, more and more of Rizal's hidden gems are slowly hitting the spotlight. From cascading waterfalls, lush forests, panoramic mountains views, to historic ridges, pristine rivers, and stunning sunrise views, Rizal is indeed a paradise for nature lovers.
In this comprehensive article, we list not only the popular tourist attractions in Rizal but also its off-beaten destinations. 
Here we go.
1. Masungi Georeserve
If you're chasing for fun, adventure, and thrill all rolled into one, Masungi Georeserve should make up to your bucket list. It's a top Rizal tourist spot, and because of very high demand, you need to reserve your slot a month or two in advance.
Masungi Georeserve offers you a memorable trek into the Sierra Madre wilderness and chance on unique flora and fauna species. Then, you'll come close to close to massive limestone rock formations clad in lush vegetation.
What makes this attraction in Rizal unique are the different rope trails you can walk through as you relish the breathtaking views.
Location/Jump-off: Kilometer 47, Marcos Highway, Baras, Rizal province
Conservation Fee: Php 1,800 per person on weekends, Php 1,500 per pax on weekdays
2. Mount Sinai
Oops. This isn't in the Middle East but somewhere in Rizal. But why did the locals refer to the mountain as such? Well, it's because it hosts what used to be the world's Largest Ten Commandments Stone Tablet Scripture.
From here, you'll get jaw-dropping views of the vast Sierra Madre mountain range. It is one of the emerging tourist destinations in Rizal.
Location/Jump-off: San Mateo
3. Daranak Falls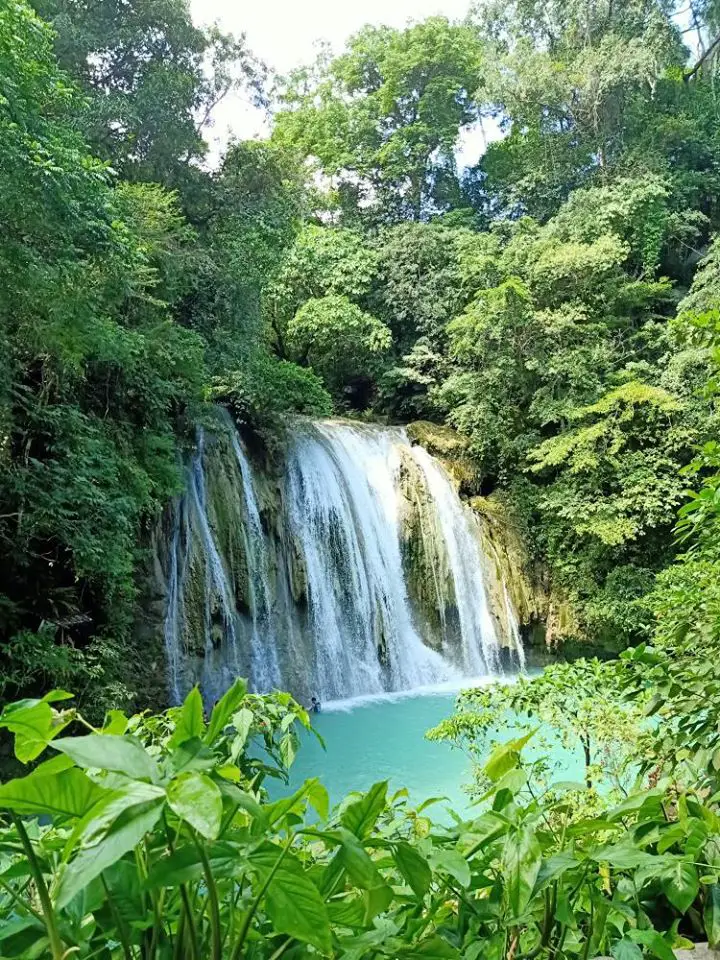 Daranak Falls is one of the most iconic Tanay, Rizal tourist spots, owing to its accessibility and laid-back setting. Both locals and tourists especially nature-lovers, frequent here because of the rustic environment.
The falls measures around 20 meters high and cascades on a beautiful pool with turquoise waters. Lust forests surround Daranak Falls, giving it an enchanting view.
You can jump or dive from one of the surrounding cliffs or boulders towards the deep pool.
Location/Jump-off: Tanay
Entrance Fee: Php 50 per person
4. Calinawan Cave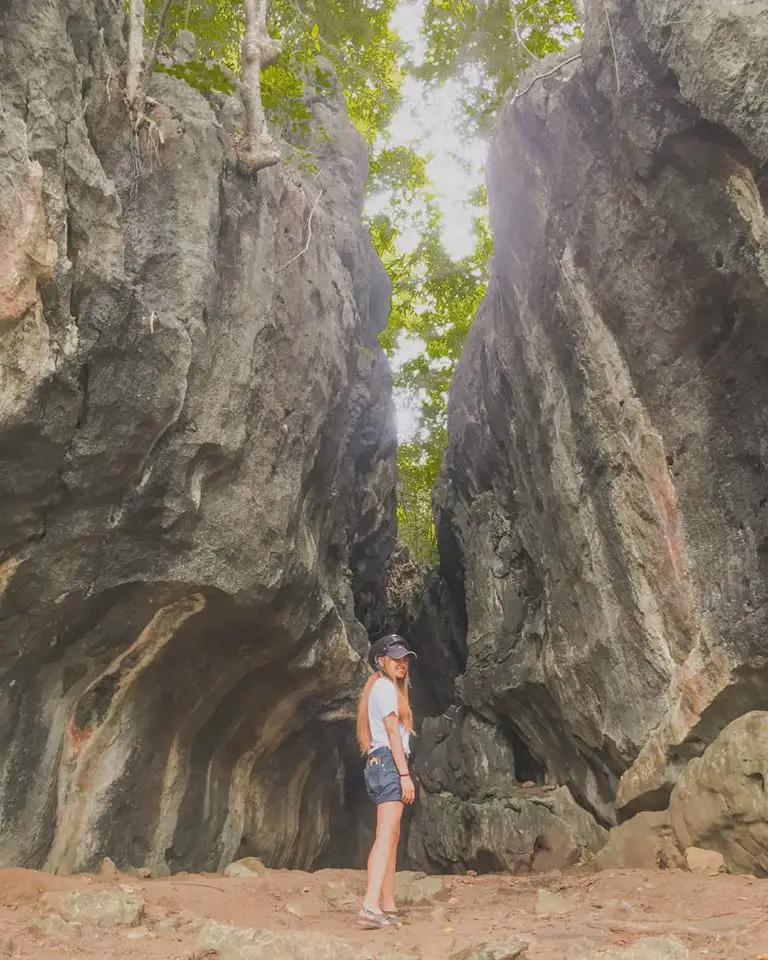 If you want more after enjoying Daranak Falls, then check out Calinawan Cave. It is just a 20-minute drive from the falls. Prepare to be amazed by jaw-dropping stalactite and stalagmite rock formations inside.
Some formations, however, lost their glory because of human activities. Hopefully, the local authorities will revitalize measures to protect the cave. It's also one of the emerging tourist spots in Tanay, Rizal.
Location/Jump-off: Tanay, Rizal Province
5. Mt Parawagan
Mt Parawagan is an ideal mountain for newbie hikers. It has well-established trails that run on gentle terrains. Many hikers started their training here before climbing more difficult mountains in the Philippines and elsewhere.
From the summit of Mt Parawagan, you'll get panoramic views of Metro Manila and the varied landscapes of Wawa.
Location/Jump-off: Sitio Wawa, Rodriguez
6. Inday Nelly's Mystical Cave
Local stories have it that the cave has healing powers because inside, you'll find rock formations depicting religious or mystical figures. It is named after Inday Nelly, who popularized the cave.
But whether you're into spirituality or not, you should check out the beautiful stalactite and stalagmite rock formations inside.
Location/Jump-off: Sitio Boso-boso, Brgy San Jose, Rizal Province
Entrance Fee: Php 40
7. Batlag Falls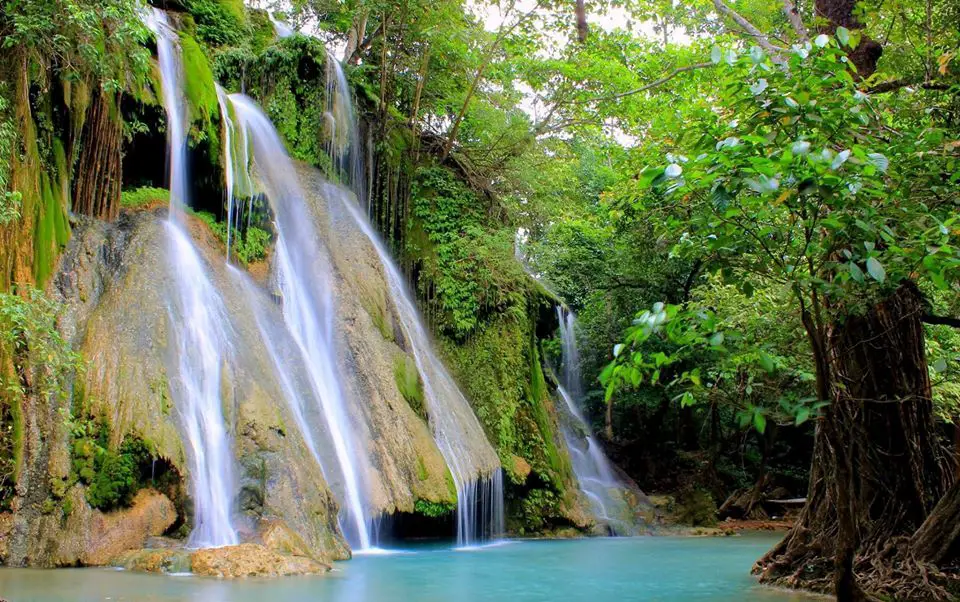 Batlag Falls is one of the off-beaten tourist spots/destinations in Rizal. Although it's not as grand, the pristine beauty of it makes up to a fulfilling adventure. It also has a natural pool where you can have a refreshing swim.
If you're into less touristy destinations in Rizal, you should come here and relish the pristine wilderness.
Location/Jump-off: Tanay
Entrance Fee: Php 100
8. Mount Daraitan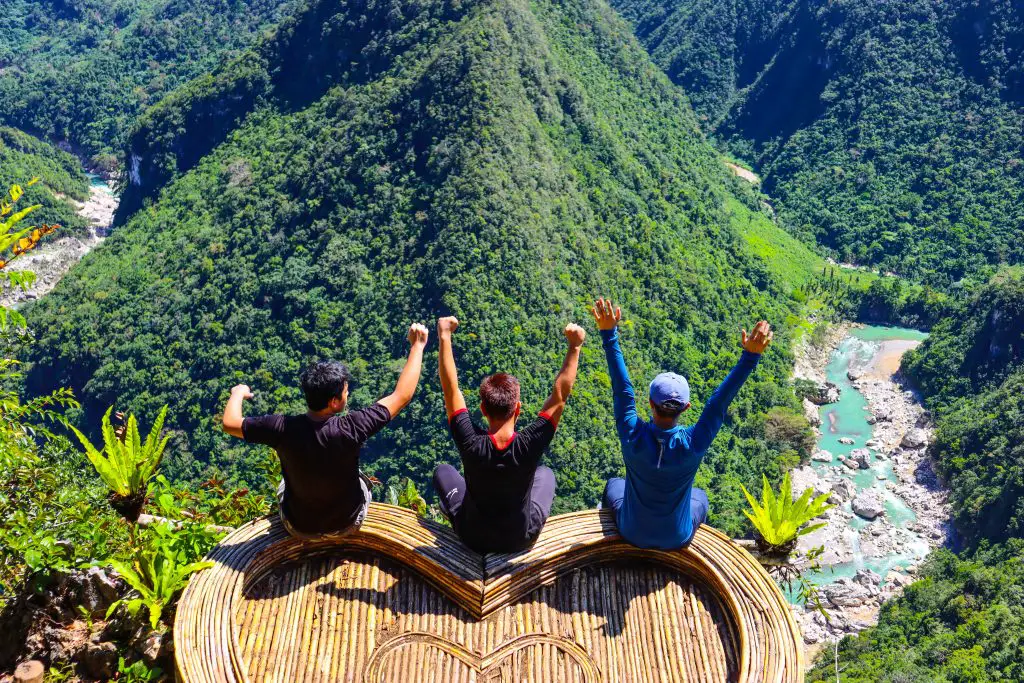 If your feet are aching you for an adventure, then trek your way to Mount Daraitan. From its summit, you'll glimpse at breathtaking views of the Sierra Madre, the longest mountain range in the Philippines.
If you're lucky, you'll glimpse of the breathtaking sea of clouds carpeting the mountainsides. The mountain is also rich with flora and fauna and it is one of the province's protected landscapes. Help protect and preserve the mountain by leaving no garbage behind and refraining from picking flowers or orchids.
You'll also catch sight of the beautiful Daraitan River snaking its way among the lush mountains. Massive limestone rock formations abound in every direction, and you can chance on exotic flora species on the trail.
9. Tinipak River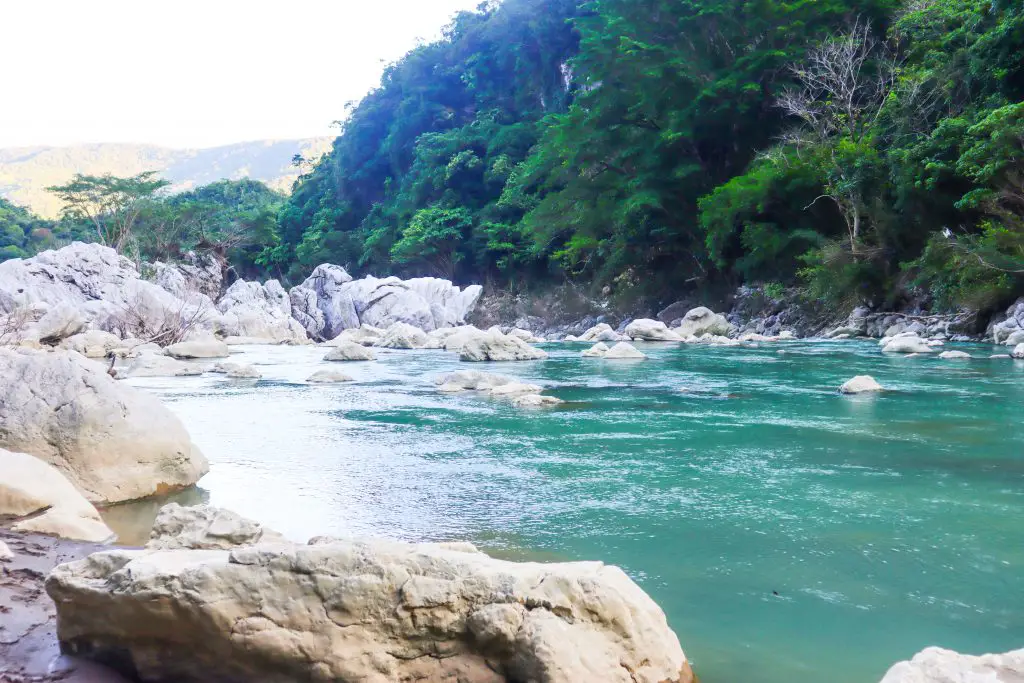 Some hikers to Mt Daraitan brave a challenging traverse to Tinipak River, one of the most pristine tourist spots in Rizal. Aside from the turquoise waters emanating from the abundant forests upstream, the river has stunning limestone rock formations.
There are multiple pools where you can have a rejuvenating swim. Today, the proposed Mega-Kaliwa dam is threatening the river and its biodiversity.
Hopefully, concerted efforts will lead to the project's cancellation, especially that the surrounding forest is one of the province's ecological frontiers.
Location/Jump-off: Tanay, Rizal Province
10. Tinipak Cave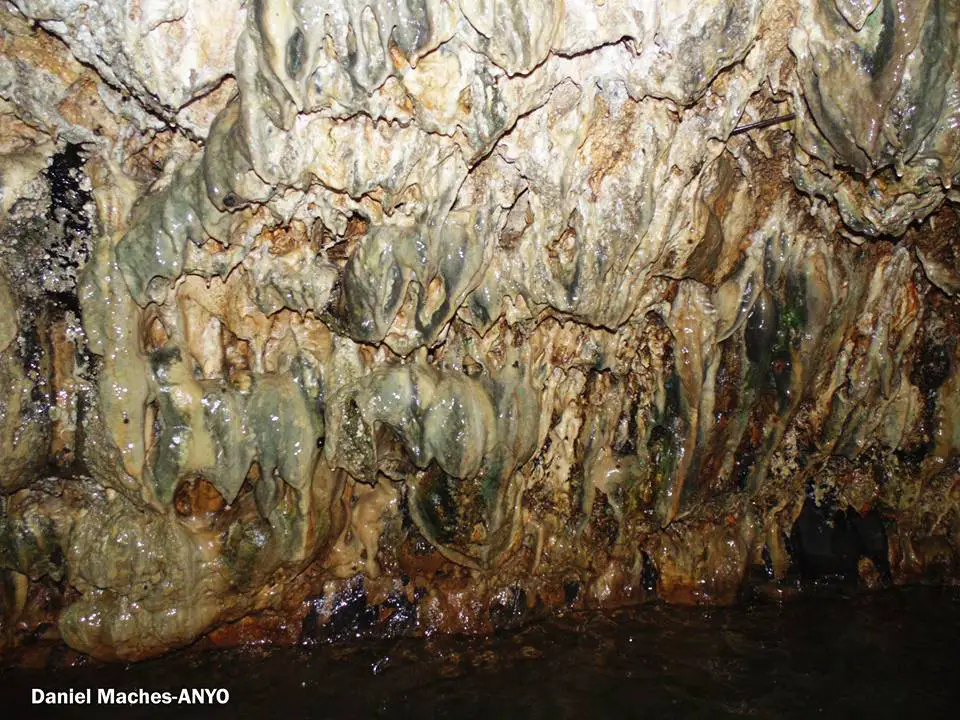 Before or after swimming or viewing Tinipak River, you can proceed to Tinipak Cave, one of the many found in Rizal. Inside, you'll find stunning stalactite and stalagmite rock formations.
While you're here, get creative at what the various rocks represent. Bats also inhabit some parts of the cave, indicating the rich biodiversity. There is also a running stream with pockets of pools.
Location/Jump-off: Tanay, Rizal Province
11. Palo-Alto Falls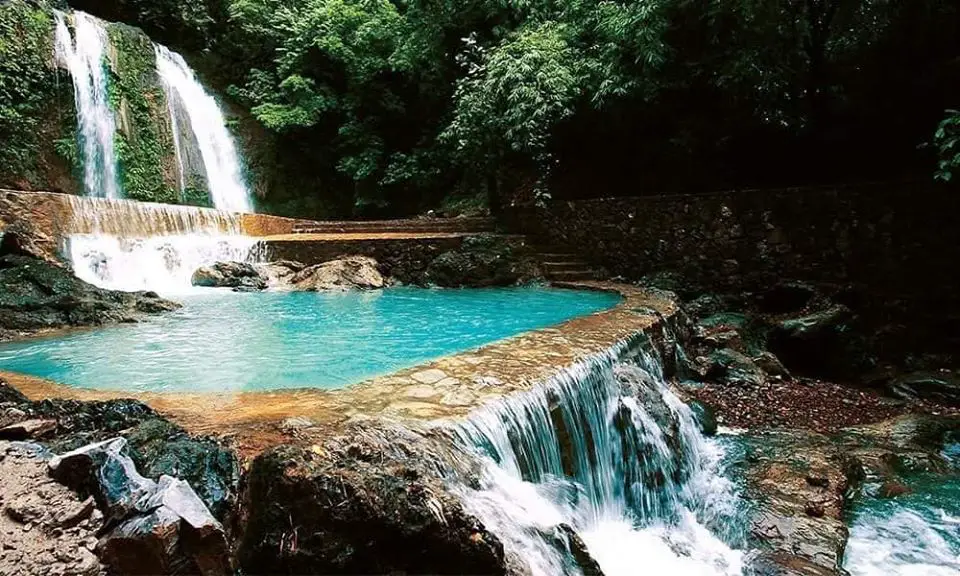 Palo Alto Falls is one of the emerging tourist spots in Baras, Rizal, nestled on a 200-hectare residential estate. It measures around 60 meters high and cascades on a circular pool with entrancing, turquoise waters.
The waters emanate from pristine forests upstream, home to different wildlife. There are basic amenities you can rent, such as cottages, grilling areas, and picnic tables. Palo-Alto Falls makes up for an excellent family weekend getaway.
Location/Jump-off: Baras
Entrance Fee: Php 100 per person
12. Mt Tagapo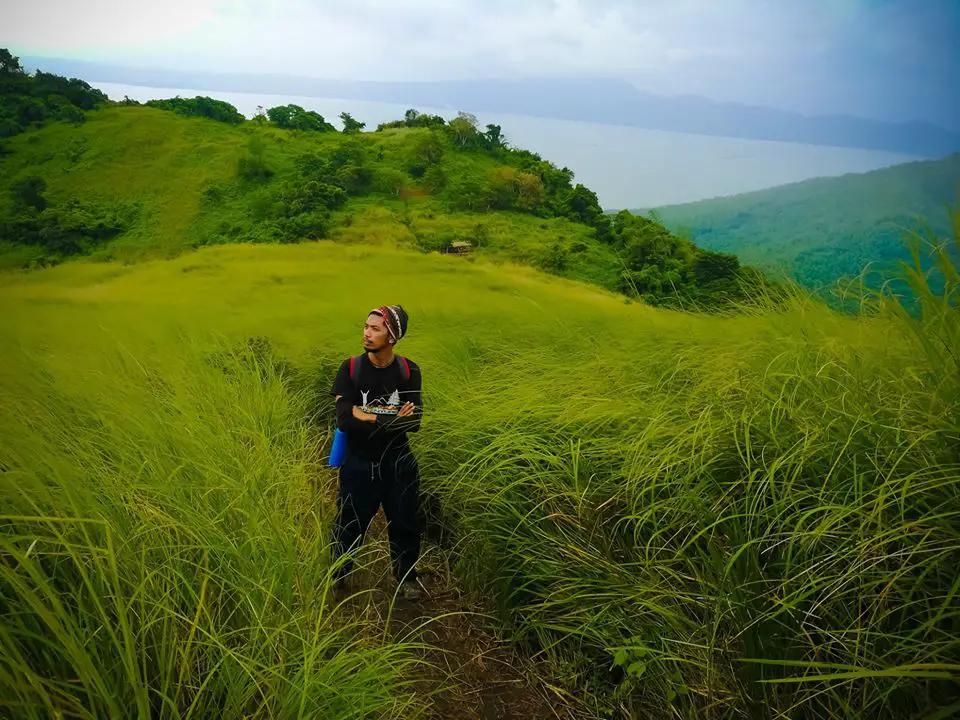 Mt Tagapo is another hiking tourist attraction in Rizal that is ideal for beginners. You can easily assault its grass-covered summit in less than an hour. From here, you'll catch sight of the vast Laguna de Bay and the surrounding mountain ranges and plains. 
Location/Jump-off: Brgy Janosa, Binangonan
Guide Fee: Php 400 for a group with a maximum pax of 4
13. Sangab Cave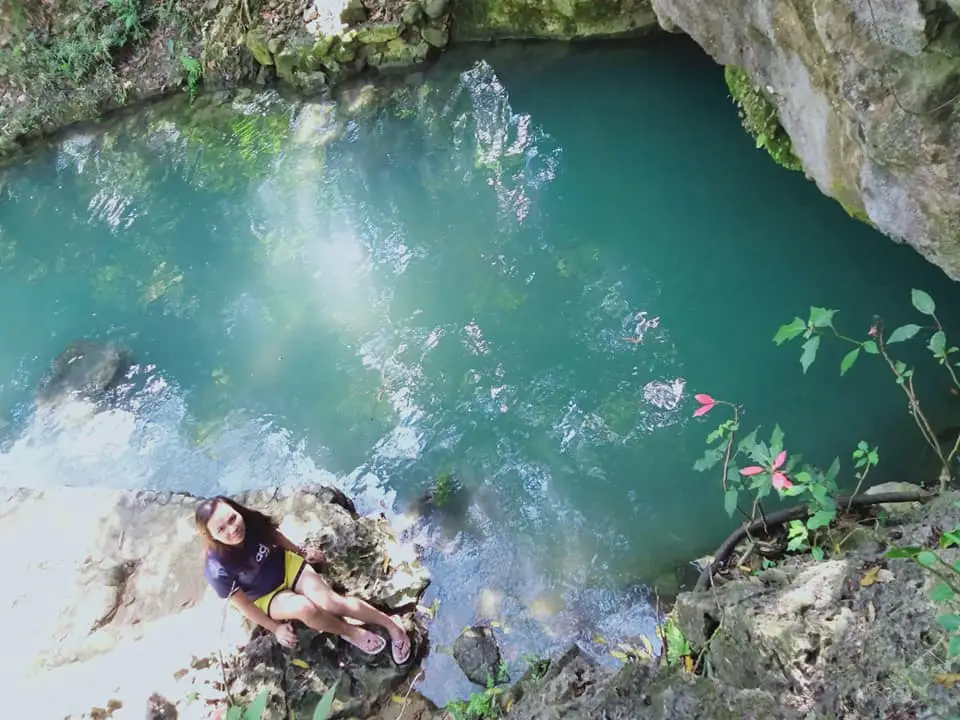 Sangab Cave is also another off-beaten Rizal tourist spot. It's a mystical cave hidden amidst green vegetation. Not only will you enjoy the limestone rock formations inside but also get to relish the beauty of the surrounding forest.
That is home to a variety of wildlife species, including flora wonders that will satisfy your quest for an adventure.
Location/Jump-off: Tanay, Rizal Province
14. Mt Nagpatong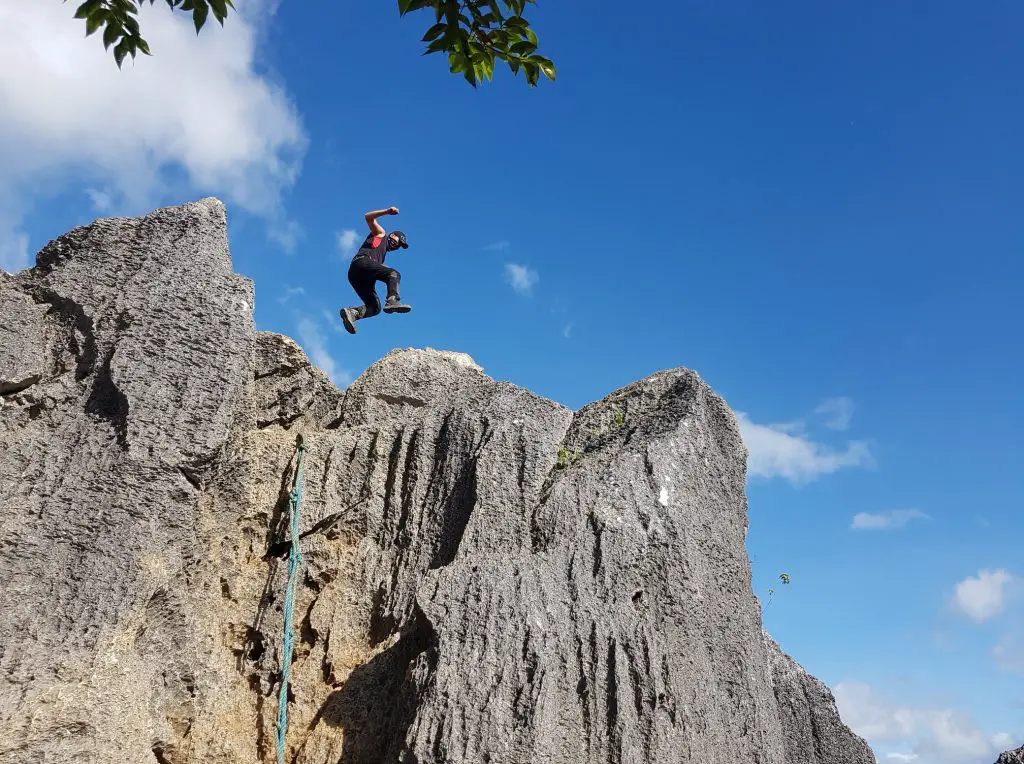 Mt Nagpatong is known for a massive limestone rock formation standing on its summit. You can climb it to catch better views of the surrounding landscapes.
It's also a good viewpoint for glimpsing of the sunrise and the sea of clouds. If you want to see these, start trekking by 4 AM. Mt Nagpatong is one of the most frequented hiking tourist spots in Rizal.
Registration Fee: Php 100 per person
Guide Fee: Php 500 for a group with a maximum pax of 5
Trekking Time: 2 hours
15. Hinulugang Taktak Falls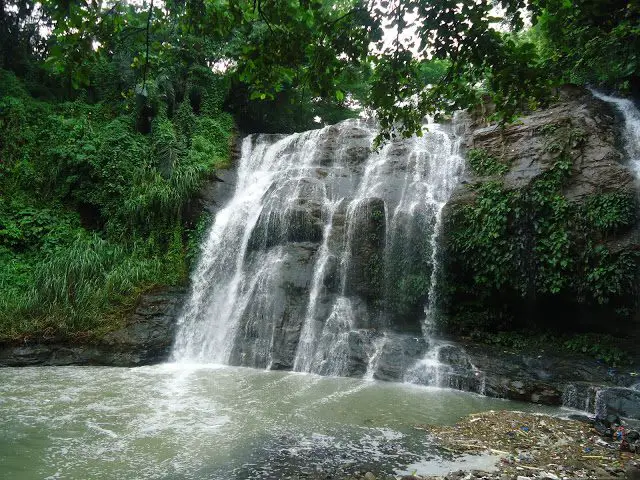 Hinulugang Taktak Falls used to be a magnificent wonder with pure and crystal-clear waters, creating rainbows. But the growth of settlements upstream has caused the gradual deterioration of the river feeding the falls.
That has rendered it unfit for swimming, so you could only take a picture with it as the background.
Hopefully, the local authorities will continue cleaning the river and addressing pollution sources to bring it back to its former beauty and bounty.
Location/Jump-off: Taktak Road, Antipolo, 1870
Entrance Fee: Php 30 (Adults), Php 15 (Students), Php 100 (Foreigner)
16. Angono Forest Park
Angono Forest Park is one of the remaining natural reserves in Rizal and one of its off-beaten tourist spots. As you explore it, you'll chance on a variety of endangered species such as wild pigs, snakes, and wild ducks. Plus, you'll get to see orchids and other blooming flowers.
This is a must-see tourist destination in Rizal if you're chasing extreme adventure or thrill. There is no entrance fee. But do donate some amount as that goes a long way in protecting the forest. 
Location/Jump-off: Angono, Rizal Province
17. Mt Binacayan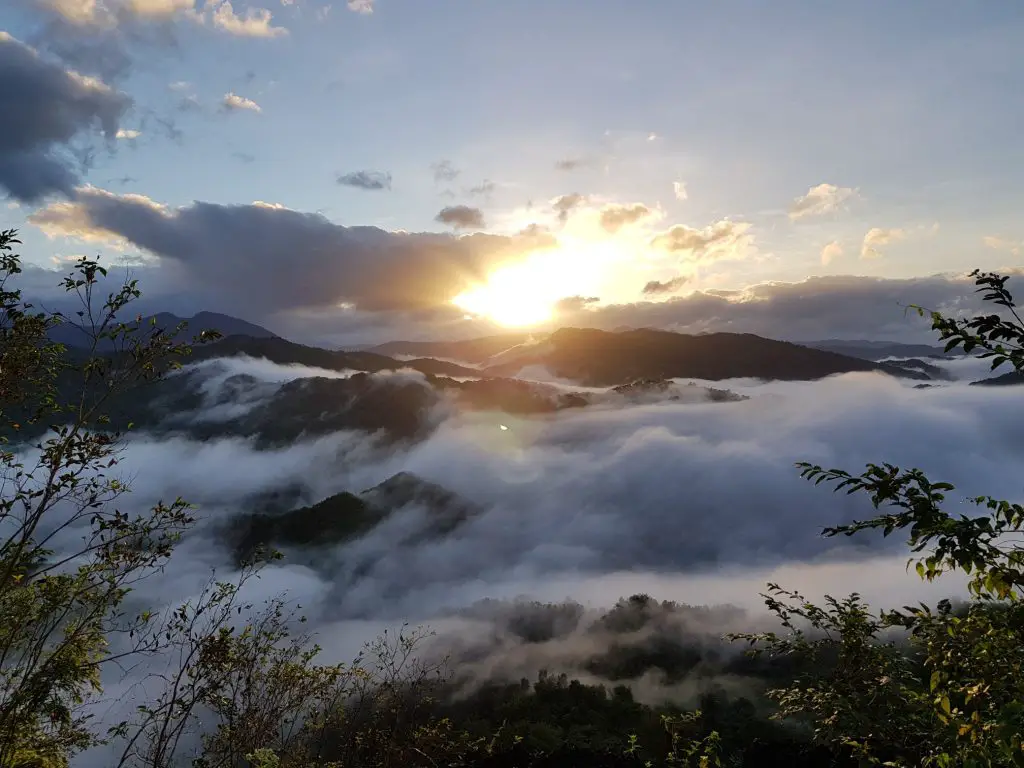 Another great spot to chance on a mind-blowing view of the sunrise and the sea of clouds is Mt Binacayan. Although it's generally a minor climb, you still need to prepare as you'll trail on challenging terrains.
But it's all worth it as you relish the breathtaking views from the summit. When you do chance on a sea of clouds, you'll feel like you're floating among them.
Location/Jump-off: Rodriquez
18. Pamitian Cave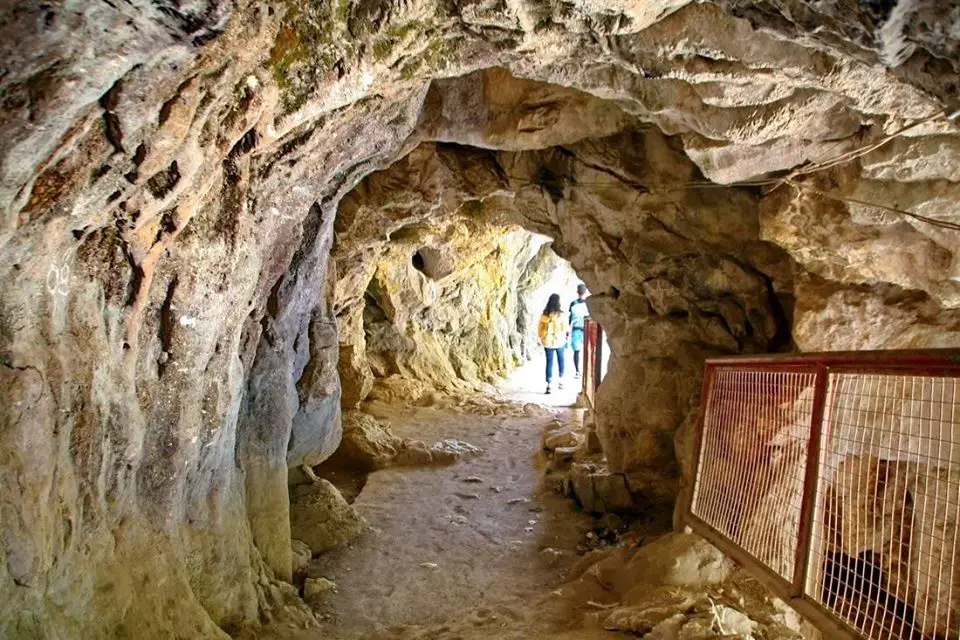 Pamitian Cave is a walking distance from Wawa Dam; thus, it makes up for a good side trip for adventurers.
Located in the scenic foothills of grand Sierra Madre, the cave is said to be where Bonifacio initiated new members of the Katipunan movement.
Bonifacio is a Filipino hero credited for the liberation of the Philippines from the 300-years of Spanish rule. His charcoal writings on the cave's wall are still visible up to this day. It's, therefore, one of the historical tourist spots in Rizal.
Location/Jump-off: Rodriguez
19. Tanay Church
Otherwise known as Saint Ildefonsus of Toledo Parish Church, Tanay Church is one of Rizal's popular pilgrimage sites for Catholics. It houses a bone relic of San Ildefonso.
It's no wonder why thousands come here to pray every year. The church also boasts of a stunning architecture dating back to the Spanish years.
20. Antipolo Cathedral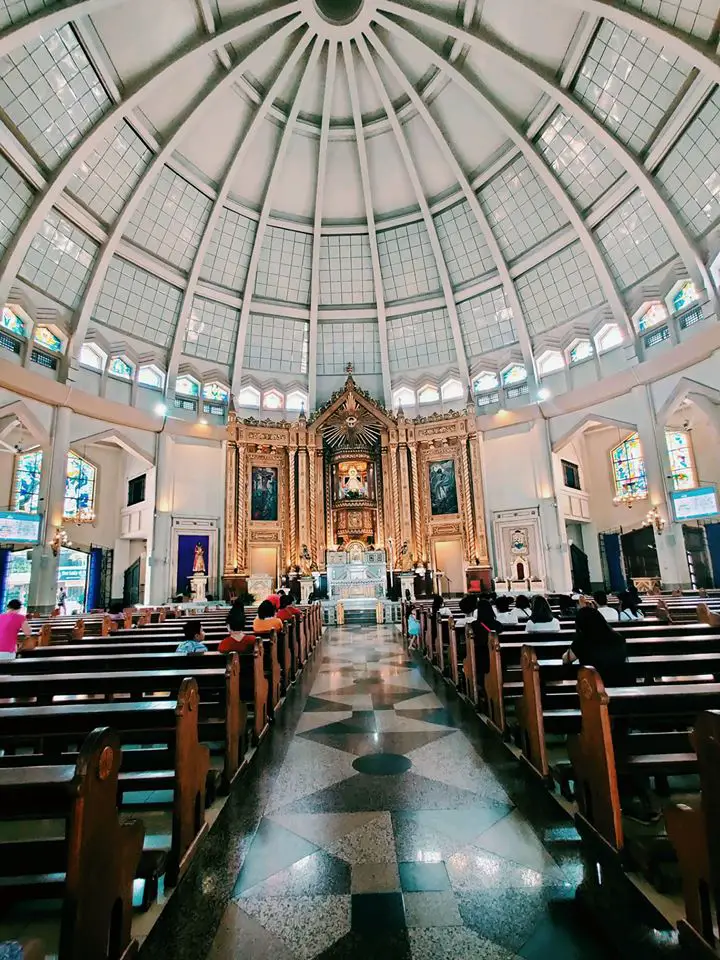 Otherwise called as the National Shrine of Our Lady of Peace and Voyage, the Antipolo Cathedral is a recognizable landmark with its iconic dome. It's a favorite pilgrimage site among Catholics, especially during Holy Week.
The Cathedral has been a witness to significant events and milestones that shaped Rizal province.
Location/Jump-off: P. Oliveros Street, Antipolo City
Entrance Fee: None
Mass Schedule: Starts at 5 am
Contact Number: (032) 571 7347
21. Boso-Boso Church
Also called The Nuestra Senora de La Annunciata Parish, the Boso-Boso Church is a recognized historical tourist spot in Rizal. Built during the 16th century, the Church survived various calamities, including wars, fires, and earthquakes.
Although in recent years, the church management did some renovations, they still maintain the original design.
Location/Jump-off: Old Boso-Boso, Brgy San Jose
Entrance Fee: None
22. Regina Rica
Regina Rica is another popular pilgrimage site in Rizal. It has a huge statue of The Virgin Mary with lush landscapes. It's a perfect place for spiritual seekers or those who want to nourish their faith in God.
Others come here for meditation because of the rustic setting. It's a must-see site during Catholic holidays such as Holy Week.
Location/Jump-off: Sampaloc, Tanay
Note: The place is closed on Tuesday.
23. Pinto Art Museum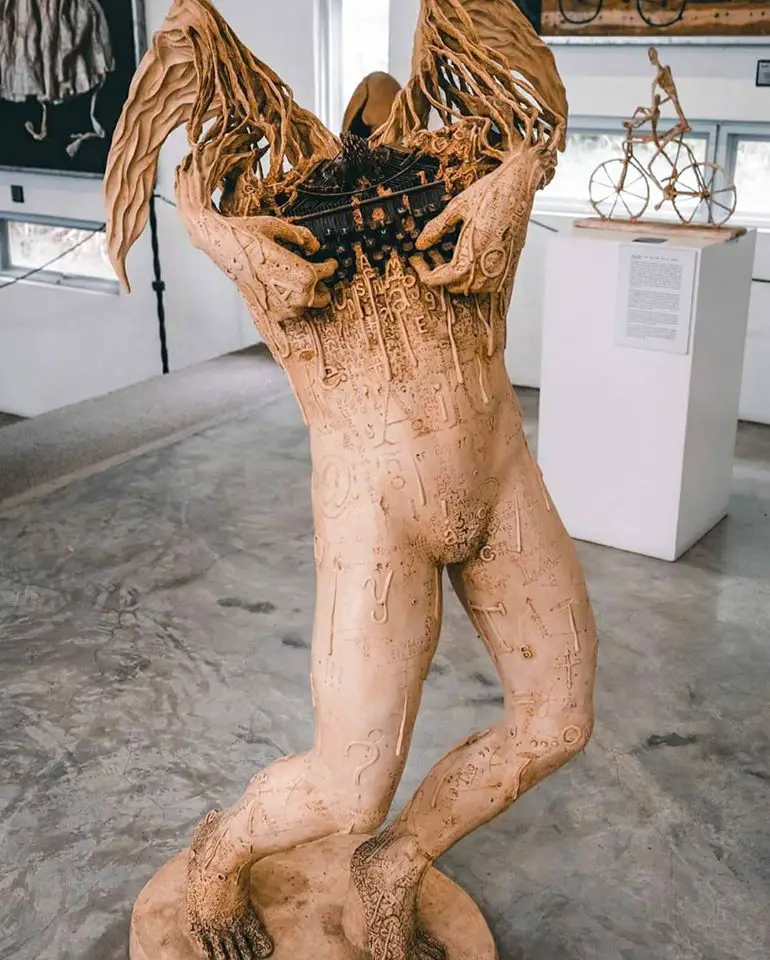 Pinto Art Museum is one of the most frequented tourist spots/destinations in Rizal. It boasts of architectural designs and landscapes reminiscent of the Mediterranean region in Europe.
Here, you'll find six art galleries with fascinating paintings, art installations, and sculptures made from priced materials. Sure, the museum also showcases both modern and old Filipino artworks.
What I love about this museum is that artworks are not enclosed inside glasses. That means you can have a close look at each of them and appreciate the details. Just don't touch it, please. Oh yes, you can also take pictures unlike in most other museums.
Location/Jump-off: 1 Sierra Madre Street, Grand Heights, Antipolo
Entrance Fee: Php 200 (adults), Php 180 (senior, PWDs), Php 100 (students)
Contact: (032) 697-1015
24. Bahay Na Bato
It's a building dating back to the Spanish regime; therefore, it features Western architecture as well. As you tour inside, you'll feel like you're traveling back to the colonial era and experiencing their daily life.
You'll learn much about the past culture here and, of course, the rich history.
Location/Jump-off: Pilila
25. Casa Santa Museum
If you want another bizarre Christmas experience, then check out Casa Santa Museum, a top tourist spot in Rizal. It displays thousands of Santa Claus motifs and themes coming from various countries. Its collection is one of the most extensive in the world.
You'll surely love strolling here and seeing the different faces of Santa Claus. Before visiting, however, make sure you set prior arrangements via their website or Facebook Page.
Location/Jump-off: 276 San Jose Extension, Brgy San Isidro, Antipolo
Fee: starts at Php 180
Operating Time: 8:30 AM to 5:30 PM
Contact Number: (02) 584-3199
26. Angono Petroglyphs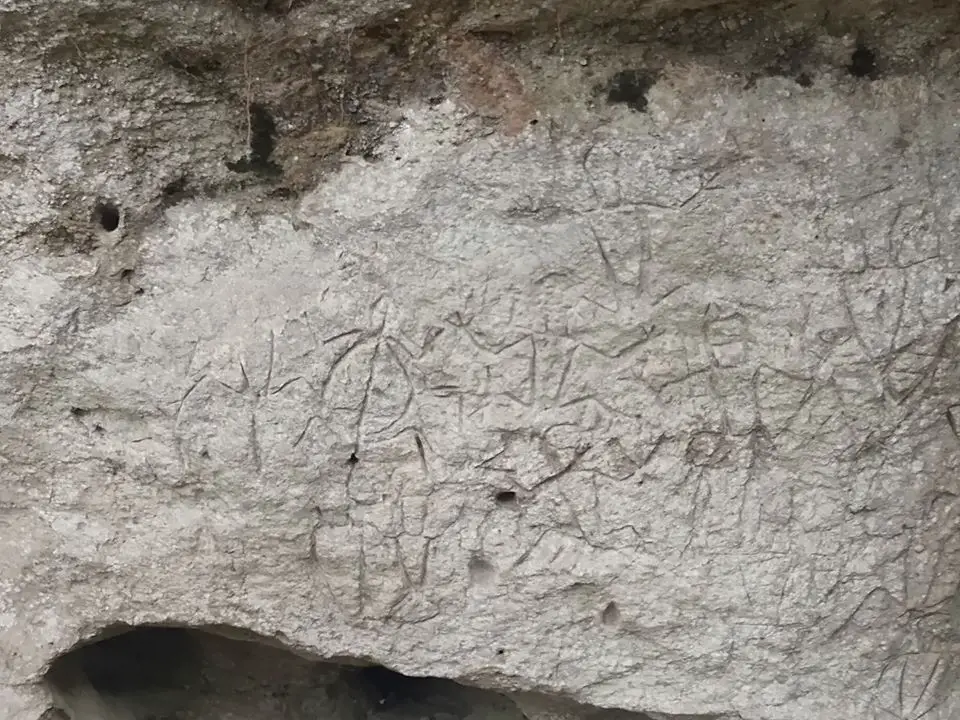 Considered as the oldest of its kind in the Philippines, Angono Petroglyphs gives us a picture of the country's first inhabitants. It dates back to as far as 3000 B.C.!
If you want to know more about how these ancient people lived and their way of communication, you should come to see these priceless petroglyphs. 
Location/Jump-off: Angono
27. Avilon Zoo
I'm not fond of zoos because, generally, this industry has caused the endangerment of a lot of wildlife species.
But there are zoos that have been advocating for wildlife conservation, and some became refuge sites for animals that lost their homes to deforestation and other human activities.
I hope Avilon Zoo is doing that. Thankfully, I heard that the animals there are well taken care of. Still, we hope that they will soon be released to the wild since that is their home.
Location/Jump-off: Barrio San Isidro, Rodriguez
28. Nemiranda Arthouse and Gallery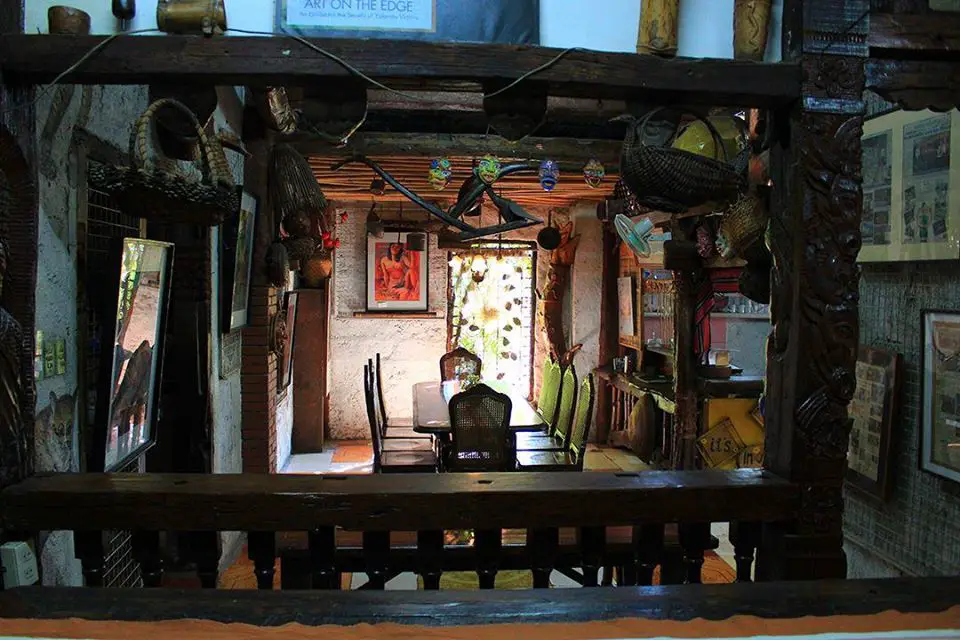 If you're an art savvy, you'll surely find this a perfect escape to your world. Most of the artworks displayed here feature Filipino folklore characters, including gods and unseen spirits.
You'll learn a lot about the rich stories of the country's different provinces. Yes, it's not only the Greeks that have stories about deities.
Our country is rich with such, and this gallery will make you realize that. It's one of the must-see tourist destinations in Rizal for art lovers.
Location/Jump-off: Angono
29. Pililla Wind Farm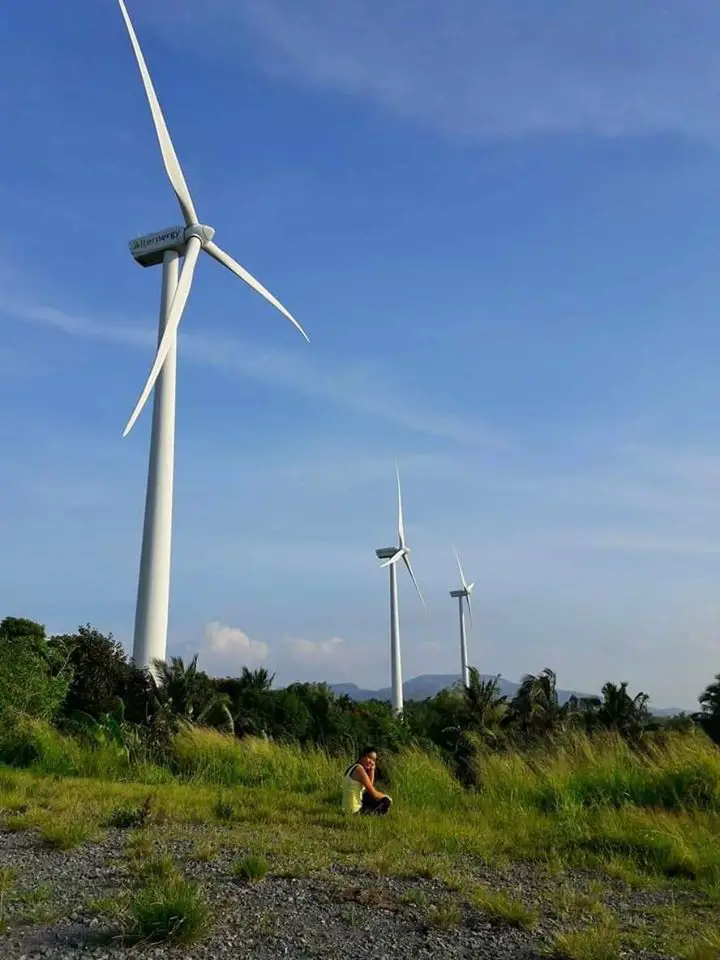 You don't need to travel to Ilocos Norte to glimpse of giant windmills. If you're coming from Manila, ride your way to Rizal, and you'll find 27 giant wind turbines scattered on rolling landscapes. Collectively, these power thousands of households in the province.
Personally, this is one of my favorite tourist spots in Rizal because it solidifies the campaign to transition to renewable energy. From here, you can also catch scenic views of Rizal's plains and the Laguna De Bay. 
Location/Jump-off: Pililla, Rizal Province
Entrance Fee: None
30. PACEM Eco-Park
PACEM means Peace And CARE For Earth Ministry. It's one of the best tourist attractions/destinations in Rizal. It features a mini-forest, organic gardens, a butterfly collection, wildlife sanctuaries, and much more. It's a perfect getaway for those who wish to experience spirituality and serenity.
Location/Jump-off: Sumulong Highway
Entrance Fee: Php 50 per person
Operating Time: 8 AM to 3:30 PM (Monday to Friday), 8:30 AM to 12 PM (Saturday)
Contact Number: (02) 696 3274, (02) 697 2354
31. Jala-Jala Sunflower Farm
You'll not only find the iconic sunflower in the Cordillera mountains but also in Rizal. You'll surely love taking pictures with the blooming flowers and enjoy the scenic views here. If you want to grow your pots of sunflowers, you can buy seedlings and planting materials here.
Location/Jump-off: Brgy San Juan, Jala-Jala, Rizal Province
Entrance Fee: Php 20
32. Wawa Dam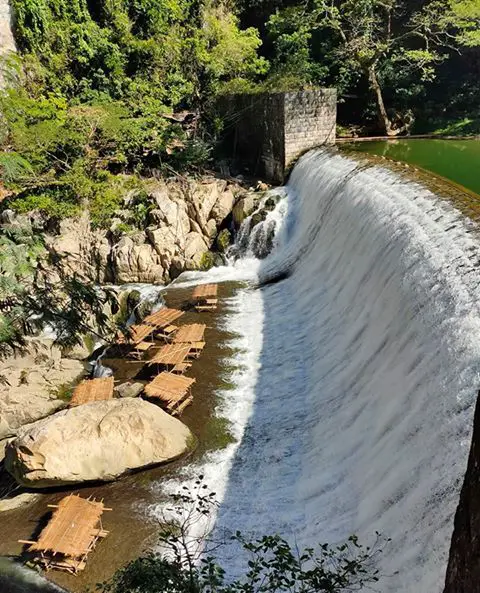 Considered one of the oldest dams in the Philippines, the Wawa dam was the first of its kind supplying Manila. With the construction of the Angat dam, however, the Wawa dam has been abandoned.
Today, it's becoming a tourist attraction in Rizal because of scenic mountain and river views. You can pose on the base of Wawa Falls as the cascading waters give you a rejuvenating massage.
Or try boating with bamboo rafts and swimming on the crystal-clear waters. There are boulders all around, which you can use as diving or jumping platforms.
Location/Jump-off: Rodriguez, Rizal Province
For More Information
If you need more information to help in setting up your itinerary to the tourist spots/destinations in Rizal, contact the Provincial Tourism Office via the following:
Tel. Number: (02) 8620 2400
Office Address: Antipolo City Hall, M. L. Quezon Street, Ynares Center Complex, Antipolo