Here is your complete DIY travel guide to Bomod-ok Falls, known as the "Big Falls of Sagada".
It was one Saturday when I and some buddies rode our way to Sagada from Bontoc. Although we initially planned to visit the attractions within the town center to cut on cost, we eventually decided to chase the famed Bomod-ok Falls instead.
Frankly, I've visited Bomod-ok Falls multiple times already. But it seems to never fail to allure me that I can't help but just keep coming back. It must have spelled me into submission to its majestic beauty.
There's something about it that I don't grow weary staring at it. In fact, I feel even more alive doing that.
If you're planning to visit Bomod-ok Falls as well, here is how you get there.
Quick Facts:
Location/Jump-off: Brgy Bangaan & Brgy Fidelisan
Trekking Time: 30 minutes – 1 hour from Brgy Bangaan
Travel Time: 20-30 minutes from Sagada town center
How to Get to Bomod-ok Falls Sagada?
NOTE: Before visiting Bomod-ok falls or any other tourist spots in Sagada, register at the Sagada Genuine Guide Association (SaGGAs) office which is located near the municipal hall.
There, pay the Php 50 environmental fee per person.
Following that, hire one of the vans stationed in front of the registration office. Rent is Php 650 for a two-way trip and travel time to Brgy Bangaan takes 20-30 minutes.
Upon reaching Brgy Bangaan, proceed to the registration booth just along the road. There, you'll also have to register and pay the barangay fee of Php 10 per person. The staff will then assign a local guide to take you to Bomod-ok Falls.
The rate for each guide is Php 500 with a group consisting of a maximum of 10 persons. There will also be a brief orientation on safety procedures and what to expect. Don't hesitate to ask questions.
In summary, here is the breakdown of expenses when visiting Bomod-ok Falls.
| | |
| --- | --- |
| Item/Particular | Cost |
| Environmental Fee (Per Person) | Php 50 |
| Rent of Van to Bangaan (Two-way Trip) | Php 500 |
| Barangay Fee | Php 10 |
| Guide Fee (1 guide for a group of up to 10 persons) | Php 500 |
| Meal at a Resto in Bangaan | Php 80 and above |
As for us, we did register for documentation purpose but we did not have to hire a guide since one of our friends is a local of Sagada. Besides, I've been to the waterfall multiple times before, thus, I got familiarized with the trail.
READ: Pongas Falls (UPDATED): Complete DIY Travel Guide
Oh, the Downhill Trek to Bomod-ok Falls
After registering, we then took on the downhill trail to Bomod-ok falls with swelling eagerness and excitement. This is actually the challenging part. If you are not used to hiking, expect sweats and pantings.
That is why make sure that you are physically-conditioned before coming here. Good thing though, the trails are paved and well-established.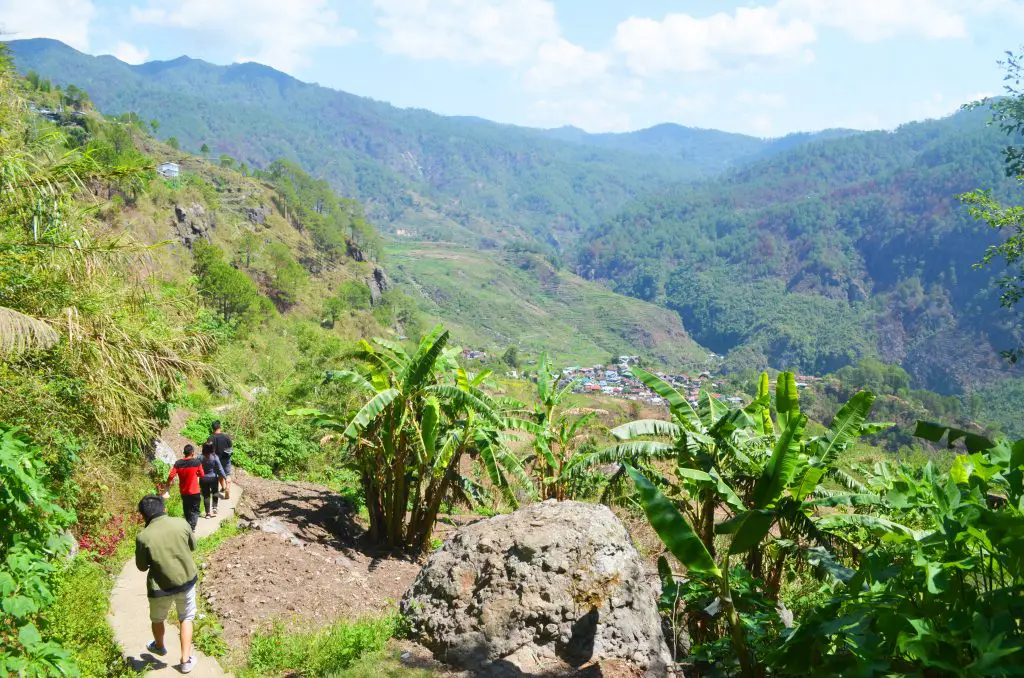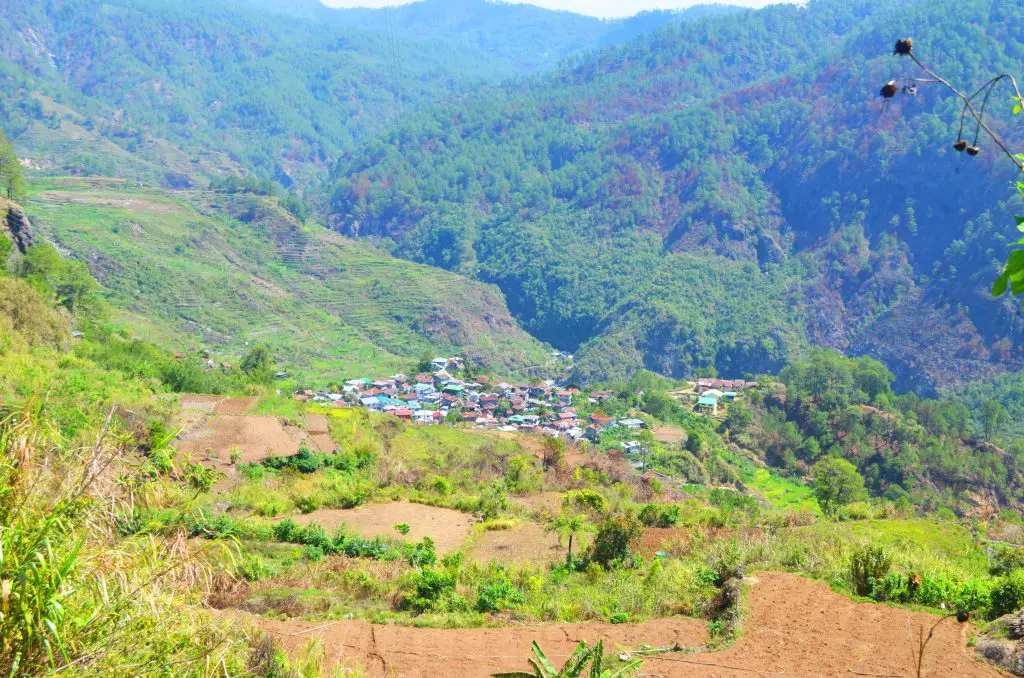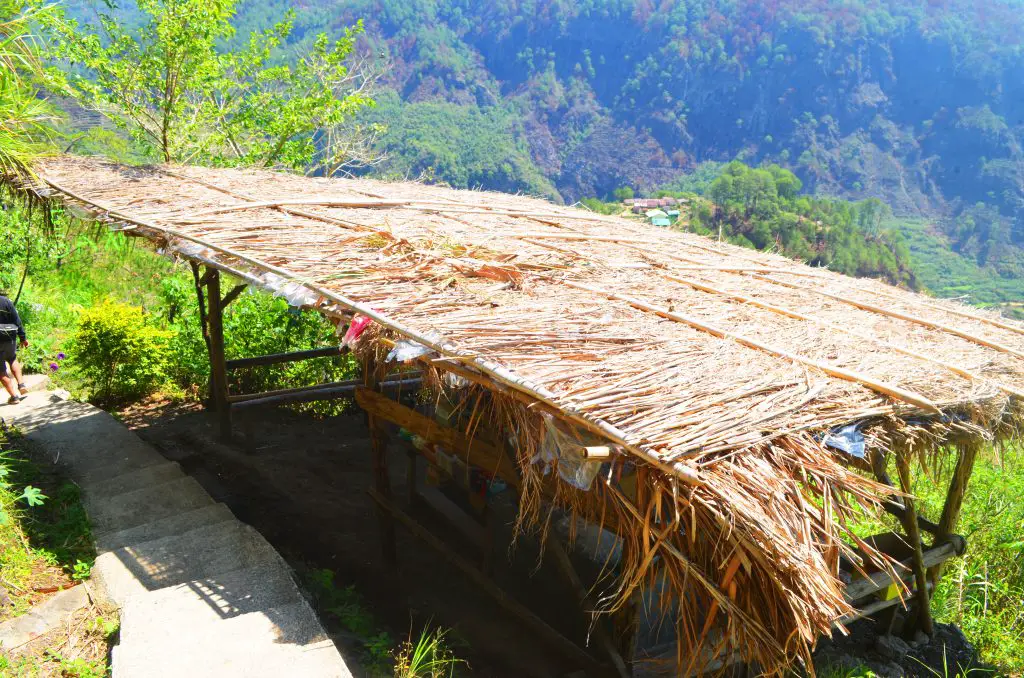 From the initial part of the trail, we could see the head of Bomod-ok falls. Eerily enough, we could also see the long, steep, and winding trail to conquer.
The trail begins on a series of stairs until one reaches barangay Fidelisan, often referred to as, "Pidelisan." Most of the people here are subsistence farmers. Rice is the main crop while sugarcane and coffee are grown on backyards.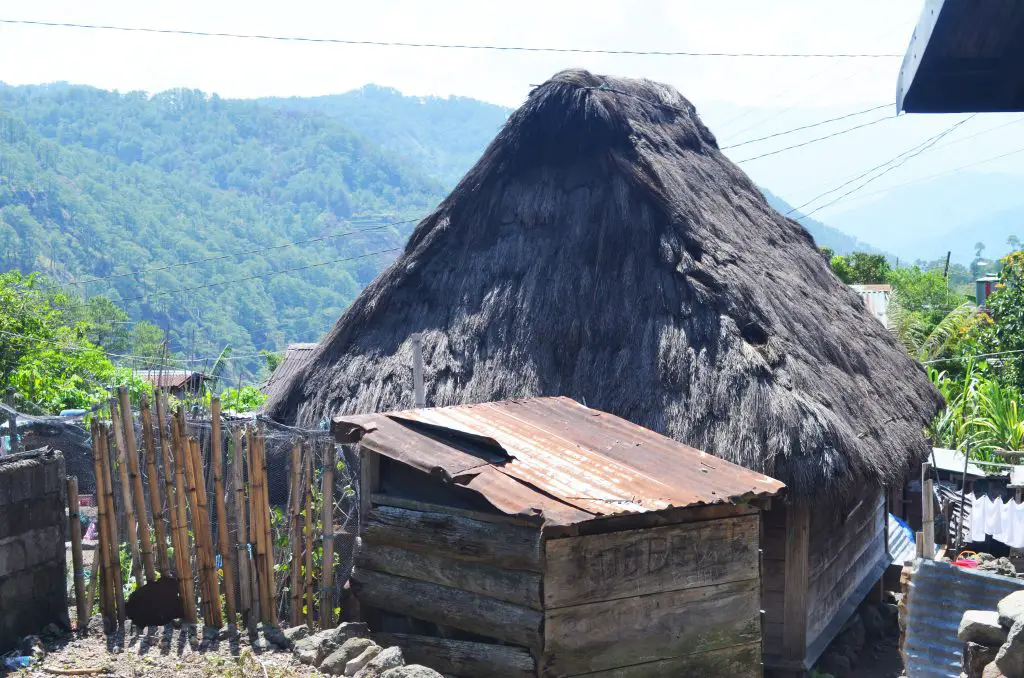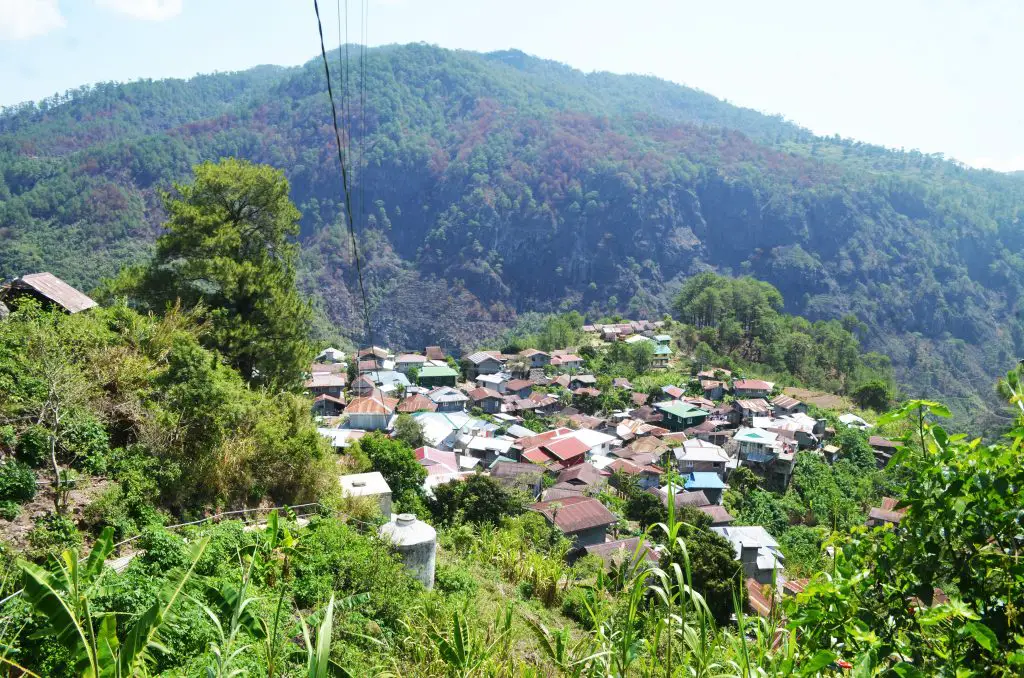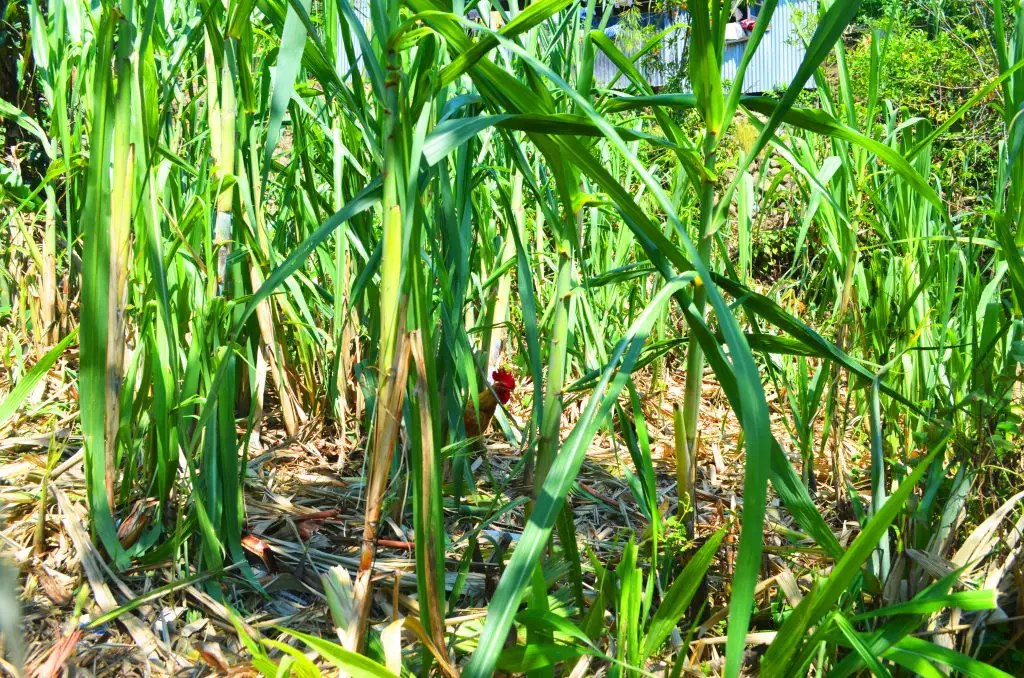 After passing through the Fidelisan village, one treads along beautiful stone-walled rice terraces. These are typical sights when traveling to remote parts of the Cordillera region.
Aside from the terraces, one can also see beautiful mountain views and lush pine forests. During rainy days, towering waterfalls emerge on the mountain slopes.
Prodding On…
Although I got used to more difficult hikes on extreme terrains, the simmering midday heat presented a bit of a challenge for me as we continued with the trek to Bomod-ok Falls.
But the ravishing sights of newly-planted rice terraces, the smiles of the locals, and the laughter with friends made me enjoy every moment of the trek.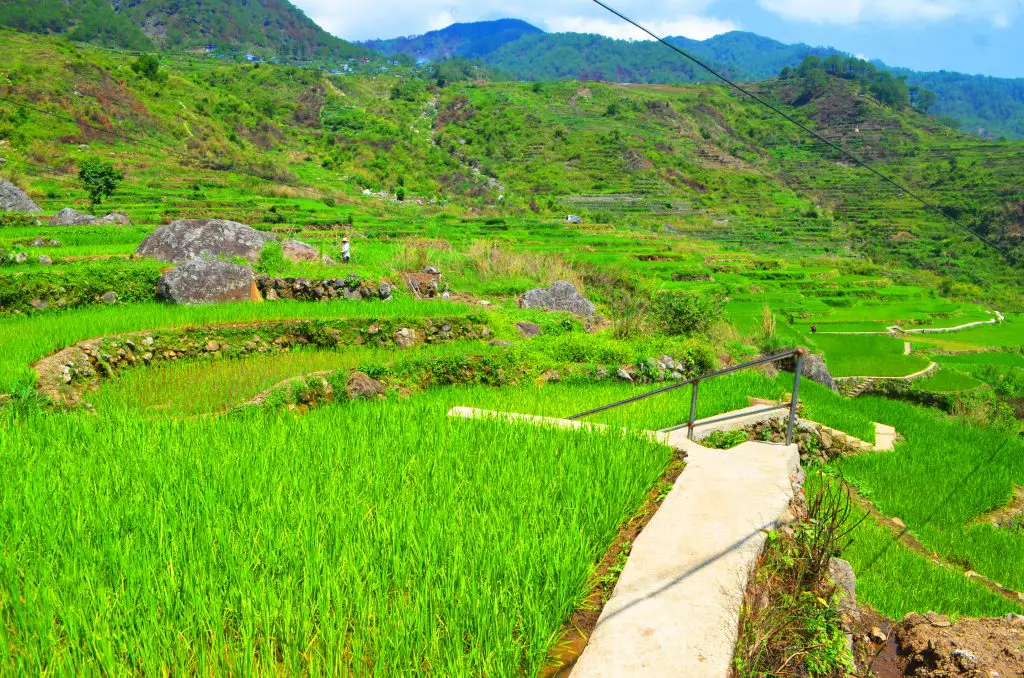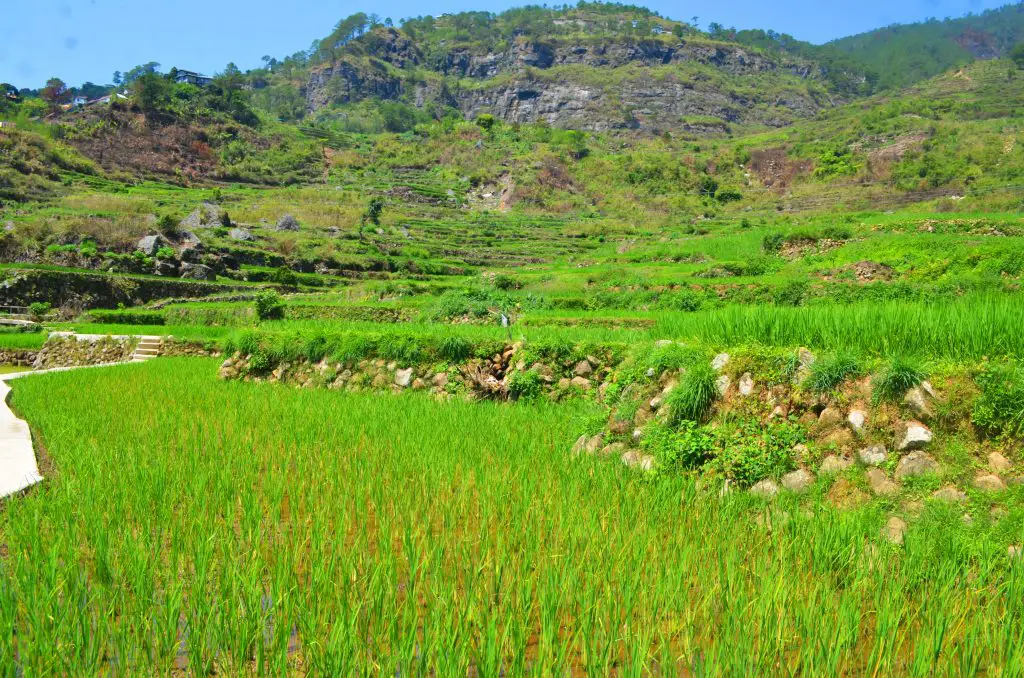 After some 30 minutes of gentle walking and then hopping and running, we finally reached Bomod-ok Falls. Ah, even though I've seen it many times before, I could not help but just be blown away by its picturesque beauty.
It was like I was seeing it for the first time. The gushing waters cascading like drizzles immediately relieved me of exhaustion.
READ: Bokong Falls (DIY Travel Guide): Everything you Need to Know
Behold the Beauty of Bomod-ok Falls
Personally, gazing at Bomod-ok Falls is more than enough to make the adventure all worth it. But of course, I could not spare myself from experiencing how cold it is.
Cascading for more than 50 meters, Bomod-ok Falls carved a wide and very deep pool. Beautiful limestone rock formations surround it.
Without a second thought, I then bared myself (not totally), and from one of the surrounding cliffs, jumped right into the deep pool. It was…an exhilarating dip!
I could feel every part of me harden but eventually my body adjusted to the point that I could already tolerate the water's coldness.
Oh, what a heavenly way to soothe myself and just relish the magnificent view of Bomod-ok Falls.
To add to the thrill, I climbed to the base of the waterfall and stood there for a while as its cascading waters give me a rejuvenating massage.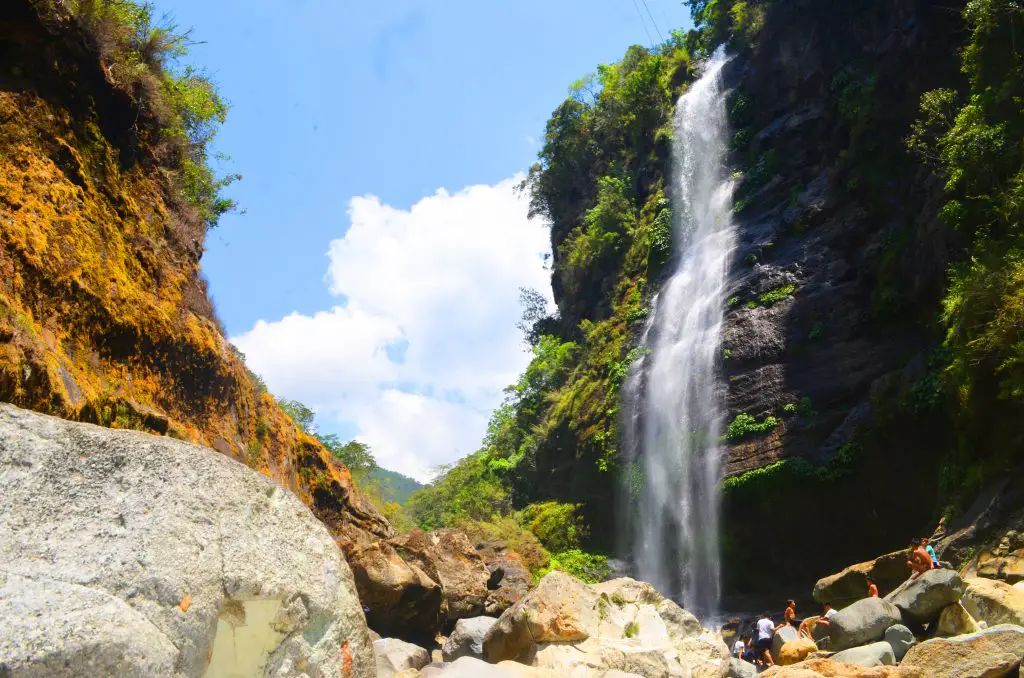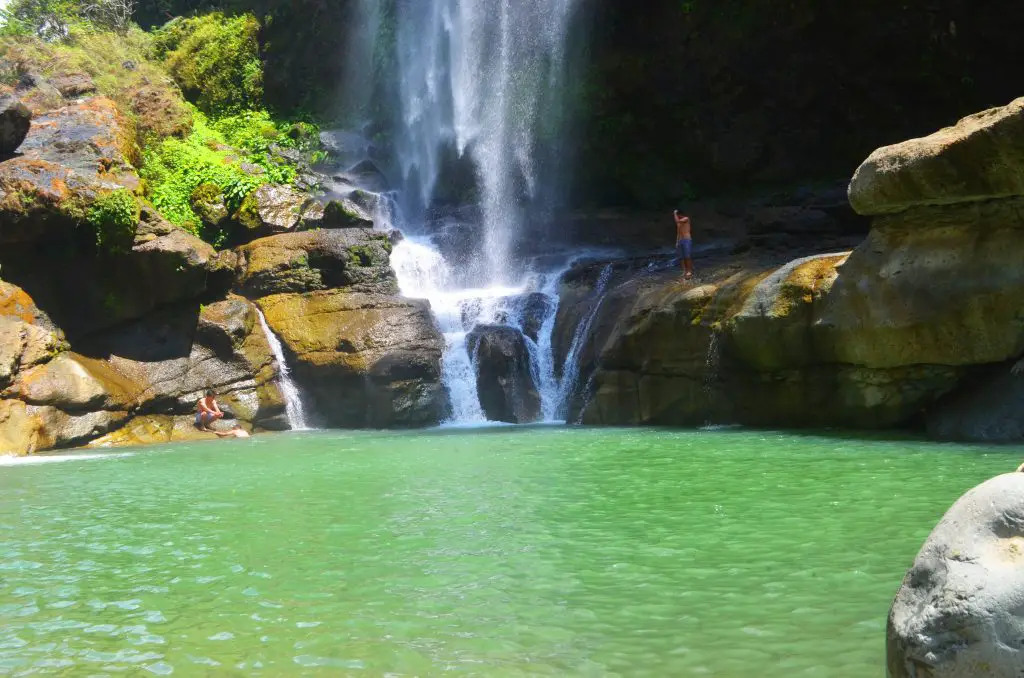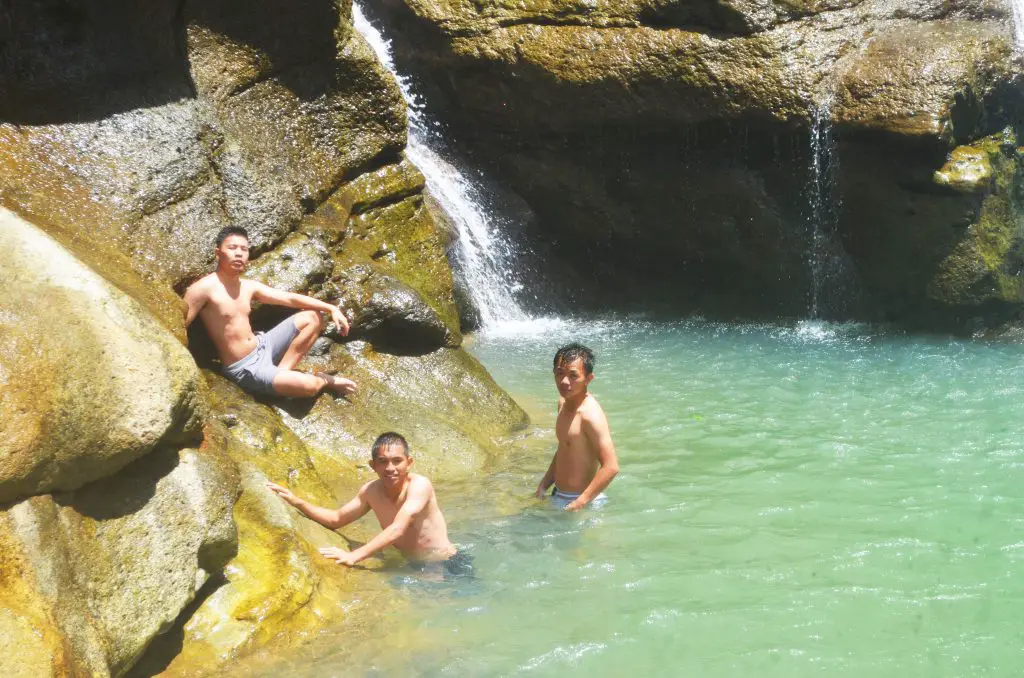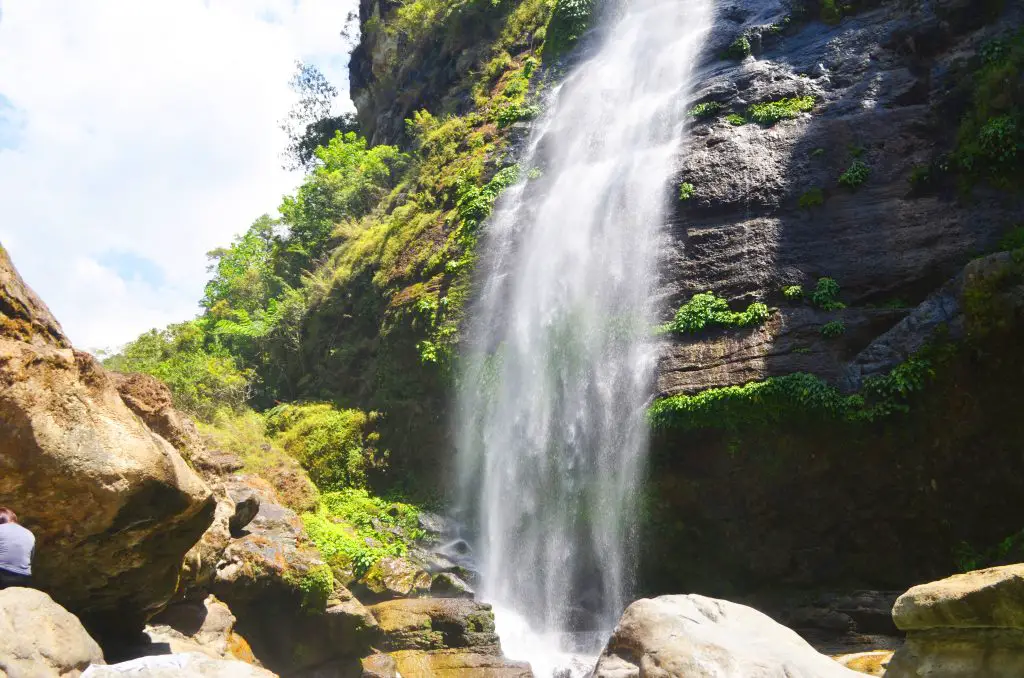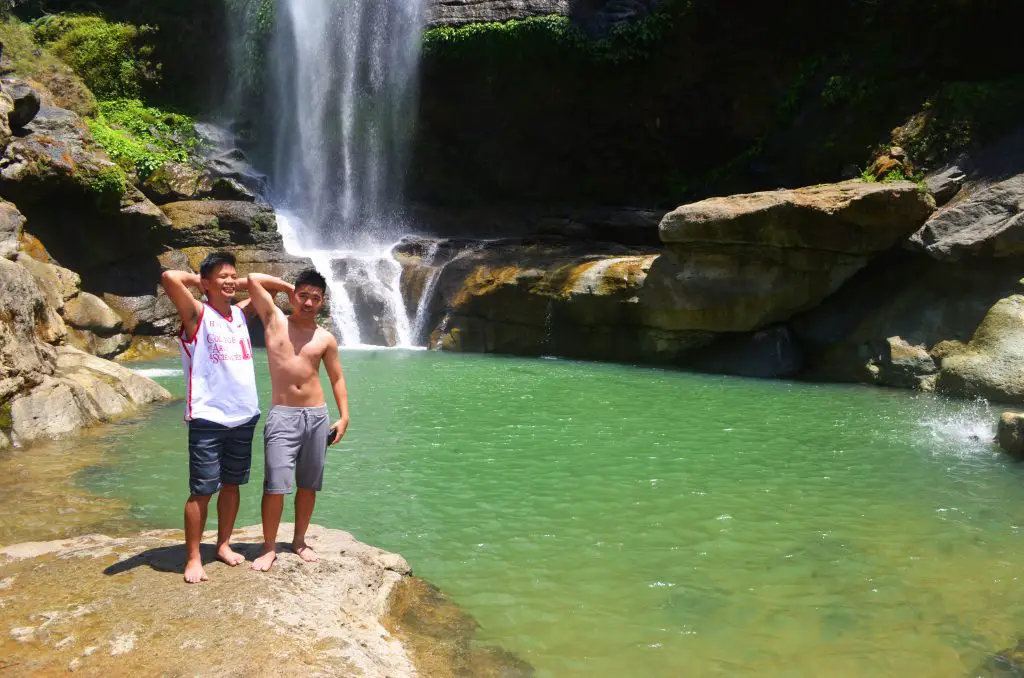 At the shallower parts of the pool, I noticed fingerlings of native fish species commonly found in Cordilleran rivers. The presence of these indicates that the waterfall and the river remain relatively clean and healthy.
Hopefully, the locals will maintain so because Bomod-ok falls is indeed both a natural and cultural treasure.
Trekking Up to the Jump-off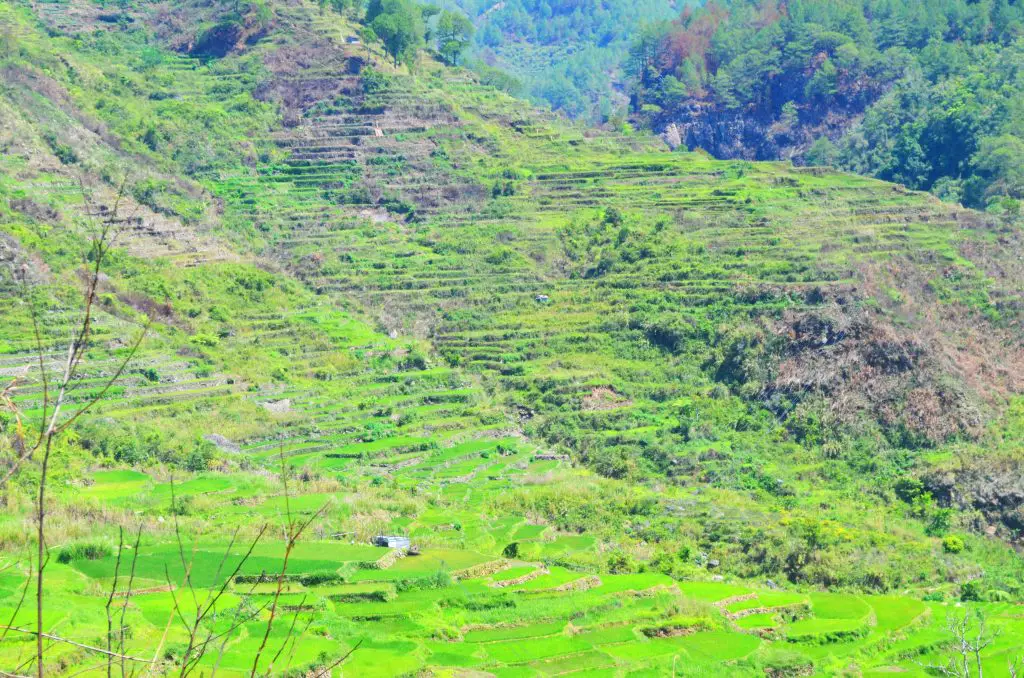 There are no required time limits when immersing at Bomod-ok falls. But get ready once you're done, it's a long and uphill hike of going back to the road.
Just like what I always do when I set off to adventures, I never think about the difficulty or length of the trail. That could only tire and exhaust me even more.
Instead, I bask on the scenes around. I look at the flowers, the hopping insects, the flowing waters, the swaying trees, and just internalize my amazement to these.
Somehow, relishing and appreciating the sights are enough to keep me going.
If you feel like drinking, there are make-shift booths along the way. Once you reach barangay Fidelisan, you can drop by on the several stores found there.
If I were you, I would mingle with the locals, share stories with them, crack casual jokes, and more importantly, listen to their stories. Some locals are shy when seeing visitors for the first time but once you are able to open up to them, they could have endless thoughts or words to say.
Now, that is one way for you to have a meaningful experience while learning about their place and culture.
Try Speaking Local Utterances
As goes a popular adage, "When in Rome, do as the Romans do." In the same way, you can also try conversing with the locals using their language. This is especially helpful in building rapport with the community.
Kankanaey is the main language in Sagada. Take note, this is different from the Kankanaey language of some communities in Benguet. I get it. You don't need to be well-versed.
But you can at least try common utterances such as the following. Have fun learning and using them:)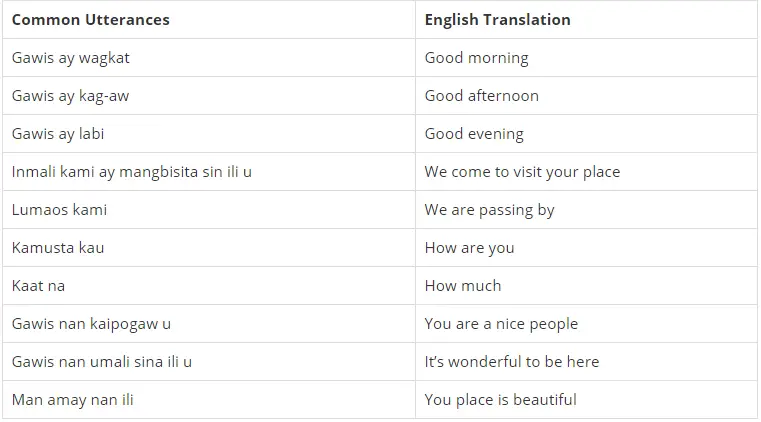 For your Information
If you need more information to help set up your itinerary to Bomod-ok Falls in Sagada, do contact the Municipal Tourist Information Center via the following:
Contact Number: 09171345353, 0908 757 6444
Email: sagada.mayor@yahoo.com