Sagada hides many hidden waterfalls. One of which is the majestic Pongas Falls, located on the southern barangay of Ankileng.
It was a Saturday when I and my younger brother rode on a motorbike to Sagada from neighboring Bontoc. I've always wanted to see Pongas Falls especially when I saw pictures of it from my friends. "This must be huge," I told myself.
Frankly speaking, we did not register at the Information Center and hire a guide. We are locals so there is no need. So we rode straight to where the road ends at Ankileng. If you're a tourist, however, please strictly follow local guidelines and protocols.
How to Get to Pongas Falls
Before proceeding to any of the tourist spots in Sagada, tourists should first register at the Sagada Genuine Guide Association (SaGGAs)/ Sagada Environmental Guides Association (SEGA) office which is located near the municipal hall. There, pay the environmental fee of 50 pesos per person.
Tours are organized and you have different packages to choose from, depending on your planned itinerary.
Pick your guide and rent a van to Ankileng at southern Sagada, the jump-off point to Pongas Falls. Van rental from here to Ankileng costs 650 pesos and guide fee is 600 pesos for a maximum of 10 persons. The same rates apply whether you are traveling solo or with a friend.
The ride to Ankileng takes more or less 20 minutes.
Hiking your Way to Pongas Falls
The road ends at a certain sitio of barangay Ankileng. A few meters away from there, we reached a steel hanging bridge overlooking a beautiful river below. We paused there for a moment to just marvel at the stunning sights around. I also noticed a man-made swimming pool beside the river.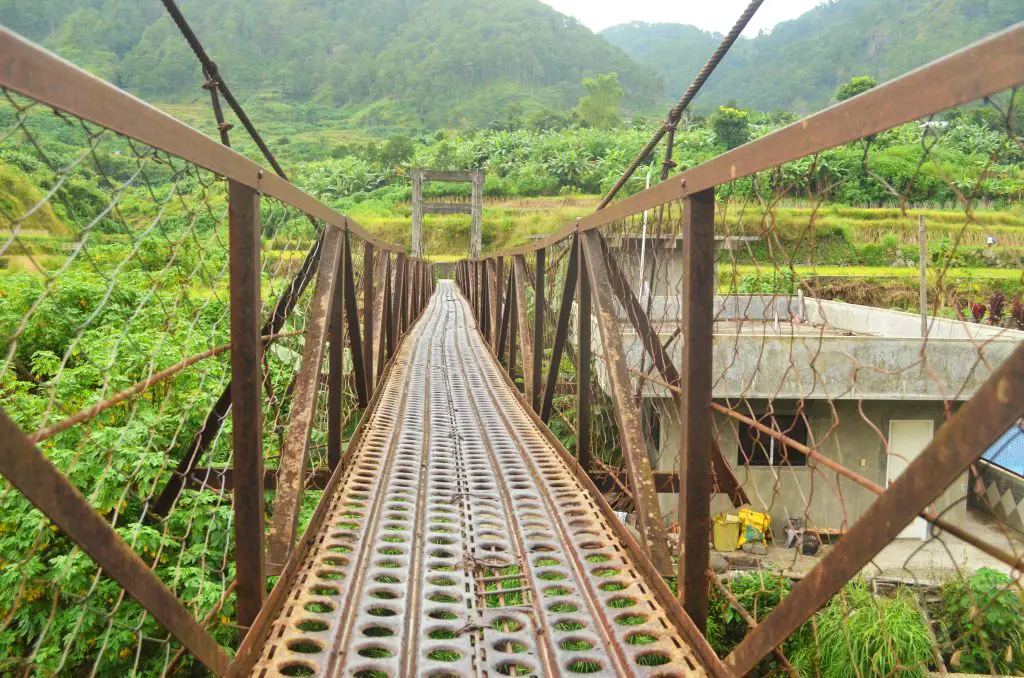 From the bridge, we followed a paved and narrow path until we reached Ankileng village. It's a very peaceful town and during our visit, we only saw a few people outside their homes. I surmised they must have gone out to tend on their farms. Even the barangay hall was closed. Obviously, it was a Saturday.
When we reached the end of the village, we noticed that the path had diversions. I was not sure which one to follow that leads to Pongas Falls. Thankfully, a group of kids passed by and when we asked them the way, they happily pointed directions.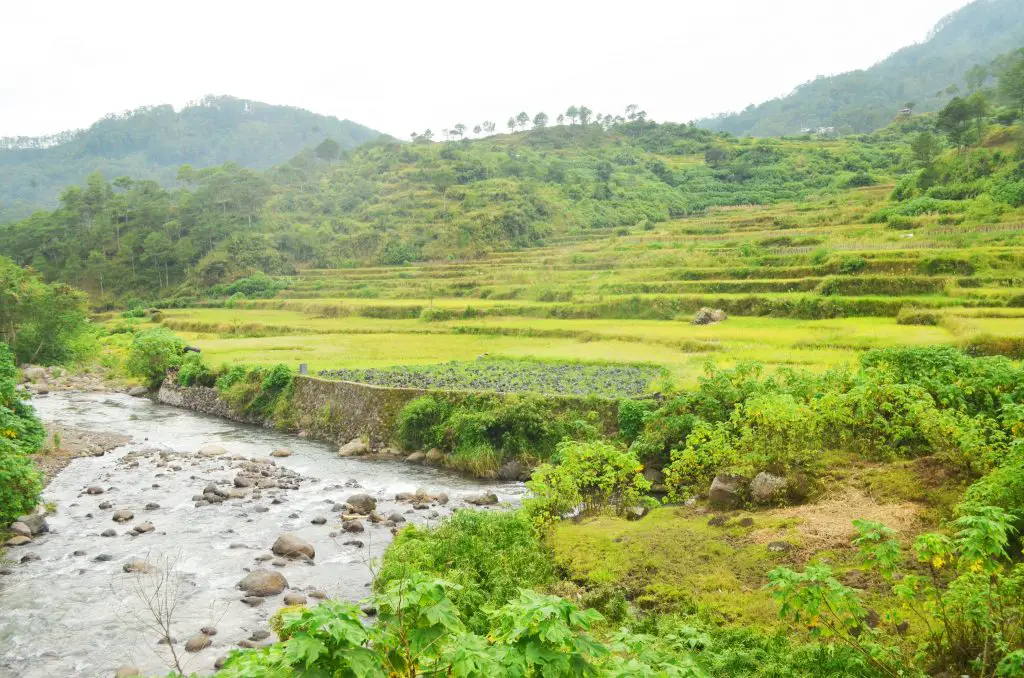 After passing through the village, we reached a steep part of the trail. It was a long staircase. 30? 40? 100? I don't exactly remember how many steps we had to assault. But I could vividly recall that I was heavily panting that time especially that I haven't hike for a long time. Thankfully, the lush pine forests and the beautiful views of the village gave us constant relief.
Prodding On…
We then reached an irrigation canal which leads straight to the brook feeding Pongas Falls. With swelling eagerness, we hastened our pace so we could immediately swim after that exhausting assault.
But we had to be careful as we trailed on the canal. Any reckless move can lead to a dangerous fall and God knows what's next. It took us another 10 minutes before we finally reached Pongas Falls. All in all, it took us 30 minutes from the jump-off point. But for others, it could take an hour or two.
I suggest you visit the waterfall during the early morning so you won't have to contend with simmering midday heat as you conquer the steep and winding trail to Pongas Falls.
Behold Majestic Pongas Falls
Upon seeing Pongas Falls for the very first time, my jaw literally dropped. I could not help but shout in sheer amazement. Well, I was brave to do that because there were only the two of us that time. As I marveled on the falls, I felt my worries gradually dissipate, making me feel relaxed.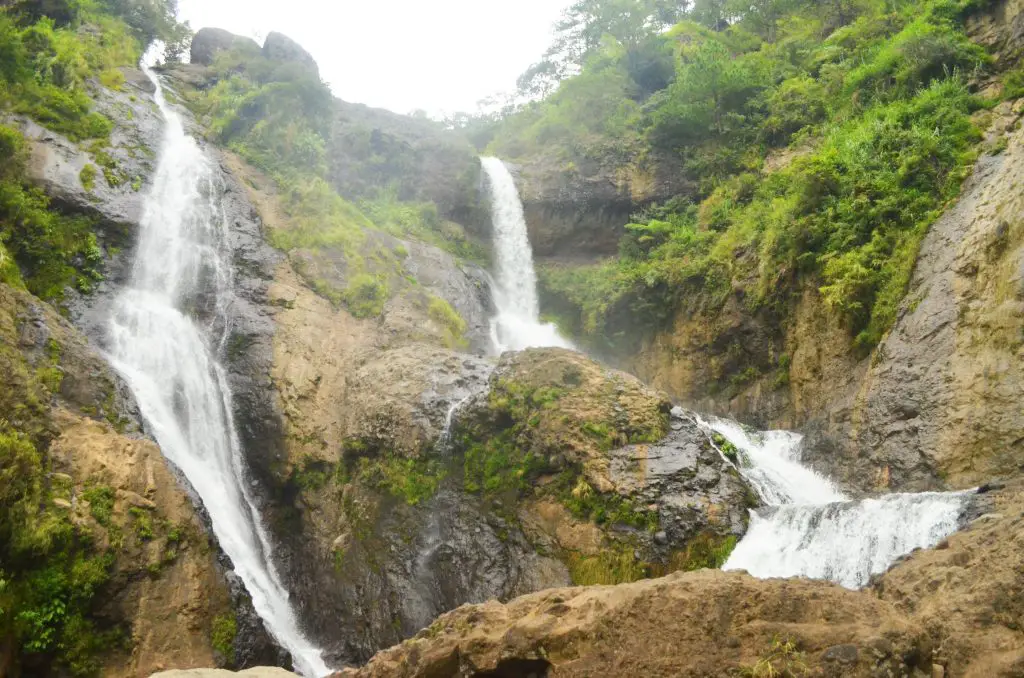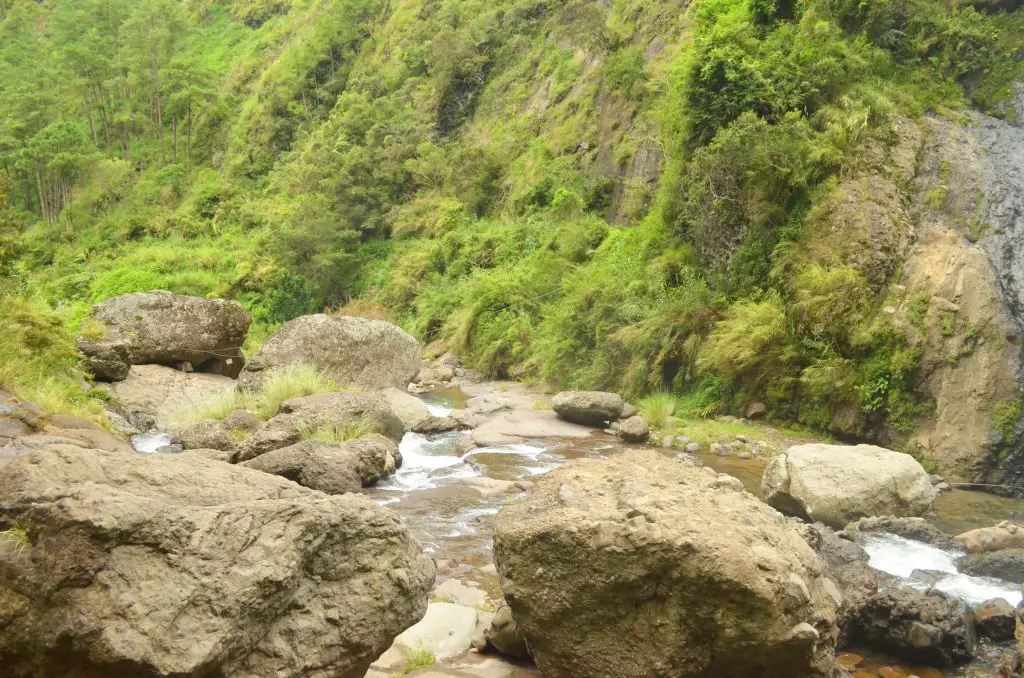 Pongas falls measures around 40 meters high, making it one of the grandest falls in Sagada. It has small pools surrounded by big boulders. Choose any of the rocks and take Instagrammable photos for as long as you want.
We were supposed to swim but we noticed that it was getting darker and rains could start at any moment. We just had to enjoy the moment by sitting on one of the rocks and gazing at the majesty of Pongas Falls. There's just nothing like it sitting still while the chilly mists give a caressing touch on my skin and soul.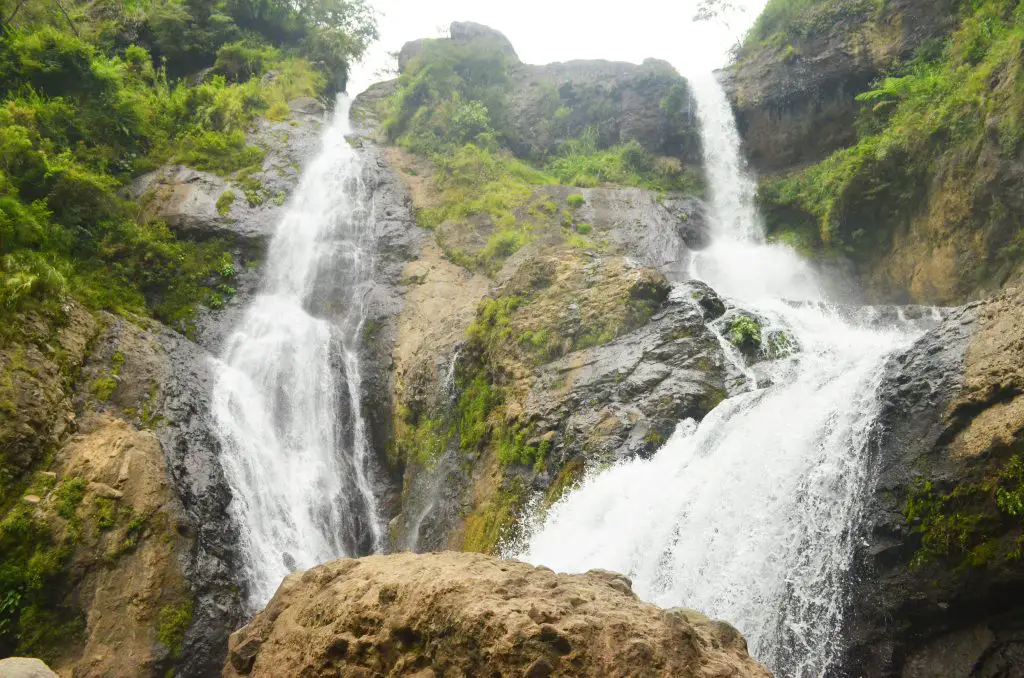 After some minutes, I and my brother eventually trekked back to the village before the rains catch on us. It was a brief encounter but I can say it was enough to unload me of the pressures and exhaustion wrecked to me by what we call "work." I felt so rejuvenated and reconnected to my inner self. We went home with so many memories to last a lifetime.
Thank you Pongas Falls!
Frequently Asked Questions
Can I go there alone? No. Every tourist is required to avail of a guide when visiting Pongas Falls given its remoteness and the difficulty of the trail. You can get one from the SaGGAs' Registration Office or avail a guide from the barangay of Ankileng.
Is it safe to go there on a rainy day? Tourists are advised to visit here just after the rains or during sunny days.
Is it suitable for hiking beginners? That depends. If you were able to hike to a community or a mountain for 30 minutes, then you can make it to Pongas Falls as well. The trails are paved but expect steep parts.
Is there an entrance fee? Yes. Upon reaching the barangay hall in Ankileng, each person will pay Php 30.
Which tour package can I avail to include Pongas Falls? SaGGAs organizes a package with the following tour guide rates:
| | | |
| --- | --- | --- |
| Number of Persons in the Group | Guide Fee | No of Guides Required |
| 1 – 10 | Php 600 | 1 |
| 11 – 15 | Php 800 | 1 |
| 16 – 20 | Php 1,200 | 2 |
| 21 – 30 | Php 1,600 | 2 |
| 31 – 40 | Php 1,800 | 3 |
| 41 – 45 | Php 2,400 | 3 |
Tips and Reminders
Never litter. Let us help keep Pongas falls clean and green.
Bring bottled water or two.
Wear comfortable hiking shoes.
Bring extra clothes if you plan to take a bath or swim at Pongas Falls.
Bring an umbrella to protect you from the sun or rain. Wear caps if you may.
Always pay the registration fee of 30 pesos per person at the barangay hall before proceeding to the falls.
Smile with the locals. Share casual stories with them if you may.
Refrain from Public Display of Affection (PDA) and please don't wear mini-shorts or revealing clothes. Remember. You are in a cultural and conservative community. Respect that.
Don't smoke, please.
Take extra caution when taking pictures. You might end up slipping.
Try Speaking the Local Language
As goes a popular adage, "When in Rome, do as the Romans do." In the same way, you can also try conversing with the locals using their language. This is especially helpful in building rapport with the community.
Kankanaey is the main language in Sagada. I get it. You don't need to be well-versed. But you can at least try common utterances such as the following. Have fun learning and using them:)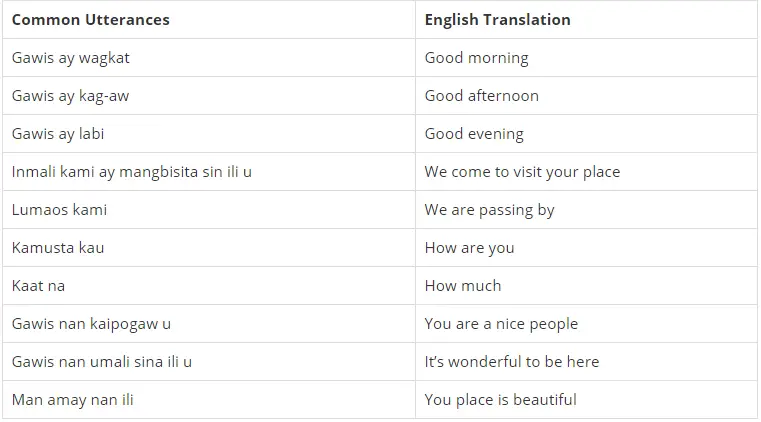 For your Information
If you need more information that may help in setting up your itinerary to Pongas Falls, contact the following:
Sagada Tourist Information Center: 0917 134 5353
Sagada PNP: 0908 2258115
Related Articles: