Planning to visit Bokong falls? Here is a complete travel guide to help you out!
Sagada hosts numerous waterfalls of which Bomod-ok falls and Pongas falls are the most popular. To reach them, however, you'll need to ride a vehicle and hike for an hour or two.
If you're not into that or you lack the time, you might as well explore Bokong falls. It's just a walking distance from the town center. You can visit it as part of a tour package or on a do-it-yourself (DIY) mode.
Here goes.
How to Get to Bokong Falls
Before visiting any of the tourist spots in Sagada, make sure to register at the Sagada Genuine Guide Association (SaGGAs)/ Sagada Environmental Guides Association (SEGA) office which is located near the municipal hall. There, each person should pay the environmental fee of Php 50.
Bokong falls is just two kilometers away and can be reached via 30 minutes to one hour of trekking. Here is what you need to do.
Follow the road leading to Brgy Bangaan in northern Sagada. You will pass by one of Sagada's weaving centers and a local photography shop. Don't hesitate to ask the locals you meet to give you directions.
Once you come close to a pine forest fronting a steep curve of the road, look for the narrow trail by the left. There is a steel railing and once you passed this, just follow the dirt path all the way down. You'll pass by a wooden shack where you can take a break or snack. Continue the trail until you will reach Bokong falls.
Behold the Beauty of Bokong Falls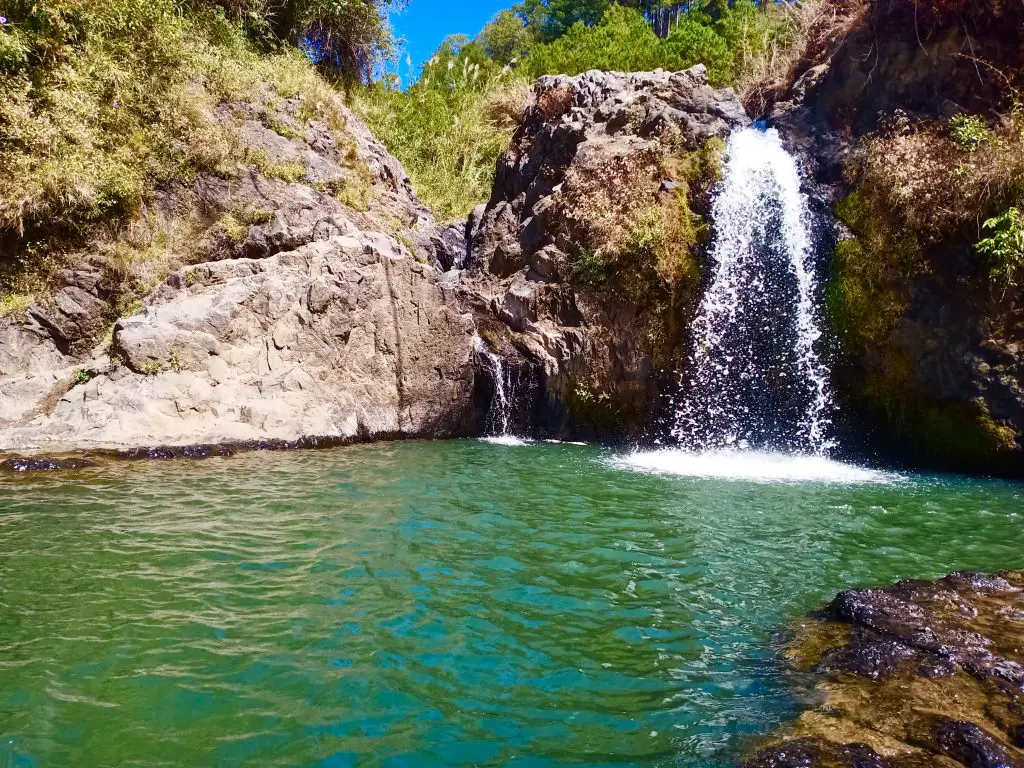 Bokong falls may not be the highest falls in Sagada. But it does have its own special features to offer. Besides, if you love chasing waterfalls, it's one that you should not miss.
The waters of Bokong falls emanate from pine forests further upstream, passing along rice terraces. It is a twin falls, measuring around 20 feet high. It may be small but it carved out a very deep pool.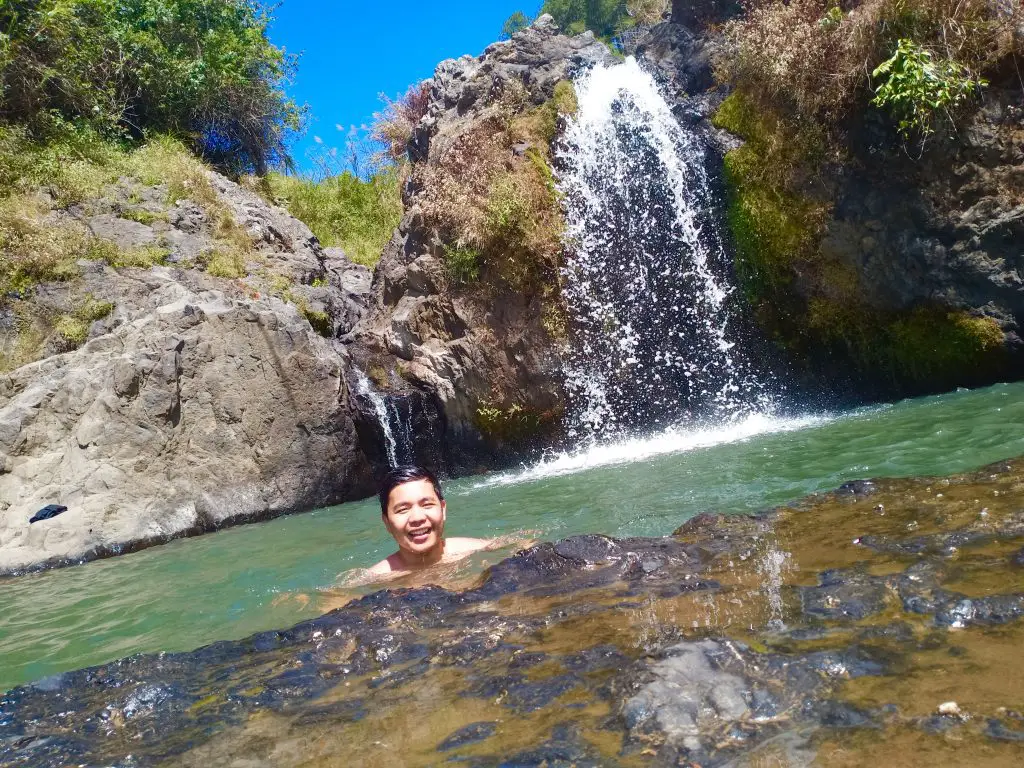 One way to make the most out of your visit is to jump from the top of Bokong falls to the pool. Just make sure you know how to swim. Unlike in Bomod-ok falls or Pongas falls, the waters here are less colder.
If you follow the brook downstream, you'll reach the mouth of Sagada's Underground River. But never proceed if you don't have a guide. If you want to explore it, register on one of the tour packages which include both Bokong falls and the Underground River.
READ: Sagada Underground River (Complete DIY Travel Guide)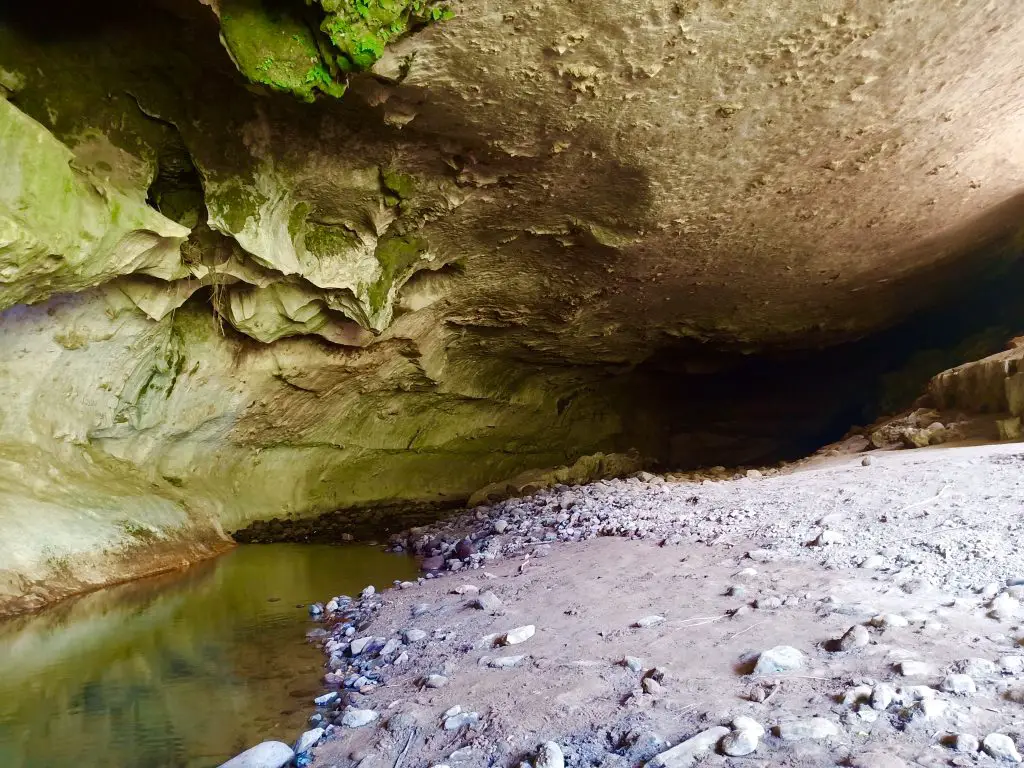 Frequently Asked Questions
Is there an entrance fee at Bokong Falls? – None
Is it safe to visit Bokong Falls just after a rainy day? – That depends. To assure your security, do avail of a guide.
What if I get lost? There are nearby houses and you can meet locals while on the way to and from Bokong Falls. Don't hesitate to ask for directions.
Which tour package can I avail to include Bokong Falls? SaGGAs has a Sight Seeing Tour Package which includes the falls. For a group of 1-10 persons, one guide is required. Rate is Php 800. For 11-15 persons, only one guide is also required with a fee of Php 1000. For 16-20 people, 2 guides are required and the rate is Php 1,600. Take note. This tour package includes other nearby tourist spots in Sagada such as Lake Danum, Sagada Weaving, Echo Valley, and the Underground River Entrance. (Rates are as of June 10, 2018)
Can I visit Bokong falls only? Yes. If you're not into DIY, you can join the Escort Tour organized by SaGGAs. Escort Tour is a term used when you will just visit one spot within or near Sagada town including Bokong falls. For 1-15 persons, a guide is required. Rate is Php 300. (Rates are as of June 10, 2018)
For updated fees/rates, do check Sagada Genuine Guide Association (SaGGAs) website.
Tips and Reminders
Never litter. Let us help in keeping the tourist spots in Sagada clean and green.
Please don't make use of soaps or shampoo when bathing on the falls except if these are organic. Let's not pollute the water.
If you are a non-swimmer, make sure you have a guide around.
Don't hesitate to ask the locals for directions.
Bring your own bottle of water and snacks. The store near Bokong falls is sometimes closed.
Bring extra clothes if you plan to swim or take a bath.
Wear comfortable hiking shoes.
Don't wear bikini or revealing clothes. Remember. You are in a conservative and cultural community.
For your Information
If you need more information that will help in planning your Bokong falls itinerary, do contact SaGGA/SEGA: 09295569553.
Let us know what else we can add on this article. Relay your recommendations on the comment section below.
Related Articles