Here is your complete travel guide to Camiguin Island tourist spots. We also included not only the most famous attractions but also the laid-back destinations and the most popular things to do in the island.
Camiguin Island is a pear-shaped island in Northern Mindanao. it is now of the leading eco-tourism spots in the Philippines. It's ridge to reef landscape teems with a variety of eco-cultural wonders.
Among these are cascading waterfalls, mossy forests, thermal hot springs, colorful corals, and powdery, white-sand beaches. Add to that historic churches and sacred sites leased with a lot of interesting stories. It's a paradise of wonders rolled into one.
If you're planning to visit, here are the tourist spots in Camiguin Island you should not miss. Take note. Most of these are off-beaten, thus, ideal for people who prefer secluded destinations.
Behold Camiguin Tourist Spots!
1. Mt Hibok-Hibok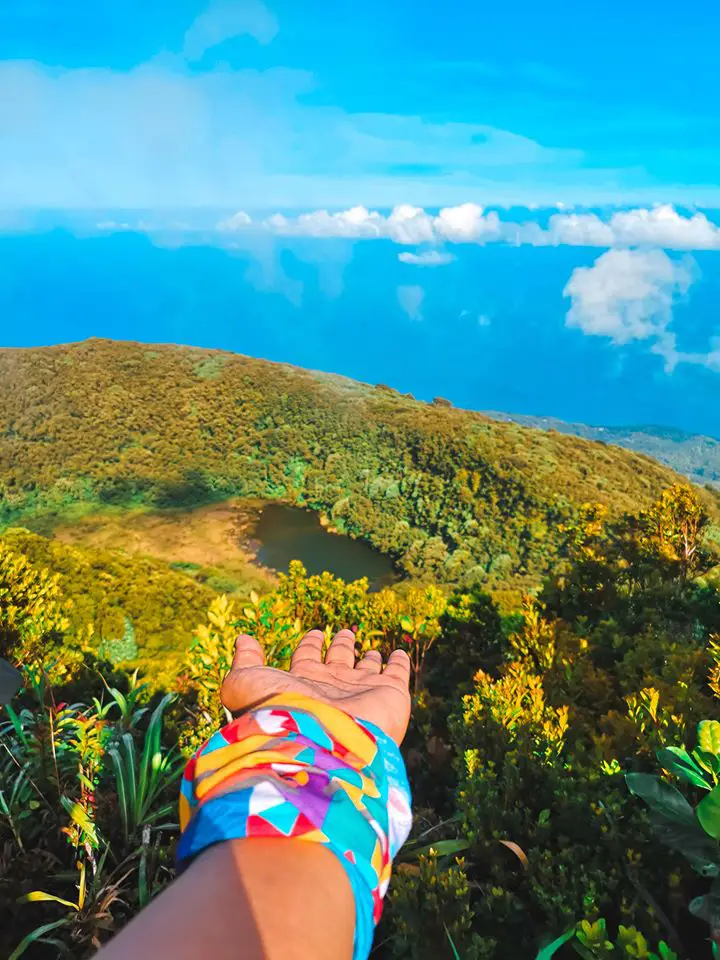 Mt Hibok-Hibok is the dominating landscape of Camiguin Island. It is said that the eruption of the mountain gave birth to the island. Today, dense rainforests cover most of the mountain and is a critical ecological sanctuary. Many endangered species including deer, wild pigs, civet cats, and different kinds of birds inhabit its forests.
The mountain rises to more than 1,322 meters above sea level, making it an easily recognizable landmark in the island. While atop, one can see a small lake surrounded by a lush vegetation. It is one of the most beautiful places to visit in Camiguin for nature lovers and extreme adventurers.
Location/Jump-off: Mambajo
Trekking Time: 3-4 hours to the summit
2. White Island/Medan Island
Dubbed as the Naked Temptress of Camiguin, the White Island/Medan Island is one of the top Camiguin tourist spots. It's an elongated island that is entirely composed of powdery, white sands.
Crystal-blue waters add to its enthralling view. It's best to come here during the early morning to catch sight of a stunning sunrise.
Location/Jump-off: Paras Beach Resorts, Brgy Yumgbing, Mambajo
Boating Time: 10 minutes
Boat Rental: Php 450 in Yumbing Area
Entrance Fee: Php 50 per person
3. Katibawasan Falls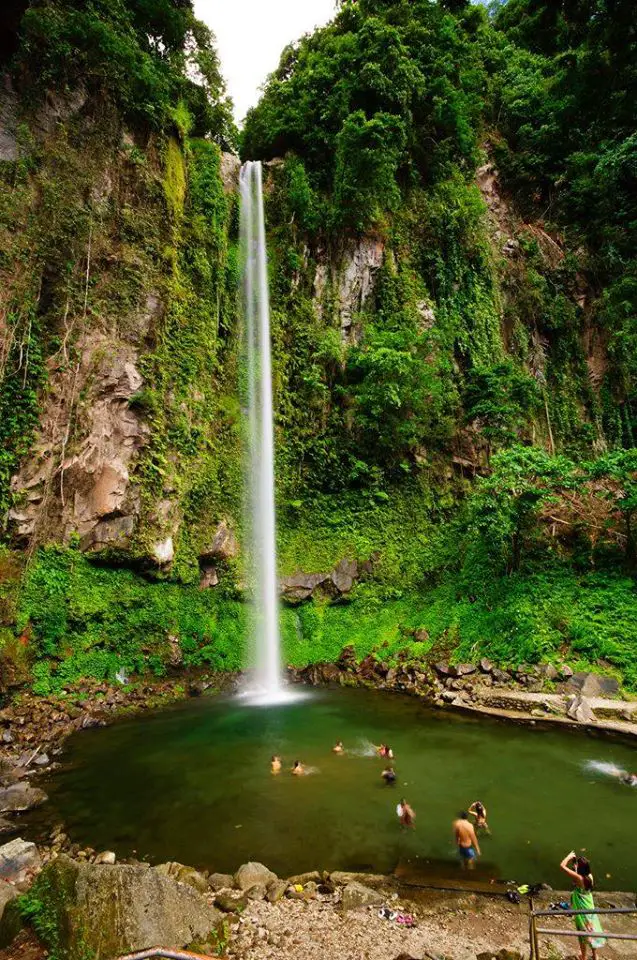 Katibawasan Falls is one of the most frequented Camiguin tourist spots. It cascades like heavenly drizzles for more than 250 feet high. It has a wide pool with icy-cold and crystal-clear waters. Lush forests surround Katibawasan Falls, giving it a rustic view.
Location/Jump-off: Barang Upper Pandan
Entrance Fee: Php 50
4. Giant Clam Sanctuary
If you wish to have an encounter with the rich marine wildlife of the Philippines, check out the Giant Clam Sanctuary. As the name suggests, you'll encounter giant clams which are an endangered species.
Thankfully, this sanctuary gives a glimmer of hope for the preservation of the species. Therefore, you're helping protect giant clams if you come here.
Entrance Fee: Php 150 per person
5. San Nicolas de Tolentino Parish
San Nicolas de Tolentino Parish is a witness to the rich history of Camiguin Island. Built by Spanish missionaries in the 1800s, the church may seem minimalist outside but when you go inside, you'll be amazed at the extricate design.
Location/Jump-off: Mambajao
6. Mantigue Island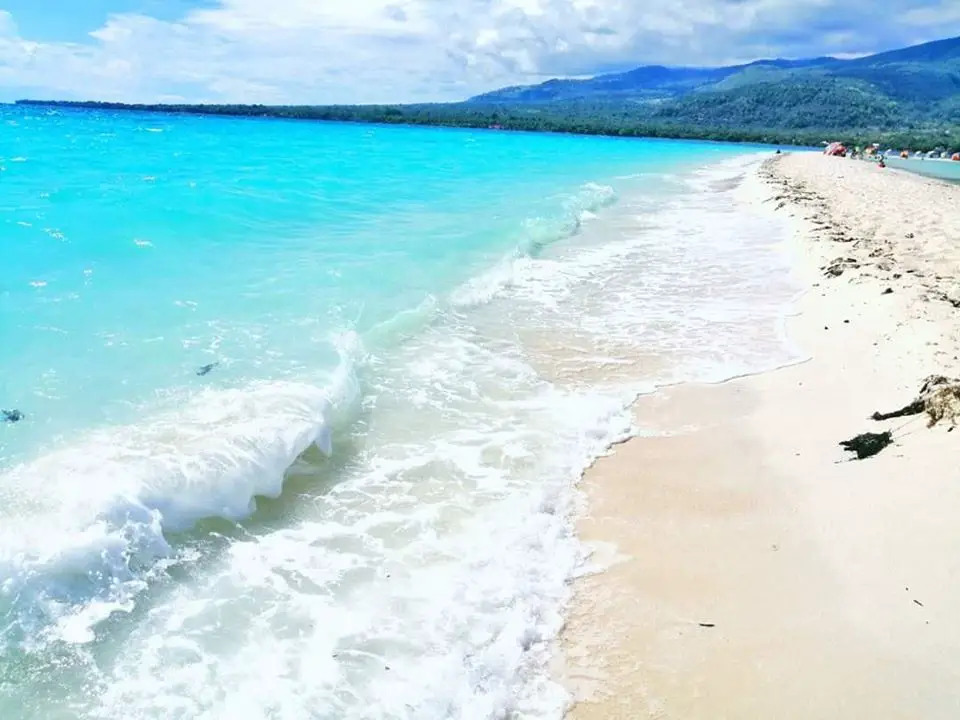 Mantigue Island boasts of powdery, white beaches and crystal-clear waters that will surely leave you jaw-dropped in every direction.
The waters abound with a rich diversity of marine life which you can see while riding a boat or swimming. Coral reefs also thrive, making it ideal for snorkeling.
Location/Jump-off: Brgy San Roque near Benoni Ferry Terminal
Boating Time: 15 minutes
Boating Rental: Php 600 for a maximum of 6 people
Environmental Fee: Php 30
Snorkeling Fee: Php 50
Mask and Snorkel Rental: Php 100
7. Taguines Lagoon
Taguines Lagoon is a man-made destination sitting right next to the blue ocean. The most popular activity here is zip-lining from one end of the lagoon to the other.
Several seafood restaurants also line the lagoon, serving exotic meals to satisfy your cravings.
Location/Jump-off: Mahinog
Zip Line Fee: Php 400
8. Hibok-Hibok Ardent Hotspring
Camiguin is a volcanic island and it's no wonder why there are hot springs everywhere. One of the most visited is the Hibok-Hibok Ardent Hotspring.
Aside from the lush vegetation, you'll get to enjoy the thermal waters and experience their healing properties when you come here.
Location/Jump-off: Mambajo
Entrance Fee: Php 30
Cottage Fee: Php 150
9. Binangawan Falls
Binangawan Falls is one of the least known tourist spots in Camiguin Island. Thus, it is only recommended for ardent adventurers or extreme hikers. Expect to trail on dense forests for hours before finally catching sight of the falls.
Location/Jump-off: Sagay town
Trekking Time: 5-6 hours
10. Sto. Niño Cold Spring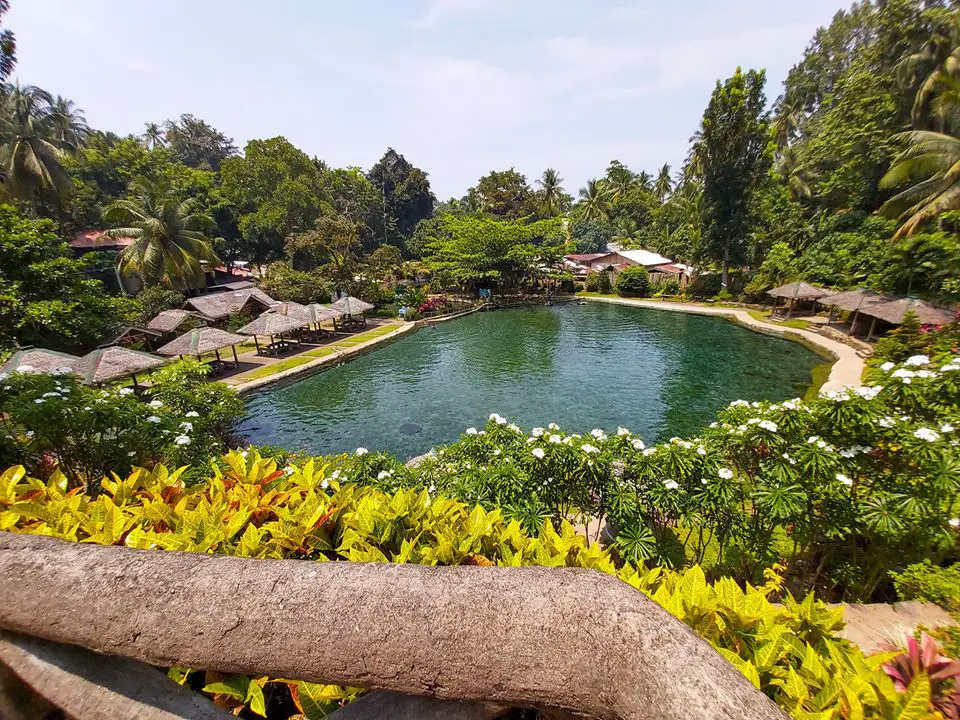 While Camiguin is known for its hot springs, it also has numerous cold springs for those wanting to escape the simmering midday heat. One can easily reach Sto. Nino Cold Spring which has crystal-clear waters. Verdant vegetation surrounds the pool.
Location/Jump-off: Catarman
Entrance Fee: Php 50
11. Saay Cold Spring
If you want a more secluded location where you can have a relaxing dip, check out Saay Cold Spring. Located at the foot of Mt. Hibok-Hibok, it has a small and one medium pool.
The good thing about it? You can come here for free. You can, however, hand out donations to help in the maintenance of the site.
Location/Jump-off: Quipasa, Mambajao
12. Mount Vulucan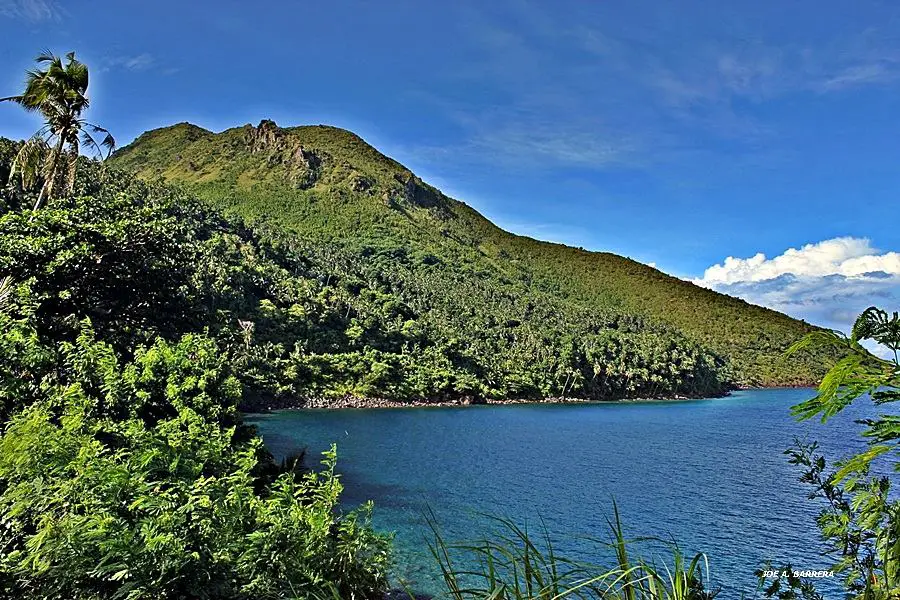 Mount Vulucan is one of the locally-known Camiguin tourist spots. It is a favorite pilgrimage site during the Catholic Holy Week. The Walkway in The Old Volcano is prime attraction and is considered a sacred site.
While atop the mountain, one can also catch a panoramic view of the Sunken Cemetery and the surrounding mountains.
Location/Jump-off: Mambajao
13. Sunken Cemetery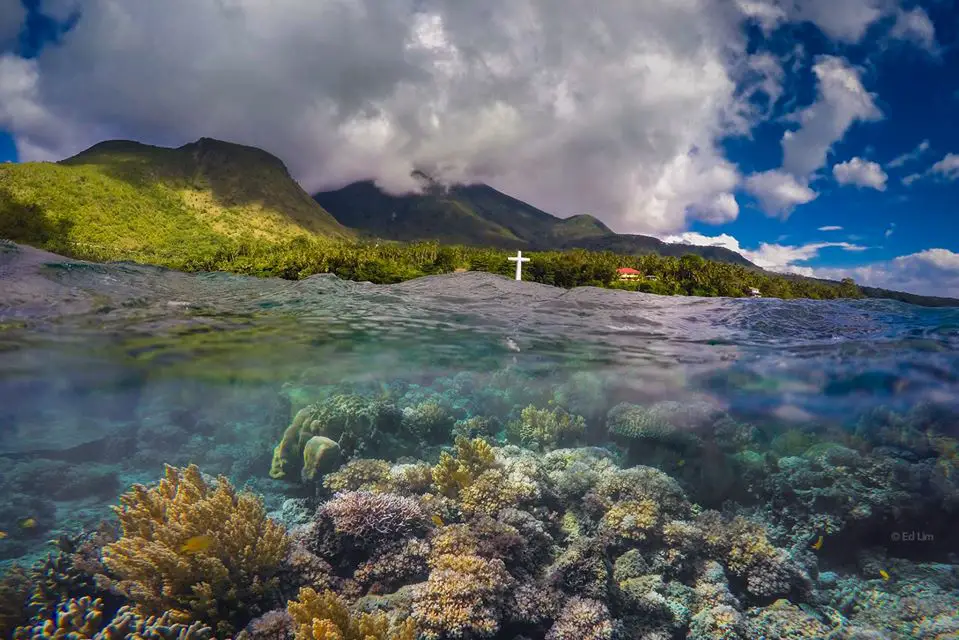 Sunken Cemetery is one of the popular religious Camiguin tourist spots. A huge cross stands atop a structure that is believed to be a remnant of a chapel.
Upon reaching the site, tourists can dive underneath to explore the remnants of the cemetery. Plus, you'll glimpse of the colorful and rich marine ecosystem.
Location/Jump-off: Catarman
Entrance Fee: Php 50
Boat Rental: Php 150
Snorkeling Set Fee: Php 100
14. Mount Mambajao
Standing next to Mount Hibok-Hibok, Mount Mambajao is the highest mountain in Camiguin Island. It rises to more than 1,713 meters above sea level. It also hosts endemic and endangered flora and fauna species. Mount Hibok Hibok is a biological paradise that warrants protection.
To reach the summit, expect to trek on open grasslands and mossy forests. Numerous waterfalls and hot springs can also be found on the mountain slopes.
15. Tongatoc Cove
Tongatoc Cove is one of the least known Camiguin tourist spots. It is a cliff with lush vegetation and a serene-looking cove. It has deep blue waters that will surely entice you for a refreshing swim.
Location/Jump-off: Mambajao
Entrance Fee: None
16. Kibila White Beach
Kibila White Beach is one of the emerging Camiguin tourist spots, known for its giant clams. It has a sanctuary dedicated to this endangered species. The locals protect these clams and sometimes, they willingly guide tourists here for them to appreciate conservation.
Location/Jump-off: Brgy Cantaan, Guinsiliban
17. Tuasan Falls
Tuasan Falls is one of the newly-discovered Camiguin tourist spots. Located two kilometers away from the main Camiguin highway, the falls can easily be reached because of the newly-paved road leading to it. It measures 30 meters high and has carved a small pool with churning waters.
Lush forests also surround the waterfall, adding to the rustic scenery. The waters are crystal-clear that one can't help but take an invigorating jump upon seeing Tuasan Falls.
Location/Jump-off: Catarman
Entrance Fee: Php 50
18. Gui-ob Church/Old Spanish Church
The Gui-ob Church or the Old Spanish Church was destroyed during a volcanic eruption decades ago.
Today, only remnants of the church remain and these are partly submerged by volcanic debris. It is one of the historical Camiguin tourist spots. It is considered a National Cultural Treasure of the Philippines.
Location/Jump-off: Bonbon, Catarman
Entrance Fee: Php 10
19. Mount Carling
Mount Carling is one of the volcanic peaks of Camiguin Island. Don't worry. it's a sleeping volcano and with a credible guide, you can go hiking to explore the sights atop. Experience nature at its finest when you come here.
Location/Jump-off: Mambajao
20. Macau Cold Spring
Macau Cold Spring is one of the several idyllic springs in Camiguin Island. Boasting of blue-colored waters, the spring can easily entice you to have a rejuvenating swim. Giant trees and other kinds of plants surround the spring to give you shade.
Location/Jump-off: Mahinog
For more Info about Camiguin Tourist Spots
If you need more information to help in setting up your itinerary to Camiguin tourist spots, do contact the provincial tourism office via the following:
Messenger: m.me/Camiguintourismoffice
Email Address: camiguintourismoffice@gmail.com
Website: http://www.camiguin.gov.ph
Related Articles