Here is your complete DIY travel guide to Batad Rice Terraces!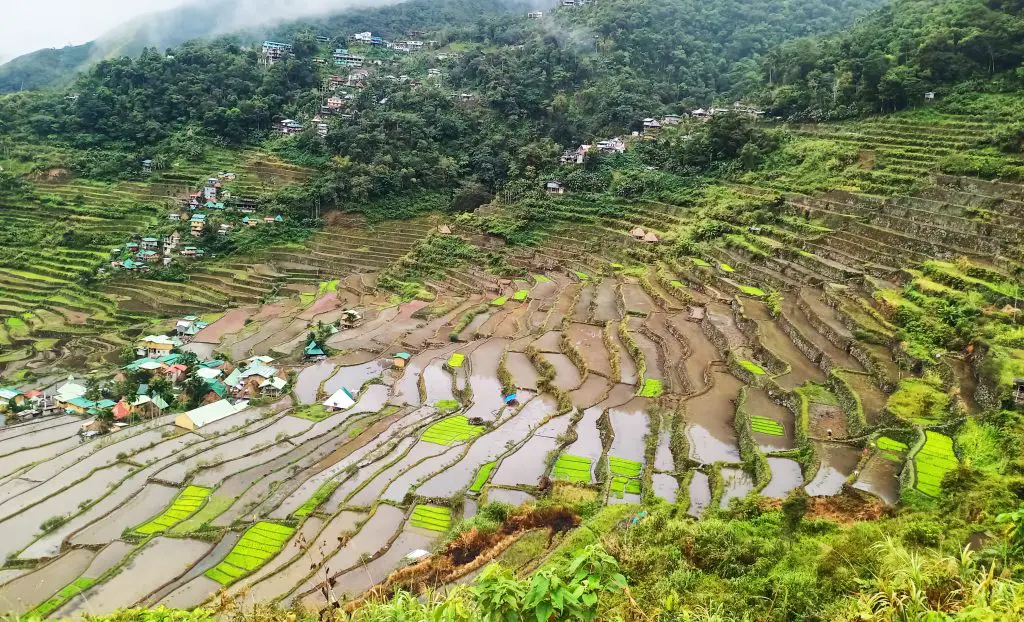 When we talk of Ifugao, the internationally-acclaimed Banaue Rice Terraces would surely come to mind first. But lately, the Batad Rice Terraces within the same municipality rapidly rose as the more popular and favored option.
Listed in the UNESCO World Heritage Sites, Batad Rice Terraces is known for its amphitheater-like appearance and near it, is the majestic Tappiya Falls.
I and my childhood buddy Ricky agreed to see it during a regular weekend. From Bontoc where I was employed that time, we rode on a van bound to Banaue town.
That took us two hours of ride along a winding road with breathtaking views of the mountains. We then registered at the Municipal Tourist Information Center before hiring a tricycle to Batad.
Essential Info
Where is Batad Rice Terraces: Brgy Batad, Banaue, Ifugao
Vehicle Ride from Banaue Town Center: 45 minutes via tricycle/jeep
Vehicle Options:       
Tricycle – Php 700 for a one-way ride
Jeepney Fare – Php 150 per person
Best Time to Visit Batad Rice Terraces:
April to May (the terraces are lush green as the rice have been newly-planted)
August to September (the terraces are golden brown as the rice are ready for harvest)
Tour Guide Rates: Php 1000 – Php 1500
How to Reach Batad Rice Terraces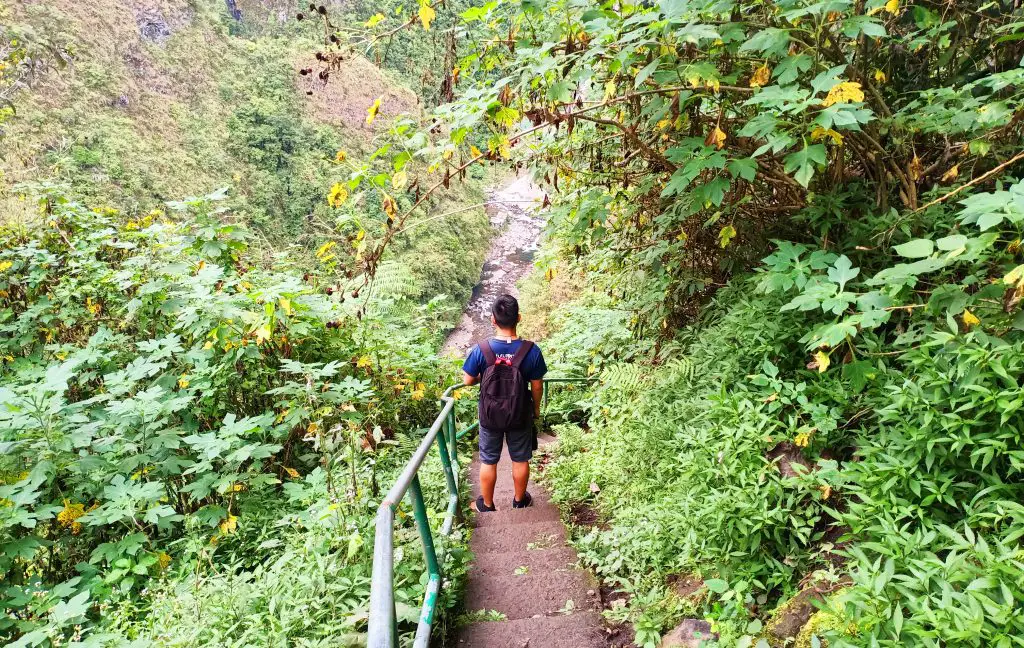 Before proceeding to Batad Rice Terraces or any other tourist spots in Ifugao, every tourist is required to register at the Municipal Tourist Information Center in Banaue town center and pay an environmental fee of Php 50 pesos. You can also ask the staff to recommend where you could stay in Batad.
From the town center, you have the following options to get to Batad:
Option I
Ride the public jeepney to Batad Ifugao. It is stationed at the market, just below the Tourist Information Center. It has only one trip and it leaves to Batad by 3 PM. Fare is Php 150 per person.
If you're a big group, you can hire one jeepney for Php 1,500 for a one-way trip.
Option II
If you're not able to catch the 3 PM trip or if you prefer to proceed to Batad earlier, you can hire a tricycle in front of the Tourist Information Center. Hiring a tricycle for a one-way trip costs Php 700. The tricycle can fit three persons. If there are more of you, better hire another one.
As for me and my friend, we hired a tricycle because we wanted to reach Batad at the earliest time so we can see the terraces and swim at Tappiya Falls during the same day. From Banaue town center, it took us around 45 minutes to reach the so-called Saddle Point where the road ends.
From the Saddle Point, we had to hike for about 15 minutes to reach Batad village.
Upon reaching Batad Village, we registered at a local booth and paid Php 50 per person for the barangay fee.
READ: 22+ Best Rice Terraces of the Philippine Cordilleras (Guide)
Behold the view of Batad Rice Terraces
From the registration booth, we hiked for a few meters until we reached a viewpoint. Lo and behold, we finally caught sight of the majestic Batad Rice Terraces. Although I grew up seeing and farming on rice terraces, the view of Batad just blew me away. That's perhaps because it is built on a dramatic and imposing mountain slope. Add to that the scenic view of surrounding mountain ranges that would make you think you're in a different country.
I don't know, even my friend marveled at Batad Rice Terraces with superb awe and amazement.
Since it was still an early lunch, we decided to check in at a local homestay a friend recommended to me. I guess we chose the right one since, from its balcony, we have a full view of Batad Rice Terraces.
To help prepare us for the long trek ahead, we indulged ourselves on a cheaper snack option with a complementing coffee as we gazed at the wonderful sceneries.
Our intent by then was to visit Tappiya Falls and explore the rice terraces after.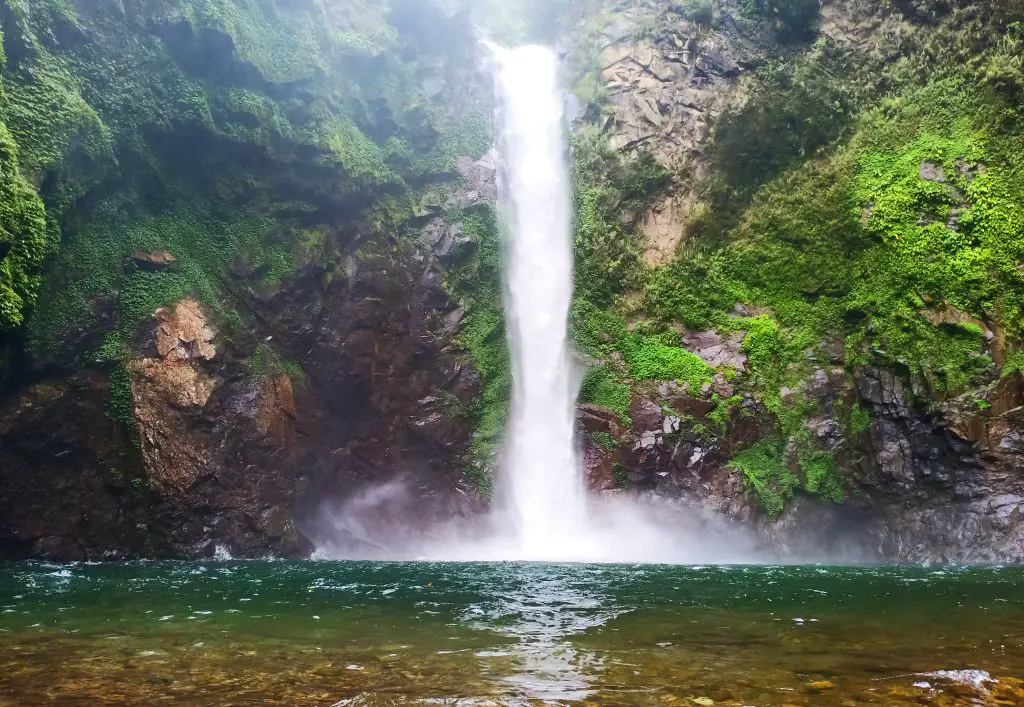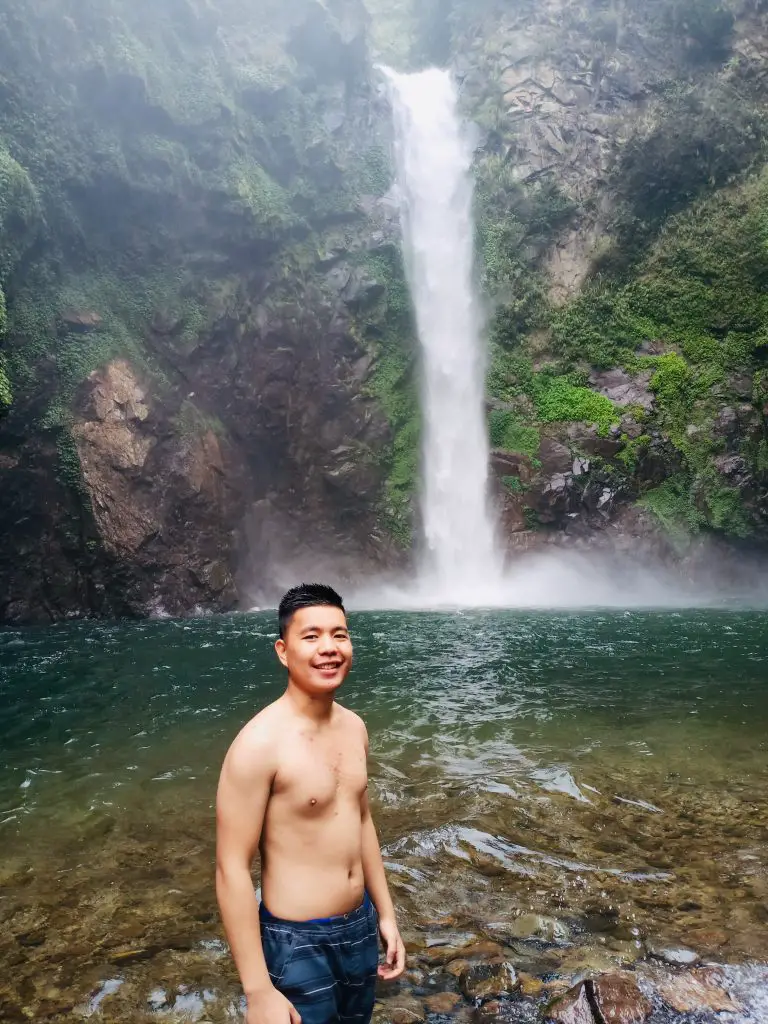 So with swelling eagerness and excitement, we hiked our way to the falls. That took us almost an hour. Although exhaustion caught up with us hiking back from Tappiya Falls, my friend pushed me so we could climb to the highest point of Batad Rice Terraces.
READ: Tappiya Falls (UPDATED): Your Complete DIY Travel Guide
Climbing the Highest Point of Batad Rice Terraces
It's no easy climb, especially that I could feel that my feet are turning numb already. On the other hand, my buddy Ricky seemed too hyped up and he wanted more of an adventure. I wanted to go back to the homestay but he pushed me so we could hike to the highest point.
Oh yeah, I drew him into this and after all, we were on a quest for thrill and adventure. So with a bit of hesitation, I followed him to a very steep and winding trail heading to the highest viewpoint of Batad Rice Terraces.
Whew, I tell you it was a tiring trek but every time, I felt like giving up, I just had to remind myself that these are limitations that I can conquer. I related every part of the journey to life and the thought of conquering obstacles kept me going.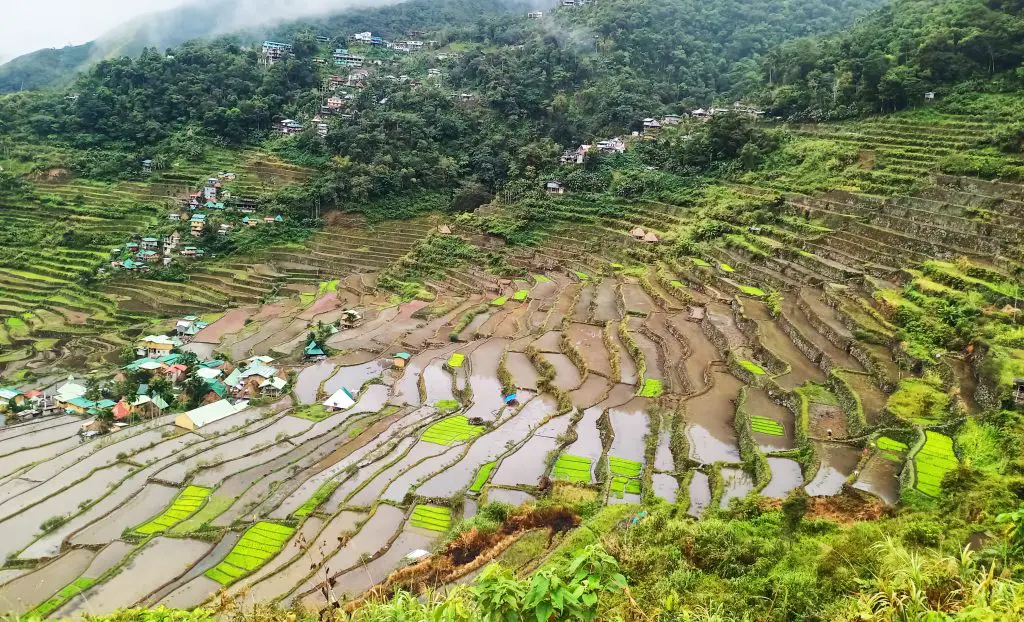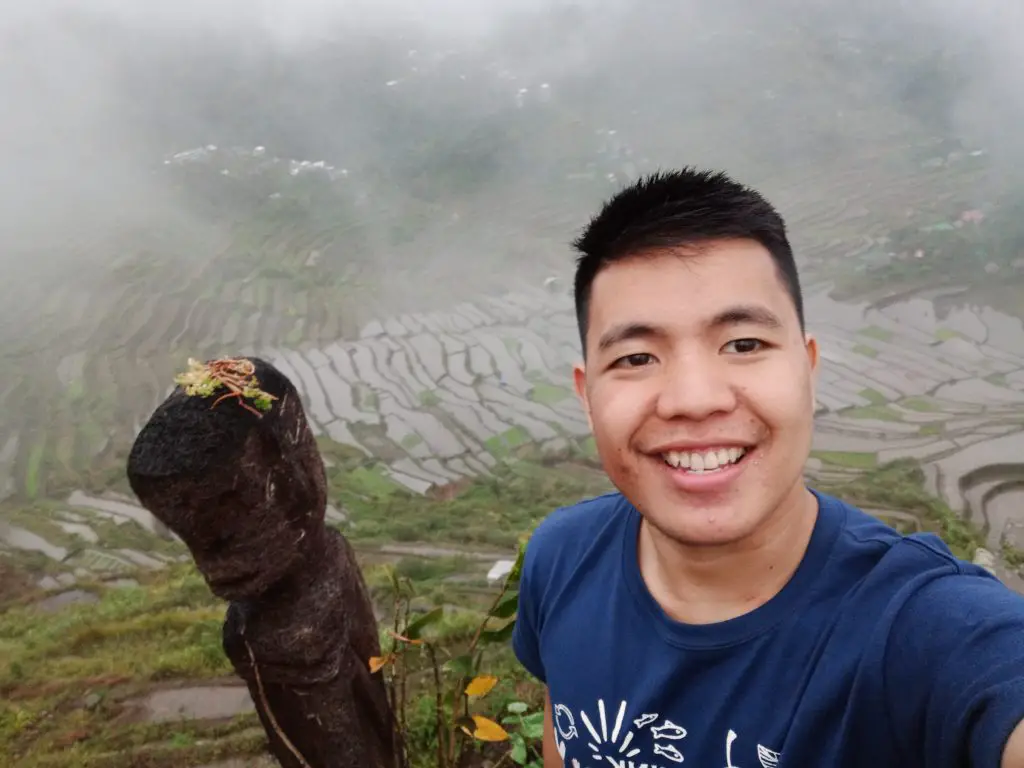 Finally, we reached the highest viewpoint of Batad Rice Terraces and just in time, the rains started pouring in. Although we did not get the best views from the highest point because of the blanketing fogs, that trek to the top was an exhilarating and fulfilling experience for me.
It's been a long time since I last hiked difficult terrains and to be able to do that in this UNESCO site was just an amazing experience. It peppered me with wondrous thoughts and realizations.
Because of that, Batad Rice Terraces locked to my memory not for its magnificent view but because of the experience it gave me and the kind of realizations that came up as we assaulted its highest viewpoint.
We went home with fun and more importantly, learning and reflections we could forever cherish. And that's enough for us to say that visiting Batad Rice Terraces was one of the best adventures of our life.
Insider Tip:
There is a store booth at the Highest Viewpoint. Don't miss out sipping buko juice here as you gaze at the rice terraces. It's a challenging hike to reach it so make sure you are physically prepared. It could be a bit dangerous if you're not careful.
Any reckless move can send you slipping down the precipice or to the terraces. Take it slowly and enjoy every moment of the way.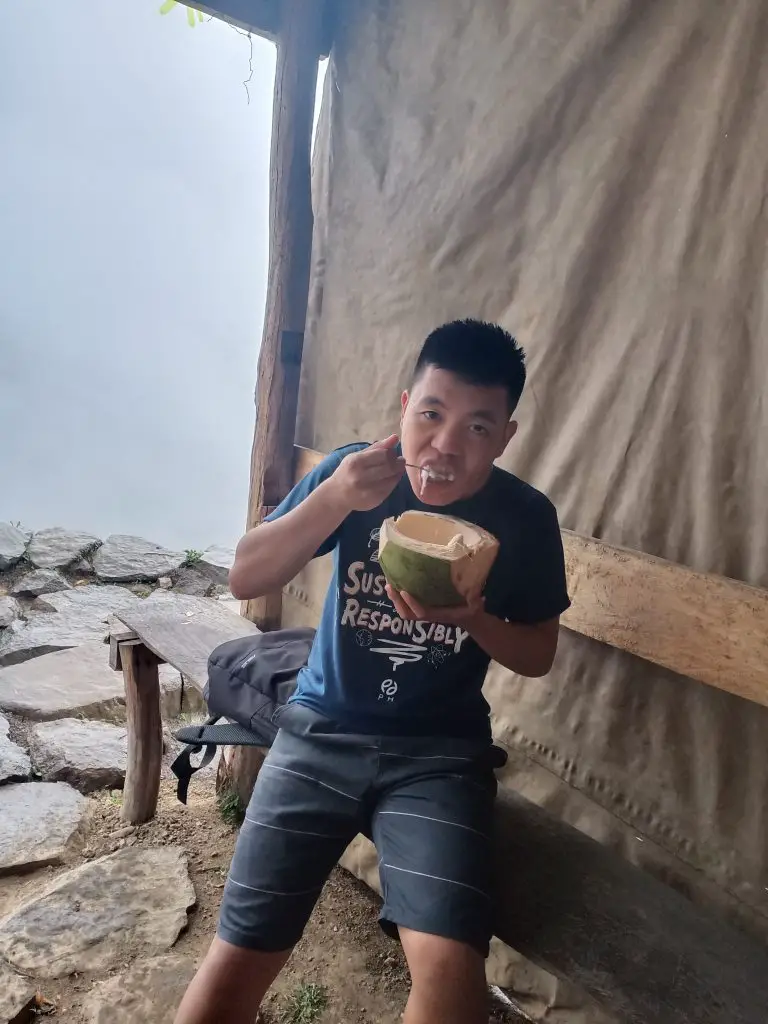 Where to Stay/ Eat in Batad Ifugao?
There are several homestays where you can stay in Batad Ifugao. Rate ranges from Php 300 to Php 500 per person per night. Most of these homestays provide meals and snacks and offer a view of Batad Rice Terraces.
Meals range from Php 100 to Php 300. Since the homestays only offer basic amenities, you'll really experience the simplicity of rural life here.
Here is a list of homestays in Batad Ifugao.
Batad Village Homestay – 09359591897
Simon's Inn: 0919 261 9566
Batad Transient House – 09351302911
Foreigner's Inn: 0905 397 2317
Ramon's Guesthouse Batad
Cristina Inn: 0906 977 3771
Batad Transient House
Hillside Inn and Restaurant – 09177574411, 0927 761 6176, 0905 769 9796, 0919 379 9599
Batad View Inn and Restaurant – 09169848380
Rita's Mount View Inn and Restaurant: 0921 273 3051, 0910 842 3076
For changes in rates and availability, check out agoda.com. You can also contact the said number although expect later response due to unstable network connection.
How to Get to Banaue from Manila?
From Manila, you have the following options to reach Banaue town center:
Option 1. Ride Ohayami Bus from 445 St. Loyola cor. F. Coyco Sts, Sampaloc, Manila. Daily schedules are 9:30 PM and 10:30 PM. Fare ranges from Php 450 to Php 500.
Contact Number: 09276493055, 02-5160501 (Manila Office), 09175617344    (Ifugao Office)
Email: reservation@ohayamitrans.com
Website:  www.ohayamitrans.com
Option 2. Ride Coda Lines Bus from Cubao, Quezon City. Daily schedules are 8:00 PM, 9:00 PM, 10:00 PM, and 10:30 PM. Coda Lines buses are bound to Sagada so when you're near Banaue, don't dose off. Stay alert. Fare ranges from Php 667 to Php 780.
Contact Number: 0927 559 2197 (Globe), 0929 521 3229 (Smart),  (02) 7184937
Website: http://codalinesph.com/
Additional Infos:
Travel time takes 9-10 hours.
Bring a jacket or a small pillow to warm yourself during the trip and to make yourself comfortable.
If you cannot book online, proceed to the bus stations at least an hour before the scheduled departure so you can reserve your seats.
Tips and Reminders
There is no network connection or wifi in Batad. That means you'll have a full online disconnection while you're here. You'll appreciate nature more that way as well as the local culture.
There is also no ATM machine here so bring enough cash.
Make sure you are physically conditioned to hike to Batad Rice Terraces and Tappiya Falls.
Harvest season starts in September and tourists can join the locals reaping the rice.
If you want a more challenging hiking adventure, trek to Awa View Deck where you can have a bird's eye view of Batad Rice Terraces. Trekking time takes 2 hours or more.
Don't miss out on trying the famous Pinikpikan (native chicken stew) and rice wine. You can avail of these from the local eateries.
For More Info on Batad Rice Terraces
If you need more information to help in setting up your itinerary to Batad Rice Terraces in Batad Ifugao, do contact Banaue Tourist Information Center via the following:
Contact Number: 0936 807 1337, (63-74) 382-4010 to 11
READ: 20+ Must-See Tourist Spots in Ifugao (Your Complete DIY Travel Guide)
Extra Photos of Batad Rice Terraces
These photos show Batad Rice Terraces just after the planting season. They are taken by my friend, Ms. Geri Liason Harper. I hope to come back and personally witness such picturesque views.