Here is a comprehensive list of both the most popular and off-beaten Rice Terraces of the Philippine Cordilleras you should visit.
The Cordillera region in northern Philippines is not only home to some of the highest peaks in the country. It also boasts of the country's best rice terraces carved on dramatic mountain slopes.
Some of the terraces are listed in the UNESCO World Heritage Sites and have been featured in international documentaries and magazines.
Foremost of these terraces are those found in Banaue, Ifugao. But these are only an icing to what the Philippine Cordilleras could offer as countless more rice terraces can be found on its remoter mountains. It takes an extra ounce of adventurous spirit and passion to reach them.
In this ultimate travel guide, we'll show you the must-see rice terraces per Philippine Cordilleras' provinces. We'll detail unique features of each and why you should visit. Here we go.
Ifugao Rice Terraces-Philippine Cordilleras
Ifugao hosts UNESCO-listed rice terraces which are also the most popular in the country and in the world.
Located at the southern part of the Philippine Cordilleras, Ifugao is often touted as the "Land of Living Museum" because of its majestic cultural heritage.
Here are the rice terraces you should not miss when visiting here.
1. Banaue Rice Terraces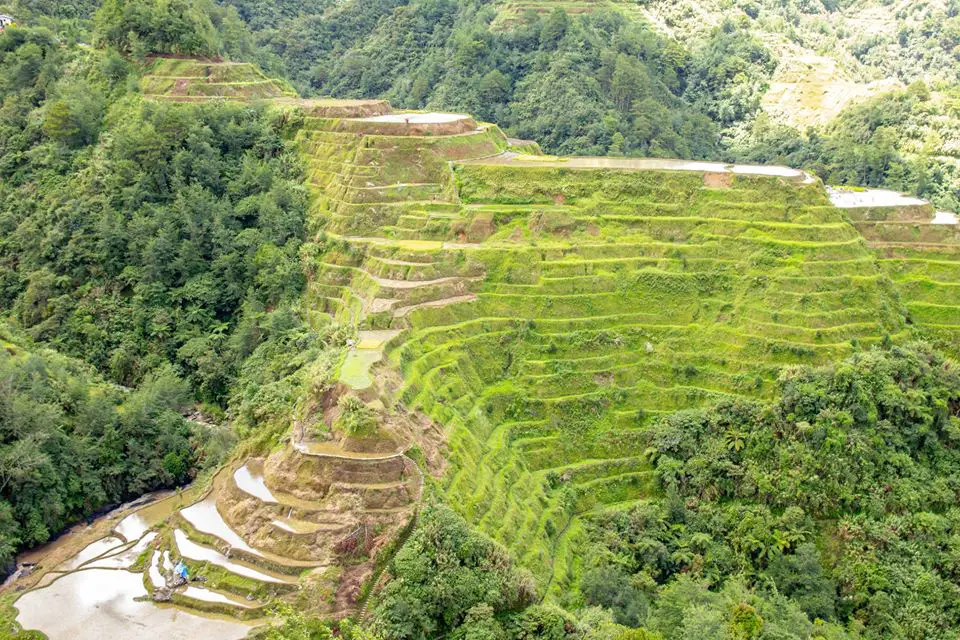 Banaue Rice Terraces have been gaining international attention for years now. Although overdevelopment has led to gradual erosion, these ancient masterpieces remain captivating.
Hopefully, the local authorities will revitalize efforts to preserve them. To enjoy them, you can either trek your way to the viewpoints along the national highway or ride a tricycle and have a stop-over from one viewpoint to another.
In one of the viewpoints, you can take pictures with local elders in traditional attires or buy locally-made souvenirs such as necklaces, and wood sculptures.
Location/Jump-off:Banaue, Ifugao
2. Batad Rice Terraces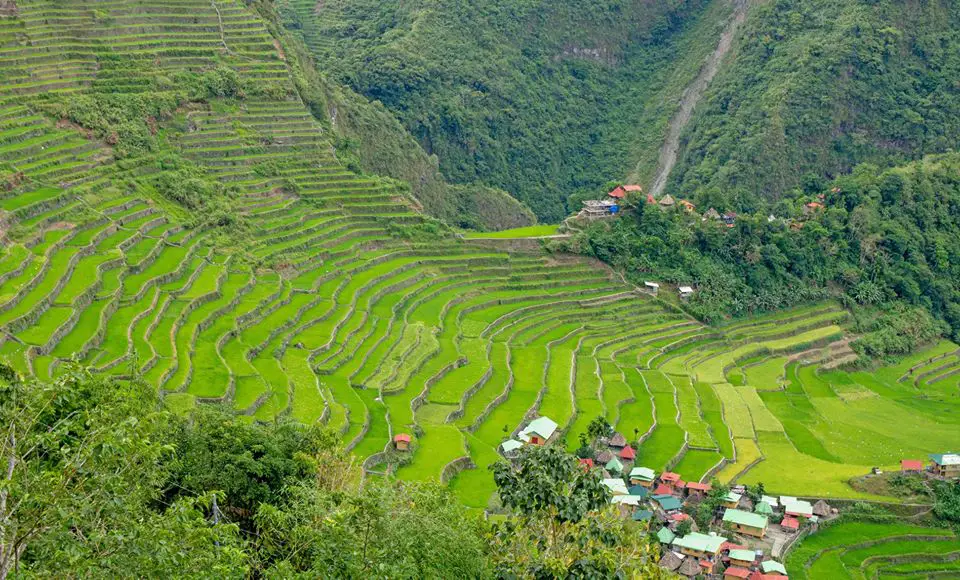 Batad Rice Terraces is included in the UNESCO World Heritage Sites because it remains one of the most preserved. Dubbed as "The Amphitheater," Batad Rice Terraces' are stone-walled, occupying an entire mountain slope.
One could just wonder how the locals were able to build such majestic sights. To make the most out of your visit here, trek your way to the highest viewpoint and catch a 360 degrees' view of the rice terraces and surrounding mountains.
You can also hike to nearby Tappiya Falls and have a rejuvenating swim on its icy-cold waters.
Location/Jump-off:Brgy Batad, Banaue, Ifugao
3. Bangaan Rice Terraces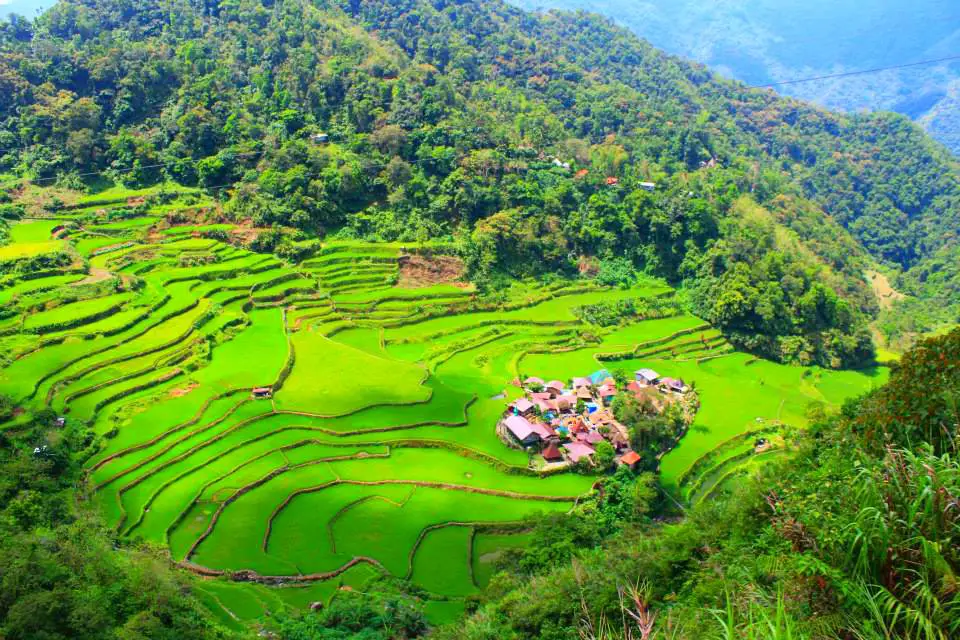 Bangaan Rice Terraces is not as grand as those found in Batad or in Banaue proper. But what makes a visit here memorable is the simplicity of life.
Experience living the life of the locals and you'll surely learn to love and appreciate the local culture. Join daily chores such as tending to the rice fields or pounding rice for breakfast.
Location/Jump-off: Brgy Bangaan, Banaue, Ifugao
Trekking Time: 20 minutes
4. Hapao Rice Terraces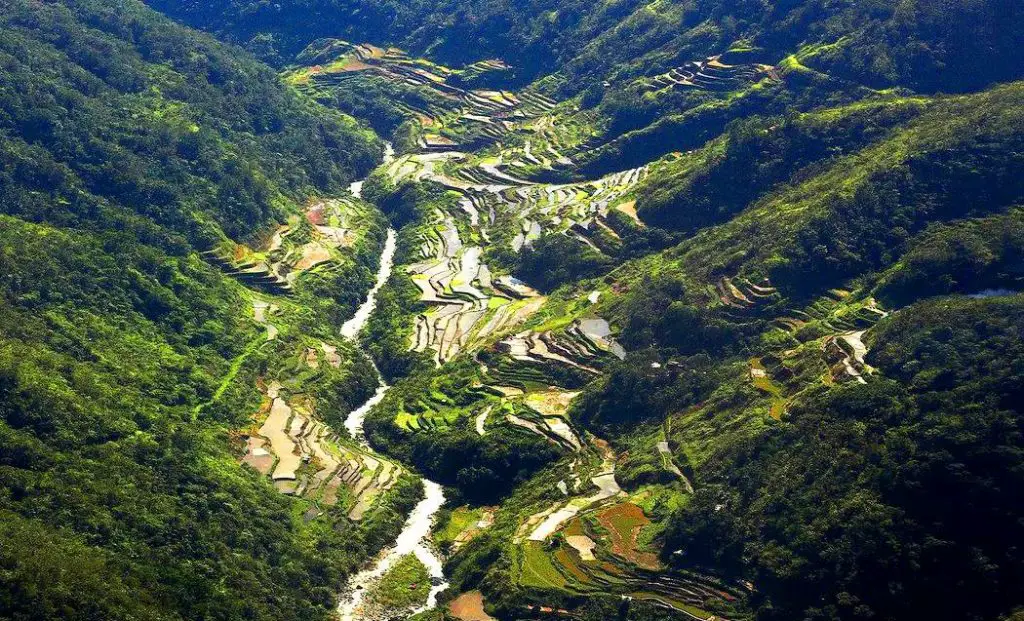 Just like Batad Rice Terraces, Hapao Rice Terraces is listed in the UNESCO World Heritage sites because of its pristine condition. It is considered the longest terraces in Ifugao.
Aside from its imposing view, you'll also glimpse of mossy forest-clad mountains and crystal-clear streams. If you're up for an adventure, trek your way to adjacent Mt Napuluan.
Location/Jump-off: Brgy Hapao, Hungduan, Ifugao
Travel Time from Banaue: 2 hours
5. Mayoyao Rice Terraces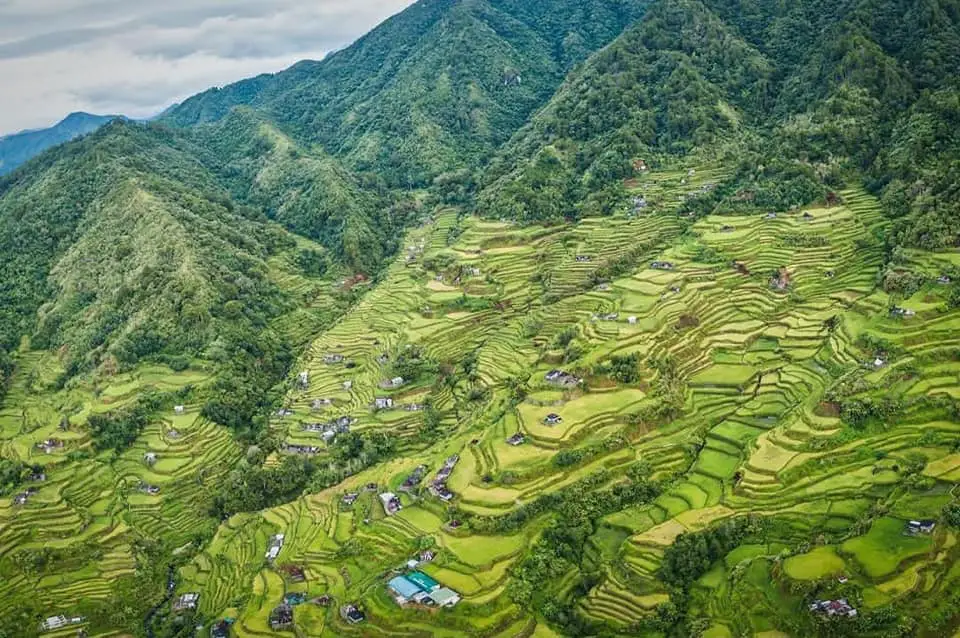 Located some 44 kilometers away from Banaue town, Mayoyao Rice Terraces nestle on the foot of steep mountains. Thanks to local efforts, most of the terraces are well preserved.
When visiting here, don't miss out on dikes which are tiered with flat stones. Several waterfalls also lie hidden in the forests adjacent to these terraces.
Location/Jump-Off: Mayoyao, Ifugao
Trekking Time: Minutes from the Community
Guide Fee: Donation
Entrance Fee: None
Mountain Province Rice Terraces –Philippine Cordilleras
Mountain Province prides itself as the only province in the Philippines with an English name. It's now a growing ecotourism site, owing to one of its famed municipalities called Sagada. Unknown to many, it is home to the Philippines' most extensive rice terraces including some of the remotest and most preserved.
6. Maligcong Rice Terraces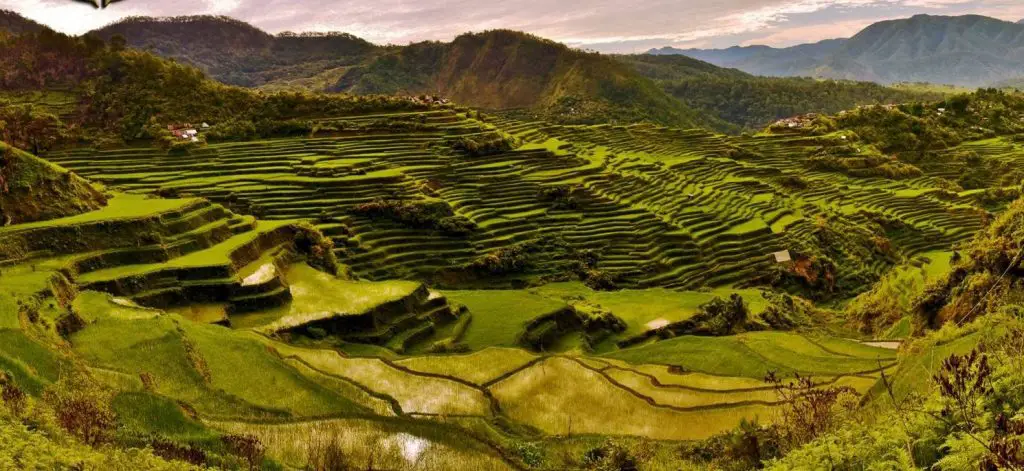 Maligcong Rice Terraces are tucked in the mountains of Bontoc, surrounded by pine forests and captivating peaks. To get the best views of it, trek your way to Mt. Kupapey or Mt. Fato.
Don't worry. It's an easy trek and it'll take more or less an hour. From these viewpoints, you'll get a bird's eye view of Maligcong Rice Terraces which look like gentle cascades.
Hiking to these mountains will also give you the chance to glimpse of a breathtaking sunrise and sea of clouds.
Location/Jump-off: Brgy Maligcong, Bontoc, Mountain Province
7. Natonin Rice Terraces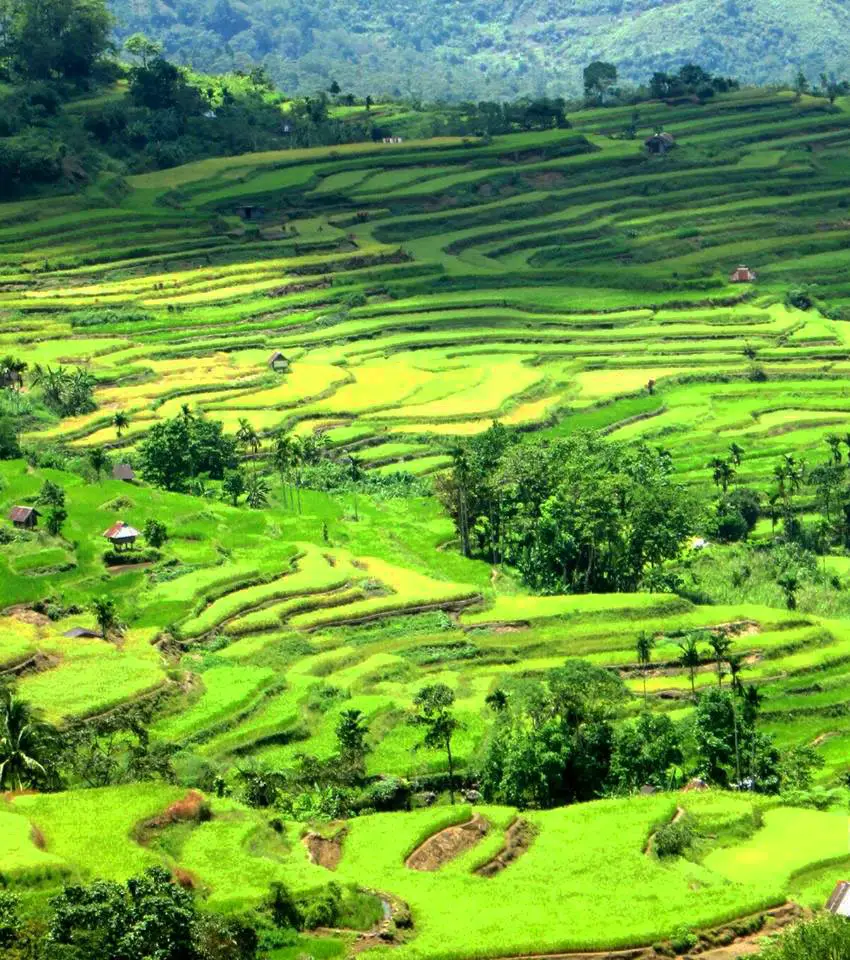 If you think Banaue Rice Terraces are the grandest in the Philippines, think again. They are actually found in a remote municipality called Natonin in eastern Mountain Province.
Natonin's rice terraces stretch unbroken for miles from its westernmost barangay to its central town. Unlike in most areas, however, the rice terraces here nestle on gentle slopes amidst the backdrop of towering mountain peaks.
To get from one end of the rice terraces to the opposite end, you can walk your way for hours or ride a tricycle.
One of the best viewpoints is at Mt To-or near Poblacion. From here, you can view Natonin Rice Terraces from east to west.
Location/Jump-off: Natonin, Mountain Province
8. Sadanga Rice Terraces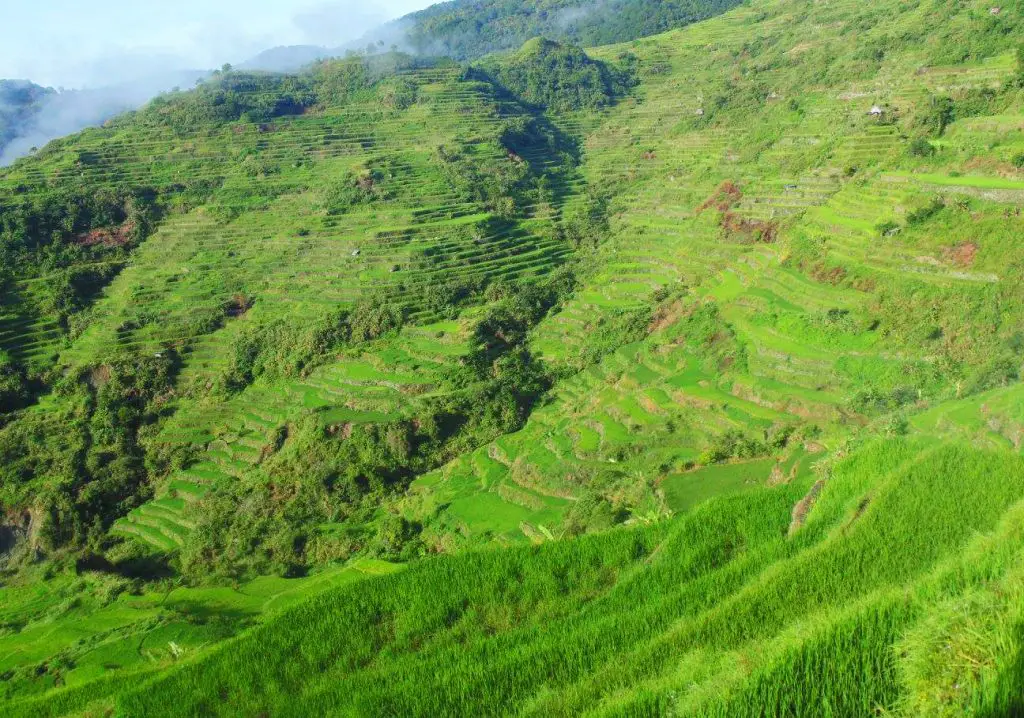 Hidden amidst dramatic mountains, you'll find Sadanga Rice Terraces. Personally, these are among the most beautiful rice terraces in the Philippines I've seen.
A good viewing spot is at Belwang community where you can view long and winding rice terraces from east to west including those found in central Sadanga.
A huge dike channel irrigation water from Fowa-as Falls to these terraces all year round.
Location/Jump-off: Sadanga, Mountain Province
9. Kangao Rice Terraces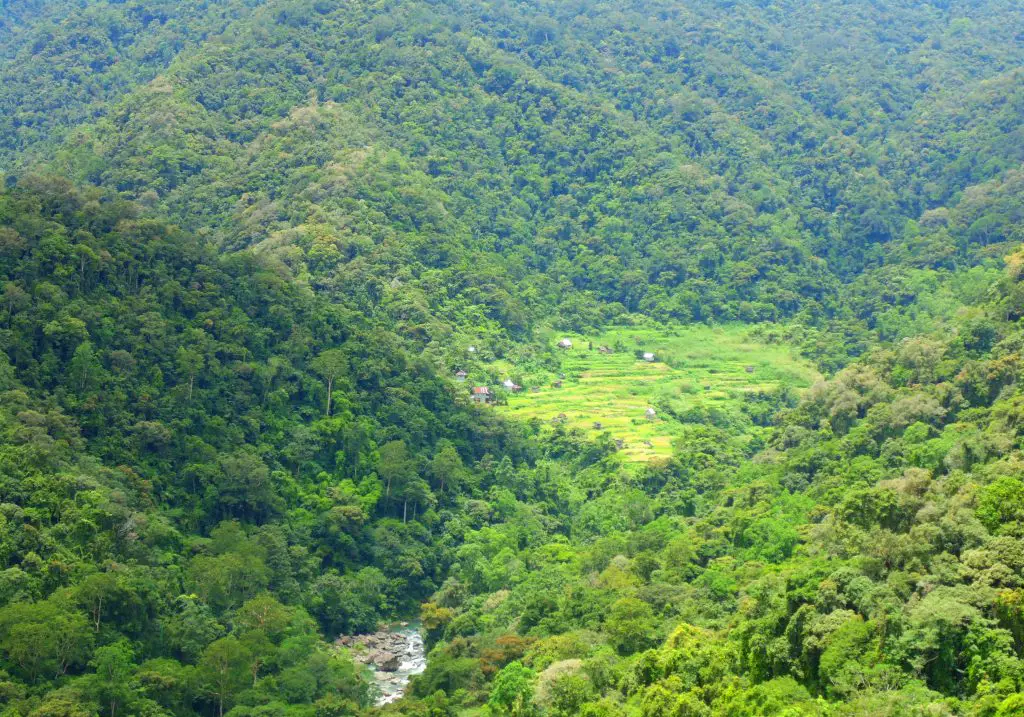 Kangao Rice Terraces is one of the remotest rice terraces of the Philippine Cordilleras. According to a local story, it used to be a thriving settlement.
But because of a tragedy that struck the community, the inhabitants fled somewhere.
Today, a neighboring village called Lias farm these terraces. Near Kangao Rice Terraces, you'll also find abandoned century-old rice terraces which are now covered with forests.
If you're aching for exploration, you can stroll around the surrounding forests where you can chance on Rafflesia, the biggest flowers in the world. You can also join the locals in fishing on the river in the traditional way.
Location/Jump-off: Brgy Lias Silangan, Barlig, Mountain Province
Trekking Time: 1 hour and 30 minutes from Lias village
Entrance Fee: Donation
10. Kiltepan Rice Terraces
Sagada is known for its spectacular view of the sea of clouds in Kiltepan Viewpoint. But from here, you can also view the stone-walled Kiltepan Rice Terraces. A brook emanating from Bomod-ok Falls upstream irrigate these majestic terraces.
Location/Jump-off: Sagada, Mountain Province
Trekking Time: 30 minutes from Sagada town center
Kalinga Rice Terraces – Philippine Cordilleras
Kalinga is becoming one of the most frequented ecotourism sites in the Philippines. It's not only a land of ecological paradise but a hub of cultural richness and diversity.
It also hosts some of the most beautiful rice terraces in the Philippine Cordilleras. Most of which nestle on rustic communities. It's more fun in Kalinga indeed!
11. Lubo & Mangali Rice Terraces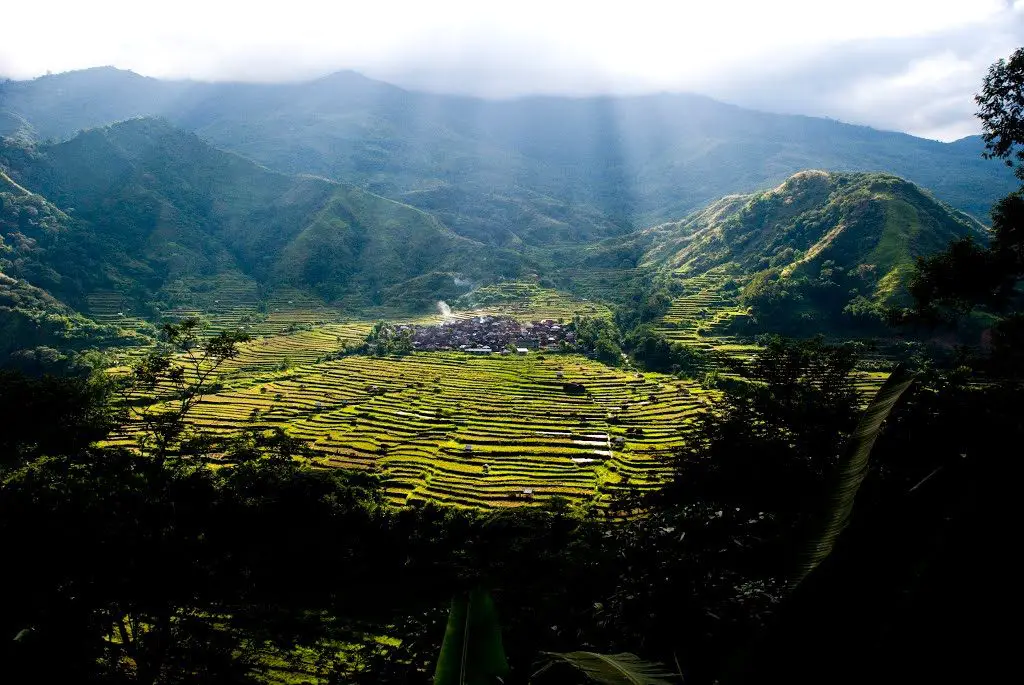 Located on one of the remotest parts of Kalinga province, Lubo and Mangali Rice Terraces are sheer wonders to behold. From the road, they appear like circular cascades surrounding the village.
Towering mountain peaks that serve as locals' hunting ground provide an imposing background. The village is also one of the best places to experience the local culture.
Location/Jump-off: Brgy Lubo & Brgy Mangali, Tanudan, Kalinga
12. Bugnay Rice Terraces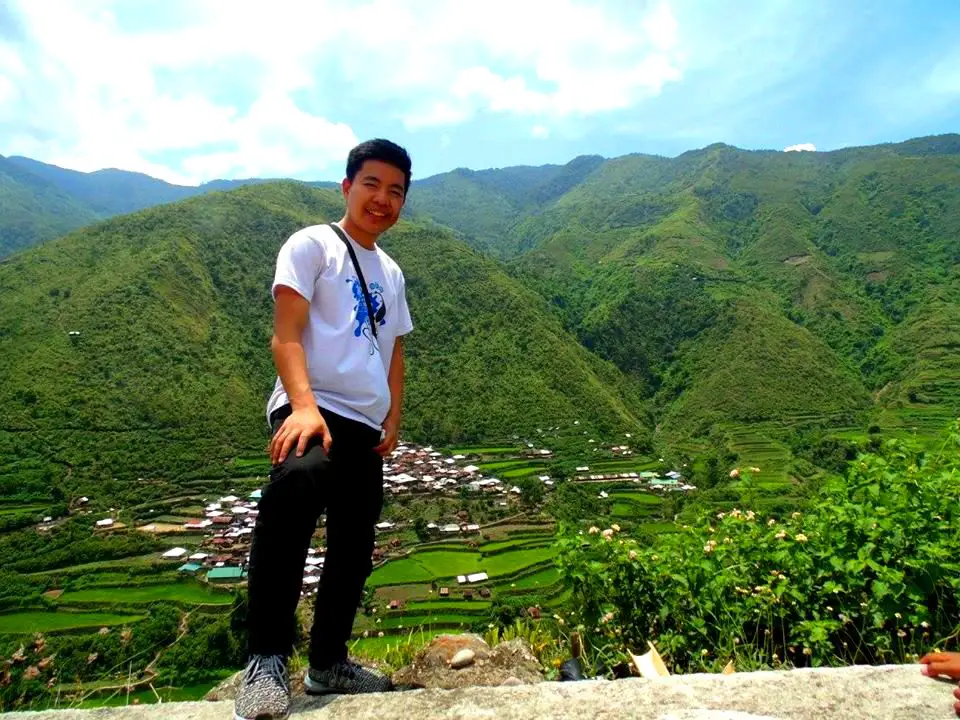 Bugnay is the hometown of internationally-acclaimed Macliing Dulag. Dulag led a historic struggle against the mega-dams of the Marcos regime in the 1980s.
But aside from its historical figure, Bugnay hosts scenic rice terraces fronting the mighty Chico River.
There's a nearby waterfall where you can have an invigorating swim to escape the midday heat. Learn about Kalinga's rich history and culture when you come here.
Location/Jump-off: Brgy Bugnay, Tinglayan, Kalinga
Trekking Time: 20 minutes from the highway
13. Buscalan Rice Terraces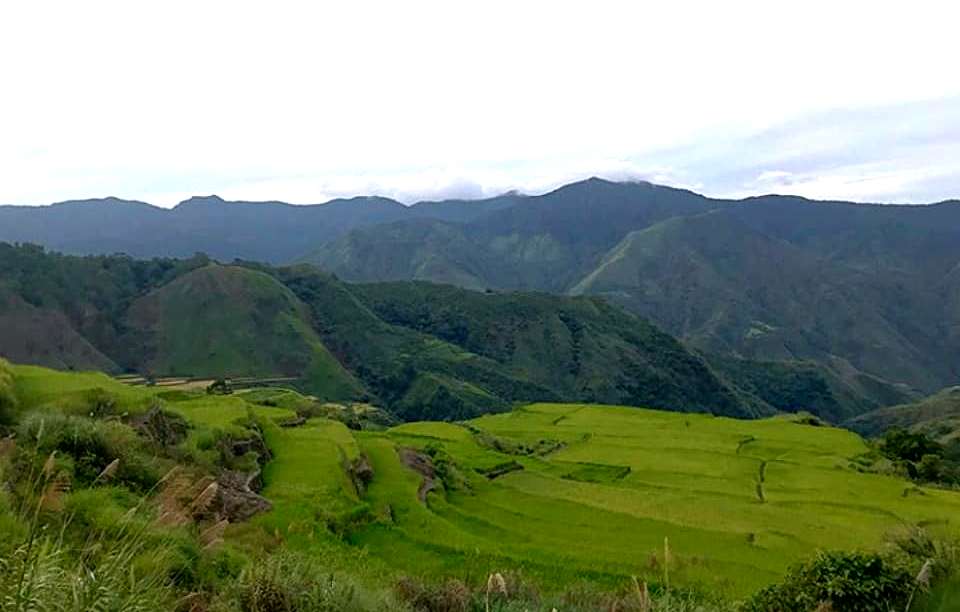 Buscalan is home to legendary Apo Whang-od, dubbed as the "Last Traditional Artist in the Philippines." But more than the opportunity of getting her to give you a tattoo, you'll also get to view Buscalan Rice Terraces, nestled high on the mountains.
From the road, it takes an hour or two to reach the village. While here, you can already view the rice terraces.
Location/Jump-off: Brgy Buscalan, Tinglayan, Kalinga
Trekking Time: 1-2 hours
14. Balbalan Rice Terraces
Balbalan is among the remotest municipalities of Kalinga. But today, it's slowly becoming an ecotourism destination, thanks to its vast eco-cultural wonders.
Among these are its rice terraces carved on scenic mountain slopes. Cascading brooks and rivers provide water all year round. Aside from the terraces, you'll also get to see unspoiled caves when you come here.
Location/Jump-off: Balbalan, Kalinga
15. Dacalan Rice Terraces
Kalinga never runs out of rice terraces hidden on its sleeves. Tucked in the virgin mountains of Tanudan municipality, one can find Dacalan Rice Terraces. But that only fits for people willing to cross rivers and climb mountains. Are you up for that challenge?
Location/Jump-off: Brgy Dacalan, Tanudan, Kalinga
Benguet Rice Terraces
16. Les-eng Rice Terraces
Location/Jump-off: Brgy Tacadang, Kibungan, Benguet
17. Catampan Rice Terraces
Location/Jump-off: Kapangan, Benguet
18. Palina Rice Terraces
Location/Jump-off: Brgy Tacadang, Kibungan, Benguet
19. Culiang Rice Terraces
Location/Jump-off: Brgy Tacadang, Kibungan, Benguet
20. Basil Rice Terraces
Location/Jump-off: Brgy Basil, Tublay, Benguet
Abra Rice Terraces
21. Kili Rice Terraces
Location/Jump-off: Brgy Kili, Tubo, Abra
Apayao Rice Terraces
22. Calanasan Rice Terraces
Location/Jump-off: Calanasan, Apayao
NOTE: This is a work in progress. If you are from the Cordillera and has visited other rice terraces in the region, feel free to suggest them in the comment section below. Iyaman and Matagu-tago taku am-in!
P.S. Some of the photos are courtesy of John Chua, Robert Domoguen, Jaymar Garica, Geri Harper, Elvinov Kerolenko Simenesky, and Jovi Lopez.